Book flights with Qantas and Alternative Airlines
Make a reservation and find some amazing deals
---
About
Qantas is the flag carrier of Australia and is Australia's largest airline with its hub airport at Sydney Airport. The airline also owns the low-cost airline Jetstar, which operates both domestic and international services. It also owns QantasLink and Eastern Australia Airlines, these two airlines mainly operates domestic routes for Qantas. Qantas is a founding member of the oneworld airline alliance and has codeshare agreements with Aircalin, Air China, Air Niugini, Airnorth, Alaska Airlines, Alitalia, Asiana Airlines, Bangkok Airways, China Airlines, China Southern Airlines, China Eastern Airlines, Solomon Airlines and many others.
Looking to make booking Qantas flights much more affordable? Here at Alternative Airlines we offer the option to book now and pay later. Take a look at our guide to Qantas payment plan options to find out more.
---
Destinations
Qantas flies to many destinations including Santiago de Chile, Shanghai, Hong Kong, Denpasar, Jakarta, Osaka, Tokyo, Noumea, Singapore, Manila, Los Angeles, New York City, San Francisco, London and many others.
Domestic
| | | | | |
| --- | --- | --- | --- | --- |
| Adelaide | Airlie Beach | Albury | Alice Springs | Armidale |
| Avalon | Ayers Rock | Ballina | Barcaldine | Bathurst |
| Bendigo | Biloela | Blackall | Blackwater | Brisbane |
| Broome | Bundaberg | Burnie | Cairns | Canberra |
| Charleville | Cloncurry | Cocos Islands | Coffs Harbour | Dubbo |
| Dunk Island | Emerald | Exmouth | Darwin | Devonport |
| Geraldton | Gladstone | Gold Coast | Gove | Hamilton Island |
| Hayman Island | Hervey Bay | Hobart | Horn Island | Kalgoorlie |
| Kangaroo Island | Karratha | Kununurra | Launceston | Longreach |
| Lord Howe Island | Mackay | Melbourne | Mildura | Moranbah |
| Moree | Mount Hotham | Mount Isa | Narrabri | Newcastle |
| Newman | Olympic Dam | Orange | Paraburdoo | Perth |
| Port Hedland | Port Lincoln | Port Macquarie | Proserpine | Rockhampton |
| Roma | Sunshine Coast | Sydney | Tamworth | Taree |
| Tom Price | Toowoomba | Townsville | Wagga Wagga | Weipa |
| Whyalla | Winton | Wollongong | | |
International
| | | | | |
| --- | --- | --- | --- | --- |
| Buenos Aires | Vienna | Nassau | Bahrain | Bermuda |
| Toronto | Vancouver | Santiago | Beijing | Shanghai |
| Cairo | Nadi | Paris | Papeete | Frankfurt |
| Athens | Hong Kong | Delhi | Kolkata | Mumbai |
| Denpasar | Jakarta | Tehran | Rome | Fukuoka |
| Nagoya | Osaka | Sapporo | Tokyo | Tokyo |
| Kuala Lumpur | Mauritius | Acapulco | Mexico City | Amsterdam |
| Nouméa | Auckland | Christchurch | Queenstown | Rotorua |
| Wellington | Norfolk Island | Karachi | Port Moresby | Manila |
| Belgrade | Singapore | Honiara | Johannesburg | Seoul |
| Damascus | Taipei | Bangkok | Istanbul | Dubai |
| London | Manchester | Atlanta | Boston | Chicago |
| Dallas | Honolulu | Los Angeles | New York City | San Francisco |
| Washington, D.C. | Ho Chi Minh City | Harare | | |
---
Baggage
Carry-on Baggage
Australian Domestic Flight carry-on baggage (excluding Dash 8 services). All classes have a weight allowance of 14kg in total but not exceeding 10kg per item on international and domestic flights. On Dash 8 domestic services, passengers are entitled to one hand luggage weighing less than or equal to 7kg.
Please speak to our dedicated customer service team at Alternative Airlines or visit the Qantas website for more information.
Checked Baggage
| ROUTE | ECONOMY | PREMIUM ECONOMY | BUSINESS | FIRST |
| --- | --- | --- | --- | --- |
| International Flight (excluding North and South America) | 30kg (66lb) | 40kg (88lb) | 40kg (88lb) | 50kg (110lb) |
| International Flight (including North and South America) | 2 x 23kg (50lb) each | 2 x 23kg (50lb) each | 3 x 32kg (70lb) each | 3 x 32kg (70lb) each |
| Domestic | 1 X 23kg (50lb) | / | 2 X 32kg (70lb) each | / |
---
Economy Class
Qantas Economy class is comfortable for passengers flying international, domestic and trans-Tasman flights.
Economy Class Facilities
Qantas Economy Class facilities will make you feel comfortable on your journeys, with range including premium dining, refreshments, award-winning in-flight entertainments and reclining seats.
International Economy Class Facilities
Inflight services have been recently updated with refreshed cabin interiors, entertainment, seating and meals. Travel kits are also included on selected flights. The inflight dining includes snacks, wine bar and great meal service.
Trans-Tasman Economy Class Facilities
Economy Class flights between Australia and New Zealand can enjoy a range of delights including: ergonomically designed seats and inflight entertainment.
Domestic Economy Class Facilities
Inflight entertainment, Qantas magazine and lounge access for Frequent Flyer members.
Economy Class Seating
Seating is comfortable and spacious in Qantas' Economy Class and you can also select a preferred seat in advanced for a charge. Extra legroom can also be requested for an additional charge.
Seating on A380s, A330s and B747s have been upgraded with softer cushioning, netted footrest and more legroom for longer journeys.
---
Premium Economy Class
Passengers on Qantas' Premium Economy class have a separate, dedicated check-in counter as well as priority boarding.
Premium Economy Facilities
As soon as you're on board your flight, you'll be treated to a glass of complimentary sparkling wine, cocktail or juice. Enjoy a contemporary and diverse menu designed by Neil Perry and choose from an award-winning selection of wines.
What are Premium Economy seats like?
Your Premium Economy seat on board your Qantas flight is ergonomically designed for your comfort with a multiway adjustable headrest. Not forgetting that you'll have to chance to stretch out with generous legroom and a supportive footrest.
---
Business Class
Qantas Business class gives customers greater room to relax and work onboard. From excellent customer service to world-class fine-dining, Qantas Business Class passengers can expect a wonderful flight experience from check-in to landing.
Business Class Facilities
Business Class passengers with Qantas can check in through priority counters with dedicated boarding lane and disembarkation access. Enjoy a break from the busy airport floor in one of Qantas' award-winning Business Class lounges.
What are Business Class seats like?
On the airline's Airbus A330, passengers enjoy direct aisle access, large amounts of personal space, a large HD in-flight entertainment screen and a fully-flat bed.
---
First Class
Enjoy your flight in the utmost luxury with Qantas.
First Class Facilities
Relax in one of the airline's stylish lounges before take off. Enjoy a breakfast buffet, hot snacks service or complimentary bar service available from midday. Passengers will also be provided with a luxurious amenity kit once onboard which was exclusively designed by Martin Grant. The kit contains Aurora Spa socks, eye mask, dental kit, earplugs and deodorant.
What are First Class seats like?
Stretch out and relax in your expansive personal suite with everything you could ever need within an arm's reach. Find controls to adjust your armrest, seat, lighting, window shades and more. When it's time to go to sleep, you'll be treated to a personal bedding down service as your seat is turned into a luxurious bedroom with fully-flat bed, Sheridan bedding, a choice of pillows from the pillow menu and memory foam mattress.
---
Food
Meal Options
Qantas provide meals or refreshments on every flight, but what is offered will depend on the route flying.
Passengers flying domestically in economy are offered fresh meals, from breakfast boxes, tempting snacks and hot or cold dinner packs. Business passengers travelling domestically are offered choice of entrees and mains for their meals, made from seasonal ingredients.
International passengers travelling in First class are treated to five star dining with locally sourced ingredients. Available means include main meals, small plates or tasting menus. Business class passengers are given the option of three course meals, or something lighter to suit your dietary preferences. There is cabin crew service or passengers can help themselves at the inflight bar. Premium economy and economy passengers can choose from snack selections throughout their flight with a continuous service.
Alternatively, passengers flying internationally in Business, Premium Economy and Economy can select their meals prior to flying, by visiting the Qantas website.
Special Dietary Requirements
Passengers can request meals to suit their special dietary needs on the Qantas website, on manage your booking tab.
These must be requested at least 24 hours before departing, except for Kosher meals which must be requested 36 hours before. The following is a list of all the special meals available from Qantas:
Diabetic meal
Child's meal
Fruit Platter meal
Hindu meal
Infant (0-11 months) meal
Infant (12-23 months) meal
Muslim(Halal) meal
Vegetarian (Asian Indian style) meal
Vegetarian (Lacto Ovo) meal
Vegetarian (Strict Indian) meal
Vegan meal
Drinks & Alcohol
When flying domestically in economy class, passengers are given complimentary soft drinks (on selected flights), with wines and beers available to purchase. Business passengers on domestic routes are given complimentary alcoholic and non-alcoholic drinks including premium wines.
On international routes, first and business class passengers can enjoy complimentary drinks including award-winning champagnes, cocktails and juices, alongside the usual drinks service which is available to all classes of passengers.
---
WIFI
Brand new in 2019, Qantas WIFI is available on a number of domestic flights, giving passengers access to everything online while thousands of feet in the air. WIFI will be available on over 80 different Boeing B737s and Airbus A330 aircraft. The airline asks that you keep airplane mode on and your phone on silent when using WIFI — if you'd like a pair of earphones, just ask one of the Qantas flight attendants and they'll be happy to help!
Qantas WIFI Price
Qantas WIFI is available for free on all Qantas flights. Simply find the 'Qantas Free Wi-Fi' network on your electronic device, go to the Qantas WIFI web page (wifi.qantas.com), enter your personal details and start browsing the web!
---
Frequent Flyer Program
Qantas operates a frequent flyer program aimed at rewarding customer loyalty with Qantas points. Points are accrued based on distance flown, with bonuses that vary by travel class. Points can also be earned on other Oneworld airlines as well as through other non-airline partners. Points can be redeemed for flights or upgrades on flights operated by Qantas, Oneworld airlines, and other partners such as Airnorth. The Qantas Club is the airline lounge for Qantas with airport locations around Australia and the world and offers membership by paid subscription (one year, two years or four years) or by the achievement of Gold or Platinum frequent flyer status. Benefits of membership include lounge access, priority check-in, priority luggage handling and increased luggage allowances. Additionally, Qantas operates dedicated International first-class lounges in Sydney, Melbourne, Brisbane, Auckland and Los Angeles. Learn more about the best frequent flyer programs with the Alternative Airlines blog.
---
Buy Qantas Flights and Pay Over Time
Spread the cost of Qantas flight tickets with Affirm or PayPal Credit with Alternative Airlines. It's easy to do and can be done at the point of transaction when buying your Qantas tickets through Alternative Airlines.
---
Seat Selection
With Alternative Airlines, customers can see seat availability and choose their preferred place on the plane while making their reservation. We let customers check their seating options when making a Qantas booking. So whether you like sitting by the window or getting extra legroom, we let you find the perfect Qantas seat for you! Find out how to book your seats.
---
Qantas Route Map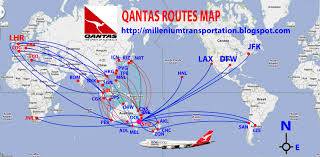 ---
Popular Routes
Sydney

Osaka
Port Moresby

Sydney
Jakarta

Sydney
Sydney

Port Lincoln
Townsville

Sydney
Sydney

Tamworth
---
Fleet
Qantas' fleet consists of A330s, A380s, B737s, B747s and B787s.
| AIRCRAFT | IN SERVICE | ORDERS |
| --- | --- | --- |
| A330-200 | 18 | / |
| A330-300 | 10 | / |
| A380-800 | 12 | / |
| B737-800 | 75 | / |
| B747-400ER | 5 | / |
| B787-9 | 11 | 3 |
---
Hub Airport
Sydney Airport
Sydney Airport is the major airport serving Sydney and is the hub airport for Qantas, Jetstar Airways, Alt Air, Regional Express Airlines, Virgin Australia and Tigerair Australia. Other airlines which fly to and from this airport include Emirates, Etihad Airways, Garuda Indonesia, Fiji Airways, Hainan Airlines, Japan Airlines, Jetstar Airways, Samoa Airways and many others.
Fully equipped with restaurants, airport lounges, a prayer room and a great selection of shops, Sydney Airport is one of the most up-to-date and impressive airports in Oceania.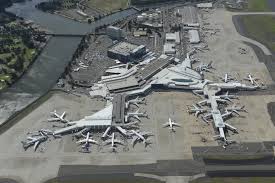 Adelaide Airport
The airline also has a hub at Adelaide Airport (ADL), which is also the hub for Cobham Aviation Services, Alliance Airlines, Qantas, and Regional Express Airlines. The airport is the principal airport of Adelaide, and the fifth-busiest airport in Australia. It served 8.5 million passengers in 2019.
---
Qantas Airline Alliance - Oneworld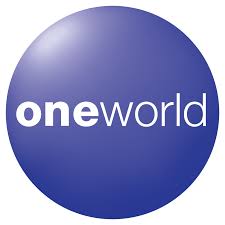 Oneworld alliance is a leading global airline network, with 15 member airlines. Oneworld alliance was founded and now consists of member airlines such as Cathay Pacific, Finnair, LATAM, Malaysia Airlines, Qantas, Qatar Airways, SriLankan Airlines, Iberia, British Airways, American Airlines and many others. Oneworld alliance covers more than a thousand destinations in 155 countries.
---
Alternative Airlines to Qantas
---
FAQ's
How to earn Qantas points?
In order to earn and use Qantas points, you must become a Qantas Frequent Flyer. Further points can be earn't through flights, Qantas Hotels, Qantas Activities and rental cars.
Points are easy to earn, with no extra effort needed. Some fun ways to boost those Qantas points include booking a round of golf through Qantas Golf Club or simply booking an Airbnb via Qantas Hotels.
Do my Qantas Points expire?
Qantas Points won't expire as long as the points are still being earn't or used once every 18 months through the frequent flyer programme. If the points end up becoming expired then you'll still remain a member of the frequent flyer programme.
How many planes does Qantas have?
Currently, Qantas has a fleet of over 120 aircraft. This fleet consists of Airbus, Boeing and B787-9 Dreamliner. They also lease a handful of Embraer E 190 jets from Alliance Airlines, a fellow Australian airline.