Airnorth Reservations with Alternative Airlines
Make an Airnorth Booking and Find Some Amazing Deals
---
About Airnorth
Airnorth is an Australian regional airline that offers both scheduled and charter passenger flights. The airline flies to several destinations across four of Australia's states, as well as to an international destination, Timor Leste. Overall, the airline flies to more than 20 destinations.
The airline was founded in 1978, making it the second-longest-running airline in the country, after the national carrier of Australia, Qantas. Airnorth Australia was only a charter airline in its first years of flying and only started flying scheduled services in the early 1980s. In 1999, it launched its first international flight to East Timor. However, the airline no longer flies this route.
Airnorth Australia carries in excess of 300,000 passengers annually. In addition to scheduled departures, Airnorth operates contract and ad-hoc charter services for a wide variety of companies undertaking mining, defence and government activity.
The airline is based at Darwin International Airport (DRW), which is the majority of its flights depart from.
Top Tip: You can use the search bar at the top of the page to search for Airnorth flights. Compare Airnorth's flight schedule with other airlines to find the right flights for you. Alternative Airlines makes it easy to book the flights you're after.
---
Destinations
Airnorth Australia operates over 300 scheduled and charter departures weekly, servicing over 20 destinations across five of Australia's states. This includes to destinations such as Darwin, Maningrida, Milingimbi, Elcho Island, Gove, Groote Eylandt and McArthur River, Kununurra, Broome, Port Hedland, Perth Townsville, Cairns, Mount Isa and Dili. The airline's extensive network has a particular focus on Australia's Northern Territory, linking remote towns to Darwin, the capital of the state. If you're looking to fly within Australia, our guide to domestic flights within Australia offers lots of helpful information.
Domestic Destinations in Australia
REGION/COUNTRY
CITY
Northern Territory
Alice Springs
Bootu Creek
Darwin
Elcho Island
Gove
Groote Eylandt
Katherine
Maningrida
McArthur River Mine
Milingimbi
Port Keats
Tennant Creek
The Granites
Queensland
Cairns
Gold Coast
Toowoomba
Townsville
Timor Leste
Dili
Victoria
Melbourne (Tullamarine)
Western Australia
Broome
Kununurra
Perth
Truscott
---
Make an Airnorth Booking Online
Looking to make a reservation with Airnorth Australia? Search and book your flights on Airnorth online with Alternative Airlines. We make it easy to pay the way you want, whether that's using PayPal or one of our payment instalment options.
---
Route Map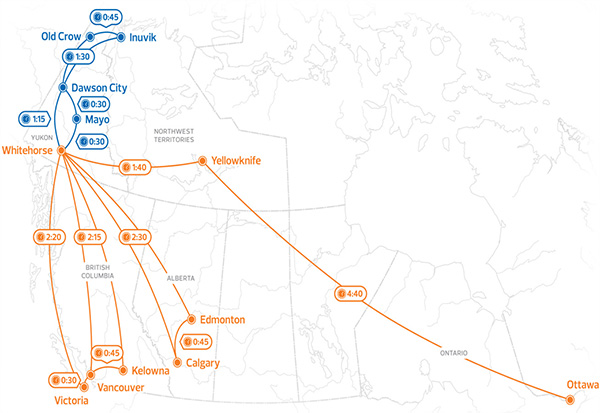 ---
Baggage Allowance
Carry-on Baggage
Passengers baggage allowance is dependent on the plane flying in. Passengers flying with Airnorth on an aircraft with 19 or less seats will be required to check-in all baggage excluding a small, soft handbag.
Passengers travelling on the E170 Jet are permitted 9kg of hand luggage, with the maximum dimensions of 56 x 36 x 23cm or a maximum total dimension of 115cm.
Passengers travelling on the E120 Brasilia are permitted 4kg of hand luggage, with the maximum dimensions of 48 x 34 x 21cm or a maximum total dimension of 103cm.
Passengers travelling on the Metroliner 23 are permitted small, soft handbags only.
Checked Baggage
Passengers travelling on the E170 Jet are permitted 20kg of checked luggage unless connecting to a smaller aircraft.
Passengers travelling on the E120 Brasilia are permitted 13kg of checked luggage.
Passengers travelling on the Metroliner 23 are permitted 13kg of checked luggage.
Passengers with a connecting flight with Airnorth should note that baggage allowance is determined by the aircraft type and it will follow the minimum allowance for the whole journey.
---
Economy Class
Economy class is the only cabin class that Airnorth Australia offers. (there is no Premium Economy, Business or First Class).
Economy Class Facilities
Passengers receive a complimentary magazine onboard their flight for entertainment. This is 'Together We Fly' which is created by the airline for its passengers specifically. Passengers flying on the E170 and E120 aircraft will also enjoy complimentary refreshments. Alcoholic drinks are available for purchase, but will not be provided free of charge.
Economy Class Seating
The airline offers comfortable padded seating with ample storage space. The seat pitch and width will depend on the airplane being used.
---
Entertainment
The airline provides an in-flight magazine, 'Together We Fly', for passengers to read at their pleasure. Please note that there is no entertainment system, but passengers are welcome to bring their own digital devices on-board.
Wi-Fi
WiFi is not currently available for passengers.
---
Travel Class Fares
Although there is only one cabin class, the airline offers three fare classes on most of its flights, although this varies by route and availability:
Air Sale: Air Sale is the most affordable fare. If you know exactly when you want to fly, and it's unlikely you'll need to change or cancel your flight, this fare will offer you the best value.
Air Saver: Greater flexibility with only a small difference in cost! Lower change fees will help if your plans change.
Air Flex: Optimum fares offer the greatest degree of flexibility, offering the lowest cancellation and change fees, as well as complimentary seat selection.
---
Check-In Information
Online Check-In
Airnorth doesn't currently offer passengers online check-in.
Airport Check-In
Airnorth passengers must check-in for their flights at the airport. The check-in desk will open two hours before departure for all domestic and international flights.
For passengers flying domestically, passengers must check-in at least 60 minutes prior to departure.
For passengers flying internationally, passengers must check-in at least 90 minutes prior to departure.
---
Airline Alliance
Airnorth Australia shares an airline alliance with Qantas. The two airlines have a codeshare agreement.
---
Frequent Flyer Program
The airline is a member of the Qantas Frequent Flyer program. Passengers are able to earn and redeem Qantas Points (conditions apply) on Airnorth flights.
---
Hub Airport
Darwin International Airport
Darwin International Airport (DRW) is the busiest airport serving the Northern Territory and the 10th most busy airport in Australia. It is the only airport serving Darwin.
The airport is located in the capital of the Northern Territory, Darwin, northern suburbs, 8km (5.0mi) from the city centre in the suburb of Mararra. It shares runways with the Royal Australian Air Force's RRAF base.
Darwin Airport has an international terminal servicing one international location, a domestic terminal and a cargo terminal. Both of the passenger terminals have a number of shops and cafeterias, although none are very inspiring and all are wallet-crippling. In 2011 the airport served 26,036 flights and 1,743,734 passengers.
Many other airlines also fly to/from Darwin International, including Virgin Australia, SilkAir, Jetstar Airways and Donghai Airlines.
---
Fleet
The airline's fleet includes Embraer ERJ-170 and Embraer EMB-120 aircraft. The airline has a fleet of 10 aircraft in total.
---
Charter Flights
Airnorth's contract charter services extend through the Top End of Australia and to Southeast Asia and form 40% of the airline's revenue. The airline has been operating charters for 30 years, with the highest quality equipment, in the hands of the best aircrew. Airnorth's contract and RPT air services complement one another, with significant cost and operational benefits to all customers. The ability to combine the two provides increased aircraft utilisation, interchange and backup that most operators cannot achieve. Many of Airnorth's services to Top End communities overlap with contract destinations.
The Embraer 170, 120 and Metroliner 23 are available for contract and ad-hoc charter. Destinations include Dili (Timor-Leste), Manila (Philippines), Truscott, Port Hedland, Port Keats (Wadeye) and McArthur River. The airline's infrastructure includes a purpose-built 3,500m² hangar at Darwin, all maintenance services, with all communications, IT systems and ground service equipment.
---
Special Services
The airline provides a number of special services for passengers needing additional assistance. If you require special assistance, you can make a note during the booking process, or contact our customer service team.
Flying with Infants
Infants above 7 days, and up to 2 years of age, who do not occupy a seat are carried free of charge. Each infant must be accompanied by an adult. The airline can provide priority boarding. But please note that due to aircraft restrictions, Airnorth does not carry bassinets or child seats. Adults accompanying a child are entitled to check-in one collapsible stroller or a carry basket or bassinet (which will be stored in the aircraft hold).
Flying with Children
A separate ticket will need to be purchased for children over 2 years of age, who must occupy a separate seat.
---
Alternative Airlines to Airnorth
Please click on the logos below to find out more about airlines that fly similar routes to Airnorth.
---
News
3rd February 2021
Airnorth set to thrive thanks to niche business model
Airnorth has carved out a niche for by offering direct services on some long routes the big players avoid. The airline's extensive network sees it mostly fly around Australia's Northern Territory, linking remote towns to the capital of the Territory, Darwin. Following the difficulties faced by many airlines at the moment due to the global Coronavirus pandemic, this niche strategy to help to see Airnorth thrive in the coming months, providing an essential transport network domestically within Australia.
17th April 2019
New Route Between Darwin and the Gold Coast
Airnorth launched flights between Darwin (DRW) and Gold Coast (OOL) on 3 April, a route which will operate via Townsville (TSV). The service will provide quick and easy connectivity between the northern Australian ports of Darwin, Townsville and the Gold Coast. The route will be operated by the carrier twice-weekly.