Search & Buy SilkAir Flights
Let's fly!

Select your payment method to view total prices including any payment fees:
Airlines will always try to sit children with their parents (subject to check-in)
Some airlines will allow travel for unaccompanied minors. Please email us to check.
The fare is based on the child's age on the date of travel.
More detailed information can be found here Traveling with children
Most airlines will let infants travel with their parent(s) for free. However some airlines will charge up to 10% of the adult ticket price. Click on 'Price Breakdown' to find out more.
If you are pregnant, but due before the flight departure date, please contact us once your baby is born and has a name. We can then add him/her to your ticket.
Infants will not be given a seat. The airlines expect parents to travel with them on their lap.
Airlines regard infants as being under 24 months old.
The fare is based on the child's age on the date of travel.
More detailed information can be found here Traveling with children

Buy
SilkAir

Flights

Search and Buy SilkAir Flights Online with Alternative Airlines
Make a SilkAir reservation and find some amazing deals with discounted SilkAir

tickets at Alternative Airlines
---
About Silk Air
SilkAir is a regional Singaporean airline, headquartered at Singapore Changi Airport.
The airline flies to many destinations including Cairns, Darwin, Brunei, Phnom Penh, Siem Reap, Dili, Kathmandu, Bangalore, Hyderabad, Kolkata, Macau, Solo, Semarang, Lombok, Jakarta, Badung and many others.
SilkAir is the regional wing of Singapore Airlines and serves the short-haul destinations in the Singapore Airlines Group network.
SilkAir has codeshare agreements with Air New Zealand, Bangkok Airways, Garuda Indonesia, Malaysia Airlines, Singapore Airlines, Virgin Australia and Vistara.
---
SilkAir Baggage
Carry-on Baggage
Passengers flying on SilkAir in Business Class, First Class and Suites Class may bring one item of carry-on baggage with a maximum weight of 7kg per bag and the maximum overall dimensions of 115cm. Passengers flying on SilkAir in Economy and Premium Economy Class are entitled to one item of baggage with the same weight and size allowance.
Checked Baggage
Passengers flying on SilkAir that are flying to and from any destination except for the USA are entitled to 30kg of checked baggage in Standard and Lite Economy Class, 35kg in Flexi and Premium Economy Class, 40kg in Business Class and 50kg in Suites and First Class.
For flights to the USA, SilkAir passengers flying in Economy Class and Premium Economy are allowed up to two pieces of checked baggage weighing 23kg each. Passengers flying in Business Class, First Class and Suites Class are allowed two pieces of checked baggage that can't weigh more than 32kg each.
For all fares, classes and routes, no single piece of baggage can weigh more than 32kg on SilkAir flights.
---
SilkAir Check-In
Online Check-In
Online check-in opens 48 hours before your SilkAir flight and closes 1.5 hours before. You can choose to either print off your boarding pass or download it to your mobile. You can check-in online by entering your flight details on the SilkAir online check-in page.
Airport Check-In
At Changi Airport, you're able to check-in at the airport check-in desks from 48 hours before your flight to 40 minutes before. You can also use the self-serve check-in kiosks to check-in to your flight.
---
SilkAir News
28th February 2018
SilkAir begins trial flight operations to Broome in Western Australia
If you're looking for a holiday in Broome in Western Australia's Kimberley region, SilkAir, which previously announced a series of trial direct flights from Singapore has now confirmed that it will begin doing so from May 22. You can now buy tickets for the four new flights on that route - these will save you more than 6 hours travel time, reducing the flight time from A to B from 10.5 hours to 4. The first of the SilkAir flights will depart Changi Airport at 10.30am and the return flight will depart Broome at 4pm.
The flight dates which will run at the same times each day are listed as: May 22, May 26, May 29 and June 2. Travellers will be able to explore the region with an itinerary for four, seven or 11 nights, depending on their travel preferences and budget. The four flights have been strategically timed to coincide with several specific events, including school holidays in Singapore and the Cable Beach Polo event in Broome, according to Australia's North West Tourism CEO, Mr Glen Chidlow.
15th January 2018
Singapore Airlines' SilkAir adds extra weekly flights from Singapore to Darwin
THE Top End's tourism industry has been given a much-needed boost with Singapore Airlines' regional wing SilkAir introducing two extra services to the NT's capital every week.
The airline, which has been operating out of Darwin for the past five years, has increased its flights from four to six per week due to popular demand. SilkAir's two extra weekly flights were a welcome addition to Darwin International Airport following recent news Air Asia, Malaysia Airlines and Philippine Airlines planned to withdraw their services.
SilkAir chief executive Foo Chai Woo said Darwin continued to be a popular and important destination for thousands of people flying from Singapore every year and vice versa.
"We carry thousands of passengers on the Darwin to Singapore route and beyond that the Singapore hub connects hundreds of destinations across the world, so Darwin represents an important market for us," he said. "We've seen good growth of tourists from Asian countries visiting Darwin and with support from our partners in the Northern Territory, we'd like to see that trend continue." Acting Tourism Minister Eva Lawler hoped to see the relationship between SilkAir and the Northern Territory continue long into the future.
"We want to see as many tourists as possible visit the Top End and SilkAir's increased services will allow more people to see our wonderful Territory," she said. Darwin International Airport acting chief executive Tom Ganley said more than 90 per cent of Singaporean tourists returned to the NT. "Singaporeans are the fifth largest visitation to Australia, so they're very important to us," he said.
"It's a great day for tourism with six services announced per week." SilkAir's announcement of increased services coincided with the inaugural flight of the airline's brand new, feature-enhanced, Boeing 737 MAX 8, from Singapore into Darwin yesterday afternoon.
21st December 2017
SilkAir to use luxury new aircraft for Cairns to Singapore route
SILKAIR hopes to increase its Cairns services by the end of 2018 as the Far North's links to Asia continue to soar. From January 8, the Asian carrier will use new Boeing 737 Max 8 aircraft for its five direct weekly flights between Cairns and Singapore.
Passenger comfort is at the heart of the Max 8 series, which feature 12 business class and 144 economy seats. SilkAir, the regional arm of Singapore Airlines, toasted its maiden flight to Cairns in May 2015, initially offering three services a week. "Over the past year we've seen traffic increase a lot," said SilkAir Cairns manager Jin Jen Chang.
"We do have confidence in this route, which is why we increased to five services a week. "We're bringing passengers from the UK, Germany, China and India into Cairns – they are just some of the major countries." Ms Chang said an "encouraging number" of Singaporean passport holders were also making the most of the SilkAir services. She said the airline hoped to introduce daily services between Cairns and Singapore by the end of next year.
"It's something we hope will eventually come about, but it all depends on the market," she said. A new colour scheme and more room between seats – or "seat pitch" – are other features of the Max 8 aircraft, which were first received by SilkAir in October. "The new Max 8 enables us to offer customers access to new and exciting destinations and paves the way for a new phase of growth," said SilkAir chief executive Foo Chai Woo.
"We look forward to inviting customers on-board to enjoy the quality experience that the Max 8 offers." The airline will also use the Max 8 jets for its services between Singapore and Darwin. Cairns is tipped to enjoy a bumper 12 months in terms of Asian visitation. The foundations have been laid, with China Southern beginning direct flights on December 5 followed by this week's Hainan Airlines launch.
6th December 2017
SIA, SilkAir to codeshare on budget subsidiary Scoot
SINGAPORE Airlines (SIA) and SilkAir will codeshare on Scoot-operated flights between Singapore and over 30 destinations within the SIA group. The codeshare agreement will focus on flights that are served only by Scoot, starting with Athens, Clark, Gold Coast, Hat Yai, Ipoh, Krabi, Kuching and Palembang.
SIA said in a statement: "The new agreement will enable SIA and SilkAir customers to travel on single-ticket itineraries to these codeshare destinations, which means that their boarding passes and baggage tags will be issued up to their final destination at the first point of check-in." For their flights on Scoot, SIA and SilkAir passengers will be offered checked baggage allowance as well as a complimentary meal and beverage for flights over four hours.
4th October 2017
SilkAir to stay separate from Singapore Airlines
New Boeing jets to boost group's Asian reach, starting with Hiroshima flights
SilkAir, Singapore Airlines' regional arm, is to stay separate from its parent, at least for now, said Foo Chai Woo, SilkAir's chief executive, on Wednesday.
"We still see the benefit of maintaining separate operations and the separate branding of SilkAir," Foo said.
But analysts believe a full merger of the two premium brands is a matter of time, as the group revamps its operations in hopes of competing more effectively in a tough market.
"We certainly see demand for our products", Foo said. "Boeing's 737 Max 8 presents us [with] great opportunities to do more," he said, referring to the airline's newest jets, which arrived in Singapore the same day. "The Max 8 puts us in a stronger position to compete and offer a better value proposition", he said.
Strength in unity?
SilkAir, a full-service airline fully owned by Singapore Airlines, flies within Asia. The group has another brand, low-cost carrier Scoot. There have been market rumors that SilkAir will be integrated to Singapore Airlines to improve efficiency. In July, Scoot absorbed the now-defunct Tigerair discount airline to streamline operations.
Merging SilkAir with Singapore Airlines "would make a lot of sense. It would generate efficiency and ensure a consistent product at the full-service end of the market," according to Brendan Sobie, chief analyst with aviation think tank CAPA. "They have pursued closer integration in recent years, and I think inevitably they will look at merging the two entirely," he added.
"SilkAir's cost structure is 71% higher" than the group's low-cost carrier business, said Corrine Png, CEO of Crucial Perspective. "But its product and service tend to fall short of [Singapore Airlines'] mainline business, which may leave some passengers feeling shortchanged," she said.
"SIA Group should just keep two brands, one premium airline and one budget airline," Png said.
Singapore Airlines is restructuring. It set up a "transformation office" in May to review operations. "We will leave no stone unturned," said the group's chief executive, Goh Choon Phong, at the time. Revenue and overseas accounting for SilkAir and Singapore Airlines were merged earlier this year. But, said Nicholas Ionides, Singapore Airlines vice president for public affairs, "There is no parallel between this move and the recent merger of Scoot and Tigerair."
SilkAir made Fuzhou its eighth destination in China
The new four times weekly service from Singapore (SIN) will be flown on Mondays, Wednesdays, Fridays and Sundays using the carrier's 737-800s. Xiamen Airlines already serves the 3,204-kilometre route with double-daily flights.
Fuzhou becomes SilkAir's eighth destination in China as it already serves Changsha, Chengdu, Chongqing, Kunming, Shenzhen, Wuhan and Xiamen. Parent company Singapore Airlines also serves Beijing, Guangzhou and Shanghai. In the China-Singapore market SilkAir now has 10% of seat capacity, behind Singapore Airlines (28%) and Scoot (15%).
With Tigerair Singapore also having 10% of the market it means that airlines related to Singapore Airlines have 63% of capacity between the two countries.
October 2016
SilkAir announced it was to offer direct charters to Okinawa.
SilkAir announced it was to offer direct charters to Okinawa. SilkAir, the regional wing of Singapore Airlines, and Okinawa Prefecture Government (OPG) are pleased to announce 12 direct SilkAir charter flights between Singapore and Okinawa, Japan's southernmost prefecture, between November 2016 and January 2017.
These series charters are part of the continuing joint efforts to promote a direct Singapore-Okinawa air link. Departing from Singapore Changi Airport, the flight time is approximately five hours and 15 minutes on these non-stop services, which arrive straight into Naha, the capital of Okinawa. These full-service flights will be operated with SilkAir's latest Boeing 737-800 aircraft, featuring both Business and Economy class cabins. Passengers will be offered a suite of SilkAir's full-service offerings, including 30kg and 40kg baggage allowance for Economy and Business class respectively, inflight meals, and complimentary inflight entertainment via SilkAir Studio, which allows them to stream movie, TV and audio content directly to their personal devices.
April 2016
SilkAir, will launch services to two new destinations,
SilkAir, the regional wing of Singapore Airlines, will launch services to two new destinations, Vientiane and Luang Prabang in Laos later this year. With the commencement of these new flights, SilkAir, together with its parent airline, Singapore Airlines will effectively fly to all countries within Southeast Asia.
SilkAir, the regional wing of Singapore Airlines, has signed a codeshare agreement with Lao Airlines for its flights to Vientiane and Luang Prabang, providing SilkAir and Lao Airlines customers more options when travelling to and from Singapore and Laos. From 31 October 2016, SilkAir will offer three weekly flights on Mondays, Thursdays and Saturdays. With the new codeshare agreement in place, customers have a choice of six weekly flights to Laos shared between both airlines.
---
SilkAir Route Map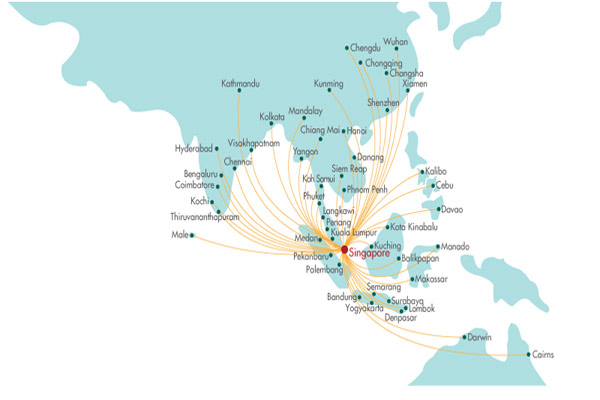 SilkAir Popular Routes
Singapore

Yogakarta
Kuala Lumpur

Singapore
Kurching

Singapore
Singapore

Solo
Medan

Singapore
Singapore

Macau

---
SilkAir Fleet
---
SilkAir Hub Airport
Singapore Changi Airport
Singapore Changi Airport is the main airport for Singapore and is the hub airport for Scoot, SilkAir, Singapore Airlines, https://www.alternativeairlines.com/jetstar-asiaJetstar Asia Airways, Tigerair. It has three runaways and can handle nearly 55 million passengers. Other airlines which fly to and from Changi Airport include AirAsia, Air China, Air France, Bangkok airways, Emirates and many others.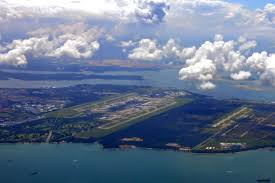 Alternative Airlines to SilkAir
---
---
Search and Buy SilkAir Flights
Make a SilkAir reservation and find some amazing deals with discounted SilkAir tickets at Alternative Airlines. SilkAir flies to many destinations in worldwide, offering a cost effective and safe service to all its passengers. Let Alternative Airlines help find you cheap SilkAir tickets and make international and domestic flight reservations on SilkAir today.
Browse the most popular SilkAir flight routes to cities. Alternative Airlines can help you make reservations on SilkAir for international flights to lots of destinations. Use the following list of routes to help you plan your next flight. Book SilkAir flights on Alternative Airlines to save big! Alternative Airlines is an online travel agency, specialising in booking lesser known airlines and remote destinations.
---
About Alternative Airlines
Alternative Airlines is an online flight search complete with customer service specialising in booking flights on lesser known airlines and to remote destinations. We offer you a wider choice of airlines supported by a team of customer service and travel specialists for help and advice on your travel plans. We specialise in finding the best available fares on the widest range of airlines and making them available to you online, with prices in the currency of your choice.
Alternative Airlines handles all your travel arrangements and payments, complete with ticketed confirmation. We do not direct you to other websites or service providers. We help you through the process. This is what makes us Alternative Airlines.Check out our reviews: Alternative Airlines - Feefo Reviews
Browse for flights, find some amazing deals, make a reservation and pay in the currency of your choice today with Alternative Airlines. Let Alternative Airlines help find you the best prices and make international and domestic flight reservations with us today.