Search & Buy Scoot Flights
Let's fly!

Select your payment method to view total prices including any payment fees:
Airlines will always try to sit children with their parents (subject to check-in)
Some airlines will allow travel for unaccompanied minors. Please email us to check.
The fare is based on the child's age on the date of travel.
More detailed information can be found here Traveling with children
Most airlines will let infants travel with their parent(s) for free. However some airlines will charge up to 10% of the adult ticket price. Click on 'Price Breakdown' to find out more.
If you are pregnant, but due before the flight departure date, please contact us once your baby is born and has a name. We can then add him/her to your ticket.
Infants will not be given a seat. The airlines expect parents to travel with them on their lap.
Airlines regard infants as being under 24 months old.
The fare is based on the child's age on the date of travel.
More detailed information can be found here Traveling with children

Buy
Scoot

Flights

Scoot Reservations with Alternative Airlines
Make a Scoot Booking and Find Some Amazing Deals
About Scoot
From 25th July 2017, Scoot and Tigerair have merged. Tigerair now runs under the brand name Scoot. With the merger, Scoot Airlines will operate two different fleets of Boeing 787 Dreamliner (existing Scoot fleet) and Airbus 320 (Tigerair fleet repainted into Scoot livery). Some of the networks will be served by both fleets. Scoot Air is a Singapore-based low-cost airline owned by Singapore Airlines.
Singapore Airlines is known for its huge duty-free shopping area and is one of the best airports for shopping in the world.
Scoot's hub airport is Singapore Changi Airport and flies medium and long-haul routes from Singapore, predominantly to Australia and China. The airline Scoot flies to many destinations including Gold Coast, Perth, Melbourne, Sydney, Hangzhou, Qingdao, Shenyang, Tianjin, Nanjing, Hong Kong, Guangzhou, Osaka, Seoul, Singapore, Taipei, Bangkok and Kaohsiung.
---
Scoot Frequent Flyer Program
Scoot has now teamed up with KrisFlyer to reward Scoot passengers flying on Scoot flights. KrisFlyer members can use their miles to redeem Scoot travel vouchers, which can then be used to purchase flights or add-on services.
---
Scoot Air Fare Class
There are 4 fares with Scoot:
Fly
FlyBag
FlyBagEat
Scoot Biz
---
Scoot Baggage
Checked Baggage
There are several checked baggage options in the Scoot Airlines fare bundles:
FlyBag / FlyBagEat
20kg allowance
ScootBiz
30kg allowance
You can also opt for Fly fare which does not include any checked baggage allowance.
If you require more luggage, passengers can purchase up to 40kg of baggage allowance online regardless of your choice of fare bundle.
You can pre-purchase your checked baggage allowance. If you exceed your allowance, you'll be charged for every kg in excess
Carry-on Baggage
Economy
Limited to 1 x 10kg, or 2 pieces including a laptop or handbag with combined weight not exceeding 10kg.
ScootBiz
Limited to 2 pieces with combined weight not exceeding 15kg.
Cabin baggage cannot exceed dimensions of 54cm x 38cm x 23cm (total linear dimensions cannot exceed 115cm).
Make sure your cabin baggage does not exceed the permitted allowance before you get to the airport. If it exceeds the permitted allowance, you may have to check in the baggage and be subject to excess baggage fees.
Extra Cabin Bag
Extra Cabin Bag option allows guests in Economy to purchase a cabin baggage of an extra 7kg. This is in addition to the standard 10kg provided.
You can pre-purchase your Extra Cabin Bag online. This will allow you to skip the waiting time at baggage claims.
Extra Additional Baggage
Scoot Air Baggage fees vary but you are able to buy more Scoot baggage for your Scoot flights. Each fare is different sizing. Please contact Alternative Airlines to find out more about additional Baggage on Scoot Airlines.
---
Scoot Check-in
Scoot Web Check-in
Passengers can check-in online for Scoot flights from Singapore and Scoot routes. Online check-in is available from through the online Scoot check-in page. Passengers on Scoot flights departing from Berlin and Singapore can also check-in on the Web.
Web check-in is also available for:
Groups or individual travellers (this does not include travel agents)
Passengers with only check-in baggage or carry-on
Non-stop flights (with no connections)
Unavailable for Web Check-in
Passengers who need special assistance
Group travel agent bookings
Multiple connecting flights
Passengers flying with infants
Passengers who have purchased MaxYourSpace
Scoot Airport Check-In
Airport check-in opens three hours before flight departure time and closes one hour before. Online check-in can be completed by visiting the Scoot check-in desk at the airport of departure.
Scoot Kiosk Check-in
Scoot also allow passengers to self-check-in though their self-service kiosks. Scoot kiosk check-in opens 18 hours before flight departure and closes 70 minutes before.
---
Scoot Seat Selection
Find your perfect seat for your Scoot booking with Alternative Airlines. Browse the available seats and choose where you want to sit on the plane when you reserve your flights with Alternative Airlines. Don't miss out on the seat of your choice! Book Scoot flights with Alternative Airlines today.
---
Scoot Destinations
| | | | | |
| --- | --- | --- | --- | --- |
| Amritsar | Athens | Bangalore | Bangkok | Berlin |
| Cebu | Chennai | Chiang Mai | Clark | Dalian |
| Denpasar | Dhaka | Gold Coast | Guangzhou | Haikou |
| Hangzhou | Hanoi | Harbin | Hai Yai | Ho Chi Minh City |
| Hong Kong | Honolulu | Hyderabad | Ipoh | Jaipur |
| Jakarta | Jeddah | Jinan | Kalibo | Kaohsiung |
| Kochi | Krabi | Kuala Lumpur | Kuantan | Kuching |
| Langkwai | Lucknow | Macau | Malé | Manila |
| Melbourne | Nanchang | Nanjing | Nanning | Ningbo |
| Osaka | Palembang | Pekanbaru | Penang | Perth |
| Phuket | Qingdao | Quanzhou | Sapporo | Seoul |
| Shenyang | Shenzhen | Singapore | Surabaya | Sydney |
| Taipei | Tianjin | Tiruchirapali | Tokyo | Wuxi |
| | Xi'an | Yangon | Zhengzhou | |
---
Scoot Flights to Europe
Scoot currently fly to two destinations within Europe:
Athens (Greece)
Berlin (Germany)
Scoot flies to two destinations in Europe. After the announcement of the merger with Tigerair, Scoot announced that it would be launching its first ever long-haul route to Europe with a service to Athens. Shortly thereafter, in 2018, Scott announced its second service to Europe with a flight to Berlin.
Scoot Route Map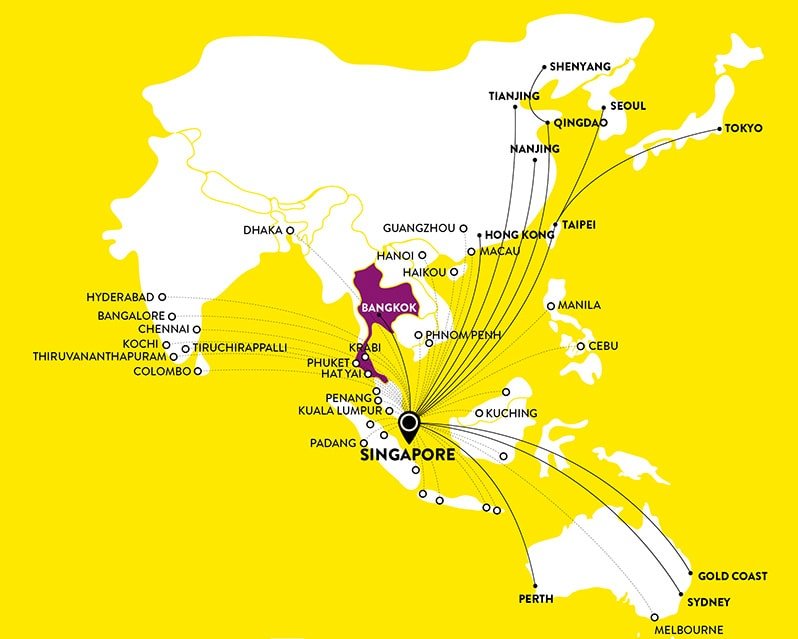 Scoot Popular Routes
Singapore

Perth
Melbourne

Singapore
Singapore

Qingdao
Nanjing

Singapore
Osaka

Singapore
Singapore

Tokyo

---
Scoot Fleet
Boeing 787-8
Airbus A320-200
Airbus A319-100
Airbus A320neo
---
Scoot Hub Airport
Singapore Changi Airport
Singapore Changi Airport is the main airport for Singapore and is the hub airport for Scoot, SilkAir, Singapore Airlines, Jetstar Asia Airways, Tigerair. It has three runaways and can handle nearly 55 million passengers.
Other airlines which fly to and from Changi Airport include AirAsia, Air China, Air France, Bangkok airways, Emirates and many others.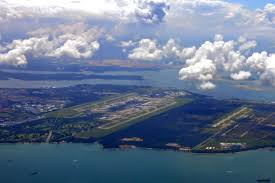 Alternative Airlines to Scoot
---
---
Buy Discounted Scoot Tickets at Alternative Airlines
---
Scoot News
31st May 2018
Scoot to wet-lease a B777 to cover for B787 downtime
Fly Scoot has announced it will wet-lease one B777-200(ER) from Singapore Airlines (SQ,Singapore Changi) to cover the shortage of B787-8s and -9s caused by the technical issues with Rolls-Royce Trent 1000 engines.
The wet-leased aircraft will be deployed between June 6 and June 30, 2018, on the low-cost, long-haul operator's service from Singapore Changi to Sydney Kings ford Smith.
It is recalled that Singapore Airlines CEO Goh Phong Choon recently told a media gathering that Singapore Airlines Group has not seen any headwinds due to the Trent 1000 engine issues currently afflicting carriers across the globe.
According to CAPA, after the initial lengthy grounding of one aircraft in the second half of 2017, Scoot resumed full operations of all its B787s in early 2018. However, the new airworthiness directive issued in April 2018, which tightened the requirements for inspections of the Trent 1000 engines and reduced ETOPS capabilities, has reportedly caused new headaches for the airline.
Flightradar24 ADS-B data shows that out of Scoot's ten B787-8s, 9V-OFD (msn 37121) has been grounded since May 19, while all the others are currently active. All six of the carrier's B787-8s are also active.
14th March 2018
Fly Scoot Tiger to Operate at Terminal 3 Soekarno – Hatta Airport
Fly Scoot Tiger Air is preparing to move the operational from Terminal 2 to Terminal 3 at the Soekarno - Hatta International Airport.
At Terminal 3, the cost-effective airline that is part of the Singapore Airlines Group will use the counters 11, 12, 13 in area D. The move committed to Angkasa Pura II to help build an airline network with excellent service." We will fully support the move of Fly Scoot Tiger Air," Suriawan said.
Fly Scoot Tiger aircraft currently uses two types of Airbus namely A319 and A320. For flight on March 14, it has been scheduled to use the A320. Suriawan further appealed to service users to pay attention to signage and departure terminals related to the operational move.
Since the beginning of 2017, PT Angkasa Pura II has gradually moved the international airlines incorporated in Sky Team, from Terminal 2 to Terminal 3. International route airlines that already operated in Terminal 3 are Garuda Indonesia, Saudi Arabian, Vietnam Airlines, Korean Airlines, Xiamen Air, China Airlines, China Southern, AirAsia International and Korean Air.
As known, in the middle of last year, two low-cost airlines from Singapore, Tiger Air, and Scoot, officially merged. With the merger, all flights which served by Tigerair will be served under the Scoot.
Tiger Air is a subsidiary of Singapore Airlines that has short-haul routes, around Asia. While Scoot has a wider reach to the continent of Europe. The merger of both companies was done to improve the effectiveness and the efficiency of the company's performance.
13th March 2018
Scoot planning more long haul destinations
Scoot head of sales and distribution Trevor Spinks, speaking on CAPA TV, said (Mar-2018) the carrier is planning "a couple more" long haul destinations, in addition to Athens, Honolulu and Berlin. Mr Spinks said: "We're looking atEurope" and added: "We're looking at a whole heap of places across the globe as well".
5th October 2017
Budget airline Scoot extends Boeing 787 Hong Kong into W17
Scoot Singapore Airlines recently extended planned Boeing 787-8 service onSingapore – Hong Kongroute, previously scheduled until 28OCT17. For winter season from 29OCT17 the 787 will serve Hong Kong once a week on Thursdays. The following is operational schedule for the Boeing 787 flight.
TR972 SIN0810 – 1210HKG 788 4
TR973 HKG1300 – 1705SIN 788 4
4th October 2017
Scoot schedules Honolulu Dec 2017 launch
Scoot today (04OCT17) opened reservation for its planned service to the US, operating Singapore – Osaka Kansai – Honoluluroute. Boeing 787-8 aircraft will operate this route 4 times a week, effective 19DEC17.
TR700 SIN0955 – 1655KIX1850 – 0700HNL 788 5
TR700 SIN1045 – 1730KIX1925 – 0730HNL 788 126
TR701 HNL0935 – 1400+1KIX1510+1 – 2110+1SIN 788 x347
Scoot will fly into Honolulu International Airport, which is currently the hub airport for Hawaiian Airlines, Mokulele Airlines, Makani Kai Air and Island Air.
14th September 2017
Budget airline Scoot eyes more Philippines flights
Singaporean budget airline Scoot said Thursday said it was looking to add 10 more flights to and from the Philippines over the next 5 years.
Scoot, a subsidiary of Singapore Airlines, currently flies 23 times weekly from the country and is hoping to grow by 10 to 20 percent annually, CEO Lee Lik Hsin said.
Although the company considers the Philippine market an important part of its Asian network, Lee said infrastructure remains a constraint.
"We would love to be able to increase our flights to Manila, but Manila is a very slot-constrained airport so we can't fly additional flights even if we wanted to," he told ANC's Market Edge.
"For example, in certain airports in other countries, you may not face the same kind of slot constraints. We do want to grow, but we have to find the right opportunities and infrastructure to do so," he said.
While Scoot is considering international airports in Clark, Davao, and Cebu, the capital is still a priority, he said.
5th September 2017
Scoot announces plans for £150 fares from UK to India
The low-cost long-haul revolution is expected to touch down in India next year with no-frills carrier Scoot aiming to launch non-stop flights from Europe to cities including Mumbai and Delhi for around £150.
The budget subsidiary of Singapore Airlines says it hopes to start flights between India and Europe using its so-called "fifth freedom" privilege, which allows airlines to carry passengers between two foreign countries as a part of services that connect with their home country.
"Since we have fifth freedom, we can operate direct flights from Mumbai, Delhi, Chennai and Kolkata to destinations like Copenhagen, Vienna, Cairo and Manchester," Bharath Mahadevan, head of the airline's operations in the country.
The airline's operations are currently focused in the Far East and Australia, while its route map features Sydney, Melbourne, Manila, Bangkok and Hong Kong. It does, however, offer direct flights from Singapore to Athens, with prices from around £350 return.
Scoot flights to Manchester over London to avoid luring customers from its parent company, Singapore Airlines. But budget travellers in the capital could soon have their own low-cost options for trips to India. SpiceJet and IndiGo, the nation's two biggest no-frills airlines, are reportedly planning direct routes to Gatwick, while low-cost trailblazer Norwegian has also been talking up the prospect of flights to India since 2015 – so far without results.
SpiceJet in particular has very ambitious plans for expansion. While its route map doesn't currently extend far beyond India (Dhaka, Malé, Muscat, Colombo, Bangkok and Dubai are among its international destinations), in June it announced a massive order for 100 Boeing aircraft (it currently has a fleet of 55 planes), earning it praise from none other than Donald Trump, who thanked it for safeguarding US jobs.
It marked quite a turnaround for SpiceJet. In December 2014 the airline was on the brink of collapse following five consecutive years in the red. It was even forced to cancel more than 2,000 flights because it hadn't paid its bills and oil companies were refusing to refuel its planes. Since that nadir, however, its stock has risen more than 800 per cent, giving it a market value of $1.2 billion (£0.9bn).
The potential for growth in India really is staggering. The country's population stands at at more than 1.32 billion, and it is projected to overtake China (which has 1.38 billion residents) by 2022. Airlines have been rushing to cater to its growing middle class, and a clutch of carriers have been established in the last decade or so. The most successful has been IndiGo, which in 11 years has gone from start-up to low-cost behemoth, with 138 jets, 46 destinations and more than 41 million annual passengers.
September 2017
Scoot plans Harbin Dec 2017 launch
Scoot last week opened reservation for its newest route to China, previously announced by the airline. From 01DEC17, the airline will operateSingapore – Harbinroute, on board Boeing 787-8/-9 aircraft. This route will be served 3 times a week.
TR154 SIN0200 – 0850HRB 789 2
TR154 SIN0200 – 0850HRB 788 57
TR155 HRB1015 – 1750SIN 789 2
TR155 HRB1015 – 1750SIN 788 57
September 2017
Scoot adds seasonal Singapore-Sapporo flight in NW17
Scoot in winter 2017/18 season plans to offer limited-time nonstopSingapore – Sapporo New Chitose service, in addition to existing 3 weekly flights via Taipei. Initially from November 2017, nonstop service to Sapporo will operate once a week, increasing to 2 weekly from December 2017.
This nonstop flight is scheduled until 11FEB18.
TR890 SIN0545 – 1410CTS 789 5
TR890 SIN0610 – 1410CTS 789 7
TR891 CTS1540 – 2310SIN 789 57
Day 5 operates from 03NOV17, Day 7 from 03DEC17.
26th July 2017
Scoot is planning to launch services from its Singapore base to 5 new destinations: Harbin, Honolulu, Kuantan, Kuching and Palembang.
Singapore-Harbin will be operated thrice-weekly, while services to Honolulu (via Osaka Kansai) will be operated four-times weekly. Both routes are expected to commence by the end of the year, using Boeing 787s.
As part of its new service to Honolulu, Scoot will also operate a non-stop service to Osaka Kansai. It currently operates to Osaka Kansai via Bangkok Don Mueang and Kaohsiung, Taiwan - both services will continue.
Honolulu also represents Scoot's first destination in the US and its second 'ultra long-haul' destination after Athens.
Scoot has also applied to operate thrice-weekly to Kuantan within the first half of 2018. It will also take over SilkAir's four-times weekly Kuching and thrice-weekly Palembang services from 29 October and 23 November, respectively. All three services will be operated using Airbus A320s.
Scoot adds however that these planned launches are still subject to regulatory approvals.
The carrier has merged with Tigerair, and the new routes will bring expand its network to 65 destinations in 18 countries.
25th July 2017
Scoot and Tigerair merges to operate under a single brand, Scoot.
With the merger, Tigerair will operate under the Scoot brand, however the Scoot designator code (TZ) will be re-designated as TR. This merger is part of our long-term growth strategy and to enable a more seamless travel experience for all our guests.
22nd June 2017
Scoot's off to Athens
Scoot has begun flying to Athens, the only LCC that offers a direct flight between South-east Asia and Greece. The flight is also the airline's first to a European destination and maiden long-haul flight.
Operated on a Boeing 787 Dreamliner, the 11.5-hour flight takes off from Singapore every Tuesday, Thursday, Saturday and Sunday at 02.45, and arrives in Athens on the same day at 08.45. Return flights will depart Athens at 11.30 and arrive in Singapore at 03.55 the following day.
In addition, Scoot has plans to add five new routes in the next year, including one extra long-haul destination.
In April 2017, Scoot announced it was adjusting its service for Singapore - Perth service, which is currently served daily with Boeing 787-9 aircraft.4 of 7 weekly flights will be operated by the -8, while operational schedule pushes back by nearly 3 hours.
New schedule as follows:
TZ008 SIN1220 – 1725PER 789 246
TZ018 SIN1500 – 2005PER 788 x246
TZ007 PER1835 – 2345SIN 789 246
TZ017 PER2110 – 0230+1SIN 788 x246
November 2016
Scoot merges with Tigerair
Tigerair (Singapore) brand announced it will merge with Scoot and retire in 2017. The brand integration will take place in the latter half of 2017, presenting travellers with more destination options and seamless travel experiences. In May 2017, Scoot Airlines announced itis planning to expand its long-haul routes to account for a "significant part" of its network.It is gearing up to launch its first long-haul service, a Singapore-Athens flight, next month. But in the next two to three years, it could triple its long-haul offerings.Scoot is now seeking approval from the authorities in the US for a Singapore to Honolulu service, with a stop in Osaka. The service, which is expected to take about 14hr 30min in total, could be launched by year-end.At 11½ hours, Scoot's new route from Singapore to Athens tops its nine-hour Singapore-Jeddah service.
May 2017
Scoot purchases Dreamliners
Scoot Airlines announced it was planning on low cost to Europe flights with the recent purchase of eight 787 Dreamliner aircraft.The planes are billed as one of the most fuel efficient long-haul commercial planes which allows for the affordable prices.The shell of the plane is made from lightweight carbon fibre, and combined with specially designed engines and wings allow the plane to operate at a significantly lower cost.The Scoot flights will be based in Singapore and connect with flights leaving from Sydney, Gold Coast, Melbourne and Perth before arriving in Athens, Greece.
---