Scoot Reservations with Alternative Airlines
Make a Scoot Booking and Find Some Amazing Deals
---
About
Scoot Air is a Singapore-based low-cost airline owned by Singapore Airlines. The airline is based at Singapore Changi Airport and operates international flights across Asia, Oceania and to parts of Europe.
The airline launched in 2012, originally with a focus to fly medium-haul and long-haul flights, mainly to destinations within India and China. In 2017, Singapore Airlines' merged its other child airline, Tigerair, with Scoot. Scoot took on the majority of Singapore Airlines' southeast Asian network, with flights to several destinations within countries including Thailand, Malaysia, Vietnam and Laos.
In 2017, the airline launched its first flights travelling outside of Asia and Australia, with the announcement and launch of intercontinental flights to Honolulu and Berlin. The airline stopped operating the Honolulu service soon after launch but still operates the Berlin flight today.
---
Fleet
The airline operates two different fleets of Boeing 787 Dreamliner and Airbus A320 family aircraft. Overall, the airline has more than 50 aircraft.
---
Destinations
| AIRPORT | COUNTRY |
| --- | --- |
| Gold Coast Airport (OOL) | Australia |
| Melbourne Airport (MEL) | Australia |
| Perth Airport (PER) | Australia |
| Sydney Airport (SYD) | Australia |
| Changsha Huanghua International Airport (CSX) | China |
| Fuzhou Changle International Airport (FOC) | China |
| Guangzhou Baiyun International Airport (CAN) | China |
| Haikou Meilan International Airport (HAK) | China |
| Hangzhou Xiaoshan International Airport (HGH) | China |
| Harbin Taiping International Airport (HRB) | China |
| Hong Kong International Airport (HKG) | Hong Kong |
| Jinan Yaoqiang International Airport (TNA) | China |
| Kunming Changshui International Airport (KMG) | China |
| Macau International Airport (MFM) | China |
| Nanchang Changbei International Airport (KHN) | China |
| Nanjing Lukou International Airport (NKG) | China |
| Nanning Wuxu International Airport (NNG) | China |
| Ningbo Lishe International Airport (NGB) | China |
| Qingdao Liuting International Airport (TAO) | China |
| Shenyang Taoxian International Airport (SHE) | China |
| Tianjin Binhai International Airport (TSN) | China |
| Wuhan Tianhe International Airport (WUH) | China |
| Sunan Shuofang International Airport (WUX) | China |
| Xi'an Xianyang International Airport (XIY) | China |
| Zhengzhou Xinzheng International Airport (CGO) | China |
| Berlin Tegel Airport (TXL) | Germany |
| Athens International Airport (ATH) | Greece |
| Sri Guru Ram Dass Jee International Airport (ATQ) | India |
| Coimbatore International Airport (CJB) | India |
| Rajiv Gandhi International Airport (HYD) | India |
| Cochin International Airport (COK) | India |
| Trivandrum International Airport (TRV) | India |
| Tiruchirapalli Airport (TRZ) | India |
| Visakhapatnam Airport (VTZ) | India |
| Sultan Aji Muhammad Sulaiman Airport (BPN) (begins 30th June 2020) | Indonesia |
| Ngurah Rai International Airport (DPS) | Indonesia |
| Soekarno-Hatta International Airport (CGK) | Indonesia |
| Lombok Airport (LOP) (begins 14th July 2020) | Indonesia |
| Sultan Hasanuddin International Airport (UPG) (begins 16th June 2020) | Indonesia |
| Sam Ratulangi International Airport (MDC) (begins 5th May 2020) | Indonesia |
| Sultan Mahmud Badaruddin II International Airport (PLM) | Indonesia |
| Achmad Yani International Airport (SRG) | Indonesia |
| Juanda International Airport (SUB) | Indonesia |
| Adisucipto International Airport (JOG) | Indonesia |
| Kansai International Airport (KIX) | Japan |
| New Chitose Airport (CTS) | Japan |
| Narita International Airport (NRT) | Japan |
| Luang Prabang International Airport (LPQ) | Laos |
| Vientiane International Airport - Wattay International Airport (VTE) | Laos |
| Sultan Azlan Shah Airport (IPH) | Malaysia |
| Sultan Ismail Petra Airport (KBR) | Malaysia |
| Kota Kinabalu International Airport (BKI) (begins 3 December 2019) | Malaysia |
| Kuala Lumpur International Airport (KUL) | Malaysia |
| Sultan Haji Ahmad Shah Airport (KUA) | Malaysia |
| Kuching International Airport (KCH) | Malaysia |
| Langkawi International Airport (LGK) | Malaysia |
| Penang International Airport (PEN) | Malaysia |
| Mactan–Cebu International Airport (CEB) | Philippines |
| Clark International Airport (CRK) | Philippines |
| Ninoy Aquino International Airport (MNL) | Philippines |
| King Abdulaziz International Airport (JED) | Saudi Arabia |
| Singapore Changi Airport (SIN) | Singapore |
| Incheon International Airport (ICN) | South Korea |
| Kaohsiung International Airport (KHH) | Taiwan |
| Taiwan Taoyuan International Airport (TPE) | Taiwan |
| Suvarnabhumi Airport (BKK) | Thailand |
| Don Mueang International Airport (DMK) | Thailand |
| Chiang Mai International Airport (CNX) | Thailand |
| Hat Yai International Airport (HDY) | Thailand |
| Krabi International Airport (KBV) | Thailand |
| Phuket International Airport (HKT) | Thailand |
| Noi Bai International Airport (HAN) | Vietnam |
| Tan Son Nhat International Airport (SGN) | Vietnam |
---
Route Map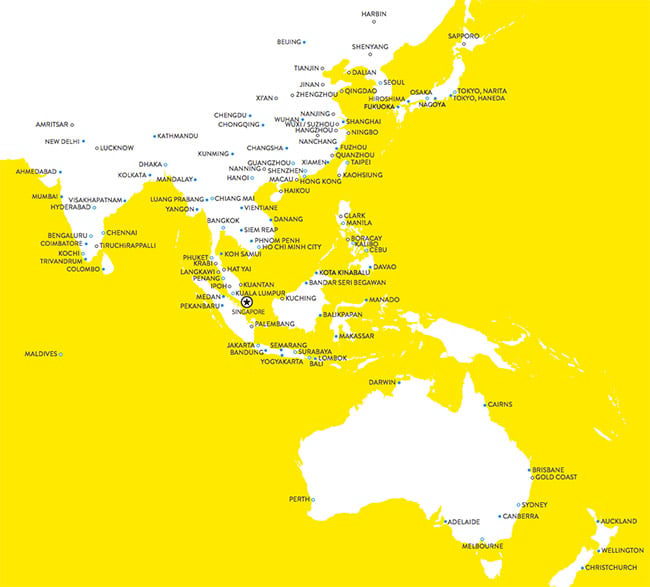 ---
Baggage
Carry-on Baggage
Economy
Limited to 1 x 10kg, or 2 pieces including a laptop or handbag with a combined weight not exceeding 10kg.
ScootBiz
Limited to 2 pieces with a combined weight not exceeding 15kg.
Carry-on baggage cannot exceed dimensions of 54cm x 38cm x 23cm (total linear dimensions cannot exceed 115cm).
Make sure your carry-on baggage does not exceed the permitted allowance before you get to the airport. If it exceeds the permitted allowance, you may have to check in the baggage and be subject to excess baggage fees.
Extra Carry-On Baggage
Extra Cabin Bag option allows guests in Economy to purchase carry-on baggage of an extra 7kg. This is in addition to the standard 10kg provided.
Passengers can pre-purchase your Extra Cabin Bag online. This will allow them to skip the waiting time at baggage claims
Extra Additional Baggage
Baggage fees vary but extra baggage is available to purchase.
Checked Baggage
There are several checked baggage options in the fare bundles:
FlyBag / FlyBagEat
20kg allowance
ScootBiz
30kg allowance
Passengers can also opt for Fly fare which does not include any checked baggage allowance.
If passengers require more luggage, they can purchase up to 40kg of baggage allowance online regardless of their choice of fare bundle.
Passengers can pre-purchase their checked baggage allowance. If passengers exceed their allowance, they'll be charged for every kg in excess.
---
Check-In
Web Check-in
Online check-in is available from through the online check-in page. Passengers can check-in on flights departing from Singapore, Perth, the Gold Coast, Sydney, India, Seoul Japan and Berlin. Online check-in opens 72 hours before scheduled flight departure time and closes one hour before.
Web check-in is also available for:
Groups or individual travellers (this does not include travel agents)
Passengers with only check-in baggage or carry-on
Non-stop flights (with no connections)
Unavailable for Web Check-in
Passengers who need special assistance
Group travel agent bookings
Multiple connecting flights
Passengers flying with infants
Passengers who have purchased MaxYourSpace
Airport Check-In
Airport check-in opens three hours before flight departure time and closes one hour before. Airport check-in can be completed by visiting the check-in desk at the airport of departure.
Kiosk Check-in
Passengers can check-in through the airport self-service kiosks. Kiosk check-in opens 18 hours before flight departure and closes 70 minutes before.
---
Economy Class
Economy Class is one of two cabin classes onboard Scoot flights. The cabin is spacious and comfortable, with a professionally trained cabin crew.
Facilities
What's included in Economy Class will depend entirely on the fare purchased. There are three different Economy Class fares — Fly, FlyBag and FlyBagEat.
| Fly | FlyBag | FlyBagEat |
| --- | --- | --- |
| Seat only | Seat | Seat |
| | 20 kg checked baggage | 20 kg checked baggage |
| | | Hot meal w/ drink |
There's no in-flight entertainment system in Economy Class. However, passengers can choose to pay for WIFI for light browsing on their personal electronic devices.
Seats
Standard seats on the Boeing 787 give 45 cm (18") of width and 78 cm (31") of seat pitch, while seats on the Airbus A320 give 52 cm (20.5") of width and 71 cm (28") of seat pitch.
Passengers can upgrade their seats to Super Seats, which offer 30% more legroom and adjustable headrests or to Stretch Seats, which offer 50% more legroom, adjustable headrests and are located in the front row of the Economy Class Cabin cabin.
Passengers can also choose to sit in a quiet zone, which is an area of the cabin where babies aren't allowed.
---
Premium Economy
Scoot's Premium Economy, which is named ScootPlus, is perfect for passengers looking to upgrade their in-flight experience from the moment they arrive at the airport to the moment they land.
Facilities
Passengers flying in ScootPlus can enjoy the following benefits in an exclusive cabin on the plane:
Bigger seats (double legroom)
A larger baggage allowance
A more varied in-flight menu
Priority check-in
Priority boarding
Priority check-in
Built-in power outlet in seat
Free WIFI (30 MB)
Seat
Seats in ScootPlus give 96 cm (38") of seat pitch, 55 cm (22"), adjustable headrests and extra seat recline.
---
In-Flight Entertainment
There's no in-flight entertainment system onboard Scoot flights. However, passengers can use the airline's WIFI to read up on the destination that they're flying to on their personal electronic device.
---
WIFI
Surf in the sky from the moment of take-off with Scoot's WIFI network. There are a number of different WIFI packages too choose from when flying on Scoot, each with different prices and features.
PLAN
DATA ALLOWANCE
PRICE
FEATURES
TWEET 20
20 MB
Purchased pre-flight:
$4.99 USD

Purchased in-flight:
$5.99 USD

Messaging & texting
20 MB of data max
64kpbs surfing

SCOOTPLUS 30
30 MB
Included w/ ScootPlus fare

Messaging & texting
30 MB of data max

SURF 80
80 MB
Purchased pre-flight:
$14.99 USD

Purchased in-flight:
$16.99 USD

Web browsing and social media
80 MB of data max

INDULGE 200
200 MB
Purchased pre-flight:
$29.99 USD

Purchased in-flight:
$32.99 USD

Emails
Web browsing
Streaming music
200 MB of data max
---
Food
Scoot offers a selection of hot meals, light meals, snacks and a variety of hot, cold, alcoholic and non-alcoholic drinks on all flights. Meals can be purchased in-flight unless passengers are flying in ScootPlus or on the FlyBagEat fare, where meals are complimentary.
---
Frequent Flyer Program
KrisFlyer
Scoot teams up with KrisFlyer to reward its passengers. KrisFlyer members can use their miles to redeem Scoot travel vouchers, which can then be used to purchase flights or add-on services.
---
Airline Alliance
Value Alliance
Scoot is a founding member of Value Alliance, which is the world's largest airline alliance for low-cost carriers. The alliance is unique to other airline alliances in the fact that currently only uses airlines that are based in the region of Southeast Asia. Other than Scoot, members of the Value Alliance include:
Cebu Pacific
Jeju Air
Nok Air
Nokscoot
---
Hub Airport
Singapore Changi Airport
Singapore Changi Airport is the main airport for Singapore and is the hub airport for Scoot, SilkAir, Singapore Airlines, Jetstar Asia Airways. It has three runways and handles around 65 million passengers annually.
Other airlines which fly to and from Changi Airport include AirAsia, Air China, Air France, Bangkok Airways, Emirates and many others.
Singapore Changi Airport is world-renowned for its huge duty-free shopping area and is one of the best airports for shopping in the world.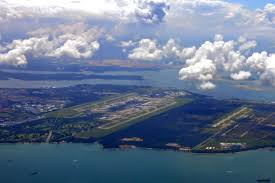 Credit: Pulkitsangal on Wikimedia Commons
---
Alternative Airlines to Scoot
---
Seat Selection
Find your perfect seat for your Scoot booking with Alternative Airlines. Browse the available seats and choose where you want to sit on the plane when you reserve your flights with Alternative Airlines. Don't miss out on the seat of your choice!
---
Promo Discount Code
Pay with PayPal and save money with a Scoot promo code. Find all the fantastic airline voucher codes with Alternative Airlines.