New National carrier of Cambodia - worth a try!

With a great pair of shareholders, The Cambodian Government and Vietnam Airlines, plus a strategic triangular route network connecting Ho Chi Minh City, Siam REap and Phnom Penh, Cambodia Angkor Air is a small regional airline which travellers to the fast growing tourist region of Vietnam. Laos and Cambodia are going to love. Formed initially in 2009, the airline currently uses three aircraft supplied by the mighty Vietnam airlines, two turboprop ATR 72's and one modern jet Airbus A321.
Flights to Angkor Wat
Without doubt the majority of flyers who use Cambodia Angkor Air will do so to get to the world famous - once in a lifetime, must-see - temples at Angkor Wat. Amongst many reasons to visit this world heritage site, Angkor Wat is the largest religious building in the world and the whole amazing complex around Angkor takes days to explore as described in the official documentation: "A one day entrance ticket is not enough to try to imagine the surrounding treasures.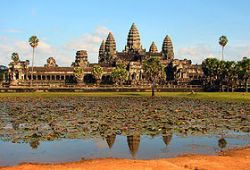 3 days are enough to see the main temples. Between 5 and 7 days provides all the time you need extending visits in more remote temples (Roluos group temples), and you will know enough well the Angkor site. Some temples can not be visited with the Angkor pass, a separate ticket must be bought,". The main airport for visiting Angkor is Siem Reap which is only just over 5 km north of the city and Cambodia Angkor Air have low priced flights to Siem Reap from Phnom Penh and Ho Chi Minh City. It's certainly worth getting to the major Temple. Angkor Wat at sunrise to catch a very personal insight into the breathtaking combination of beauty and scale that makes this an unmissable experience.
Flights to Siem Reap on Cambodia Angkor Air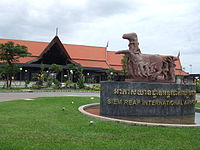 If you are expecting old and ramshackled foregt it. Siem Reap has a modern terminal building less than 5 years old which comfortably handles over 1.5 Million passengers every year. Expect to rub shoulders with experienced travellers from all over the world including low cost fliers arriving on Air Asia and Silkair from Kuala Lumpur and Singapore, respectively.
Why Choose Cambodia Angkor Air?
This local airline deserves your patronage plus it means that your experience starts before you arrive in Angkor .. places and temples are why you are visiting the region, but its the people who will make the visit memorable, so let Cambodia Angkor Air work their Cambodian magic on you from the very start.
With more than 25 years of experience, Alternative Airlines has become a specialist in arranging flights to the more unusual destinations around the world, plus we have strong relationships with airlines, such as both Cambodia Angkor Air and Vietnam Airlines, which may not be the first airline you think about when booking your flight to or from Angkor Wat

If you are considering a trip which involves Cambodia, we can help plan your journey. Your reservations will be confirmed immediately and we have experienced staff to help should you require assistance. To book a flight on Cambodia Angkor Wat merely use our new improved search tool to provide you with the best choice of flights for you journey. Please don't hesitate to call us if you need any information or clarification of any details plus sign up for our regular news letter to keep you intouch with all the latest developments in air travel.
Cambodia Angkor Air flies into profit
Cambodian Prime Minister Hun Sen announced that the country's new national airline, Cambodia Angkor Air, had begun to make a profit.
Cambodia Ankor Air to get competition on Phnom Penh to Siem Reap
Two new airlines owned by the Tonle Sap Company and the Indochina Company  are likely to be authrised by teh cambodian Government to fly from Phnom Penh to Siem Reap, and from Phnom Penh to Sihanoukville.
New Cambodian airline, Aspara International due for launch
Cambodian start-up airline, Apsara International has obtained it operating licence from the Cambodian Civil Aviation Board prior to its planned launch of its first scheduled Service between Phnom Penh and Siem Reap at the end of September 2014.