Cambodia Angkor Air Reservations with Alternative Airlines
Make a Cambodia Angkor Air Booking and Find Some Amazing Deal
---
About Cambodia Angkor Air
Cambodia Angkor Air is the national flag carrier airline of Cambodia, headquartered in Phnom Penh.
The Airline flies to 14 destinations throughout South-East Asia, including Phnom Penh, Siem Reap, Guangzhou, Hangzhou, Singapore and Bangkok. The airline carrier plans routes to Japan, Seoul, Hong Kong, Danang, Sihanoukville and Hanoi. Cambodia Angkor Air also operates charter flights to Chengdu, Tianjin, Nanjing, Hangzhou and Seoul.
The airline established operations in July 2009 with the intention of becoming the leading airline offering safe and comfortable air travel within Cambodia, and internationally through our partners.
The airline is owned by the Cambodian government and Vietnam Airlines and has a codeshare agreement with the airline.
Cambodia Angkor Air's fleet consists of Airbus A321 and ATR 72.
---
Cambodia Angkor Air Destinations
The airline serves the following destinations in Asia, either by charter or scheduled service flights:
Domestic Destinations
| CITY | AIRPORT | IATA |
| --- | --- | --- |
| Phnom Penh | Phnom Penh International Airport | PNH |
| Siem Reap | Siem Reap International Airport | REP |
| Sihanoukville | Sihanouk International Airport | KOS |
International Destinations
| COUNTRY | CITY | AIRPORT | IATA |
| --- | --- | --- | --- |
| China | Beijing | Beijing Capital International Airport | PEK |
| China | Changsha | Changsha Huanghua International Airport | CSX |
| China | Chengdu | Chengdu Shuangliu International Airport | CTU |
| China | Chongqing | Chongqing Jiangbei International Airport | CKG |
| China | Guangzhou | Guangzhou Baiyun International Airport | CAN |
| China | Haikou | Haikou Meilan International Airport | HAK |
| China | Hangzhou | Hangzhou Xiaoshan International Airport | HGH |
| China | Hefei | Hefei Xinqiao International Airport | HFE |
| China | Nanchang | Nanchang Changbei International Airport | KHN |
| China | Ningbo | Ningbo Lishe International Airport | NGB |
| China | Shanghai | Shanghai Pudong International Airport | PVG |
| China | Shenyang | Shenyang Taoxian International Airport | SHE |
| China | Tianjin | Tianjin Binhai International Airport | TSN |
| China | Wenzhou | Wenzhou Longwan International Airport | WNZ |
| China | Wuxi | Sunan Shuofang International Airport | WUX |
| China | Zhengzhou | Zhengzhou Xinzheng International Airport | CGO |
| Vietnam | Danang | Da Nang International Airport | DAD |
| Vietnam | Ho Chi Minh City | Tan Son Nhat International Airport | SGN |
---
Baggage
Cambodia Angkor Air allows each passenger to carry onboard a free baggage allowance: two pieces for Business class passengers and one piece for Economy class passengers. Each piece has a maximum weight of 7kg and the sum of three dimensions shall not exceed 115cm (56 cm x 36 cm x 23 cm) or (22 x 14 x 9 inches).
---
Check-In
Online Check-In
Online check-in for Cambodia Angkor Air flights is available on the airline's official website.
Airport Check-In
Check-in times at the airport will vary depending on the airport you're flying from.
If you're flying from Tan Son Nhat International Airport (Vietnam), the check-in counters will open from 2 hours up to 50 minutes before your scheduled flight departure time.
If you're flying from Phnom Penh International Airport or Siem Reap International Airport (Cambodia), check-in counters will open from 2 hours up until 40 minutes before takeoff for international flights, and from 90 minutes up until 30 minutes before takeoff for domestic flights.
It's recommended that you arrive at the airport for your Cambodia Angkor Air flight at least 3 hours before takeoff - this should allow you enough time to check in any checked baggage and get through security.
---
In-Flight Entertainment
It is not known whether Cambodia Angkor Air provides in-flight entertainment on board or not. We suggest bringing your own form of entertainment on board so you can keep entertained throughout your flight.
---
Meals and Beverage Options
Cambodia Angkor Air may provide meals in-flight depending on the route you're flying. Passengers can purchase snacks and beverages from the in-flight menu.
---
Route Map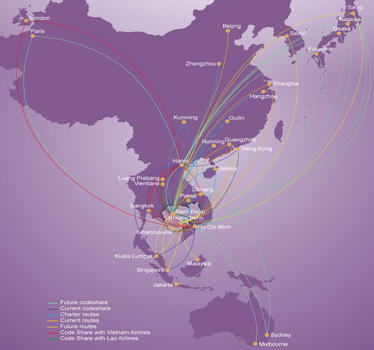 ---
Popular Routes
Phnom Penh

Hanoi
Vientiane

Phnom Penh
Hanoi

Vientiane
Ho Chi Minh

Vientiane
Siem Reap

Guangzhou
Phnom Penh

Shanghai
---
Economy Class
Economy Class Facilities
Economy class takes up the majority of seats in the planes. Onboard, passengers can choose to purchase items of food and drink from the meals served to keep them refreshed during the flight.
Economy Class Seating
Seats are standard, with enough legroom and spacing between chairs to keep your flight enjoyable.
---
Premium Economy Class
Passengers travelling in this class will receive a greater level of service on board their flight, but also before travelling to the airport.
Premium Economy Class Facilities
Passengers will enjoy priority boarding onto the plane, and also access to the premium airport business lounge when flying internationally. They will also have their own dedicated check-in counter, meaning that there is less time spent queuing in the airport. Passengers in this class will also have more free baggage allowance compared to passengers in economy class. The inflight service is the same as economy passengers, meaning they will receive the same food, drinks and entertainment.
Premium Economy Class Seating
With premium economy seats, passengers can receive extra legroom and wider seat for more comfort and relaxation.
---
The Fleet
Cambodia Angkor Air currently has a fleet of Airbus A320s, A321s and ATR 72-500s. The Airbus A320 has a maximum capacity of 180 passengers per aircraft. Similarly, the A321 can seat up to 184 passengers. The ATR 72-500 can only seat up to 66 passengers but is ideal for short-haul, regional flights.
---
Cambodia Angkor Air Hub Airport
Phnom Penh International Airport
Phnom Penh International Airport is Cambodia Angkor Air's hub and is the largest airport in Cambodia. Airlines which use Phnom Penh International Airport include AirAsia, Bangkok Airways, China Airlines, EVA Air, Korean Air, Cambodia Angkor Air and Thai Airways. The airport has 1 runway and a design capacity of 2 million persons per year, with two terminal buildings, one for international and one for domestic operations.
Other airlines that operate from Phnom Penh International airport include Cambodia Angkor Air, Bassaka Air, Cambodia Airways, Cambodia Bayon Airlines, JC International Airlines, KC International Airlines, Lanmei Airlines and the upcoming Cambodia MJ Airlines.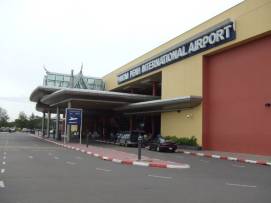 ---
Alternative Airlines to Cambodia Angkor Air
Take a look at the airlines below that fly similar routes to Cambodia Angkor Air: