Search & Buy Vietnam Airlines Flights
Let's fly!

Select your payment method to view total prices including any payment fees:
Airlines will always try to sit children with their parents (subject to check-in)
Some airlines will allow travel for unaccompanied minors. Please email us to check.
The fare is based on the child's age on the date of travel.
More detailed information can be found here Traveling with children
Most airlines will let infants travel with their parent(s) for free. However some airlines will charge up to 10% of the adult ticket price. Click on 'Price Breakdown' to find out more.
If you are pregnant, but due before the flight departure date, please contact us once your baby is born and has a name. We can then add him/her to your ticket.
Infants will not be given a seat. The airlines expect parents to travel with them on their lap.
Airlines regard infants as being under 24 months old.
The fare is based on the child's age on the date of travel.
More detailed information can be found here Traveling with children

Buy
Vietnam Airlines

Flights

Search and Buy Vietnam Airlines Flights Online with Alternative Airlines
Vietnam Airlines flight reservations and amazing deals at Alternative Airlines
---
About Vietnam Airlines
Vietnam Airlines is the expanding national carrier of Vietnam.
Headquartered in Long Bien District, Hanoi, this dynamic airline prides itself on bringing Vietnamese culture to the world and carrying the world's passengers to the unique culture that is Vietnam. The airline was founded in 1956, 100% owned by the National Government and with a mission to become a true world class airline.
Vietnam Airlines has a network within East Asia, Southeast Asia, Europe and Oceania. With about 300 daily flights, the airline flies to over 20 destinations domestically, and to over 25 internationally.
Vietnam Airlines has codeshare agreements with Air France, Alitalia, Cambodia Angkor Air, Cathay Pacific, China Airlines, China Eastern Airlines, China Southern Airlines, Czech Airlines, Delta Airlines, El Al Israel Airlines, Etihad Airways, Garuda Indonesia, Japan Airlines, Jet Airways, Jetstar Pacific, KLM Royal Dutch Airlines, Korean Air, Lao Airlines, Philippine Airlines and VASCO.
Vietnam Airlines is expected to be restructured and partially privatized to help it streamline its services and better compete with other airlines. This would facilitate its long-term development plan that involves the improvement of its products and services, and the expansion of its fleet and flight network, as the airline aspires to become the second-largest full-service carrier in Southeast Asia by 2020.
---
Vietnam Airlines Business Class
Vietnam Airlines offers its Business Class passengers the chance to experience luxury boht onboard and off board.
Vietnam Airlines Business Class Facilities
Members of the airline's frequent flyer program, Lotusmiles, can upgrade to gain access the Business Class lounge. In Ho Chi Minh city, passengers can enjoy a wide range of local delicacies in a buffet-style setting at the airport's Lotus Lounge. Alongside comfortable seating and complimentary teas and cofees, you'll start your journey in style.
What are Vietnam Airlines Business Class Seats Like?
Passengers are treated to maximum comfort in the airline's reverse herrigbone seats equipped with reading light, entertainment controls, seats adjustment controls and USB outlets. Pillows, blankets and slippers are also provided as well as a complimentary amenity kit.
---
Vietnam Airlines Baggage
Carry-on Baggage
Passengers flying on Vietnam Airlines in Economy Class are allowed one item of checked baggage that must not exceed 20 kg in weight. Passengers flying in Business and Premium Class are allowed one item of checked baggage that must not exceed 30kg. Baggage is included in the price of your ticket and passengers can purchase additional baggage if they need more. No one piece of baggage can exceed the weight of 32kg
Carry-on Baggage
Passengers flying on Vietnam airlines in Economy Class are entitled to one item of carry-on baggage which must exceed 7kg and be no larger than the dimensions of 36 x 23 x 56 cm. Passengers in Business and Premium are allowed one extra item of checked baggage (two in total) with the same weight and size limit.
---
Vietnam Airlines Check-In
Airport Check-In
Vietnam Airlines airport check-in opens two hours before flight time and closes 40 minutes before flight time on domestic flights. Airport check-in for international flights opens three hours before flight time and closes 50 minutes before flight time on international routes.
Online Check-In
Online check-in opens 24 hours before your flight departs and closes 60 minutes before your flight departs. To check-in online, please enter your flight details on the Vietnam Airlines online check-in page.
If your flight is delayed, check-in and boarding time will be adjusted accordingly.
---
Vietnam Airlines In-flight Entertainment
Vietnam Airlines' collection of international hits, feature documentaries, television series, newscasts and children's programming is enough to keep you entertained on board your Vietnam Airlines flight. Depending on your aircraft, you can access Vietnam Airlines in-flight entertainment through the screen built into the seat infront of you, on a cabin tablet, on your personal device or on an overhead screen.
Vietnam Airlines TV
Choose from documentaries, cartoons and sports entertainment and much more when flying with Vietnam Airlines.
Vietnam Airlines Movies
Find films in Vietnamese, English, French and much more. There's a film for every taste with Vietnam Airlines.
---
Vietnam Airlines Food
Vietnam Airlines Meal Options
Vietnam Airlines provide all its passengers with a top class cuisine service, which is inspired by culinary expert Luke Nguyen.
Economy passengers can enjoy meals inspired by Asian and International dishes which are healthy, fresh and authentic.
Premium Economy passengers can enjoy curated menus consisting of Vietnamese delicacies and popular world cuisine. For shorter flights, or for passengers who wish for a lighter meal, Vietnam Airlines offer passenger sandwiches and noodles.
Business class passengers can enjoy Vietnamese-inspired meals such as Phở Bò, created using fresh ingredients. Additionally, passengers can choose meals inspired from the rest of the world, so there is truly something to suit everyone's taste.
Vietnam Airlines Special Dietary Requirements
For passengers with special dietary needs, a special meal can be ordered for their Vietnam Airlines flight. This is available on flights where there is a in-flight dining service provided. All special meals must be pre-ordered and confirmed at least 24 hours before departure, apart from Kosher meals which must be ordered 72 hours before departure. The following is a list of available meals for pre-order:
| | | | | | | |
| --- | --- | --- | --- | --- | --- | --- |
| | | | Children Meals | | Baby Meal | |
| | | | | | Child Meal | |
| | | | Religious Meals | | Brahman Meal | |
| | | | | | Kosher Meal | |
| | | | | | Halal Meal | |
| | | | Vegetarian Meals | | Vegetarian Hindu Meal | |
| | | | | | Vegetarian Jain Meal | |
| | | | | | Vegetarian Vegan Meal | |
| | | | | | Vegetarian Lacto-Ovo Meal | |
| | | | | | Vegetarian Oriental Meal | |
| | | | Medical Meals | | Bland Meal | |
| | | | | | Low Calorie Meal | |
| | | | | | Gluten Intolerant Meal | |
| | | | | | Diabetic Meal | |
| | | | | | Low Fat Meal | |
| | | | | | Low Salt Meal | |
| | | | | | Low Lactose Meal | |
| | | | Other Meals | | Fruit Platter Meal | |
| | | | | | Vegetarian Raw Meal | |
| | | | | | Seafood Meal | |
Vietnam Airlines Drinks & Alcohol
All Economy meals will be accompanied with complimentary hot and cold drinks. Premium Economy Passengers will also be able to choose from a range of hand selected wines, and Business Class passengers will be able to enjoy a variety of wines, cocktails and spirits alongside non-alcoholic beverages on selected flights.
---
Vietnam Airlines Economy Class
Vietnam Airlines' Economy Class offers comfort and space for the budget traveler.
Vietnam Airlines Economy Class Facilities
With real business class style seats and refreshments, Vietnam Airlines' Economy facilities will make you feel rested.
A moist towel is provided at take-off. Cold meal is served on short flights which is made of a snack and meat cold-cuts, cheese and a bread roll. Fruit is also served with a beverage.
Breakfast is available for long-haul flights.
Tray tables fold in half to provide space if you are just wanting to enjoy a beverage. Controls are available at reach ot change the lighting at your seat and for the in-flight entertainment. A range of movies and of modern and classic are available.
Vietnam Airlines Economy Class Seating
Vietnam Airlines' Economy Class seats are 40 inches with legroom and are adjustable. A footrest is provided in front of each seat and every seat is well padded for extra comfort.
---
Vietnam Airlines Destinations
Domestic Destinations
International Destinations
---
Vietnam Airlines Special Deals and Discounts
Looking to find some Vietnam Airlines special deals on plane tickets? Find our flight coupon in Vietnamese Dong and save money off your Vietnam Airlines flight reservation!
---
Vietnam Airlines Services
Vietnam Airlines became a member of SkyTeam in June 2010, making it the first Southeast Asian carrier to have joined that alliance. SkyTeam team has grown massively over the years and is now the second largest alliance in the world, second to the Star Alliance. As of March 2014, SkyTeam consists of 20 carriers, expanding across five continents. The alliance now flies to over 1,000 destinations in 178 countries, operating some 15,700 daily flights across a combined fleet of over 4,400 aircraft. Vietnam Airlines has also invested in a number of subsidiaries including airlines such as Cambodia Angkor Air, Vietnam Air Service Company and Jetstar Pacific Airlines. Vietnam Airlines additional subsidiaries include companies which carry out its maintenance and supply its catering.

Vietnam Airlines comfortable cabin and advanced in-flight entertainment system will make your flights enjoyable through all cabins. If you need to turn on your laptop to work during the flight or your electronic devices are out of battery, Vietnam Airlines provide 15V DC power sockets on selected Boeing 777 aircraft (Multi-purpose power socket are offered in Airbus 330).

- Economy Class boasts a seat pitch of 31-32 inches with a reclining distance of between 5-6 inches.

- Deluxe Economy Class provides luxury seats during your long -haul flights with a pitch of about 36-38 inches and reclining distance of 7 inches.

- Business Class offers the most exclusive and luxury cabin for the passenger. Enjoy a full flat reclining bed on Vietnam Airlines new Boeing Dreamliner between the UK and Vietnam, and food from a delicious menu cooked by Vietnam Airlines onboard chef.
---
Vietnam Airlines Route Map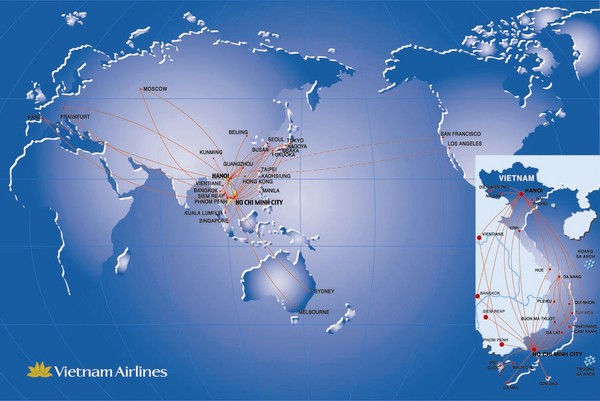 ---
Vietnam Airlines Popular Routes
London

Hanoi
Bangkok

Ho Chin Minh City
Hanoi

Bangkok
London

Kuala Lumpur
Hanoi

New York
---

Vietnam Airlines Fleet
A321-200
ATR72-500
A330-200
Boeing 777-200ER
A350-900
Boeing 787-9
---
Vietnam Airlines Hub Airport
Noi Bai International Airport
Nội Bài International Airport (in Hanoi, the capital of Vietnam, is the largest airport in Vietnam. It is the main airport serving Hanoi, replacing the role of Gia Lam Airport. The airport consists of two passenger terminals. Terminal 1 serves the domestic flights and the newly built Terminal 2 serves all international flights to and from Hanoi. The airport is currently the main hub of the country's flag carrier Vietnam Airlines as well as a major hub of low-cost carriers Vietjet Air and Jetstar Pacific Airlines that fly from and to Noi Bai International Airport include Air Asia, EVA air, Hong Kong Airlines.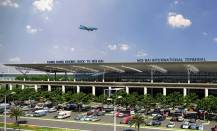 ---
Alternative Airlines to Vietnam Airlines
---
Vietnam Airlines News
20th June 2018
Vietnam's airports welcome 43.3 million passengers
Vietnam's airports served a total of 43.3 million passengers and handled over 603,000 tonnes of goods in the first five months of this year, according to the Civil Aviation Administration of Vietnam (CAAV).

The figures represented year-on-year rises of 15.4 percent and 8.4 percent respectively.

CAAV also announced that of the total, domestic carriers transported 20.4 million passengers and 487,000 tonnes of goods.

As of May 15, the number of planes registered for Vietnamese nationality were 174, up five planes compared with figure at the end of 2017 and 18 planes in comparison with the same period last year.

Of the total, the flag carrier Vietnam Airlines owns the highest fleet, with 91 planes, followed by Vietjet Air with 54 planes and Jetstar Pacific 17 planes.

This year, Vietnam Airlines aims to serve more than 24.3 million passengers. In 2017, it conducted 140,000 flights carrying 22 million passengers.

Meanwhile, low-cost carrier Vietjet Air plans to operate more than 120,000 flights and serve over 24.1 million passengers by the end of 2018. Last year, it carried over 17.11 million passengers on over 98,800 flights.-VNA
13th June 2018
Vietnam Airlines add new routes in its codeshare partnership with China Eastern
Vietnam Airlines has expanded its codeshare agreement with China Eastern and the two airlines will now operate a number of additional routes on each other's behalf. The two Skyteam members have had a codeshare agreement in place for some time now, however, from 5th June 2018, they've added a total of five new routes, expanding their codeshare partnership.
Flights operated by Vietnam Airlines on behalf of China Eastern Airlines:
From Cam Ranh/ Trang to Hanoi

From Cam Ranh/Nha Trang to Ho Chi Minh City
Flights operated by China Eastern Airlines on behalf of Vietnam Airlines:
From Hanoi to Kunming

From Hanoi to Nanning

From Ho Chi Minh City to Kunming
13th June 2018
Vietnam Airlines to trial Regional Jet ops in Summer 2018
Vietnam Airlines (VN, Hanoi) is set to trial regional jet operations later this summer using wet-leased Bombardier and Embraer aircraft among other types.

Airline chief executive Duong Tri Thanh told CAPA it would wet-lease the regional jets this summer season as part of an evaluation of the type's suitability. Should the trials prove successful, Vietnam Airlines could order five to seven regional jets initially, he said.

The aircraft will also provide the carrier with an interim capacity solution given delays in the delivery of its A321neo, now due towards year-end.
11th May 2018
Vietnam Airlines move operations to new terminal at China's Baiyun airport
The Vietnam Airlines Corporation announced that it will switch operations to Terminal T2 from Terminal T1 at Baiyun International Airport in China's Guangzhou city from May 19 to improve its services.
The Vietnam Airlines Corporation will switch operations to Terminal T2 from Terminal T1 at Baiyun International Airport in China's Guangzhou city from May 19.
Covering an area of some 880,700 square metres, the new terminal is one of the largest terminals in China and can serve 45 million visitors per year.
At the terminal, Vietnam Airlines will run check-in counters from 25 to 33. Fast track services for Golden Lotus members with Platinum membership status and business-class passengers will be applied at the new terminal.
The 4,200 square-metre business-class waiting lounge is on the fourth floor and will serve Golden Lotus members and business-class passengers from May 19.
Vietnam Airlines has informed passengers of the change in English, Vietnamese and Chinese.
Relevant authorities will give further instructions for passengers at terminal T2 and increase bus services to the airport.
Other airlines also operate at the T2 terminal, including China Southern Airlines, Air France, China Airlines, Aeroflot and Korean Air.
Currently, Vietnam Airlines runs three direct flights connecting Hanoi, Ho Chi Minh City and Da Nang city with Guangzhou with 17 flights per week. Last year, the carrier transported nearly 1 million passengers between Vietnam and Guangzhou, up nearly 28 percent from the same time last year.-VNA
18th April 2018
Vietnam's latest A350 is first in SkyTeam livery
The latest Airbus A350-900 to be delivered to Vietnam Airlines is also the first of the type to wear the silver colours of the SkyTeam alliance.
The aircraft (registration: VN-A897), which is the Vietnamese carrier's 12th A350, entered service on 15 April between Hanoi and Ho Chi Minh City. The airline's final two A350-900s from an order for 14 are to be delivered in 2019.
"We would like to congratulate Vietnam Airlines on the delivery of their 12th A350. We are extra proud as it will fly the SkyTeam livery," states the alliance's chief executive and managing director Perry Cantarutti.
Vietnam Airlines is one of three SkyTeam member airlines currently operating A350s, the others being China Airlines and Delta Air Lines. Flight Fleets Analyzer shows that Vietnam's A350s are configured with a total of 305 seats comprising 29 in business, 45 in premium economy and 231 in economy.
10th January 2018
Vietnam Airlines and Batik Air to begin A321neo operations in 2018
Vietnam Airlines is the only other Southeast Asian flag carrier that has ordered A321neos. However, Vietnam Airlines plans to configure all its A321neos in a high density 203-seat configuration, with only eight business class seats. The airline plans to use its new A321neo fleet to increase capacity on regional routes within East Asia – following a similar strategy as the LCC operators.

See related report: Vietnam Airlines to accelerate international expansion in 2018, with focus on North Asia
Batik Air, a full service subsidiary of the Lion Group, is evaluating the use of A321neos for longer routes, including from Bali to Australia and North Asia. However, the potential Batik routes are shorter than the routes being planned by PAL, and under some definitions will not be considered long haul. For example, Manila-Melbourne has a scheduled block time of slightly more than eight hours, compared to approximately six hours for Bali-Melbourne.
Ultimately, long haul narrowbody operations by Southeast Asian airlines could be limited to four routes from PAL and a small number of routes from Batik.
20th December 2017
Vietnam Airlines to deploy new A321neos on regional services of up to four hours
Vietnam Airlines EVP Le Hong Ha, speaking on CAPA TV, stated (07-Nov-2017) the airline plans to mainly operate its new fleet of A321neos on domestic and regional international routes within East Asia, including services of three to four hours to North Asian destinations.
Vietnam Airlines has 18 A321neos on order for delivery from 2018, according to the CAPA Fleet Database.
October 2017
Vietnam / Garuda boosts codeshare routes from Oct 2017
Vietnam Airlines has expanded codeshare partnership with Garuda Indonesia, which sees additional routes displaying VN-coded flight numbers. Planned codeshare routes, approximately from 01OCT17, as follow.

Vietnam Airlines operated by Garuda Indonesia
Jakarta – Denpasar
Jakarta – Surabaya
Singapore – Denpasar
Singapore – Jakarta
September 2017
Vietnam Airlines expands China charters from late-October 2017
Vietnam Airlines in winter 2017/18 season is adding 2 additional charter routes to China, operating to/from Cam Ranh/Nhr Tang. Planned operation as follow.
Cam Ranh/Nha Trang – Qingdao eff 29OCT17 Service operates every 5 days with A321
VN712 CXR1500 – 2020TAO 321
VN713 TAO2120 – 0100+1CXR 321

Cam Ranh/Nha Trang – Xi'An eff 30OCT17 3 weekly with A321
VN470 CXR1900 – 0010+1XIY 321 135
VN471 XIY0110 – 0445CXR 321 246
August 2017
Vietnam Airlines & Bangkok Airways respond to rapid Thailand Vietnam LCC growth with new partnership
Bangkok Airways and Vietnam Airlines are planning a new codeshare partnership which will significantly bolster their position in the fast growing, but intensely competitive, Thailand-Vietnam market. The two airlines are ideal partners as Bangkok Airways is expanding in Vietnam by focusing on niche secondary routes, while Vietnam Airlines only serves the core Hanoi and Ho Chi Minh to Bangkok routes.
Capacity in the Thailand-Vietnam market has increased by approximately 30% over the past year, and has nearly doubled over the past five years, driven by rapid LCC expansion. Five LCC groups now serve the Thailand-Vietnam market, compared to just one five years ago. Thailand-Vietnam has become the first and only country pair within Southeast Asia with five LCC competitors.
VietJet has particularly emerged as a strong competitor, using its Thai affiliate, Thai Vietjet to launch new Thailand-Vietnam routes and offer domestic connections beyond Bangkok. Rival Vietnam Airlines will be able to offer its passengers similar connections under the new Bangkok Airways partnerships, as well as a nonstop product on Bangkok Airways' growing network of niche Thailand-Vietnam routes.
July 2017
Vietnam Airlines reports carryings and revenue growth
Vietnam Airlines saw carryings rise by more than 6% to 10.3 million passengers in the first half of the year. Consolidated pre-tax profit was estimated at VND 830 billion, equivalent to nearly 51% of the target for 2017, based on a 18% rise in year-on-year revenue to almost VND 43 trillion. More than 70,400 flights were operated in the six month period with an on-time performance of 91.3%, an improvement of 6.1%. Mid-2017 also marked two years since Vietnam Airlines started operating two next-generation aircraft, the Airbus A350-900 XWB and the Boeing 787 Dreamliner. The airline's new fleet now includes 11 B787-9s and seven A350s.
June 2017
Vietnam Airlines' announces premium economy class passengers enjoy priority check-in, 40kg baggage, drop-off facility and more spacious accommodation.
National carrier Vietnam Airlines announced Skytrax has placed it 14th among 20 carriers offering the world's best premium economy class experience in 2017. It is part of the World Airline Awards, voted by travellers across the globe under the Skytrax survey, which was announced at the Paris Air Show on June 20. This result is based on passenger survey results for the period from August 2016 to May 2017.Vietnam Airlines' premium economy class seats are currently available for flights to France, the United Kingdom, Germany, Australia and Japan. Vietnam Airlines' premium economy class passengers can enjoy priority check-in, 40kg baggage, drop-off facility and more spacious accommodation.
In June 2017, Vietnam Airlines predicts high growth in the aviation market this year with 23.6 million international visitors and 31.6 million domestic visitors expected this year. However, the carrier said that with the budget carriers continuously expanding their operations on both international and national routes, the competition had intensified.In the domestic market, the firm supply was up 32 per cent in 2016 compared with 2015, but the purchasing power increased only 14 per cent, bringing down the average revenue of all airlines by 12 per cent.Meanwhile, the budget airlines expanded their operation to other regions, including Southeast Asia and Northeast Asia, marking a 14 per cent rise in the market share from 8 per cent in 2015.Vietnam Airlines said the overload at airports, especially at Tan Son Nhat International Airport in HCM City, had resulted in an increase of 1,392 flying hours, incurring an additional cost of VND188 billion to the airline.The firm predicted high growth in the aviation market this year with 23.6 million international visitors and 31.6 million domestic visitors, a 14.7 per cent and 12.1 per cent increase, respectively, when compared with last year. However, Vietnam Airlines said there would be a lot of challenges, especially in the plan of repairing Noi Bai and Tan Son Nhat international airports, which may reduce their capacity to 70 per cent.
April 2017
Vietnam Airlines announced it was planning a launch of Hanoi - Nanjing in June 2017. Vietnam Airlines from June 2017 has scheduled new route for Hanoi – Nanjing service, with first flight set on 21JUN17. The Skyteam member plans to operate this route with Airbus A321 aircraft, 5 times a week.

VN726 HAN1700 – 2040NKG 321 x26
VN727 NKG2140 – 2330HAN 321 x26
2nd December 2016
Vietnam Airlines receives latest Boeing Dreamliner
Vietnam Airlines and Boeing have celebrated the delivery of the flag carrier's 10th 787-9 Dreamliner, only 16 months after they took delivery of the 1st of these state-of-the-art new aircraft.
---