Search and Buy Vietnam Airlines Flights with Alternative Airlines
Make a Vietnam Airlines Booking and Find Some Amazing Deals
---
About Vietnam Airlines
Vietnam Airlines is the national carrier of Vietnam and is headquartered in Long Biên District, Hanoi in Vietnam.
The airline was first founded in 1956, when it was known as Vietnam Civil Aviation. It wasn't established as a 100% state-owned enterprise until 1989, and has since developed as a dynamic airline which prides itself on bringing Vietnamese culture to the world and carrying the world's passengers to the unique culture that is Vietnam.
The airline has a network within East Asia, Southeast Asia, Europe and Oceania. With about 300 daily flights, the airline flies to over 20 destinations domestically and to over 25 internationally. It has primary hubs at Noi Bai International Airport and Tan Son Nhat International Airport, with a secondary hub at Da Nang International Airport.
Vietnam Airlines has codeshare agreements with a number of airlines, and has a number of subsidiaries including Jetstar Pacific Airlines, Vietnam Air Service Company Vietnam Airlines Caterers, Vietnam Airlines Cargo and Vietnam Airlines Engineering Company (VAECO).
The carrier is expected to be restructured and partially privatized to help it streamline its services and better compete with other airlines. This would facilitate its long-term development plan that involves the improvement of its products and services, and the expansion of its fleet and flight network, as the airline aspires to become the second-largest full-service carrier in Southeast Asia by 2020.
Did you know? Alternative Airlines lets you book your Vietnam Airlines flights today and pay later over time - read our Fly Now Pay Later with Vietnam Airlines guide for more information!
---
Vietnam Airlines Fleet
Vietnam Airline's fleet currently stands at a strong 94 aircraft, comprising of Boeing, ATR and Airbus aircraft, with an additional 16 on order which will take its total aircraft up to 100. The following is correct as of October 2019.
---
Vietnam Airlines Destinations
Vietnam Airlines flies to over 15 countries with scheduled and charter flights to nearly 50 destinations.
Domestic Destinations
| CITY | AIRPORT |
| --- | --- |
| Buôn Ma Thuột | Buon Ma Thuot Airport (BMV) |
| Cà Mau | Cà Mau Airport (CAH) |
| Cần Thơ | Can Tho International Airport (VCA) |
| Chu Lai | Chu Lai International Airport (VCL) |
| Côn Đảo | Con Dao Airport (VCS) |
| Đà Lạt | Lien Khuong International Airport (DLI) |
| Đà Nẵng | Da Nang International Airport (DAD) |
| Điện Biên Phủ | Dien Bien Phu Airport (DIN) |
| Đồng Hới | Dong Hoi Airport (VDH) |
| Hải Phòng | Cat Bi International Airport (HPH) |
| Hạ Long | Van Don International Airport (VDO) |
| Hanoi | Noi Bai International Airport (HAN) |
| Ho Chi Minh City | Tan Son Nhat International Airport (SGN) |
| Huế | Phu Bai International Airport (HUI) |
| Nha Trang | Cam Ranh International Airport (CXR) |
| Phú Quốc | Phu Quoc International Airport (PQC) |
| Pleiku | Pleiku Airport (PXU) |
| Qui Nhơn | Phu Cat Airport (UIH) |
| Rạch Giá | Rach Gia Airport (VKG) |
| Thanh Hóa | Tho Xuan Airport (THD) |
| Tuy Hòa | Dong Tac Airport (TBB) |
| Vinh | Vinh Airport (VII) |
International Destinations
| COUNTRY | CITY | AIRPORT |
| --- | --- | --- |
| Australia | Melbourne | Melbourne Airport (MEL) |
| Australia | Sydney | Sydney Airport (SYD) |
| Cambodia | Phnom Penh | Phnom Penh International Airport (PNH) |
| Cambodia | Siem Reap | Siem Reap Airport (REP) |
| China | Beijing | Beijing Capital International Airport (PEK) |
| China | Changchun | Changchun Longjia International Airport (CGQ) |
| China | Chengdu | Chengdu Shuangliu International Airport (CTU) |
| China | Guangdong | Guangzhou Baiyun International Airport (CAN) |
| China | Hainan | Haikou Meilan International Airport (HAK) |
| China | Zhejiang | Hangzhou Xiaoshan International Airport (HGH) |
| China | Hohhot | Hohhot Baita International Airport (HET) |
| China | Hong Kong | Hong Kong International Airport (HKG) |
| China | Kunming | Kunming Changshui International Airport (KMG) |
| China | Macau | Macau International Airport (MFM) |
| China | Nanning | Nanning Wuxu International Airport (NNG) |
| China | Ningbo | Ningbo Lishe International Airport (NGB) |
| China | Quanzhou | Quanzhou Jinjiang International Airport (JJN) |
| China | Shanghai | Shanghai Pudong International Airport (PVG) |
| China | Shenyang | Shenyang Taoxian International Airport (SHE) |
| China | Taiyuan | Taiyuan Wusu International Airport (TYN) |
| China | Tianjin | Tianjin Binhai International Airport (TSN) |
| China | Wuhan | Wuhan Tianhe International Airport (WUH) |
| China | Wuxi | Sunan Shuofang International Airport (WUX) |
| China | Xi'an | Xi'an Xianyang International Airport (XIY) |
| China | Zhengzhou | Zhengzhou Xinzheng International Airport (CGO) |
| France | Paris | Charles de Gaulle Airport (CDG) |
| Germany | Frankfurt | Frankfurt Airport (FRA) |
| Indonesia | Denpasar | Ngurah Rai International Airport (DPS) |
| Indonesia | Jakarta | Soekarno–Hatta International Airport (CGK) |
| Japan | Fukuoka | Fukuoka Airport (FUK) |
| Japan | Nagoya | Chubu Centrair International Airport (NGO) |
| Japan | Osaka | Kansai International Airport (KIX) |
| Japan | Tokyo | Haneda Airport (HND) |
| Japan | Tokyo | Narita International Airport (NRT) |
| Laos | Luang Prabang | Luang Prabang International Airport (LPQ) |
| Laos | Vientiane | Wattay International Airport (VTE) |
| Malaysia | Kuala Lumpur | Kuala Lumpur International Airport (KUL) |
| Myanmar | Yangon | Yangon International Airport (RGN) |
| Russia | Moscow | Sheremetyevo International Airport (SVO) |
| Singapore | Singapore | Singapore Changi Airport (SIN) |
| South Korea | Busan | Gimhae International Airport (PUS) |
| South Korea | Seoul | Incheon International Airport (ICN) |
| Taiwan | Kaohsiung | Kaohsiung International Airport (KHH) |
| Taiwan | Taipei | Taoyuan International Airport (TPE) |
| Thailand | Bangkok | Suvarnabhumi Airport (BKK) |
| Thailand | Phuket | Phuket International Airport (HKT) |
| United Kingdom | London | Heathrow Airport (LHR) |
---
Vietnam Airlines Route Map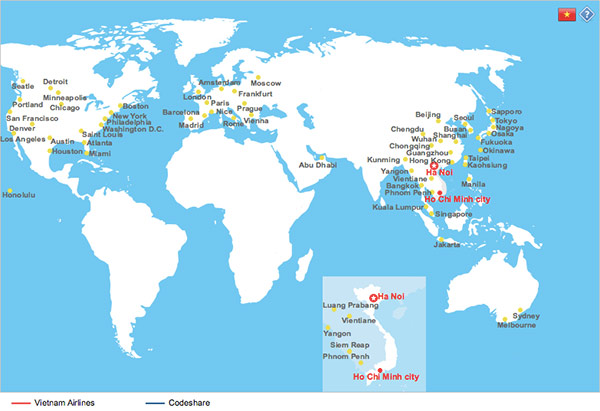 ---
Vietnam Airlines Baggage
Carry-on Baggage
Passengers flying on Vietnam Airlines are each permitted two items of carry-on luggage. The first of these items must not exceed 56 x 36 x 23cm, with the second not exceeding 40 x 30 x 15cm. The weight allowance for these items is determined by class flying.
Passengers in economy should not exceed 12kg for combined hand luggage weight.
In premium economy class, passengers are allowed no more than 18kg for these two items of hand baggage combined weight.
Business class passengers are allowed 18kg for the combined weight of these two items.
Checked Baggage
All items of checked luggage, regardless of the weight or travel class, must not exceed 158cm in combined linear dimensions (width + height + depth).
Passengers in economy and premium economy are permitted 23kg of checked luggage.
Business class passengers are allowed 32kg of checked luggage.
---
Vietnam Airlines Check-In Information
Online Check-in
Online check-in opens 24 hours before your flight departs and closes 60 minutes before your flight departs. To check-in online, please enter your flight details on the Vietnam Airlines online check-in page.
Airport Check-in
Vietnam Airlines airport check-in opens two hours before flight time and closes 40 minutes before flight time for domestic flights. Airport check-in for international flights opens three hours before flight time and closes 50 minutes before flight time on international routes.
---
Vietnam Airlines Hub Airport
Noi Bai International Airport
Nội Bài International Airport (in Hanoi, the capital of Vietnam, is the largest airport in Vietnam for total capacity. It is the main airport serving Hanoi, replacing the role of Gia Lam Airport. The airport consists of two passenger terminals. Terminal 1 serves the domestic flights and the newly built Terminal 2 serves all international flights to and from Hanoi. The airport is currently the main hub of the country's flag carrier Vietnam Airlines as well as a major hub of low-cost carriers Vietjet Air and Jetstar Pacific Airlines that fly from and to Noi Bai International Airport include Air Asia, EVA Air, Hong Kong Airlines and Vietravel Airlines.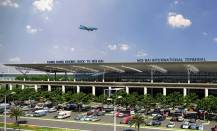 ---
Vietnam Airlines Class Information
Economy Class
Economy Class offers comfort and space for the budget traveller.
Facilities
With real business class-style seats and refreshments, Vietnam Airlines' Economy facilities will make you feel rested.
A moist towel is provided at take-off. A cold meal is served on short flights which is made of a snack and meat cold-cuts, cheese and a bread roll. Fruit is also served with a beverage.
Breakfast is available for long-haul flights.
Tray tables fold in half to provide space if you are just wanting to enjoy a beverage. Controls are available at reach to change the lighting at your seat and for the in-flight entertainment. A range of movies and of modern and classic are available.
Seats
Economy Class seats vary depending on the aircraft travelling in, but most have a seat pitch of around 32inches with ample legroom and are adjustable or reclining. A footrest is provided in front of each seat and every seat is well padded for extra comfort.
Premium Economy
Passengers can enjoy a more seamless flying experience with added luxuries of extra-comfort seats, additional amenities and premium food.
Facilities
Passengers in premium economy get access to priority check-in, baggage drop-off, priority boarding, disembarking and baggage handling.
Premium economy passengers can enjoy an extensive menu containing world cuisine but also Vietnamese delicacies. These are coupled with complimentary soft drinks or premium spirits.
Seats
Depending on the aircraft flying, passengers can enjoy either 38 or 42 inches of seat pitch, with extra legroom and fully reclining seats. The seats also contain a personal 10.6 inch screen for the in-flight entertainment.
Business Class
Business Class passengers have the chance to experience luxury both onboard and on the ground.
Facilities
Members of the airline's frequent flyer program, Lotusmiles, can upgrade to gain access to the Business Class lounge. In Ho Chi Minh city, passengers can enjoy a wide range of local delicacies in a buffet-style setting at the airport's Lotus Lounge. Alongside comfortable seating and complimentary teas and coffees, you'll start your journey in style.
Seats
Passengers are treated to maximum comfort in the airline's reverse herringbone seats equipped with reading light, entertainment controls, seat adjustment controls and USB outlets. Pillows, blankets and slippers are also provided as well as a complimentary amenity kit.
Depending on the model of aircraft, passengers get a generous seat pitch of 45 inches, with 180 degree reclining seats and plenty legroom.
First Class
There is currently no first class option on Vietnam Airlines. Upgrade to Business Class for the premium flying experience.
---
Alternative Airlines to Vietnam Airlines
Please click on the logos below to find out more about airlines that fly similar routes to Vietnam Airlines:
---
Vietnam Airlines In-Flight Entertainment
Vietnam Airlines' collection of international hits, feature documentaries, television series, newscasts and children's programming is enough to keep you entertained onboard your flight. Depending on your aircraft, you can access in-flight entertainment through the screen built into the seat in front of you, on a cabin tablet, on your personal device or on an overhead screen.
TV
Choose from documentaries, cartoons and sports entertainment and much more.
Movies
Find films in Vietnamese, English, French and much more. There's a film for every taste!
---
Vietnam Airlines Food
Meal Options
Vietnam Airlines provide all its passengers with a top-class cuisine service, which is inspired by culinary expert Luke Nguyen.
Economy passengers can enjoy meals inspired by Asian and International dishes which are healthy, fresh and authentic.
Premium Economy passengers can enjoy curated menus consisting of Vietnamese delicacies and popular world cuisine. For shorter flights, or for passengers who wish for a lighter meal, the airline offers passengers sandwiches and noodles.
Business-class passengers can enjoy Vietnamese-inspired meals such as Phở Bò, created using fresh ingredients. Additionally, passengers can choose meals inspired from the rest of the world, so there is truly something to suit everyone's taste.
Special Dietary Requirements
For passengers with special dietary needs, a special meal can be ordered for their Vietnam Airlines flight. This is available on flights where there is an in-flight dining service provided. All special meals must be pre-ordered and confirmed at least 24 hours before departure, apart from Kosher meals which must be ordered 72 hours before departure. The following is a list of available meals for pre-order:
| | | | | | | |
| --- | --- | --- | --- | --- | --- | --- |
| | | | Children Meals | | Baby Meal | |
| | | | | | Child Meal | |
| | | | Religious Meals | | Brahman Meal | |
| | | | | | Kosher Meal | |
| | | | | | Halal Meal | |
| | | | Vegetarian Meals | | Vegetarian Hindu Meal | |
| | | | | | Vegetarian Jain Meal | |
| | | | | | Vegetarian Vegan Meal | |
| | | | | | Vegetarian Lacto-Ovo Meal | |
| | | | | | Vegetarian Oriental Meal | |
| | | | Medical Meals | | Bland Meal | |
| | | | | | Low Calorie Meal | |
| | | | | | Gluten Intolerant Meal | |
| | | | | | Diabetic Meal | |
| | | | | | Low Fat Meal | |
| | | | | | Low Salt Meal | |
| | | | | | Low Lactose Meal | |
| | | | Other Meals | | Fruit Platter Meal | |
| | | | | | Vegetarian Raw Meal | |
| | | | | | Seafood Meal | |
Drinks & Alcohol
All Economy meals will be accompanied by complimentary hot and cold drinks. Premium Economy Passengers will also be able to choose from a range of hand-selected wines, and Business Class passengers will be able to enjoy a variety of wines, cocktails and spirits alongside non-alcoholic beverages on selected flights.
---
Vietnam Airlines WiFi
Vietnam Airlines offer its passengers a fast and secure WiFi network, to help passengers stay connected in the sky.
Passengers get the first 30 minutes free, and after that is charged by data and time, from $3USD to $30USD.
Passengers can access the wifi by connecting online and paying on the plane with a credit card.
---
Vietnam Airlines Frequent Flyer
Vietnam Airlines offer a frequent flyer programme called Lotusmiles. Passengers can accumulate points, or 'miles', which can be used for awards such as excess baggage, upgrades, seat selection or priority services.
---
Vietnam Airlines Airline Alliance
Vietnam Airlines became a member of SkyTeam in June 2010, making it the first Southeast Asian carrier to have joined that alliance. SkyTeam team has grown massively over the years and is now the second-largest alliance in the world, second to the Star Alliance. As of March 2014, SkyTeam consists of 20 carriers, expanding across five continents. The alliance now flies to over 1,000 destinations in 178 countries, operating some 15,700 daily flights across a combined fleet of over 4,400 aircraft. The airline has also invested in a number of subsidiaries including airlines such as Cambodia Angkor Air, Vietnam Air Service Company and Jetstar Pacific Airlines. Vietnam Airlines additional subsidiaries include companies which carry out its maintenance and supply its catering.
---
Vietnam Airlines Deals and Discounts
Looking to find some Vietnam Airlines special deals on plane tickets? Find our flight coupon in Vietnamese Dong and save money off your flight reservation!
---
Vietnam Airlines Special Services
If passengers need any type of special assistance, it is recommended that you contact the airline directly to arrange any services. It is usually best if you contact them as soon as you've booked, but often no later than 72 hours before flying.
Passengers with Disabilities
Passengers who have any sort of disability can request assistance before travelling. From flying whilst deaf to wheelchair assistance, Vietnam Airlines will do its best to provide the necessary service for all passengers.
Flying with Children
Passengers can bring their own baby stroller with them on the plane, usually as checked luggage. In addition, passengers can request a bassinet service which is free of charge. Read more tips about flying with children or babies here.
Unaccompanied Minors
Passengers can request a service where staff travel with children who are travelling alone. For more information about this service, look at our guide here.
---