Vietravel Airlines Reservations with Alternative Airlines
Make a Vietravel Airlines Booking and Find Some Amazing Deals
---
About
Vietravel Airlines is a new Vietnamese airline. The airline is based at Phu Bai International Airport (HUI), and has plans to mainly offer international flights to a& variety of destinations in Southeast Asian countries, Japan, South Korea, China and Australia, as well as domestic flights within Vietnam. Vietravel Airlines will operate both private charter and scheduled passenger flights.
The airline received its air operator's certificate (AOC) from the Civil Aviation Authority of Vietnam (CAAV) in December 2020, and commenced its first commercial flights in January 2021, flying between Ho Chi Minh City and Phu Quoc.
---
Destinations
Long-term, the airline also plans on flying to international destinations to other Southeast Asian countries, as well as to destinations in Japan, South Korea, China and Australia.
Domestic Destinations
As of April 2021, the airline is operating scheduled passenger flights between the following domestic destinations within Vietnam: Hồ Chí Minh City, Hanoi, Phú Quốc, and Đà Lạt.
| DESTINATIONS | AIRPORT | IATA |
| --- | --- | --- |
| Hồ Chí Minh City | Tân Sơn Nhất International | SGN |
| Hanoi | Nội Bài International | HAN |
| Phú Quốc | Phú Quốc International | PQC |
| Đà Lạt | Liên Khương Airport | DLI |
---
Baggage Allowance
Carry-On Baggage
All passengers have complimentary carry-on baggage allowance. The weight will depend on the ticket fare purchased. Passengers with a 'Wisdom', 'Standard', or 'Common' ticket fare are entitled to 07 kg (15Lb) of carry-on baggage. Passengers with the 'Optimal' fare are entitled to 12 kg (26Lb) of baggage. All carry-on baggage must not exceed the following dimensions: 56cm x 36cm x 23cm.
Checked Baggage
Checked baggage is not included in the price of the ticket and will need to be added on by the passenger either beforehand (during the booking process, or by contacting customer service after the reservation has been made) or at the airport. Customers can add checked baggage in different package weights: 5kg, 10kg, 15kg, 20kg, 25kg, 30kg, 35kg, and 40kg. In all cases, checked baggage must not exceed 203 cm in total linear dimensions.
---
Check-In Information
Check-In Online
Online check-in is not currently available.
Airport Check-In
Fo domestic flights, the airline recommends checking in at least 90 minutes before departure. For international flights, the airline recommends checking-in at least 120 minutes before departure.
---
Class Fares: Economy
There is only one class available, which is standard (Economy) seating. However, within Economy there are different ticket fares available, which determine the level of flexibility (refunds, name changes, baggage allowance etc) that is included in the price of the ticket. 'Wisdom', 'Standard', and 'Common' are the names of the more affordable tickets, but which offer the least amount of flexibility.'Optimal' is the most flexible option, which also entitles the passenger to the greatest baggage allowance. The ticket options will be detailed during the booking process, so that you're able to select the option which best meets your needs.
What are seats like?
Seats are configured in a 3-3 formation, with plenty of storage space in the overhead compartments.
---
Meals and Drinks
An onboard catering service is available for purchase. Passengers can enjoy a range of hot and cold beverages, snacks and light meals.
---
On-board Entertainment
The cabin is not equipped with an entertainment system.
---
Fleet
Vietravel Airlines received its first Airbus A321 aircraft in December 2020. It has since received 2 more Airbus A321 aircraft, which have been leased. The Airbus A321 seats 220 passengers in a single class cabin. The airline also wants to expand its fleet further, to five to six by the end of 2021.
---
Hub Airport
Phu Bai International Airport
Phu Bai International Airport is an international airport in Vietnam and will be the hub airport for Vietravel Airlines. The airport is located south of the city Hue and is the main airport in the former capital of the country. The airport has one terminal building and one runway.
When it launches, Vietravel Airlines will be the only airline based at Phu Bai International. Other airlines that currently fly to/from the airport include Bamboo Airways, Hai Au Aviation, Jetstar Pacific Airlines, Vietnam Airlines and VietJet Air.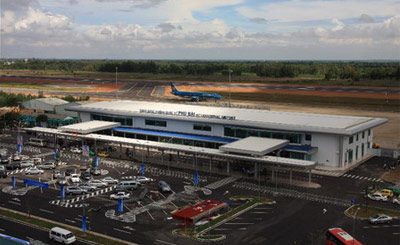 Credit: Pham hieu 94 on Wikimedia Commons
---
Alternative Airlines to Vietravel Airlines
The following airlines also operate domestic flights within Vietnam: