Search & Buy VietJet Air Flights
Let's fly!

Select your payment method to view total prices including any payment fees:
Airlines will always try to sit children with their parents (subject to check-in)
Some airlines will allow travel for unaccompanied minors. Please email us to check.
The fare is based on the child's age on the date of travel.
More detailed information can be found here Traveling with children
Most airlines will let infants travel with their parent(s) for free. However some airlines will charge up to 10% of the adult ticket price. Click on 'Price Breakdown' to find out more.
If you are pregnant, but due before the flight departure date, please contact us once your baby is born and has a name. We can then add him/her to your ticket.
Infants will not be given a seat. The airlines expect parents to travel with them on their lap.
Airlines regard infants as being under 24 months old.
The fare is based on the child's age on the date of travel.
More detailed information can be found here Traveling with children

Buy
VietJet Air

Flights

Search and Buy VietJet Air Flights Online with Alternative Airlines
Flights to and from Vietnam
Make a VietJet Air reservation and find some amazing deals with discounted VietJet Air
tickets at Alternative Airlines
---
About VietJet Air
VietJet Air is a Vietnamese international low-cost airline with its hub airport at Noi Bai International Airport. VietJet Air also has a subsidiary, Thai VietJet Air.
VietJet Air currently fly to 35 destinations. These include, Bangkok, Batam, Buon Ma Thuot, Can Tho, Chengdu, Chu Lai, Da Lat, Da Nang, Denpasar, Dong Hoi, Hanoi, Hai Phong, Haikou, Ho Chi Minh City, Hangzhou, Hue, Kunming, Nha Trang, Ningbo, Phu Quoc, Pleiku, Qui Nhon, Seoul, Siem Reap, Singapore, Taipei, Tianjin, Thanh Hoa, Vinh and Yangon.
VietJetAir operates an extensive flight network in Vietnam and is planning operations throughout the Asia-Pacific region. The opening of the two new routes helped increase the total number of Vietjet's routes connecting Hanoi with domestic and international destinations to nearly 20, thus, contributing to the capital's economic and tourism development. At the "Budgies & Travel Awards", held in London, VietJetAir, along with SpiceJet (India), EasyJet (England), Southwest (USA) and AirAsia X (Malaysia), was shortlisted in the category for "Top 5 Best New Route Launch." Search and compare Vietjet flights with our simple search platform and find the best deals with Alternative Airlines. We have an English speaking customer service team that can help you to book your flight when you contact Alternative Airlines.
---
About Thai VietJet Air
Thai Vietjet Air is a Thai airline and a subsidiary of the Vietnamese airline VietJet Air. It flies to many destinations in South East Asia, including India (Gaya), Thailand (Bangkok, Chiang Mai, Chiang Rai and Phuket), Vietnam (Hai Pong, Hanoi and Ho Chi Minh City). The airline also plans to commence operational services to Udon Thani and Krabi in 2017.
Thai Vietjet Air's vision is to become a multi-national aviation group with a route network covering the entire region and the world, providing and developing not only aviation services but also consumption products on the e-commerce platform and being a favourite and trusted brand name. Currently, the airline operates a route network covering destinations nation-wide and more than 30 regional destinations in Thailand, Singapore, South Korea, Taiwan, Malaysia, China, Japan, Hong Kong and Myanmar.
---
Book VietJet Air Flights in English
Use Alternative Airlines to book VietJet Air flights in English, to allow you peace of mind that you are dealing with a trustworthy company who will ensure fast and easy booking of your flights. We provide a wide range of options, from flight departure times and payment options, which are easily communicated to you through the ability to book in English.
---
VietJet Air Route Map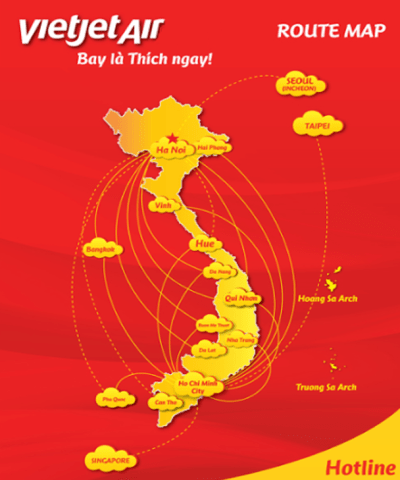 Popular VietJet Air Destinations
Ho Chi Minh City

Pleiku
Yangon

Ho Chi Minh City
Vinh

Ho Chi Minh City
Ho Chi Minh City

Shanghai
Tianjin

Ho Chi Minh City
Ho Chi Minh City

Taipei

---
VietJet Air Fleet
VietJet Air Hub Airport
No Bai International Airport
Nội Bài International Airport (in Hanoi, the capital of Vietnam, is the largest airport in Vietnam. It is the main airport serving Hanoi, replacing the role of Gia Lam Airport. The airport is currently the main hub of the country's flag carrier Vietnam Airlines as well as a major hub of low-cost carriers Vietjet Air and Jetstar Pacific Airlines that fly from and to Noi Bai International Airport include Air Asia, EVA air, Hong Kong Airlines.

Please use the links below to find out more about airlines that fly similar routes to VietJet Air. Use the search bar above to compare flight prices for all of these airlines.
---
Vietjet Air News
29th June 2018
VietJet Air make an emergency landing to save passenger
On a recent flight between Dong Hoi and Ho Chi Minh City, VietJet Air had to make an emergency landing due to health concerns of one of their passengers on the flight. The Vietnamese airline had to touch down at Da Nang after one passenger had breathing problems shortly after take-off. VietJet Air's cabin crew were quick to act on the situation, giving the passenger first aid as soon as the breathing problems were identified. However, the passenger showed no signs of regaining her breath and VietJet Air made the decision to make an emergency landing at the nearest airport.
When landing at Da Nang, a doctor came to see the passenger and deemed her unsafe to fly. VietJet Air apologised for the inconvenience caused to other passengers on the flight but made it clear that the safety of its passengers becomes before anything else.
26th June 2018
VietJet Air fly inaugural service to Taichung
On 22nd June 2018, VietJet Air flew their very first flight on a new service between Hanoi and Taichung. The airline will continue to fly between Noi Bai International Airport (HAN) and Taichung Airport (RMQ) five times a week, once on Monday, once on Wednesday, once on Friday and once on each day of the weekend. Vietjet Air will use an Airbus A320 aircraft to operate the service and the flight duration is expected to last 2 hours and 30 minutes. With this new service, VietJet Air will operate to a total of seven destinations in Taiwan.
1st June 2018
VietJet Air launch new route flying between Hanoi and Osaka
VietJet Air held a ceremony today in Tokyo where they announced the launch a new service between that will link Vietnam with Japan with a new service between Noi Bai International Airport (HAN) and Kansi Airport (KIX). Vietnam's President Tran Dai Quang was present at the ceremony, as were of representatives from VietJet Air and the Japanese government.
VietJet will fly its first service between Osaka and Japan on 8th November 2018. It will operate on a daily basis and carry passengers on VietJet's newly acquired Airbus A320 aircraft. The journey is expected to take over 4 hours.
Speaking on the matter, VietJet Air Vice President, Nguyen Thi Thuy Binh, stated that the airline is very excited to launch the new Hanoi—Osaka route. He added that the airline believes that the new connection into Japan will expand their network and help fulfil many passengers travel wish-lists.
22nd May 2018
VietJet Air giving out 1 million free tickets
As part of their 'Free up your summer with Vietjet' promotion, Vietjet Air are giving away 1 million tickets completely free to customers booking with the airline. On the 23rd, 24th, and 25th May 2018, customers who buy tickets for Vietjet Air between the hours of 12:00 and 14:00 (GMT +7) could see their flight ticket priced at HKD0. The promotion is valid only for domestic flights between August 20th and December 31st 2018.
This is the second time VietJet Air is giving away free tickets this month. The airline gave away 2 million free tickets to customers earlier in May on the 9th, 10th, and 11th May.
11th May 2018
VietJet Air sees 254% profit increase in Q1 of 2018
Vietjet air can celebrate a yearly profit increase of 254% in the period of January—March. The Vietnamese airline saw a total of VND1.48 trillion pre-tax profit in quarter 1 of 2018. Other statistics show that Vietjet operated 28,830 safe flights in this period with a technical reliability of 99.7%. The company's revenue was a totaly of VND12.56 trillion in the same period, which sees a yearly increase of 146%.
To put this into perspective, Vietjet Air has a target of VND50.97 trillion in revenue and VND5.8 trillion in pre-tax profit for the whole of 2018, meaning that the airline's first quarter results have achieved 25.5% of their annual target.
29th April 2018
VietJet Air is the main cause of Cambodia's airports recieving more passengers
The operator VINCI Airports, who operates three airports in Cambodia, has reported that 3 million passengers used these airports in the first quarter of 2018, a 26.1% year-on-year increase. At Phnom Penh Airport, the country's capital, this upward trend is even steeper at a staggering 34.5%. The capital's airport handled 1.4 millions passengers, while the increase was mainly attributed to new services introduced by Malindo, Vietjet and Shenzhen Airlines. Chinese carriers such as Spring, China Southern Airlines and Xiamen Airlines all increased services to Phnom Penh.
Local Cambodian start-up airlines, JC International and Lanmei Airlines, may also be responsible for the surge in traffic, as both recently established flights to Singapore and Bangkok. Passenger traffic at Siem Reap airport increased by 17.4%. Travellers from China topped the passenger lists, while domestic travel also expanded. This is part of a ever-growing tourism trend in the country, who saw the number of international travellers visiting the kingdom reaching 5.6 million in 2017, up 11.8% (statistics from the Ministry of Tourism). If precditions are correct, Cambodia should be letting through its immigration over 6.1 million tourists this year.
26th April 2018
Vietjet Air launch service between Hanoi and Taichung
VietJet Air has opened bookings on a new service between Hanoi and Taichung. The Airbus A320 will take passengers between Hanoi and Taichung fives times a week in a journey that is expected to take between 2.5—3 hours.
VietJet Air already operates services from Hanoi to other Taiwanese airports, Kaohsiung International and Taoyuan International, but look to give Vietnamese people easier access to central Taiwain with this additional route.
17th April 2018
CJ Logistics, Vietjet Air ink partnership deal
CJ Logistics Corp. signed a partnership deal with Vietnamese low-cost carrier Vietjet Air on Monday as part of its efforts to expand its presence in the global market, the Korean company said.
The logistics arm of South Korea's food and entertainment conglomerate CJ Group will cooperate with the budget airline in its overseas distribution under the preliminary deal, it said.
CJ Logistics and Vietjet Air are also reviewing the possible joint operation of logistics terminals or cargo planes, the South Korean company said.
Vietjet Air currently operates 82 routes -- 38 domestic and 44 international -- according to CJ Logistics.
12th April 2018
Vietjetair look to strengthen partnership with Safran
The relationship between Safrab Aircraft Engines and Vietjet Air is a strong one, since an agreement was signed on March 27 to strengten their strategic partnership. Safran have agreed to assust the development of VietJet Air through potentially providing them with additional aircraft in the future, fleet management services, training services and on-site support.
3rd March 2018
Vietnam-based low-cost airline Vietjet Air on Saturday said it will commence direct flight service between Ho Chi Minh city and New Delhi
Vietnam-based low-cost airline Vietjet Air on Saturday said it will commence direct flight service between Ho Chi Minh city and New Delhi four days a week to cater to the fast-growing air traffic between the two cities.
The announcement was made at the India-Vietnam Business Forum organised here to mark the visit of Vietnam President Tran Dai Quang.
Currently, there are no direct flights between the two countries.
28th February 2018
Vietnam low-cost carrier VietJet Air will make a decision on whether to obtain widebody aircraft by the end of 2018
The carrier, which operates narrowbody aircraft mainly on domestic routes, is considering three options, says carrier vice president Nguyen Thi Thuy Binh. These are the Boeing 787, Airbus A330neo, and the A350.
"We are near a conclusion," says Nguyen. "This year we will decide yes or no. We've taken a long time to study this model, and we're being very careful about the cost efficiencies of widebodies. This year we will make a conclusion."
For several years, VietJet executives have flirted with the idea of using widebodies to serve the Vietnamese diaspora in the United States, Europe, and Australia.
"Our advantage is that we understand Vietnamese [people], and we know what they expect," she says. "Countries where you have huge Vietnamese communities will be our future markets."
Vietnam Airlines is also considering the launch of services to Los Angeles, possibly as soon as 2019. The country has no FAA category rating, precluding Vietnamese airlines from launching US services, but category 1 is expected to be granted in May.
Nguyen declined to discuss how a VietJet widebody would be configured, but stressed that there are vast differences between narrow and widebody operations.
"We try to think about how we can provide a reasonable experience for the customer," she says. "How do we make them the most comfortable?"
n an August 2016 interview with Flight Airline Business, VietJet's chief executive held open the eventual possibility of long-haul, widebody operations, but said that the carrier was content to focus on narrowbodies.
Nguyen adds that the carrier has also looked at the A321LR as a way tapping markets farther afield.
"We are studying the range of this aircraft and it's very interesting," she says. The company is studying the cost effectiveness of the type.
Nguyen adds that the mainline VietJet Air carrier will take 15 new A320 family aircraft this year after taking 17 in 2017. Flight Fleets Analyzer shows that the carrier has 55 A320 family aircraft in service, with orders for 77. In addition, it has orders for 100 Boeing 737 Max 200s.
A major focus will continue to be international growth. In 2017, international traffic grew to 20% of total traffic, compared with 18% a year earlier. By 2020, VietJet aims for 35% of its traffic to be international.
Key markets for development include India and Japan, where VietJet presently has no services. It also aims to increase frequencies to existing North Asian destinations in South Korea, China, and Taiwan.
Apart from demand locally and abroad for LCC services to Vietnam, growth to North Asia is partially driven by the slot situation at Ho Chi Minh City's Tan Son Nhat International Airport. Nguyen says the carrier has added flights in the evening to North Asian destinations, and passengers generally do not mind late departures because they can get a full day in their destination upon arrival.
n addition, the carrier plans to have a new e-commerce platform implemented by the third quarter. This will be integrated with its passenger service system.
8th February 2018
Vietjet launches promotion for Valentines
Thai Vietjet on Thursday introduced its latest promotion for upcoming Valentine's and the Lunar New Year festival. The promotion will feature low fares to Chiang Mai and Chiang Rai from Bangkok Suvarnabhumi starting from just Bt255 per one way, exclusive of tax and fees (Bt539 one-way) but inclusive of tax, fees and credit card payment fees).
Promotional tickets can be booked online from February 8-11 for travel from now until October 27, 2018. Celebrating the season of love, the carrier has teamed up with Novotel Phuket Karon Beach Resort and Novotel Phuket Surin Beach resorts to arrange online games for social media fans. Participants can create a slogan to promote tourism in Phuket for guests and their loved ones, and stand a chance to win air tickets and accommodation in a Plunge Pool Suite at Novotel Phuket Karon Beach resort and a Suite Poolside Terrace at Novotel Phuket Surin Beach (2 prizes, each a 3-day 2-night package for two people). The total prize is valued at Bt105,200. To enroll in this campaign, see their Facebook page.
With continuously positive support from its passengers, Thai Vietjet has increased its frequency between Bangkok (Suvarnabhumi) and Chiang Mai to seven flights daily, and operates two flights daily between Bangkok (Suvarnabhumi) and Chiang Rai.
10th January 2018
VietJet becomes latest A321neo operator
Airbus delivered the first A321neo in Apr-2017, to Virgin America. In 2017 Airbus delivered 19 A321neos to 10 operators, according to the CAPA Fleet Database. The last two of these aircraft were delivered in the last few days of 2017 – to VietJet and Kazakhstan's Air Astana.
VietJet and Air Astana are customers of the Pratt & Whitney powered A321neo, which has been set back by multiple delays. Of the 19 A321neos now in service, only six are Pratt & Whitney powered and 13 are CFM56 powered.
Pratt & Whitney powered A321neo deliveries were initially slated to begin in late 2016, before the CFM powered aircraft. However, CFMpowered aircraft ended up being delivered first, as the first Pratt & Whitney powered aircraft were delayed until Sep-2017.
Virgin America, a subsidiary of Alaska Airlines and a CFM customer, is now the largest operator of the A321neo, with four aircraft. SriLankan, another CFM customer, is the only other operator with at least three aircraft.
15th December 2017
VietJet launches Phuket, Ho Chi Minh flights
The inaugural Vietjet Air flight from Ho Chi Minh City landed in Phuket today (Dec 15), marking the new service of four flights per week, serving growing travel demand between Thailand and Vietnam. The Ho Chi Minh City-Phuket route will operate a return flight every Monday, Wednesday, Friday and Sunday with a flight duration of two hours per leg.
Ho Chi Minh City flights depart at 11:15am on Mondays and Wednesdays, at 10:15am on Fridays and at 10:35am on Sundays. Phuket flights depart at 2:10pm on Mondays and Wednesdays; at 1:05pm on Fridays; and at 1:45pm on Sundays. With recent launch of Ho Chi Minh City-Chiang Mai air route, and soon Bangkok-Dalat service to be operated by Vietjet Thailand, Vietjet Group will have six routes to Thailand from Vietnam.
The airline currently boasts a fleet of 48 aircraft, including A320s and A321s, and operates 350 flights each day. It has already carried 50 million passengers and opened 78 routes in Vietnam and across the region to international destinations such as Thailand, Singapore, South Korea, Taiwan, Hong Kong, Mainland China, Malaysia, Indonesia, Myanmar and Cambodia. Looking ahead, the airline plans to expand its network across the Asia Pacific region. To prepare for this plan, Vietjet has signed agreements with the world's leading aircraft manufacturers to purchase more brand-new and modern aircraft, the company announced in a release issued today. The modern airline landed in hot water last year for launching a calendar featuring bikini-clad models. In response, the airline toned down its calendar just a bit for 2018.
5th October 2017
VietJet continues South Korea service expansion in W17
Vietjet Air in winter 2017/18 season continues to expand its presence in South Korea, with the new Cam Ranh/Nha Trang – Seoul Incheon flight. From 06DEC17, this route will be served 5 times a week with Airbus A320 aircraft.

VJ838 CXR1805 – 0035+1ICN 320 x26
VJ839 ICN0150 – 0525CXR 320 x37
20th September 2017
VietJet adds Phnom Penh service from November 2017
etjet Air from November 2017 plans to expand service to Cambodia, with the introduction of Ho Chi Minh City – Phnom Penh route. First flight is scheduled on 24NOV17, operating on daily basis by Airbus A320 aircraft.

VJ834 SGN1735 – 1820PNH 320 D
VJ835 PNH1930 – 2015SGN 320 57
VJ835 PNH1945 – 2030SGN 320 x57
15th September 2017
VietJet has promised its flight attendants will be properly clothed on maiden route
Vietnamese carrier VietJet has been cornered into assuring Indonesia that its flight attendants will be fully clothed when it makes its maiden flight to Jakarta.
The airline's announcement that it will launch a direct route from Ho Chi Minh City to Jakarta was shrouded in controversy because of a divisive PR-stunt by the airline in 2012.
The airline was fined 20 million Dong — about $A1100 — when it hosted a mid-flight dance by bikini-clad beauty pageant contestants without first gaining permission from the nation's aviation authorities.
Five women, all candidates in a local beauty contest, performed the three-minute Hawaiian-themed dance while passengers recorded the show on camera phones and later posted clips online.
The controversial in-flight entertainment was to celebrate its maiden flight between Ho Chi Minh City and the tourist hub of Nha Trang.
So when VietJet announced its inaugural flight to the capital of Indonesia, it made the government of the conservative Muslim country nervous that its flight attendants might not be fully clothed on the route.
However, Indonesia's ambassador to Vietnam, Ibnu Hadi, has confirmed that VietJet's flight attendants will be appropriately attired on the flight — and all flights to Indonesia.
"(The airline) has been reprimanded by their (the Vietnamese) government for their stunt.
"VietJet is a budget airline and they will open a route to Indonesia without the bikinis. The opening of the route is still being discussed. Hopefully before the close of this year."
And during a press conference in Jakarta on Tuesday, VietJet's deputy director for commercial affairs, Jay L Lingeswara, told journalists that the airline only featured bikini-clad flight attendants on specific occasions.
Mr Lingeswara added that the company had also learned from its experience with the opening of a route to Malaysia.
VietJet has also confirmed it will provide halal food for Muslim passengers, the Jakarta Post reported.
While the bikini stunt attracted a lot of controversy for objectifying women and inviting sexual harassment, it also shot the local carrier to fame and made its CEO, Nguyen Thi Phuong Thao, the first female billionaire in the country.
August 2017
VietJet announced it was to launch Kaosiung - Hanoi direct flights on 29th October
Budget carrier VietJet Air announced on Thursday that it will start offering direct flights between Kaohsiung in southern Taiwan and Hanoi on Oct. 29 to meet increased demand.

The new service will be the carrier's sixth route between Taiwan and Vietnam, following the Taipei-Hanoi and Taipei/Taichung/Tainan/Kaohsiung-Ho Chi Minh City routes. The service will operate every day except Mondays and Thursdays, according to the airline, which will become the number one carrier for Taiwan-Vietnam flights. The airline said it hopes to capitalize on growing interest in traveling between the two countries in the wake of the Taiwanese government's "New Southbound Policy," which aims to forge closer ties with Association of Southeast Asian Nations (ASEAN) members, as well as India, Australia and New Zealand.
According to Taiwan's Tourism Bureau, visitor arrivals from Vietnam to Taiwan reached 181,104 during the first six months of 2017, up 113.44 percent from the same period last year. Tourism authorities in Vietnam said there were 297,852 Taiwanese visitors to Vietnam from January to June 2017, up 122.9 percent year-on-year.
August 2017
It was announced that airlines in Vietnam are unlikely to bear the brunt of the additional cost t
t was announced that airlines in Vietnam are unlikely to bear the brunt of the additional cost they will have to pay for using the country's airports. Vietnam's aviation authorities have decided to raise service fees for all carriers that use the country's airports from October this year, a move that is likely to propel airfares in the same direction.
Accordingly, the cost incurred each time a plane touches down or takes off will rise by 5 percent from the current level, and there are plans to raise it by a further 5 percent from June 2018, the Ministry of Transport said. In addition, a 15 percent premium will be charged for planes that take off or land during peak hours, while a 15 percent discount will be offered for those that arrive or depart in off-peak periods.
August 2017
VietJet announced that all bikini-clad cabin crew will have to be properly clothed on all future flights.
A BUDGET airline bizarrely promised that its cabin crew will keep their clothes on during a landmark flight to Jakarta, Indonesia. The stark announcement from Vietnam's VietJet carrier comes years after a bikini-clad PR stunt landed the airline a (20 million Dong) £678.2 fine. Five female bikini-clad flight attendants took part in a mid-flight dance posing as beauty pageant contestants.
But the airline had not obtained permission from Vietnam's aviation authorities. The Hawaiian-themed dance lasted three-minutes - the shocked passengers recorded the entire show on their camera phones. VietJet launched the mid-dance flight to celebrate its first slight from Vietnam's Ho Chi Minh City to the country's tourist hub, Nha Trang.
ndonesia reportedly became nervous when VietJet announced its first landmark flight to its Jakarta - as its a predominantly Muslim country. But Ibnu Hadi, Indonesia's ambassador to Vietnam has since confirmed that VietJet's flight attendants will be appropriately attired on the flight — and all flights to Indonesia.
July 2017
VietJet Air announced a business tie-up with Japan Airlines.
Japan Airlines and Vietnamese budget airline VietJet Air inked an agreement Tuesday to form a comprehensive business alliance. The two sides said at a press conference in Ho Chi Minh City on Tuesday they plan to implement code-sharing for JAL-operated flights from Japan to Vietnam and flights within Japan, and for VietJet-operated flights within Vietnam and to and from surrounding Asian countries.
JAL was previously allied with Vietnam Airlines, but that partnership was dissolved last year after ANA Holdings Inc, parent of JAL's main domestic rival All Nippon Airways, acquired a stake in the Vietnamese state-run airline followed by a code-share and mileage programme partnership. JAL and VietJet said they are considering an expansion of their networks depending on demand flows in their domestic markets and in surrounding countries. JAL currently operates flights from Narita to Ho Chi Minh City and Hanoi, and from Haneda to Ho Chi Minh City.
June 2017
VietJet Air announced it was set to open its first route connecting Vietnam and Japan with the launch of service from Hanoi to the western Japanese city of Osaka, probably by early next year.
The Vietnamese budget airline aims to meet growing demand from business and leisure travelers in the two countries. Japanese travelers made some 1.6 million trips to and from Vietnam last year, making it the country's fourth-largest market in the Asia-Pacific region, after South Korea, Thailand and Singapore. VietJet had intended to begin with service from Hanoi or Ho Chi Minh City to Tokyo. But fierce competition from other airlines, including Vanilla Air, a Japanese low-cost carrier, persuaded VietJet to alter its plans.
June 2017
VietJet Air took its first step to list shares in New York
Managers of Vietjet Air have confirmed that the private air carrier is considering meeting with the managers of the New York stock market to discuss listing of its shares.
June 2017
Vietjet Air announced starting August 2017 is boosting operations on Hanoi
Vietjet Air announced starting August 2017 is boosting operations on Hanoi – Seoul Incheon route, with new additional new overnight departure from Hanoi. On board Airbus A320 aircraft, the new 2nd daily VJ962/963 service will commence on 02AUG17 from HAN, 03AUG17 from ICN.

VJ960 HAN0145 – 0755ICN 321 D
VJ962 HAN2320 – 0530+1ICN 320 D

VJ963 ICN0625 – 0930HAN 320 D
VJ961 ICN1105 – 1410HAN 321 D
n November 2016, Vietnamese budget carrier VietJet Air announced that it will launch a new route on Jan. 15 next year, linking Ho Chi Minh City in Vietnam with Taichung in Taiwan. The flight will operate four days a week -- Sunday, Monday, Wednesday and Friday -- taking three hours and 45 minutes between the two cities. VietJet Air launched flights between Ho Chi Minh City and Taipei in 2014 and a new route from Ho Chi Minh City to Tainan in June 2016. It added a Hanoi-Taipei service in October and said it plans to start a service between Ho Chi Minh City and Kaohsiung on Dec. 12. Vietjet Air now has a fleet of 40 A320 and A321 aircraft that operate some 350 flights per day. With 53 domestic and international routes, the airline has carried approximately 25 million passengers to date and is planning to expand its operation throughout the Asia-Pacific region.
n November VietJet Air announced it will IPO next month for $200 million. It has completed the necessary documents for an overseas listing, becoming the first Vietnamese company to do so. The documents will be made available to potential investors. VietJetAir is operating an intensive flight network in Vietnam and is planning to expand its operation throughout the Asia-Pacific region. The airline's mission is to meet the increasing travel demands of domestic and international travelers by providing punctual flights and a high quality of service, helping to lead the Vietnam aviation industry into a new era.
April 2017
VietJet Air announced it was eyeing freighter fleet as Vietnam's air freight throughput doubles
Vietjet Air Cargo will launch its first freighter service in October as Vietnam's air cargo industry continues a strong growth trajectory. With a Korean express logistics company as its first customer, Vietjet's initial freighter services will concentrate on South-east Asia, with Singapore, Bangkok, Hong Kong and Manila likely destinations. Vietjet has expanded rapidly since its bikini-clad launch in 2011, building up a fleet of 41 aircraft in less than six years. Last year, the carrier recorded a 39% increase in revenue to $1.23bn, while passenger numbers jumped 50% to over 14m.
Search and Buy VietJet Air Flights
Make a VietJet Air reservation and find some amazing deals with discounted VietJet Air tickets at Alternative Airlines. VietJet Air flies to many destinations worldwide, offering a cost effective and safe service to all its passengers. Let Alternative Airlines help find you cheap VietJet Air tickets and make international and domestic flight reservations on VietJet Air today.
Browse the most popular VietJet Air flight routes to cities worldwide. Alternative Airlines can help you make reservations on VietJet Air for international flights to lots of destinations. Use the following list of routes to help you plan your next flight. Book VietJet Air flights on Alternative Airlines to save big! Alternative Airlines is an online travel agency, specialising in booking lesser known airlines and remote destinations.
---
About Alternative Airlines
Alternative Airlines is an online flight search complete with customer service specialising in booking flights on lesser known airlines and to remote destinations. We offer you a wider choice of airlines supported by a team of customer service and travel specialists for help and advice on your travel plans. We specialise in finding the best available fares on the widest range of airlines and making them available to you online, with prices in the currency of your choice.
Alternative Airlines handles all your travel arrangements and payments, complete with ticketed confirmation. We do not direct you to other websites or service providers. We help you through the process. This is what makes us Alternative Airlines. Check out our reviews on Feefo or our reviews page. If you want to know a little bit more about us, read our blog for our alternative travel secrets and stories.
Browse for flights, find some amazing deals, make a reservation and pay in the currency of your choice today with Alternative Airlines. Let Alternative Airlines help find you the best prices and make international and domestic flight reservations with us today.
---