Search & Buy SpiceJet Flights
Let's fly!

Select your payment method to view total prices including any payment fees:
Airlines will always try to sit children with their parents (subject to check-in)
Some airlines will allow travel for unaccompanied minors. Please email us to check.
The fare is based on the child's age on the date of travel.
More detailed information can be found here Traveling with children
Most airlines will let infants travel with their parent(s) for free. However some airlines will charge up to 10% of the adult ticket price. Click on 'Price Breakdown' to find out more.
If you are pregnant, but due before the flight departure date, please contact us once your baby is born and has a name. We can then add him/her to your ticket.
Infants will not be given a seat. The airlines expect parents to travel with them on their lap.
Airlines regard infants as being under 24 months old.
The fare is based on the child's age on the date of travel.
More detailed information can be found here Traveling with children

Buy
SpiceJet

Flights
SpiceJet Reservations with Alternative Airlines
Make a SpiceJet Booking and Find Some Amazing Deals
---
About SpiceJet
SpiceJet is an Indian low-cost airline, headquartered in Guargaon, India. SpiceJet operates 312 daily flights to 55 destinations, including 45 Indian and 10 international destinations from its hubs at Kolkata, Hyderabad and Delhi. By the number of passengers carried, it is the 3rd largest airline in India, holding a market share of 13.2% as of March 2017. SpiceJet was founded in 2005 but was originally established as an air taxi in 1994. In May 2005, the ailrine flew its first flight and today operates a fleet of Boeing 737 and Bombardier Dash aircraft. Other Indian airlines include Air Pegasus (not currently operating) and Vistara.
---
SpiceJet Fleet
The SpiceJet fleet currently includes two Airbus A319, one Airbus A320, 90 Boeing 737 and 26 Dash 8 aircraft.
---
SpiceJet Destinations
SpiceJet flies to many destinations in Asia and the Middle-East including Afghanistan (Kabul), Bangladesh (Dhaka, India (Port Blair; Rajahmundry; Tirupati; Vijayawada; Visakhapatnam; Guwahati; Silchar; Chandigarh; Delhi; Goa; Ahmedabad; Surat; Dharamsala; Jammu; Srinagar; Bangalore; Belgaum; Mangalore; Kochi; Kozhikode; Trivandrum; Jabalpur; Mumbai; Aizawl; Pune; Amritsar; Jaipur; Udaipur; Chennai; Coimbatore; Madurai; Tuticorin; Hyderabad; Agartala; Dehradun; Gorakphur; Varanasi; Bagdogra; Kolkata), the Maldives (Malé), Oman (Muscat), Sri Lanka (Colombo), Thailand (Bangkok) and the United Arab Emirates (Dubai).
---
SpiceJet Baggage
Carry-on Baggage
SpiceJet allows passengers a maximum of 7kg of hand baggage with maximum total dimensions of 115cm. Passengers with infants are allowed to carry an extra 7kg of hand baggage.
Checked Baggage
SpiceJet allows a free checked baggage of 15kg for all passengers on domestic flights. If flying with a hand baggage only fare, there is no free checked baggage included.
---
SpiceJet Check-in
Online Check-in
Online check-in can be completed on the SpiceJet website. Online check-in is not available for SpiceJet passengers under the age of 12 who are traveling alone, for passengers flying on international flights, for student bookings or group bookings or for passengers with reduced mobility.
---
SpiceJet Route Map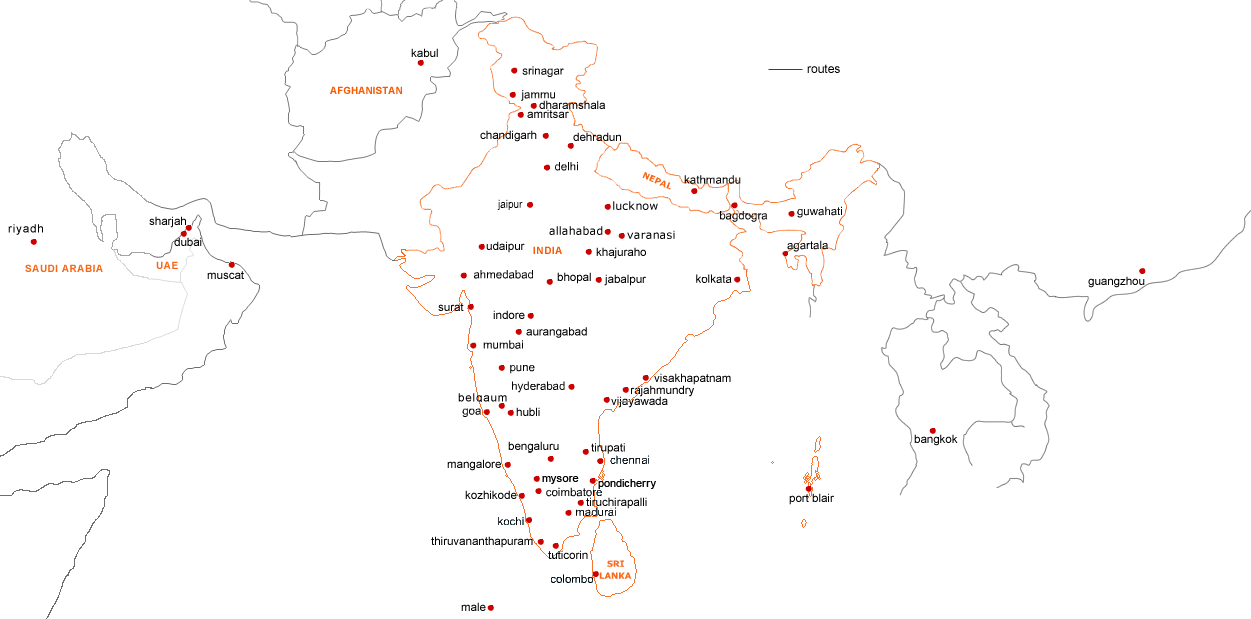 ---
SpiceJet Hub Airport
Indira Gandhi International Airport
SpiceJet is based at Indira Gandhi International airport which is the primary airport in the capital of Delhi. It is the busiest airport in India in terms of passenger traffic serving around 50 million passengers a year. Other airlines that operate out of the airport include Air India, Bhutan Airlines, Air Deccan, IndiGo, JetLite, Jet Airways and many more.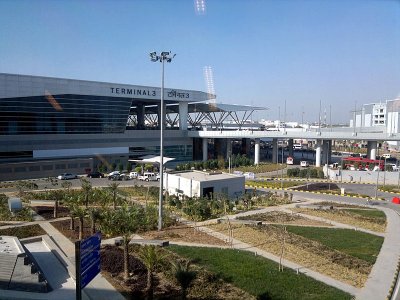 Photo credit: Ramesh NG
---
SpiceJet Food
SpiceJet Meal Options
SpiceJet provide a wide range of food options, from breakfast, snacks, lunch and dinner. SpiceJet passengers can pre-book their meals up to 24 hours before departure and save money compared to the price on board. To pre-order meals, view the selection for your flight under the 'Manage My Booking' section on the SpiceJet site. Traditional Indian and Asian meals can also be purchased in-flight, and the in-flight menu can be viewed online from the SpiceJet website.
SpiceJet Special Dietary Requirements
Passengers can choose between vegetarian / non-vegetarian meal up to 6 hours before departure. On the pre-order section, passengers can also pre-order special meals such as Jain meals, Navratra meals, diabetic meals, gluten-free meals. These meals are only available from the pre-order feature, and must be made 24 hours before departure.
SpiceJet Drinks & Alcohol
Beverages can be purchased from the in-flight meal service. Available drinks include soft drinks such as juices, coca cola, iced tea and water, but also hot drinks such as coffee and teas. Alcoholic beverages are also available to purchase, such as beers and spirits.
---
SpiceJet News
4th June 2018
SpiceJet likely to launch flights to China
Budget carrier SpiceJet is likely to be one of the Indian airlines to undertake new flights to China in an upcoming plan to better connect air-travel between India and China. Aviation authorities from India and China met in New Dehli for the first time in 10 years to discuss the possibility of better connecting the two countries. SpiceJet currently only operate international flights to Southeast Asia and the Gulf, but recently the company has started discussing plans to fly north to China.
There are only two other Indian airlines that fly to China. One is Air India, who is owned by the state. The other is Jet Airways, who currently operate flights on a codeshare agreement from China Eastern Airlines. According to the Civil Aviation Ministry, the talks went fairly well in terms of progressing the conversation in enhanced air connectivity between the two countries. Indian airlines have long been hesitant due to the difficulties they would face operating in China, but the Chinese aviation authorities responded positively and stated their intentions to help those airlines get around the problems.
25th May 2018
Spicejet adds 10 new flights to its network
SpiceJet plans to launch services between Chennai and Mangaluru from next month. There will be 10 new flights which will work towards strengthening the airlines' southern Indian network. This is expected to go ahead daily from June 16 on a Bombardier Q-400 regional aircraft. According to SpiceJet, services on the Hyderabad-Rajahmundry will also be enhanced with an additional evening flight from May 25, while Chennai-Kozhikode and Bengaluru-Kozhikode would have an additional evening flight and Chennai-Hyderabad as the third flight.

September 2017
Indian LCC Spicejet eyes amphibian operations
SpiceJet is set to further diversify its business model through the proposed introduction of amphibian/https://www.alternativeairlines.com/seaplane-flightsseaplane operations. The Indian budget carrier is scheduled to sign a Memorandum of Understanding (MOU) with Japan's Setouchi Holdings during Japanese Prime Minister Shinzo Abe's visit next week. The terms of the deal were not revealed. In addition to owning the Idaho-based manufacturer of the Quest Kodiak 100, Quest Aircraft(Sandpoint), Setouchi Holdings is the parent firm of Japanese operators Setouchi Seaplanes (SSN) and Sky Trek Airlines. Though both utilize Kodiak 100s, the former employs the amphibian version for air charters while the latter employs the regular wheel-based variant for subscription-based taxi flights. The Indian market currently has a number of prospective carriers eyeing the amphibian niche including Seabird Seaplane, Mehair, Kerala Seaplane, and Pinnacle Air among others.
May 2017
SpiceJet announced it is rolling out the e-boarding facility at Bengaluru airport.
SpiceJet's passengers flying out of the Bengaluru airport will now no longer have to stand in long queues for boarding with the aerdrome operator BIAL rolling out an automated boarding process. The facility, e-Gate, enables SpiceJet to integrate DCS (Departure Control System) to an automated boarding gate.
The service has been implemented in association with Australia-based Elenium Automation. SpiceJet is the first carrier to use the e-boarding facility at the Bengaluru's Kempegowda International Airport. Under the facility, a passenger just has to scan his boarding pass and it takes less than five seconds to complete the boarding procedure.
May 2017
SpiceJet announced it had launched daily direct flight service between Kolkata and Surat from 1st July 2017.
SpiceJet's Boeing 737 aircraft - SG 876, operating on the Patna–Kolkata–Surat route, will depart from Kolkata for Surat at 10.50 am. The schedule will be operational for the period July 1, 2017, to August 31, 2017. Starting September 1, 2017, the same aircraft will start from Kolkata at 10.20 am.
The flight from Surat - SG 877, will take off from the city at 2.15 pm. With the launch of this new flight, the airline aims to tap the emerging potential business travellers from both the cities who are also frequent travellers. Leisure travellers will also benefit with an additional flying option and convenient flight timing. Incidentally, Surat, an emerging business centre in Gujarat, is also one of India's key textile hubs. The city is engaged in yarn production, weaving, embroidery work among others and also is the foremost supplier of polyester across India.
24th April 2014
SpiceJet announces additional services added to Summer schedule
SpiceJet has announced that the airlines will add 19 domestic and 3 new international flight services.
As of 2017: