Search and Buy IndiGo Flights with Alternative Airlines
Make a Booking and Find Some Amazing Deals
---
About IndiGo
IndiGo is an Indian Low-cost airline headquartered at Gurgaon, India. The airline offers more than 1,500 daily flights connecting to over 80 destinations including 24 international destinations with its primary hub at Indira Gandhi International Airport, Delhi.
IndiGo is the largest airline in India in terms of passengers flown with a market share of 60.4% as of July 2020. IndiGo presently operates a fleet of over 270 aircraft belonging to the Airbus A320 family. In 2019, IndiGo carried 300 million passengers.
Being a low-cost carrier, IndiGo offers only economy class seating accommodating 180 passengers per aircraft. To keep fares low, IndiGo does not provide complimentary meals in any of its flights, though it does have a buy-on-board in-flight meal programme. No in-flight entertainment is available and Hello 6E is the in-flight magazine published by IndiGo. IndiGo offers premium services, where the passengers can avail additional benefits like a pre-assigned seat, multiple cancellations and priority check-in at a higher fare. IndiGo is featured on our blog about the best value, and cheapest airlines in the world.
---
Destinations
Domestic Destinations
The low-cost carrier flies domestically to destinations include Tirupati, Bangalore, Delhi, Ahmedabad, Kochi, Mumbai, Amritsar, Hyderabad and more. As of Jan 2020, these are the domestic routes that the airline flies to:
| | | | | |
| --- | --- | --- | --- | --- |
| Port Blair | Rajahmundry | Tirupati | Vijayawada | Visakhapatnam |
| Dibrugarh | Guwahati | Jorhat | Silchar | Patna |
| Gaya | Chandigarh | Raipur | Delhi | Goa |
| Ahmedabad | Surat | Vadodara | Jammu | Srinagar |
| Ranchi | Bangalore | Belgaum | Hubli | Mangalore |
| Mysore | Kannur | Kochi | Kozhikode | Thiruvananthapuram |
| Indore | Bhopal | Jabalpur | Aurangabad | Kolhapur |
| Mumbai | Nagpur | Pune | Shirdi | Imphal |
| Shillong | Aizawl | Dimapur | Bhubaneswar | Amritsar |
| Jaipur | Jodhpur | Udaipur | Chennai | Coimbatore |
| Madurai | Tiruchirappalli | Tuticorin | Hyderabad | Agartala |
| Dehradun | Agra | Allahabad | Gorakhpur | Lucknow |
| Varanasi | Siliguri | Kolkata | | |
International Destinations
The airline flies to Hong Kong, Dhaka, Doha, Jeddah, Singapore, Bangkok, Phuket, Dubai, Hanoi, Ho Chi Minh City and the following destinations:
| COUNTRY | CITY | AIRPORT |
| --- | --- | --- |
| Bangladesh | Dhaka | Shahjalal International Airport |
| China | Chengdu | Chengdu Shuangliu International Airport |
| China | Guangzhou | Guangzhou Baiyun International Airport |
| Hong Kong | Hong Kong | Hong Kong International Airport |
| Kuwait | Kuwait City | Kuwait International Airport |
| Malaysia | Kuala Lumpur | Kuala Lumpur International Airport |
| Maldives | Malé | Velana International Airport |
| Myanmar | Yangon | Yangon International Airport |
| Nepal | Kathmandu | Tribhuvan International Airport |
| Oman | Muscat | Muscat International Airport |
| Qatar | Doha | Hamad International Airport |
| Saudi Arabia | Dammam | King Fahd International Airport |
| Saudi Arabia | Jeddah | King Abdulaziz International Airport |
| Saudi Arabia | Riyadh | King Khalid International Airport |
| Singapore | Singapore | Singapore Changi Airport |
| Sri Lanka | Colombo | Bandaranaike International Airport |
| Thailand | Bangkok | Suvarnabhumi Airport |
| Thailand | Phuket | Phuket International Airport |
| Turkey | Istanbul | Istanbul Airport |
| United Arab Emirates | Abu Dhabi | Abu Dhabi International Airport |
| United Arab Emirates | Dubai | Dubai International Airport |
| United Arab Emirates | Sharjah | Sharjah International Airport |
| Vietnam | Hanoi | Noi Bai International Airport |
| Vietnam | Ho Chi Minh City | Tan Son Nhat International Airport |
---
Route Map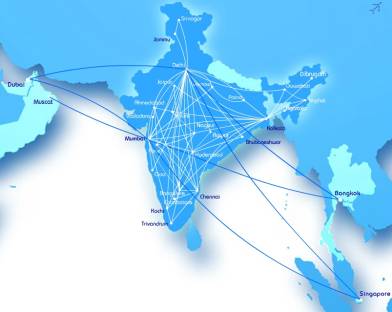 ---
Baggage Information
Carry-On Baggage
Passengers are entitled to one carry-on baggage that is no larger than 55cm x 25cm x 35cm in three dimensions and no heavier than 7kg. One personal item is also allowed onboard, this could be a camera, laptop or a small purse.
Carry-On Baggage
ROUTE
MAXIMUM WEIGHT
DIMENSIONS
Domestic
15kg
158cm
Bangok, Dhaka, Kathmandu, Kuala Lumpur, Male, Phuket, Singapore
20kg
Jeddah
25kg + 5L ZamZam water
Abu Dhabi, Colombo, Doha, Dubai, Hong Kong, Istanbul, Kuwait, Muscat, Sharjah, Yangon
30kg
---
IndiGo Class Fares
Currently, IndiGo only offers one class fare: standard Economy Class seating. IndiGo Business Class seating not not not currently available.
Their flights are divided into two classes "Saver" and "Flexi Plus".
"Saver" offers customers the lowest priced tickets, which is ideal for passengers who know that their itinerary won't change in the future.
"Flexi Plus" is slightly more expensive for customers but meals would be included, as well as free date change and cancellations.
---
IndiGo Economy Class
IndiGo does not have an individual Economy Class to choose from as it is one standard fare throughout the aircraft. However, you can enjoy a comfortable and stress-free flight when flying with Indigo.
Economy Class Facilities
IndiGo provide a wide range of snacks onboard at a small fee. You can pre-book your snacks with Indigo so they are ready to be served to you when you are rested on the flight. Alcohol is available only on international flights and purchased in-flight. Water is free of charge on all Indigo flights
Economy Class Seating
IndiGo's seating comes with reclining functions and with space for you to feel comfortable during your flight journey. The seat layout is in a 3-3 configuration with soft cushioning and fitted headrests.
---
In-Flight Entertainment
There are no in-flight entertainment on the airline's flights.
---
Food
Meal Options
IndiGo do not offer any complimentary food or meals on board their flights. However, food can be pre-booked when making a reservation, or by contacting IndiGo at a later date. Additionally, passengers can purchase food in-flight. Choice of meals available to purchase is either a vegetarian meal, or non-vegetarian meal, but other snacks can include sandwiches, noodles, crisps, nuts and cookies. The full menu can be found here.
IndiGo Special Dietary Requirements
IndiGo does not offer special menus for any dietary requirements. However, you can bring your own food items on board, as long as it meets the airport's standards for transporting food.
Drinks & Alcohol
Alcohol is available to purchase onboard International flights as well as soft, non-alcoholic drinks. There will be soft drinks, such as coke, which will be available to purchase on domestic flights.
---
Check-In Information
Online Check-In
Passengers can check-in online from 48 hours before to up to one hour prior to departure time. Please visit the airline official website with your booking reference and your passport details to proceed with check-in.
---
Frequent Flyer Programme
Frequent Flyer Programme is not currently available but the airline has a reward programme called 6E Rewards. Members can earn points when you fly with the airline or shop, dine and pay with the 6E credit card.
Points can be redeemed whenever you want to as there are no time limitations as to when you use your points. one point equals to one Indian Rupee (INR). The points can also be converted to flight ticket(s).
---
Airline Alliance
IndiGo isn't part of any airline alliances.
---
The Fleet
As of September 2020, the airline's fleet includes 122 A320-200neo, 19 A321LR and 25 ATR72-600.
---
Hub Airport
Indira Gandhi International Airport
Indira Gandhi International Airport is one of the busiest airports in India in terms of passenger traffic, cargo traffic and international traffic.
Airlines that fly to and from Indira Gandhi International Airport include Air India, Air Deccan, Bhutan Airlines, JetLite, Go Air, Asiana Airlines, Turkish Airlines, British Airways and Etihad.
---
Alternative Airlines to IndiGo