Search & Buy IndiGo Flights
Let's fly!

Select your payment method to view total prices including any payment fees:
Airlines will always try to sit children with their parents (subject to check-in)
Some airlines will allow travel for unaccompanied minors. Please email us to check.
The fare is based on the child's age on the date of travel.
More detailed information can be found here Traveling with children
Most airlines will let infants travel with their parent(s) for free. However some airlines will charge up to 10% of the adult ticket price. Click on 'Price Breakdown' to find out more.
If you are pregnant, but due before the flight departure date, please contact us once your baby is born and has a name. We can then add him/her to your ticket.
Infants will not be given a seat. The airlines expect parents to travel with them on their lap.
Airlines regard infants as being under 24 months old.
The fare is based on the child's age on the date of travel.
More detailed information can be found here Traveling with children

Buy
IndiGo

Flights

Search and IndiGo Flights Online with Alternative Airlines
Make an IndiGo reservation and find some amazing deals with discounted flight tickets at Alternative Airlines
---
About IndiGo
IndiGo is an Indian Low-cost airline headquartered at Gurgaon, India. The airline offers more than 647 daily flights connecting to 39 destinations including 5 international destinations with its primary hub at Indira Gandhi International Airport, Delhi.
IndiGo is the largest airline in India in terms of passengers flown with market share of 36.5% as of September 2015. IndiGo presently operates a fleet of 104 aircraft belonging to the Airbus A320 family. In 2014, IndiGo carried 21.4 million passengers in the domestic sector alone.
Being a low-cost carrier, IndiGo offers only economy class seating accommodating 180 passengers per aircraft. To keep fares low, IndiGo does not provide complimentary meals in any of its flights, though it does have a buy-on board in-flight meal programme. No in-flight entertainment is available and Hello 6E is the in-flight magazine published by IndiGo. IndiGo offers premium services, where the passengers can avail additional benefits like a pre-assigned seat, multiple cancellations and priority check-in at a higher fare. IndiGo is featured on our blog about the best value, and cheapest airlines in the world, read more here.
---
IndiGo Food
IndiGo Meal Options
IndiGo do not offer any complimentary food or meals on board their flights. However, food can be pre-booked when making a reservation, or by contacting IndiGo at a later date. Additionally, passengers can purchase food in-flight. Choice of meals available to purchase is either a vegetarian meal, or non-vegetarian meal, but other snacks can include sandwiches, noodles, crisps, nuts and cookies. The full menu can be found here.
IndiGo Special Dietary Requirements
IndiGo do not offer special menus for any dietary requirements. However, you can bring your own food items on board, as long as it meets the airport's standards for transporting food.
IndiGo Drinks & Alcohol
Alcohol is available to purchase on board International flights as well as soft, non-alcoholic drinks. There will be soft drinks, such as coke, which will be available to purchase on domestic flights.
---
IndiGo Economy Class
IndiGo does not have an individual Economy Class to choose from as it is one standard fare throughout the aircraft. However, you can enjoy a comfotable and stress free flight when flying with Indigo.
IndiGo Economy Class Facilities
IndiGo provide a wide range of snacks on board at a small fee. You can pre-book your snacks with Indigo so they are ready to be served to you when you are rested on the flight. Alcohol is available only on international flights and purchased in-flight. Water is free of charge on all Indigo flights
IndiGo Economy Class Seating
IndiGo's seating comes with reclining functions and with space for you to feel comfortable during your flight journey. Seat layout is 3x3 with soft cushioning and fitted head rests.
---
Route Map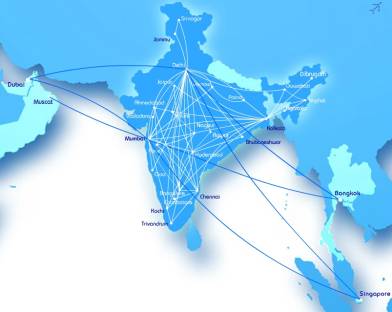 Popular Routes
Mumbai

Delhi
Mumbai

Goa
Bengaluru

Delhi
Bengaluru

Goa
Chennai

Bengaluru
Delhi

Goa
---

The Fleet
---
Indira Gandhi International Airport
HUB Airport
Indira Gandhi International Airport is one of the busiest airports in India in terms of passenger traffic, cargo traffic and international traffic.
Airlines that fly to and from Indira Gandhi International Airport include Air India, Air Deccan, Bhutan Airlines, JetLite, Go Air, Asiana Airlines, Turkish Airlines, British Airlines and Etihad.

Alternative Airlines to IndiGo
---
---
29th June 2018
IndiGo flies between Kolkata and Dhaka
This summer, IndiGo has scheduled a new service that flies between Kolkata and Dhaka. IndiGo will fly passengers between Netaji Subhas Chandra Bose International Airport (CCU) and Shahjalal International Airport (DAC) once a day from the first day of August this year. The airline, which is the largest in India, will use an Airbus A320 jet to operate the service. IndiGo has listed a flight duration of around 1 hour and 30 minutes for the Kolkata—Dhaka route. The Indian airline will leave Kolkata a 4.10pm local time and arrive at 6.10pm in Dhaka. On the return flight, IndiGo will leave Dhaka at 7.10pm local time and arrive at Kolkata at 8.pm. Dhaka is 30 minutes ahead of Kolkata.
4th June 2018
IndiGo could be flying to China
In an attempt to better connect air-travel between India and China, IndiGo could are being discussed as a potential Indian airline that will start flying services to China. Recently, aviation authorities from India and China met in New Dehli for the first time in 10 years to discuss the possibility of better connecting the two countries. IndiGo, a budget carrier which currently only operate international flights to Southeast Asia and the Gulf, is being discussed as a potential airline that will fly from India to China.
There are only two other Indian airlines that fly to China. One is Air India, who is owned by the state. The other is Jet Airways, who currently operate flights on a codeshare agreement from China Eastern Airlines.
According to the Civil Aviation Ministry, the talks went fairly well in terms of progressing the conversation in enhanced air connectivity between the two countries. Indian airlines have long been hesitant due to the difficulties they would face operating in China, but the Chinese aviation authorities responded positively and stated their intentions to help those airlines get around the problems.
30th May 2018
IndiGo to launch 20 new domestic flights
IndiGo is staying true to its name as India's largest carrier by adding 20 new domestic flights across the country. These direct flights will start from July in time for the summer season and will link cities such as Kolkata, Chandigarh and Indore. Bengaluru, a famous rail hub for the country, will be getting several more flights with a second daily service to Varanasi and Chandigarh and a third daily flight to Ranchi and Indore. This expansion rreaffirmsthe company's commitment to increasing India's flight network of which IndiGo plan to take the lead.
14th March 2018
IndiGo and GoAir cancel 50 flights
The two domestic carriers, IndiGo and GoAir grounded 50 flights today as consequence of a safety directive by aviation watchdog DGCA. Of the 48 flights, which are not being operated as part of the curtailed schedule, 42 are of IndiGo and six of GoAir. GoAir has also announced that it is cancelling 18 flights from March 15 to 24. IndiGo has cancelled 42 flights for March 14. They includes flights to Mumbai, Kolkata, Pune, Jaipur, Srinagar, Bhubaneswar, Chennai, Delhi, Dehradun, Amritsar, Bengaluru and Hyderabad, among others, the airline announced on its website. All efforts are going towards minimising the inconvenience to the thousands of displaced passengers which are affected.

2nd November 2017
IndiGo to launch direct night-time flights between Madurai and Bengaluru
IndiGo will be the third airline to operate direct flights between Madurai and Bengaluru, after Jet Airways and SpiceJet
MADURAI: IndiGo will launch direct night-time flights between Madurai and Bengaluru starting December 29. The service will start from Bengaluru at 7.45pm and reach Madurai at 8.45pm. In the return direction, it will leave Madurai at 9.15pm and reach Bengaluru at 10.20pm.
IndiGo will be the third airline to operate direct flights between Madurai and Bengaluru, after Jet Airways and SpiceJet. IndiGo expects a good response from passengers for the night-time flights. Jet airways operates its flights on the route in the morning while SpiceJet flights are in in the evening.
27th March 2017
IndiGo will commence flight operations to Benaluru, Mumbai and from Mangaluru from 1st May 2017
The Magaluru - Bengaluru sector, IndiGo will become the early flight arriving from Bengaluru at 6:30am, from May. As the flight will depart form Bengaluru at 5.30 am. This service will provide early morning connectivity between the 2 cities. Passengers will reach Bengaluru at 7:55am.
As of May 2016, IndiGo operates 679 daily flights to 40 destinations, 35 in India and 5 abroad. It has its primary hub at Indira Gandhi International Airport, Delhi. In January 2011, IndiGo received a license to operate international flights after completing five years of operations. IndiGo's first international service was launched between New Delhi and Dubai on 1 September 2011. International services were later expanded to serve Bangkok, Singapore, Muscat and Kathmandu. The airline is considering launch of flights to Kunming, China.