Search & Buy Vistara Flights
Airlines will always try to sit children with their parents (subject to check-in)
Some airlines will allow travel for unaccompanied minors. Please email us to check.
The fare is based on the child's age on the date of travel.
More detailed information can be found here Traveling with children
Most airlines will let infants travel with their parent(s) for free. However some airlines will charge up to 10% of the adult ticket price. Click on 'Price Breakdown' to find out more.
If you are pregnant, but due before the flight departure date, please contact us once your baby is born and has a name. We can then add him/her to your ticket.
Infants will not be given a seat. The airlines expect parents to travel with them on their lap.
Airlines regard infants as being under 24 months old.
The fare is based on the child's age on the date of travel.
More detailed information can be found here Traveling with children
Buy
Vistara

Flights
Vistara Reservations with Alternative Airlines
Make an Vistara Booking and Find Some Amazing Deals
---
About Vistara
Vistara Airlines is a fast developing Indian airline based in Gurgaon with its hub at Delhi-Indira Gandhi International Airport. Vistara Airlines flies to many domestic Indian destinations including: Kochi, Bengaluru, Chennai, Hyderabad, Goa, Pune, Mumbai, Ahmedabad, Kolkata, Bhubaneshwar, New Delhi, Lucknow, Varanasi, Bagdogra, Guwahati, Srinagar and Jammu.The airline operates over 300 weekly scheduled passenger services across more than 20 domestic destinations within India with a fleet comprised of Airbus and Boeing aircraft. Vistara was the first airline to introduce premium economy seats on domestic routes in India. Vistara Airlines offers three distinct cabin classes to provide a personalised seamless service. Vistara has interline agreements with Air France, British Airways, SilkAir and Singapore Airlines and is a full-service airline which is a joint venture between Tata Sons (owns 51%) and Singapore Airlines (owns 49%). Other domestic Indian airlines include Air Pegasus (not currently operating) and Spicejet.
---
Vistara Fleet
The Vistara fleet includes Airbus A320-200 and Airbus A320neo.
---
Economy
Vistara offers three levels of Economy seating: Economy Lite, Standard, and Flexi.
Economy Class Facilities
All Economy passengers can enjoy standard hand baggage allowance and complementary hot drinks on board.
Economy Standard passengers can also enjoy: a complimentary hot meal, and further upgrades through vouchers or accumulated CV points.
Economy Flexi passengers can also benefit from: a complimentary hot meal, priority handling, including check-in, boarding, and baggage, chargeable access to the lounge, and one free flight change up to 72 hrs prior to departure
---
Premium Economy
Vistara offers three levels of Premium Economy seating: Economy Lite, Standard, and Flexi.
Premium Economy Class Facilities
All Premium Economy passengers can enjoy a complimentary hot meals and drinks, standard hand baggage allowance, complementary priority handling, and chargeable lounge access. Flexi passengers can also benefit from a free change of flight up to 48 hours prior to departure.
The different levels of Premium Economy also offer varying degrees of Vistara Direct benefits. Visit the Vistara website to find out more!
What are Premium Economy Class Seats Like?
Vistara Premium Economy customers enjoy seating in a cabin close to the front of aircraft. It comes with extra space to stretch your legs.
---
Business Class
Vistara offers three levels of Business Class seating: Business Value, Standard and Flexi.
Business Class Facilities
All Business Class passengers can enjoy a complimentary lounge access, as well as 100% Vistara point accumulation and Vistara Direct benefits.
On board, enjoy a gourmet hot meal and drink, including mocktails or Starbucks coffee, free check in baggage up to 40kg, standard plus additional hand luggage and advance seat selection.
Business Flexi passengers can also benefit from two free changes up to 24hrs before departure, and free cancellation up to 24 hours before departure.
What are Business Class Seats Like?
Reach your destination rejuvenated in the ultra-comfortable leather seats that come with as much as 40" seat pitch and 7" seat recline.
---
First Class
Vistara don't offer a First Class cabin. Business Class is the airlines' highest-tier of cabin class.
---
Vistara Baggage
Business Class Baggage Allowance
The baggage allowance for Vistara Business Class is 30 kg check-in baggage allowance and 7kg hand baggage allowance. There are 16 business class seats.
Premium Economy Baggage Allowance
Vistara Premium Economy Class passengers are entitled to a 20kg checked baggage allowance and 7kg hand baggage allowance.
Economy Class Baggage Allowance
Economy class passengers are entitled to 15kg checked baggage and 7kg hand baggage which must exceed the dimensions of 55cm x 40cm x 16cm.
---
Vistara Check-In
Airport Check-In
Passengers flying on Vistara can check-in at the airport by using the airline's airport check-in counters or by using the self-check-in kiosks. Check-in counters shut 45 minutes before your scheduled flight departure time so make sure you arrive at the airport in good time. Vistara self-check-in kiosks are available at some airport and open 24 hours before your flight departure time and close 45 minutes before flight departure time. If you require special assistance, you must visit a member of staff at the check-in counters and will not be able to use the self-check-in kiosks.
Online Check-In
Passengers flying on Vistara can check-in online from 48 hours before their scheduled flight time and is available up until one hour before scheduled flight time. Passengers wishing to check-in online can do so through the Vistara check-in page. Click on the 'check-in' tab and enter your details to check-in.
Airport Check-in
You can also use the Vistara app to check-in. The Vistara app is available on iOS and Android and allows passengers to check-in from 48 hours—1 hour before their scheduled flight departure time.
---
Vistara In-flight Entertainment
Vistara's inflight magazine provides passengers with stories and chronibles to pass the time during their Vistara flight.
Vistara TV
Vistara is yet to offer TV shows onboard its flights.
Vistara Movies
Vistara is yet to offer Movies on board its flights.
---
Vistara Food
Vistara Meal Options
Business class passengers can enjoy food worthy of a 5-star restaurant, with a healthy yet indulgent 3-course meal inspired by world cuisine. There will be a choice for the main dish between vegetarian and non-vegetarian meals, accompanied with fresh bread.
Premium Economy passengers can enjoy a 3 course meal comprised of a salad, a vegetarian or non-vegetarian main dish, and a mouth-watering dessert.
Economy passengers can enjoy wholesome and healthy meals, from vegetarian and non-vegetarian main dish options. Passengers booked on Economy Flexi and Standard fares will receive complimentary hot meals, whereas customers with an Economy Lite fare will receive complimentary light snacks, and further items can be purchased from the on-board menu.
Vistara Special Dietary Requirements
Passengers can request special meals by contacting us, up to 24 hours before your scheduled departure time. All non-vegetarian meals are strictly halal, and no meals include beef, pork, or their extracts. The special meals available for request are:
| | | | | | | |
| --- | --- | --- | --- | --- | --- | --- |
| | | | Infant Meals | | Baby Meal - BBML | |
| | | | | | Child Meal - CHML | |
| | | | Vegetarian Meals | | Asian Vegetarian Meal – AVML | |
| | | | | | Fruit Platter - FPML | |
| | | | | | Vegetarian Jain Meal – JNML | |
| | | | | | Vegetarian Lacto-ovo Meal - VLML | |
| | | | | | Vegetarian Oriental Meal - VOM | |
| | | | Dietary Meal | | Bland Meal - BLML | |
| | | | | | Diabetic Meal - DBML | |
| | | | | | Gluten Free Meal - GFML | |
| | | | | | Low Calorie Meal - LCML | |
| | | | | | Low Cholesterol / Low Fat Meal - LFML | |
| | | | | | Low Salt / Low Sodium Meal - LSML | |
| | | | | | No Lactose Meal - NLML | |
Vistara Drinks & Alcohol
Passengers in business class receive a welcome drink of refreshing cold pressed juice, and then cold drinks and mocktails throughout the meal service. You will then finish the meal with a coffee or tea
Premium economy passengers likewise receive the cold beverage and mocktail service throughout the meal service, and finishes with hot drinks.
Economy passengers will receive complementary hot beverages, with additional drinks to be purchased from the on board menu.
Starbucks coffee is also served on Vistara flights.
---
Vistara Frequent Flyer Program
Vistara operates a frequent flyer program called Club Vistara to reward regular passengers with Vistara. Club Vistara is a unique membership club that lets you earn points based on the value of your ticket.The more you spend, you more points you accumulate. There are three tiers of membership:
CV Silver
CV Gold.
In January 2015, Vistara announced a partnership agreement with Singapore Airlines which would allow Club Vistara members to earn and redeem miles with KrisFlyer program on SIA (including Silk Air) global network. Tailored for the trendsetters and the boardroom high fliers, The All New Club Vistara is The Fastest Rewarding Frequent Flyer Program. A program that besides matching your belief in fast paced growth and success, promises to make you feel exclusive with little surprises and joys all along the way.
In short, when success comes fast, rewards must too. Designed keeping the valuable feedback of each one of our smart fliers in mind, this program has been crafted to elevate your flying experience with us, while keeping in mind your priorities, preferences and suggestions. Now more unique than ever, this new revamped program, lets you earn fastest rewards and quickly move upwards elite tiers. All in all, Club Vistara is a program that has only benefits in store.
---
Vistara Hub Airport
Indira Gandhi International Airport
Indira Gandhi International Airport is one of the busiest airports in India in terms of passenger traffic, cargo traffic and international traffic. Airlines that fly to and from Indira Gandhi International Airport include Air India, GoAir, Asiana, Bhutan Airlines, JetLite, Turkish Airlines, Air Deccan, British Airlines and Etihad.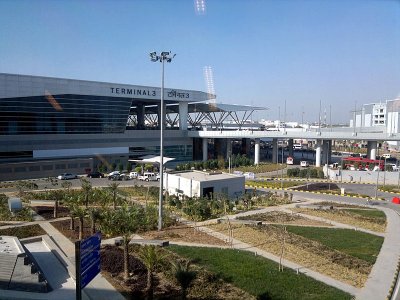 Photo credit: Ramesh NG
---
Vistara News
26th June 2018
Vistara to Announce Fleet Expansion and International Plans
Vistara is all set to announce its fleet expansion plans. This also includes a large order for wide body planes, both medium and long-haul routes. The full service airline will also give its international flights roadmap as it is now eligible to go abroad with over 20 planes in its fleet. The airline currently operates Airbus A-320 fleet, is said to be eyeing the Boeing's wide body B-787 Dreamliner for its medium haul international flights. The airline is reported to have opted to buy 4-6 Dreamliners and these aircraft can fly nonstop to places such as Europe and Australia from India. Jet also has Dreamliners on order but it is not certain when — and if — it will eventually take those planes. On its plane orders also, Vistara has said it will comment at the appropriate time on its fleet plans.

2nd May 2018
Vistara joins IATA ahead of launching international operations
Indian full-service carrier Vistara – a joint venture of Tata Sons and Singapore Airlines – is now a member of IATA, joining the association of more than 280 airlines around the world. The membership will further enable Vistara to collaborate with other international member airlines for codeshare and interline agreements, and offer an extended global network to travellers to and from India.
Leslie Thng, CEO, Vistara, said: "This membership couldn't have come at a better time as we gear up to launch our international operations soon."
This initiative also comes days after Emirates Airlines kicked things up a notch by using AR glasses to enhance its service towards its passengers. The airlines is exploring different ways on how AR glasses will display a passenger's details and habits so that their staff can help provide them a more comfortable experience. More exciting is Gatwick Airport in London, which uses AR to help people navigate within the airport. Gatwick Airport installed 2,000 beacons in the airport that passengers can access using an app to find their way inside the airport.
March 2017
March 2017, Vistara announced a agreement to codeshare on Indian domestic flights operated by Vistara with Singapore Airlines and regional subsidiary SilkAir. Under the agreement, SIA will add its 'SQ' designator code to Vistara-operated flights beyond Mumbai and New Delhi to 10 destinations within India. SilkAir will add its 'MI' designator code to Vistara-operated flights beyond Bengaluru and Kolkata to six destinations within India. The codeshare agreement is Vistara's first with another airline group, as well as SIA's and SilkAir's first with an India-based domestic carrier. This partnership would also contribute to Vistara's topline by bringing in passengers on to its network. In March 2017, Vistara Airlines announced has joined Airbus for training of the flight crw of its A-320 aircraft at the European plane manufacturer's upcoming training centre. The Tata Sons-Singapore Airlines' joint venture carrier, Vistara has become the first customer for the first fully-owned training centre of Airbus in Asia, for which the ground-breaking ceremony was performed earlier in the day. The training package includes A320 full flight simulation, aircraft procedure training, computer-based classroom training, standard pilot transition training with the support of Airbus instructors.
March 2017
In its three years of operations, Vistara has flown over 8.5 million customers, and today serves 22 destinations with over 730 flights a week, operated by a fleet of 20 Airbus A320 aircraft.
In March 2017, Vistara Airlines announced it will start operating a non-stop flight to Leh from New Delhi. The Tata-SIA joint venture said that the new service will be operated twice a week on Saturdays and Sundays. The airline in a release also said that the new flight will become a daily service from May 10 to cater to peak summer demand. The Delhi-based airline currently flies to 19 domestic destinations with over 500 flights a week and has a fleet of 13 Airbus A320 aircraft. Leh is the seventh destination for Vistara in northern India. The other destinations in the region are Delhi, Jammu, Srinagar, Amritsar, Chandigarh and Lucknow.
In April 2017, Vistara announced it has partnered with Starbucks to offer Starbucks India Estates Blend coffee on-board. The service is available for customers flying Business Class and Premium Economy Class, making Vistara the first airline in South Asia as well as Southeast Asia to offer the service. In May 2017, Singapore Airlines invests over SGD 100 million in Vistara. In June next year, the 49% SIA owned Vistara will collect its 20th aircraft, a significant milestone which will pave the way for the airline to operate international flights. Tata Group owns the rest 51% stake in joint venture airline. Under Indian civil aviation rules, Vistara must have at least 20 planes before it can fly outside the country. The launch of international flights is a key part of SIA's strategy to expand its own reach and reduce the dominance of Middle Eastern carriers which have a strong hold on the growing India-Europe and India-United States markets. When SIA and Tata first announced in 2013 the intention to launch Vistara, the plan was for a joint USD100 million investment. In May 2017, Vistara Airlines announced it is likely to order 50 narrow-bodies and 50 wide-bodies. Vistara's first international flight is expected to start in the winter of 2018. For its 50 narrow body and 50 wide body order, Vistara is expected to opt either for a combination of A320s and A350s, or 737s and 777s. The carrier is reportedly interested in the 777X, but with the first deliveries of the type not expected until 2020 and given current fuel prices, Vistara may alternatively consider the 777-300ER. Vistara may take wide bodies, including 787s, on short term lease from Singapore Airlines – a 49% shareholder in Vistara.
---