Search & Book Vistara Flights
Let's fly!

Book
Vistara

Flights

Book Flights Direct with Vistara Airlines and Alternative Airlines
Make an Vistara Airlines reservation and find some amazing deals with discounted Vistara Airlines tickets at Alternative Airlines
---
Vistara Airlines is a fast developing Indian airline based in Gurgaon with its hub at Delhi-Indira Gandhi International Airport.
Vistara Airlines flies to many domestic Indian destinations including Kochi, Bengaluru, Chennai, Hyderabad, Goa, Pune, Mumbai, Ahmedabad, Kolkata, Bhubaneshwar, New Delhi, Lucknow, Varanasi, Bagdogra, Guwahati, Srinagar and Jammu.
The airline operates 297 weekly scheduled passenger services across 12 domestic destinations within India with a fleet of 8 Airbus A320-232 aircraft. Vistara was the first airline to introduce premium economy seats on domestic routes in India. Vistara Airlines offers three distinct cabin classes to provide a personalised seamless service.
Vistara has interline agreements with Air France, British Airways, SilkAir and Singapore Airlines and is a full-service airline which is a joint venture between Tata Sons (owns 51%) and Singapore Airlines (owns 49%).
---
Baggage
Vistara Business Class passengers are entitled to 42" pitch and 7" seat recline, extendable leg rest, foot rest and height adjustable headrest with wings, innovative InFlight Entertainment system and Samsung Tab S10.5" as well as dedicated check-in counters at all airports and lounge access with 30 kg check-in baggage allowance and 7kg hand baggage allowance. There are 16 business class seats.
Vistara Premium Economy Class passengers are entitled to 33-36" seat pitch (20% more leg room than regular Economy class), 4.5" seat recline, specially designed seat with improved seat cushion and height adjustable winged headrests as well as 20kg Check-in baggage allowance and 7kg hand baggage allowance.
Economy class passengers are entitled to 15 kg checked baggage and 7kg hand baggage which must exceed the dimensions of 55cms x 40cms x 16cms.
---
Frequent Flyer Program
Vistara operates a frequent flyer program called Club Vistara to reward regular passengers with Vistara.
Club Vistara is an unique membership club that lets you earn points based on the value of your ticket.
The more you spend, you more points you accumulate.
There are three tiers of membership:
CV Base
CV Silver
CV Gold.
In January 2015, Vistara announced a partnership agreement with Singapore Airlines which would allow Club Vistara members to earn and redeem miles with KrisFlyer program on SIA (including Silk Air) global network. Tailored for the trendsetters and the boardroom high fliers, The All New Club Vistara is The Fastest Rewarding Frequent Flyer Program. A program that besides matching your belief in fast paced growth and success, promises to make you feel exclusive with little surprises and joys all along the way.
In short, when success comes fast, rewards must too. Designed keeping the valuable feedback of each one of our smart fliers in mind, this program has been crafted to elevate your flying experience with us, while keeping in mind your priorities, preferences and suggestions. Now more unique than ever, this new revamped program, lets you earn fastest rewards and quickly move upwards elite tiers.
All in all, Club Vistara is a program that has only benefits in store.
---
News
12th September 2017
Vistara enhance commercial partnership with Japan Airlines
Japan Airlines (JAL) and Delhi-based Vistara signed an MOU "pursue enhanced cooperation, such as codeshare, frequent flyer partnership as well as other operational arrangements to leverage each other's network, expertise and assets," the two carriers said in a statement. The partnership is subject to necessary approvals. Earlier this year, the Japanese flag carrier and Vistara entered an "Inter-Airline Through Check-In" partnership, giving customers a seamless check-in when connecting to/from a Vistara flight in India and more than 50 countries on Japan Airlines' network, using a single ticket. Vistara is a full-service airline and joint venture between Tata Sons and Singapore Airlines (SIA). In line with the rapid economic growth in India, demand for air travel between Japan and India has grown tremendously over the recent years. JAL operates a daily nonstop service between Tokyo (Narita) and Delhi, with plans to strengthen its presence in the country through a suitable partner to help boost connectivity between Japan and India, connecting through Delhi.
11th September 2017
Vistara adds Kolkata-Delhi flight with special inflight menu
An airlines spokesperson said that the additional flight, the third daily flight between Kolkata and Delhi, would operate until October 28, but may continue depending on the response.
Vistara, a joint venture between Tata group and Singapore Airlines, today announced an additional daily flight between Delhi and Kolkata during the festive seasons, effective tomorrow.
An airlines spokesperson said that the additional flight, the third daily flight between Kolkata and Delhi, would operate until October 28, but may continue depending on the response.
Vistara would also serve authentic Bengal dishes on its flights from Kolkata throughout the month of September to celebrate Durga Puja festival with its customers.
The festive menu onboard Vistara includes dishes such as Chicken Kabiraji (Chicken fried coated with a mixture of egg and breadcrumbs), Kosha Aloo Dum (whole baby potatoes mingling in an enticing tomato gravy cooked on slow fire) and Kasha Mangsho (Mutton tender simmered on slow fire with fried onions, yoghurt, cinnamon, green cardamom and bay leaves).
Maacher Paturi (Fish fillet in a spicy mustard paste steamed in banana leaves), Jheenge Aloo Posto (Ridge gourd and diced potatoes in a paste of poppy seeds and fresh spices) and Ghee Bhaat (steamed rice mixed with clarified butter), included among other home-style cooked Bengali dishes.
The inflight menu would also feature the quintessentially Bengali sweets/desserts typically relished around Durga Puja.
Sanjiv Kapoor, Chief Strategy and Commercial Officer, Vistara, said "Kolkata has played an important role in Vistara's growth and the performance of our flights and market acceptance have grown strongly since we started flying to Kolkata last year.
"This is the happiest time of the year for every Bengali and for all Kolkatans and all of us at Vistara are equally excited about Durga Puja," Kapoor said adding "at Vistara meals are included in the ticket price."
Vistara also operates daily non-stop flights on Kolkata-Port Blair and Kolkata-Pune sectors.
In less than three years, Vistara has expanded its network to 20 destinations with over 650 weekly flights operated by a fleet of 16 Airbus A320 aircraft, having flown more than 5 million customers already.
Vistara is also celebrating Onam with special inflight meal and introduction of second daily flight between Delhi and Kochi from today, the spokesperson added.
9th September 2017
Vistara seeks to bring forward international debut
Vistara has accelerated the delivery of aircraft in a bid to bring forward its planned international debut to the first half of next year. Vistara's Chief Executive Officer (CEO), Phee Teik Yeoh, told a press conference in Delhi this week that the full-service carrier would reach the twenty aircraft threshold in March next year as opposed to the originally envisaged June. Vistara currently operates sixteen aircraft - thirteen A320-200s and three A320neo - on flights that cover twenty destinations across India. According to Phee, agreements have been reached with lessors to deliver a further two A320s beyond the planned twenty, in May and June next year respectively. No plans for the acquisition of widebody aircraft have yet been made public.

21th July 2017
Vistara, India's finest full-service carrier, continues its stellar performance month-after-month, as it clocked the highest On Time Performance (OTP) and Passenger Load Factor (PLF) among all full-service carriers (FSCs) in India in the month of June 2017, and second highest OTP overall, according to the monthly statistics released by the DGCA. Vistara also registered zero cancellations, zero denied boardings, as well as the lowest passenger complaint rate in the month.
This is the fifth consecutive month that Vistara has topped the OTP chart and the third month-in-a-row that it recorded the highest load factor among Indian FSCs. The airline flew 80.8% of its flights on time and recorded a PLF of 86.4% in June 2017. Vistara achieves its high PLFs while operating a three- class configuration, a result of healthy loads in Business and Premium Economy classes along with the highest PLF in Economy Class amongst all airlines. Further, zero denied boardings complements this success and makes it an even more remarkable achievement.
27th June 2017
Vistara Airlines introduces augmented reality for its in-flight magazine
Augmented Reality (AR) has taken a leap forward particularly with the smartphone game Pokémon GO, and India is slowly embracing the augmented reality scene. The latest to join is Vistara Airlines, owned by the group Tata Sons, which has introduced AR for its in-flight magazine, Vistara Magazine.
The cover of the Vistara Magazine turned into life courtesy of AR, The Indian Express reports. To enable this feature, one has to download the official Vistara Magazine mobile app, which is available on both iOS and Android. Passengers will then have to open the mobile app and move it over the cover of the magazine. They can also use AR on photos within the magazine itself. Doing so will give an AR experience showing the scene behind the making of the Airbus A320neo. Although this initiative by Vistara Airlines comes as a small offering, it still marks itself as the first Indian Airlines to introduce such a feature.
This initiative also comes days after Emirates Airlines kicked things up a notch by using AR glasses to enhance its service towards its passengers. The airlines is exploring different ways on how AR glasses will display a passenger's details and habits so that their staff can help provide them a more comfortable experience. More exciting is Gatwick Airport in London, which uses AR to help people navigate within the airport. Gatwick Airport installed 2,000 beacons in the airport that passengers can access using an app to find their way inside the airport.
16th June 2017
In June 2017, Vistara Airlines announced it was increasing its frequency on Delhi-Bengaluru route. With the addition of two flights, Vistara now flies five times return daily (four times on Sundays) between the two cities, taking the count of weekly flights on the route (both ways) to 68. Full service carrier Vistara on Friday said it has enhanced the flight frequency on the Delhi-Bengaluru route to five times per day from three times at present. The Delhi-headquartered airline had launched the services between the two capital cities in June 2015. With the addition of two flights, Vistara now flies five times return daily (four times on Sundays) between the two cities, taking the count of weekly flights on the route (both ways) to 68. The increase in frequency from three to five flights daily each way between Delhi and Bengaluru is in response to customers' request for more Vistara flights between these cities. The airline currently serves 19 domestic destinations with close to 600 weekly flights and a fleet of 14 aircraft.

March 2017, Vistara announced a agreement to codeshare on Indian domestic flights operated by Vistara with Singapore Airlines and regional subsidiary SilkAir. Under the agreement, SIA will add its 'SQ' designator code to Vistara-operated flights beyond Mumbai and New Delhi to 10 destinations within India. SilkAir will add its 'MI' designator code to Vistara-operated flights beyond Bengaluru and Kolkata to six destinations within India. The codeshare agreement is Vistara's first with another airline group, as well as SIA's and SilkAir's first with an India-based domestic carrier. This partnership would also contribute to Vistara's topline by bringing in passengers on to its network. In March 2017, Vistara Airlines announced has joined Airbus for training of the flight crw of its A-320 aircraft at the European plane manufacturer's upcoming training centre. The Tata Sons-Singapore Airlines' joint venture carrier, Vistara has become the first customer for the first fully-owned training centre of Airbus in Asia, for which the ground-breaking ceremony was performed earlier in the day. The training package includes A320 full flight simulation, aircraft procedure training, computer-based classroom training, standard pilot transition training with the support of Airbus instructors.
In March 2017, Vistara Airlines announced it will start operating a non-stop flight to Leh from New Delhi. The Tata-SIA joint venture said that the new service will be operated twice a week on Saturdays and Sundays. The airline in a release also said that the new flight will become a daily service from May 10 to cater to peak summer demand. The Delhi-based airline currently flies to 19 domestic destinations with over 500 flights a week and has a fleet of 13 Airbus A320 aircraft. Leh is the seventh destination for Vistara in northern India. The other destinations in the region are Delhi, Jammu, Srinagar, Amritsar, Chandigarh and Lucknow.
In April 2017, Vistara announced it has partnered with Starbucks to offer Starbucks India Estates Blend coffee on-board. The service is available for customers flying Business Class and Premium Economy Class, making Vistara the first airline in South Asia as well as Southeast Asia to offer the service. In May 2017, Singapore Airlines invests over SGD 100 million in Vistara. In June next year, the 49% SIA owned Vistara will collect its 20th aircraft, a significant milestone which will pave the way for the airline to operate international flights. Tata Group owns the rest 51% stake in joint venture airline. Under Indian civil aviation rules, Vistara must have at least 20 planes before it can fly outside the country. The launch of international flights is a key part of SIA's strategy to expand its own reach and reduce the dominance of Middle Eastern carriers which have a strong hold on the growing India-Europe and India-United States markets. When SIA and Tata first announced in 2013 the intention to launch Vistara, the plan was for a joint USD100 million investment. In May 2017, Vistara Airlines announced it is likely to order 50 narrow-bodies and 50 wide-bodies. Vistara's first international flight is expected to start in the winter of 2018. For its 50 narrow body and 50 wide body order, Vistara is expected to opt either for a combination of A320s and A350s, or 737s and 777s. The carrier is reportedly interested in the 777X, but with the first deliveries of the type not expected until 2020 and given current fuel prices, Vistara may alternatively consider the 777-300ER. Vistara may take wide bodies, including 787s, on short term lease from Singapore Airlines – a 49% shareholder in Vistara
March 2016
Vistara announced a 25% increase in flights at the start of the summer 2016 schedule, including the launch of services to Jammu, Srinagar and Kochi. Vistara's rapidly expanding network now includes 15 cities, as the airline increases its weekly flights from 317 to almost 400. In December 2015, Vistara celebrated flying one million customers in less than one year of its operation. Vistara has grown its fleet and expanded its network across India, leading to a swift increase in weekly frequencies. Catering to the growing demand, Vistara has recently increased the frequency between New Delhi and Mumbai from six to eight flights a day.
October 2016
Vistara announced its plans to adjust its strategy to fly internationally following the establishment of a new civil aviation policy in the subcontinent that allows carriers with 20 aircraft to fly abroad immediately. The previous mandate called for a minimum of five years of domestic flying with 20 aircraft. While it has applied for a code-share agreement with parent Singapore Airlines, Vistara has signed 12 interline agreements including those with British Airways, Finnair, Air France-KLM, ANA and JAL. In October 2016, Tata-SIA run Vistara today crossed the 3-million passenger mark in less than two years of its launching services in the rapidly growing domestic aviation market. Vistara is set to benefit as India's domestic air traffic grew by 23.5% and nearly 8.23 million passengers flew in September 2016 compared with 6.66 million in September 2015. Vistara flew its flights most on time in the four key metros followed by SpiceJet, IndiGo, Jet Airways, GoAir and Air India.
Tata-SIA joint venture airline Vistara completed the induction of Airbus A320 ceo planes in its fleet, with the arrival of the 13th and the last such aircraft from Toulouse in France this week. The airline will now induct fuel-efficient A320 neo (new engine option), which are scheduled to be delivered from the first quarter of the next fiscal. Vistara plans to use the 13th A320 plane in launching its operations from Kolkata to Bangalore, Guwahati and Port Blair. In February 2017, Vistara announced its plans to enter the international market in the coming eighteen months. Concerning Vistara, the full-service carrier's CEO Sanjiv Kapoor told the paper that he, too, expects the airline to start international flights during the second half of 2018. Like AirAsia India, Vistara projects reaching the twenty-aircraft minimum in July of next year. While no specific destinations have been mentioned, Kapoor said Vistara will first offer short-haul flights before expanding into the longhaul segment.
---
Route Map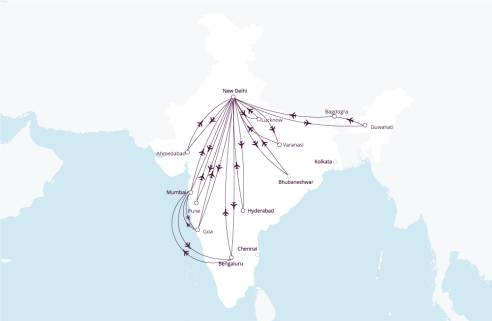 Popular Routes
New Delhi

Ahmedabad
Bengaluru

Mumbai
New Delhi

Bhubaneswar
New Delhi

Goa
New Delhi

Varanasi

---
The Fleet
---
Indira Gandhi International Airport
HUB Airport
Indira Gandhi International Airport is one of the busiest airports in India in terms of passenger traffic, cargo traffic and international traffic. Airlines that fly to and from Indira Gandhi International Airport include Air India, Go Air, Asiana, Turkish Airlines, British Airlines and Etihad.

---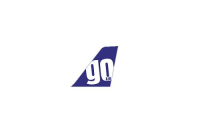 ---
Book Flights with Vistara Airlines
Make an Vistara Airlines reservation and find some amazing deals with discounted Vistara Airlines tickets at Alternative Airlines. Vistara Airlines flies to many destinations worldwide, offering a cost effective and safe service to all its passengers. Let Alternative Airlines help find you cheap Vistara Airlines tickets and make international and domestic flight reservations on Vistara Airlines today.
Browse the most popular Vistara Airlines flight routes to cities worldwide. Alternative Airlines can help you make reservations on Vistara Airlines for international flights to lots of destinations. Use the following list of routes to help you plan your next flight. Book Vistara Airlines flights on Alternative Airlines to save big! Alternative Airlines is an online travel agency, specialising in booking lesser known airlines and remote destinations.
Vistara is the wonderful new Indian airline, based in New Delhi that is planning to change the face of Indin aviation for the better. The new carrier launched services in January 2015 with an ambitious but considered programme of services, flying 164 flights per week on a fleet of five matched Airbus A320 aircraft by March 2015. Well funded as a joint venture between Indian giant, Tata and Singapore Airlines, and professsionallly managed from the start, unlike most of the new start-ups across the globe in the last few years, Vistara is a full service carrier rather than a low cost airline. With its base at New Delhi's Indira Gandhi International Airport, the purely domestic network connects the cities of:Mumbai, Ahmedabad, Panjim, Hyderabad and Siliguri. Vistara has already announced plans to look quickly as operating international services and is challenging the current Government rule that a local airline must be five-years old and have a fleet of 20 planes before it is granted permission to commence overseas flights. On 06th February 2015, Vistara today took delivery of its fifth Airbus A320 aircraft. which allowed it to increase frequency to 5 daily services between on the very popular rute between Delhi and Mumbai. Vistara has already introduced unique product and service offerings to the Indian doemstic market including being the first airline to introduce Premium Economy; the first to offer a seamless boarding experience through designated queues and various check in options including auto check-in; the first to introduce a value based points accrual in Frequent Flyer Program called Club Vistara and offering unique healthy on-board cuising with a wide range of regional dishes and international favourites in a spacious seating configuration.

Vistara - the new full service airline of India
A new full-service, international Indian airline planned to launch by October 2014 has been called Vistara.
Vistara starts services to Lucknow from Delhi hub
Dynamic, new, full-service Indian airline, Vistara has started regular daily flights from its base in the capital Delhi to the regional centre, Lucknow.
Vistara goes daily on Delhi to Pune
Vistara, the new bright star of Indian aviation, has started flying daily between its hub in Delhi and Pune, Indi's seventh city and situated on the Deccan plateau.
Vistara appoint Alternative Airlines as UK Agent
Vistara, India's brightest new airline, has appointed Alternative Airlines as a launch agent for its services to the UK market.
READ MORE ABOUT VISTARA
How to pay
You can pay for your flights with Vistara in the currency and payment method of your choice when booking through Alternative Airlines.
We accept PayPal making flight purchases with Vistara easy and more secure for customers. PayPal is one of the leading forms of online payment, with more than 169 million accounts worldwide.