Search & Buy Japan Airlines Flights
Let's fly!

Select your payment method to view total prices including any payment fees:
Airlines will always try to sit children with their parents (subject to check-in)
Some airlines will allow travel for unaccompanied minors. Please email us to check.
The fare is based on the child's age on the date of travel.
More detailed information can be found here Traveling with children
Most airlines will let infants travel with their parent(s) for free. However some airlines will charge up to 10% of the adult ticket price. Click on 'Price Breakdown' to find out more.
If you are pregnant, but due before the flight departure date, please contact us once your baby is born and has a name. We can then add him/her to your ticket.
Infants will not be given a seat. The airlines expect parents to travel with them on their lap.
Airlines regard infants as being under 24 months old.
The fare is based on the child's age on the date of travel.
More detailed information can be found here Traveling with children

Buy
Japan Airlines

Flights

Japan Airlines Reservations with Alternative Airlines
Make a Japan Airlines Booking and Find Some Amazing Deals
---
About Japan Airlines
Japan Airlines is the flag carrier of Japan and is the second largest airline in Japan.
Japan Airlines is headquartered in Shinagawa, Tokyo and its main hubs are Tokyo Narita International Airport and Tokyo Haneda Airport. Japan Airlines was established in 1951 and became the national airline of Japan in 1953.
Japan Airlines has codeshare agreements with many airlines including Air Berlin, American Airlines, Aeromexico, Air France, Alitalia, Bangkok Airways, China Airlines, China Eastern Airlines, China Southern Airlines, Vietnam Airlines, WestJet and many others.
Japan Airlines flies to many destinations including Osaka, Tokyo, Nagoya, Izumo, Jeju, Busan, Kagoshima, Akita, Aomori, Hakodate, Memanbetsu, Obihiro, Hakodate, Guangzhou, Seoul, Dalian and many others.
---
Japan Airlines Baggage
Carry-on Baggage
Each passenger is permitted one carry-on bag. This must measure no more than 55 x 40 x 25cm, and weigh no more than 10kg.
In addition, passengers are permitted a personal item, which are small items such as a shopping bag, a handbag, coat or reading material.
Checked Baggage
Checked Baggage should fit within the combined dimensions of 203cm (length + width + height).
First class and Business class passengers are allowed 3 checked bags, each weighing a maximum of 32kg.
Premium economy and economy class passengers are permitted 2 pieces of checked luggage, each weighing 23kg.
---
Japan Airlines Check-In Information
Online Check-In
Japan Airlines offer online check-in for its flights. This service will open 24 hours before departure, and closes 60 minutes before scheduled departure time.
Airport Check-In
Passengers can choose to check in at the airport either via the check-in counter, or with a self-service kiosk. Ensure you arrive at the airport and check-in with plenty of time to spare, to ensure you have enough time to check any bags you may have, pass through security and get to the boarding gate.
---
Japan Airlines Frequent Flyer Program
Japan Airlines offers regular passengers with the airline JMB Mileage as a frequent flyer program.
Members can earn miles through travel and everyday activities for award tickets, coupons, merchandise and other travel awards.
The program's airline partners also include JAL's Oneworld partners, as well as Air France, China Eastern Airlines and Emirates. For the airline's most frequent flyers, JMB offers Fly On Program, a frequent flyer service status program; and JAL Global Club (JGC), an exclusive club designed for experienced travellers. The JMB program has no membership fee, and mileage will be valid to the last day of the 36th month following the month of the flight or transaction date.
In addition, if a JMB member does not accumulate mileage within 36 months after becoming a member, or a JMB member's account remains inactive at zero mileage for a consecutive 36-month period, JAL may withdraw or cancel the membership of such member.
The Fly On Program is the frequent flyer service status program and is divided into four membership levels, Crystal, Sapphire, JGC Premier and Diamond, based on the member's travel in the last calendar year. Additionally, a minimum of four JAL Group flights on eligible fare classes is required. Members earn Fly On points on eligible fare classes on JAL Group and Oneworld member airlines. These are used to calculate the member's eligibility for membership renewal, upgrade or downgrade during the membership year. Higher-tiered members are provided with increased travel benefits such as bonus mileage, additional baggage allowance, priority boarding and airport lounge access.
There are two phases to the Fly On Program service benefits:
One begins after two months following qualification for membership
The other begins from April of the following year
Membership is valid until 31 March of the second year following membership qualification.
---
Japan Airlines Economy Class
JAL Economy Class know that their passengers deserve the quality and affordability throughout their journey.
Japan Airlines Economy Class Facilities
JAL Airlines offers in-flight meals in Economy Class which are serves 1 hour after take off. Alcoholic beverages are provided such as wine and beer.
Inflight entertainment is available with a range of games, music and movies. Passengers also receive a kit comprised of earplugs, and eyemask and a toothbrush - please note that this kit is on select routes.
Japan Airlines Economy Class Seating
Japan Airlines Economy Class seating has been renovated with Sky Wider seating where passengers can enjoy an increased recline and comfortable seatback. Other seating in Economy Class has been made with race car technologies.
---
Japan Airlines Food
Japan Airlines offers in-flight entertainment on international flights. Passengers can sit back and relax with movies, videos, audio programs, games and much more.
Japan Airlines Meal Options
Japan Airlines offer passengers to search their in-flight meal online, by entering your flight details on the 'service' section on their website. Inflight meals are only available on international flights, unless otherwise stated.
The economy and premium economy class menu features many different meals, created by a number of different chefs including Masahiro Kasahara, Shinobu Namae and Six Young Chefs, which will depend on the route flying. Meal options include traditional Japanese cuisine, but also French, Italian and Chinese dishes.
Business Class passengers are offered Japanese cuisine, created by Jun Kurogi or Daisuke Hayashi, or Western cuisine created by Chikara Yamada. This is dependent on the route flying.
First Class meals are inspired by Japanese chefs including Naoki Uchiyama, Hideki Ishikawa and Kouji Koizumi. Alternatively, there are western-inspired meals created by Yosuke Suga. The type of meal offered will vary depending on the route travelling, but you can check your menu before flying.
There are selected flights which offer meals for passengers travelling domestically in first class, ranging from Breakfast, Lunch or Dinner, depending on the departure time of your flight.
Japan Airlines Special Dietary Requirements
Passengers can reserve special inflight allergy-friendly meals in advance. Ask cabin attendants if you have any concerns about allergy information for in-flight meals. Passengers requesting a special meal must request this at least 72 or 24 hours before departure (depending on the meal required). The following are the current meals offered by Japan Airlines:
Baby meal
Child meal
Vegetarian meal
Low-fat meal
Low-salt meal
Low-calorie meal
Gluten Free meal
Bland Meal meal
Diabetic Meal meal
Fruit Planner meal
Vegetarian Raw meal
Seafood meal
Low Lactose meal
Hindu meal
Vegetarian Hindu(Asian) meal
Vegetarian Oriental meal
Moslem meal
Vegetarian Jain meal
Minimal Allergen meal
Japan Airlines Drinks & Alcohol
Passengers travelling domestically in Economy or Class J are given complimentary soft drinks, with options for both hot and cold beverages.
Passengers travelling domestically in first, or internationally in all classes are offered a selection of hot and cold beverages, including alcoholic drinks such as traditional Japanese sake, but also champagne, beer, liquor and wine.
---
Japan Airlines Movies In-flight Entertainment
Japan Airlines offers in-flight entertainment on international flights. Passengers can sit back and relax with movies, videos, audio programs, games and much more.
Japan Airlines TV
Find TV shows of all kinds on board your Japan Airlines flight. From American classics to Japanese hits, there's something for everyone with Japan Airlines.
---
Japan Airlines Popular Routes
Sydney

Osaka
Tokyo

Osaka
Nagoya

Tokyo
London

Tokyo
Beijing

Nagoya
Shanghai

Niigata
---
Japan Airlines Route Map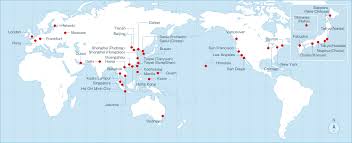 ---
Japan Airlines Fleet

Boeing 737-800
Boeing 767-300
Boeing 767-300ER
Boeing 777-200
Boeing 787-8
Boeing 787-9
---

Japan Airlines Hub Airport
Tokyo Narita International Airport
Narita International Airport is an international airport serving Tokyo, Japan. It lies between the city of Narita and Shibayama. Narita is the main international airport in Japan. Narita serves as the main international hub of Japan Airlines, All Nippon Airways, Jetstar Japan, Peach and Vanilla Air.
The airport has two runways and can handle nearly 40 million passengers every year. Other airlines which fly to and from Narita International Airport include Aeroflot, Air Busan, Air Canada, Alitalia, All Nippon Airways, American Airlines, British Airways, Cathay Pacific, China Airlines, Skymark Airlines, China Eastern Airlines, China Southern Airlines, Ethiopian Airlines and many others.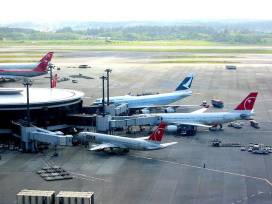 ---
Oneworld Alliance JAL Japan Airlines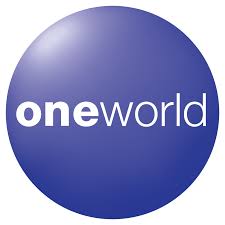 Oneworld alliance is a leading global airline network, with 15 member airlines. Oneworld alliance was founded and now consists of member airline such as Cathay Pacific, Finnair, LAN, TAM, Malaysia, Qantas, Qatar, SriLankan Airlines, Iberia, British Airways, American Airlines and many others. Oneworld alliance covers more than a thousand destinations in 155 countries.
---
Alternative Airlines to Japan Airlines
Please click on the logos below to find out more about airlines that fly similar routes to Japan Airlines:
---
Japan Airlines News
28th June 2018
Japan Airlines Extending Double Daily Service
Japan Airlines (JAL) is revising its flight frequency plans and will be extending the time period for its second daily flights to Guam
The airline announced it would begin double daily service from Narita - Guam from 25th March to 27th October (announced in December 2017). The airline has will continue to operate the 2 daily flights through to 30th March 2019.
The Narita-Guam route features the JAL Sky Suite 767-300ER aircraft. This flight features 24 fully-flat business class seats and 175 seats.
15th May 2018
Japan Airlines to set up low-cost carrier, targeting Asian demand
Japan Airlines is launching a low-cost carrier offering medium to long-haul flights, aiming to tap growing Asian demand for budget air travel.
The new airline will be based at Narita International Airport and will offer flights to Asia, Europe, and the Americas, JAL said in a statement on Monday.
The as-yet-unnamed airline plans to start flying in the summer of 2020 with two wide-body Boeing 787-8 aircraft.
Budget flights have been slow to take off in Japan, which is dominated by full-service carriers JAL and ANA Holdings and has a sophisticated high-speed rail network, but with growing numbers of Asia travelers taking to the air, the two Japanese airlines are looking to expand their low-cost offerings.
"Full-service airlines typically have high costs, but in Japan this is especially so," said Will Horton, senior analyst at research consultancy CAPA Centre for Aviation. "Japan needs new platforms to capture foreign visitors. They are not like the Japanese who are sticky in wanting to fly a costly Japanese full-service airline."
ANA has said it will launch medium-length international flights, potentially flying as far afield as India, as it integrates its low-cost carrier units under the Peach brand name.
JAL, by contrast, holds only a minority stake in Jetstar Japan, a joint venture with Qantas Airways' low-cost brand Jetstar which flies narrow-body aircraft. JAL said it would continue to invest in Jetstar Japan.
The new long-distance carrier is a totally different proposition from Jetstar Japan, which "is purely short-distance," JAL's new President Yuji Akasaka told reporters. Jetstar Japan has given its approval for the move, the president said.
Jetstar Japan said in a statement that the new airline would be complementary because it would bring more international visitors to Japan who would then travel on its domestic network.
"We are in discussions with JAL about opportunities for Jetstar Japan and the new low-cost carrier to work closely together," Jetstar Japan said.
JAL said it plans to have outside investors in its new low-cost carrier which will be a consolidated subsidiary.
Other players are also looking to take advantage of Japan's growing status as a tourist destination, with AirAsia Japan having relaunched and airlines such as Hong Kong Express and Singapore's Scoot adding flights to Japan.
13th April 2018
S7 Airlines expands codeshare agreement with Japan Airlines
Russia's S7 Airlines and Japan Airlines(JAL) will expand their codeshare agreement by adding two new destinations in Russia. At the end of this month, Oneworld members JAL will add its JL code on S7 flights Tokyo Narita-Irkutsk and Narita-Novosibirsk from June 2. The new codeshare flights are subject to government approval. Through this cooperation, JAL's codeshare flights in Russia will increase from 20 to 22 routes. Codeshare routes already in place operated by S7 comprise of:
Narita-Vladivostok; Khabarovsk-Osaka (Kansai); Vladivostok-Moscow (Domodedovo); and from St. Petersburg to Samara, Kazan, Yekaterinburg, Nizhny Novgorod, Rostov, Perm, Ufa, Chelyabinsk, Volgograd, Krasnodar, Sochi, Nizhnekamsk, Kaliningrad, Omsk, Tyumen and Novosibirsk.
9th April 2018
Japan Airlines named on Tripadvisor's Top 10 airlines
Japan Airlines has reached an impressive number 6 on Tripadvisor's newly released list of Top 10 airlines. As reported by one Tripadvisor user; "This airline carrier is exquisite and features great on board meal service, drink service, and the entertainment is great. They provide excellent service with exceptional leg room. This airline is truly above most others and comes with outstanding crew members." Japan airline's reputation continues to grow this way, as the list was compiled by taking into account the quantity and quality of airline reviews and ratings submitted over the last year to TripAdvisor.
23rd March 2018
Hawaiian & Japan Airlines to Begin Codeshare Ticket Sales
Hawaiian Airlines and Japan Airlines began sales of their highly-anticipated codeshare flights for travel starting March 25, 2018.
Guests travelling between Japan and Hawai'i will enjoy unrivalled value in a partnership that brings together JAL's network of over 30 domestic cities and 11 international destinations and
Hawaiian's convenient flight connections throughout its island chain.
"We're excited to extend our reach in Japan and welcome new guests onboard Hawaiian so they may experience our hospitality and the unique charm of our islands," said Peter Ingram, president and CEO at Hawaiian Airlines. "We're also thrilled to offer Hawaiʻi residents the ability to earn HawaiianMiles while travelling to popular cities beyond our gateways including Fukuoka, Nagoya and Okinawa."
"We look forward to providing a seamless customer experience through this partnership with Hawaiian Airlines. As we embrace the challenge to deliver convenient travel options to our mutual customers, this is just the start of a successful relationship we envision with Hawaiian," said Yoshiharu Ueki, president of Japan Airlines.
Phase one of the comprehensive partnership includes:
Access to 36 domestic and 11 international destinations (subject to government approval) within JAL's network, as well as all Japan-Hawai'i flights.
Access to Hawaiian's robust neighbour island network of approximately 170 daily flights.
Hawaiian Airlines inclusion into JAL's JALPAK offers guests more options on tour packages between Japan and Hawai'i beginning April 2.
Ability to earn HawaiianMiles and JAL Mileage Bank credit on codeshare flights, including non-stop flights between Honolulu and Nagoya and Sapporo.
Reciprocal lounge benefits.
Convenient connections and an improved guest experience following Hawaiian's relocation to Terminal 2, adjacent to JAL, at Tokyo Narita Airport beginning March 25.
Hawaiian, the largest U.S. carrier for service between Japan and Hawai'i, has carried over 3 million guests via its gateways in Haneda and Narita, Sapporo and Osaka since launching service in 2010.
JAL, the No. 1 carrier on the route, transported over 1 million travellers between Japan and Hawai'i in 2017.
7th December 2017
Japan Airlines teams up with Boom Supersonic
Denver-based Boom Supersonic has found a valuable new partner in its quest to make supersonic commercial flight a reality, as the company this week announced a strategic investment from Japan Airlines. Specifically, JAL is pitching in $10 million to help Boom develop its Mach-2.2 airliner, but the partnership also allows the airline's leadership to offer Boom's visionaries decades of industry experience.At the Paris Air Show in June, Boom announced76 firm aircraft orders, and this partnership gives JAL the opportunity to pre-order up to 20 aircraft. "We are very proud to be working with Boom on the possible advancement in the commercial aviation industry," said Yoshiharu Ueki, President of Japan Airlines. "Through this partnership, we hope to contribute to the future of supersonic travel with the intent of providing more time to our valued passengers while emphasising flight safety."
27th November 2017
Japan Airlines and Aeroflot consider joint business as part of new pact
Japan Airlines and Aeroflot are to start code-share flights as part of a wider planned collaboration.A joint business could be created in the future as part of the strategic co-operation deal. The aim is to provide more options for travel between Russia and Japan.
This follows the relaxation of visa requirements from January 1, leading to increased travel demand between the two countries.
The first stage of the codeshare co-operation is due to start at the end of the 2018 fiscal year.
Jal currently operates four weekly flights to Moscow Domodedovo airport from Tokyo Narita using Boeing 787-8 aircraft. Frequency was temporarily raised to seven flights a week to accommodate the demand during the peak summer season. Aeroflot operates daily non-stop flights year-round from Moscow Sheremetyevo airport to Narita using Airbus 330-300 aircraft. Jal executive vice president Tadashi Fujita said: "As the only airline in Japan operating to Russia for over 50 years, the launch of a forward looking partnership with Aeroflot demonstrates our strong commitment to this very important market. "As we jointly started the Tokyo-Moscow flight 50 years ago, this strategic co-operation of mutual benefits will offer both airlines' customers more options and flexibility."
Aeroflot strategy and alliances deputy CEO Giorgio Callegari said: "The Japanese market is a long-standing and important one for Aeroflot. "We believe that by expanding our partnership with Jal for both direct and transit traffic we will be able to further develop this market by providing more opportunities for our passengers.
31st October 2017
Japan Airlines goes double-daily between London and Tokyo
Japan Airlines (JAL) celebrated the opening of its second daily nonstop service between London Heathrow Airport (LHR) and Tokyo Haneda Airport (HND) by holding a gate ceremony at LHR airport on October 29, 2017.
"Japan Airlines is pleased to offer more flight options to Japan with the increase of its service between London and Haneda," said Mr Yoshitaka Ihokibe, Senior Vice President for Europe, Middle East & Africa. "Together with our joint business partner British Airways, we are now offering four direct flights between London and Tokyo. We hope that this additional flight will strengthen and boost the economic and cultural relations between the UK and Japan."
Simon Eastburn, Director of Airline Business Development at Heathrow said, "We're delighted to be working with Japan Airlines to offer more choice for passengers flying to Japan, with an additional flight now departing from Heathrow. Creating more links between the UK and Asia supports a growing demand and ensures the wonders of Japan are even more accessible to travellers."
JAL operates its second direct service (JL042/JL041) with Boeing 787-8 Dreamliner, fitted with the airline's latest cabin interiors and arranged in a three-class cabin configuration featuring fully flat JAL SKY SUITE seats in Business Class, highly functional seats in Premium Economy Class and the Skytrax 2017 award winner JAL SKY WIDER II seats in Economy Class.
The addition of the new service enables JAL to offer customers a total of four daily direct flights between London and Tokyo: two daily services operated by JAL (codeshare with British Airways (BA)), both serving Haneda; and two daily services operated by oneworld and joint- business partner BA (codeshare with JAL), with one serving Haneda and the other Narita.
13th October 2017
Japan Airlines and Aeromexico target 2018 codeshare
Japan Airlines and Aeromexico will begin codesharing on select routes in Mexico some time during the next financial year, as the two airlines look to enhance connectivity between Japan and Mexico.
Details of the codeshare are currently slim, and the current target date is simply for the 2018 financial year, which runs from April 1, 2018 to March 31, 2019. Which exact routes will be included in the codeshare are also still to be determined, however Japan Airlines has confirmed with Business Traveller Asia-Pacific that the two carriers are currently looking at adding about 12 of Aeromexico's routes in Mexico to the agreement.
The agreement adds to Japan Airlines' existing joint-business with fellow Oneworld carrier, American Airlines, which sees it currently serve eight destinations in Mexico via Los Angeles and Dallas Fort Worth. These include Aguascalientes, Cancun, Guadalajara, Leon, Mexico City, Monterrey, Queretaro and San Luis Potosi.
Aeromexico, meanwhile, currently flies daily to Tokyo Narita from Mexico City, and in May this year added Seoul to its network. The Skyteam member also launched a joint venture earlier this year with fellow alliance member Delta Air Lines.
14th September 2017
Japan Airlines returns to Kona on 15th September
Japan Airlines will celebrate a new service launch between Kona International Airport and Tokyo on September 15.JAL's new service is expected to result in about $84.2 million in visitor expenditures and about $9.8 million in state tax revenue, according to numbers released by the Hawai'i Tourism Authority earlier this year. The service will also support about 900 jobs on Hawai'i Island.
The last regular JAL flights direct to Kona were over seven years ago.
The Narita/Kona flights will operate with fully revamped JAL SKY SUITE 767 (767-300ER) aircraft and will be fitted with the airline's most current interiors, the state says. The aircraft seats 199 passengers.
The flights will depart Narita at 9:25 p.m. and arrive in Kona at 10:15 a.m. Service from Kona will depart at 12:15 p.m. and arrive in Narita at 4:00 p.m. the next day. Schedules are subject to government approval.
4th September 2017
Japan Airlines start Melbourne - Tokyo route
Japan Airlines has underlined the resurgence in the Australia-Japan market with the start of nonstop Melbourne-Tokyo (Narita) flights. The inaugural service, operated as flight JL773 by Boeing 787-8 JA845J, touched down at Melbourne Tullamarine just before 2200 on Friday night after a 10 and a half hour journey from Tokyo Narita.The aircraft received an Airservices Aviation Rescue and Fire Fighting (ARFF) monitor cross as it taxied to the gate, while there were some festivities in the terminal commemorating the inaugural flight. The 787-8 was on the ground for about two hours before operating JL774 back to Tokyo Narita. Japan Airlines' 787-8s used on the Melbourne route feature 161 seats, comprising 38 business class seats with direct aisle access for every passenger, 35 premium economy seats in a 2-3-2 configuration and 88 economy seats in a passenger pleasing eight across 2-4-2 layout. The airline is the only 787 operator to have an eight across economy cabin.
8th May 2017
JAL Japan Airlines announce new A350-900 aircraft
Japan Airlines has confirmed it will be ready to delivery its 1st 18 A350-900s on order from Airbus during its 2019 Financial Year. Outlining its Medium Term Management Plan for the years 2017-20, the carrier said it would use the type for domestic Japanese trunk routes before presumably deploying them internationally.
Japan Airlines (JL, Tokyo Haneda) has confirmed it is on track to take delivery of its first of eighteen A350-900s on order from Airbus (AIB, Toulouse Blagnac) during its 2019 Financial Year (April 1, 2019, to March 31, 2020).
April 2017
Japan Airlines 2017 figures out
Japan Airlines announced that revenue and profits slide last year despite a gradual recovery in the Japanese economy. International passenger revenue fell by 7.5% to 415.2 billion yen in the year to March 31, while domestic revenue was almost stable at almost 500 billion yen.
Overall operating revenue slid by 3.6% and the operating profit dropped by 18.6% to 170.3 billion yen. Capacity was raised on routes to Honolulu and Bangkok during specific periods to cater for "robust" demand and the airline started codesharing with Iberia on flights to Madrid and expanded codeshares with China Airlines to Taiwan and S7 to destinations in Russia.
---