Search & Buy Peach Aviation Flights
Let's fly!

Select your payment method to view total prices including any payment fees:
Airlines will always try to sit children with their parents (subject to check-in)
Some airlines will allow travel for unaccompanied minors. Please email us to check.
The fare is based on the child's age on the date of travel.
More detailed information can be found here Traveling with children
Most airlines will let infants travel with their parent(s) for free. However some airlines will charge up to 10% of the adult ticket price. Click on 'Price Breakdown' to find out more.
If you are pregnant, but due before the flight departure date, please contact us once your baby is born and has a name. We can then add him/her to your ticket.
Infants will not be given a seat. The airlines expect parents to travel with them on their lap.
Airlines regard infants as being under 24 months old.
The fare is based on the child's age on the date of travel.
More detailed information can be found here Traveling with children

Buy
Peach Aviation

Flights

Peach Aviation Reservations with Alternative Airlines
Make an Peach Aviation Booking and Find Some Amazing Deals
---
About Peach Aviation
Peach Aviation (ピーチ・アビエーション 株式会社) is a low-cost airline based in Japan, operating under the brand name Peach.
The airline's hub airports are Kansai International Airport in Osaka and at Naha Airport in Okinawa.
Peach was founded in 2011, originally as A&F Aviation as a joint venture between All Nippon Airways (ANA) and the First Eastern Investment Group. In 2011, the company applied for an operating certificate and later changed the name to Peach Aviaton.
Peach's first flight service took place on 1st March 2012, between Kansai and New Chitose Airport.
Peach was the most successful of the three new Japanese low-cost carriers during their first year of operations, with average load factors around 80 percent versus 70 percent for Jetstar Japan and 50 to 60 percent for AirAsia Japan. Peach's 24-hour operations and exclusive terminal at Kansai Airport were credited for its relative success, as well as its stronger focus on certain passenger experience factors such as its reservations and check-in systems.
In May 2017, Peach become the first airline in Japan to accept Bitcoin as payment.
---
Peach Aviation Destinations
Hong Kong
Hong Kong
Hong Kong International Airport
China
Shanghai
Shanghai Pudong International Airport
Japan
Fukuoka
Fukuoka Airport
Japan
Ishigaki
New Ishigaki Airport
Japan
Kagoshima
Kagoshima Airport
Japan
Matsuyama
Matsuyama Airport
Japan
Miyazaki
Miyazaki Airport
Japan
Nagasaki
Nagasaki Airport
Japan
Naha
Naha Airport
Japan
Osaka
Kansai International Airport
Japan
Sapporo
New Chitose Airport
Japan
Sendai
Sendai Airport
Japan
Tokyo
Haneda Airport
Narita International Airport
South Korea
Busan
Gimhae International Airport
South Korea
Seoul
Incheon International Airport
Taiwan
Kaohsiung
Kaohsiung International Airport
Taiwan
Taipei
Taoyuan International Airport
Thailand
Bangkok
Suvarnabhumi Airport
---
Peach Aviation Baggage
Carry-on Baggage
Passengers are entitled to two items of carry-on baggage. This includes one personal item (a laptop, handbag, small rucksack etc) and one standard bag. The combined weight of these two bags cannot be over 10kg overall. The standard bag must fit within the dimensions of 40 cm x 50 cm x 25 cm.
Checked Baggage
Passengers are not given any checked baggage included in the price of their ticket. If passengers want to bring checked baggage, they must pre-purchase it online or at the airport. Please note that baggage charges are much cheaper when pre-purchasing online.
The maximum weight for a single piece of checked baggage is 20kg and it must fit within the overall size of 203 cm.
---
Peach Aviation Route Map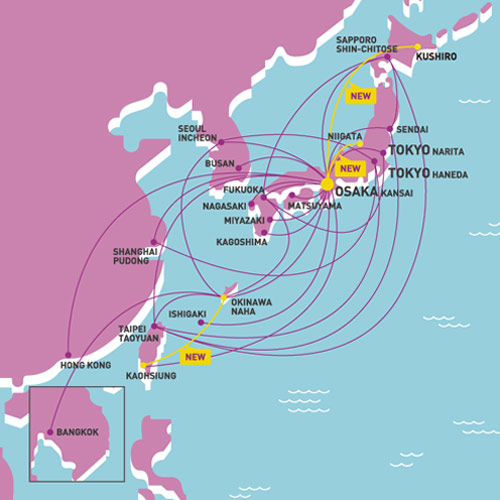 ---
Buy Discounted Peach Aviation Tickets at Alternative Airlines
---
Peach Aviation News
28th June 2018
Peach Aviation record another year of profit
Peach Aviation has recorded another year of profit, making it the fifth year that it has been profitable in a row. The Japanese airline reported a net profit of $33.7 million USD from a 12 month period running from 31st March 2017— 31st March 2018. However, although Peach are enjoying another year of profit, their net profit has gone down from last year. In 2017, Peach recorded a net profit of around $25.4 million USD which is 24.6% more than it has recorded this year.
23rd May 2018
New competition for Peach Aviation
Peach Aviation will face new competition as Japan Airlines are set to launch a new budget carrier in 2020. Peach Aviation is one of the leading low-cost carriers in Japan and the new airline that will be launched by Japan Airlines will offer similar routes to Peach at similar prices.
The new airline is planned to open with two Boeing 787 Dreamliner aircraft and will continue to add two additional jets each year until it fully builds out its fleet. Masaru Onishi, who is the Director of Japan Airlines, said that the new airline will offer medium and long-haul flights that are half the price of what Japan Airlines are currently charging, which if true, will be very competitive against Peach Aviation's current prices.
23rd May 2018
Peach Aviation still looking to accept bitcoin payments
Peach Aviation, one of the leading low-cost airlines in Japan, planned to become the first Japanese airline to accept Bitcoin as a method of payment last year. The airline was looking to implement the additional payment method in partnership with cryptocurrency exchange company, Bitpoint Japan. However, due to price fluctuations through 2017 the airline decided to hold off.
Recently, the Japanese airline reaffirmed its decision to go ahead with a plan to accept bitcoin for airline tickets in the future. This came as a surprise to many, following the hack of one of the leading Japanese cryptocurrency exchange companies, Coincheck, earlier this year.
9th May 2018
Peach ripe for ANA's aggressive LCC growth plan
Efforts to integrate low-cost carrier Vanilla Air with its more successful stablemate, Peach Aviation, due to begin later this year, demonstrate that low-cost carriers in Japan are no passing fad.
3rd May 2018
Peach Aviation set to expand internationally
Japan's inbound tourism continues to expand rapidly, and the government has further growth targets. This may appear to be ideal for Japan's growing Low Cost Carrier sector in the country, at its forefront, Peach Airlines. Japan's LCCs are expanding internationally, although in recent times they have been maintaining balance with domestic flying. Peach is Japan's largest international LCC and is nearly twice the size of the second largest, Vanilla Air, with which it will merge. Yet the largest LCC serving Japan is actually a foreign one: Jeju Air. International flying represents growth for Japan's LCCs, but there are significant challenges.
However, it is important to remember that although Japanese LCCs are low cost in Japan, airlines such as Peach Aviation may be considered medium - high cost compared to airlines from other countries – even full service Chinese airlines. Foreign airlines hold a geographical advantage for serving Japan's large network of underexploited secondary cities.
25th April 2018
Peach Aviation plans for 50 destinations and 50 aircraft in 2020
ANA Holdings president, Shinya Katanozaka, has revealed plans to merge its two subsidaries, Vanilla Air and Peach Aviation. The merger will eliminate Vanilla Air and have Peach Aviation as the standalone airline, taking on all of Vanilla Air's existing aircraft and routes in an attempt to make Peach Aviation the leading low-cost airline in Asia.
From 2020, once the merger is complete, Peach Aviation plans to have a fleet of over 50 aircraft that run services to at least 50 destinations. The routes are planned to run from both airline bases, Tokyo Narita and Osaka Kansai airports, and will include domestic, international, and long-haul flights.
5th March 2018
Peach Aviation launchs domestic operations
Peach Aviations commenced new operations on a new domestic link from Osaka Kansai (KIX) to Niigata (KIJ) on 1 March. The Japanese LCC will serve the 525-kilometre sector with daily A320 flights. There is no existing competition on this airport pair. This is the airline's first route to Niigata Airport. OAG schedules show that Peach will serve 11 domestic destinations from Kansai during the week commencing 6 March. According to anna.aero's New Routes Database, it is due to launch two further domestic airport pairs in August, including a link from Kansai to Kushiro.
13th February 2018
ANA targets expansion of budget flights across Asia
Japanese carrier aims to double sales in five years for Peach and Vanilla units
ANA Holdings unit Peach Aviation is expected to add more routes throughout Asia.
ANA Holdings will expand flights by its budget carriers to capture growing demand from Asian visitors to Japan, focusing on Southeast Asia, even as competition in the low-cost field intensifies.
ANA released its five-year strategy through fiscal 2022 on Thursday, outlining plans to boost mid-distance budget routes across Asia, including India. The Japanese company aims to double sales for its low-cost carriers from an estimated 96 billion yen ($881 million) for the year ending in March to just under 200 billion yen in fiscal 2022.
"We see nine-hour, one-way flights in the future," Senior Vice President Koji Shibata told reporters Thursday.
Peach Aviation and Vanilla Air are ANA's two budget carrier units, while All Nippon Airways serves as the company's main airline.
"We want to use Peach and Vanilla to cover blank areas for All Nippon Airways," Shibata said.
Though Peach is expanding routes from its bases at Kansai Airport near Osaka and Naha Airport in Okinawa, flights remain limited to destinations like mainland China, South Korea and Taiwan. Peach has done little to tap demand from Southeast Asia aside from a Naha-to-Bangkok route.
Likewise, Vanilla operates some flights from Narita Airport near Tokyo to Mactan-Cebu International Airport in the Philippines, but little else for Southeast Asia.
ANA first will establish routes with the highest demand, likely for cities in Vietnam, Thailand, Indonesia and India. The company also plans to expand its LCC fleet by 20 planes to roughly 55 in fiscal 2022.
Demand for passenger flights in Asia is expected to grow more than 5% annually for the next 20 years. But budget carriers control about 60% of the Southeast Asian market, compared with around 10% in Japan.
Competition is heating up in the budget arena. Indonesia AirAsia X will commence flights from Narita to Jakarta in May, and Japan Airlines is partnering with budget carrier Vietjet Air.
8th September 2017
Peach Aviation expanding Taiwan-Japan routes
Discount carrier positions itself to meet soaring demand across Asia
Flights linking Japan and Taiwan have become one of Peach Aviation's core routes.
Peach Aviation will open routes linking more cities in Japan and Taiwan next year, the low-cost carrier's CEO Shinichi Inoue told The Nikkei.
The Osaka-based airline's new service will connect the major southern Taiwanese city of Kaohsiung with Naha in Japan's southernmost prefecture of Okinawa. Inoue said flights to and from Taiwan have become some of Peach's most important routes over the five years since launching.
Peach will also open a route connecting Taipei and the northern Japanese city of Sapporo on Sept. 24, and a day after, one that links the Taiwanese capital to the northeastern city of Sendai.
The airline has enjoyed growth in both revenue and profit for four straight years through the year ended March 2017. Peach "will cultivate demand in Asia as we aim for further growth," the CEO said in a recent interview.
Peach, which is two-thirds owned by ANA Holdings, also will promote its brand via social media. "Setting competitive prices is critical, but we will try to avoid price wars by building up our fan base," Inoue said.
Discount airlines carry only about 10% of air travelers in Northeast Asia, including Japan. This compares with 40% in Europe and the U.S., and 60% in Southeast Asia. Inoue sees "potential demand of at least 30%" for Northeast Asia.
To further its Asian business expansion, however, Peach will need an airport hub overseas where it can station aircraft overnight. The company is considering airports in Taiwan for its first foreign hub. But with many airports in Asia, including in Taiwan, struggling with overcrowding, Inoue said the company will "need to look carefully at the conditions" before making a decision.
---
Book Flights with Peach Aviation
Book Peach Aviation flights with Alternative Airlines. Find amazing deals with discounted Peach Aviation flights at Alternative Airlines. Peach Aviation flies to many destinations worldwide, and Alternative Airlines offers a cost effective and safe service to all its passengers. Let Alternative Airlines help find you alternatives for cheap Peach Aviation tickets. Make international and domestic flight reservations on Peach Aviation flights today.
Browse the most popular Peach Aviation flight flights to cities. Alternative Airlines can help you make reservations on Peach Aviation flights to lots of destinations. Book Peach Aviation flights on Alternative Airlines and save money. Alternative Airlines is an online travel agency, specialising in booking lesser known airlines and remote destinations.