Jetstar Japan Tickets and Reservations with Alternative Airlines
Book Your Jetstar Japan Flight Tickets and Find Some Amazing Deals
---
About Jetstar Japan
Jetstar Japan is a low-cost Japanese airline, founded in 2011 and based in Tokyo. The airline commenced services in 2012 and flies to over 10 destinations, 3 international and 10+ domestic. These include Tokyo Sapporo, Osaka, Fukuoka and Okinawa with 20 Airbus A320s flying to 15+ routes across 10+ domestic destinations, plus two routes to Hong Kong and three to Taipei.
Jetstar Japan is a subsidiary of Jetstar, an Australian low-cost airline (self-described as "value-based") headquartered in Melbourne, Australia. It is a wholly owned subsidiary of Qantas, having been created in response to the threat posed by low-cost airline Virgin Blue. The airline is part of Qantas' two brand strategy of having Qantas Airways for the premium full-service market and Jetstar for the low-cost market. Qantas, through the Jetstar Group, also has stakes in sister airlines Jetstar Asia Airways, Jetstar Pacific Airlines and Jetstar Japan.
The airline currently operates an extensive domestic network as well as regional and international services from its main base at Melbourne Airport. Domestic destinations include; Adelaide, Brisbane, Cairns, Darwin, Gold Coast, Melbourne, Newcastle (New South Wales), Perth, Sunshine Coast and Sydney. International destinations include; Auckland, Bangkok, Beijing, Ho Chi Minh City, Honolulu, Jakarta, Kuala Lumpur, Manila, Nadi, Phuket, Singapore and Tokyo.
The airline's fleet currently consists of 70 aircraft including Airbus A320s/A321s and Boeing 787-800 series. The airline previously operated using Airbus A330s and Boeing 717 however they modernised their fleet and changed. The Airbus aircraft is only on domestic routes offering one class, buy-on-board service. Their Boeing 787s are used for their international sectors offering a two class service. Business class is fitted with 21 leather premium class seats in a 2-3-2 configuration. This service is currently inclusive of all meals and beverages, and in-flight entertainment and includes an increased baggage allowance of 30kg.
Jetstar Airways is currently not part of any major global airline alliances however they do offer their passengers a variety of Frequent Flyer programs. Jetstar, being a wholly owned subsidiary of Qantas uses the Qantas Frequent Flyer Program to allow passengers to collect points. They do however also allow programs with the following airlines; Emirates, JAL and Vietnam Airlines, to be used to collect points.
---
Route Map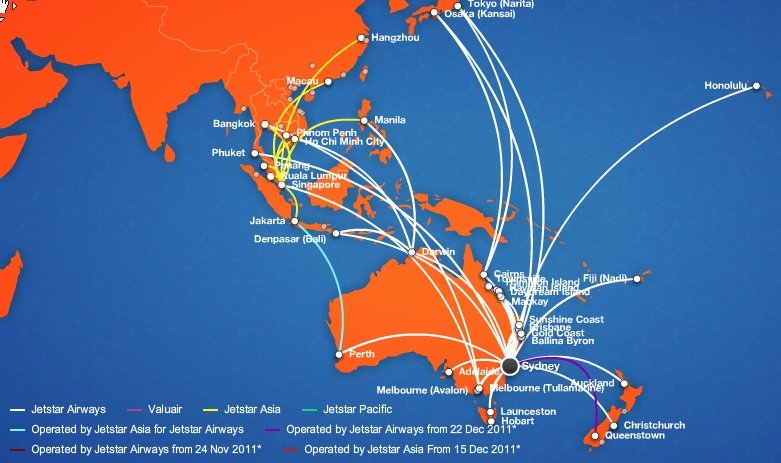 ---
Popular Routes
Sydney

Perth
Sydney

Bali
Singapore

Bali
Auckland

Sydney
Melbourne

Auckland
Singapore

Darwin
---
Economy Class
Economy class passengers can enjoy comfortable flights, with added extras such as hot foods, and an in-flight entertainment system on international long-haul flights. Passengers in economy class are entitled to 7kg of baggage.
---
Premium Economy Class
Passengers in premium economy get even comfier seats, complete with additional legroom and seat selection of the forward, upfront cabin. In addition, passengers enjoy extra baggage, lounge access at some airports and additional points and flexibility when booking.
---
Business Class
This class is only available on certain aircraft but provides passengers with extra flight comforts such as additional baggage, meals and refreshments during the flight and an amenity pack. When flying in business class with Jetstar Japan, passengers will have their dedicated check-in area and priority boarding.
Business Class passengers are entitled to 30kg of checked baggage, in-flight entertainment, a blanket, pillow, and comfort pack at no additional cost.
---
Fleet
The airline operates a fleet of the following aircraft:
Airbus A320-200
Airbus A321-200
Boeing 787-8
---
Narita International Airport - Hub Airport
Narita International Airport, also known as Tokyo Narita Airport, is an International airport serving the Greater Tokyo Area of Japan. The airport is located nearly 60 km east of central Tokyo, on the border between Narita city and opposite Shibayama. Narita International Airport is the main airport in Japan and in 2013, was recognised as the second-busiest passenger airport in Japan.
This airport is a hub for Jetstar Japan as well as All Nippon Airways, Japan Airlines, Peach Aviation, Zipair Tokyo and more. Other airlines that fly to/from this airport include Air India, Air New Zealand and many more.
---
Jetstar Japan Baggage Allowance
Carry-on Luggage Allowance
Your carry-on allowance will depend on the fare you purchased at the time of booking. Every standard fare includes 2 pieces of carry-on with a combined weight of 7kg. The main item must fit in the overhead locker and not exceed 56cm (H) x 36cm (W) x 23cm (D). Personal items can include items such as a handbag or a laptop case.
When you book a Flex Bundle or a Business Class fare with Jetstar Japan, you'll be allowed to get a carry-on allowance of 14kg.
Checked Luggage Allowance
Checked baggage allowance may be included in a fare when booking - make sure to check this. Passengers can buy as much checked baggage as needed - from 15kg to 40kg. Please note that your baggage allowance will depend on the fare you purchased at the time of booking.
---
Jetstar Japan Check In
Online Check In
For international flights, online check-in is available 7 days before the flight departure time and closes 2 hours before the flight departure. Jetstar Japan only offers online check-in on selected international flights.
For domestic flights within Japan, online check-in opens 7 days before the flight departure time and closes 35 minutes before the flight departure.
Airport Check In
Alternative Airlines advises that you arrive at least 3 hours before your flight departure time for international flights and 2 hours prior to your flight departure for domestic flights.
---
Seat Selection
Whether you prefer sitting on the window seat or by the aisle, you can pre-select your seat before your flight. If you purchased a Starter Fare, then you can pre-book your seat at a small additional fee. Jetstar Japan passengers who purchased a Starter Plus or a Starter Max bundle will have a standard seat selection included in the fare price.
---
Jetstar Japan In-Flight Entertainment
When flying on Jetstar Japan's Boeing 787 Dreamliners, there will be a number of in-flight entertainment including movies, TV, games and music.
If you purchased an Economy ticket you can buy your n-flight entertainment when making a booking or before you fly with Jetstar Japan.
---
Jetstar Japan Food
On Jetstar Japan flights there will be a variety of delicious meals, kids' snacks and drinks. The food available on board will depend on the flight length aircraft type and destination. Although food isn't included in the Starter Fares, passengers can buy meals and snacks onboard.
---
Book Jetstar Japan Flights in English
Here, at Alternative Airlines we want to you have the best booking experience possible. That's why we offer you Jetstar Japan flights in English - no matter where your flying to/from you can by Jetstar Japan flights in English. Head over to the search form at the top of the page to book your next trip away with Jetstar Japan in English. If you require any assistance, please don't hesitate to contact our English Speaking Customer Service Team.
---
Alternative Airlines