ZIPAIR Tokyo Reservations with Alternative Airlines
Make a ZIPAIR Tokyo Booking and Find Some Amazing Deals
---
About
ZIPAIR Tokyo is a low-cost Japanese airline. The airline is based at Tokyo Narita International Airport (NRT) and flies to medium-haul and long-haul destinations. Currently, the airline offers flights to Seoul and Bangkok.
The airline was created in 2019 as a subsidiary of Japan Airlines and is set to launch flights to Seoul and Bangkok in mid-2020, in time for the 2020 Tokyo Olympics. After that, the airline plans to launch flights to destinations on the US West Coast in 2021.
---
Fleet
ZIPAIR Tokyo will operate using two Boeing 787-8 aircraft.
The carrier also plans to add to this fleet each year, either by leasing them from Japan Airlines or acquiring new ones.
---
Destinations
The carrier has announced its ambitions to fly to numerous destinations in Asia, Europe and the Americas. The first destinations announced are:
Domestic
| CITY | AIRPORT | IATA |
| --- | --- | --- |
| Tokyo | Tokyo Narita International Airport | NRT |
International
| COUNTRY | CITY | AIRPORT | IATA |
| --- | --- | --- | --- |
| South Korea | Seoul | Incheon International Airport | ICN |
| Thailand | Bangkok | Suvarnabhumi Airport | BKK |
---
Hub Airport
ZIPAIR Tokyo's hub airport will be Narita International Airport (NAA). The airport also serves as the main international hub for Japan Airlines. Narita is also the hub for low-cost carriers Jetstar Japan, Peach, Spring Airlines Japan and Vanilla Air. It lies between the city of Narita and Shibayama and is the main international airport in Japan.
The airport has two runways and can handle nearly 40 million passengers every year.
Other airlines which fly to and from Narita International Airport include Aeroflot, Air Busan, Air Canada, Alitalia, All Nippon Airways, American Airlines, British Airways, Cathay Pacific, China Airlines, Skymark Airlines, China Eastern Airlines, China Southern Airlines, Ethiopian Airlines and many others.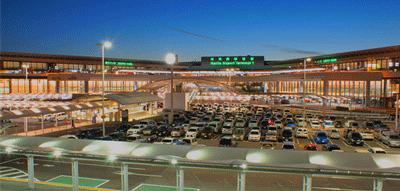 ---
Class Fares
ZIPAIR Tokyo has yet to announce the specifications of its class fares.
However, Japan Airlines is known for its excellent onboard product in all cabins. Some of their 787-8s, the same aircraft that ZIPAIR will operate, have 33″ of pitch and eight seats per row in economy.
---
Alternative Airlines to ZIPAIR Tokyo