American Airlines Reservations with Alternative Airlines
Make a Booking and Find Some Amazing Deals
---
About
American Airlines is a major airline based in the US. It flies to many destinations worldwide and is one of the biggest airlines on the globe. Its main hub is at Dallas/Fort Worth International Airport (DFW) but it also has several other bases across the country. Along with its regional brand, American Eagle, American Airlines flies to more than 350 destinations. As mainline American Airlines (excluding American Eagle), the carrier flies to just under 200 destinations.
American Airlines launched back in 1926, making it one of the oldest airlines that is still currently active today. The airline flies direct to lots of places in the world, with flights across the US, as well as to Europe, all of the Americas and even to destinations in Asia, like China and Japan.
Thanks to its partner airline connections, American Airlines offers connecting flights from the US to virtually anywhere in the world. The airline is one of the founding members of the Oneworld alliance has codeshare agreements with Air Tahiti Nui, Fiji Airways (Air Pacific), Cape Air, Alaska Airlines, Interjet, Gulf Air, Jetstar Airways and Korean Air.
---
Destinations
Below is a list of destinations that American Airlines mainline carrier flies to (not including American Eagle).
Domestic
STATE
CITY
AIRPORT
Alabama
Birmingham
Birmingham-Shuttlesworth International Airport
Huntsville
Huntsville International Airport
Mobile
Mobile Regional Airport
Montgomery
Montgomery Regional Airport
Alaska
Anchorage
Ted Stevens Anchorage International Airport
Fairbanks
Fairbanks International Airport
Arizona
Phoenix
Phoenix Sky Harbor International Airport
Tucson
Tucson International Airport
Yuma
Yuma International Airport
Arkansas
Bentonville
Northwest Arkansas Regional Airport
California
Burbank
Hollywood Burbank Airport
Fresno
Fresno Yosemite International Airport
Los Angeles
Los Angeles International Airport
Ontario
Ontario International Airport
Palm Springs
Palm Springs International Airport
Sacramento
Sacramento International Airport
San Diego
San Diego International Airport
San Francisco
San Francisco International Airport
San Jose
Norman Y. Mineta San Jose International Airport
Santa Ana
John Wayne Airport
Santa Barbara
Santa Barbara Municipal Airport
Colorado
Colorado Springs
Colorado Springs Airport
Denver
Denver International Airport
Hayden
Yampa Valley Airport
Montrose
Montrose Regional Airport
Vail
Eagle County Regional Airport
Connecticut
Hartford
Bradley International Airport
District of Columbia
Washington, D.C.
Washington Dulles International Airport
Ronald Reagan Washington National Airport
Florida
Fort Lauderdale
Fort Lauderdale–Hollywood International Airport
Fort Myers
Southwest Florida International Airport
Jacksonville
Jacksonville International Airport
Miami
Miami International Airport
Orlando
Orlando International Airport
Sarasota
Sarasota Bradenton International Airport
Pensacola
Pensacola International Airport
Tampa
Tampa International Airport
West Palm Beach
Palm Beach International Airport
Georgia
Atlanta
Hartsfield–Jackson Atlanta International Airport
Hawaii
Honolulu
Daniel K. Inouye International Airport
Kahului
Kahului Airport
Kailua-Kona
Kona International Airport
Lihue
Lihue Airport
Idaho
Boise
Boise Airport
Illinois
Chicago
O'Hare International Airport
Indiana
Indianapolis
Indianapolis International Airport
Iowa
Des Moines
Des Moines International Airport
Kansas
Wichita
Wichita Dwight D. Eisenhower National Airport
Kentucky
Louisville
Louisville Muhammad Ali International Airport
Louisiana
Baton Rouge
Baton Rouge Metropolitan Airport
New Orleans
Louis Armstrong New Orleans International Airport
Maine
Portland
Portland International Jetport
Maryland
Baltimore
Baltimore–Washington International Thurgood Marshall Airport
Massachusetts
Boston
Logan International Airport
Worcester
Worcester Regional Airport
Michigan
Detroit
Detroit Metropolitan Airport
Minnesota
Minneapolis
Minneapolis−Saint Paul International Airport
Missouri
Kansas City
Kansas City International Airport
St. Louis
St. Louis Lambert International Airport
Montana
Bozeman
Bozeman Yellowstone International Airport
Missoula
Missoula International Airport
Nebraska
Omaha
Eppley Airfield
Nevada
Las Vegas
McCarran International Airport
Reno
Reno–Tahoe International Airport
New Hampshire
Manchester
Manchester-Boston Regional Airport
New Jersey
Newark
Newark Liberty International Airport
New Mexico
Albuquerque
Albuquerque International Sunport
Santa Fe
Santa Fe Municipal Airport
New York
Albany
Albany International Airport
Buffalo
Buffalo Niagara International Airport
New York City
John F. Kennedy International Airport
LaGuardia Airport
Rochester
Greater Rochester International Airport
Syracuse
Syracuse Hancock International Airport
North Carolina
Charlotte
Charlotte Douglas International Airport
Greensboro
Piedmont Triad International Airport
Raleigh
Raleigh–Durham International Airport
Wilmington
Wilmington International Airport
North Dakota
Bismarck
Bismarck Municipal Airport
Fargo
Hector International Airport
Ohio
Akron
Akron–Canton Regional Airport
Cincinnati
Cincinnati/Northern Kentucky International Airport
Cleveland
Cleveland Hopkins International Airport
Columbus
John Glenn Columbus International Airport
Dayton
Dayton International Airport
Toledo
Toledo Express Airport
Oklahoma
Oklahoma City
Will Rogers World Airport
Tulsa
Tulsa International Airport
Oregon
Portland
Portland International Airport
Redmond
Redmond Municipal Airport
Pennsylvania
Harrisburg
Harrisburg International Airport
Philadelphia
Philadelphia International Airport
Pittsburgh
Pittsburgh International Airport
Puerto Rico
San Juan
Luis Muñoz Marín International Airport
Rhode Island
Providence
T. F. Green Airport
Tennessee
Knoxville
McGhee Tyson Airport
Memphis
Memphis International Airport
Nashville
Nashville International Airport
Texas
Austin
Austin–Bergstrom International Airport
Dallas
Dallas/Fort Worth International Airport
El Paso
El Paso International Airport
Houston
George Bush Intercontinental Airport
San Antonio
San Antonio International Airport
U.S. Virgin Islands
Saint Croix
Henry E. Rohlsen Airport
Saint Thomas
Cyril E. King Airport
Utah
Salt Lake City
Salt Lake City International Airport
Virginia
Norfolk
Norfolk International Airport
Richmond
Richmond International Airport
Washington
Seattle
Seattle–Tacoma International Airport
Spokane
Spokane International Airport
Wisconsin
Milwaukee
Milwaukee Mitchell International Airport
Wyoming
Jackson
Jackson Hole Airport
Uruguay
Montevideo
Carrasco International Airport
International
COUNTRY
CITY
AIRPORT
Antigua and Barbuda
Osbourn
V. C. Bird International Airport
Argentina
Buenos Aires
Ministro Pistarini International Airport
Aruba
Oranjestad
Queen Beatrix International Airport
Australia
Sydney
Sydney Airport
Bahamas
Nassau
Lynden Pindling International Airport
Freeport
Freeport International Airport
Barbados
Bridgetown
Grantley Adams International Airport
Belize
Belize City
Philip S. W. Goldson International Airport
Bermuda
St. George's Parish
L.F. Wade International Airport
Bonaire
Kralendijk
Flamingo International Airport
Brazil
Manaus
Eduardo Gomes International Airport
Rio de Janeiro
Rio de Janeiro–Galeão International Airport
São Paulo
São Paulo–Guarulhos International Airport
Canada
Calgary
Calgary International Airport
Montreal
Montréal–Dorval International Airport
Toronto
Toronto Pearson International Airport
Vancouver
Vancouver International Airport
Cayman Islands
George Town
Owen Roberts International Airport
Chile
Santiago
Arturo Merino Benítez International Airport
China
Beijing
Beijing Daxing International Airport
Hong Kong
Hong Kong International Airport
Shanghai
Shanghai Pudong International Airport
Colombia
Barranquilla
Ernesto Cortissoz International Airport
Bogotá
El Dorado International Airport
Cali
Alfonso Bonilla Aragón International Airport
Cartagena
Rafael Núñez International Airport
Medellín
José María Córdova International Airport
Pereira
Matecaña International Airport
Costa Rica
Liberia
Daniel Oduber Quirós International Airport
San José
Juan Santamaría International Airport
Cuba
Havana
José Martí International Airport
Curaçao
Willemstad
Curaçao International Airport
Dominican Republic
Puerto Plata
Gregorio Luperón International Airport
Punta Cana
Punta Cana International Airport
Santiago de los Caballeros
Cibao International Airport
Santo Domingo
Las Américas International Airport
Ecuador
Guayaquil
José Joaquín de Olmedo International Airport
Quito
Mariscal Sucre International Airport
El Salvador
San Salvador
El Salvador International Airport
France
Paris
Charles de Gaulle Airport
Germany
Frankfurt
Frankfurt Airport
Munich
Munich Airport
Guadeloupe
Pointe-à-Pitre
Pointe-à-Pitre International Airport
Greece
Athens
Athens International Airport
Grenada
St. George's
Maurice Bishop International Airport
Guatemala
Guatemala City
La Aurora International Airport
Guyana
Georgetown
Cheddi Jagan International Airport
Haiti
Cap-Haïtien
Hugo Chávez International Airport
Port-au-Prince
Toussaint Louverture International Airport
Honduras
Roatán
Juan Manuel Gálvez International Airport
San Pedro Sula
La Mesa International Airport
Tegucigalpa
Toncontín International Airport
India
Bangalore
Kempegowda International Airport
Delhi
Indira Gandhi International Airport
Ireland
Dublin
Dublin Airport
Shannon
Shannon Airport
Israel
Tel Aviv
Ben Gurion Airport
Italy
Milan
Milan Malpensa Airport
Rome
Leonardo da Vinci–Fiumicino Airport
Venice
Venice Marco Polo Airport
Jamaica
Kingston
Norman Manley International Airport
Montego Bay
Sangster International Airport
Japan
Tokyo
Haneda Airport
Narita International Airport
Martinique
Fort-de-France
Martinique Aimé Césaire International Airport
Mexico
Cancún
Cancún International Airport
Cozumel
Cozumel International Airport
Guadalajara
Miguel Hidalgo y Costilla Guadalajara International Airport
Mexico City
Mexico City International Airport
León
Bajío International Airport
Oaxaca
Oaxaca International Airport
Puerto Vallarta
Licenciado Gustavo Díaz Ordaz International Airport
San José del Cabo
Los Cabos International Airport
Zihuatanejo
Ixtapa-Zihuatanejo International Airport
Netherlands
Amsterdam
Amsterdam Airport Schiphol
New Zealand
Auckland
Auckland Airport
Christchurch
Christchurch Airport
Nicaragua
Managua
Augusto C. Sandino International Airport
Panama
Panama City
Tocumen International Airport
Peru
Lima
Jorge Chávez International Airport
Portugal
Lisbon
Lisbon Airport
Saint Kitts and Nevis
Basseterre
Robert L. Bradshaw International Airport
Saint Lucia
Vieux Fort
Hewanorra International Airport
Saint Vincent and the Grenadines
Kingstown
Argyle International Airport
Sint Maarten
Philipsburg
Princess Juliana International Airport
South Korea
Seoul
Incheon International Airport
Spain
Barcelona
Josep Tarradellas Barcelona–El Prat Airport
Madrid
Adolfo Suárez Madrid–Barajas Airport
Switzerland
Zürich
Zurich Airport
Trinidad and Tobago
Port of Spain
Piarco International Airport
Turks and Caicos Islands
Providenciales
Providenciales International Airport
United Kingdom
Edinburgh
Edinburgh Airport
London
Heathrow Airport
Uruguay
Montevideo
Carrasco International Airport
---
Popular Routes
Dallas

artford
San Jose

Dallas
Dallas

San Francisco
Sacramento

Dallas
Dallas

Los Angeles
Buenos Aires

Dallas
---
Route Map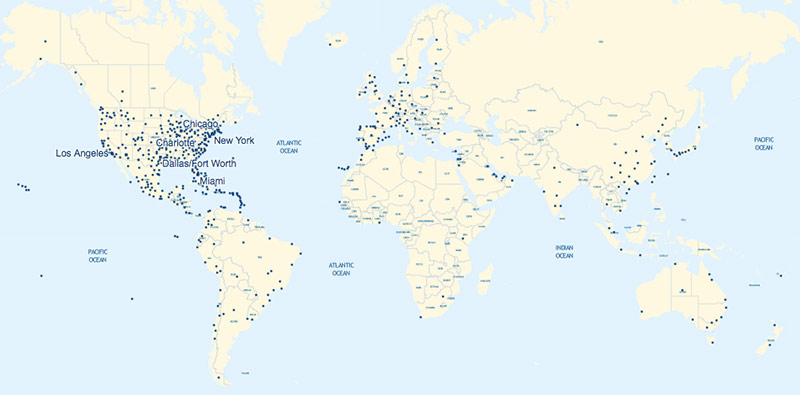 ---
Baggage
American Airline passengers are permitted to carry one piece of carry on baggage, one piece of carry on baggage and one personal item onboard their flight.
Carry-on Baggage
Carry-on baggage must not exceed 22 x 14 x 9 inches/56 x 36 x 23cm.
Checked Baggage
Checked Baggage must not exceed 158cm/63in in measurement and 23kg/51lbs in weight.
Musical Instruments
Musical instruments are allowed to be placed in carry-on baggage and checked baggage. Find out more about these policies on flying with a musical instrument.
---
Check-In Information
Online Check-In
Online check-in for flights is available from 24 hours before the flight until 45 minutes before departure (or 90 minutes for international flights).
Airport Check-In
Airport check-in is available 45 minutes before departure for domestic flights and 60 minutes prior to departure for international flights. Please report to the airline's check-in desk or kiosk to begin airport check-in.
---
Hub Airport
Dallas/ Fort Worth International Airport
Dallas/ Fort Worth International Airport is the main international airport serving Dallas. It is the main hub airport also for UPS Airlines and Ameriflight. It has seven runways and receives nearly 65 million passengers every year.
Other airlines that use Dallas/Fort Worth as its hub include Frontier, Spirit Airlines, Envoy Air, Skywest Airlines, Volaris, Sun Country Airlines, United Airlines, United Express and previously Air Jamaica and ATA Airlines.
---
One World Alliance
Oneworld alliance is a leading global airline network, with 15 member airlines. Oneworld alliance was founded and now consists of member airlines such as Cathay Pacific, Finnair, LAN, TAM, Malaysia, Qantas, Qatar, SriLankan Airlines, Iberia, British Airways and many others. Oneworld alliance covers more than a thousand destinations in 155 countries.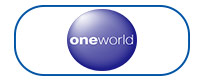 ---
Class Fares
The main cabin offers Economy seats and standard legroom.
The airline also offers:
Economy Plus
First Class service
---
Economy Class
Economy class comes in three fares; Basic Economy, Main Cabin and Main Cabin Extra. All fares include free carry-on baggage, with each increasing fare including things such as free entertainment systems, free snacks, complimentary beer and wine in your flight and extra legroom.
Economy Class Facilities
Passengers will receive complimentary snacks and soft drinks, free carry on baggage and free entertainment; everything you'll need to relax in comfort for your flight. Passengers who have selected the higher fare will also be able to select their seat at the point of booking, rather than waiting till check-in.
Economy Class Seats
Economy class seats are basic but comfortable. When choosing Main Cabin Extra, passengers can enjoy extra legroom as they sit at the front of the main cabin, allowing them to stretch out and relax more easily.
---
Premium Economy Class
Premium Economy passengers enjoy selected special amenities, from privileges in the airport meaning you can swiftly pass through check-in, security and boarding, to a premium experience in the cabin.
Premium Economy Class Facilities
On the plane, passengers will receive amenity bags to help them stay comfortable, refreshed and relaxed. A premium, chef-inspired, meal will also be part of the service, where flight length permits.
Premium Economy Class Seats
Seats are wider in premium economy, with more legroom. The leather seats are also extendable, allowing passengers to adjust to their own personal comfort level. Seats also now feature power charging outlets and USB ports.
---
Business Class
Business Class tickets allow passengers excellent service and facilities on flights. On short international flights (between the US, Bermuda, Canada, the Caribbean, Mexico, Puerto Rico and South American cities.
Business Class Facilities
Stay connected on your Business Class flight with WIFI on selected aircraft. Passengers will be able to relax in maximum comfort with complimentary pillows and blankets.
What are the Business Class Seats Like?
Business Class seats are wider and allow ample legroom for you to stretch out on board your flight.
---
First Class
American Airlines passengers receive a 5-star service, from their time on the ground and up in the air. First class passengers get priority of check-in, security boarding, and receiving their checked luggage before other travellers meaning their experience on the ground is swift and seamless.
What does First Class Include?
First Class passengers will receive premium seats, which are wider, have more legroom and lie-flat (on international flights), allowing you to fully relax. First Class passengers will also enjoy a premium dining menu and free entertainment. An amenity kit will also be provided, including skincare and other comfort items such as slippers, pillows and blankets.
Does First Class Facilities Have a First Class Lounge?
Passengers travelling internationally in First Class will enjoy the premium Flagship Lounge in selected hub cities, which includes a spa, showers, food and more.
---
Discounts and Deals
With Alternative Airlines, you can get discounts and coupons on any American Airlines plane ticket. See all our flights and discount codes for more information.
---
Pay for Flights with PayPal
Want a safe, convenient and smart way to pay for tickets online? Buy your flights with Alternative Airlines and choose PayPal as a payment method! PayPal uses SSL technology to keep your information safe, so you can make a flight reservation in full confidence that your payment details are secure.
Buying American Airlines plane tickets with Alternative Airlines and PayPal is simple to do. Once you have chosen the American Airlines routes you want to fly on, just select PayPal and PayPal Credit at the checkout and either sign up or login into your PayPal account to pay. Collect your AAdvantage points by entering your Frequent Flyer Number during the booking process.
Alternative Airlines can be used to purchase flights tickets with both PayPal or PayPal credit (formerly PayPal bill me later). Read our blog on the top reasons why you should buy flights using PayPal.
---
Payment Plan
Buy flights on finance at Alternative Airlines. Alternative Airlines offer a number of different payment methods which allow you to pay off your reservation in instalments. Choose from Affirm (US only), Fly Now Pay Later (UK only), PayBright (Canada only) or PayPal Credit and pay for your airline tickets on a payment plan.
Take a look at our guide to paying for your American Airlines flights in instalments for more information.
---
In-flight Entertainment
American Airlines offers Live TV and Entertainment services on both domestic and international flights. Sit back and enjoy your flight with an excellent range of free entertainment services.
Movies
On almost all flights, you can stream a wide range of movies to your phone, tablet or laptop. All you have to do is download the American app onto your device. For domestic flights, go to airborne.gogoinflight.com. For international flights, go to aa.viasat.com or aainflight.com. Then click on "Free Entertainment" or "Watch Now." Then select the movie of your choice!
TV
You can access Live TV on your flight. If flying domestically, simply connect to the "gogoinflight" WIFI network and go to airborne.gogoinflight.com. Select Live Television from the menu, then choose a TV channel and enjoy! For those flying internationally, choose the "AA inflight" WIFI network and go to www.aainflight.com. Click on the entertainment tab then choose the TV channel you want to watch. Live TV is not available on American Eagle flights without WIFI.
---
WIFI
Enjoy high-speed WIFI when you fly with American Airlines. Keeping you connected thousands of feet in the air, ultra-fast WIFI gives you access to all of your favourite streaming service, emails and messages, so you don't have to miss out on your favourite shows or important updates at work while you're flying. The airline's WIFI is available on most domestic services and all international services that are operated by the Boeing 777-300ER.
WIFI Price
WIFI starts at $10 USD. If you fly with the airline frequently, you can sign up to the Monthly American Airlines Plan for $45.95 per month (excluding tax), which gains you access to WIFI on all flights in which it's available.
You can access the American Airlines website for free on any flight where WIFI is available.
---
Food
Meal Options
Basic Economy can purchase food and snacks on board the flight, but meals must be purchased prior to departure by contacting the airline.
For passengers in the Main Cabin, complimentary snacks will be offered, with additional food and snacks available to purchase. Routes including LAX to JFK and SFO to JFK will include a complimentary meal.
Passengers in Premium Economy, Business Class, First Class and Flagship classes will be offered premium dining, including complimentary meals and snacks. To view and reserve your preferred meal, book online to avoid disappointment.
Meals can be reserved and purchased 30 days before travel and up to 24 hours before departure time. This must be done by logging into your account here.
Special Dietary Requirements
Special meals are available on select flights. These must be booked at least 24 hours before scheduled departure time, done online using the link above or by calling American Airlines direct.
Special meals on offer include Asian Vegetarian, Baby, Bland, Child's, Diabetic, Gluten-free, Halal, Hindu, Kosher, Lacto-ovo vegetarian, Low fat, Low Sodium, Non-lactose, Vegetarian/Vegan.
Drinks & Alcohol
Soft, hot and alcoholic drinks are available to purchase on all flights. In addition, passengers in the main cabin are given complimentary soft drinks, Main Cabin Extra passengers are offered complimentary beer, wine and spirits and passengers in Premium Economy, Business, First of Flagship complimentary beers, wines and spirits are offered to complement the inflight menu.
---
Frequent Flyer Program
Passengers can choose their preferred seats for free if they are AAdvantage elite status members, Oneworld Sapphire, Oneworld Emerald and Oneworld Ruby members and customers who purchase a full-fare Main Cabin ticket. In-flight Wifi, On board power and good connectivity, is available on selected domestic and international flights. Seat back screens with free entertainment and, on selected flights, American Airlines Business Class travellers can use the Samsung Galaxy tablet, loaded with new movie releases, hit TV programs, games, music and best-selling book excerpts. Passengers can choose from a variety of snacks and fresh meals for sale. Additionally, complimentary meals, beer and wine are available on most international flights.
---
Fleet
The fleet includes Airbus A319-100, Airbus A320-200, Airbus A321-200, Airbus A330-200, Airbus A330-300, Boeing 737-800, Boeing 777 and Boeing 787 aircraft.
---
Domestic Flights
As the largest carrier in the US by passengers served, fleet size and destinations, American Airlines is an established airline across the world, recognised as one of the top airlines flying in and out of the country. But, alongside its international flights, the airline is also one of the top choices for domestic flights within the country. It covers destinations in almost all states in the US, flying to well-over 100 destinations.
American Airlines has a domestic hub in each of Phoenix, Los Angeles, Washington DC, Miami, Chicago, New York City, Charlotte, Philadelphia and Dallas and connects these hubs with destinations all across the US. It also offers point-to-point flights, flying between destinations that aren't hubs too.
Most of the airline's domestic flights are flown by its regional brand, American Eagle, although, mainline American Airlines does fly some domestic flights too. American Eagle is actually made up of six different airlines that all fly under the AA brand and name. With a regional brand dedicated to domestic flights, the airline is able to fully separate and focus on its domestic and international flights individually.
What are the Cabins on Domestic Flights?
There are four different cabins on American Airlines domestic flights — Main Cabin, First, Flagship First and Flagship Business. The Main Cabin and First are available on all flights, whereas the Flagship First and Flagship Business are only available on transcontinental flights.
Main Cabin
The Main Cabin is available on all domestic flights, regardless of journey time.
First
First is the premium cabin for domestic flights that have shorter journey times and are non-transcontinental.
Flagship Business
Flagship Business is available on the following flights:
Los Angeles (LAX) - New York (JFK)
San Francisco (SFO) - New York (JFK)
LAX - Miami (MIA)
Flagship Business offers the next level of service up from Main Cabin.
Flagship First
Flagship First is also available on the following flights:
Los Angeles (LAX) - New York (JFK)
San Francisco (SFO) - New York (JFK)
LAX - Miami (MIA)
Flagship First is American Airlines' most luxurious cabin and gives passengers the highest standard of service that the airline has to offer.
---
Cancellation Policy
American Airlines' cancellation policy differs, depending on the fare rules of the ticket purchased.
All Basic Economy tickets are non-refundable and therefore cannot be cancelled or changed.
The airline does offer flexible options for Main Cabin, Premium Economy, Business Class and First Class tickets. These flights are either refundable or flexible, which means that they can be cancelled for a full or partial refund or the date of the flight can be changed. Depending on the fare rules of the ticket, this can be done completely free of charge or for a fee. The cancellation fee can differ from ticket to ticket and will be displayed in the fare rules.
Not all flights in Main Cabin, Premium Economy, Business Class and First Class are flexible, so it's important to check the fare rules of the ticket that you're going to or have purchased.
When booking a flight through Alternative Airlines, the fare rules are available to view when selecting the flight and will also be displayed on the e-ticket. If you're having trouble finding the fare rules of your ticket, please contact us and we'll let you know the cancellation, change and refund policy of your flight.
If you're looking for an extra layer of protection on your flight booking, Alternative Airlines offers Cancellation Protection for all American Airlines flights for peace of mind. Cancellation Protection entitles you to a refund if you can't use your flight due to any of the circumstances set out in the terms and conditions, such as scheduled airline failure, illness, redundancy, adverse weather and more. Cancellation Protection is available to add to your reservation at the time of booking.
---
Pets and Emotional Support Animals
Thinking of flying with either a dog or cat, service animal, pet, or an emotional support animal, see all information and learn more with about taking an animal on American Airlines flight.
---
Bereavement Flights
Need to buy an emergency flight on American Airlines? Alternative Airlines understands this can be a stressful process and are happy to help you through making your emergency reservation with American Airlines. You see all information on flying in an emergency and flying for a funeral.
---
Speciality Items and Sports Equipment
Special rules apply to special items such as golf clubs, bicycles and surfboards. It is important to check the maximum weight and height of such items with the airline before flying. Bicycles are considered one piece of checked luggage as long as they are no heavier than 22kg/50lbs. For information on how to pack your bike for air travel, as well as an overview of airline policies visit our "Flying with a Bike" page.
---
Spring Break Flights
Buy your spring break flights for 2021 through Alternative Airlines. Whether you're flying south coast, across the border or overseas, Alternative Airlines offer great prices on flights for your spring break.
---
Alternative Airlines
Please click on the logos below to find out more about airlines that operate similar flights:
---
FAQs
Where does American Airlines fly?
American Airlines flies all across the world, to destinations in North America, South America, Oceania, Asia and Europe. Other airlines that fly similar destinantions includes Continental, Southwest and Virgin Atlantic.
Does American Airlines fly to Chicago?
Yes, American Airlines and its regional brand, American Eagle, fly to Chicago from many different destinations within the US, as well as from cities outside of the US too. To find out more, visit our flying to Chicago with American Airlines page.