Airlines will always try to sit children with their parents (subject to check-in)
Some airlines will allow travel for unaccompanied minors. Please email us to check.
The fare is based on the child's age on the date of travel.
More detailed information can be found here Traveling with children
Most airlines will let infants travel with their parent(s) for free. However some airlines will charge up to 10% of the adult ticket price. Click on 'Price Breakdown' to find out more.
If you are pregnant, but due before the flight departure date, please contact us once your baby is born and has a name. We can then add him/her to your ticket.
Infants will not be given a seat. The airlines expect parents to travel with them on their lap.
Airlines regard infants as being under 24 months old.
The fare is based on the child's age on the date of travel.
More detailed information can be found here Traveling with children
Search and Buy Airline Tickets with Bitcoin
Cancellation Protection
Protects
Trusted Choice
65,000 happy customers
Rated 4.5 Stars. Based on 3,581 service ratings over the past year
Dedicated customer service team on hand to help
Secure payments
Cancellation Protection
Protects
Trusted Choice
65,000 happy customers
Rated 4.5 Stars. Based on 3,581 service ratings over the past year
Dedicated customer service team on hand to help
Secure payments


Buy flights with Bitcoin
Search for flights with over 650 airlines and pay for them with Bitcoin

Bitcoin Flights
Search for flights from hundreds of different airlines and pay using Bitcoin with Alternative Airlines. Bitcoin is a type of cryptocurrency with the symbol '₿' and is a type of money that is completely virtual. It's the best-known cryptocurrency in the world and is used by around 5 million unique users. Bitcoin was invented in 2008 and was initially released in January 2009. It's decentralised so is not controlled by banks or government.
Each Bitcoin is a file stored in a digital wallet, and can be sent (whole or as a part) to other people, or used to pay for goods. Each transaction made with Bitcoin is recorded on a public list, constructed using blockchain technology, which makes the history traceable, meaning it's secure and stops people spending fake coins they do not own.
Bitcoins are originally created with a computer using a process called mining, where computers have to work to solve complex problems and are rewarded with Bitcoins when solved, but you can buy them with real money or by exchanging them for items.
You can pay for airline tickets using Bitcoin through our two cryptocurrency payment methods, utrust and crypto.com.
---
Which countries can I buy flights in Bitcoin from?
You can use Bitcoin to buy flights in any country with Alternative Airlines. Make sure you are searching flights in one of the currencies listed below:
Through Utrust
Great British Pound (GBP), United States Dollars (USD), Euros (EUR), Argentine Pesos (ARS), Australian Dollars (AUD), Brazilian Real (BRL), Canadian (CAD), Chilean Peso (CLP), Chinese Yuan Renminbi (CNY), Czech Koruna (CZK), Danish Krone (DKK), Dominican Peso (DOP), Hong Kong Dollar (HKD), Hungarian Forint (HUF), Indian Rupee (INR), Indonesian Rupiah (IDR), Israeli Shekel (ILS), Japanese Yen (JPY), Korean Won (KRW), Malaysian Ringgit (MYR), Mexican Peso (MXN), New Zealand Dollar (NZD), Norwegian Krone (NOK), Pakistan Rupee (PKR), Philippine Peso (PHP), Polish Zloty (PLN), Romanian Leu (RON), Russian Ruble (RUB), Singapore Dollar (SGD), South African Rand (ZAR), Swedish Krona (SEK), Swedish Franc (CHF), Taiwan Dollar (TWD), Thai Baht (THB), Turkish Lira (TRY) or United Arab Emirates Dirham (AED).
Through crypto.com
Colombian Peso (COP), Ukranian Hryvnia (UAH), Bulgarian Lev (BGN), Macanese Pataca (MOP), or Moldovan Leu (MDL).
To change the currency that you're searching in, use our currency changer at the top right-hand of the screen before you search for your flights.
Airlines that accept Bitcoin
Ordinarily, the vast majority of airlines don't accept Bitcoin as payment on their website. However, at Alternative Airlines, we accept Bitcoin as payment on more than 600 airlines through our website. This means that even if the airline doesn't accept Bitcoin as payment on their own site, you can use Bitcoin to pay for flights on that airline at Alternative Airlines.
Buy flights and pay with Bitcoin on airlines such as American Airlines, Alaska Airlines, Delta, Spirit, Allegiant Airlines, Southwest, Frontier, JetBlue, Sun Country Airlines, United Airlines, Hawaiian Airlines, British Airways, easyJet, Qantas, Jetstar and many more airlines across the world.
Why use Bitcoin to buy flights?
Anonymity
Because of the Blockchain technology, purchases made using Bitcoin are anonymous. This is because the levels of encryption mean that although every purchase made with Bitcoin is traceable, they can never be associated with a personal identity. This is much like the anonymity of cash purchases.
No third-party interruptions
Bitcoin is simply peer-to-peer, with no interruptions of transactions from governments or banks. This means that if you have the funds available, paying for flights with Bitcoin is seamless and uninterrupted.
Mobile Transactions
Bitcoin users can pay with their coins anywhere they have access to the internet. This means that you don't need to have a physical wallet or card with you, and can instead simply log into your e-wallet to quickly and easily pay for flights. This is also useful if you are purchasing flights when you are not at home, or have lost your physical cards and need a way to pay for flights.
Bitcoin for Flights
FAQs
Which flights accept Bitcoin?
When using Alternative Airlines to pay for flights, you will be able to search over 650 different airlines and use Bitcoin to pay for any route that you wish to purchase. In effect, this means that there are 650 airlines that accept Bitcoin as payment when using Alternative Airlines.
How do I pay for flights with Bitcoin?
Once passengers have searched and selected their flights on Alternative Airlines, at checkout they can select 'cryptocurrency payment' and 'bitcoin' at checkout. Depending on the currency that you're searching with, you'll be able to complete your payment through one of our cryptocurrency payment providers Utrust or crypto.com.
How to buy flights


using Bitcoin
Buying plane tickets with Bitcoin is really simple! Follow our step by step guide on how to pay for airline tickets with Bitcoin.
STEP 1
Enter the destinations, dates and the number of passengers flying into the Alternative Airlines search form and click 'search flights'.

STEP 2
Select the flights that you wish to fly on and click 'confirm selection'.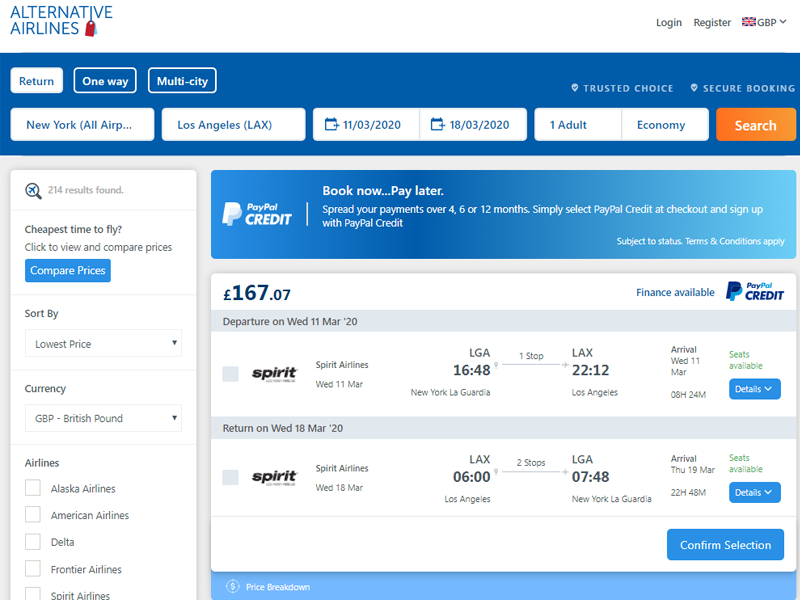 STEP 3
After you've inputted in the passenger details, scroll down to view the payment options that are available with Alternative Airlines. To begin financing your flight travel with Bitcoin, select 'Cryptocurrency payment'.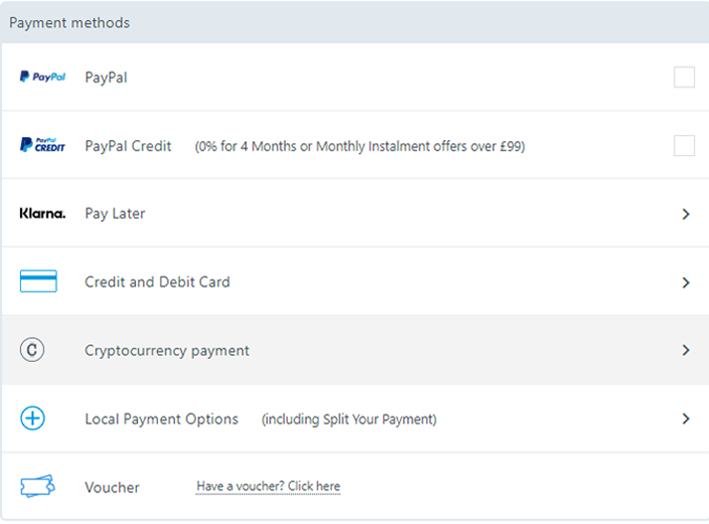 STEP 4
Select 'Bitcoin' as your payment. Once Bitcoin has been selected and you wish to continue, select 'confirm payment at the bottom of the page.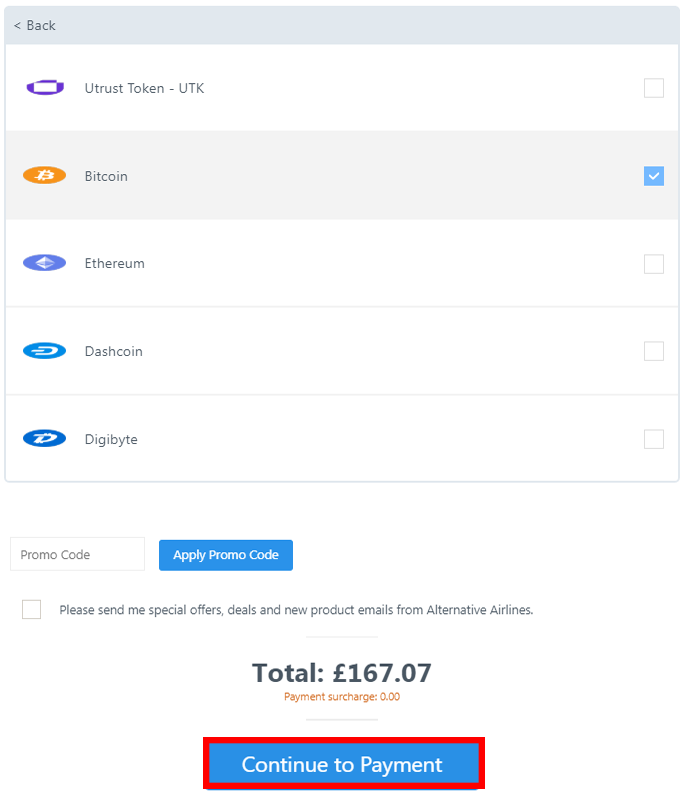 Follow the instructions on-screen to finalise your Bitcoin flight payment. You are now all set for your next holiday or business trip.
Our customers love
Bitcoin
Find out why you should buy plane tickets with Bitcoin through Alternative Airlines by looking at the testimonials from our customers who have already made a flight booking with Bitcoin.
"

Trustworthy, cheap and fast

"

I booked my ticket and paid for my flight with Bitcoin! Superb, cheap and fast, the only webpage you should trust if you are paying with Bitcoin.