Search & Buy Spirit Airlines Flights
Airlines will always try to sit children with their parents (subject to check-in)
Some airlines will allow travel for unaccompanied minors. Please email us to check.
The fare is based on the child's age on the date of travel.
More detailed information can be found here Traveling with children
Most airlines will let infants travel with their parent(s) for free. However some airlines will charge up to 10% of the adult ticket price. Click on 'Price Breakdown' to find out more.
If you are pregnant, but due before the flight departure date, please contact us once your baby is born and has a name. We can then add him/her to your ticket.
Infants will not be given a seat. The airlines expect parents to travel with them on their lap.
Airlines regard infants as being under 24 months old.
The fare is based on the child's age on the date of travel.
More detailed information can be found here Traveling with children
Buy
Spirit Airlines

Flights
Spirit Airlines Tickets and Reservations with Alternative Airlines
Flights around the USA
Make a Spirit Airlines Booking and Find Some Amazing Deals
---
About Spirit Airlines
Spirit Airlines is an American ultra-low-cost carrier headquartered in Miramar, Florida. Spirit Airlines operates scheduled flights to over 57 destinations throughout the United States as well as international destinations including Latin and South America. The airline flies to many destinations throughout the United States, Caribbean, Mexico, Latin America and South America. Some of the most popular airports that Spirit flies from are Florida, Chicago-O'Hare, Las Vegas, Detroit, Dallas, Atlanta, Houston, Los Angeles, Orlando and Tampa. Spirit Airlines flies to over 60 destinations overall. Other international destinations include Aruba, Dominican Republic, Haiti, Jamaica, Puerto Rico, Sint Maarten, United States Virgin Islands, Costa Rica, Honduras, Panama, Mexico, Colombia and Peru.
Spirit Airlines has two major operating hubs located in Fort Lauderdale and Detroit. Spirit Airlines brand themselves as an 'ultra low-cost' carrier with the slogan 'Less Money, More Go'. The Ultra Low-Cost transition began in 2007. Ultra low-cost is simply reflected in the cost of the tickets they provide giving every individual customer 'Frill Control' - the ability to choose what extras and additional options they require to add on to the base fare. Spirit Airlines currently sit at a seat only fare offering the passenger the option to add on hand luggage, hold luggage, drinks and meals, bigger seats and much more. Spirit Airlines fleet is an all-Airbus fleet made up of A319, A320's and A321's. All aircraft offer passengers economy seats and 'BIG FRONT SEATS' which are a 2 by 2 configuration with extra legroom.
Spirit Airlines has been featured on our blog for being one of the cheapest and best-value airlines in the world! Read more about this, and find out which other airlines were featured on this list.
---
Spirit Airlines Baggage
Please note that only small personal items such as laptops, handbags and backpacks are included with the bare fare Spirit Airlines ticket. All additional carry-on and checked baggage will need to bought as an excess baggage.
Personal Item
Personal items on Spirit Airlines flights must fit within the dimensions of 45 x 35 x 20 cm.
Carry-on Baggage
Carry-on baggage on Spirit Airlines flights must fit within the dimensions of 56 x 46 x 25 cm.
Checked Baggage
Checked baggage on Spirit Airlines flights must fit within the dimensions of the overall dimensions of 158cm and must not weigh more than 18kg unless purchased as oversized baggage.
---
Spirit Airlines Check-In Information
Online Check-In
Online check-in is available through Spirit Airlines online check-in page. Just enter your flight details to check-in online. Web check-in opens 24 hours before your scheduled flight departure time and closes just one hour before.
Airport Check-In
Passengers unable to check-in online or need special assistance can check-in at the airport and one of the Spirit Airlines check-in desks. Arrive at least two hours before your departure time for domestic flights and at least three hours before your departure for international flights to allow time for check-in, baggage drop and baggage drop.
---
Spirit Airlines Seat Selection
Choose your preferred seat on the plane with Alternative Airlines. We display seat availability for Spirit Airlines flights and let you choose where you want to sit from the seat map. We want you to have the best possible in-flight experience, that's why we offer our customers the chance to select the seat of their choice while making their Spirit Airlines booking! Find out how to book your Spirit Airlines seats by visiting our seat selection page.
---
Spirit Airlines In-flight Entertainment
Spirit Airlines does not offer in-flight entertainment on its flights.
Spirit Airlines TV
To keep costs low for its passengers, Spirit Airlines does not offer TV shows on its flights.
Spirit Airlines Movies
Spirit Airlines does not offer movies on its flights.
---
Pay for Spirit Airlines Flights with PayPal
Choose to book your Spirit Airlines tickets with Alternative Airlines and pay with PayPal. PayPal is a safe and secure payment method that will ensure your peace of mind that your payment is protected. Take a look at the main advantages of buying flights with PayPal.
You can use PayPal to buy tickets for Spirit Airlines and any other of the 650+ airlines available at Alternative Airlines. The ability to use PayPal to buy plane tickets helps travellers easily and safely access air travel on the go. If you need a last-minute Spirit Airlines tickets but don't have your credit or debit card at hand then Alternative Airlines' offers the use of PayPal for this so you won't have trouble paying for your air travel.
---
Spirit Airlines Speciality Items and Sports Equipment
When flying with special items or sports equipment, it is important to check the airline's maximum height and weight restrictions for items such as surfboards, golf clubs and bicycles. Spirit Airlines charges an additional fee to check bicycles and surfboards into the hold. For information on how to pack your bike for air travel, as well as a breakdown of different airline bicycle policies, please visit our FAQ page on "Flying with a Bike."
---
Spirit Airlines WIFI
Enjoy high-speed WIFI on all Spirit Airlines flights. Brand new in summer 2019, Spirit Airlines has installed WIFI on all of its aircraft so that passengers can access everything they need online on any and every Spirit Airlines flight. Spirit Airlines WIFI is available from the moment you board up until the moment you land and step off the plane.
Spirit Airlines WIFI Price
Spirit Airlines WIFI is available for around $6.50 USD for the entire flight but varies depending on which route you're flying.
---
Spirit Airlines Frequent Flyer Program
Spirit Airlines have fantastic rewards and loyalty programs. A favourite for passengers is the '$9 Fare Club' which boasts saving passenger on average over $75 per booking. The Fare Club is as little as $59.99 to enroll and offers huge discounts and holiday packages, upto 50% off bags and more. Spirit Airlines Miles program 'FREE SPIRIT' gives passengers the chance to accumulate miles to redeem against flights. Spirit Airlines tickets are readily available to book through Alternative Airlines.
---
Spirit Airlines Food
Spirit Airlines Meal Options
Spirit Airlines offer a wide variety of food that can be purchased on board using a debit or credit card. Items available are snacks such as chips, nuts, cakes and confectionary.
Spirit Airlines Special Dietary Requirements
Spirit Airlines do not currently offer and specific special meals, however, passengers can purchase items from the on-board menu that match their specific dietary requirements.
Spirit Airlines Drinks & Alcohol
Passengers can buy alcoholic and non-alcoholic beverages from the on board menu. Drinks available to purchase include cocktails, soft drinks, hot drinks, beers, wines and liquors.
---
Spirit Airlines Discount and Offers
Save money when using a Spirit Airlines dicount code with Alternative Airlines. Use PayPal on your next Spirit Airlines reservation and get a discount on your final ticket price.
---
Spirit Airlines Spring Break Flights
Have you bought your flights for spring break 2019 yet? Spring break is fast approaching and Alternative Airlines has some of the best prices for spring break flights on Spirit Airlines, including to the popular spring break destination — Cancun, Mexico.
---
Economy Class
Economy Class is Spirit's most basic cabin class.
Economy Class Facilities
Passengers in Economy Class on Spirit are given access to the airline's inflight menu, where they can order a variety of hot and cold snacks, as well as a selection of beverages. There is no Wi-Fi or inflight entertainment on Spirit Airlines flights.
What Are Economy Class Seats Like?
Seats on Economy class have 15 and a half inches of width and 28 inches of pitch.
---
Premium Economy Class
Spirit Airlines offers passengers the chance to upgrade to the 'Big Front Seat', which is the equivalent of its Premium Economy Class.
Premium Economy Class Facilities
In terms of service, Premium Economy is identical to Economy Class. The only difference is in the size of the seat and the addition of a tray table.
Premium Economy Class Facilities
The Big Front Seat is 22 inches wide with 36 inches of width. The seats are none-reclinable, but some Big Front Seat's do have adjustable headrests. Each seat has a tray table, which is an added extra from Economy Class.
---
Business Class
Spirit Airlines doesn't offer Business Class. It's most upscale cabin class is the 'Big Front Seat', which is similar to other airline's Premium Economy Class
---
First Class
Spirit Airlines doesn't have a First Class cabin. It's the highest standard of cabin class is the 'Big Front Seat' which is more comparable to Premium Economy
---
Spirit Airlines Route Map
Find common routes and destinations with the Spirit Airlines' route map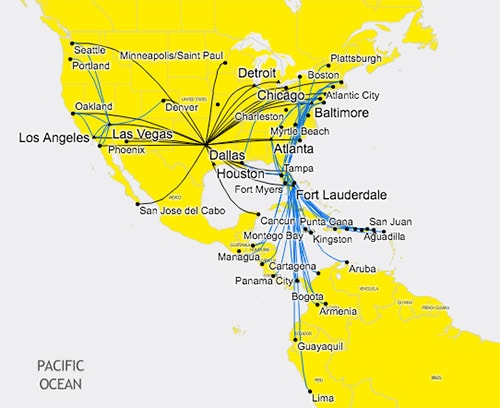 ---
Spirit Airlines Popular Routes
Miami

San Juan
Port-au-Prince

Miami
Miami

Santiago
Tampa

Miami
Miami

Orlando
Kingston

Miami

---
Spirit Airlines Fleet
---
Spirit Airlines Hub Airport
Dallas / Fort Worth International Airport
Dallas / Fort Worth International Airport is the main international airport serving Dallas and one of the hub airports for Spirit Airlines. It is the main hub airport for American Airlines, UPS Airlines and Ameriflight.
It has seven runaways and can handle nearly 65 million passengers every year. A number of airlines operate from this airport, including Qantas, Avianca, Korean Air, Air Canada Express and previously Air Jamaica.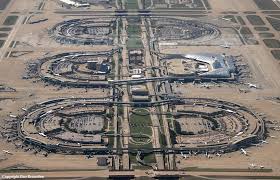 Alternative Airlines to Spirit Airlines
---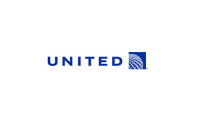 ---
Buy Discounted Spirit Airlines Tickets at Alternative Airlines
---
Spirit Airlines News
30th April 2018
Spirit Airlines will launch flights from Austin, Texas next year
US low-cost carrier, Spirit Airlines, is set to launch nine new routes from Austin, Texas in 2019. The airline will initially launch eight flights on 14th February 2019, before launching an additional route on a date that is projected to be mid-May. Spirit already offers flights from Houston and — one of its operating bases — Dallas, but these nine new routes in 2019 will mark the first time that the airline has ever flown from Texas' capital.
All flights from Austin will be non-stop and the airline is scheduled to fly to the following destinations:
New Orleans
Orlando
Fort Lauderdale
Chicago
Baltimore/Washington
Detroit
Las Vegas
Denver
18th June 2018
Spirit Airlines make changes to its route network
Spirit Airlines has made a number of major changes to its route network. The new changes see Spirit Airlines cancelling a total of 10 routes between major US airport from September 2018. However, it's not all cancellation for Spirit Airlines. The airline will also offer seven new routes throughout USA from the East Coast.
Passengers will no longer be able to make Spirit Airlines reservations on the following routes:
Between Seattle (SEA) and Detroit (DTW)
Between Seattle (SEA) and Dallas-Fort Worth (DFW)
Between Seattle and Houston (IAH)
Between Oakland (OAK) and Baltimore (BWI)
Between Oakland (OAK) and Dallas-Fort Worth (DFW)
Between Los Angeles (LAX) and Denver (DEN
Between Los Angeles and Tampa (TPA)
Between San Diego and Dallas-Fort Worth (DFW)
Between Dallas Fort-Worth (DFW) and Boston (BOS)
Between Dallas Fort-Worth (DFW) and Philadelphia PHL)
Passengers will now be able to make Spirit Airlines reservations on the following routes:
Between Kansas City (MCI) and Fort Lauderdale (FLL)
Between Detroit (DTW) and West Palm Beach (PBI)
Between Baltimore (BWI) and Fort Myers (RSW)
Between Baltimore (BWI) and Tampa (TPA)
Between Baltimore (BWI) and Orlando (MCO)
Between Baltimore and Myrtle Beach (BWI)
Between Atlanta (ATL) and Newark (EWR)
15th February 2018
New flights starting today from Columbus to Florida and Las Vegas
Travelers are getting new flight options to some warm weather destinations.
Spirit Airlines begins service today from John Glenn Columbus International Airport to Orlando, Fort Lauderdale, Fort Myers, Tampa and Las Vegas.
The low-cost carrier is offering sweepstakes for free tickets to mark its debut.
You can go here to check fares, and be sure to review Spirit's a la carte operating model that focuses on low introductory fares with nearly all services available for a fee.
Columbus is also getting new direct flights on Allegiant Air to Austin, Texas, from Rickenbacker International Airport, starting Friday.
If you prefer John Glenn International, Frontier Airlines is starting service to Austin from that airport on April 8.
Spirit will start flights from Columbus to New Orleans and Myrtle Beach on March 22.
With the new flights, John Glenn International and Rickenbacker provide nearly 160 daily departures to 43 destinations.
7th February 2018
Spirit Airlines Plans 2018 Growth Of 20% Plus, Putting Downward Pressure On Rivals' Fares
A SpiritAirbus A320 takes off from Palm Beach International Airport in February 2017.
Wall Street strongly disapproved when United revealed last month that it will grow capacity 4% to 6% over the next three years.
When Spirit Airlines said Tuesday that it will grow between 22% and 25% this year and 10% more in 2019, the reaction was critical but muted.
Spirit shares closed Tuesday at $40.42, up 1.4%. Shares in every major airline rose between 1% and 3% on Tuesday. In mid-morning trading Wednesday, Spirit shares were up 18 cents. Year-to-date, shares are down about 10%.
"Our concern continues to be that Spirit's 25%-28% [capacity] growth in 2Q and 3Q sparks a competitive response and prevents the company from seeing the inflection in [second half unit revenue]," Stifel analyst Joseph DeNardi wrote Tuesday.
"We expect SAVE to grow capacity faster than peers," Corridore wrote Tuesday. "While we expect yield pressure as a result, we think strong demand should limit this pressure."
Spirit's model is an industry outlier. Instead of dominating airports, it tries to pick off a small number of passengers who can be lured with a low fare and often, a single daily departure to a Sun Belt destination.
Spirit's recently announced plans for the Atlantic City, N.J., airport are typical. This year it will resume seasonal Atlanta service in April, with a single daily flight. It will add four weekly flights to New Orleans, and it will continue to offer ten daily flights to six cities: five in Florida plus Myrtle Beach, S.C.
On the Spirit earnings call, CEO Bob Fornaro, an airline industry veteran who will retire at the end of 2018, said Spirit will continue to grow in Fort Lauderdale, its single biggest operation with 27% to 28% of capacity. Orlando, he said, saw the most Spirit growth in 2017 Also, Las Vegas has 17% of summer capacity.
Spirit grew 8% in Houston in 2017, Fornaro said, but in both Chicago and Dallas, the other two cities where it has seen the most pricing pressure, Spirit shrank capacity by about 4%.
"Our plan is to build a diversified route network – [to] stay at a reasonable size in all the key markets," he said. "We're not about to build 100 flights in any one of these cities. We've got 20 to 30."
In Newark, Spirit has a single gate: flights to Las Vegas and New Orleans are planned. "If we could get a gate in JFK we'd take one of those as well," Fornaro said. "We want to be in big cities. Big cities create opportunities.
"The carriers that control the big cities have operating costs more than double ours," he said. "They typically prove they can't compete with us without any pain for themselves."
Spirit sought to raise fares during the summer of 2017, Fornaro said, and "most of the industry was following us." The strategy "left us exposed for a couple of months," he said. "We were letting our load factor go down. Going forward, we're not going to take the same risk."
Spirit capacity at the end of 2017 was equivalent to about 3.5% of United capacity.
Fornaro emphasized that Spirit has sought to become more reliable in its operations.
"We have some reputational issues," he said. "We're going to surprise a lot of people with how good an airline we can run."
In terms of on-time performance, he said, "We used to be in the bottom: now we're in the middle and sometimes on top." The goal, he said, is to have around 80% of flights arrive on time.
21st December 2017
Spirit Airlines adds new non-stop flight for MoBay
Spirit Airlines will add new non-stop flights between Montego Bay and Baltimore-Washington International Airport in Maryland, USA, starting March 22.
Minister of Tourism Edmund Bartlett yesterday announced that American low-cost carrier Spirit Airlines will add new non-stop flights between Montego Bay and Baltimore-Washington International Airport in Maryland, USA, starting March 22.
"Montego Bay will be the second international route for Spirit from the Baltimore-Washington International Airport. The carrier only started service to Cancún, Mexico last month," Bartlett said. "This is yet another indication on the heightening demand for Jamaica augurs very well for the tourism growth strategy. We are seeing solid results."
Delano Seiveright, senior advisor and strategist in the tourism ministry, is elated at news of the additional airlift.
"The news comes after Jamaica last week shattered all visitor arrival records by recording four million combined stopover and cruise tourist arrivals in a year.
"More new flights, more new rooms, closer collaboration with cruise operators, enhancing relationships with non-traditional players like Airbnb and, of course, deepening linkages across entertainment, gastronomy, health and wellness, and other areas are among the lead initiatives being pursued to achieve Bartlett's aggressive tourism growth goals," Seiveright said.
Spirit currently operates non-stop flights between its Fort Lauderdale, Florida hub and Montego Bay and Kingston.
The airline is an American low-cost carrier headquartered in Florida, and operates scheduled flights throughout the United States and in the Caribbean, Mexico, Latin America, and South America.
November 2017
Fast-growing Spirit Airlines announces 11 new non-stop routes
Spirit Airlines announced plans for 11 new non-stop routes that will launch this spring.
The new service comes as Spirit looks to fill out its network, connecting more of the cities it already serves with new non-stop options. Many of the new routes will compete with major rivals at some of their busiest hubs.
Seattle is the biggest winner in the latest Spirit announcement, landing seasonal service to four new destinations. Detroit (seasonal), Las Vegas and Tampa were among Spirit destinations getting two new non-stop options. (Scroll down for the full schedule details on all 11 new routes)
Baltimore/Washington (BWI) also landed two new destinations, including new international service to Jamaica. That would become Spirit's second international route from BWI, an addition to the carrier's existing service to Cancun, Mexico.
Spirit's new routes are just the latest in an ongoing expansion effort by the fast-growing "ultra low-cost carrier" (ULCC). Earlier in November, Spirit announced two new cities – Columbus, Ohio, and Richmond, Va. – would be added to its route map, giving it a total of 62 destinations. And with dozens of new aircraft on order, Spirit's growth is likely to continue into next decade.
That's also the case at Frontier Airlines, perhaps Spirit's main ULCC rival. Like Spirit, it also has been growing rapidly as ULCCs try to undercut their traditional rivals with rock-bottom fares that come with a bevy of add-on fees. Allegiant, another ULCC, also has enjoyed strong growth in recent years and has remained highly profitable as its network has grown.
What remains to be seen with Spirit's latest expansion push is if it provokes fare wars with legacy carriers like its previous expansions have. A number of Spirit's 11 new routes operate from the hubs of major rivals American, Delta, United and Alaska Airlines.
Industry observers will watch to see if those airlines move to defend service at their biggest hubs on routes like Dallas/Fort Worth-Seattle, Minneapolis/St. Paul-Seattle or Portland, Ore.-Detroit.
Already, the USA's three biggest airlines -- American, Delta and United -- have added "basic economy" fares to help them battle Spirit and Frontier on such routes.
The latest routes will put Spirit into even more overlapping service with those rivals. Among the competition Spirit will face on its 11 new routes, American has hubs at both Dallas/Fort Worth and Chicago O'Hare. Delta operates hubs at Minneapolis/St. Paul, Detroit and Seattle while United counts Chicago O'Hare and Denver among its hubs. Alaska Airlines operates busy hubs at both Seattle.. And all four of those airlines have a major presence at Los Angeles.
Seattle
Chicago O'Hare: Daily seasonal service begins April 12.
Dallas/Fort Worth: Daily seasonal service begins April 12.
Fort Lauderdale: Daily seasonal service begins April 12.
Minneapolis/St. Paul: Daily seasonal service begins April 12.
Baltimore/Washington (BWI)
Denver: Daily year-round service begins March 22.
Montego Bay, Jamaica: Daily year-round service begins March 22, pending regulatory approval.
Detroit
Portland, Ore.: Daily seasonal service begins April 23.
San Diego: Daily seasonal service begins April 23.
Tampa
Las Vegas: Daily year-round service begins April 12.
Los Angeles: Daily year-round service begins April 12.
Orlando
Las Vegas: Las Vegas: Daily year-round service begins April 12.
May 2017
Spirit Airlines confirmed that it has abandoned plans to take delivery of any more A320neos until 2019.
The Miramar-based airline (Nasdaq: SAVE) said its abnormal wave of flight cancellations has come to a halt, with fewer than 1 percent of its flights cancelled since Mother's Day and no cancellations since the start of the week.
Earlier in the month, the airline was reporting as many as 50-60 flights cancelled a day across its system, stranding thousands of passengers. The ultra-low-cost carrier blamed the weeks-long episode on group of unionized pilots who, according to a complaint filed earlier this month, were refusing to pick up extra flights or work overtime at an unusual rate.
April 2017
Spirit Airlines announced it was the third US carrier to announce its impending withdrawal from the Cuban market
As with Frontier Airlines and Silver Airways , the Ultra Low-Cost Carrier blamed insufficient loads to warrant continued flights. The Floridian carrier began a 2x daily Fort Lauderdale Int'l-Havana Int'l service on December 1 last year. As it stands, the carrier will begin reducing frequencies from next month before completely withdrawing from the Cuban capital from June 1.
Silver Airways will withdraw from Cuba from April 22 while Frontier's last flight to the island is scheduled for June 4.
---