Airlines will always try to sit children with their parents (subject to check-in)
Some airlines will allow travel for unaccompanied minors. Please email us to check.
The fare is based on the child's age on the date of travel.
More detailed information can be found here Traveling with children
Most airlines will let infants travel with their parent(s) for free. However some airlines will charge up to 10% of the adult ticket price. Click on 'Price Breakdown' to find out more.
If you are pregnant, but due before the flight departure date, please contact us once your baby is born and has a name. We can then add him/her to your ticket.
Infants will not be given a seat. The airlines expect parents to travel with them on their lap.
Airlines regard infants as being under 24 months old.
The fare is based on the child's age on the date of travel.
More detailed information can be found here Traveling with children
Book Spirit Flights for an Unaccompanied Minor
Cancellation Protection
Protects
Trusted Choice
Rated 4.5 Stars. Based on 3,581 service ratings over the past year
Dedicated customer service team on hand to help
Secure payments
Cancellation Protection
Protects
Trusted Choice
Rated 4.5 Stars. Based on 3,581 service ratings over the past year
Dedicated customer service team on hand to help
Secure payments
Spirit Unaccompanied Minors
Here at Alternative Airlines, we make it straightforward and easy to book flights for Unaccompanied Minors (UM's) with Spirit Airlines. Use this guide to find out more about Spirit's policy for the travel of UM's, as well as how to book a flight for a UM with this airline.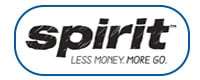 Book Flights for Unaccompanied Minors with Spirit
Spirit charges a service fee for UM's and Young Travellers. After you search and select your flights with Alternative Airlines, you will be asked to enter the Date of Birth of the traveller on the passenger details page. If you enter the Date of Birth of a single person below the age of 12, our site will recognise it as a booking for a UM, and the airline's UM fee will be automatically added to your booking. This makes booking flights for an Unaccompanied Minor a breeze.
You'll also be asked to enter the contact information of the UM/Young Traveller's parent or guardian at the time of booking. This information is required by the airline to permit the UM to fly.
---
Have a Question?
Our Customer Service Team is Here to Help
Have you made a flight booking for an Unaccompanied Minor, or would like to do so? Our expert Customer Service is on-hand to help with any questions that you may have. You can visit our Contact Us Contact Us page to get in contact. You can also take a look at our Help Guide, which will help answer your questions.
---
How to Book Flights for an Unaccompanied Minor
Follow the steps below to search and book flights for an UM with Spirit.
1. Search for flights
Use our search form at the top of the page to find flights. Enter the departure airport, arrival airport and the dates of travel, then hit 'Search flights'.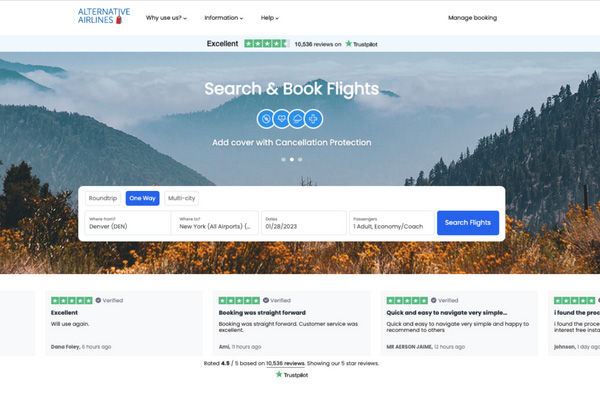 2. Select your Spirit flights
We'll display all available flight options based on your search criteria. If you're looking for flights with a specific airline, such as Spirit, you can filter the flight search results by selecting this airline; see below.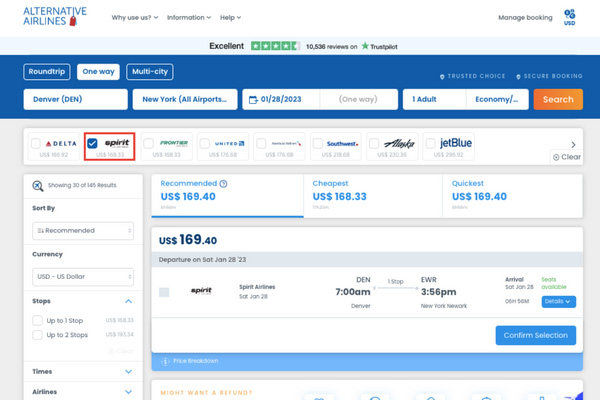 3. Enter UM passenger information and parent/guardian contact details
Enter the passenger details of the Unaccompanied Minor. When you enter their Date of Birth, the passenger will be automatically recognised as an UM travelling alone. You will then be asked to enter the contact information for the UM's parent or guardian.
Spirit charges a fee for the travel of an unaccompanied minor. This will also be automatically applied to the booking before you checkout, which you'll be able to see in the payment breakdown.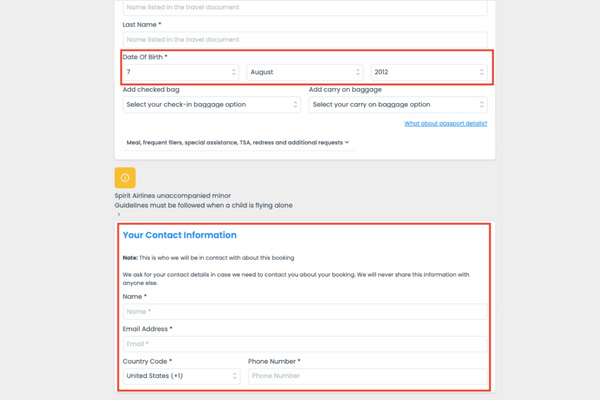 ---
Drop-off and Pickup
Please familiarise yourself with the following procedure for dropping off and picking up your Unaccompanied Minors.
1. For drop off, request a gate pass at the check-in desk. Escort the child to the departure gate and remain until they can board the flight. You must remain at the gate for 15 minutes after the flight has departed.
2. For pick up, the parent or guardian must arrive at the airport with enough time to get a gate pass and ensure they are at the gate for the aircrafts arrival.
---
Spirit UM FAQs
What is a Spirit Unaccompanied Minor?
Children between the ages of 5 through 14 years old who are travelling alone are considered to be Unaccompanied Minors by the airline. As such, restrictions and policies apply, including an Unaccompanied Minor fee.
Children less than 5 years of age will not be accepted for unaccompanied travel.
Can a UM fly to or from an international destination with Spirit?
Unfortunately, Spirit does not provide an Unaccompanied Minor service to/from international destinations.
Can a UM fly to or from an international destination with Spirit?
Yes, Unaccompanied Minors of certain ages can travel alone when flying domestically on direct flights. This includes flights to Puerto Rico and the U.S. Virgin Islands. Unaccompanied Minors are not permitted on connecting flights, international flights, or domestic flights that include a scheduled change of aircraft.
What information will be needed to book flights for a UM?
You will need the following information when making a flight booking for an Unaccompanied Minor with Spirit:
The child's full name
Your relationship to the child
Telephone number(s), including area code
The child's date of birth
How do I drop off an UM off at the airport?
All unaccompanied children must check in at the airport ticket counter with their parent or guardian. Note that online check-in is not available for unaccompanied children. The adult dropping off the Unaccompanied Minor must obtain a gate pass at the airport ticket counter to escort the child to the departure gate. Valid government-issued photo Identification will be required in order to obtain a gate pass. The adult must remain at the airport until 15 minutes after the flight takes off.