Search & Buy Allegiant Air Flights
Let's fly!

Select your payment method to view total prices including any payment fees:
Airlines will always try to sit children with their parents (subject to check-in)
Some airlines will allow travel for unaccompanied minors. Please email us to check.
The fare is based on the child's age on the date of travel.
More detailed information can be found here Traveling with children
Most airlines will let infants travel with their parent(s) for free. However some airlines will charge up to 10% of the adult ticket price. Click on 'Price Breakdown' to find out more.
If you are pregnant, but due before the flight departure date, please contact us once your baby is born and has a name. We can then add him/her to your ticket.
Infants will not be given a seat. The airlines expect parents to travel with them on their lap.
Airlines regard infants as being under 24 months old.
The fare is based on the child's age on the date of travel.
More detailed information can be found here Traveling with children

Buy
Allegiant Air

Flights

Allegiant Air Reservations with Alternative Airlines
Make an Allegiant Air Booking and Find Some Amazing Deals
---
About Allegiant Air
Founded in 1997, Allegiant Air is an American low-cost airline operating across America. Allegiant Air was originally named WestJet Express but rebranded a year after it was established.
Allegiant Air's top destinations include Orlando, Las Vegas, St. Petersburg, Phoenix, Los Angeles, Punta Gorda, Cincinnati, Myrtle Beach, Fort Lauderdale and Bellingham. Allegiant Air's fleet consists of a mix of Airbus and McDonnell Douglas aircraft. The airline has over 90 aircraft within its fleet. Altogether, Allegiant Air flies to over 115 destinations.
From America's favourite small cities to world-class destinations, Allegiant makes leisure travel affordable and convenient. With low-low fares, nonstop, all-jet service and premier travel partners, Allegiant provides a complete travel experience with great value and without all the hassle.
Allegiant Air also has authority for charter services to Canada and Mexico.
---
Allegiant Air Baggage Allowance
Carry-on Baggage
Allegiant Air has a baggage policy that allows passengers to bring one free personal item where the maximum dimensions are 7 x 15 x 16 inches. Passengers can purchase one carry-on bag per passenger which can be no larger than 23 x 38 x 41 cm.
Checked Baggage
There's no free baggage allowance on Allegiant Air flights. Allegiant Air baggage must be purchased.
Allegiant Air has a baggage policy that allows passengers to purchase up to four checked bags per passenger. Checked baggage can't weigh more than 18kg per item and must be no larger than 203 cm overall.
---
Allegiant Air Check-In Information
Online Check-In
Allegiant Air online check-in opens 24 hours beforethe scheduled flight departure time and closes 45 minutes before. Passengers can check-in online using the Allegiant Air online check-in page and by entering their flight details.
Airport Check-In
Airport check-in closes 45 minutes before Allegiant Air's scheduled flight departure time. We recommend arriving at the airport at least two hours before scheduled flight departure time to allow time to check-in for your Allegiant Air flight, adding extra time if you're bringing checked baggage.
---
Allegiant Air Destinations
Top Domestic Destinations
Allegiant Air flies to a number of destinations across the US, including Las Vegas, Phoenix, Tampa, Myrtle Beach, Orlando, Los Angeles, Punta Gorda, Tampa, Palm Springs, Cincinnati, Indianapolis, Bellingham and Grand Rapids.
International Destinations
Puerto Rico
---
Allegiant Air Route Map
Take a look at the most up to date Allegiant Air flight map:
---
Allegiant Air Popular Routes
Los Angeles

Monterey
Oakland

Los Angeles
Palm Springs

Los Angeles
Los Angeles

Florida
West Palm Beach

Los Angeles
Los Angeles

Savannah
---
Allegiant Air Fleet
The Allegiant Air fleet includes Airbus A319-100 and A320-200 aircraft.
---
Allegiant Air Hub Airport
Los Angeles International Airport
Los Angeles is the main airport serving Los Angeles Area and serves as the hub airport for American Airlines, United Airlines, Alaska Airlines, Great Lakes Airlines and Virgin America.
Other airlines which fly to and from Los Angeles include Aer Lingus, Aeroflot, Aeromexico, Air Berlin, Air Canada, Air China, Air France, Air New Zealand, Air Tahiti Nui, Philippine Airlines, Singapore Airlines and many others.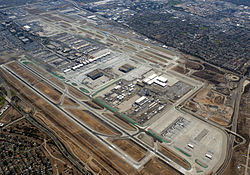 ---
Allegiant Air Deals and Offers
Looking for Allegiant deals and pomo coupons? Alternative Airlines offer a whole range of Allegiant deals on Allegiant Air plane tickets. Book Allegiant Air with Alternative Airlines and save on your reservation when you book with PayPal. There are many Allegiant air discount airfares you can buy with Alternative Airlines, so don't miss out.
Grab our travel deals with Allegiant Air flight tickets. You can even find Allegiant Air to Vegas deals with all our discounted flight ticket offers! Fly to Las Vegas on Allegiant Air and save money.
---
Alternative Airlines to Allegiant Airways
Please click on the logos below for airlines that fly similar routes to Allegiant Airways
---
Buy Discounted Allegiant Air tickets at Alternative Airlines
---
Allegiant Air News
2nd November 2018
Allegiant Air retire MD-80 aircraft at end of November
Allegiant Air will retire its very last MD-80 aircraft at the end of this month. The US domestic carrier — that also offers one international flight to Puerto Rico — will operate its final service with the MD-80 aircraft on November 25th 2018. The MD-80 has served Allegiant Air for almost 30 years now, so the exit of this aircraft type certainly signifies the end of an era.
As of today, there are still 20 MD-80 aircraft active in Allegiant Air's fleet. However, each one of them will be phased out by the end of the month. Allegiant Air is expected to replace its fleet of MD-80s with an intake of Airbus A320, which the airline made a significant order of three years ago.
1st September 2018
Allegiant Air expand connectivity with Punta Gorda
Allegiant Air is adding several new routes flying between Punta Gorda Airport and other domestic American destinations from November onwards. The airline is hoping that the total of four new routes will help bring in over 55,000 extra visitors per year.
The first is a service from Eppley Airfield, Omaha, Nebraska, which will begin flight on 14th November 2018.
The second is a service from Syracuse Hancock International Airport (SYR), New York and will opeare its inaugural flights on 15th November 2018.
The third is a flight from Appleton International Airport, Wisconsin, which will begin service on November 16th 2018.
31st May 2018
Allegiant Air's new non-stop service to Orlando
Allegiant Air is adding yet another year-round direct flight to Orlando Sanford International Airport.
The airline now will offer flights from Syracuse, New York, twice weekly from Syracuse Hancock International Airport. The new flights increase Allegiant's service to other destination up to 71 cities and the seventh destination from New York state.
"We're excited to launch another new nonstop route to the theme-park capital of the world," said Drew Wells, Allegiant vice president of revenue and planning, in a prepared statement. "We know Syracuse-area travelers will enjoy this ultra-low-cost, convenient way of travel to explore everything Orlando has to offer."
The new routes will bring nearly 18,000 new visitors to the region. That could result in another $9 million in economic impact and spending, based in industry standards.
The new flight supports Orlando Sanford's ongoing $60 million expansion efforts that improve and modernize many of the hub's operation. In addition, new flights allow the region to tap into more visitors.
The airport's project — slated for completion in late 2021 — includes 36,000 square feet of new construction and 100,000 square feet of renovations. It will feature new gates, baggage claim areas, streamlined passenger screening, more ticket counters, a loading facility, additional family bathrooms and a kids' playground, along with roadwork to improve traffic flow.
The Sanford Airport Authority also has set aside nearly 190 acres for additional commercial development, which will help bring more uses to the area.
Last year, Orlando welcome more than 72 million visitors that helped to sustain the $70 billion Central Florida tourism industry.
23rd May 2018
Allegiant Air expands Denver and San Diego networks
Allegiant Air launched flights between Denver and Asheville on 16 May, with the latter airport pulling out all the stops with the route launch cake that it produced to herald the service. Flights will operate twice-weekly (Wednesdays and Saturdays) using the carrier's fleet of A320s. Denver becomes the airline's seventh route from Asheville.
Allegiant Air expanded its networks at Denver (DEN) and San Diego (SAN) airports this week, with the ULCC adding two spokes from the Colorado hub while the Californian city saw only one connection added. The first route to launch was on 16 May, coming in the form of a 2,002-kilometre connection between Denver and Asheville (AVL), while a second route to Bellingham (BLI), at a distance of 1,725 kilometres from Denver, was inaugurated on 18 May. The sole new route from San Diego, a 1,368-kilometre sector to Eugene (EUG), was launched on 17 May. Flights to Asheville will be flown using the carrier's fleet of A320s, while the other two routes will see A319 operations. Neither of the three routes launched by Allegiant Air this week will face direct competition based on OAG schedules.
19th April 2018
Allegiant Air made Sarasota (SRQ) its seventh destination in Florida on 11 April, with the airport adding to the ULCC's existing operations at Destin-Fort Walton, Fort Lauderdale, Jacksonville, Orlando Sanford, Punta Gorda and St. Pete-Clearwater.
On the day of the inauguration at Sarasota, Allegiant Air started twice-weekly (Wednesdays and Saturdays) services on a 1,413-kilometre link from Indianapolis (IND) and 1,471-kilometre connection from Pittsburgh (PIT). Two days later, a twice-weekly (Mondays and Fridays) rotation on the 1,308-kilometre airport pair with Cincinnati (CVG) was added to the airline's schedules. The latter route will be flown using the carrier's A320 fleet, while the former two will see A319 services. None of the three routes launched this week will face direct competition
11th April 2018
Allegiant Air service begins to Sarasota-Bradenton International Airport
The first Allegiant Air flight arrived at Sarasota-Bradenton International Airport on Wednesday morning as the airline began year-round nonstop service to Cincinnati, Indianapolis and Pittsburgh.
The first plane from Indianapolis was greeted by officials and the traditional water-spray salute.
"We are excited to welcome Allegiant to the Sarasota-Bradenton International Airport," airport president and CEO Rick Piccolo said.
"With three new nonstop destinations and Allegiant's ultra low-cost fares, our community and its visitors will now have easy access to high-demand destinations."
The airport now has seven carriers and 15 nonstop destinations. The addition of Allegiant is a notable boost to its service to the Midwest. With introductory one-way tickets starting at $83, it's the first truly low-cost option from Sarasota-Bradenton.
6th April 2018
Allegiant Air Sunseeker Resort on track in Charlotte County
The 25-plus acre resort may expand to include additional properties east of Tamiami Trail
CHARLOTTE COUNTY — Allegiant Air is on schedule for a summer groundbreaking on its 25-plus-acre Sunseeker Resort, which will change the Charlotte Harbor-Peace River waterfront across from downtown Punta Gorda.
Since Allegiant unveiled its design for the master-planned resort last August, the concept has been tweaked, noted John Redmond, president of Allegiant Air, who's heavily involved in what would be the travel company's flagship resort.
Plans for an artificial beach have been scrapped, and a proposed marina has been downsized.
Redmond, a former president and CEO of MGM Grand Resorts who joined Allegiant as its president in September 2016, has more than 30 years in executive management in the hospitality and leisure travel industry.
The master-planned resort is envisioned to hold as many 277 hotel units and 842 condominium-hotel units on property amassed between Tamiami Trail and Bayshore Live Oak Park. That footprint grew to roughly 25 acres last month, after the Charlotte County Commission voted to vacate roadways to give Allegiant a clean plat to work with.
The final site plan still must be submitted to Charlotte County for final review.
As part of a developer agreement approved by the Charlotte County Commission in March, Allegiant will widen Main Street from 12 feet to 20, making it a functioning two-lane road in both directions.
10th January 2018
Allegiant Air coming to Sarasota-Bradenton Airport
The ultra-low-cost carrier will begin routes in April.
Allegiant Air is coming to Sarasota-Bradenton International Airport and bringing two new nonstop routes with it.
The Las Vegas-based ultra-low-cost carrier on Tuesday made a surprising move into the regional airport, announcing year-round service beginning in April to Indianapolis International Airport, Cincinnati/Northern Kentucky International Airport and Pittsburgh International Airport.
This commitment from Allegiant bucks what has traditionally been Sarasota-Bradenton's most significant hurdle to gaining new carriers and routes: It hasn't been easy for airport CEO Frederick "Rick" Piccolo and his team to lure new flights into the regional airport when Tampa International Airport and its colossal line-up of travel offerings is just to the north.
Allegiant, though, appears less concerned with its neighbors.
The budget-friendly carrier currently offers 40 destinations out of Punta Gorda Airport to the south and 54 out of St. Pete-Clearwater International Airport to the north.
Both of those airports are even closer to Sarasota-Bradenton than Tampa International, and even though Piccolo has been courting Allegiant since the airline was in its infancy, signing it on seemed unlikely when what he was offering was wedged in between the two.
"This one took us a little by surprise — that we were able to push them across the finish line," Piccolo said.
But after years of pitches, Allegiant approached his team about a month ago, and negotiations steamrolled from there, Piccolo said.
The new service, expected to bring 100,000 new passengers annually, comes on the heels of an announcement from Elite Airways that adds nonstop service between Sarasota-Bradenton and Pittsburgh beginning in February.
Bringing back routes
The new routes restore three once-popular destinations to the regional airport.
Travelers haven't been able to fly nonstop to Cincinnati and Indianapolis from Sarasota-Bradenton for about six years, Piccolo said, and it's been roughly 15 years since U.S. Airways plucked its Pittsburgh route from the lineup.
"Giving the pricing model they have, we think it will do very well," he said. "Especially, the cities that they've chosen — Cincinnati, Pittsburgh and Indianapolis — were all good cities for us in the prior years before those services went away."
St. Petersburg and Punta Gorda have been so popular with travelers that adding Sarasota-Bradenton to the mix was a natural move toward more growth, said Bud Hafer, manager of airport affairs for Allegiant.
Traffic was up 12 percent last year at St. Petersburg, and the airport welcomed 2.06 million passengers. Allegiant has a strong presence in St. Petersburg and is responsible for 54 of the airport's 57 routes, but its grip is even tighter at Punta Gorda Airport, where Allegiant has 40 routes and is its only carrier. Punta Gorda welcomed 1.3 million passengers in the 12 months ending Nov. 30 and saw more than a 14 percent increase in November when compared with the same month in 2016.
The start of service to Sarasota-Bradenton won't rob from the other two airports, Hafer said, but instead will add to the offerings in the region. His customers have been vocal about wanting a Sarasota-Bradenton flight.
"It's because the demand is so great that we can provide the service directly to Sarasota-Bradenton," Hafer said. "We've grown tons in Punta Gorda and St. Pete, and this is about continuing growth and expanding it and really making Allegiant the destination airline for Southwest Florida."
"It's not going to change any of the growth plans in Punta Gorda or St. Pete," Hafer continued. "We plan to grow there as well. This is just an additional destination. We're very strong in Indianapolis, Cincinnati and Pittsburgh, so we've got plenty of flights to go around."
Hafer didn't elaborate on specific destinations, but he did say that Allegiant was exploring additional Sarasota-Bradenton routes, too.
With Allegiant on board, Sarasota-Bradenton can now offer travelers seven airlines and 15 nonstop routes.
Stirring interest
It's a substantial bump for an airport that suffered a major blow in 2012 when AirTran left and took about a third of the airport's passenger traffic with it.
Since then, it's been a revolving door of sorts as Sarasota-Bradenton and local tourism officials have tried to attract new carriers by waving the first two years of fees at the airport and offering marketing incentives.
The program has seen some success, most recently with Elite Airways. The boutique airline came to Southwest Florida in 2016 with a single flight to Portland, Maine, and has since added routes to Pittsburgh and White Plains, New York.
The incentives packages don't always lead to that kind of growth, though. WestJet gave Sarasota-Bradenton a try in 2015 with a single route to Toronto and then canceled service roughly a year later.
Even with that turbulence, Piccolo is hopeful the Allegiant deal will stir some interest among other airlines. Now that a dynamic ultra-low-cost carrier has moved in, it could encourage competitors such as Frontier, Sun Country and Spirit and even more traditional airlines to consider a move to Sarasota-Bradenton.
"It put us on (the ultra-low-cost carrier) map but, secondly, it shows that a carrier of this significance sees the growth and the potential here," he said. "And it tends to make other airlines at least take a second look at us, both existing carriers and carriers we don't have."
Tourism opportunities
The deal also poses a unique opportunity for the tourism markets in both Sarasota and Manatee counties.
Allegiant is easing the path to the Midwest in a way that Sarasota-Bradenton hasn't seen since AirTran's departure. Beyond United's service to Chicago and Delta's seasonal route to Detroit, nonstop travel options to that part of the country have been slim in recent years. The ease that comes with nonstop routes is essential to attracting visitors, said Virginia Haley, president of Visit Sarasota County.
"If you look at Allegiant's history, they usually come in at the beginning with direct flights, and they add, and they add quickly," Haley said. "The low fares are exciting, but we hear from a lot of our visitors that it's more about the direct flights."
Cincinnati is a particularly exciting addition, Haley said, because her team had already identified that market as an under-performing spot that could bring in more visitors. There's already funding allotted in this fiscal year's budget to try to bring in more visitors from Ohio in April, May and June to ease the post-season lull.
"It should have better numbers than it does, so we feel like, with a little push, it should be better," she said.
She and Elliott Falcione, the director of Manatee County's tourism agency, both have high hopes for the Ohio and Indiana routes.
The new flights to Pittsburgh, though, could bring some complications to the airlines.
Typically, Sarasota County doesn't see too many visitors from there, but Bradenton has strong ties to that area through its spring training connection with the Pittsburgh Pirates.
Now, between the new Allegiant and Elite routes into Sarasota-Bradenton, along with Pittsburgh flights to Punta Gorda, St. Petersburg and Tampa International, Falcione has quite a few airplane seats to fill. They're all going to need passengers to survive.
"There are a lot of seats available now on different carriers," he said. "We need Pittsburghers and Sarasota-Bradenton residents to embrace the flights, so we can enhance them and hopefully we never lose it."
"I'm excited to learn the business model of Allegiant and see how the target market that they go after integrates with our target market," Falcione said. "We'll roll up our sleeves and continue to work really hard with Sarasota-Bradenton. They've got real momentum right now."
But there's more to that momentum than just filling hotel beds and bringing in visitor dollars.
The three new routes are exciting, Falcione said, but what additional airline service can do for the community as a whole is the real highlight.
When companies look at making a move to this region, they look at just how easy it is to travel here. More nonstop flights and more carriers sweeten those kinds of deals.
Adding businesses means more jobs, real estate sales, projects and, in turn, a big economic boost to the community.
There's a lot more riding on those new airplane seats than passengers.
"It's not just about the visitors," Falcione said. "It's such a domino effect."
2nd October 2017
Allegiant Air launch new services.
Allegiant Air launched 2X-weekly Providence, Rhode Island-Punta Gorda/Fort Myers, Florida; 2X-weekly Norfolk, Virginia-Tampa, Florida; 2X-weekly Louisville, Kentucky-Phoenix/Mesa, Arizona; and 2X-weekly seasonal Phoenix-Mesa-Omaha, Nebraska services
---