Search & Buy JetBlue Flights
Select your payment method to view total prices including any payment fees:
Airlines will always try to sit children with their parents (subject to check-in)
Some airlines will allow travel for unaccompanied minors. Please email us to check.
The fare is based on the child's age on the date of travel.
More detailed information can be found here Traveling with children
Most airlines will let infants travel with their parent(s) for free. However some airlines will charge up to 10% of the adult ticket price. Click on 'Price Breakdown' to find out more.
If you are pregnant, but due before the flight departure date, please contact us once your baby is born and has a name. We can then add him/her to your ticket.
Infants will not be given a seat. The airlines expect parents to travel with them on their lap.
Airlines regard infants as being under 24 months old.
The fare is based on the child's age on the date of travel.
More detailed information can be found here Traveling with children
Buy
JetBlue

Flights
JetBlue Airways Reservations with Alternative Airlines
Make a JetBlue Airways Booking and Find Some Amazing Deals
---
About JetBlue Airways
JetBlue Airways Corporation, known as JetBlue or sometimes JetBlue Airlines, is an American low-cost airline and the fifth largest airline in the United States. The airline is based at John F. Kennedy International Airport and headquartered in the Long Island City neighbourhood of the New York City borough of Queens.
JetBlue mainly flies to destinations within the United States, along with services that include: The Bahamas, Caribbean, Bermuda, Barbados, Costa Rica, Colombia, the Dominican Republic, Grenada, Jamaica, Mexico, Peru, Puerto Rico, Trinidad and Tobago. JetBlue serves over 95 destinations in the U.S., South America, Latin America and the Caribbean.
JetBlue Airways was has a four-star Skytrax award rating, making JetBlue Airways one of two carriers in the United States alongside Virgin America.
JetBlue has codeshare agreements with many airlines, such as; Aer Lingus, Aeroflot, Air China, Air India, All Nippon Airways (ANA), Asiana Airlines, Avianca, British Airways, Brussels Airlines, Cathay Pacific, China Airlines, Emirates, Etihad Airways, Japan Airlines, LIAT, LOT Polish Airlines, Lufthansa, Qatar Airways, Singapore Airlines, South African Airways, TAM Airlines and TAP Portugal.
JetBlue's fleet consists of a mix of Airbus and Embraer aircraft. The airline is constantly updating and upgrading its fleet to bring in the newest generation of aircraft and has over 250 different jets in service.
---
JetBlue Airways Baggage
Carry-on Baggage
Hand Baggage (Carry-On) - Each passenger may bring onboard 1 personal item (purse, briefcase, laptop, etc.) plus 1 carry-on bag. All carry-on bags must not exceed 22" L (55.88 cm) x 14" W (35.56 cm) x 9" H (22.86 cm), including wheels/handles, on all of our aircraft types.
All personal items must not exceed 17" L (43.2 cm) x 13" W (33 cm) x 8" H (20.32 cm), including wheels/handles, on all of our aircraft types. Personal items must be placed underneath the seat in front of you.
Checked Baggage
For checked luggage, this will depend on the fare option a passenger has chosen.
Blue Plus and Blue Flex fares include free baggage allowances. For Blue Plus fares, one bag under 22.68kg (50 lb) is included in the fare, and for Blue Flex fares, two bags under 22.68kg (50 lb) each are included in the fare.
---
JetBlue Airways Check-In Information
Online Check-In
JetBlue Airways offer passengers both online and mobile check in. This service can be found on the JetBlue website, under 'Online Check-in' and is available 24 hours before scheduled departure time.
Airport Check-In
If passengers have not checked in online for their JetBlue Airlines flights, they must check-in at the airport via the self-service check-in kiosks.
---
Economy Class
Economy Class Facilities
Stay connected nonstop with free, high-speed, gate-to-gate wi-fi at every seat on every plane. All JetBlue flights feature free, brand-name snacks and drinks, including freshly brewed Dunkin coffee. EatUp boxes are also available for purchase. Watch your favorite team, shows, music and comedy at cruising altitude with free DIRECTV, and SiriusXM Radio.
What are Economy Seats Like?
Enjoy the most legroom in coach. Get some Zzz's from point A to B, with JetBlue's Snooze Kits. You can even purchase a pillow ($6) or blanket ($5).
Upgrade to Even More Space
Even More Space gives you up to 38 inches more legroom, as well as early boarding, plus the fast lane to the security checkout.
---
Business Class
JetBlue offers its own version of Business, called Mint. Mint is a premium service, with facilities and benefits you might expect from a quality Business service.
Business Class Facilities
Choose from a selection of seasonal small plates inspired by NYC's Saxon + Parole, and complemented by espresso-based drinks from Brooklyn Roasting Company. Save some room for a sweet treat from a local ice creamery, and a cookie or snack from Milk Bar. You'll have your own 15" personal seatback touch screen TV. Hand-crafted SR60e headphones from Grado Labs in Brooklyn will transform your Mint seat into an in-flight theatre. Go home with a complimentary Hayward & Hopper amenity kiT.
What are Business Class Seats Like?
Kick back (all the way back) and relax with the longest fully lie-flat seat (6'8") on a domestic premium flight. Each super-comfy seat features cushions with adjustable firmness and a massage feature, a plush comforter and pillow, and thoughtful touches that will have you on Cloud 9. For extra privacy, you can reserve a Mint suite with its own door. 
---
JetBlue Airways Frequent Flyer Programme
JetBlue Airways offers a Frequent Flyer programme called TrueBlue. One of the many perks of the TrueBlue frequent flyer programme is that you can use your points on any JetBlue flight at any given time.
You can earn three TrueBlue points for every dollar that you spend on JetBlue flights through Alternative Airlines.
---
JetBlue Airways Popular Routes
Orlando

Ponce
Santo Domingo

New York
New York

Lauderdale
Santiago

New York
Long Beach

San Fransisco
Orlando

New York
---
JetBlue Airways Route Map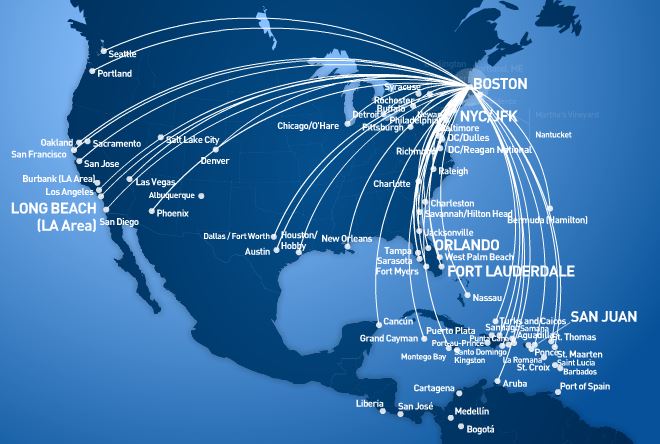 ---
JetBlue Airways Fleet

Airbus A320-200
Airbus A321neo
Airbus A320neo
Embraer190
Airbus A321-200
---
Alternative Airlines to JetBlue Airways
Please click on the logos below to find out more about airlines that fly similar routes to JetBlue Airways:
---
JetBlue Airways Hub Airport
John F. Kennedy International Airport
John F. Kennedy International Airport is a major international airport located in Queens, New York City, United States, 12 miles southeast of Lower Manhattan. It is the busiest international air passenger gateway in the United States, handling 53,254,362 passengers in 2014.
Over seventy airlines operate out of the airport, with non-stop or direct flights to destinations in all six inhabited continents. The airport features six passenger terminals, four runways, and serves as a hub for American Airlines, Delta Air Lines, the primary operating base for JetBlue Airways and a secondary hub for Envoy Air. A number of airlines also operate services out of this airport including China Airlines, GoJet Airlines, Delta, Emirates, Volaris, XiamenAir and previously Air Jamaica.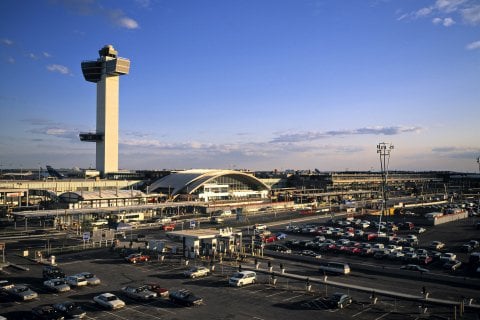 ---
JetBlue Speciality Items and Sports Equipment
Bicycles, surfboards, kitesurfs and windsurfs are accepted as part of your checked baggage allowance. These special items will incur an additional charge but will not be subject to oversized baggage fees. For more information on JetBlue's bicycle policy as well as information on how to check a bike please see our FAQ page on "Flying with a Bike."
---
Pets, Emotional Support Animals and Service Animals on JetBlue
Find out about flying with a service animal, pet, or an emotional support animal. Alternative Airlines provides advise and information on taking pets on JetBlue planes.
---
JetBlue Airways Flight Deals and Discounts
Find loads of great JetBlue flight deals with Alternative Airlines. Save money on your JetBlue flight ticket with some amazing JetBlue coupons and deals.
---
Pay for JetBlue flights with PayPal
Pay using PayPal on all JetBlue flights when you book with Alternative Airlines! Alternative Airlines give passengers the choice to pay for their JetBlue flight tickets with PayPal. PayPal is a safe and secure way to pay for flights, protecting your personal information and giving you peace of mind when buying JetBlue flights. PayPal offer a variety of flight discounts when you use PayPal to pay for flights, find out more on our top reasons to buy flights using PayPal blog.
---
JetBlue Spring Break Flights
Buy your spring break flight tickets on JetBlue with Alternative Airlines! As well as a number of domestic destinations, JetBlue is one of the only airlines that fly from the US to the popular spring break destination — Montego Bay, Jamaica.
---
JetBlue Airways Destinations
JetBlue Airways Domestic Destinations
Anchorage,
AK
Phoenix,
AZ
Burbank,
CA
Long Beach,
CA
Los Angeles,
CA
Oakland,
CA
Ontario,
CA
Palm Springs,
CA
Sacramento,
CA

San Diego,
CA

San Francisco,
CA
San Jose,
CA
Denver,
CO
Hartford-Springfield,
CT
Daytona Beach,
FL
Fort Lauderdale,
FL
Fort Myers,
FL
Jacksonville,
FL
Orlando,
FL
Sarasota,
FL
Tampa,
FL
West Palm Beach,
FL
Atlanta,
GA

Savannah,
GA

Chicago,
IL
New Orleans,
LA
Portland,
ME
Baltimore,
MD
Boston,
MA
Hyannis,
MA
Martha's Vineyard,
MA
Nantucket,
MA
Worcester,
MA
Detroit,
MI
Minneapolis,
MN
Las Vegas,
NV
Reno/Tahoe,
NV
Newark,
NJ
Albuquerque,
NM
Albany,
NY
Buffalo,
NY
Newburgh,
NY
New York City,
NY
Rochester,
NY
Syracuse,
NY
White Plains,
NY
Charlotte,
NC
Raleigh-Durham,
NY
Cleveland,
OH
Portland,
OR
Philadelphia,
PA
Pittsburgh,
PA
Providence,
RI
Charleston,
SC
Nashville,
TN
Austin,
TX
Dallas,
TX
Houston,
TX
Salt Lake City,
UT
Burlington,
VT
Richmond,
VA
Washington D.C,
VA
Seattle,
WA
St.Croix,
VI
St.Thomas,
VI
JetBlue Airways International Destinations
| | | | |
| --- | --- | --- | --- |
| Aguadilla | Bogotá | Camagüey | Cancún |
| Cartagena | Christ Church | Grand Cayman | Guayaquil |
| Hamilton | Havana | Holguín | Kingston |
| La Romana | Liberia | Lima | Medellin |
| Mexico City | Jamaica | Nassau | Oranjestad |
| Ponce | Port of Spain | Port-au-Prince | Providenciales |
| Puerto Plata | Punta Cana | Quito | San José |
| San Juan | Santiago de los Caballeros | Santo Domingo | St.George's |
| St.John's | St.Maarten | Vieux Fort | Willemstad |
---
JetBlue Airways News
29th June 2018
JetBlue Airways founder says new unnamed airline will face no competition
JetBlue Airways founder, David Neeleman, will launch a new low-cost carrier in the US by the end of 2021 and based off a recent interview, he's very confident that the airline will dominate the areas in operating in. Neeleman stated that he doubts that the airline will fly hundred of routes that other airlines won't be able to fly. He even went as far to say that the new airline won't have competition on a single route.
The JetBlue owner's confidence comes from the fact that he also owns the Brazilian airline, Azul "Because I own Azul. Azul can handle me in Brazil. They can feed me...".
Although Neeleman didn't mention any specific airports, he mentioned that the airline will fly from the US to Europe and South America but will shun away from flying to competitors hubs.
29th June 2018
JetBlue Airways is looking to fly to Cuba more often
JetBlue has put in a request to increase the number of times it operates services to Havana, Cuba. The airline is awaiting the government to approve a number of new routes, one of which is a new service from Boston.
From 10th November 2018, JetBlue will fly a service betweenLogan International Airport (BOS), Boston and José Martí International Airport (HAV), Havana, once a week on a Saturday. The flight is expected to take 4 hours and 15 minutes.
From 4th November 2018, JetBlue will increase the number of times it flies between Fort Lauderdale and Havana from 13 times a week to 19 times a week. The carrier will fly between Fort Lauderdale–Hollywood International Airport (FLL) and José Martí International Airport (HAV) with three different services running six times a week. On the seventh day, JetBlue will offer just one service. JetBlue has listed an expected flight time of 1 hour and 20 minutes.
24th May 2018
JetBlue's growth plan
Orlando Airport authorities just leaked some plans and predictions for future growth. In approving an expansion to an ongoing terminal project, the Greater Orlando Aviation Authority revealed that JetBlue plans to offer more than 100 daily departures from Orlando in the coming years. This is do that JetBlue can take on American airline giant Southwest Airlines. The carrier hopes to have 200 departures from Boston, its number 1 hub, in the upcoming years. The turbulent conditions have forced JetBlue to restrict its departures from two of its smallest hubs, San Juan and Long Beach, both in California.
23rd October 2017
JetBlue's newest destination: Minneapolis/St. Paul
JetBlue says the metro area had been the largest U.S. market it did not serve.The Twin Cities also add aMidwestern dot to the airline's route map, which is otherwise fairly spartan in the region.
JetBlue's Minneapolis/St. Paul (MSP) flights begin on May 3, when it starts a schedule of three daily round-trip flights to its hub in Boston. The carrier will use Airbus A320 aircraft on the route.
"As the largest airline in Boston we are answering calls from our customers who have long asked us to offer our great service and low fares on this important route," John Checketts, JetBlue's VP network planning, says in a statement. "And adding Minneapolis/Saint Paul to our map will give Twin Cities travellers a refreshing new choice in the air with JetBlue's long list of perks not matched by any other airline in the market."
The arrival of JetBlue was lauded by MSP airport officials.
17th August 2017
Azul and JetBlue announce codeshare agreement
Azul announced its new partnership with JetBlue Airways through a unilateral codeshare agreement. Azul will place its "AD" code on JetBlue flights between several destinations and JetBlue's focus cities in Fort Lauderdale-Hollywood (FLL) and Orlando (MCO). From both Florida gateways Azul operates nonstop service to the airline's hub at Sao Paulo, Brazil's Viracopos International Airport (VCP) and Recife (REC).
Customers purchasing a codeshare itinerary will benefit from having a single ticket issued by Azul that includes flights operated by both Azul and JetBlue and the customer friendly convenience of thru check-in and baggage transfer.
"The agreement with JetBlue is an important addition to Azul's international portfolio, expanding our service to popular destinations served by JetBlue. Our customers can now make fast and convenient connections to several cities in the US, such as Boston and New York (JFK)," said David Neeleman, Founder and Chairman of Azul. "I am extremely proud that both Azul and JetBlue are in the top 5 of the worlds' best airlines as rated by TripAdvisor so I am very excited to be able to bring these industry leading services together for our customers."
"We're pleased that customers booking Azul travel will be able to benefit from convenient connections through JetBlue's growing list of destinations from our Florida focus cities,"said Robin Hayes, president and CEO, JetBlue.
Azul is Brazil's largest airline by number of destinations served with more than 100 cities served in Brazil and abroad. In 2017, Azul was elected as the world's third best airline by TripAdvisor and was named for the seventh consecutive time by Skytrax World Airline Awards as the "Best Low-Cost Airline in South America" and for the second time as the "Best Staff in South America."
Azul offers more than 40 channels of free live TV on its flights in Brazil as well as free unlimited snacks and drinks. On international flights, operated by A330 jets, Azul offers sophisticated comfort in three classes of service – Azul Business, with lie-flat seats and direct aisle access, Economy Extra and Economy, with modern entertainment such as the Panasonic eX3 IFE system, mood lighting and the ultra-innovative SkySofa where 4 seats convert into a comfortable and spacious sofa in the sky.
JetBlue has approximately 1.000 daily flights to 101 cities in the United States, the Caribbean and Latin America. It is the leading airline in Boston, Fort Lauderdale, Los Angeles, Orlando and San Juan, and has New York as its hub of operations. JetBlue carries an average of 38 millions of customers annually. Like Azul, JetBlue offers snacks and beverages at no additional cost as well as live TV and more legroom in seats.
8th August 2017
Air Berlin and JetBlue Airways sign cooperation agreement
Air Berlin has announced it has signed a co-operation agreement with jetBlue Airways wherein the German carrier's customers will be able to connect to thirty-one jetBlue destinations across the United States from hubs at New York JFK, Orlando Int'l, and Chicago O'Hare initially.
According to a press release, the first connecting flights will run from September 12.
"We are delighted that we have a new, strong partner at our side with jetBlue, in the important growth market in the USA. This is only the beginning of our co-operation. Together, we are working to extend our partnership in the coming months," Götz Ahmelmann, Air Berlin's Chief Commercial Officer, said.
The two carriers expected to cooperate through their respective frequent flyer programs in the future. Air Berlin has been forced to find a new US partner after a similar partnership with Oneworld alliance partner American Airlines had been terminated by its former US partner effective March 2017.
May 2017
JetBlue announce new routes
JetBlue announced a series of expanded and new nonstop routes in its Boston and Fort Lauderdale-Hollywood focus cities as the airline continues to grow its presence in the northeast and in south Florida. JetBlue is the largest airline in both cities and today's announcement further reaffirms the airline's commitment to offer the most and best service in Boston and Fort Lauderdale.
April 2017
JetBlue announced it was expanding its service to St. Maarten
According to the online magazine, the carrier will be adding a second daily roundtrip flight between John F. Kennedy Airport and St. Maarten's Princess Juliana International Airport SXM over the Christmas peak and on the Saturdays before and after Thanksgiving this year. JetBlue also announced that it would be adding new seasonal service between Boston and St. Maarten. Boston has been a growing Caribbean hub for JetBlue, with new routes added from Boston to the Caribbean in recent years, including to Haiti and Barbados, among other destinations. JetBlue first introduced the New York-St. Maarten route last fall.
JetBlue had applied to the DOT for seven additional Cuba frequencies for proposed use from November 1, 2017.
The New York-based LCC requested an additional six weekly frequencies in order to provide increased non-stop service between Fort Lauderdale Int'l, Florida andHavana Int'l, Cuba, and to inaugurate the first ever non-stop service between Boston, Massachusetts and Havana, Cuba.
On the latter route, it has requested a 1x weekly frequency.jetBlue currently provides daily non-stop service fromNew York JFK to Havana, daily non-stop service from Orlando Int'l to Havana, and a 13x weekly service from Fort Lauderdale to Havana.
---