Airlines will always try to sit children with their parents (subject to check-in)
Some airlines will allow travel for unaccompanied minors. Please email us to check.
The fare is based on the child's age on the date of travel.
More detailed information can be found here Traveling with children
Most airlines will let infants travel with their parent(s) for free. However some airlines will charge up to 10% of the adult ticket price. Click on 'Price Breakdown' to find out more.
If you are pregnant, but due before the flight departure date, please contact us once your baby is born and has a name. We can then add him/her to your ticket.
Infants will not be given a seat. The airlines expect parents to travel with them on their lap.
Airlines regard infants as being under 24 months old.
The fare is based on the child's age on the date of travel.
More detailed information can be found here Traveling with children
Search & Book Flights

With JetBlue
Cancellation Protection
Protects
Trusted Choice
65,000 happy customers
Rated 4.5 Stars. Based on 3,581 service ratings over the past year
Dedicated customer service team on hand to help
Secure payments
Cancellation Protection
Protects
Trusted Choice
65,000 happy customers
Rated 4.5 Stars. Based on 3,581 service ratings over the past year
Dedicated customer service team on hand to help
Secure payments
Buy
JetBlue

Flights
JetBlue Airways Reservations with Alternative Airlines
Make a JetBlue Airways Booking and Find Some Amazing Deals
---
About
JetBlue Airways Corporation, known as JetBlue or sometimes JetBlue Airlines, is an American low-cost airline and the fifth largest airline in the United States. The airline is based at John F. Kennedy International Airport and headquartered in the Long Island City neighbourhood of the New York City borough of Queens.
JetBlue Airways was has a four-star Skytrax award rating, making it one of two carriers in the United States alongside Virgin America (now Alaska Airlines).
JetBlue has codeshare agreements with many airlines, such as; Aer Lingus, Aeroflot, Air China, Air India, All Nippon Airways (ANA), Asiana Airlines, Avianca, British Airways, Brussels Airlines, Cathay Pacific, China Airlines, Emirates, Etihad Airways, Japan Airlines, LIAT, LOT Polish Airlines, Lufthansa, Qatar Airways, Singapore Airlines, South African Airways, TAM Airlines and TAP Portugal.
---
Destinations
JetBlue mainly flies to over 95 destinations within the United States, along with services that include: The Bahamas, Caribbean, Bermuda, Barbados, Costa Rica, Colombia, the Dominican Republic, Grenada, Jamaica, Mexico, Peru, Puerto Rico, Trinidad and Tobago.
Domestic Destinations
Anchorage,
AK
Phoenix,
AZ
Burbank,
CA
Long Beach,
CA
Los Angeles,
CA
Oakland,
CA
Ontario,
CA
Palm Springs,
CA
Sacramento,
CA
San Jose,
CA
San Diego,
CA
San Francisco,
CA
Denver,
CO
Hartford-Springfield,
CT
Daytona Beach,
FL
Fort Lauderdale,
FL
Fort Myers,
FL
Jacksonville,
FL
Orlando,
FL
Sarasota,
FL
Tampa,
FL
West Palm Beach,
FL
Atlanta,
GA
Savannah,
GA
Chicago,
IL
New Orleans,
LA
Portland,
ME
Baltimore,
MD
Boston,
MA
Hyannis,
MA
Martha's Vineyard,
MA
Nantucket,
MA
Worcester,
MA
Detroit,
MI
Minneapolis,
MN
Las Vegas,
NV
Reno/Tahoe,
NV
Newark,
NJ
Albuquerque,
NM
Albany,
NY
Buffalo,
NY
Newburgh,
NY
New York City,
NY
Rochester,
NY
Syracuse,
NY
White Plains,
NY
Charlotte,
NC
Raleigh-Durham,
NY
Cleveland,
OH
Portland,
OR
Philadelphia,
PA
Pittsburgh,
PA
Providence,
RI
Charleston,
SC
Nashville,
TN
Austin,
TX
Dallas,
TX
Houston,
TX
Salt Lake City,
UT
Burlington,
VT
Richmond,
VA
Washington D.C,
VA
Seattle,
WA
St.Croix,
VI
St.Thomas,
VI
International Destinations
| | | | |
| --- | --- | --- | --- |
| Aguadilla | Bogotá | Camagüey | Cancún |
| Cartagena | Christ Church | Grand Cayman | Guayaquil |
| Hamilton | Havana | Holguín | Kingston |
| La Romana | Liberia | Lima | Medellin |
| Mexico City | Jamaica | Nassau | Oranjestad |
| Ponce | Port of Spain | Port-au-Prince | Providenciales |
| Puerto Plata | Punta Cana | Quito | San José |
| San Juan | Santiago de los Caballeros | Santo Domingo | St.George's |
| St.John's | St.Maarten | Vieux Fort | Willemstad |
---
Baggage
Carry-on Baggage
Hand Baggage (Carry-On) - Each passenger may bring onboard 1 personal item (purse, briefcase, laptop, etc.) plus 1 carry-on bag. All carry-on bags must not exceed 22" L (55.88 cm) x 14" W (35.56 cm) x 9" H (22.86 cm), including wheels/handles, on all of our aircraft types.
All personal items must not exceed 17" L (43.2 cm) x 13" W (33 cm) x 8" H (20.32 cm), including wheels/handles, on all of our aircraft types. Personal items must be placed underneath the seat in front of you.
Checked Baggage
For checked luggage, this will depend on the fare option a passenger has chosen.
Blue Plus and Blue Flex fares include free baggage allowances. For Blue Plus fares, one bag under 22.68kg (50 lb) is included in the fare, and for Blue Flex fares, two bags under 22.68kg (50 lb) each are included in the fare.
---
Check-In Information
Online Check-In
JetBlue Airways offer passengers both online and mobile check in. This service can be found on the JetBlue website, under 'Online Check-in' and is available 24 hours before scheduled departure time.
Airport Check-In
If passengers have not checked in online for their JetBlue Airlines flights, they must check-in at the airport via the self-service check-in kiosks.
---
Economy Class
JetBlue offers Economy Class seating on all flights, which has been noted as one of the best airlines for their legroom in economy.
Economy Class Facilities
On-board, enjoy free brand-name snacks and complimentary drinks, as well as free wi-fi, and personal tv screen on every seat. Meals available to purchase.
Economy Class Seating
Economy offers some of the best economy seating in coach, with comfortable padded seats, with ample legroom and pitch. You will receive a personal Snooze Kit, with eye-mask and earplugs, as well as a warm towel.
---
Business Class
From 2019, JetBlue is introducing a new business class, entitled Mint.
Business Class Facilities
Speed through security with a dedicated Mint check-in queue and expedited security lane, enjoy priority boarding, and be one of the first to collect your bags at the carousel with preferred bag claim.
Once on-board, start with a welcome RefreshMint (that's Mintspeak for our house cocktails) before enjoying artisanal dining; choose from a selection of seasonal small plates inspired by NYC's Saxon + Parole, and complemented by espresso-based drinks from Brooklyn Roasting Company.
Enjoy tons of free wi-fi, and entertainment on your 15" personal seat-back touchscreen. Hand-crafted SR60e headphones from Grado Labs in Brooklyn will transform your Mint seat into an inflight theatre. 
Passengers will also receive a complimentary Hayward & Hopper amenity kit.
Business Class Seating
Mint passengers can enjoy lie-flat seats, so that you can lie-back and relax in the longest fully lie-flat seat (6'8") on a domestic premium flight.
Each super-comfy seat features cushions with adjustable firmness and a massage feature, a plush comforter and even your own pillow.
For extra privacy, you can also reserve a Mint suite with its own door.
Little details such as mood lighting and a wake me button (aka a do not disturb button) will ensure you can really shut-off.
---
Frequent Flyer Programme
JetBlue Airways offers a Frequent Flyer programme called TrueBlue. One of the many perks of the TrueBlue frequent flyer programme is that you can use your points on any JetBlue flight at any given time.
You can earn three TrueBlue points for every dollar that you spend on JetBlue flights through Alternative Airlines.
---
Route Map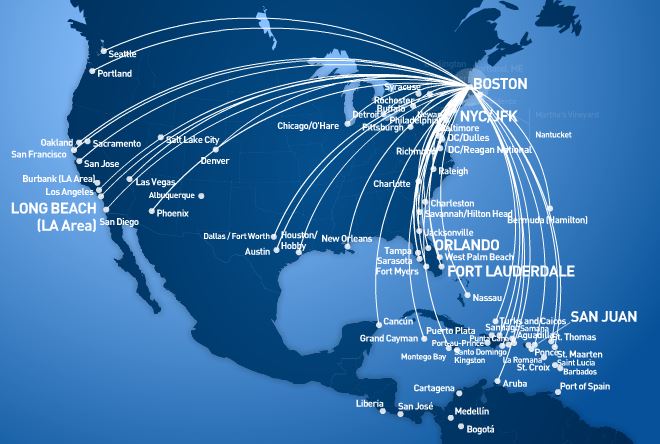 ---
Fleet
JetBlue's fleet consists of a mix of Airbus and Embraer aircraft. The airline is constantly updating and upgrading its fleet to bring in the newest generation of aircraft and has over 250 different jets in service:
Airbus A320-200
Airbus A321neo
Airbus A320neo
Embraer190
Airbus A321-200
---
Hub Airport
John F. Kennedy International Airport
John F. Kennedy International Airport is a major international airport located 12 miles southeast of Lower Manhattan, in Queens, New York City, United States. It is the busiest international air passenger gateway in the United States.
Over seventy airlines operate out of the airport, with non-stop or direct flights to destinations in all six inhabited continents. The airport features six passenger terminals, four runways, and serves as a hub for American Airlines, Delta Air Lines, the primary operating base for JetBlue Airways and a secondary hub for Envoy Air. A number of airlines also operate services out of this airport including China Airlines, GoJet Airlines, Delta, Emirates, Volaris, XiamenAir and previously Air Jamaica.
---
Speciality Items and Sports Equipment
Bicycles, surfboards, kite surfs and windsurfs are accepted as part of your checked baggage allowance. These special items will incur an additional charge but will not be subject to oversized baggage fees. For more information on JetBlue's bicycle policy as well as information on how to check a bike please see our FAQ page on "Flying with a Bike."
---
Pets, Emotional Support Animals and Service Animals on JetBlue
Find out about flying with a service animal, pet, or an emotional support animal. Alternative Airlines provides advise and information on taking pets on JetBlue planes.
---
Alternative Airlines to JetBlue Airways
Please click on the logos below to find out more about airlines that fly similar routes to JetBlue Airways:
---
JetBlue Airways Flight Deals and Discounts
Find loads of great JetBlue flight deals with Alternative Airlines. Save money on your JetBlue flight ticket with some amazing JetBlue coupons and deals.
---
Pay for JetBlue flights with PayPal
Pay using PayPal on all JetBlue flights when you book with Alternative Airlines. PayPal is a safe and secure way to pay for flights, protecting your personal information and giving you peace of mind when buying JetBlue flights. PayPal offer a variety of flight discounts when you use PayPal to pay for flights, find out more on our top reasons to buy flights using PayPal blog.
---
Spring Break Flights
Buy your spring break flight tickets on JetBlue with Alternative Airlines! As well as a number of domestic destinations, JetBlue is one of the only airlines that fly from the US to the popular spring break destination — Montego Bay, Jamaica.
---
Cancellation Policy
JetBlue's cancellation policy changes depending on the type of fare that you have purchased. The airline has both refundable and non-refundable fares.
The Blue Basic fare is completely non-refundable and cannot be cancelled.
The Blue, Blue Plus and Mint Fares are refundable, however, it will cost a fee to make a cancellation or change to your booking. Sometimes, this can cost almost as much as the flight itself and isn't the best option if you're looking for a full refund or something close to a full refund. However, if you're happy with getting a small amount of the cost of your flight back, these fares are a good choice.
The Blue Extra fare is completely refundable and doesn't require you to pay a change or cancellation fee.
It's important to check which fare you are purchasing at the time of booking. We will let you know if your flight is refundable in the fare rules when you buy your flight.
At Alternative Airlines, you can add Cancellation Protection to your JetBlue flight, which will entitle you to a full refund if you can't use your flight due to a number of emergency circumstances, including scheduled airline failure, adverse weather, redundancy and many other reasons. Cancellation Protection covers you for a refund regardless of which fare you purchase, giving you added peace of mind in case you can't use your reservation.
---
News
29th June 2018
JetBlue Airways founder says new unnamed airline will face no competition
JetBlue Airways founder, David Neeleman, will launch a new low-cost carrier in the US by the end of 2021 and based off a recent interview, he's very confident that the airline will dominate the areas in operating in. Neeleman stated that he doubts that the airline will fly hundred of routes that other airlines won't be able to fly. He even went as far to say that the new airline won't have competition on a single route and comes from the fact that he also owns the Brazilian airline, Azul "Because I own Azul. Azul can handle me in Brazil. They can feed me...".
Although Neeleman didn't mention any specific airports, he mentioned that the airline will fly from the US to Europe and South America but will shun away from flying to competitors hubs.
29th June 2018
JetBlue Airways is looking to fly to Cuba more often
JetBlue has put in a request to increase the number of times it operates services to Havana, Cuba. The airline is awaiting the government to approve a number of new routes, one of which is a new service from Boston.
From 10th November 2018, JetBlue will fly a service betweenLogan International Airport (BOS), Boston and José Martí International Airport (HAV), Havana, once a week on a Saturday. The flight is expected to take 4 hours and 15 minutes.
From 4th November 2018, JetBlue will increase the number of times it flies between Fort Lauderdale and Havana from 13 times a week to 19 times a week. The carrier will fly between Fort Lauderdale–Hollywood International Airport (FLL) and José Martí International Airport (HAV) with three different services running six times a week. On the seventh day, JetBlue will offer just one service. JetBlue has listed an expected flight time of 1 hour and 20 minutes.