Search & Buy Aer Lingus Flights
Select your payment method to view total prices including any payment fees:
Airlines will always try to sit children with their parents (subject to check-in)
Some airlines will allow travel for unaccompanied minors. Please email us to check.
The fare is based on the child's age on the date of travel.
More detailed information can be found here Traveling with children
Most airlines will let infants travel with their parent(s) for free. However some airlines will charge up to 10% of the adult ticket price. Click on 'Price Breakdown' to find out more.
If you are pregnant, but due before the flight departure date, please contact us once your baby is born and has a name. We can then add him/her to your ticket.
Infants will not be given a seat. The airlines expect parents to travel with them on their lap.
Airlines regard infants as being under 24 months old.
The fare is based on the child's age on the date of travel.
More detailed information can be found here Traveling with children
Buy
Aer Lingus

Flights
Aer Lingus Reservations with Alternative Airlines
Make an Aer Lingus Booking and Find Some Amazing Deals
---
About Aer Lingus
Aer Lingus is the national flag carrier airline of Ireland and operates from its base at Dublin Airport. In September 2015, Aer Lingus was acquired by IAG. Aer Lingus flies to many destinations including Aberdeen, Agadir, Alicante, Athens, Baltimore, Belfast, Berlin, Birmingham, Chicago, Copenhagen, Cork, Derry, Dusseldorf, Faro, Edinburgh, Lyon, Madrid, Milan, Munich, New York, Stuttgart, Toronto and many others. Aer Lingus has codeshare agreements with Air Canada, British Airways, Etihad Airways, Flybe, JetBlue Airways, KLM and United Airlines.
---
Aer Lingus Baggage
Carry-on Baggage
Aer Lingus passengers are permitted a carry on bag, weighing a maximum of 10kg. This item must be no more than 55 x 40 x 24 cm.
In addition, passengers are permitted one small personal item, such as a small handbag, a laptop case, camera case or reading material.
Checked Baggage
Checked bags must not exceed the combined dimensions of 158cm.
Passengers travelling within Europe can purchase the following bag sizes:
Small - one 15kg bag
Medium - one 20kg bag
Large - one 25kg bag
XL - two bags with a combined total weight of 40kg
Passengers travelling on transatlantic routes are permitted one bag weighing 23kg.
---
Aer Lingus Check-In Information
Online Check-In
Aer Lingus offer passengers online check-in for their flights. To complete online check-in, follow this link.
For European flights, this opens 30 days before flying, and closes depending on the departure airport:
Ireland / UK / Amsterdam - 2 hours prior to departure
Rest of Europe(Exceptions see below) - 4.5 hours prior to departure
Rome - 6.5 hours prior to departure
Malaga / Faro (When operated by Airbus 330) - 8.5 hours prior to departure
For transatlantic flights, online check in will open 24 hours prior to departure, closing 2 hours before.
Ireland / UK / Amsterdam - 2 hours prior to departure
Rest of Europe(Exceptions see below) - 4.5 hours prior to departure
Rome - 6.5 hours prior to departure
Malaga / Faro (When operated by Airbus 330) - 8.5 hours prior to departure
---
Airport Check-In
Alternatively, passengers can check-in for their Aer Lingus flights at the airport check-in counters:
| Flights | Recommended Arrival Time | Check-in Closing Time |
| --- | --- | --- |
| Within Europe | 2 hours before departure | 45 minutes before departure |
| From London City Airport | 2 hours before departure | 30 minutes before departure |
| To / from North America | 3.5 hours before departure | 75 minutes before departure |
---
Class Fares
Aer Lingus offers Standard (Economy), and Premium (Business) class seating.
---
Economy Class
Standard seats are the majority of seats on the aircraft. This seating is similar to what you would expect from Economy Class. Passengers flying standard can also choose 'Choice Seats', to be the first off the plane when you arrive, or 'Exit Seats', situated at the emergency exit rows, meaning extra legroom!
Economy Class Facilities
On all transatlantic flights, Economy passengers are served a complimentary meal. Alternatively, passengers can 'Dine Up' to a superior meal service, using the best Irish ingredients, accompanied by a choice of red/white wine. Simply order online and present your voucher on board!
What are Economy Class Seats Like?
Pre-booking seats means you can get your preference between aisle or window.
---
Premium Economy
While Aer Lingus doesn't have a dedicated 'Premium Economy' cabin, the airline does have a seat upgrade. Select 'Choice Seats' or 'Exit Seats' and enjoy a number of benefits that are superior to the rest of the Economy Class cabin.
Premium Economy Facilities
Selecting a Choice Seat gives passengers priority boarding. In addition to this, Choice Seats position passengers at the front or at the rear of the cabin, so that they can benefit from a speedy exit from the aircraft.
Exit Seats are positioned next to the emergency exits and give passengers extra leg room.
Premium Economy Seats
Choice Seats and Exit Seats are the same as other seats in Economy Class. All width and seat pitch is the same. The only difference is that Exit Seats benefit from extra legroom.
---
Aer Lingus Business Class
Aer Lingus is dedicated to providing its Business Class passengers with a stress-free flight. Aer Lingus provides its passengers with ample space and legroom as well as Luxury Dining on board.
Aer Lingus Business Class Facilities
At the Aer Lingus lounge, you can prepare for your flight away from the busy airport floor. Enjoy complimentary WIFI, drinks and snacks or head to the "Revival Lounge" to freshen up with a shower before your flight. Aer Lingus works with some of the best chefs in Ireland to provide you with a fusion of modern and traditional Irish Food using the freshest ingredients.
What are Aer Lingus Business Class Seats Like?
So that you can arrive at your destination feeling refreshed and alert, your Aer Lingus Business Class seat converts into a fully-flat 6.5ft bed. With a width of 22in, you'll have room to stretch out and get comfortable as you cross the Atlantic.
---
Aer Lingus First Class
Aer Lingus doesn't have a First Class Cabin. The airlines' most premium cabin class, with the highest standard of service is Business Class.
---
Aer Lingus In-flight Entertainment
As you cross the Atlantic, Aer Lingus offers you an excellent range of blockbuster movies and engaging TV shows to keep you entertained. You can also play games and stay connected with with Aer Lingus WIFI.
Aer Lingus TV
Aer Lingus has episodes from your favourite addictive series as well as period dramas to keep you entertained during your flight.
Aer Lingus Movies
With over 50 amazing releases, you're bound to find a film that sutis your tastes with Aer Lingus. From award-winning movies to heart warming animated films, the movies on board your Aer Lingus flight will keep you entertained for hours.
---
Aer Lingus Food
Aer Lingus Meal Options
Passengers travelling in economy within Europe can purchase items from the 'Bia' menu. This menu features hot and cold means, such as a traditional Irish Breakfast, sandwiches, wraps, crisps, confectionery and cakes.
Passengers travelling transatlantic are given a complimentary meal. Passengers departing Ireland are given a hot lunch and a tasty evening snack, and passengers arriving into Ireland are given a hot dinner, and sometimes a hot breakfast sandwich on select flights.
Passengers on transatlantic flights can purchase additional meals from the Bia menu, either by pre-ordering or on board.
Aer Lingus Special Dietary Requirements
Aer Lingus offer passengers who are travelling to or from the U.S. the ability to order special meals. These must be requested online from the Aer Lingus website at least 48 hours before departure, or 24 hours before when phoning Aer Lingus. The meals available are:
Child's meal
Diabetic meal
Low fat meal
Low lactose meal
Low salt meal
Moslem meal
Vegetarian Lacto-Ovo meal
Vegetarian Vegan meal
Aer Lingus Drinks & Alcohol
Travelling within Europe? Aer Lingus' Bia menu allows passengers to purchase a variety of alcoholic and non-alcoholic drinks, such as spirits, beer, wine and also soft drinks.
On transatlantic flights, passengers are given complimentary soft drinks, with the opportunity to purchase alcoholic beverages.
---
Alternative Airlines to Aer Lingus
Please click on the logos below to find out more about airlines that fly similar routes to Aer Lingus:
---

Aer Lingus Frequent Flyer Program
Aer Lingus operates a frequent flyer program called AerClub to reward regular travellers with Aer Lingus.
AerClub is the first Irish airline loyalty programme to give its members the opportunity to collect reward points not only by booking flights on Aer Lingus and selected air partners, but also on non-air purchases from an extensive range of brands that include retail, hotels and car hire.
---
Aer Lingus Seat Selection
Alternative Airlines customers can now pre-book Aer Lingus seats when purchasing their flight. Choose from available seats so you have the most comfortable flight possible.
---
Buy Discounted Aer Lingus Tickets at Alternative Airlines
---
Aer Lingus Route Map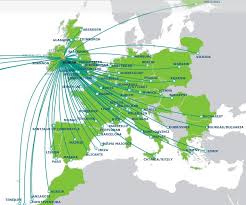 Aer Lingus Popular Routes
Dublin

London
New York

Dublin
Dublin

Boston
Birmingham

Cork
Edinburgh

Dublin
Belfast

London

---
Aer Lingus Fleet
Airbus A330-300
Airbus A330-200
Boeing 757
Airbus A321
Airbus A320
---
Aer Lingus Hub Airport
Dublin Airport
Dublin Airport is the main hub airport for Aer Lingus and has two runways and can handle nearly 22m passengers every year.
Other airlines which fly to and from Dublin Airport include Aer Lingus, Aegean Airlines, Air Europa, Air Canada, Air Moldova, Air Transat, American Airlines, Blue Air, British Airways, FlyOne, Ryanair, SunExpress, Transavia, United Airlines and many others.
---
Book Aer Lingus Flights in English
Book your flights with Aer Lingus in English when you book with Alternative Airlines. We are a trustworthy company who allows you to book flights stress free by dealing with any queries you may have in English. We also ensure safe and secure transactions when you pay, using reliable companies such as Paypal.
---
Pay Aer Lingus Flights with PayPal
Buy your Aer Lingus flights with Alternative Airlines and use PayPal! A great, convenient way to use for your air travel with Aer Lingus.
---
Aer Lingus News
9th April 2018
Aer Lingus to cease Boston-Shannon service from winter 2018
Aer Lingus is the second airline to announce that it is dropping this US- Ireland connection for the winter months. The news from Aer Lingus follows a similar announcement from Norwegian Air International last week, meaning the Mid West facility will have no direct routes to Boston between January and March. Aer Lingus has been known to cease the New York route for its winter schedule rather than dropping the Boston one. However, next winter will see the route to New York increase which will mean the total transatlantic seat capacity from Shannon next winter will rise by 2,500, indicating a shift in customer base for the airline.