Search & Buy Norwegian Flights
Let's fly!

Select your payment method to view total prices including any payment fees:

Buy
Norwegian

Flights

Search and Buy Norwegian Flights with Alternative Airlines
Make a Norwegian reservation and find some amazing deals with discounted tickets at Alternative Airlines
---
About Norwegian
Norwegian Air Shuttle is a low-cost carrier that uses the "Norwegian" brand name and is based in the capital city of Oslo, Norway.
The airline offers a high-frequency domestic flight schedule within Scandinavia and Finland, and to business destinations such as London, as well as to holiday destinations in the Mediterranean and the Canary Islands.
Norwegian Air Shuttle was founded in 1993 and is the third largest low-cost carrier in Europe and operates over 400 routes to more than 130 destinations. Norwegian's fleet consists of 737s, A320s and 787-9 Dreamliners.
Norwegian flies to many destinations including Salzburg, Vienna, Sarajevo, Burgas, Varna, Dubrovnik, Pula, Rijeka, Prague, Aalborg, Billund, Copenhagen, Ronne, Karup, Talinn, Helskini, Ivalo, Kittila, Oulu, Turku, Vaasa, Nice, Montpellier, Athens, Cephalonia, Chania, Heraklion, Corfu, Rhodes, Pointe-a-Pitre, and many others. Norwegian now also operates long-haul destinations including Bangkok, London, New York and Miami.
Norwegian now offers low-cost flights to 7 U.S. destinations from the UK – New York, Los Angeles, Boston, San Francisco Oakland, Orlando, Fort Lauderdale and Puerto Rico.
---
Norwegian Route Map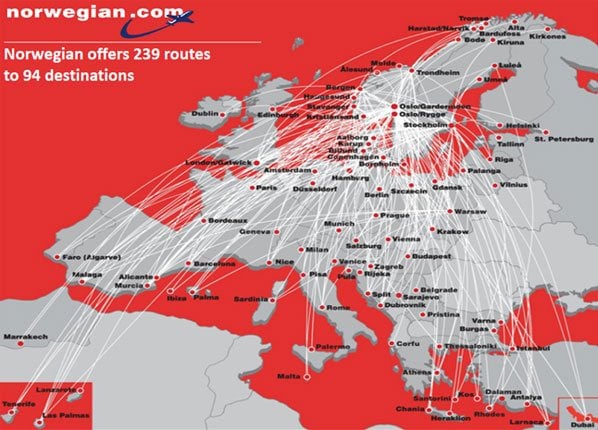 Norwegian Popular Routes
Malmo

London
Copenhagen

Karup
Stockholm

New York
Copenhagen

London
Stockholm

Copenhagen
Amsterdam

Copenhagen

---
Norwegian Fleet
---
Norwegian Hub Airport
Oslo Airport Gardermoen
Oslo Airport is the biggest airport serving the capital of Norway, Oslo. Oslo airport is an international and domestic hub for a plethora of airlines and a getaway for air travel. Also, it is a hub for the major airline SAS and it is a busy airport in the Nordic countries. Airlines that fly from and to Oslo Airport include BMI regional, Emirates, British Airways and TAP.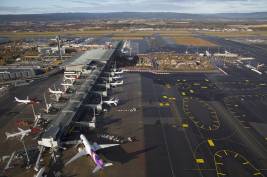 Alternative Airlines to Norwegian
---
---
Norwegian Baggage Allowances
Carry-on Baggage
Norwegian Airlines also passengers to bring one carry-on bag in the cabin free of charge. This is limited to 10 kg for LowFare, LowFare+, Premium and to 15kg for Flex and PremiumFlex. Additionally, passengers can bring 1 small personal item on board.
Checked Baggage
For checked baggage, all flights (excluding long haul) no bags are included for LowFare, one bag of up to 20kg for LowFare + Flex Fare.
For International flights, no bags are included in LowFare, one checked bag of 20kg is allowed for LowFare+ and Flex, Premium and PremiumFlex passengers are allowed two bags of 20 kg per bag.
---
Norwegian Check-In
Online Check-in
You can check in to most Norwegian flights online 24 hours before your scheduled flight time. Visit our online check-in page, click on the Norwegian logo and follow the instructions to check-in.
Airport Check-in
You can check-in at the airport for Norwegian flights by either using the Norwegian check-in counter or using Norwegian's self-service check-in kiosks. If you plan to check-in at the airport, you must check-in at least one hour before your scheduled flight time.
---
Norwegian Frequent Flyer Program
Norwegian operates a frequent flyer program to reward regular travellers with the airline.
Norwegian Reward allows passengers to earn CashPoints every time you fly, stay at a hotel or drive a rental car. Use CashPoints as full or partial payment on Norwegian flights for flight tickets, extra baggage, seat reservation, cancellation insurance and booking changes.
---
Norwegian Seat Selection
Alternative Airlines allow passengers flying with Norwegian to book their seats in advance of flying. Using a interactive seat map, passengers can select their seats whether they are wishing to sit together in groups, families or couples, or simply if they want a seat with more leg room or a great view from a window seat.
---
Norwegian News
25th June 2018
Norwegian - First Entry into Canada
Norwegian Air Shuttle has announced it will begin expanding its overseas and long-haul operations to Canada. From March 2019, the cities of Hamilton and Montreal in Canada will be the newest recipient of its ultra-low-cost flights to Europe and the French Caribbean.
The airline currently flies to the islands on a seasonal basis from both New York's JFK Airport and Fort Lauderdale-Hollywood Airport, both major bases for Norwegian Long Haul's Boeing 787 Dreamliner operations.
The airline, currently connects the secondary cities in the Northeastern United States to cities throughout Western Europe using new Boeing 737 MAX 8 aircraft and will now connect Hamilton and Dublin, the airline's most popular European destination, with year-round daily service. It will become the second longest route for NAI coming in at 3,312 nautical miles following Newburgh-Bergen at 3,456 nautical miles, when the route begins on March 31
The announcement comes at a time when Hamilton's John C. Munro International Airport, is growing in popularity among ultra-low-cost airlines, including Flair Airlines and WestJet's Swoop. The airport is a popular alternative to Toronto Pearson International Airport due to its lower operating costs and ease of access.
Norwegian prefers secondary airports to save on costs, as it does with Newburgh and Providence which serve the New York and Boston markets, respectively. While, historically, Canadians travel across the border to save money on flights to the U.S., the new transatlantic flights might have the reverse effect as the airport is also close enough to the Buffalo/Niagara Falls area to serve Western New Yorkers that are devoid of low-cost service to Europe.
Norwegian Air Shuttle will also operate between Montreal, the largest city in Quebec, and the French Caribbean islands of Guadeloupe and Martinique with its intra-European Boeing 737-800 aircraft beginning in October. Montreal, a French Canadian stronghold, will be the first Canadian destination for the new service and will be the third airline, along with Air Canada Rouge and Air Transat, to provide a non-stop link between Montreal and the French Caribbean.
Norwegian will serve the cities of Fort-de-France and Point-a-Pitre on the islands of Martinique and Guadeloupe, respectively.
From 28th October - Service to Point-a-Pitre, operating on Monday, Wednesday and Fridays,
From 1st November - Service to Fort-de-France, operating seasonally on Tuesday, Thursday and Saturdays.
From 1st November, the airline also announced the opening of new flights between the French Caribbean and Cayenne, French Guiana, another French overseas department and region of France in South America. With this new flight launch, passengers from New York, Floridia and Québéc will have 1-stop low-cost access to French Guiana.
Norwegian has largely ignored Canada, however its rivals, have embraced Canada, with WOW air serving Toronto and Montreal and Primera Air serving London with plans to serve Paris starting June 22. Plans were announced earlier in the year for Norwegian to serve Canada this summer but were put on hold with the airline citing delivery delays on its MAX aircraft.
According to Primera Air, Canadians haven't been as receptive to ultra-low-cost airlines as Americans have, which might be the reason that Norwegian hasn't yet served the Great White North, a country with deep links to Europe, with as much tenacity as it has in the United States. Norwegian has not yet stated whether it will serve any Canadian cities with the Boeing 787 Dreamliner as it does in the United States.
23rd May 2018
Norwegian air rises sharply due to IAG Interest
Norwegian Air celebrated on Tuesday as investors reacted to a report of renewed interest in the budget carrier from British Airways-owner IAG. This report caused a share price increas of 11% in early trade to 278 crowns in Oslo after Spanish newspaper Expansion on Monday said IAG is preparing to bid 330 crowns per share for the Oslo-listed airline, citing unnamed sources. IAG have invested interest in the airline, as the company bought a 4.6% stake recently.
8th March 2018
Norwegian subsidiary, Norwegian Air Argentina unveils first aircraft
Norwegian Air Argentina's (NAA) first aircraft has been presented at Buenos Aires' Ezeiza International Airport. The ceremony was attended by King Harald V and Queen Sonia of Norway as well eas the CEO of Norwegian, Bjørn Kjos and Norway's commerce and industry minister Torbjørn Røe. Kjos says Argentina is "a perfect fit with our expansion strategy", welcoming Argentina president Mauricio Macri's move to open up the aviation industry to foreign investment. The new fleet will consist of mainly 737-800s with 189 seats and on-board wifi. Sales for these flights will begin in May and Norwegian Air Argentina have already scouted out Cordoba as playing a central role in the network. In terms of a central hub, Norwegian has opted to base its Buenos Aires operations at Ezeiza rather than the downtown Aeroparque airport.
27th October 2017
Norwegian Air Shuttle reports rise in September traffic
Norwegian carried 3.1 million passengers in September, a 14% increase on the same month last year.

The airline said the growth was strongest on its intercontinental routes and load factor overall was up 0.3 percentage points to 90%.

The total traffic growth (RPK) increased by 29% while capacity growth (ASK) increased by 28%.

"We're very pleased to see that more passengers are choosing Norwegian when they travel, not least business travellers," said CEO Bjorn Kjos.

"The demand is good and stable in Scandinavia, and the growth is highest on our intercontinental routes. Global expansion is important to position ourselves in a market with such strong competition, but also for creating economic value in the markets we operate."
28th September 2017
Norwegian Air Shuttle has launched the world's longest low-cost flight — Gatwick to Singapore
Norwegian has launched the world's longest low-cost flight
The route runs from London Gatwick to Singapore Changi Airport, and departs for the first time on Thursday.
The route takes 12 hours and 45 minutes and will cover 6,764 miles (10,885 km) — making it the longest non-stop flight operated by a low-cost carrier.
The route was announced in April is scheduled to run four times per week.
Thursday's flight is due to depart at 10.30 a.m. and land in Singapore at 6.15 a.m Friday morning local time.
The flights use brand new Boeing 787-9 Dreamliner aircraft.
All seats on the Dreamliner have personal 11-inch seat-back screens and USB ports.
A higher price of £699.90 one way will get passengers "Premium" status. That means "spacious cradle seating" with more than a metre of legroom, and free lounge access at Gatwick.
The Singapore route is part of the airline's continued global expansion.
In February 2018, Norwegian will also start flying to Buenos Aires.
Bjørn Kjos, CEO of Norwegian, said in a press release: "I'm delighted to build upon our popular USA flights and give leisure and business customers more affordable access to Singapore and the Asia-Pacific like never before.
"The 787 Dreamliner has the range to allow us to expand our long-haul services to other parts of the world while keeping fares affordable for all.
"This is just the start of Norwegian's UK expansion into new markets as we will continue connecting destinations where fares have been too high for too long."
1st September 2017
Norwegian is set to add the B737 MAX 8 to its Norwegian AOC's operations specifications. The Scandinavian low-cost carrier has, until now, only added the type to its Norwegian Air International unit's license.

As such, ch-aviation analysis of schedule data indicates that Norwegian will deploy at least two of the aircraft to its Stockholm Arlanda hub with the onset of the 2017/18 winter season.

Effective October 31, the B737 MAX8s be used to will offer return services between Stockholm Arlanda, Sweden, and each of Dubai Int'l, United Arab Emirates (6x weekly), Las Palmas (daily), and Helsinki Vantaa (2x weekly).

Of the six B737 MAX 8s that have been delivered from Boeing (BOE, Chicago O'Hare) to Norwegian Air International, only two are currently active. The remaining four are currently awaiting assessment by the Irish Aviation Authority (IAA).
Source: CH-Aviation
April 2016
Norwegian announced that it had reached 500,000 passengers on its low-cost long-haul flights to the US. Norwegian first launched low-cost long-haul flights from Gatwick Airport in July 2014 and is still the only airline offering direct low-cost transatlantic travel to UK passengers.
---
Book Flights with Norwegian
Make a Norwegian reservation and find some amazing deals with discounted Norwegian tickets at Alternative Airlines. Norwegian flies to many destinations worldwide, offering a cost effective and safe service to all its passengers. Let Alternative Airlines help find you cheap Norwegian tickets and make international and domestic flight reservations on Norwegian today.
Browse the most popular Norwegian flight routes to cities worldwide. Alternative Airlines can help you make reservations on Norwegian for international flights to lots of destinations. Use the following list of routes to help you plan your next flight. Book Norwegian flights on Alternative Airlines to save big! Alternative Airlines is an online travel agency, specialising in booking lesser known airlines and remote destinations.
Alternative Airlines is an Online Travel Agency bonded by the International Air Transport Association (IATA). We specialise in finding the best available fares on the widest range of airlines and making them available to you online, with prices in the currency of your choice.
Alternative Airlines handles all your travel arrangements and payments, complete with ticketed confirmation. We do not direct you to other websites or service providers.
We help you through the process. This is what makes us Alternative Airlines.
Browse for flights, find some amazing deals, make a reservation and pay in the currency of your choice today with Alternative Airlines.
Let Alternative Airlines help find you the best prices and make international and domestic flight reservations with us today.
Join the Alternative Airlines Members Club and get £100.00 back on your 5th booking with Alternative Airlines. You will have insight to many benefits and exclusive deals on over 650 airlines. Click on the Members section on the Alternative Airlines website for more information and join today.
We are open every day from 8am until 8pm (UK local time).
How to pay
You can pay for your flights with Norwegian in the currency and payment method of your choice when booking through Alternative Airlines.
We accept PayPal making flight purchases with Norwegian easy and more secure for customers. PayPal is one of the leading forms of online payment, with more than 169 million accounts worldwide.