Search & Buy Norwegian Flights
Airlines will always try to sit children with their parents (subject to check-in)
Some airlines will allow travel for unaccompanied minors. Please email us to check.
The fare is based on the child's age on the date of travel.
More detailed information can be found here Traveling with children
Most airlines will let infants travel with their parent(s) for free. However some airlines will charge up to 10% of the adult ticket price. Click on 'Price Breakdown' to find out more.
If you are pregnant, but due before the flight departure date, please contact us once your baby is born and has a name. We can then add him/her to your ticket.
Infants will not be given a seat. The airlines expect parents to travel with them on their lap.
Airlines regard infants as being under 24 months old.
The fare is based on the child's age on the date of travel.
More detailed information can be found here Traveling with children
Buy
Norwegian

Flights
Norwegian Reservations with Alternative Airlines
Make a Norwegian Booking and Find Some Amazing Deals
---
About Norwegian
Norwegian Air Shuttle is a low-cost carrier that uses the "Norwegian" brand name and is based in the capital city of Oslo, Norway. The airline offers a high-frequency domestic flight schedule within Scandinavia and Finland, and to business destinations such as London, as well as to holiday destinations in the Mediterranean and the Canary Islands.
Norwegian Air Shuttle was founded in 1993 and is the third largest low-cost carrier in Europe and operates over 400 routes to more than 130 destinations. Norwegian's fleet consists of 737s, A320s and 787-9 Dreamliners. Norwegian's fleet is easily recognisable due to its unique airline livery of 'tail fin heroes'. Each aircraft features a famous Scandinavian or British icon on the tail fin.
Norwegian flies to many destinations including Salzburg, Vienna, Sarajevo, Burgas, Varna, Dubrovnik, Pula, Rijeka, Prague, Aalborg, Billund, Copenhagen, Ronne, Karup, Tallinn, Helskini, Ivalo, Kittila, Oulu, Turku, Vaasa, Nice, Montpellier, Athens, Cephalonia, Chania, Heraklion, Corfu, Rhodes, Pointe-a-Pitre, and many others. Norwegian now also operates long-haul destinations including Bangkok, London, New York and Miami.
Norwegian now offers low-cost flights to 7 U.S. destinations from the UK – New York, Los Angeles, Boston, San Francisco Oakland, Orlando, Fort Lauderdale and Puerto Rico.
---
Norwegian Class Information
Norwegian offers two classes of seat: Economy, and Premium.
Norwegian Economy Class
The airline Norwegian is a described as low-cost carrier. This means the ticket fares that are offered for Norwegian are low fares and therefore there isn't a division of classes, such as Economy Class. However, Norwegian's low fare tickets are offered as LowFare, LowFare+ and Flex.
International Norwegian long-haul flights offer Economy Cabin and Premium Cabin as these are flown on larger aircraft.
Norwegian Economy Class Facilities
The low fare tickets and Economy Class both provide comfort for the budget traveller, with entertainment and meals included in you are flying long-haul.
What are Norwegian Seats like?
Short-haul flights include WiFi, seat reservation and a selection of food and snacks for a small fee. If you are flying long-haul, onboard meals are provided, travel blanket and headsets for the in-flight entertainment. For LowFare+ and Flex, you need to purchase blankets and headsets on board for a fee. Norwegian Economy Class seating is a similar standard throughout the aircraft and these can be reserved before your departure. Premium tickets on Norwegian includes a seat reservation so you can choose where you want to sit.
Premium Economy Class
Norwegian offers Premium fares on all international long haul flights on its 787 Dreamliner.
Premium Economy Facilities
Norwegian's Premium Fare passengers have lounge access at selected airports and are given Fast Track boarding (where available). Included in the Premium Fare are two checked bags weighing 20kg each, as well as complimentary seat reservation. Once onboard, Business Class passengers can enjoy a three course dinner as well as complimentary drinks.
What are Premium Economy seats like?
In Norwegian's Premium Cabin passengers can sit back and relax in comfortable seats with a 109 to 117cm seat pitch, giving them up to 140cm of legroom.
---
Norwegian Speciality Items and Sports Equipment
Specific rules and regulations will apply to sports equipment and special items. Norwegian will not accept any item that exceeds 32kg or 250cm x 79cm x 112cm. Be wary that excess baggage will be charged per kilo. To find out more about Norwegian's bicycle policy, as well as information on how to pack your bike for air travel, visit our FAQ page on "Flying with a Bike."
---
Norwegian Inflight Entertainment
Norwegian provides passengers with a number of ways to stay entertained throughout their flight. Most flights within Europe will be equipped with WIFI, allowing customers to connect to their video on demand service. They also have a state-of-the-art entertainment system which allows passengers to view a range of movies and TV shows as well as finding out a range of information about their journey.
Norwegian TV
Passengers flying long-haul on Norwegian's 787 Dreamliner will have access to the airline's state-of-the-art entertainment system built into the seat in front of them.
Norwegian Movies
Norwegian provides passengers with a diverse range of films. From animated kids films to heart-warming rom-coms, passengers will have no trouble finding films to help them pass the time on their Norwegian flight. To keep the selection fresh, the movies on offer are regularly updated with new-releases and contemporary blockbusters.
---
Norwegian WIFI
Stay in touch with WIFI on Norwegian flights. Norwegian offer WIFI on most flights within Europe and on flights travelling between the US and the Caribbean. Once the plane has taken off and electronic devices are safe to use outside of airplane mode, search for 'Norwegian Internet Access' on your mobile, tablet, laptop, or whichever electronic device you're using. Once you're connected to Norwegian WIFI, use Norwegian's On Demand Service on your electronic device!
Norwegian WIFI is not yet available on international long-haul flights.
Norwegian WIFI Price
Norwegian WIFI is completely free to use on all flights that WIFI is available on! Norwegian recognise the importance of staying connected and being online at all times of the day, whether you're up in the air or down on the ground. Norwegian WIFI is available for free for all Norwegian passengers, regardless of if you're flying Economy Class or Business Class.
---
Norwegian Route Map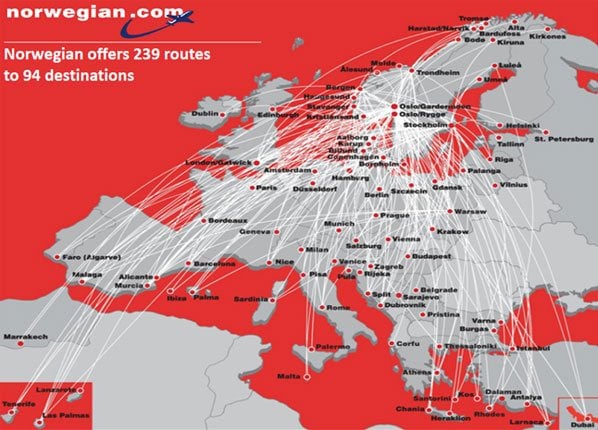 Norwegian Popular Routes
Malmo

London
Copenhagen

Karup
Stockholm

New York
Copenhagen

London
Stockholm

Copenhagen
Amsterdam

Copenhagen

---
Norwegian Fleet
---
Norwegian Hub Airport
Oslo Airport Gardermoen
Oslo Airport is the biggest airport serving the capital of Norway, Oslo. Oslo airport is an international and domestic hub for a plethora of airlines and a getaway for air travel. Also, it is a hub for the major airline SAS and it is a busy airport in the Nordic countries. Airlines that fly from and to Oslo Airport include BMI regional, Emirates, British Airways and TAP.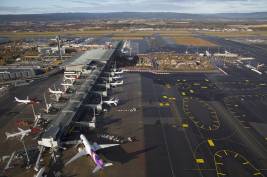 Alternative Airlines to Norwegian
---
Norwegian Baggage Allowances
Carry-on Baggage
Norwegian also offer passengers to bring one carry-on bag in the cabin free of charge. This is limited to 10 kg for LowFare, LowFare+, Premium and to 15kg for Flex and PremiumFlex. Additionally, passengers can bring 1 small personal item on board.
Checked Baggage
For checked baggage, all flights (excluding long haul) no bags are included for LowFare, one bag of up to 20kg for LowFare + Flex Fare.
For International flights, no bags are included in LowFare, one checked bag of 20kg is allowed for LowFare+ and Flex, Premium and PremiumFlex passengers are allowed two bags of 20 kg per bag.
Norwegian Checked Baggage Prices
Checked baggage prices will depend entirely on the route flown, whether the flight is direct and what time of the year the flight is flown in.
Low Season
For Norwegian direct flights, checked baggage can cost anywhere between £8 GBP—£35 GBP for one item of baggage or £10—£55 GBP for two items of baggage, depending on the route flown.
High Season
For Norwegian direct flights, checked baggage can cost anywhere between £8 GBP—£35 GBP for one item of baggage or £10—£55 GBP for two items of baggage, depending on the route flown.
For exact quotes on baggage, please contact us after a booking has been completed. We can purchase baggage on Norwegian flights for all passengers.
---
Norwegian Check-In
Online Check-in
You can check in to most Norwegian flights online 24 hours before your scheduled flight time. Visit our online check-in page, click on the Norwegian logo and follow the instructions to check-in.
Airport Check-in
You can check-in at the airport for Norwegian flights by either using the Norwegian check-in counter or using Norwegian's self-service check-in kiosks. If you plan to check-in at the airport, you must check-in at least one hour before your scheduled flight time.
---
Norwegian Frequent Flyer Program
Norwegian operates a frequent flyer program to reward regular travellers with the airline.
Norwegian Reward allows passengers to earn CashPoints every time you fly, stay at a hotel or drive a rental car. Use CashPoints as full or partial payment on Norwegian flights for flight tickets, extra baggage, seat reservation, cancellation insurance and booking changes.
---
Norwegian Food
Norwegian Meal Options
Norwegian offer food and drink services on board their planes. This service is dependent on your flight, and is split into International Long Haul and All Other Flights.
International Long Haul Flights: Economy passengers (LowFare+ and Flex tickets) receive a complimentary meal including a 3 course meal and a snack. Passengers with a LowFare ticket can purchase this service for 25 GBP per person, per flight. For all Premium passengers, a 3 course meal is included, in addition to a light meal and a sweet treat. There is also snacks available to purchase on board.
All Other Flights: Passengers can pre-order hot meals for flights between Stockholm, Alicante, Cyprus and Malaga. Snacks can also be purchased on board.
Norwegian Special Dietary Requirements
Norwegian offer alternatives for passengers with special dietary requirements. Contact the airline directly before you travel to arrange a special meal.
Norwegian Drinks & Alcohol
International Long Haul Flights: All passengers receive a complimentary drink, including beer, wine or water. Additional soft drinks and alcoholic drinks can be purchased on board.
All Other Flights: Passengers can purchase non-alcoholic or alcoholic drinks on board.
---
Norwegian Seat Selection
Alternative Airlines allow passengers flying with Norwegian to book their seats in advance of flying. Using an interactive seat map, passengers can select their seats whether they are wishing to sit together in groups, families or couples, or simply if they want a seat with more leg room or a great view from a window seat. Find out how to book Norwegian seats.
---
Pay for Norwegian Flights over time with Alternative Airlines
You can spread the cost of Norwegian flight tickets with Affirm if you are a US resident or PayPal Credit. Norwegian residents can also pay later with Klarna, in Norwegian Krone. This also applies to other Norwegian subsidiaries such as Norwegian Brazil and Norwegian Air Argentina.
---
Pay for Norwegian Flights with PayPal
Buy Norwegian flights with PayPal via Alternative Airlines. A safe, convenient way to pay for flights. Alternative Airlines accepts PayPal for Norwegian flights and it's so easy to book! You can even pay with Norwegian Krone when booking your Norwegian flights with PayPal and Aternative Airlines.
---
Norwegian Discount and Offers
Use any Alternative Airlines flight promo codes with PayPal and get a Norwegian discount. Book with Alternative Airlines and save money on your next Norwegian flights, nothing like getting a great Norwegian flight discount when you are going long-haul.
---
Norwegian Air Shuttle Pet Policy
Norwegian Air Shuttle allows pets to fly in the hold on flights within the Schengen region and on domestic flights within Argentina. To transport pets in the cabin (with the passengers) a fee of £38-£55 is charged online and £47- £66 is charged when paying at the airport.
---
Book Norwegian Air Shuttle Flights in English
Don't delay and book your Norwegian Air Shuttle flights in English with Alternative Airlines. Our customers can book flights in English with our safe and secure booking process. Book in multiple global currencies and find the best Norwegian Air Shuttle flights with Alternative Airlines.