Search and Book Norwegian Air Argentina Flights Online
Make a Norwegian Air Argentina Reservation and Find Some Amazing Deals
---
About
Norwegian Air Argentina is an Argentinian airline owned by Norwegian Air Shuttle ("Norwegian"), based at Buenos Aires Aeroparque. The airline was created with the aim to offer efficient and affordable domestic services across Argentina, for Argentinian people and tourists visiting Argentina on leisure trips.
The airline was founded on January 2017 to provide access to and from Argentina and South America for Norwegian and has the same branding under the Norwegian Group, along with Norwegian Air International and Norwegian Air UK.
In August 2018, the airline revealed that it would begin selling tickets for flights, with the inaugural flight taking place in mid-October of the same year.
The airline uses 3 Boeing 737-800 aircraft to operate services to destinations in Argentina.
Did you know when you book through Alternative Airlines, you can pay for your flights in Argentinian Peso, as well as over 160 currency options?
---
Destinations
As of October 2019, Norwegian Air Argentina flies to 9 domestic destinations. This airline is expected to increase its destinations to include international flights, with flights expected from Argentina to Perth and Singapore.
| AIRPORT | CITY AND COUNTRY |
| --- | --- |
| Aeroparque Jorge Newbery (AEP) (HUB) | Buenos Aires, Argentina |
| Ingeniero Aeronáutico Ambrosio L.V. Taravella International Airport (COR) (HUB) | Córdoba, Argentina |
| Governor Francisco Gabrielli International Airport (MDZ) | Mendoza, Argentina |
| Presidente Perón International Airport (NQN) | Neuquén, Argentina |
| Cataratas del Iguazú International Airport (IGR) | Puerto Iguazú, Argentina |
| Martín Miguel de Güemes International Airport (SLA) | Salta, Argentina |
| San Carlos de Bariloche Airport (BRC) | San Carlos de Bariloche, Argentina |
| Gobernador Horacio Guzmán International Airport (JUJ) | San Salvador de Jujuy, Argentina |
| Ushuaia – Malvinas Argentinas International Airport (USH) | Ushuaia, Argentina |
---
Baggage
Carry-on Baggage
Norwegian Air Argentina allow passengers to bring 1 carry-on bag in the cabin free of charge with a dimension of 55cm x 40cm x 23cm.
Norwegian Air limit this baggage to 10 kg for LowFare, LowFare+, Premium and to 15kg for Flex and PremiumFlex.
Additionally, passengers can bring one small personal item onboard.
Checked Baggage
For checked baggage, the following applies to all flights (excluding long haul): no bags are included for LowFare, 1 bag of up to 20kg for LowFare + Flex Fare.
For International flights, Norwegian Airlines allow no baggage for LowFare, 1 checked bag of 20kg is allowed for LowFare+ and for Flex, Premium and PremiumFlex 2 bags of 20kgs.
---
Check-in
Online Check-in
Passengers can check-in online for their Norwegian Air Argentina flights. To see if your flight is eligible for online check-in, visit the Norwegian Airlines website and enter your flight details. This service is available for up to 24 hours in advance.
Airport Check-in
For passengers who wish to check-in at the airport for their Norwegian Air Argentinian flights, please visit the Norwegian check-in counter at the airport terminal. For domestic flights in Argentina, the check-in will open 2.5 hours before scheduled departure time, closing 45 minutes before departure. For international flights to or from Argentina, the check-in counter will open 3 hours before departure, closing 1 hour before.
---
Economy Class
The airline flies with just one cabin class. The Economy Class cabin is a stripped-back service that offers great value for those travelling on a budget.
Norwegian Economy Class Facilities
The airline offers a snack and drinks during the flight.
Passengers can also connect to the airline's WIFI network to access its in-flight entertainment system from their personal device.
What are Norwegian Air Argentina Seats like?
Seats are set out in a 3 x 3 configuration. Each seat has 29–31 inches of pitch and around 17 inches of width.
---
The Fleet
As of October 2019, Norwegian Air Argentina's fleet consists of:
3 Boeing 737-800 and an additional 6 other aircraft to be transferred from other Norwegian Air Shuttle subsidiaries
---
Frequent Flyer Program
Norwegian operates a frequent flyer program to reward regular travellers with the airline.
Norwegian Reward allows passengers to earn CashPoints every time you fly, stay at a hotel or drive a rental car. Use CashPoints as full or partial payment on Norwegian flights for flight tickets, extra baggage, seat reservation, cancellation insurance and booking changes.
---
Special Services
Norwegian Air Argentina offers a number of special services to its passengers. Please see below the following services it offers:
Wheelchairs
If you require wheelchair assistance at the airport, you must inform Norwegian Air Argentina of this at least 48 hours before departure. You can ask for this service by calling the airlines to call centre, or the Alternative Airlines customer service team if you have booked through our website. For more information on this please see our wheelchair assistance page.
Expectant Mothers
For the safety of the passenger and the soon to be born child, Norweigian Air Argentina doesn't accept& mothers less than two weeks before their due date. For pregnant mothers between four to two weeks before their due date will need to ensure their flight is not longer than four hours and require a medical certificate from their doctor to confirm that they are fit to fly. Expectant mothers to four weeks before their due date can fly without a medical certificate.
---
Airline Alliance
Norwegian Air Argentina is owned by its parent company, Norwegian Air Shuttle.
---
Route Map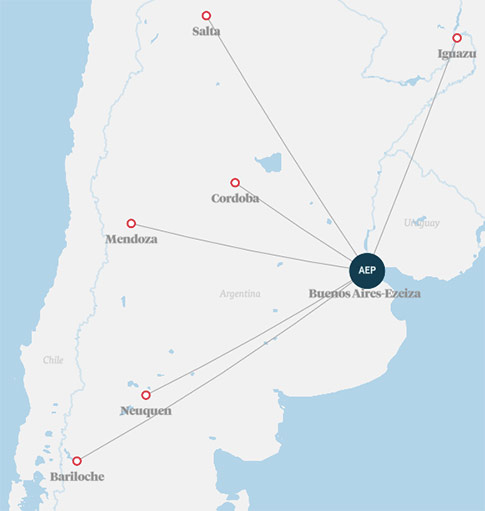 ---
Hub Airport
Aeroparque Jorge Newbery (AEP)
Buenos Aires-Aeroparque is one of two main operating bases for Norwegian Air Argentina, in addition to Cordoba. This airport, also known as Aeroparque Jorge Newbery or Jorge Newbery Airfield (AEP), is an international airport located in Buenos Aires, Argentina. The airport dealt with over 13.79 million passengers in 2017, which has increased since.
This airport also runs services for a number of airlines including Aerolineas Argentinas, Andes Líneas Aéreas, Austral Líneas Aéreas, Amaszonas Uruguay, Flyest Líneas Aereas and LATAM Argentina.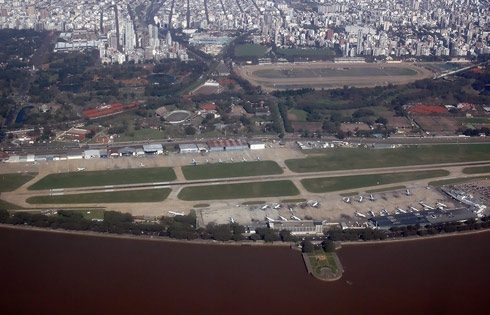 Photo Attribution: Darío Crusafón