Search & Buy Norwegian Air Argentina Flights
Let's fly!

Select your payment method to view total prices including any payment fees:
Airlines will always try to sit children with their parents (subject to check-in)
Some airlines will allow travel for unaccompanied minors. Please email us to check.
The fare is based on the child's age on the date of travel.
More detailed information can be found here Traveling with children
Most airlines will let infants travel with their parent(s) for free. However some airlines will charge up to 10% of the adult ticket price. Click on 'Price Breakdown' to find out more.
If you are pregnant, but due before the flight departure date, please contact us once your baby is born and has a name. We can then add him/her to your ticket.
Infants will not be given a seat. The airlines expect parents to travel with them on their lap.
Airlines regard infants as being under 24 months old.
The fare is based on the child's age on the date of travel.
More detailed information can be found here Traveling with children

Buy
Norwegian Air Argentina

Flights
Norwegian Air Argentina Reservations with Alternative Airlines
Make a Norwegian Air Argentina Booking and Find Some Amazing Deals on your plane tickets to Argentina
---
About Norwegian Air Argentina
Founded in 2017, Norwegian Air Argentina is an Argentinian airline owned by Norwegian Air Shuttle ("Norwegian"), based at Buenos Aires Aeroparque. Norwegian Air Argentina was created with the aim to offer efficient and affordable domestic services across Argentina, for Argentinian people and tourists visiting Argentina on leisure trips.
Norwegian Air Argentina was founded on 25th January 2017 to provide access to and from Argentina and South America for Norwegian and has the same branding under the Norwegian Group, along with Norwegian Air International and Norwegian Air UK.
In August 2018, Norwegian Air Argentina revealed that it would begin selling tickets for flights, with the inaugural flight taking place in mid-October of the same year.
Norwegian Air Argentina will initially use 10 Boeing 737-800 aircraft to operate services.
---
Norwegian Air Argentina Destinations
In August 2018, it was announced that Norwegian Air Argentina will begin operations in October of the same year with flights operating from Buenos Aires to several destinations throughout Argentina, including the following:
Buenos Aires
Córdoba
Mendoza
Neuquén
Puerto Iguazú
Salta
San Carlos de Bariloche
This Argentinian airline is expected to increase its destinations to include international flights, with flights expected from Argentina to Perth and Singapore.
---
Norwegian Air Argentina Baggage
Carry-on Baggage
Norwegian Airlines allow passengers to bring 1 carry-on bag in the cabin free of charge.
Norwegian Air limit this baggage to 10 kg for LowFare, LowFare+, Premium and to 15kg for Flex and PremiumFlex.
Additionally, passengers can bring one small personal item on board.
Checked Baggage
For checked baggage, the following applies to all flights (excluding long haul): no bags are included for LowFare, 1 bag of up to 20kg for LowFare + Flex Fare.
For International flights, Norwegian Airlines allow no baggage for LowFare, 1 checked bag of 20kg is allowed for LowFare+ and for Flex, Premium and PremiumFlex 2 bags of 20 kgs.>
---
Norwegian Air Argentina Check-in
Online Check-in
Passengers can check in online for their Norwegian Air Argentina flights. To see if your flight is eligible for online check-in, visit the Norwegian airlines website and enter your flight details. This service is available up to 24 hours in advance.
Airport Check-in
For passengers who wish to check-in at the airport for their Norwegian Argentinian Air flights, please visit the Norwegian Check-in counter at the airport terminal. For domestic flights in Argentina, the check-in will open 2.5 hours before scheduled departure time, closing 45 minutes before departure. For international flights to or from Argentina, the check in counter will open 3 hours before departure, closing 1 hour before.
---
Norwegian Air Argentina Fleet
Boeing 737-800
---
Norwegian Air Argentina Frequent Flyer Program
Norwegian operates a frequent flyer program to reward regular travellers with the airline.
Norwegian Reward allows passengers to earn CashPoints every time you fly, stay at a hotel or drive a rental car. Use CashPoints as full or partial payment on Norwegian flights for flight tickets, extra baggage, seat reservation, cancellation insurance and booking changes.
---
Norwegian Air Argentina Route Map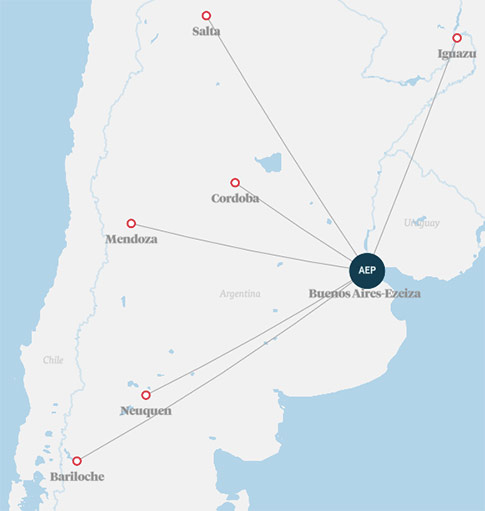 ---
Buy Discounted Norwegian Air Argentina Tickets at Alternative Airlines
---
Norwegian Air Argentina Hub Airport
Aeroparque Jorge Newbery
Buenos Aires-Aeroparque is one of two main operating bases for Norwegian Air Argentina, in addition to Cordoba. This airport, also known as Aeroparque Jorge Newbery or Jorge Newbery Airfield, is an international airport located in Buenos Aires, Argentina. The airport dealt with over 13.79 million passengers in 2017, which has increased since.
This airport also runs services for a number of airlines including Aerolineas Argentinas, Austral Lineas Aereas, Avianca Argentina, GOL and LATAM.
---
Norwegian Air Argentina News
6th September 2018
Norwegian Air Argentina reveal date for first flight
The highly anticipated announcement for Norwegian Air Argentina's inaugural flight has finally come. Norwegian announced this week that the subsidiary airline, that will operate under Norwegian branding, will take flight for the first time on 16th October 2018. The airline will use its fleet of 10 Boeing 737-800 aircraft to fly to several destinations domestically within Argentina from its base at Buenos Aires Aeroparque.
Norwegian Air Argentina will operate the following services from Buenos Aires Aeroparque:
To Cordoba, twice a day from 16th October 2018, extending to five times a day from 12th December 2018
To Mendoza, once a day from 16th October 2018, extending to fives times a day from 19th November 2018
To Iguazu, once a day from 12th November 2018, extending to twice a day from 7th January 2019
To Neuquen, once a day from 19th November 2018
To Salta, once a day from 7th January 2018
CEO of Norwegian, Bjørn Kjos, stated that the launch of Norwegian Air Argentina will be massively significant in Norwegian's history. Kjos added that the new subsidiary will give Argentinian locals and European travellers the option to fly domestic Argentinian routes at affordable prices. He also hinted at offering similar services in other countries throughout South America in the future, if Norwegian Air Argentina proves to be a success.
23rd May 2018
Norwegian air rises sharply due to IAG Interest
Norwegian Air celebrated on Tuesday as investors reacted to a report of renewed interest in the budget carrier from British Airways-owner IAG. This report caused a share price increase of 11% in early trade to 278 crowns in Oslo after Spanish newspaper Expansion on Monday said IAG is preparing to bid 330 crowns per share for the Oslo-listed airline, citing unnamed sources. IAG have invested interest in the airline, as the company bought a 4.6% stake recently.
8th March 2018
Norwegian Air Argentina unveils first aircraft
Norwegian Air Argentina's (NAA) first aircraft has been presented at Buenos Aires' Ezeiza International Airport. The ceremony was attended by King Harald V and Queen Sonia of Norway as well as the CEO of Norwegian, Bjørn Kjos and Norway's commerce and industry minister Torbjørn Røe. Kjos says Argentina is "a perfect fit with our expansion strategy", welcoming Argentina president Mauricio Macri's move to open up the aviation industry to foreign investment. The new fleet will consist of mainly 737-800s with 189 seats and on-board wifi. Sales for these flights will begin in May and Norwegian Air Argentina have already scouted out Cordoba as playing a central role in the network. In terms of a central hub, Norwegian has opted to base its Buenos Aires operations at Ezeiza rather than the downtown Aeroparque airport.
17th January 2018
Norwegian Air Argentina receives first aircraft
On Monday, Norwegian Air Argentina's (NAA) first aircraft arrived at Buenos Aires' Ezeiza International Airport. The plane, a 10-month-old Boeing 737-800, was received by the traditional water salute and tango music. The aircraft is the first of 10-12 that Norwegian Air Argentina expects to receive this year.The Buenos Aires hub, it is rumoured, will be located at the new Palomar airport, which is currently undergoing rejuvenation from a military air-base to a civilian terminal.
The delivery flight began in Oslo, Norway, the airline's home country and namesake, and was completed after stops in Goose Bay, Canada, and Martinica, French Antilles. As the Argentinian Aircraft Operators Certificate (AOC) process is yet to be completed, both the aircraft and crew operating the aircraft were operating as Norwegian Air Shuttle (NAX) and obtained permission to land as EI-FVO, its former Irish registration.
The sound of tango at the aircraft's arrival was not by chance but, rather, a homage to the person that has been painted on the tail of this particular aircraft. Following Norwegian's tradition of honouring the personalities of its subsidiaries' localities, the aircraft, with its new Argentinian registration LV-HQH, is named after Astor Piazzolla, a well-known tango composer, arranger and bandoneonist.
3rd January 2018
Norwegian Air Argentina Receives Approval To Start Operations
The airline has gotten clearance from Argentina's Department of Transportation to operate a total of 152 routes, both international and domestic. The newly formed subsidiary of Norwegian Air, Norwegian Air Argentina, has been granted authority to operate its flights in Argentina. The final approval was granted by the Ministry of Transportation on December 11 and goes into effect immediately. Of the 155 routes requested by the carrier, 152 were approved.
Norwegian Air Argentina (NAA) will invest over $4.3 billion into their new venture in Argentina over 12 years. The company plans to create four major hubs in the country to allow for more efficient travel. Hubs will be created in Buenos Aires, Cordoba, Salta and Mendoza. The new hubs will create 3,200 direct jobs and over 50,000 indirect jobs in the areas surrounding the hubs.
NAA will offer both domestic and international flights. The domestic flights will be in direct competition with the national carrier, Aerolineas Argentinas, who currently has 74 percent of the market share. NAA believes that their low fares, however, will encourage more people to use their airline.
NAA will also offer many international flights. While some of their destinations were anticipated, such as Miami, Barcelona and Madrid, the airline has also decided to offer several unexpected destinations. Some of the new routes include Honolulu, Ft. Lauderdale, Oslo, Moscow and Tel Aviv. NAA has also been granted authority to fly to Dallas/ Ft. Worth, Chicago, Washington D.C., San Francisco and Los Angeles. These will place NAA in direct competition with major carriers United Airlines, American Airlines and Delta Air Lines.
NAA will operate up to 70 aircraft to begin their venture in Argentina. This will include Boeing 787 Dreamliners and Boeing 737-800's. The first planes are set to arrive in Argentina in January to begin the certification process. Flights should begin by June 2018.
29th December 2017
New airline to enter Tahiti market
A third new airline is set to launch services to French Polynesia next year. After French Blue and United Airlines, Norwegian Air Argentina is planning to fly from Buenos Aires to Tahiti. The South American subsidiary of low-cost carrier Norwegian Air reportedly placed orders for ten Boeing aircraft to be based in Argentina. Currently, the only air link between Papeete and South America is to Chile via Rapa Nui/Easter Island. French Blue and United will fly to Papeete from San Francisco while Air France and Air Tahiti Nui fly from Los Angeles.
November 2017
Norwegian Air Argentina 'must overcome infrastructure hurdles' to become regional powerhouse
Norwegian Air Argentina is planning direct flights from Buenos Aires to Los Angeles, New York and Istanbul as part of a $4.3 billion expansion in the South American country over the next 10 years. The discount airline is also eyeing service to such cities as Dallas, Honolulu and Johannesburg, said Ole Christian Melhus, head of Norwegian's operations in Argentina. U.S. flights are scheduled to begin by the end of 2018, after the carrier begins serving domestic and South American destinations. Norwegian is vying for a chunk of the incipient market for low-cost flights in Argentina, where state-run Aerolineas Argentinas has held a virtual monopoly on air travel for the past 15 years. Norwegian has been accumulating planes and expanding destinations at a torrid pace worldwide, from smaller U.S. cities to Southeast Asia.
Argentina's more liberalised approach is fuelling capacity growth and attracting new entrants to the market. However, IATA has stressed that the country's government must address infrastructure concerns in order to fulfil its potential and become a regional aviation powerhouse. A study published this week has revealed that aviation and aviation-induced tourism contribute $9.6bn to Argentina's economy and support 300,000 jobs, equivalent to 1.7 percent of the country's GDP.
The findings, contained in 'The Importance of Air Transport in Argentina' report conducted by Oxford Economics on behalf of IATA, added that foreign tourists arriving by air, who spend their money in the local economy, are estimated to have supported an additional 130,000 jobs. As the data is largely based on 2014 figures, it is likely that the value of the aviation sector to Argentina's economy will have increased further. Since president Mauricio Macri took office in late 2015, the government has taken a much more supportive stance towards the industry, recognising the importance of air services towards economic development.
In February 2016 it removed the maximum limit on fares for domestic flights, while in March this year Macri moved ahead with plans to open up the country's aviation network to greater competition, particularly for low-cost carriers, by approving 135 new airline routes. According to OAG, the country's domestic capacity is on track to increase by 12.2 percent in 2017 to 16.5 million departure seats, compared with 2016, while international capacity is up by 11.1 percent to 8.9 million.
---