LATAM Airlines Argentina Reservations with Alternative Airlines
Make a LATAM Airlines Argentina Booking and Find Some Amazing Deals
---
2021 Update
LATAM Argentina has ceased operations, after LATAM made the decision to close its Argentinian branch. Please visit our LATAM Airlines page to discover what routes the airline and its subsidiaries are still operating.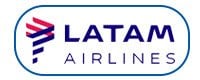 ---
About LATAM Airlines Argentina
LATAM Airlines Argentina was an Argentinian airline based in Buenos Aires, Argentina. The airline was formerly known as Lan Argentina and is a subsidiary of LATAM Airlines, which is based in Buenos Aires, Argentina. In Feburary 2021, LATAM announced it would officially be closing down its Argentinian branch, after 15 years of operations.
The parent group LATAM Airlines flies to 115 destinations and LATAM Airlines Argentina flies to 14 within Argentina. Some of these destinations include: Bahia blanca, Cordoba, Puerto Iguazu, Salta, Lima, Santiago and Sao Paulo.
The airline's main base hubs were Aeroparque Jorge Newbery, which runs services for a number of different airlines including Paranair, Norwegian Air Argentina, LATAM Chile, Avianca Argentina and Aerolineas Argentinas. LATAM Argentina also has a secondary base at Ministro Pistarini International Airport, also known as Ezeiza Airport. This airport also runs services for airlines such as KLM, Ethiopian Airlines, American Airlines and Buenos Aires International Airlines.
Other subsidiaries of the LATAM Airlines Group include LATAM Chile, Peru and Ecuador.
In 2007, LATAM Argentina became an affiliate of Oneworld airline alliance. It's fleet comprised of Boeing and Airbus aircraft.
---
LATAM Airlines Argentina Baggage
As the airline is a subsidiary of LATAM, its baggage allowance was the same as it's parent airlines allowance, outlined below:
Carry-on Baggage
The maximum dimensions of any bag taken as carry-on baggage should be 21 in x 13 in x 9 in (55cm x 35cm x 25cm), including the pockets, wheels and handle.
Economy - Maximum weight is 8 kilos (17 lb)
Premium Economy or Premium Business - 16 kilos (35 lb)
Flying on a route with it's origin and/or destination in Brazil, the maximum weight is 10 kilos, regardless of the class you are flying in.
In addition, you are permitted a personal item such as a purse or laptop bag, which should have the maximum dimensions 18 x 14 x 8 inches, and fit under the seat in front of you.
Checked Baggage
Checked baggage allowance depends on the fare you have purchased, the route and when you purchased it. However, the maximum allowed weight is 23kg, with the maximum combined linear dimensions of 158cm. The allocation based on your route and fare can be found on the LATAM website, or on your booking confirmation.
---
LATAM Airlines Argentina Check-In Information
Online Check-In
Passengers can check-in for their LATAM flights online via the LATAM Airlines website. You should aim to check-in as soon as its available to avoid forgetting.
Airport Check-In
Passengers who haven't checked in online will need to do so at the airport. Head to the LATAM check-in counters to begin the process.
---
Frequent Flyer Program
LATAM Airlines offers a Frequent Flyer Program named LATAM Pass or LATAM Fidelidade. Passengers can earn points towards tier status with each travel on eligible Oneworld flights.
---
Economy Class
On LATAM flights, economy seats are simple yet ergonomic, with an adjustable headrest and recline for maximum comfort. The service provided is friendly and attentive, with onboard entertainment to keep you occupied for your flights (only available on LATAM Argentina's Boeing 767 plane).
---
Premium Economy Class
In premium economy class on LATAM flights, passengers can enjoy additional personal space, increasing the comfort on the plane. The leather seats are paired with more space between seats, with no middle seat meaning more space and comfort. Seats include a personal charging point, to charge your personal devices throughout the flight. This class is only available on the Airbus 320 planes for LATAM Argentina.
---
Business Class
Business class LATAM passengers can enjoy luxury in the skies, with seats that convert to a flatbed for maximum relaxation, state-of-the-art entertainment systems and enjoyable and delicious meal and drink service.
---
First Class
LATAM does not currently have a first-class cabin for their flights.
---
Fleet
LATAM Argentina's fleet was comprised of modern Boeing and Airbus aircraft, acquired to provide the best onboard experience. These aircraft feature state-of-the-art design and technology, providing you with greater comfort, security, and efficiency during your journey.
---
Alternative Airlines to LATAM Argentina
Please click below on any of the airlines that fly similar routes to LATAM Argentina: