Finnair is the flag carrier and largest airline of Finland, with its headquarters in Vantaa and its main hub at Helsinki-Vantaa Airport. Finnair flies to many destinations including Helsinki, Ivalo, Joensuu, Jyvaskyla, Kajanni, Kuusamo, Kem, Kokkla, Kittila, Kuopio, Mariehamm, Oulu, Rovaniemi, Turku, Tampere, Vaasa, United Arab Emirates, Dubai, Tel Aviv, Chicago, Miami, New York, Shanghai, Xi'an, Chicago, New York, Hong Kong, Delhi and many others.
The airline's major shareholder is the government of Finland and member of the Oneworld airline alliance. In addition to the Oneworld alliance, Finnair has codeshare agreements with Aeroflot, Air China, Air France, Bangkok Airways, Belavia, Czech Airlines, Flybe, Jetstar Asia Airways, Nordic Regional Airlines, Icelandair, Rossiya and TAP Portgual.
Finnair and its subsidiaries dominate both domestic and international air travel in Finland. The airline's fleet consists of many aircraft including Airbus A319, Airbus A320, Airbus A330, Airbus A340 and ATR 72s.
Finnair has a subsidiary airline, Nordic Regional Airlines (Norra), which operates regional flights on its behalf.
---
Finnair Seat Selection
Alternative Airlines lets you choose your preferred seat for your Finnair booking. When booking with Alternative Airlines you have the chance to choose the seat you want before check-in so that you can have the most comfortable journey possible. We show you the seat availability every time you reserve a Finnair flight with Alternative Airlines. Visit our airline seats page to find out how to book your Finnair seats.
---
Book Finnair Flights in English
Reserve your Finnair flights in English with Alternative Airlines. Don't worry about misunderstandings during the booking process and book with Alternative Airlines for a smooth and straightforward reservation. We also offer people the opportunity to book their flights in multiple currencies and even with PayPal.
---
Finnair Food
Finnair Meal Options
Passengers travelling Intercontinental on Business Class can experience two world-class meals. The main meal will comprise a starter, bread, choice of main course, cheese and dessert. Alternatively, you can opt for an express meal service, consisting of an appetizer, soup and cheese platter.Snacks and sweets served throughout the flight, with some aircraft having a separate snack bar. Passengers can pre-order their choice of main course on most flights.
For passengers travelling Intercontinental in economy class, passengers can enjoy snacks and a tasty hot meal. Additional snacks can be purchased in flight.
For flights within Europe and the Middle East, passengers in business class receive a high quality meal, although what is offered will vary on your route travelling. Passengers in economy class can choose to pre-purchase a meal from the bistro menu, ranging from fresh sandwiches to salads or hot meals. Additionally, passengers can choose to purchase meals on board their flight.
Finnair Special Dietary Requirements
Passengers can pre-order a meal for special dietary requirements where a meal is included in the ticket price from the Finnair website, up to 24 hours before departure. The meals available are:
Bland Diet (BLML)
Low sugar and low fat diet (DBML)
Low cholesterol/fat diet (LFML)
Low sodium diet (LSML)
Low lactose (NLML)
Hindu Diet (HNML)
Asian Vegetarian diet (AVML)
Moslem diet (MOML)
Childrens meal (CHML)
Fruit Platter (FPML)
Raw vegetariam (RVML)
Seafood meal (SFML)
Non-diary vegetarian diet (VGML)
Lacto-ovo vegetarian diet (VLML)
Finnair Drinks & Alcohol
Intercontinental Business Class passengers can enjoy beverages including award-winning wines with their meal, and tea and coffee throughout their flight. International Economy passengers (flights to Bangkok, Goa, Havana, Ho Chi Minh City, Krabi, Phuket, Puerto Plata and Puerto Vallarta) will receive free soft drinks, with beer, wine and other alcoholic beverages available to purchase. Passengers on flights to the US will receive a drink with their meal, and can purchase additional beverages at other times in their flight.
---
Finnair In-flight Entertainment
Finnair offers an excellent range of entertainment services for its passengers including TV series, music and games. Sit back and relax with Finnair's Nordic Sky Entertainment System.
Finnair TV
Finnair passengers can enjoy their favourite series such as Empire and American Horror Story on board their Finnair flight. Find sitcoms, documentaries and kids shows to keep everyone entertained with Finnair.
Finnair Movies
From Finnish classics to stunning new releases, you can find a movie to enjoy on board your Finnair flight. There's something for all the family with animated films for the little ones and action packed blockbusters for all the family to enjoy.
---
Finnair Discounts and Promo Codes
If you book through Alternative Airlines, you can get a Finnair discounted ticket buy using a discount code that is in all our flight voucher codes! Pay your Finnair flight with PayPal and grab a Finnair discount with our great offers and promotions!
---
Pay with a Payment Plan
You can set up a payment plan using Klarna and pay with Euros when booking with Alternative Airlines. See all available payment plans here.
---
Finnair Frequent Flyer Programme
Finnair operates a frequent flyer program called My Finnair Plus to reward regular travellers with the airline.
Passengers will earn points for all Finnair and other Oneworld airlines's scheduled flights as well as other partners' services.
---
Finnair Baggage Allowance
Checked Baggage
For checked baggage, on flights to and from Asia, Finnair allows passengers:
Business Class - 3 pieces of baggage
Pro/flexible Economy - 2 pieces of baggage
Economy Value/Basic - 1 piece of baggage in and flights to and from North America 2 pieces of baggage for Business Class and 1 piece of baggage for all types of Economy Class.
---
Finnair Fare Class Fares
Finnair offers passengers two class fares: Business Class and Economy.
Find out more about the different services offered on your Finnair:
---
Finnair Economy Class
Finnair are proud to offer comfort and convenience in Finnair's Economy Class. For the budget traveller but still with a comfortable setting. There are many benefits to enjoy in Finnair Economy Class on both intercontinental flights and flights to the Middle East and Europe.
Finnair has two Economy classes: Economy and Economy Comfort
Economy Class Facilities
Finnair Economy Class facilities and amenities include:
1. Intercontinental Flights
1 piece of checked baggage (Japan journeys allow 2 pieces for flights there and returning).
Carry-on baggage - max 8kg
Choice of teas, coffees and beverages that are complimentary
In-flight entertainment and internet access for a small fee.
2. Middle East and Europe Flights
Seat and meal packages available (note on selected routes only)
1 piece of checked baggage. Light tickets do not allow 1 checked baggage.
Carry-on baggage - max 8kg
Complimentary choice of teas, coffees and beverages are available.
What are Economy Class Seats Like?
Seat sizes are 31 inches in Finnair Economy Class
1. Intercontinental Flights
Wide space, Economy comfort seating is available complete with a Marimekko design pillow and blanket on your seat ready. USB plug is available as well on A350 aircraft and you don't need an adaptor!
2. Middle East and Europe Flights
Lots of roomy seat space to enjoy!
Finnair Economy Comfort Class Seating
Seats are measured from 34 - 36 inches in Finnair Economy Comfort Seating.
---
Finnair Premium Economy
Finnair is yet to offer a Premium Economy service. Passengers wishing to upgrade may wish to purchase a Finnair Business Class fare.
---
Finnair Business Class
Whether you're traveling for business or for pleasure, Nordic Business Class is the ultimate way to travel. Finnair offers its Business Class Passengers full flexibility, top-class service and extreme comfort from the moment they arrive at the airport to the moment they arrive at their destination.
Finnair Business Class Facilities
Your Finnair Business Class ticket includes priority check-in, two or three pieces of baggage, exclusive in-flight Business Class meals as well as other benefits.
What are Finnair Business Class Seats like?
Finnair's priority is to make its customers have the best experience during their flight and Business Class seats are designed for passenger's to have the best and most comfortable flight experience.
---
Route Map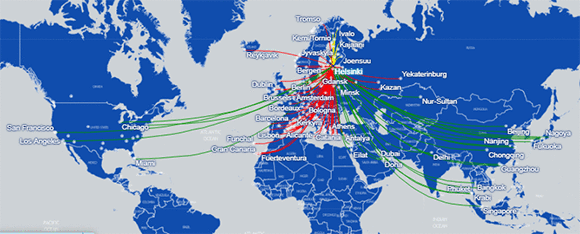 ---
Destinations
Finnair flies to 1000+ destinations, via scheduled and charter services.
Europe is Finnair's main market, with some domestic and European flights carried on behalf of Finnair by Nordic Regional Airlines.
During the past few years, Finnair has launched several new routes to Europe.
Asia is also an important market for Finnair. The airline serves around 20 destinations across Asia, operating from its hub at Helsinki Airport, and offering around 100 weekly flights.
Finnair has served North America since 1969, and currently offers flights to New York, San Francisco and destinations within the Caribbean. Over the last few years has been commencing new routes, as well as making the Miami route a year-round and adding more frequent flights to Chicago.
The airline also flies to a few destinations within the Middle East, including Dubai in the United Arab Emirates, as well as Tel Aviv and Eilat in Israel.
A full list of destinations can be found on the airline's website, here.
---
Fleet
A319-100
A330-300
A320-200
Embraer E170
A321-200
Embraer E190
---
Hub Airport
Helsinki Airport
Helsinki Airport is the main international airport of the Helsinki metropolitan region and the whole of Finland with about 16 million passengers annually. It serves as the hub for Finnair, the Finnish flag carrier, as well as a base for Blue1, Norwegian Air Shuttle and Nordic Regional Airlines. The airport is located in the city of Vantaa. Helsinki Airport is the leading long-haul airport in Northern Europe and a popular transfer point. A number of other airlines also operate services in and out of this airport, including Czech Airlines, Vueling, Transavia and previously NextJet, before its rebranding to Air Scandic.
---
Alliance
Oneworld
Oneworld alliance is a leading global airline network, with 15 member airlines.
Oneworld alliance was founded and now consists of member airline such as Cathay Pacific, Finnair, LAN, TAM, Malaysia, Qantas, Qatar, SriLankan Airlines, Iberia, British Airways, American Airlines and many others.
Oneworld alliance covers more than a thousand destinations in 155 countries.
---
Alternative Airlines
The following airlines fly to and from Finland:
---
News
26th June 2019
Finnair and Cathay Dragon expand Codeshare agreement
Finnair launched nonstop direct flights between the airlines hub in Helsinki to Porto on 21 June. Finnair will be the sole operator covering this exciting new route.
12th June 2018
Finnair and Cathay Dragon expand Codeshare agreement
Finnair and Cathay Dragon will expand codeshare services, sharing a number of new routes this summer. From 15th June 2018, Cathay Dragon will operate services from Hong Kong to numerous cities in South East Asia on behalf of Finnair.
Here is a list of Finnair flights operated by Cathay Dragon:
Hong Kong International Airport (HKG) toDa Nang International Airport (DAD)
Hong Kong International Airport (HKG) toNoi Bai International Airport (HAN)
Hong Kong International Airport (HKG) toPhnom Penh International Airport (PNH)
Hong Kong International Airport (HKG) toSiem Reap Internationa Airport (REP)
Hong Kong International Airport (HKG) to Yangon International Airport (RGN)
5th June 2018
Finnair launch Kittila-Tallin service
Finnair has expanded their network this week, adding a new seasonal service between Kittila and Tallinn from winter 2018, as well as a new Helsinki- Hannover service for summer 2019. The airline will fly between Kittila and Tallinn every Friday and Hannover to Helsinki a whopping 5 times a week. Finnair hopes to make this daily by June 2019.