Search & Buy Wizz Air Flights
Airlines will always try to sit children with their parents (subject to check-in)
Some airlines will allow travel for unaccompanied minors. Please email us to check.
The fare is based on the child's age on the date of travel.
More detailed information can be found here Traveling with children
Most airlines will let infants travel with their parent(s) for free. However some airlines will charge up to 10% of the adult ticket price. Click on 'Price Breakdown' to find out more.
If you are pregnant, but due before the flight departure date, please contact us once your baby is born and has a name. We can then add him/her to your ticket.
Infants will not be given a seat. The airlines expect parents to travel with them on their lap.
Airlines regard infants as being under 24 months old.
The fare is based on the child's age on the date of travel.
More detailed information can be found here Traveling with children
Buy
Wizz Air

Flights
Wizz Air Reservations with Alternative Airlines
Make a Wizz Air Booking and Find Some Amazing Deals
---
About Wizz Air
Wizz Air is a Hungarian low-cost airline and has the largest fleet of any Hungarian airline. Wizz Air is headquartered in Budapest and flies to many destinations including Belgrade, Bucharest, Budapest, Cluj-Napoca, Craiova, Debrecen, Gdansk, Katowice, Kosice, Kiev, Lublin, Poznan, Prague, Riga, Skopje, Sofia, Tuzia, Vilnius, Warsaw and Wroclaw. Wizz Air has subsidiaries, Wizz Air Ukraine, Wizz Air Bulgaria and Wizz Air Romania.
---
Wizz Air Fleet

Wizz Air has a young, single type Airbus fleet from the A320 family of aircraft including A320s and A321ceo aircraft. Wizz Air took delivery of its first A321ceo aircraft in November 2015 and will take more than 20 more through 2018. The airline's fleet consists of A320-200 and A321-200.
---
Wizz Air Baggage
Carry-on Baggage
When flying with Wizz Air, each passenger can bring one piece of cabin baggage. Passengers with priority boarding are allowed to carry 1 additional personal item in addition to the small or large cabin bag.
Checked Baggage
When flying with Wizz Air, each passenger can bring one piece of cabin baggage. Passengers with priority boarding are allowed to carry 1 additional personal item in addition to the small or large cabin bag.
---
Wizz Air Check-in
Airport Check-in
Airport check-in is available for a fee. For the following airports, online check-in is not available and airport check-in is free of charge: Dubai, Corfu, Palma de Mallorca, Tirana and Zaragoza.
Online Check-In
Online check-in is available 48 hours prior and up to 3 hours before departure.
---
Book Wizz Air Flights in English
When booking Wizz Air with Alternative Airlines, you can book the flight in English. This is done by us, a trustworthy company, who will ensure that all details are accurate and kept safe and secure for a reliable flight booking experience.
---
Wizz Air Hub Airport
Budapest Airport
Budapest Ferenc Liszt International Airport serves Budapest Airport and acts as the hub airport for Wizz Air. Other airlines which fly to and from Budapest Airport include Aegean Airlines, Aer Lingus, Air France, Alitalia, Czech Airlines, Brussels Airlines, British Airways, Ryanair, Scandinavian Airlines, Joon, Qatar Airways, Malev and LOT Polish Airlines.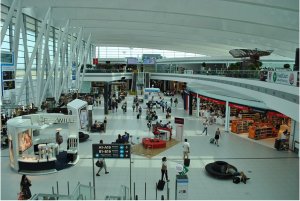 Photo credit: Ato 01
---
Pay Wizz Air flights with PayPal
Buy any Wizz Air flight with Alternative Airlines and pay with PayPal! A secure and fast way to pay and can be used on any Wizz Air flight.
---
Wizz Air Destinations
Okay Airways flies to many destinations across China, as well as some international destinations, such as Japan, Indonesia Philippines, and Thailand. Take a look at the two tables below to see all the destinations that Okay Airways fly to.
Domestic Destinations
International Destinations
| | | | |
| --- | --- | --- | --- |
| Aberdeen | Agadir | Alesund | Alghero |
| Alicante | Astana | Athens | Baku |
| Barcelona | Bari | Basel | Beauvais |
| Belfast | Belgrade | Bergamo | Bergen |
| Berlin | Billund | Birmingham | Bologna |
| Bordeaux | Bratislava | Bristol | Burgas |
| Catania | Charleroi | Chisnãu | Cluj-Napoca |
| Cologne | Constanta | Copenhagen | Corfu |
| Craiova | Doncaster | Dortmund | Dubai |
| Eilat | Eindhoven | Faro | Frankfurt |
| Friedrichshafen | Fuerteventura | Gdańsk | Glasgow |
| Göteborg | Grenoble | Hahn | Hamburg |
| Hanover | Haugesund | Heraklion | Iasi |
| Ibiza | Izmir | Karlsruhe | Katowice |
| Kaunas | Kharkiv | Kiev | Kosice |
| Kristiansand | Kutaisi | Lamezia Terme | Larnaca |
| Lisbon | Liverpool | Ljubljana | London |
| Lublin | Luqa | Lviv | Lyon |
| Madrid | Malmö | Marrakesh | Memmingen |
| Milan | Moscow | Malaga | Naples |
| Nice | Niš | Nuremberg | Ohrid |
| Olsztyn | Osijek | Palanga | Palma de Mallorca |
| Pisa | Podgorica | Poprad | Porto |
| Poznań | Prague | Pristina | Reykjavík |
| Rhodes | Riga | Rome | St.Petersburg |
| Sandefjor | Santander | Sarajevo | Satu Mare |
| Sibiu | Skopje | Sofia | Split |
| Stavanger | Stockholm | Suceava | Szczecin |
| Tallinn | Tel Aviv | Tenerife | Thessaloniki |
| Timisoara | Tirana | Treviso | Tromsø |
| Trondheim | Turin | Turku | Tuzia |
| Tuzla | Târgu Mures | Valencia | Varna |
| Verona | Vienna | Vilinius | Växjô |
| Wroclaq | Zaynthos | Zaragoza | |
---
Wizz Air Route Map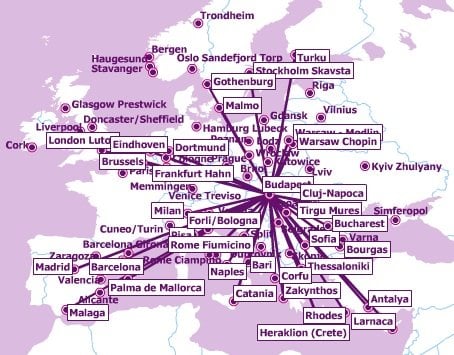 ---
Alternative Airlines to Wizz Air
Please click on the logos below to find airlines that fly similar routes to Wizz Air:
---
Wizz Air News
27th June 2018
Wizz Air copy Ryanair's new baggage allowance restrictions
Last January, Ryanair made the executive decision to charge passengers for the use of larger cabin luggage on their flights. This meant that RyanAir tickets would no longer include a carry-on bag in the cabin. However, "normal" cabin baggage will be able to be checked in for free. Only priority boarders are now allowed a small bag and a carry-on suitcase in the planes overhead lockers - and this comes at a price. The idea of this free service should help improve space in the cabin. And ease journeys for passengers.
Now Wizz Air has decided to follow in Ryanair's footsteps by reducing their own baggage restrictions. The airline has made this decision in order to combat the lack of space in the cabin and as a way of improving boarding times. From now on, if passengers choose not to buy Wizz Priority, their bags will be placed into the cargo hold compartment of the aircraft and can be collected at the baggage belt in the arrival airport.
26th June 2018
Wizz Air begins operations from base in Vienna
After delivering its newly-acquired Airbus A320 to the airport, Wizz Air began operations flying from its new base at Vienna International Airport (VIA) to several other Eastern European destinations. In the past few weeks, Wizz Air has operated flights between Vienna and Cluj-Napoca, Gdansk, Tuzla and Varna in a plan that will see the airline launch several new routes from Vienna airport across Europe. Wizz Air will offer a total of 30 flights from Vienna when all flights have launched, with the last service expecting to launch no later than summer of next year.
21st June 2018
Wizz Air add two new flights to Marrakech
Wizz Air will fly to Marrakech from two separate new destinations in October later this year. The first is a service between Vilnius and Marrakech that will fly two times a week. This flight will take an estimated four and a half hours. The second service is a flight between Warsaw and Marrakech that will also fly two times a week. This service is expected to take five hours.
Wizz Air will use its existing fleet of Airbus aircraft to operate these two new services from mainland Europe to north Africa.
23rd May 2018
Wizz Air announces new routes to Cyprus and Ukraine from London Luton
Wizz Air, a low-cost airline operating in Central and Eastern Europe, has announced the launch of two routes to Larnaca in Cyprus and Lviv in Ukraine from London Luton.
Wizz Air launched its service from London Luton to Lviv city earlier this month, and is the only direct route from Luton to the UNCESCO-listed city. Flights will operate Tuesday, Thursday and Saturday. Flights to the coastal city of Larnaca will begin on May 21 and will operate daily. Fares for both routes start from £55.99 one way including all taxes, non-optional charges and cabin bag. The new routes expand Wizz Air's London Luton network, with more than 7.4 million seats on sale to 47 destinations in 23 countries.
In addition to the new routes, Wizz Air has also announced the allocation of two new Airbus aircraft to its London Luton fleet. The newly allocated Airbus A320s will be the sixth and seventh of eight aircraft to be deployed at Wizz Air's London Luton base by June 2018.
Sorina Ratz, Acting Head of Corporate Communications at Wizz Air said: 'Wizz Air's continuing expansion at London Luton brings even more opportunities for our customers to travel to a diverse range of destinations at truly low prices. I encourage passengers to visit the fascinating cities of Larnaca and Lviv, whilst travelling on one of Europe's youngest aircraft fleets. The arrival of a further two brand new aircraft at London Luton underlines our continued commitment to our UK operations, fulfilling our mission to provide great value flights and a unique and unforgettable travel experience.'
Currently the second largest operator at London Luton, Wizz Air carried over 5.5 million passengers from Luton in the past 12 months, representing 11% growth year on year, the airline noted.
June 2017
Wizz Air opened its first UK base at London Luton Airport, which mainly caters for the Central and Eastern European market
Wizz Air will base one of its Airbus A320 aircraft at Luton, the UK's fifth busiest airport. This will support up to 36 new jobs and accommodate three new services to Tel Aviv, Pristina in Kosovo, and Kutaisi in Georgia, bringing the total number of the airline's routes from Luton to 42. Although demand on its routes has not weakened since the EU referendum, Wizz Air said the pound's fall had affected the euro value of revenue for the Hungary-based company to the sum of €17m. Wizz Air started flights from Luton in 2004 and has since carried 30m passengers from the airport.

28th March 2017
Wizz Air opens its 26th base in Chisinau, Republic of Moldova
Wizz Air has added and based a new Airbus A320 aircraft at Chisinau Airport, operating 7 low-fare routes. This includes 2 new route services to Berlin and Barcelona.
The new routes will be 2 weekly services and will allow Wizz Air to increase the number of weekly flights on the existing routes from Chisinau to Bologna and Venice.