Search & Buy AirBaltic Flights
Airlines will always try to sit children with their parents (subject to check-in)
Some airlines will allow travel for unaccompanied minors. Please email us to check.
The fare is based on the child's age on the date of travel.
More detailed information can be found here Traveling with children
Most airlines will let infants travel with their parent(s) for free. However some airlines will charge up to 10% of the adult ticket price. Click on 'Price Breakdown' to find out more.
If you are pregnant, but due before the flight departure date, please contact us once your baby is born and has a name. We can then add him/her to your ticket.
Infants will not be given a seat. The airlines expect parents to travel with them on their lap.
Airlines regard infants as being under 24 months old.
The fare is based on the child's age on the date of travel.
More detailed information can be found here Traveling with children
Buy
AirBaltic

Flights
airBaltic Reservations with Alternative Airlines
Make an airBaltic Booking and Find Some Amazing Deals
---
About airBaltic
airBaltic is a low-cost carrier founded in 1995 and has been state owned since 30th November 2011. Following the closure of Air Lituanica and Estonian Air in June and November 2015 respectively, airBaltic is one of two flag carriers in the Baltic countries and the only one in possession of its own fleet of aircraft. airBaltic also prides themselves in being the world's most punctual airline.
airBaltic's main hub is Riga International Airport from where 60 direct flights are operated, most of all to Europe but not exclusively. They have flights to the United Arab Emirates, Egypt and Israel.
Specific destinations include Vilnius, Helsinki, Tallinn, Paris, Vienna, Berlin, Riga, Copenhagen, Stockholm, Radom and Thessaloniki.
---
Destinations
| CITY | AIRPORT | IATA |
| --- | --- | --- |
| Aberdeen, United Kingdom | Aberdeen Airport | ABR |
| Abu Dhabi, United Arab Emirates | Abu Dhabi International Airport | AUH |
| Almaty, Kazakhstan | Almaty International Airport | ALA |
| Amsterdam, Netherlands | Amsterdam Airport Schiphol | AMS |
| Ancona, Italy | Marche Airport | AOI |
| Antalya, Turkey | Antalya Airport | AYT |
| Athens, Greece | Athens International Airport | ATH |
| Baku, Azerbaijan | Heydar Aliyev International Airport | GYD |
| Barcelona, Spain | Barcelona–El Prat Airport | BCN |
| Berlin, Germany | Berlin Tegel Airport | TXL |
| Billund, Denmark | Billund Airport | BLL |
| Bordeaux, France | Bordeaux–Mérignac Airport | BOD |
| Brussels, Belgium | Brussels Airport | BRU |
| Budapest, Hungary | Budapest Ferenc Liszt International Airport | BUD |
| Burgas, Bulgaria | Burgas Airport | BOJ |
| Catania, Italy | Catania–Fontanarossa Airport | CTA |
| Copenhagen, Denmark | Copenhagen Airport | CPH |
| Dublin, Ireland | Dublin Airport | DUB |
| Dubrovnik, Croatia | Dubrovnik Airport | DBV |
| Düsseldorf, Germany | Düsseldorf Airport | DUS |
| Frankfurt, Germany | Frankfurt Airport | FRA |
| Gdańsk, Poland | Gdańsk Lech Wałęsa Airport | GDN |
| Geneva, Switzerland | Geneva Airport | GVA |
| Gothenburg, Sweden | Göteborg Landvetter Airport | GOT |
| Hamburg, Germany | Hamburg Airport | HAM |
| Helsinki, Finland | Helsinki Airport | HEL |
| Heraklion, Greece | Heraklion International Airport | HER |
| Hurghada, Egypt | Hurghada International Airport | HRG |
| Kaliningrad, Russia | Khrabrovo Airport | KGD |
| Kazan, Russia | Kazan International Airport | KZN |
| Kiev, Ukraine | Boryspil International Airport | KBP |
| Kos, Greece | Kos International Airport | KGS |
| Larnaca, Cyprus | Larnaca International Airport | LCA |
| Liepāja, Latvia | Liepāja International Airport | LPX |
| Lisbon, Portugal | Lisbon Airport | LIS |
| London, United Kingdom | Gatwick Airport | LGW |
| Lviv, Ukraine | Lviv Danylo Halytskyi International Airport | LWO |
| Madrid, Spain | Adolfo Suárez Madrid–Barajas Airport | MAD |
| Mahón, Spain | Menorca Airport | MAH |
| Málaga, Spain | Málaga Airport | AGP |
| Milan, Italy | Milan–Malpensa Airport | MXP |
| Minsk, Belarus | Minsk National Airport | MSQ |
| , | Sheremetyevo International Airport | SVO |
| Munich, Germany | Munich Airport | MUC |
| Nice, France | Nice Côte d'Azur Airport | NCE |
| Odessa, Ukraine | Odessa International Airport | ODS |
| Olbia, Italy | Olbia Costa Smeralda Airport | OLB |
| Oslo, Norway | Oslo Airport, Gardermoen | OSL |
| Palanga, Lithuania | Palanga International Airport | PLQ |
| Palma de Mallorca, Spain | Palma de Mallorca Airport | PMI |
| Paris, France | Charles de Gaulle Airport | CDG |
| Poprad, Slovakia | Poprad-Tatry Airport | TAT |
| Prague, Czech Republic | Václav Havel Airport Prague | PRG |
| Reykjavík, Iceland | Keflavík International Airport | KEF |
| Riga, Latvia | Riga International Airport | RIX |
| Rijeka, Croatia | Rijeka Airport | RJK |
| Rhodes, Greece | Rhodes International Airport | RHO |
| Rome, Italy | Leonardo da Vinci-Fiumicino Airport | FCO |
| Saint Petersburg, Russia | Pulkovo Airport | LED |
| Salzburg, Austria | Salzburg Airport | SZG |
| Sharm El Sheikh, Egypt | Sharm El Sheikh International Airport | SSH |
| Sochi, Russia | Sochi International Airport | AER |
| Split, Croatia | Split Airport | SPU |
| Stavanger, Norway | Stavanger Airport, Sola | SVG |
| Stockholm, Sweden | Stockholm Arlanda Airport | ARN |
| Stuttgart, Germany | Stuttgart Airport | STR |
| Tallinn, Estonia | Tallinn Airport | TLL |
| Tampere, Finland | Tampere-Pirkkala Airport | TMP |
| Tbilisi, Georgia | Tbilisi International Airport | TBS |
| Tel Aviv, Israel | Ben Gurion Airport | TLV |
| Thessaloniki, Greece | Thessaloniki Airport | SKG |
| Turku, Finland | Turku Airport | TKU |
| Valletta, Malta | Malta International Airport | MLA |
| Varna, Bulgaria | Varna Airport | VAR |
| Venice, Italy | Venice Marco Polo Airport | VCE |
| Verona, Italy | Verona Villafranca Airport | VRN |
| Vienna, Austria | Vienna International Airport | VIE |
| Vilnius, Lithuania | Vilnius Airport | VNO |
| Warsaw, Poland | Warsaw Chopin Airport | WAW |
| Yerevan, Armenia | Zvartnots International Airport | EVN |
| Zürich, Switzerland | Zürich Airport | ZRH |
---
airBaltic Economy Class
The Economy "Basic" Class secures the lowest price for budget travelers, and extra services can be purchased as needed.
Pre-ordered meals and drinks are always served first or you can choose to buy your meal onboard. You can select the appropriate dietary requirements as airBaltic has it all. Stay entertained with airBaltic's in-flight magazine.
---
airBaltic Premium Economy Class
With Premium Economy Class you can choose to pre-order 16 different types of meals and drinks or you can choose to buy your meal onboard. These meals are cooked from the finest ingredients shortly before the flight. The Premium Class includes service at the Business check-in counter, fast track security check-in Riga airport, ability to pre-select your preferred seat in the aircraft, a checked-in bag free of charge, and allows you to make changes to the booking.
---
airBaltic Business Class
Business Class Facilities
Onboard you can enjoy a luxurious seasonal three-course meal offered with a wide selection of beverages throughout the flight. With added comfort, airBaltic offers Business Class passengers a nice and quiet front row seat with a free seat next to them. If you are an adventurous backpacker or sophisticated voyager, the monthly Baltic Outlook magazine is an excellent resource for any kind of travelers. From inspirational travel stories to news about the latest hotspots and happenings on airBaltic's destination cities. Full of surprises and useful tips, it also features the latest trends in design, food, technology, and style.
Before your flight, you can enjoy all the benefits of a comfortable business lounge. You can check in for your flight and drop your luggage at the Business class check-in desk and head straight to fast track security, skipping the queues. airBaltic's Business class name change, flight date, and time change and cancellation rules are very flexible and simple. If you have to cancel your flight, you get a full refund.
Business Class Seating
airBaltic provides comfortable seats along with spacious leg room.
---
airBaltic Baggage
Passengers travelling with airBaltic can now add additional baggage to their booking at the time of reservation. Visit our adding baggage page to find out how to book extra baggage onto your flight.
Carry-on Baggage
Passengers travelling with a Basic or Premium ticket are allowed 1 cabin bag measuring 55 x 40 x 23cm and weighing a maximum of 8kg.
Passengers travelling with a Business ticket or PINS VIP card are allowed 2 cabin bag measuring 55 x 40 x 23cm each and weighing a maximum of 8kg.
baggage.
In addition, every passenger is permitted a personal item, such as a hangbag, camera or laptop bag. This must fit the dimensions 30 x 40 x 10cm. The weight of this item much be accounted for in the 8kg carry-on baggage allowance.
Checked Baggage
Passengers with a Basic ticket do not have any free baggage allowance, but it can be purchased before flying.
Passengers with a Premium ticket are permitted 1 bag free of charge, weighing a maximum of 20kg.
Passengers with a Business ticket are permitted 2 bags free of charge, with a maximum combined weight of 40kg.
---
airBaltic Check-In Information
Online Check-In
airBaltic offer online check-in for their passengers. This service opens 5 days (118 hours) prior to departure and can be found here .
Airport Check-In
Passengers can also check-in at the airport for their flights. Passengers can choose to use the seat service check-in kiosks, which are free of charge. Additionally, passengers can check-in at the check-in desk, which will be charged at a fee. Check-in deadlines are due to the airport departing from, so be sure to check before travelling what time you need to arrive at the airport.
---
Alternative Airlines to airBaltic
Please click on the logos below to find out more about airlines that fly similar routes to airBaltic:
---
airBaltic Frequent Flyer Program
PINS
airBaltic has a frequent flyer program called 'PINS'.
PINS is also the name of the 'loyalty currency' that airBaltic credit their frequent flyers with.
PINS can be used to redeem free baggage allowance, no queues, reserved seating and much more to make travelling even more pleasant.
airBaltic has different types of tickets available including Basic, Premium and Business. Basic economy class package has 1 cabin bag and one personal item for hand luggage and Business Class has 2 cabin bags with 1 personal item.
---
Book airBaltic Flights in English
We book Airbaltic flights in English at Alternative Airlines to provide you with the best service. This is paired with the fact that we are a very trustworthy company, so you can trust that we will communicate with you and the airline to ensure a smooth transaction.
---
airBaltic Discount and Promo Codes
Get a airBaltic discount when you book with Alternative Airlines and use one our flight promo codes. Use the flight voucher code on your next airBaltic flight ticket and save with a great deal by Alternative Airlines and PayPal.
---
Buy Discounted airBaltic Tickets at Alternative Airlines
---
airBaltic Airways Route Map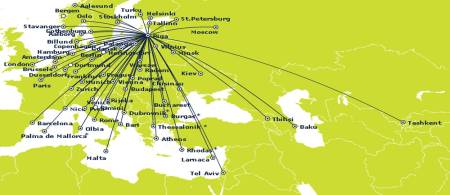 airBaltic Popular Routes
Riga

Tbilisi
Tallinn

Berlin
Tallinn

Paris
Vilnius

Stockholm
Riga

London
Riga

Copenhagen

---
airBaltic Fleet
---
Riga International Airport
HUB Airport
Riga International Airport, which serves as main hub to airBaltic is the largest airport of the Baltic States. The airport serves a total of 80 destinations in 30 countries and serves as main hub to SmartLynx Airlines, RAF-Avia, VIP Avia and Inversija as well as the main Baltic airline.
Riga International Airport has one runaway and can handle 4 million passengers per annum. Other airlines which fly to and from Riga International Airport include Aeroflot, Brussels Airlines, Sprint Air, Ryanair and Wizz Air.