SmartLynx Airlines Tickets and Reservations with Alternative Airlines
Book Your SmartLynx Airlines Flight Tickets and Find Some Amazing Deals
---
About SmartLynx Airlines
SmartLynx Airlines, originally LatCharter (1992—2008), is an airline offering charter services and some passenger services. SmartLynx Airlines is the parent company of Estonian airline, SmartLynx Airlines Estonia. The airline is based at Riga International Airport (RIX) and flies to a number of different destinations across Europe, Africa and Asia. The airline has a cabin crew that are multi-lingual, allowing them to offer excellent customer service on all flights. SmartLynx Airlines transports around 2 million passengers each year.
SmartLynx Airlines started out under the name LatCharter, the airline ran from 1992—2006 independently, until it was bought out by Icelandic Air. In 2008, SmartLynx rebranded, abandoning the LaCharter name and all related logos. In 2012, SmartLynx was bought from Icelandic Air from executives within the company and has since gone back to operating as an independent carrier.
---
SmartLynx Baggage
Carry-on Baggage
Passengers flying with SmartLynx Airlines are allowed one item of carry-on baggage per person. The bag must not exceed the dimensions of 56 cm x 45 cm x 25 cm. The weight allowance of your carry-on bag will depend on the route that you're flying
Checked Baggage
Passengers flying on SmartLynx Airlines are allowed to take as many items of checked baggage they like on the flight, as long as it doesn't exceed the weight limit that SmartLynx Airlines state. The weight limit will depend on the route that you're flying, so make sure you check before you travel.
SmartLynx Airlines allow for infants (2 years or under) to bring a foldable pushchair on the flight with them.
---
SmartLynx Check-In Information
Online Check-In
SmartLynx doesn't offer online check-in for their flights.
Airport Check-In
Check-In at the airport must be completed at least 45 minutes before flight departure time. Please allow an extra 15 minutes if you're carrying special baggage or require assistance. SmartLynx gates close 30 minutes before the flight, so please leave ample time to check-in and pass through security.
---
Fleet
SmartLynx Airlines fleet consists of a family of Airbus, including a mix of Airbus A320 and Airbus A321-200s.
---
SmartLynx Route Map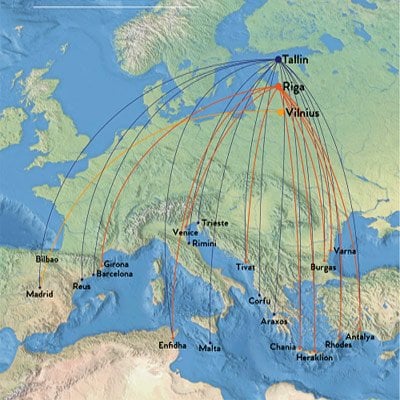 ---
SmartLynx Hub Airport
Riga International Airport
Riga International Airport is the sole international airport in Latvia and the airport base for SmartLynx Airlines. SmartLynx has operated out of Riga International since its inception in 1992 when it operated under the name as LatCharter. Riga International Airport sees over 15 different airlines fly to over 100 destinations across 30 countries.
The airport is split into three different terminals — Terminal A is used for flights to and from the Schengen area, Terminal B is used just for departures within the Schengen area and Terminal C is used for departures inside and outside the Schengen area as well as arrivals from non-Schengen countries.
Riga International Airport is also the hub airport for airBaltic and Wizz Air.
---
SmartLynx News
21st June 2018
Buy SmartLynx Airlines flights with Alternative Airlines
As of today, you'll be able to buy SmartLynx Airlines flights with Alternative Airlines. We've been working hard to get SmartLynx, along with a number of other airlines, on the list of airlines available through Alternative Airlines. We're very excited to offer SmartLynx to our customers as we continue to offer more choice and better prices.
1st June 2018
SmartLynx Airlines transport 2.5 million passengers in 2018
SmartLynx Airlines has reported that it carried 2.5 million passengers last year, along with other statistics that show the airlines growth. The company also reported that its net turnover increased 21% year-on-year, bringing in a total of €131.5 million.
Zygimantas Surintas, CEO of SmartLynx Airlines attributed the companies growth to the number of additional aircraft that the airline has added to its fleet. With the new aircraft, SmartLynx has been able to offer passengers a considerable amount of more options, increasing the frequency in which it flies its existing routes, as well as adding some additional routes too. In the future, SmartLynx looks to tackle North America, eyeing potential services flying from Canada to Latin American countries and the Caribbean.