Brussels Airlines Reservations with Alternative Airlines
Book Your Brussels Airlines Flight Tickets and Find Some Amazing Deals
---
About
Brussels Airlines is the national carrier of Belgium. The airline is based at Brussels Airport (BRU) and flies to destinations across Europe, Africa, North America and to parts of Asia. Overall, the airline flies to more than 120 destinations, making it Belgium's largest airline not only by destinations served but by passengers handled too.
The airline launched in 2005 after two existing Belgian airlines, SN Brussels Airlines and Virgin Express, merged to form Brussels Airlines. It's the third national airline in Belgium's history, after Sabena (1923–2001) and SN Brussels Airlines (2002–2006). In 2012, the airline made history when it became the first Belgian airline to fly to intercontinental flights to New York in 10 years.
Brussels Airlines is one of the subsidiary airlines of Lufthansa, along with Air Dolomiti, Austrian Airlines, Eurowings (and subsidiaries) and SWISS (and subsidiaries).
Did you know? You can book Brussels Airlines flight tickets and pay at a later date. Check out our Brussels Airlines - Fly Now Pay Later page for more information.
---
Destinations
COUNTRY
CITY
AIRPORT
IATA
Armenia
Yerevan
Zvartnots International Airport
EVN
Angola
Luanda
Quatro de Fevereiro Airport
LAD
Austria
Vienna
Vienna International Airport
VIE
Belgium
Brussels
Brussels Airport
BRU
Benin
Cotonou
Cadjehoun Airport
COO
Bulgaria
Burgas
Burgas Airport
BOJ
Varna
Varna Airport
VAR
Burkina Faso
Ouagadougou
Ouagadougou Airport
OUA
Burundi
Bujumbura
Bujumbura International Airport
BJM
Cameroon
Douala
Douala International Airport
DLA
Yaoundé
Yaoundé Nsimalen International Airport
NSI
Canada
Montreal
Montréal–Pierre Elliott Trudeau International Airport
YUL
Côte d'Ivoire
Abidjan
Félix-Houphouët-Boigny International Airport
ABJ
Croatia
Dubrovnik
Dubrovnik Airport
DBV
Zagreb
Zagreb Airport
ZAG
Split
Split Airport
SPU
Zadar
Zadar Airport
ZAD
Czech Republic
Prague
Václav Havel Airport Prague
PRG
Democratic Republic of Congo
Kinshasa
N'djili Airport
FIH
Denmark
Billund
Billund Airport
BLL
Copenhagen
Copenhagen Airport
CPH
Egypt
Sharm El Sheikh
Sharm El Sheikh International Airport
SSH
France
Ajaccio
Ajaccio Napoleon Bonaparte Airport
AJA
Bastia
Bastia – Poretta Airport
BIA
Bordeaux
Bordeaux–Mérignac Airport
BOD
Calvi
Calvi – Sainte-Catherine Airport
CLY
Figari
Figari–Sud Corse Airport
FSC
Lourdes
Tarbes–Lourdes–Pyrénées Airport
LDE
Lyon
Lyon–Saint-Exupéry Airport
LYS
Marseille
Marseille Provence Airport
MRS
Nantes
Nantes Atlantique Airport
NTE
Nice
Nice Côte d'Azur Airport
NCE
Paris
Charles de Gaulle Airport
CDG
Strasbourg
Strasbourg Airport
SXB
Toulouse
Toulouse–Blagnac Airport
TLS
Gambia
Banjul
Banjul International Airport
BJL
Germany
Berlin
Berlin Tegel Airport
TXL
Bremen
Bremen Airport
BRE
Hamburg
Hamburg Airport
HAM
Hanover
Hannover Airport
HAJ
Nuremberg
Nuremberg Airport
NUE
Ghana
Accra
Kotoka International Airport
ACC
Greece
Athens
Athens International Airport
ATH
Chania
Chania International Airport
CHQ
Corfu
Corfu International Airport
CFO
Heraklion
Heraklion International Airport
HER
Kalamata
Kalamata International Airport
KLX
Kos
Kos International Airport
KGS
Mykonos
Mykonos International Airport
JMK
Paphos
Paphos International Airport
PFO
Rhodes
Rhodes International Airport
RHO
Santorini
Santorini (Thira) International Airport
JTR
Thessaloniki
Thessaloniki International Airport
SKG
Zakynthos
Zakynthos International Airport
ZTH
Guinea
Conakry
Conakry International Airport
CKY
Hungary
Budapest
Budapest Ferenc Liszt International Airport
BUD
Israel
Tel Aviv
Ben Gurion Airport
TLV
Italy
Bologna
Bologna Guglielmo Marconi Airport
BLQ
Catania
Catania–Fontanarossa Airport
CTA
Comiso
Comiso Airport
CIY
Florence
Florence Airport
FLR
Milan
Milan Linate Airport
LIN
Milan Malpensa Airport
MXP
Naples
Naples International Airport
NAP
Palermo
Falcone Borsellino Airport
PMO
Rome
Leonardo da Vinci–Fiumicino Airport
FCO
Turin
Turin Airport
TRN
Venice
Venice Marco Polo Airport
VCE
Liberia
Monrovia
Roberts International Airport
ROB
Lithuania
Vilnius
Vilnius International Airport
VNO
Montenegro
Tivat
Tivat Airport
TIV
Morocco
Agadir
Agadir–Al Massira Airport
AGA
Marrakesh
Marrakesh Menara Airport
RAK
Norway
Oslo
Oslo Airport, Gardermoen
OSL
Poland
Kraków
Kraków John Paul II International Airport
KRK
Warsaw
Warsaw Chopin Airport
WAW
Portugal
Faro
Faro Airport
FAO
Funchal
Madeira Airport
FNC
Lisbon
Lisbon Portela Airport
LIS
Porto
Porto Airport
OPO
Republic of North Macedonia
Ohrid
Ohrid St. Paul the Apostle Airport
OHD
Russia
Moscow
Sheremetyevo International Airport
SVO
Saint Petersburg
Pulkovo Airport
FVS
Rwanda
Kigali
Kigali International Airport
KGL
Senegal
Dakar
Blaise Diagne International Airport
DSS
Sierra Leone
Freetown
Lungi International Airport
FNA
Spain
Alicante
Alicante–Elche Airport
ALC
Almería
Almería Airport
LEI
Barcelona
Barcelona–El Prat Airport
BCN
Bilbao
Bilbao Airport
BIO
Fuerteventura
Fuerteventura Airport
FUE
Girona
Girona–Costa Brava Airport
GRO
Jerez de la Frontera
Jerez Airport
XRY
Las Palmas
Gran Canaria Airport
LPA
Madrid
Adolfo Suárez Madrid–Barajas Airport
MAD
Málaga
Málaga Airport
AGP
Menorca
Menorca Airport
MAH
Palma de Mallorca
Palma de Mallorca Airport
PMI
Reus
Reus Airport
REU
Seville
Seville Airport
SVQ
Tenerife
Tenerife South Airport
TFS
Sweden
Gothenburg
Göteborg Landvetter Airport
GOT
Stockholm
Stockholm Bromma Airport
BMA
Switzerland
Geneva
Geneva International Airport
GVA
Switzerland
France
Germany
Basel
Mulhouse
Freiburg
EuroAirport Basel Mulhouse Freiburg
BSL
MLH
Togo
Lomé
Lomé–Tokoin International Airport
LFW
Turkey
Antalya
Antalya Airport
AYT
Tunisia
Enfidha
Enfidha–Hammamet International Airport
NBE
Uganda
Kampala
Entebbe International Airport
EBB
United Kingdom
Birmingham
Birmingham Airport
BHX
Bristol
Bristol Airport
BRS
Edinburgh
Edinburgh Airport
EDI
London
London Heathrow International Airport
LHR
Manchester
Manchester Airport
MAN
United States
New York City
John F. Kennedy International Airport
JFK
Washington, D.C.
Washington Dulles International Airport
IAD
---
Route Map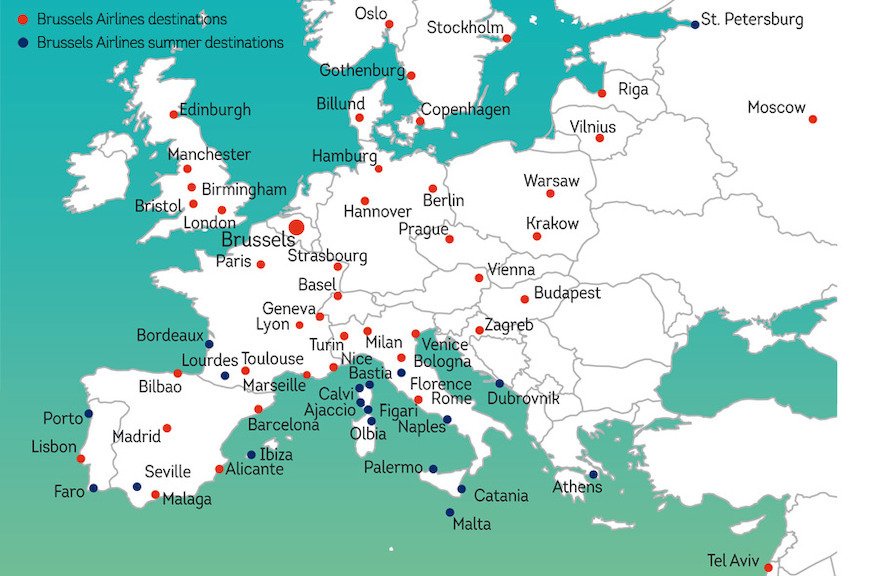 ---
Baggage
Carry-On Baggage
Passengers are entitled to one item of free carry-on baggage, as well as a small personal item. Business Class passengers are entitled to one additional checked baggage.
The carry-on bag must fit within the dimensions of 40 cm x 23 cm x 55 cm (15.7" x 9" x 21.6") and the personal item must fit within the dimensions of 40 cm x 10 cm x 30 cm (15.7" x 3.9" x 11.8") and must be stored underneath the seat in front of the passenger.
Personal items include items such as a handbag, a laptop and a camera.
The overall weight limit for carry-on baggage is 8 kg for Economy Class passengers and 16 for Business Class passengers, spreading into two pieces of baggage.
Brussels Airlines reserves the right to refuse any items brought onboard the aircraft. Any items may be asked to be transported as checked baggage.
Checked Baggage
The free checked baggage allowance will depend on the route that the passenger is flying and the cabin class that they're flying in. Passengers can use the Brussels Airlines baggage calculator to find out how much baggage they're entitled to.
As a general rule, checked baggage cannot exceed a maximum dimension of 158cm (62.2") in sum of three dimensions and it cannot weight over 32kg.
Excess baggage is available to be purchased during the booking process. Each passenger could have a maximum of five pieces of checked baggage allowed.
---
Check-In
Online Check-In
Passengers can check-in online via the Brussels Airlines online check-in page. Online check-in opens 24 hours before the scheduled flight departure time and closes one hour before. To check-in online, passengers need to enter their booking/ticket number and the last name on their booking. Alternatively, passengers can use the Brussels Airlines app to check-in for their flight.
Online check-in is available on all flights, except for those departing from Dubrovnik.
Airport Check-In
Passengers can check-in at the airport by visiting a check-in agent at the airline check-in desk. Airport check-in times differ deadlines differ depending on the airport of departure. Passengers can take a look at the Brussels Airlines check-in deadline tool to see the deadline for the airport that they're flying from.
At Alternative Airlines, we recommend passengers to arrive at the airport two hours before the established departure time to leave plenty of time for check-in. Failure to check-in on time may be refused to board the aircraft.
---
Economy Class
Economy Class Facilities
Ergonomic seats with an adjustable leather headrest, Generous leg space, Revolutionary inflight entertainment system with one of the largest individual Economy Class touch screens.
Passengers can enjoy a choice of hot meals with salads, puddings, cheeses and unlimited complimentary drinks.
What are Economy Class Seats Like?
Economy Class seats are set out in a 2 x 3, 3 x 3 or 2 x 4 x 2 configurations. Seats give ample legroom with 33 inches of pitch.
---
Premium Economy
Premium Economy Facilities
On the ground, passengers are given access to premium check-in desks, as well as access to the airline's Business Class lounge.
In-fight, passengers on Premium Economy can enjoy services in a secluded section of the cabin.
Premium Economy seats come with a soft pillow for ultimate relaxation, as well as a larger HD 13.3" (touch screen monitor, which can be used for the airline's in-flight entertainment system.
Passengers can also enjoy food and drinks from the airline's in-flight menu.
What Are Premium Economy Seats Like?
Premium Economy seats are set out in a 2 x 3 x 2 configuration. Seats come with a large headrest and give 23% more legroom and 56% more recline than seats in standard Economy Class.
---
Business Class
Business Class Facilities
On the ground, passengers are given a generous baggage allowance, free lounge access, modifiable and refundable tickets at no extra charge and fast Lane access to boarding and check-in.
In-flight, passengers are treated to an exemplary service, delivered by the airline's expertly trained in-flight cabin crew.
Each seat has its own room with an optional 'do not disturb' sign for ultimate privacy. Passengers can choose to have a single room or double room.
The Business Class cabin has an impressive Belgian bar, with an extensive drinks menu of hot, cold, alcoholic and non-alcoholic drinks. On top of this, all Business Class passengers are treated to a 5-course dining experience, with a menu crafted by some of Belgium's finest Michelin Star chefs.
Business Class passengers have the biggest personal TV's in the aircraft — a 15.6-inch screen is fitted to every seat/room, with access to the airline's in-flight entertainment. Each passenger is given noise-cancelling headphones for the complete in-flight entertainment experience.
What are Business Class Seats Like?
Seats are set out in a 2 x 2 formation on short-haul flights and 1 x 2 x 1/ 2 x 1 x 2 formation on long-haul flights. Seats give extremely generous legroom so that passengers can stretch out as much as they want. Each seat is transformable into a full-flat bed.
---
In-Flight Entertainment
On long-haul flights, passengers can enjoy blockbuster movies, TV favourites, video games and music through the airlines' in-flight entertainment system. Each passenger can enjoy Brussels Airlines in-flight entertainment through a personal TV screen on the back of the seat in front of them.
Passengers on short-haul flights can enjoy the airlines' monthly in-flight magazine, b.inspired, which covers the latest in travel, business, culture and food.
---
WIFI
Brussels Airlines doesn't offer in-flight Wi-Fi on its flight as of now.
---
Food
European Flights
Passengers in Economy Class can purchase a range of snacks and drinks, with hot snack options on flights over 2.5 hours, including pasta and toasties.
Passengers in Biz&Class can enjoy complimentary food and drink, including a gourmet meal, unlimited choice of items from the in-flight menu and complimentary soft and alcoholic drinks, including champagne.
Intercontinental Flights
Passengers in Economy Class can enjoy a three-course meal, complimentary drinks for the entire flight.
Passengers in Premium Economy can enjoy a three-course meal, complimentary drinks for the entire flight and ice cream between meals.
Passengers in Business Class are treated to a fine Business Class dining experience, which includes a three-course meal with the choice of two different starters and three different mains. Passengers can also order complimentary drinks throughout the flight, with a choice of soft and alcoholic drinks, including five different bottled wines and eight different Belgian beers. Business Class passengers are also served the choice of dessert or cheeses, ice cream between meals and Belgian chocolates.
A second meal is served to all passengers on flights over seven hours.
---
Codeshare Agreements
Brussels Airlines has codeshare agreements with many airlines including Adria Airways, Aegean Airlines, Air Malta, Jet Airways, Hainan Airlines, Royal Air Maroc, RwandAir, TAP Portugal, TAROM, Ukraine International Airlines and United Airlines.
---
Pay for Brussel Airlines flights with PayPal
Pay for Brussel Airlines flights using PayPal. Alternative Airlines gives passengers the choice to pay for Brussel Airlines flights with PayPal. An easy, secure and convenient way to buy your flights and you can also use PayPal promo codes to get discounted Brussel Airlines flights.
---
Brussels Airlines Food
Brussels Airlines Meal Options
On Brussels Airlines, passengers travelling on flights within Europe (includes Morocco, Russia, Israel, Armenia, Egypt, Cape verde and Tunisia) will be offered snacks on board from the inflight menu. Passengers can purchase snacks when travelling on Check&Go or Light&Relax tickets, such as confectionary and light meals such as bagels and sandwiches from this menu. Hot snacks and food such as Belgian fries and waffles will be offered on flights over 2 hours.
Passengers with a Flex&Fast ticket can enjoy a complimentary snack. On morning flights, passengers will be offered a breakfast box. For flights under 2 hours but during the day, a cold wrap, salad or sandwich will be offered, and for flights over 2 hours, passengers will be offered a warm snack such as quiche or pasta.
For passengers on Bizz&Class tickets, depending on the time and duration of your flight, you will be offered a breakfast, tapas selection or snack.
Brussels Airlines Special Dietary Requirements
For passengers with medical, religious or other specific needs, they can pre-order a special meal on intercontinental flights. The special meal selection is also available for passengers in Bizz&Class travelling on European flights (including Armenia, Morocco, Israel, Russia, Egypt, Cape Verde and Tunisia). The following are the available special meals offered on Brussels Airlines flights for passengers who qualify:
Brussels Airlines Drinks & Alcohol
The drinks service can be viewed from the on-board menu, which can be found on the Brussels Airlines menu. Drinks available to buy include Belgium specials such as Leffe, but other alcoholic drinks such as gin, whisky, wine and sparkling wine but also soft drinks such as fruit juices, fizzy drinks, and water. Passengers with a Flex&Fast and Bizz&Class ticket can enjoy a complimentary drink (alcoholic or non-alcoholic).
---
Brussels Airlines Seat Selection
You can now pre-book your Brussels Airlines seats with Alternative Airlines! Find seats with window and aisle access and even seats with extra legroom.
---
Frequent Flyer Program
LOOP
Brussels Airlines offers its passengers a loyalty programme called LOOP, which rewards its frequent flyers for flying with Brussels Airlines. LOOP loyalty programme allows passengers to earn points for each Brussels Airlines' flight they purchase and use those miles to purchase future flights.
LOOP is a unique frequent flyer program due to the fact that it allows passengers to combine their points with cash to purchase flights.
---
Airline Alliance
Star Alliance
Brussels Airlines is a member of the Star Alliance airline alliance. Brussels Airlines has been a member of Star Alliance since 2009 and connects with other Star Alliance members to offers passengers greater connectivity throughout the world and a range of benefits for regularly flying with Star Alliance member airlines.
---
Fleet
Brussels Airlines has a fleet made up entirely of Airbus aircraft. It has narrow body models — such as the A319 and A320 – which it uses on short-haul and medium-haul flights. And it has wide body models — such as the A330 — which it uses on long-haul flights.
---
Hub Airport
Brussels Airport
Brussels Airport is an international airport in Brussels Belgium and is the hub airport of Brussels Airlines. It's the main airport in Belgium, facilitating flights travelling across Europe, Africa, Asia and North America and handling over 25 million passengers per year. The airport has three runways and one large terminal building.
TUI fly Belgium is the only other airline that uses Brussels Airport as a hub.
---
Alternative Airlines to Brussels Airlines