Airlines will always try to sit children with their parents (subject to check-in)
Some airlines will allow travel for unaccompanied minors. Please email us to check.
The fare is based on the child's age on the date of travel.
More detailed information can be found here Traveling with children
Most airlines will let infants travel with their parent(s) for free. However some airlines will charge up to 10% of the adult ticket price. Click on 'Price Breakdown' to find out more.
If you are pregnant, but due before the flight departure date, please contact us once your baby is born and has a name. We can then add him/her to your ticket.
Infants will not be given a seat. The airlines expect parents to travel with them on their lap.
Airlines regard infants as being under 24 months old.
The fare is based on the child's age on the date of travel.
More detailed information can be found here Traveling with children
Single Aisle Aircraft
Cancellation Protection
Protects
Trusted Choice
65,000 happy customers
Rated 4.5 Stars. Based on 3,581 service ratings over the past year
Dedicated customer service team on hand to help
Secure payments
Cancellation Protection
Protects
Trusted Choice
65,000 happy customers
Rated 4.5 Stars. Based on 3,581 service ratings over the past year
Dedicated customer service team on hand to help
Secure payments


Narrow Body Aircraft
Find out all information on narrow body aircraft, including specifications on some popular narrow body jets.
What is a
narrow body aircraft?
A narrow body aircraft, also known as a single-aisle aircraft, is a smaller-type aircraft that is often used to operate short-haul international flights and domestic flights. A narrow body aircraft can carry as little as 4 passengers up to as many as 300.
Wide body planes usually just have the one cabin — Economy Class. But, sometimes it can have an additional Premium Economy and Business/First Class cabin.
Narrow body aircraft only have one aisle, which is where the alternative 'single-aisle aircraft' name originated from. A narrow body aircraft will have between 2–6 seats per row, which are split by the aisle. A typical seat formation for a narrow body aircraft in Economy Class is either 3 x 3, 2 x 3, 2 x 2, 1 x 2 or 1 x 1. If the aircraft does have any additional cabin classes, there will usually be less seats per row. However, there are exceptions to this. For example, in Premium Economy or Business Class, some airlines will have the same number of seats per row but leave the middle seat vacant to give passengers more room.
Take a look at the image below which shows the seat layout for a Boeing 747-400 wide body plane.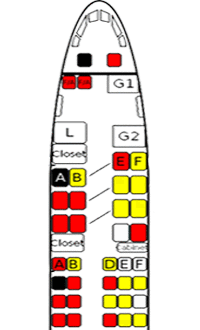 Narrow body aircraft are used for commercial passengers flights and cargo flights by airlines all over the world.
Who makes narrow body aircraft?
Narrow body aircraft are made by almost all aircraft manufacturers. Some of the most popular manufacturers that produce single-aisle aircraft are Boeing, Airbus, de Havilland, Tupolev and McDonnell Douglas
Narrow body aircraft comparison chart
Take a look at the chart below which shows information for popular narrow body aircraft that are produced today.
MANUFACTURER
MODEL
SEATS PER ROW
IN PRODUCTION
SINCE
CABIN WIDTH
MAX NO. OF SEATS
SEAT FORMATION
Irkut
MC-21
6
2017
3.81m (150")
230
3 x 3
Comac
C919
6
2016
3.9m (154")
174
3 x 3
Tupolev
Tu-204
6
1990
3.57m (141")
215
3 x 3
Airbus
A320
6
1986
3.7m (146")
244
3 x 3
Boeing
B737
6
1966
3.76m (148")
220
3 x 3
Airbus
A220
5
2012
3.28m (129")
160
2 x 3
Comac
ARJ21
5
2007
3.14m (129")
105
2 x 3
Sukhoi
Superjet 100
5
2007
3.23m (127")
108
2 x 3
Antonov
148/158
5
2002
3.13m (123")
99
2 x 3
Mitsubishi
SpaceJet
4
2017
2.76 m (109")
92
2 x 2
Embraer
E-Jet/E-Jet E2
4
2001
2.74 m (108")
146
2 x 2
Bombardier
CRJ
4
1991
2.55 m (100.5")
104
2 x 2
Bombardier
Dash 8
4
1983
2.51m (99")
90
2 x 2
ATR
42/72
4
1984
2.57 m (101")
78
2 x 2
de Havilland Canada
DHC-6 Twin-Otter
3
1965–1988
2006
1.61 m (63.2")
19
1 x 2
Embraer
ERJ 145
3
1989
2.10 m (83")
50
1 x 2
Evektor
EV-55 Outback
2
2011
x
9–14
1 x 1
Dornier
Do 228
2
1981–1998
2009
x
19
1 x 1
Britten-Norman
Islander
2
1965
x
9
1 x 1


Narrow body aircraft
FAQs
Are narrow body planes only used on short-haul flights?
No. Narrow body planes can also be used on medium-haul and long-haul flights.
Copa Airlines is a prime example of an airline that uses narrow body equipment (Boeing 737) to fly on flights that are over six hours long. The airline travels from Panama City to destinations within South America that range between 6.5–8 hours in journey time.
Norwegian is another airline that uses narrow body aircraft on flights that are longer than 4 hours. For example, the airline flies from the UK to destinations within the US using Boeing 737 planes.
What's the maximum capacity for a narrow body plane?
Currently, the narrow body aircraft with the largest capacity is the Boeing 757-300. This aircraft can seat up to 295 per passengers at once. The Boeing 757 is currently not in production as Boeing stopped producing the aircraft model in 2004. However, there are still many Boeing 757s in circulation.
Which airlines fly single aisle planes?
Single aisle or narrow body planes are flown by pretty much every airline. Airlines that fly shorter, domestic and regional flights will often have only narrow body planes within their fleet. These include airlines such as First Air, SATENA and Kunming Airlines.
What is the most popular narrow body aircraft?
The most popular narrow body aircraft of all-time if the Boeing 737. Overall, there have been more than 15,000 Boeing 737s ordered. This includes all of its variants, including the Boeing 737 MAX, which is currently grounded.