Search & Buy First Air Flights
Airlines will always try to sit children with their parents (subject to check-in)
Some airlines will allow travel for unaccompanied minors. Please email us to check.
The fare is based on the child's age on the date of travel.
More detailed information can be found here Traveling with children
Most airlines will let infants travel with their parent(s) for free. However some airlines will charge up to 10% of the adult ticket price. Click on 'Price Breakdown' to find out more.
If you are pregnant, but due before the flight departure date, please contact us once your baby is born and has a name. We can then add him/her to your ticket.
Infants will not be given a seat. The airlines expect parents to travel with them on their lap.
Airlines regard infants as being under 24 months old.
The fare is based on the child's age on the date of travel.
More detailed information can be found here Traveling with children
Buy
First Air

Flights
First Air Reservations with Alternative Airlines
Flights around the Arctic
Make a First Air Booking and Find Some Amazing Deals
---
About First Air
Bradley Air Services Limited, operating as First Air, is an airline headquartered in Kanata, a suburb of Ottawa, Ontario, Canada. The airline operates services to 34 communities in Nunavut, Nunavik, and the Northwest Territories and its main base, which includes a large hangar, cargo and maintenance facility, is located at Ottawa Macdonald-Cartier International Airport. First Air flies to many destinations including Edmonton, Vancouver, Churchill, Winnipeg, Fort Simpson, Hay River, Inuvik, Norman Wells, Yellowknife, Arctic Bay, Baker Lake and many others. Other hubs include Iqaluit Airport, Rankin Inlet Airport and Yellowknife Airport. First Air Canada offers flights to a number of destinations in the Arctic.
First Air has codeshare agreements with Air Greenland, Calm Air and Canadian North. The majority of its fleet is available for charters worldwide and consists of Aerospatiale and Boeing 737. In 2016 First Air/Bradley Air Services celebrated its 70th anniversary, and is the oldest airline in Canada still operating under its original name. First Air is a wholly-owned subsidiary of Makivik Corporation since 1990. Makivik Corporation was established in 1978, by way of special legislation of the Province of Quebec that gave the corporation the mandate to receive and administer compensation monies on behalf of the Inuit of Northern Quebec and to oversee the proper implementation of the James Bay and Northern Quebec Agreement (JBNQA). The JBNQA was signed in 1975 and was the first of Canada's Aboriginal land claim settlement agreements.
---
First Air Fleet
The First Air Canada fleet contains 13 Aérospatiale ATR 42 and 4 Boeing 737 aircraft.
---
First Air Destinations
First Air flies to many destinations including: Edmonton, Vancouver, Churchill, Winnipeg, Fort Simpson, Hay River, Inuvik, Norman Wells, Yellowknife, Arctic Bay, Baker Lake and many others.
---
First Air Baggage
Carry-on Baggage
First Air Canada passengers are permitted one piece of hand luggage with a maximum weight of 10kg and with total dimensions of no more than 10in x 18in x 22in (26cm x 46cm x 56cm).
Checked Baggage
The baggage allowance for First Air Canada flights varies according to the ticket class purchased. For "Saver" customers, the first checked bag is free. On jet flights including flights to/from Edmonton, Winnipeg, Ottawa, Montreal, Yellowknife, Iqaluit, Rankin Inlet, Norman Wells, Inuvik and Kuujjuaq, passengers are allowed 2 pieces of baggage per fare paying passenger with a maximum weight of 32kg per piece. On turboprop flights, including flights to/from Cape Dorset, Hall Beach, Igloolik, Pangnirtung, Kimmirut, Qikiqtarjuaq, Clyde River, Pond Inlet, Arctic Bay, Resolute Bay, Hay River, Fort Simpson, Kugluktuk, Ulukhaktok, Gjoa Haven, Taloyoak, Kugaaruk and Cambridge Bay passengers are entitled to 2 pieces of baggage per fare paying passenger.
---
First Air Check-in
Online Check-in
Online check-in is available via the First Air Canada website where you can book pre-reserved seating at no additional charge.
Airport Check-in
Customers checking in at the airport are required to check in at least 60 minutes before the scheduled departure time.
---
First Air Popular Routes
Yellowknife

Edmonton
Yellowknife

Norman Wells
Ottawa

Iqaluit
Yellowknife

Winnipeg
---
First Air Route Map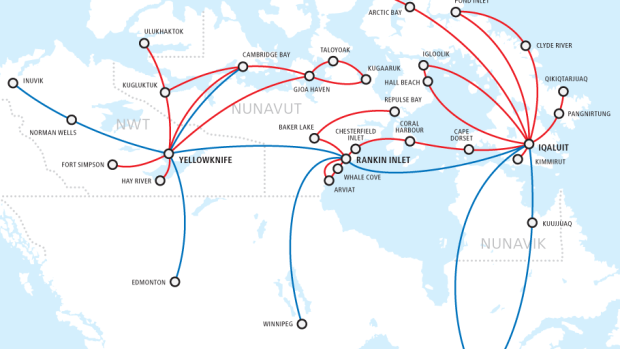 ---
First Air Hub Airport
Yellowknife International Airport
Yellowknife Airport is located in Yellowknife, Northwest Territories, Canada. The airport is part of the National Airports System, and is operated by the Government of the Northwest Territories. The airport has regular scheduled passenger service and a number of freight services. Airlines that fly from and to Yellowknife Airport include Air Canada, Air Tindi and Westjet.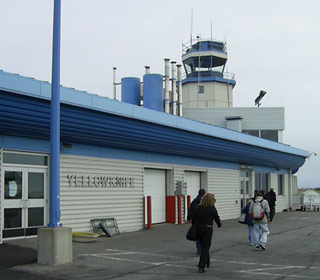 ---
Buy Discounted First Air Tickets at Alternative Airlines
---
Alternative Airlines to First Air
Please click on the logos below to find out more about these airlines that fly similar routes to First Air.
---
First Air News
1st April 2018
First Air show their funny side!
First Air took to their socials today to show that they had a good sense of humour. Inspired by April fool's day, First Air released a post informing loyal followers of their 'new way' for tourists to experience the Arctic: "First Air is thrilled to announce its plan to launch a new way for tourists to experience the Arctic. Get up close and personal with wildlife and stunning Arctic Landscapes in this fully customized patent pending DroneTour© On sale April 1, 2018" Of course, this was met well by the airline community.
10th January 2018
First Air introduce new everyday fares
First Air plan to stomp out the competition by loweing their everyday fare rates to and from the Canadian city of Inuvik! Flights going between Inuvik and both Edmonton and Yellowknife will have record low one-way fares for the airline. First Air hopes that this marketing strategy will help boost passengers on these routes.
13th September 2017
No evidence of anti-competitive acts between First Air and Canadian North: Competition Bureau
The Competition Bureau has found no evidence of anti-competitive acts between First Air and Canadian North in its investigation of predatory pricing toward the now-defunct GoSarvaq.
While the bureau found First Air and Canadian North's seat sales, which coincided with GoSarvaq's launch, had an impact on GoSarvaq, "the Bureau did not find sufficient evidence to conclude that these were anti-competitive acts as required by the [Competition] Act," according to a statement from the bureau.
The seat sales saw one-way tickets along the Ottawa-Iqaluit route go below $500 from the roughly regular $1,200 fare.
The bureau looked at whether the bigger airlines dropped their prices so low that they would make less money than not flying at all. If they did, with the intent to recoup the lost revenues after GoSarvaq went out of business, it would be illegal.
But the bureau didn't find any evidence to indicate the airlines broke any laws.
Although the Bureau found evidence indicating the bigger airlines saw GoSarvaq as a threat, and that the airlines took deliberate actions in response to GoSarvaq's launch, it found no evidence that First Air and Canadian North were price-fixing with each other.
Canadian North pleased, unrepentant
Canadian North says its pleased with the conclusions from the Bureau, along with how the bureau acknowledged the challenges of flying in the North.
As for the alleged predatory pricing along the Ottawa-Iqaluit route, the airline says the route is important to its operations in Nunavut as a gateway to the Eastern Arctic.
"Whether profitable or not, we'd never want to surrender market share on that route," said Canadian North's communications manager Kelly Lewis, adding it's also an important cargo route.
"We've operated for two decades on that route, almost. We've worked hard to build a lot of market share. To not respond [to GoSarvaq's low introductory rate] would have been, basically, surrendering and put the sustainability of our business at risk and certainly put jobs at risk."
Asked why customers haven't seen a similar seat sale since, Lewis said GoSarvaq's initial fare was an introductory offer.
"You have to compete to a changing market conditions, and we were comfortable, for the short term, doing that," Lewis said.
"Is that a price that we we would want to offer on an ongoing basis? I wouldn't think so, no. But nobody had stated that was going to be a permanent standing price for that route."
No findings on codeshare partnerships
The competition bureau also investigated First Air and Canadian North's codeshare agreement — which saw both airlines sell seats on each other's planes on certain routes — but closed the investigation after First Air ended the codeshare agreement in May.
Canadian North calls First Air codeshare drop a 'sudden, unilateral' decision
The bureau also looked into the 2015 merger between First Air and Calm Air in the Kivalliq. But in consulting financial and economic experts ahead of its investigation, the experts determined the merger was "likely to result in significant effiency gains" and those gains were likely to significantly outweigh its anti-competitive effects.
From those findings, the bureau didn't find enough grounds to challenge the merger.
April 2016
First Air announced it will be adding a weekend option to its route betwen Iqaluit and Yellowknife.
The new flight — which includes a stop in Rankin Inlet — will start May 21, five days after the airline's codeshare agreement with Canadian North officially comes to an end. that route is scheduled Mondays, Wednesdays and Fridays.
The route will be serviced by a 90-seat Summit Air RJ85 aircraft.
---