First Air Reservations with Alternative Airlines
Make a First Air Booking and Find Some Amazing Deals
---
About First Air
First Air, also known as Bradley Air Services Limited, is an airline headquartered in Kanata, a suburb of Ottawa, Ontario, Canada. The airline operates services to 34 communities in Nunavut, Nunavik, and the Northwest Territories and its main base is located at Ottawa Macdonald-Cartier International Airport. Other hubs include Rankin Inlet Airport, Iqaluit Airport and Yellowknife Airport. First Air Canada offers flights to a number of destinations in the Arctic.
First Air has codeshare agreements with Air Greenland, Calm Air and Canadian North. The majority of its fleet is available for charters worldwide and consists of Aerospatiale and Boeing 737. In 2016 First Air/Bradley Air Services celebrated its 70th anniversary, and is the oldest airline in Canada still operating under its original name. First Air is a wholly-owned subsidiary of Makivik Corporation since 1990. Makivik Corporation was established in 1978, by way of special legislation of the Province of Quebec that gave the corporation the mandate to receive and administer compensation monies on behalf of the Inuit of Northern Quebec and to oversee the proper implementation of the James Bay and Northern Quebec Agreement (JBNQA). The JBNQA was signed in 1975 and was the first of Canada's Aboriginal land claim settlement agreements.
---
First Air Fleet
The First Air Canada fleet contains 13 Aérospatiale ATR 42 and 4 Boeing 737 aircraft.
---
First Air Destinations
First Air flies to many destinations including: Edmonton, Vancouver, Churchill, Winnipeg, Fort Simpson, Hay River, Inuvik, Norman Wells, Yellowknife, Arctic Bay, Baker Lake and many others.
---
First Air Baggage
Carry-on Baggage
First Air Canada passengers are permitted one piece of hand luggage with a maximum weight of 10kg and with total dimensions of no more than 10in x 18in x 22in (26cm x 46cm x 56cm).
Checked Baggage
The baggage allowance for First Air Canada flights varies according to the ticket class purchased. For "Saver" customers, the first checked bag is free. On jet flights including flights to/from Edmonton, Winnipeg, Ottawa, Montreal, Yellowknife, Iqaluit, Rankin Inlet, Norman Wells, Inuvik and Kuujjuaq, passengers are allowed 2 pieces of baggage per fare paying passenger with a maximum weight of 32kg per piece. On turboprop flights, including flights to/from Cape Dorset, Hall Beach, Igloolik, Pangnirtung, Kimmirut, Qikiqtarjuaq, Clyde River, Pond Inlet, Arctic Bay, Resolute Bay, Hay River, Fort Simpson, Kugluktuk, Ulukhaktok, Gjoa Haven, Taloyoak, Kugaaruk and Cambridge Bay passengers are entitled to 2 pieces of baggage per fare paying passenger.
---
First Air Check-in
Online Check-in
Online check-in is available via the First Air Canada website where you can book pre-reserved seating at no additional charge.
Airport Check-in
Customers checking in at the airport are required to check in at least 60 minutes before the scheduled departure time.
---
Use PayBright for First Air Flights
Choose to split costly flights into more manageable, smaller payments. With PayBright, a Canadian finance provider, you can choose to split the cost of First Air flights into 6 or 12 installments, with monthly payments. Read more about this payment option here: PayBright.
---
Economy Class
Economy Class is the only cabin for this airline, meaning all passengers have the same cabin experience.
Economy Class Facilities
The airline offers complimentary food and drink on flights, with hot meal options also available
Although no in-flight entertainment system, the airline does give passengers a selection of reading material, including its latest in-flight magazines.
Economy Class Seats
The seat specifications are dependent on the aircraft flying in, for example on the Boeing 737 400 and Boeing 737 400 COMBI, the seats are arranged in a 3-3 formation, with an aisle in the middle. This provides ample room for passengers for their flights. On the ATR 42-300 and ATR 42-500, passengers are arranged in a 2-2 formation, allowing even more room between other passengers and their seats.
---
First Air Popular Routes
Yellowknife

Edmonton
Yellowknife

Norman Wells
Ottawa

Iqaluit
Yellowknife

Winnipeg
---
First Air Route Map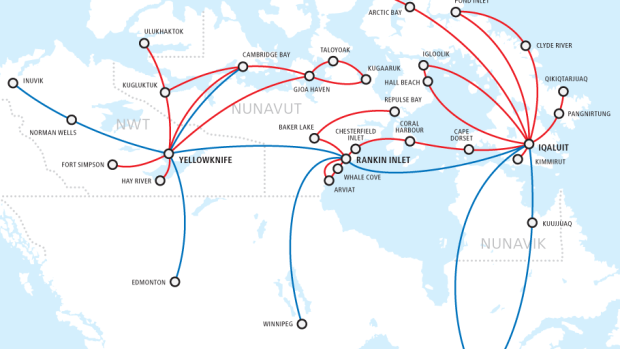 ---
First Air Hub Airport
Yellowknife International Airport
Yellowknife Airport is located in Yellowknife, Northwest Territories, Canada. The airport is part of the National Airports System, and is operated by the Government of the Northwest Territories. The airport has regular scheduled passenger service and a number of freight services. Airlines that fly from and to Yellowknife Airport include Air Canada, Air Tindi and Westjet.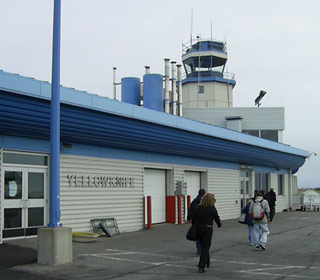 ---
Alternative Airlines to First Air
Please click on the logos below to find out more about these airlines that fly similar routes to First Air.
---
First Air News
1st April 2018
First Air show their funny side!
First Air took to their socials today to show that they had a good sense of humour. Inspired by April fool's day, First Air released a post informing loyal followers of their 'new way' for tourists to experience the Arctic: "First Air is thrilled to announce its plan to launch a new way for tourists to experience the Arctic. Get up close and personal with wildlife and stunning Arctic Landscapes in this fully customized patent pending DroneTour© On sale April 1, 2018" Of course, this was met well by the airline community.
10th January 2018
First Air introduce new everyday fares
First Air plan to stomp out the competition by loweing their everyday fare rates to and from the Canadian city of Inuvik! Flights going between Inuvik and both Edmonton and Yellowknife will have record low one-way fares for the airline. First Air hopes that this marketing strategy will help boost passengers on these routes.
---