Search & Buy Air Greenland Flights
Let's fly!

Select your payment method to view total prices including any payment fees:
Airlines will always try to sit children with their parents (subject to check-in)
Some airlines will allow travel for unaccompanied minors. Please email us to check.
The fare is based on the child's age on the date of travel.
More detailed information can be found here Traveling with children
Most airlines will let infants travel with their parent(s) for free. However some airlines will charge up to 10% of the adult ticket price. Click on 'Price Breakdown' to find out more.
If you are pregnant, but due before the flight departure date, please contact us once your baby is born and has a name. We can then add him/her to your ticket.
Infants will not be given a seat. The airlines expect parents to travel with them on their lap.
Airlines regard infants as being under 24 months old.
The fare is based on the child's age on the date of travel.
More detailed information can be found here Traveling with children

Buy
Air Greenland

Flights

Air Greenland Reservations with Alternative Airlines
Make an Air Greenland Booking and Find Some Amazing Deals
---
About Air Greenland
Air Greenland, also known as Greenlandair, is the flag carrier of Greeland and is owned by the SAS Group, the Greenlandic Government and the Danish Government. Air Greenland flies to many destinations including Aalborg, Aasiaat, Copenhagen, Hamburg, Illulissat, Iqaluit, Kangerlussuaq, Kulusuk, Maniitsoq, Narsarsuaq, Nuuk, Paamiut, Pituffik, Qaanaaq, Qaarsut, Reykjavik, Sisimiut, Upernavik and Baltimore. Air Greenland has interline agreements with DAT, Icelandair and SAS.
Air Greenland's hub airport is Copenhagen Airport. Air Greenland's domestic airport network includes all 13 civilian airports within Greenland. Air Greenland's fleet consists of A330-200s, Beechcrat B200 King AIr and Bombardier Dash 8 Q200. Air Greenland offers flexible and restricted economy class on all flights operated with fixed-wing aircraft, with complimentary snacks and drinks. On transatlantic flights to Copenhagen, both economy class and business class seats are available, with in-flight meals served in all classes.
Air Greenland publishes a quarterly Suluk in-flight magazine with general information about current political and cultural events in Greenland and with news from the airline.
A flexible business class – named "Business-Class" – is offered by Air Greenland on transatlantic flights aboard Norsaq, its Airbus A330-200. The service includes a personal video screen, an in-seat power source, an amenity kit, blankets, and a selection of newspapers. Passengers travelling on this class are eligible to use the Novia Business Class Lounge at Copenhagen Airport.
Greenland's national airline Grønlandsfly was founded in 1960. The company changed its name to Air Greenland in 2002 and has undergone rapid development during the last 50 years: From seaplanes to jet planes; and from helicopter services to scheduled services with fixed-wing aircraft. Then, as now, Air Greenland operates in Arctic airspace, which presents a unique range of challenges.
---
Air Greenland Destinations
Air Greenland flies to a number of destinations in Denmark, Germany, Iceland, Canada and Greenland including Aalborg, Aasiaat, Copenhagen, Hamburg, Ilulissat, Kangerlussuaq, Kulusuk, Maniitsoq, Narsarsuaq, Nuuk, Paamiut, Pituffik, Qaanaq, Qaarsut, Reykjavik, Sisimiut and Upernavik.
---
Air Greenland Baggage
Checked Baggage
Economy Class can take up to 20 kg (44 lbs) and 1 item of cabin baggage weighing up to 8 kg (18 lbs).
Business Class can weigh up to 30 kg (66 lbs) and 2 items of cabin baggage can weigh a total of 8 kg (18 lbs) with maximum dimensions of 55 x 40 x 23 cm. Passengers travelling with an infant can bring a changing bag and a carrycot.
---
Air Greenland Check-in Information
Online Check-in
Air Greenland passengers are able to print their boarding pass by checking in online. Online check-in for Air Greenland is available from 22 hours before your scheduled departure until one hour before your flight.
Airport Check-in
In Greenland, check-in must be completed at least one hour prior to departure. In Denmark, Greenland Air recommends checking in two hours prior to departure, as the airport check-in desk closes one hour before take-off.
---
Air Greenland Business Class
Air Greenland Business Class Facilities
Air Greenland Business Class passengers have access to the Aviator and Aspire Business Class lounges at Copenhagen airport. Here passengers can relax, catch up with work and read newspapers, magazines and receive free refreshments. Once on board the aircraft, Passengers flying on Airbus A330 aircraft are provided with personal video screens to enjoy Air Greenland's in-flight entertainment service.
What are Air Greenland Business Class seats like?
Air Greenland's Business Class seats are wide and comfortable, with two foldable tables sizes that make leaving your seat even easier. Seats can also be adjusted using the panel in the armrest.
---
Air Greenland Route Map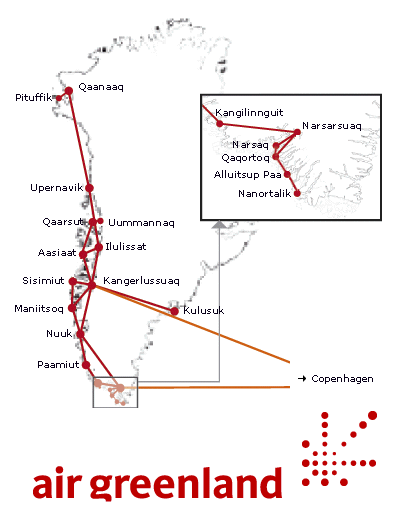 ---
Air Greenland Popular Routes
Copenhagen

Kulusuk
Ilulissat

Copenhagen
Aasiaat

Copenhagen
Copenhagen

Aalborg
---
Air Greenland Fleet
The Air Greenland fleet includes Airbus A330-200, Beechcraft B200 King Air and Bombardier Dash 8 Q200 aircraft.
---
Air Greenland Hub Airport
Copenhagen Airport
Copenhagen Airport is the main international airport serving Copenhagen, Denmark and is the hub for Scandinavian Airlines. It is the busiest airport for international travel in Scandinanvia. Thomas Cook Airlines Scandinavian and Norwegian Air Shuttle also use Copenhagen Airport as a hub for their operations too. The airport has three runaways and has a passenger capacity of 27 million every year. Other airlines which fly to and from Copenhagen Airport include Aegan Airlines, Air France, Austrian Airlines, British Airways, Bulgaria Air, Croatia Airlines, KLM, Montenegro Airlines, Norwegian Air Shuttle and many others.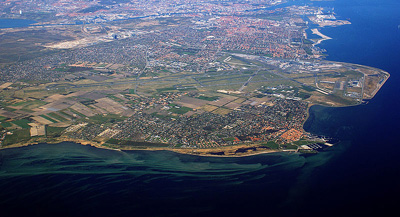 Photo credit: Mogens Engelund
---
Alternative Airlines to Air Greenland
Please click on the logos below to find out more about airlines that fly similar routes to Air Greenland:
---
Air Greenland News
October 2017
Air Greenland sees traffic grow 7.8% in 2016 to 426,000 passengers; reports strongest load factor result in over a decade with it above 67%
As airline fleets go, you could not get more dynamic than Air Greenland's. The carrier currently has in its fleet one A330-200, six DHC-8-200s and one Beechcraft B200 King Air. In 2016 the airline flew 426,000 passengers, an increase of 7.8% from the 2015 total of 395,000. Along with increasing passengers, the carrier's load factor also improved during the same period, albeit by 0.1%. 2016 was a record year for the airline in terms of total passengers carried. Of the international cities that are signposted at Kangerlussuaq Airport, the airline only offers flights to Copenhagen.
Air Greenland serves an island market which has an estimated population of around 56,500 in 2016, meaning that for every citizen, Air Greenland flew 7.5 passengers last year. While much focus in the North Atlantic in recent years has been concentrated on Iceland and the booming traffic being seen from the likes of Icelandair and WOW air, growth is also being reported across the water on the world's largest island.
Record passengers and load factor recorded
In 2016 Air Greenland carried 426,000 passengers, up 7.8% when compared to 2015's total of 395,000. While the result of last year's traffic is certainly a record for the carrier in the time period analysed, its margin over the previous record year of 2008 is just 5,000 passengers. However, 2016's load factor of just above 67% is better than the 65% achieved in the last record year. Coincidentally, last year's load factor was also a record for Air Greenland during the period analysed, albeit by just 0.1% against that achieved in 2015.
Another factor which helped Air Greenland improve its annual load factor were cuts made to its yearly capacity between 2015 and 2016 of 4.6%, while from 2014 to 2015 seat numbers saw a 4.0% rise, meaning that last year, the carrier's capacity was just 0.6% less than it was in 2014, while its load factor between 2014 and 2016 rose 3.7%.
Presently, Air Greenland offers just two international scheduled services from Greenland, connecting Nuuk to Reykjavik/Keflavik and Kangerlussuaq to Copenhagen (classed as international in OAG, although Greenland is defined as being a constituent country in the Kingdom of Denmark). While these services appear to only be a minimal part of the carrier's network, both links made-up just under 25% of the carrier's annual seat capacity in 2016, growing from 22% in 2015. So while domestic capacity was cut by 7.7% last year, international services encountered a 6.7% rise in seats. For 2017, the carrier is reporting a further increase in international seat capacity, with a 5.6% upswing. Unfortunately the domestic market appears to be seeing more cuts, with OAG schedules indicating that Air Greenland is offering around 37,100 less annual seats in the sector in 2017 when compared to 2016, representing a cut of 7.2%.
May 2017
Air Greenland announced that its CEO, Michael Hojgaard, had resigned
The company's Flight Operations Manager, Jacob Nitter Sørensen, will take over the role while a replacement is found. Air Greenland was forced to lay off 45 staff earlier this year after the Danish government decided to switch its focus from air to sea transport in its domestic connectivity policy. The carrier also faced some challenges at the beginning of Højgaard's tenure when expected growth in the raw materials sector did not occur and the company repositioned itself to tap into the tourism market.
March 2017
International connections to Greenland will be better this summer, as Air Greenland increases the number of flights between Kangerlussuaq and Copenhagen. The airline will be operating flights out of Copenhague in the morning, noon and evening to facilitate passenger connections from all over the world to Greenland.
Meanwhile, Air Greenland will add more flights to Keflavik. From late March, the airline will fly year-round between Keflavik and Nuuk, operating three times a week during the high season, and once a week during the winter. Additionally, the airline will operate flights from Keflavik to Ilulissat between June and August. Every Tuesday and Thursday, all year round, Air Greenland flights will depart from Copenhague at 11.00 AM.
April 2017
Air Greenland announced that it had written down the value of its sole widebody aircraft - A330-200
The three coalition governments of Greenland signed an agreement at the end of 2015, committing to extend the runways at Nuuk and Ilulissat airports to at least 2,200 metres. Located in the island-state's capital, Nuuk airport's main runway 05/23 is just 950 metres long. Ilulissat, on the west coast, has a main runway 07/25 of 845 metres, and serves destinations in Greenland and Iceland. Currently, the A330 is the only aircraft which flies directly from Greenland to Continental Europe, plying the Copenhagen Kastrup – Kangerlussuaq route.
From Kangerlussuaq, smaller aircraft feed passengers to other destinations across the island. Should other airports open up to narrowbody and widebody traffic, the national airline may see a reduction in passenger numbers along this route.
---