Search and Buy Croatia Airlines Flights Online
Make a Croatia Airlines reservation and find some amazing deals at Alternative Airlines
---
About
Croatia Airlines Ltd. is the national carrier of Croatia. The airline is headquartered at Zagreb International Airport in Buzin near Zagreb and operates domestic and international services mainly to European destinations. This includes cities such as Dubrovnik, Split, and Zadar.
Croatia Airlines has codeshare agreements with Air India, Air Canada, Air France, Alitalia, Austrian Airlines, Brussels Airlines, KLM, LOT Polish Airlines, Lufthansa, SAS, Singapore Airlines, Swiss International Airlines, TAP Portugal, Turkish Airlines and United Airlines.
Since November 2004, the airline has been a member of Star Alliance. Star Alliance Gold Status benefits include Priority Airport Check-in, Airport Lounge Access, Priority Boarding, Extra Baggage Allowance and Priority Baggage Handling.
Did you know? At Alternative Airlines you can purchase Croatia Airlines flight tickets and spread the cost overtime. To find out more check out our Fly Now, Pay Later - Croatia Airlines page.
---
Frequent Flyer Program
Passengers with Croatia Airlines are entitled to participate in the Miles & More frequent flyer program.
Miles & More is the largest traveller loyalty program and offers rewards to passengers of the Star Alliance travelling on certain types of tickets.
There are three types of miles within the program:
Award Miles
Status Miles
HON Circle Miles
The program was launched by Lufthansa and is used by 13 European airlines.
---
Baggage Allowance
Economy Class: Passengers flying with Croatia Airlines in Economy Class are entitled to one cabin bag and one smaller handbag (this can be a handbag, laptop bag or briefcase). The maximum weight for this is 8kg.
Business Class: When travelling in Business Class, passengers are allowed 2 pieces of hand baggage weighing a maximum of 8kg.
For domestic and international flights, Croatia Airlines allows passengers in Business Class 2 pieces of baggage of up to 32 kg, and passengers in Economy Class 1 pieces of baggage of up to 23kg.
Depending on the aircraft, Business Class passengers may also be limited to 1 item of hand luggage.
---
Croatia Airlines Discount and Promo Codes
Find a discounted Croatia Airlines ticket with Alternative Airlines with a wide range of flight voucher codes! Save money on your next Croatia Airlines ticket with our wide range of flight promo codes.
---
Pay for Croatia Airlines tickets with PayPal
You can use PayPal to pay for any Croatia Airlines ticket with Alternative Airlines. PayPal is a useful way to pay for travel so if you are thinking of that trip to Zagreb or Dubrovnik, then pay with PayPal for your Croatia Airlines tickets!
---
Economy Class
Economy Class is Croatia Airlines most basic cabin class. There are many different fares that passengers can purchase in Economy Class, with the more expensive options offering added extras such as free flight changes and cancellations.
Economy Class Facilities
Economy Class passengers can order from the airline's inflight menu, which features a selection of hot meals, snacks and drinks.
On select flights, passengers can watch films on the aircraft's shared monitor.
Economy Class Seats
Economy Class seats are a standard size with comfortable cushioning and ample legroom. The seats are set out in a 3 x 3 formation.
---
Premium Economy
Croatia Airlines doesn't have a Premium Economy. However, their Business Class is similar to other airline's Premium Economy in terms of facilities and price.
---
Business Class
Croatia Airlines Business Class offers the next level of service on flights, for just a little extra cost.
Business Class Facilities
Business Class passengers are given an inflight pre-departure drink before takeoff, as well as an inflight meal which is included in the price of the ticket.
Passengers are also given a larger baggage allowance, with extra checked and carry-on baggage.
What are Business Class Seats Like?
Business Class seats are similar to those in Economy Class. Seats are set out in a 3 x 3 x 3 formation, however, each middle seat is left empty to give passengers extra room and comfort.
---
First Class
Croatia Airlines doesn't have a First Class cabin.
---
Food
Passengers onboard Croatia Airlines are all entitled to free food and beverages. The type of food and drink will vary depending on your Class fare and the length of your journey.
In Economy, Croatia Airlines offer a traditional Zagreb snack and water is available. For any international flight that's longer than an hour, pumpkin seed crackers are also an option. There are also additional offers that provide passengers with a selection of products from the airline's partner, Uje.
Business Class passengers will receive a larger Zagreb snack that consists of items such as walnut rolls called orahnjača, pumpkin seed crackers, Samobor salami with pumpkin seed, horseradish sauce with apple and cinnamon biscuits. For flights that are shorter than an hour, a smaller snack is given.
---
Route Map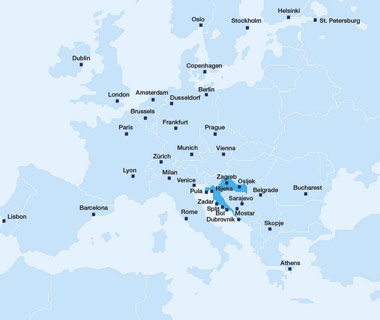 ---
Popular Routes
London

Zagreb
Brussels

Dubrovnik
Copenhagen

Zadar
Zagreb

Stavanger
---
The Fleet
The fleet consists of A320, A319 and Dash 8-Q400.
A319-100
A320-200
Bombardier Dash 8Q400
---
Zagreb International Airport
Hub Airport
Zagreb International Airport, also known as Pleso Airport after the nearby suburb of Pleso, is the main international airport of Croatia and also a base of the Croatian Air Force and Air Defence.
Located 10 km from Zagreb Central Station in Zagreb, it served 2,430,971 passengers in 2014 and is the hub for the Croatian flag carrier Croatia Airlines.
Airlines that fly from and to Zagreb International Airport include British Airways, KLM, LOT and AirFrance.
---
Alternative Airlines to Croatia Airlines