Search & Buy Croatia Airlines Flights
Let's fly!

Select your payment method to view total prices including any payment fees:
Airlines will always try to sit children with their parents (subject to check-in)
Some airlines will allow travel for unaccompanied minors. Please email us to check.
The fare is based on the child's age on the date of travel.
More detailed information can be found here Traveling with children
Most airlines will let infants travel with their parent(s) for free. However some airlines will charge up to 10% of the adult ticket price. Click on 'Price Breakdown' to find out more.
If you are pregnant, but due before the flight departure date, please contact us once your baby is born and has a name. We can then add him/her to your ticket.
Infants will not be given a seat. The airlines expect parents to travel with them on their lap.
Airlines regard infants as being under 24 months old.
The fare is based on the child's age on the date of travel.
More detailed information can be found here Traveling with children

Buy
Croatia Airlines

Flights

Search and Buy Croatia Airlines Flights Online with Alternative Airlines
Flights to and from Croatia
Make a Croatia Airlines reservation and find some amazing deals with discounted Croatia Airlines

tickets at Alternative Airlines
---
About Croatia Airlines
Croatia Airlines Ltd. is the national carrier Croatia. The airline is headquartered at Zagreb International Airport in Buzin near Zagreb, and operates domestic and international services mainly to European destinations. This includes cities such as Dubrovnik, Split, and Zadar.
Croatia Airlines has codeshare agreements with Air India, Air Canada, Air France, Alitalia, Austrian Airlines, Brussels Airlines, KLM, LOT Polish Airlines, Lufthansa, SAS, Singapore Airlines, Swiss International Airlines, TAP Portugal, Turkish Airlines and United Airlines.
Since November 2004, the airline has been a member of Star Alliance. Star Alliance Gold Status benefits include Priority Airport Check-in, Airport Lounge Access, Priority Boarding, Extra Baggage Allowance and Priority Baggage Handling.
---
Croatia Airlines's Fleet
Croatia Airlines' fleet consists of A320, A319 and Dash 8-Q400.
---
Croatia Airlines Frequent Flyer Program
Passengers with Croatia Airlines are entitled to participate in the Miles & More frequent flyer program.
Miles & More is the largest traveller loyalty program and offers rewards to passengers of the Star Alliance travelling on certain types of tickets.
There are three types of miles within the program:
Award Miles
Status Miles
HON Circle Miles
The program was launched by Lufthansa and is used by 13 European airlines.
---
Croatia Airlines Baggage
Economy Class: 1 piece of hand baggage with maximum weight of 8kg
Business Class: 2 pieces of hand baggage
For domestic and international flights, Croatia Airlines allows passengers in Business Class 2 pieces of baggage of up to 32 kg, passengers in Economy Class 1 piece of baggage of up to 23kg.
---
Croatia Airlines Discount and Promo Codes
Find a discounted Croatia Airlines ticket with Alternative Airlines with the wide range of flight voucher codes! Save money on your next Croatia Airlines ticket with our wide range of flight promo codes.
---
Pay Croatia Airlines tickets with PayPal
You can use PayPal to pay for any Croatia Airlines ticket with Alternative Airlines. PayPal is a useful way to pay for travel so if you are thinking of that trip to Zagreb or Dubrovnik, then pay with PayPal for your Croatia Airlines tickets!
---
Croatia Airlines News
25th June 2018
Croatia Airlines: January - May traffic up 6% y/y
In the 1st 5 months of 2018, Croatia Airlines carried 719,200 passengers, which is up 6% compared to the same period last year.
It is recorded that in May alone, the airline transported a record 214,000 passengers, the most it has carried in that month of the year throughout its history. Since the start of 2018, Croatia Airlines has launched year-round flights to Bosnia's Mostar and Ireland's Dublin, as well as seasonal routes between Dubrovnik and Munich, and Split and Copenhagen.
Croatia Airlines said earlier it will fly to 8 international destinations from:
Dubrovnik (summer 2018),
12 from Split,
3 from Pula,
1 from Rijeka,
1 from Zadar and 10 from Zagreb.
30th April 2018
Croatia Continus to Seek Airline Partner
The Croatian government has announced that it aims to find a new strategic partner for Croatia Airlines.
This is the 3rd time in the past 5 years that the small central European state has tried to find a way of divesting itself of a controlling interest in the national carrier. The previous two attempts, in 2014 and 2016, failed to find any suitable suitors.
A new National Reform Plan foresees a radical restructuring of the country's transport sector, including privatization of its railway system and a new partner for Croatia Airlines. The government has for some time been trying to sell off state enterprises to reduce the level of public debt.
Croatia Airlines has been modestly profitable in recent years. It operates a small fleet that the company website lists as comprising two Airbus A320s, four A319s and six Bombardier Q400 turboprops.
The carrier's business is seasonal, with an influx of tourists to Adriatic resorts such as Dubrovnik over the summer season, together with a quieter winter period. Like most European national carriers, it has come under sustained pressure from LCCs in recent years.
13th April 2018
Croatia Airlines and TAP Express Join ERA Board
European Regions Airline Association (ERA), the principal trade association representing intra-European regional airlines, has announced its three new board members.
Representing regular airline members, the new members are Jasmin Bajić, CEO, Croatia Airlines, and Valter Fernandes, managing director, TAP Express operated by Portugália Airlines. Meanwhile, the new airport representative board member is Patrick Edmond, managing director, international aviation services centre and strategy director, Shannon Airport.
All three new board members have long and successful European aviation careers and are to further strengthen the industry knowledge and expertise of ERA's board.
Montserrat Barriga, director general, ERA, commented, "The diverse industry knowledge that ERA's board members bring to the association is invaluable and I am looking forward to working with them all to continue our work on promoting a healthy, safe and growing European airline market."
April 2018
Croatia Airlines possibly in need of 70 new aircrafts
State-controlled flag carrier, Croatia Airlines, is in high demand over the summer months, due to the increase in air travellers. A huge amount of this surge is due to passengers embarking in their summer leisure travels. A whopping 25% of Croatia's GDP is tied up in the tourism business. This is true of Croatia Airlines, as the summer months are where the airline makes most of its profit. The difference in the amount of aircraft Croatia Airlines need in the summer months compared to the winter is around 64 according to the carrier's network and revenue manager, who believes 70 airlines are needed in the summer, as opposed to a mere 6 in the winter. The airline services 40 destinations in 24 European countries in the summer.
1st February 2018
Croatia Airlines, Asiana Airlines sign code share agreement
State-controlled flag carrier Croatia Airlines said it has signed a code share agreement with South Korea's Asiana Airlines, which paves the way for sharing Seoul-bound flights via Frankfurt, London and Paris.
Passengers flying Croatia Airlines from Zagreb, Dubrovnik and Split will now have access to Seoul from transit spots in London, Paris and Frankfurt, and vice versa, the Croatian company said in a statement.
"By concluding this agreement and by building a joint product, both companies expect even better positioning in a highly competitive passenger transport market between Croatia and South Korea," Croatia Airlines noted.
Asiana Airlines is an airline based in Seoul, the capital of South Korea.
From Seoul, it flies to 63 destinations around the world, including cities in North America, Europe, the Middle East, Asia and Australia.
Croatia Airlines already has code share agreements with United Airlines, Air Canada, Singapore Airlines, Air India, and most of the European airlines in the Star Alliance network.
May 2017
Croatia Airlines announced it has expanded its codeshare agreement with Canada Airlines
In addition to the existing codeshares on the Croatia Airlines' flights Zagreb to Amsterdam, Brussels, Copenhagen, London Heathrow, Paris and Zurich, Air Canada has now added its AC designtaor code onto Croatia Airlines flights frm Rijeka to London Heathrwo and Zagreb.
March 2017
Croatia Airlines announced it had signed a codeshare agreement with Air India
Croatia's national carrier and India's national carrier have entered into a codeshare agreement on the use of flight with shared codes of both carriers. Croatia Airlines have been Star Alliance member since 2004, whilst Air India joined in 2014.
The agreement, which will come into effect on 1 April 2017, allows for increased choice for the customers of both airlines. Regardless of the operating carrier, passengers can fly a combination of Air India and Croatian Airlines services using the ticket and code of either of the two airlines.
According to the agreement, the Air India international code (AI) will be on Croatia Airlines flights from Frankfurt to Zagreb, Dubrovnik and Split, From London to Zagreb and Split, From Vienna to Zagreb and Split, from Rome to Zagreb, Dubrovnik and Split, and from Paris to Zagreb, Dubrovnik and Split.
November 2016
Croatia Airlines have announced positive operating results in first nine months of 2016
At the same time, Krešimir Kučko, the CEO of Croatia Airlines, announced on Monday the possibility of opening new routes in the next year. He added that Croatia Airlines had achieved positive results this year and had made significant investments, for example, in major inspections of engines, in which it invested eight million dollars, and had also opened four new lines which can hardly be profitable in their first year of operations. As for the winter timetable, he pointed out that in November, which is the first month of the new timetable, the company had recorded results better than expected. However, he added that the extreme seasonality would for some time be one of the features of the airline business in Croatia. He did not rule out the possibility of leasing Croatia Airlines' aircraft and crews during the winter season, in order to at least partially compensate for the losses incurred in that period. However, this is affected by major aircraft inspections, which are typically performed during the winter, which reduces the availability of the aircraft for such leases.
November 2016
Croatia Airlines announced it was set to add new flights to its network next summer including to Scandinavia
Croatia Airlines has already completed studies for flights to Moscow and Dublin. This summer, Croatia Airlines introduced new seasonal flights from Zagreb to Prague, Milan, Lisbon and St Petersburg. The airline will also operate two charter flights from Osijek to Dublin over the upcoming Christmas and New Year holiday period to test interest in the route. In March 2017, Croatia Airlines announced it will wet-lease a pair of CRJ-1000s to cover its summer season capacity demands. 100-seater Bombardier twinjets are wet-leased from Spanish ACMI/charter specialist Air Nostrum.
Aside from its routine network offering of flights from Zagreb to thirty-five destinations across Western, Central, Eastern, Southern Europe, and the Middle East, Croatia Airlines will also venture into the Scandinavian market this summer serving Helsinki Vantaa, Stockholm Arlanda, and Oslo. In March 2017, Croatia Airlines announced it will lease back the five London Heathrow take-off and landing slot pairs it sold to Delta Air Lines in January this year for USD19.5 million. The two airlines recently concluded a Slot Use Agreement wherein Croatia Airlines will continue to use the slots for the duration of the current summer season. Thereafter, with the onset of the IATA Northern Winter Season 2017/18 on October 29, they will revert to Delta's use.
Croatia Airlines announced in March 2017 that it had introduced its service to Oslo as part of the company's expansion to Scandinavian routes (Stockholm, Helskini, Oslo.) The Oslo route will get an additional service, so there will be three flights a week instead of the initially planned two (Tuesday, Thursday and Sunday).
Croatia Airlines has been prevented from selling landing/take off slots at London Heathrow. Transport Minister Oleg Butković and State Property Minister Goran Marić, on behalf of the state which is the owner of Croatia Airlines, have banned until further notice the company to sell its landing and take-off slots at London Heathrow Airport.
---
Croatia Airlines Route Map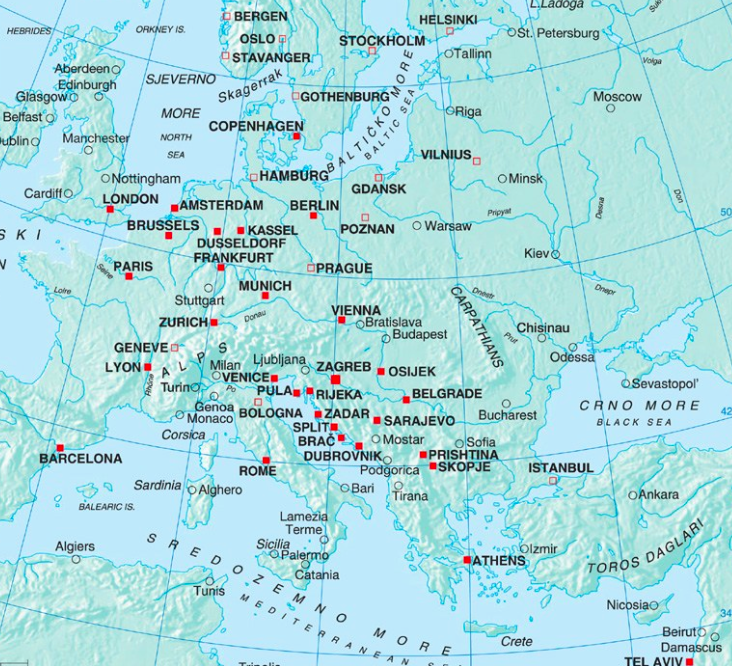 Croatia Airlines Popular Routes
London

Zagreb
Brussels

Dubrovnik
Copenhagen

Zadar
Zagreb

Stavanger

---
The Fleet
---
Zagreb International Airport
Hub Airport
Zagreb International Airport, also known as Pleso Airport after the nearby suburb of Pleso, is the main international airport of Croatia and also a base of the Croatian Air Force and Air Defence.
Located 10 km from Zagreb Central Station in Zagreb, it served 2,430,971 passengers in 2014 and is the hub for the Croatian flag carrier Croatia Airlines.
Airlines that fly from and to Zagreb International Airport include British Airways, KLM, LOT and AirFrance.


Star Alliance is the leading global airline network, which has 27 member airlines. Star Alliance was founded in 1997 with the five founding airlines: Scandinavian Airlines, Thai Airways International, Air Canada, Lufthansa and United Airlines. The alliance has grown considerably now to airlines which fly to 1,321 airports and 193 countries, carrying 637 million passengers every year!
---
---