Search & Buy KLM Flights
Let's fly!

Select your payment method to view total prices including any payment fees:
Airlines will always try to sit children with their parents (subject to check-in)
Some airlines will allow travel for unaccompanied minors. Please email us to check.
The fare is based on the child's age on the date of travel.
More detailed information can be found here Traveling with children
Most airlines will let infants travel with their parent(s) for free. However some airlines will charge up to 10% of the adult ticket price. Click on 'Price Breakdown' to find out more.
If you are pregnant, but due before the flight departure date, please contact us once your baby is born and has a name. We can then add him/her to your ticket.
Infants will not be given a seat. The airlines expect parents to travel with them on their lap.
Airlines regard infants as being under 24 months old.
The fare is based on the child's age on the date of travel.
More detailed information can be found here Traveling with children

Buy
KLM

Flights

KLM Reservations with Alternative Airlines
Make a KLM Booking and Find Some Amazing Deals
---
About KLM
KLM is the flag carrier of the Netherlands and is headquartered in Amstelveen, with Amsterdam Airport Schiphol. Founded in 1919, KLM is the oldest airline in the world still operating under it's original name. As of 2013 KLM had a total of 32,505 employees.
KLM and its partners serve over 130 destination across five continents from their hub Amsterdam Schiphol Airport to many destinations worldwide including Luanda, Buenos Aires, Vienna, Manama, Brussels, Rio de Janeiro, Sao Paulo, Calgary, Edmonton, Montreal, Toronto, Athens, Accra, Hong Kong, Budapest, Delhi, Kigali, Singapore, Cape Town, Johannesburg, Seoul, Barcelona, Bilbao, Istanbul, Abu Dhabi, Aberdeen, Kiev and many others.
On 30 September 2003, Air France and KLM agreed to a merger in which Air France and KLM would become subsidiaries of a holding company called Air France–KLM. KLM also have group equity shares in a number of subsidiaries from airlines to high-speed trains. Airline subsidiaries include Kenya Airways, KLM Asia, KLM Cityhopper, KLM Cityhopper UK, Transavia and Transavia France. KLM is a part of SkyTeam alliance. SkyTeam was founded in June 2000 is now the second largest alliance in the world, second only to Star Alliance, in terms of passengers and number of members.
SkyTeam currently consists of 20 carriers from five continents operating a wider service for all of their passengers worldwide. KLM has codeshare agreements with most SkyTeam members including; Aer Lingus, Bangkok Airways, Georgian Airways, Gol (previously VRG), Jet Airways, Malaysia Airlines, Olympic Air, Pegasus Airlines, Sichuan Airlines, Singapore Airlines, Winair and many others.
KLM currently operates using a variety of aircraft. The KLM fleet is constantly adapting and changing but currently consists of the following aircraft: Airbus A330-200/300, Airbus A350-900, Boeing 737-700/800/900, Boeing 747-400/400M, Boeing 777-200ER/300ER and Boeing 787-9/10. The total number of aircraft for KLM stands at 116 with a further 26 on order to be delivered in the near future.
---
KLM Pets, Emotional Support Animals and Service Animals
Thinking of flying with either a service animal, pet, or an emotional support animal, see all information and advise by Alternative Airlines about taking an animal on a plane.
---
KLM Discount
Grab a KLM voucher code on your airline ticket and save on your next trip with KLM! If you are looking for a KLM deal, then look no further as you can get a KLM discount code with Alternative Airlines when you pay with PayPal. There are a wide range of flight voucher codes to use to get a discounted KLM airline ticket!
---
KLM Baggage
General free hand baggage allowance
Economy class on intercontinental flights
1 x hand baggage max. 55 x 35 x 25 cm (21,5 x 13,5 x 10 inch)
1 accessory, e.g. a handbag, briefcase or laptop, max. 40 x 30 x 15 cm (16 x 12 x 6 inch)
Total weight max. 12 kg (26 lbs).
Business class for European and intercontinental flights
2 x hand baggage, each max. 55 x 35 x 25 cm (21,5 x 13,5 x 10 inch)
1 accessory, e.g. a handbag, briefcase or laptop max. 40 x 30 x 15 cm (16 x 12 x 6 inch)
Total weight max. 18 kg (40 lbs)
Important
Large bags that do meet the hand luggage requirements may still need to be checked in at the gate free of charge, due to limited space in overhead bins in the cabin. Please stow small bags underneath the seat in front of you.
We strongly recommend to view your personal luggage allowance in My Trip for KLM flights. Please check the websites of other airlines in your itinerary for their (hand) baggage policy.
---
KLM check-in information
General free check-in baggage allowance
Economy class on intercontinental flights
1 x check-in baggage: L + W + H max. 158 cm (62 inch) and in total max. 23 kg (50 lbs).
Flying Blue Silver-, Gold- and Platinum members and SkyTeam Elite- and Elite Plus-members can bring 2 pieces of check-in baggage of the same dimensions and weight.
* This also applies for European KLM flights that are part of an intercontinental journey and KLM flights between continental Europe and Armenia, Belarus, Georgia and Russia.
European class on KLM European flights
Light tickets: 1 piece of hand baggage. If you would like to bring more baggage you can purchase the extra baggage online with a discount during your booking or in My Trip.
Standard and Flex tickets: 1 piece of hand baggage and 1 piece of check-in baggage.
On top of this, Flying Blue Platinum, Gold and Silver members can bring 1 extra piece of check-in baggage L + W + H max. 158 cm (62 Inch), in total max. 23 kg (50 lbs). This applies to all SkyTeam operated flights. Flying Blue Ivory members have the same baggage allowance as regular passengers.
*This also applies to KLM flights between continental Europe and Algeria, Israel, Morocco and Tunisia.
Business class
2 x check-in baggage: L + W + H each max. 158 cm (62 inch) and may weigh each max. 32 kg (70,5 lbs)
Flying Blue Silver-, Gold- and Platinum members and SkyTeam Elite- and Elite Plus-members can bring 3 pieces of check-in baggage of the same dimensions and weight. Flying Blue Ivory members have the same baggage allowance as regular passengers.
---
KLM Seat Selection
KLM seat selection available with Alternative Airlines. View KLM seat availability and choose your KLM preferred seat when you book with Alternative Airlines. Alternative Airlines allows passengers to choose their seat on all KLM flights, no matter which destinations they're flying between! Find out how to book your seats here.
---
KLM Business Clas
Enjoy comfort, attention to detail and excellent customer service on board your intercontinental flight with KLM.
KLM Business Class Facilities
KLM Business Class passengers are able to pack more for their journeys with a larger baggage allowance. Not only this, but KLM passengers are able to visit the KLM Crown Lounges and earn up to 175% miles.
What are KLM Business Class seats like?
World Business Class seats on KLM are 207cm long and are fully reclinable by 180 degrees. After a good night's sleep on your fully-flat bed, you'll arrive at your destination feeling refreshed and revitalized. KLM Business Class Seats are also equipped with in-seat power sockets and privacy canopies so that you can work from the comfort of your seat. On Airbus A330-200 and the Airbus A330-200 aircraft, Business Class passengers are equipped with "sleeper seats" rather than fully-flat beds.
---
KLM Inflight Entertainment
Passengers can enjoy over 1000 hours of entertainment on board any intercontinental KLM flight. Choose from movies, TV and games in Arabic, Chinese, Dutch, French, German, Japanese, Korean, Portuguese or Spanish.
KLM TV
Choose from a wide selection of popular TV shows on your intercontinental KLM flight. Select your favourite American sitcom or an eye-opening documentary to help make the time fly on board your KLM flight.
KLM Movies
Find award-winning films in a variety of different languages when flying long-haul with KLM. KLM frequently updates its range of new releases so that you can sit back and enjoy some of the most recent movies during your flight.There's a movie for every age and every taste with KLM.
---
KLM Food
KLM Meal Options
KLM offer passengers in flight food, which varies depending on the class, route flying and duration of flight. For some shorter flights, there may be a reduced meal service which may be limited to sandwiches, salads or yoghurt for example.
For economy class passengers, a choice of hot meal will be offered, which will be served a started and bread. In addition, passengers can purchase items from the A la carte menu, which have to be pre-ordered on the KLM website 48 hours prior to departure.
Business class passengers enjoy a specially prepared dinner which includes a choice of cold starter or vegetarian soup, choice of several main dishes and a choice of several desserts, fruit or cheese.
KLM Special Dietary Requirements
Passengers with special dietary needs can order a special meal for their KLM flight. These must be ordered at least 24 hours before scheduled departure time, or 48 hours for Kosher meals, from the KLM website under 'My Trip'. The special diet meals available are:
| | | | | | | |
| --- | --- | --- | --- | --- | --- | --- |
| | | | Children's Meals | | Baby meal | |
| | | | | | Child's meal | |
| | | | Vegetarian Meals | | Lacto-ovo vegetarian meal | |
| | | | | | Asian vegetarian meal | |
| | | | | | Vegetarian vegan meal | |
| | | | Medical Meals | | Diabetic Meal | |
| | | | | | Low-fat meal | |
| | | | | | Low-salt meal | |
| | | | | | Gluten-intolerant meal | |
| | | | | | Lactose intolerant meal | |
| | | | Religious Meals | | Muslim meal | |
| | | | | | Kosher meal | |
| | | | | | Hindu meal | |
KLM Drinks & Alcohol
On all KLM intercontinental flights, passengers are greeted on board with a a welcome drink. There is also complimentary after-dinner coffee, tea or liqueur, and a drinks service which offers drinks once every hour.
The drinks available are soft drinks and fruit juices, hot drinks, and alcoholic drinks including beer, fine wines and liquors.
---
KLM Economy Class
Economy class in KLM offers comfort on both intercontinental and European, short-haul flights
KLM Economy Facilities
Intercontinental KLM Economy Class includes a blanket and pillow with a well designed seat along with an in-flight magazine.
Meal (you can request for any special dietary requirements) and a choice of non-alcoholic and alcoholic beverages. For many flights departing form Amsterdam, you can choose from the a la carte menu.
European KLM Economy Class flights provides comfortable seating with a sandwich and snack and a choice of beverages of either alcoholic and non-alcoholic. On board shopping is available for flight duration of more than 90 minutes.
KLM Economy Class Seats
Economy Class in KLM comprises of two types of seating - Economy Regular (76 - 81cm of legroom) and Comfort (extra recline of up to 18cm).
---
KLM Route Map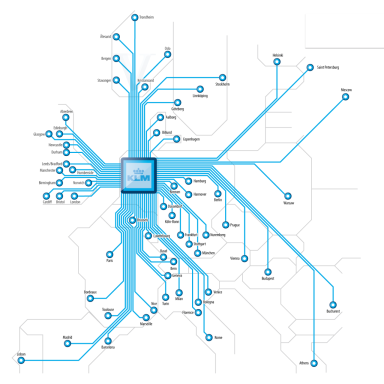 Popular Routes
London

Abu Dhabi
Joahnnesburg

Amsterdam
Beijing

London
Lagos

Amsterdam
London

Chengdu
Rio de Janiero

London

---
The Fleet
Airbus A330-200
Airbus A330-300
Boeing 737-700
Boeing 737-800
Boeing 737-900
Boeing 747-400M
---
Amsterdam Airport Schiphol
HUB Airport
Amsterdam Airport Schiphol is the main international airport of the Netherlands. Amsterdam Airport is the hub airport for many airlines including Corendon Dutch Airlines, KLM, Transavia and TUI Airlines Netherlands. The airport has 6 runways and can handle nearly 60 million passengers every year.


SkyTeam Alliance is a leading global airline network, with 20 member airlines. SkyTeam alliance was founded in 2000 and now consists of member airlines such as Aerolineas Argentinas, AeroMexico, Air Europa, China Southern, Alitalia, China Airlines, Delta, Garuda Indonesia, Kenya Airways, KLM and others. SkyTeam Alliance network has nearly 16,323 daily flights, with 1,052 destinations in 177 countries.
---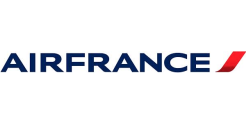 ---
KLM News
27th June 2018
KLM want to better partnership with railway system
KLM has put forward the idea of creating a partnership between airlines and railways companies across Europe. KLM CEO, Pieter Elbers, stated that if airlines and railway companies were to co-operate better, they would be able to reduce the amount of congestion throughout many international airports in Europe.
Elbers said that passengers should see the railway as the best option for short-haul travel between European cities, but because railway companies don't offer quick and cheap enough services, customers will always choose to fly. Elbers continued that if people were to travel short distances by train, the aviation industry would be able to reduce its amount of short-haul services. This would reduce costs and be much more environmentally friendly, according to the KLM CEO.
11th June 2018
Air France and KLM maintain their strong partnership
Rumour has it that there have been questions hovering over why KLM needs its long-term partner Air France when it is standing on its own two feet so well at the moment. It seems, however, according to external sources, that both airlines will continue to rely on the support of one another for the foreseeable future. That said, it also seems possible that the partnership may be holding both airlines back in the European market, as together they seem unable to compete against European aviation giant, Lufthansa. Air France and KLM will continue to be successful together, but the question remains whether one will want to branch off and attempt to take the top spot. There are also rumours that AccorHotels is looking to invest in Air France-KLM, which could turn the airline into a full-service travel superpower.
13th May 2018
Air France-KLM dampen profit and growth expectations
Air France-KLM has come to the conclusion that profits may fall this year due to strikes. Air France tickets may have suffered from the high demand for tickets thanks to robust economies, which has helped to ease the pressure on fares. The results came as Air France staff staged the 13th day of walkouts this year and come hours ahead of a crunch ballot for the group's chief executive, who has said it would be hard for him to stay if staff vote against the pay proposal. Last year, the group made an operating profit of 1.488 billion euros, although that has been restated to 1.9 billion euros due to IFRS accounting rule changes. Air France believe that the walkouts may have cost the company 300 million euros. KLM reservations can be made with Alternative Airlines.
23rd May 2017
KLM and TUI Netherlands to expand partnership
KLM and TUI Netherlands have announced that they will expand their existing partnership framework by cooperating on various routes while at the same time substantially expanding their combined capacity on routes they already serve together. The two Dutch airlines have stated that TUI will restore Kenya to its range of destinations. As such, from November of this year onwards, TUI will offer capacity on KLM's new 3x weekly return service to Mombasa, with an intermediate stop in Nairobi Jomo Kenyatta. In addition, TUI will acquire blocks of seats on KLM's new 3x weekly direct service to Mauritius that will commence in November. TUI has an existing presence on the Indian Ocean island through its chain of RIU Hotels.
In South America, TUI will develop synergies with KLM on its Cartagena de Indias, Colombia, and San José Juan Santamaría, Costa Rica, services. At the latter, TUI will begin operating tours under the Kras brand next winter. In the Caribbean, TUI fly (Netherlands) (OR, Amsterdam) will suspend flights to St. Maarten this winter, but TUI will continue to offer the Dutch market package trips to this island in cooperation with KLM. KLM and TUI will also jointly serve various European cities, with KLM taking part in TUI's "City of the Month" campaign, which highlights a specific city trip within Europe every month.
17th May 2017
After 16 years, KLM is resuming Amsterdam-Mumbai service with a thrice-weekly flight beginning from October 29
KLM (part of the Air France-KLM group) will deploy a 294-seat Boeing 787-9 aircraft on the route and the new service will enable Air France-KLM to catch up with Lufthansa that is now the biggest European airline flying to India. KLM is resuming services from Amsterdam to Mumbai after 16 years with a 3 x Weekly flight beginning from October 29th.
16th May 2017
KLM in recent schedule filing adjusted planned seasonal service to Sri Lanka.
The winter seasonal Amsterdam – Colombo operation from 29th October 2017 to 24th March 2018, will see a service operating three times weekly over the winter season, instead of the previously planned 6-week period from 17th January to the end of March. Boeing 787-9 aircraft serves this market.
30th March 2017
KLM Cargo announced as TIACA's newest trustee member
KLM Cargo is the leading air freight carrier in the Icelandic market, with services to 54 destinations within North America and Europe. The cargo airline has been announced as the newest member for The International Air Cargo Association (TIACA), which will help it to build a stronger role for air cargo initiatives and create a better air cargo community.
28th March 2017
KLM have announced that they will resume flights to Sierra Leone and Liberia
For the first time in 20 years, KLM will resume flights to Freetown in Sierra Leone and Monrovia in Liberia. The flight services were halted during the civil wars in the 1990s.
The new service will fly 3 times a week, Wednesdays, Fridays and Sundays (from Amsterdam and returning via Monrovia)
The return of the service will add more connecting opportunities for Amsterdam Schiphol Airport.
---