KLM Reservations with Alternative Airlines
Make a Booking and Find Some Amazing Deals
---
About
KLM is the flag carrier of the Netherlands and is headquartered in Amstelveen, with Amsterdam Airport Schiphol. Founded in 1919, KLM is the oldest airline in the world still operating under its original name. As of 2013 KLM had a total of 32,505 employees.
On 30 September 2003, Air France and KLM agreed to a merger in which the two airlines would become subsidiaries of a holding company called Air France–KLM. KLM also have group equity shares in a number of subsidiaries from airlines to high-speed trains. Airline subsidiaries include Kenya Airways, KLM Asia, KLM Cityhopper, KLM Cityhopper UK, Transavia and Transavia France.
---
Destinations
KLM and its partners serve over 130 destination across five continents including Luanda, Buenos Aires, Vienna, Manama, Brussels, Rio de Janeiro, Sao Paulo, Calgary, Edmonton, Montreal, Toronto, Athens, Accra, Hong Kong, Budapest, Delhi, Kigali, Singapore, Cape Town, Johannesburg, Seoul, Barcelona, Bilbao, Istanbul, Abu Dhabi, Aberdeen, Kiev and many others.
---
Baggage
Hand baggage allowance
Economy Class
1 x hand baggage measuring a maximum of 55 x 35 x 25 cm
1 x personal item (accessory such as a handbag, briefcase or laptop), with the maximum dimensions of 40 x 30 x 15 cm
The total weight of these two bags must weigh no more than 12 kg
This is a general guide for all routes, please ensure you check your ticket before travel to see your own baggage allowance
Business Class
2 x items of hand baggage. Each item must not exceed the dimensions of 55 x 35 x 25 cm
In addition, passengers are permitted 1 x personal accessory (for example a handbag, briefcase or laptop) This personal item is restricted to the maximum dimensions of 40 x 30 x 15 cm
The total weight of all 3 items has a maximum weight of 18 kg
This is a general guide, please ensure you check your ticket before travel to see your own baggage allowance
Checked baggage allowance
Economy Class
1 x check-in bag. The combined dimensions (L+W+H) must not exceed 158 cm, and the weight of it must not exceed 23kg.
Passengers flying Blue Silver, Gold and Platinum, or those in SkyTeam Elite and Elite Plus can also bring 1 additional checked bag, of the same weight and dimensions restrictions as above.
Passengers travelling on the light fare do not have any free checked luggage included in their ticket.
Business Class
2 x checked bags, weighing a maximum of 32kg each and with the maximum combined dimensions (L+W+H) of 158cm each.
Passengers flying Blue Silver, Gold and Platinum, or those in SkyTeam Elite and Elite Plus can also bring 1 additional checked bag, of the same weight and dimensions restrictions as above.
---
Check-in Information
Online Check-In
Passengers on KLM flights can choose to check-in online, either via the airline's direct website KLM.com or via the KLM app. You can read more about the benefits of online check-in here. Online check-in is available from 30 hours till 1 hour before your flight, apart from flights to and from the US (24 to 1 hour before departure).
Airport Check-In
Passengers can choose to check-in at the airport, either at the check-in desk or by using the self-service kiosks. For staffed check-in desks, passengers must check-in between 2 hours and 40 minutes before their flight departure for European flights, and between 3 to 1 hour before flying for intercontinental flights.
Passengers using the self-service kiosk at Schiphol airport can check-in at any time on the day of departure. For all other airports, passengers must check-in at least 2 hours before departure.
---
Seat Selection
KLM seat selection is available with Alternative Airlines. Alternative Airlines allows passengers to choose their seats on all flights, no matter which destinations they're flying between! Find out how to book your seats online.
---
Economy Class
Economy class in KLM offers comfort on both intercontinental and European, short-haul flights
Economy Facilities
Intercontinental KLM Economy Class includes a blanket and pillow with a well-designed seat along with an in-flight magazine.
Meal (you can request for any special dietary requirements) and a choice of non-alcoholic and alcoholic beverages. For many flights departing from Amsterdam, you can choose from the a la carte menu.
European KLM Economy Class flights provide comfortable seating with a sandwich and snack and a choice of beverages of either alcoholic and non-alcoholic. Onboard, shopping is available for flight duration of more than 90 minutes.
Economy Class Seats
Economy Class in KLM comprises of two types of seating - Economy Regular (76 - 81cm of legroom) and Comfort (extra recline of up to 18cm).
---
Premium Economy
2020 update: KLM has announced that a Premium Economy Class will soon be available. This will be a different product to the 'Economy Comfort' fare upgrade which offers greater legroom in Economy for an additional fee.
Premium Economy Facilities
It has not yet been announced what KLM's new Premium Economy product will offer customers in terms of amenities and facilities, such as meal options and entertainment. However, it is likely that KLM will follow its North American partners, including Air France, Delta and Virgin Atlantic and offer a similar level of service.
Premium Economy Seats
The new Premium Economy product has not been announced on what it will offer customers in terms of the seating, including seat width, pitch and configuration.
---
Business Class
Enjoy comfort, attention to detail and excellent customer service on board your intercontinental flight with KLM.
Business Class Facilities
Business Class passengers are able to pack more for their journeys with a larger baggage allowance. Not only this, but passengers are able to visit the KLM Crown Lounges and earn up to 175% miles.
What are Business Class seats like?
World Business Class seats are 207cm long and are fully reclinable by 180 degrees. After a good night's sleep on your fully-flat bed, you'll arrive at your destination feeling refreshed and revitalized. KLM Business Class Seats are also equipped with in-seat power sockets and privacy canopies so that you can work from the comfort of your seat. On Airbus A330-200 and the Airbus A330-200 aircraft, Business Class passengers are equipped with "sleeper seats" rather than fully-flat beds.
---
First Class
KLM doesn't offer a First Class cabin class. The closest class that the airline offers to First Class is Business Class, which features many of the upscale features found in other airlines' First Class cabins.
---
Inflight Entertainment
Passengers can enjoy over 1000 hours of entertainment on board any intercontinental flight. Choose from movies, TV and games in Arabic, Chinese, Dutch, French, German, Japanese, Korean, Portuguese or Spanish.
TV
Choose from a wide selection of popular TV shows on your intercontinental flight. Select your favourite American sitcom or an eye-opening documentary to help make the time fly on board.
Movies
Find award-winning films in a variety of different languages when flying long-haul. KLM frequently updates its range of new releases so that you can sit back and enjoy some of the most recent movies during your flight. There's a movie for every age and every taste.
---
Food
Meal Options
KLM offer passengers in-flight food, which varies depending on the class, route flying and duration of the flight. For some shorter flights, there may be a reduced meal service which may be limited to sandwiches, salads or yoghurt for example.
For economy class passengers, a choice of hot meal will be offered, which will be served a starter and bread. In addition, passengers can purchase items from the A la carte menu, which have to be pre-ordered on the KLM website 48 hours prior to departure.
Business class passengers enjoy a specially prepared dinner which includes a choice of cold starter or vegetarian soup, choice of several main dishes and a choice of several desserts, fruit or cheese.
Special Dietary Requirements
Passengers with special dietary needs can order a special meal for their flight. These must be ordered at least 24 hours before scheduled departure time, or 48 hours for Kosher meals, from the KLM website under 'My Trip'. The special diet meals available are:
| | | | | | | |
| --- | --- | --- | --- | --- | --- | --- |
| | | | Children's Meals | | Baby meal | |
| | | | | | Child's meal | |
| | | | Vegetarian Meals | | Lacto-ovo vegetarian meal | |
| | | | | | Asian vegetarian meal | |
| | | | | | Vegetarian vegan meal | |
| | | | Medical Meals | | Diabetic Meal | |
| | | | | | Low-fat meal | |
| | | | | | Low-salt meal | |
| | | | | | Gluten-intolerant meal | |
| | | | | | Lactose intolerant meal | |
| | | | Religious Meals | | Muslim meal | |
| | | | | | Kosher meal | |
| | | | | | Hindu meal | |
Drinks & Alcohol
On all intercontinental flights, passengers are greeted on board with a welcome drink. There is also complimentary after-dinner coffee, tea or liqueur, and a drinks service which offers drinks once every hour.
The drinks available are soft drinks and fruit juices, hot drinks, and alcoholic drinks including beer, fine wines and liquors.
---
Pets, Emotional Support Animals and Service Animals
Thinking of flying with either a service animal, pet, or an emotional support animal, see all information and advice by Alternative Airlines about taking an animal on a plane.
---
Discounts
Grab a voucher code on your airline ticket and save on your next trip with KLM! If you are looking for a deal, then look no further as you can get a discount code with Alternative Airlines when you pay with PayPal. There is a wide range of flight voucher codes to use to get a discounted KLM airline ticket!
---
Route Map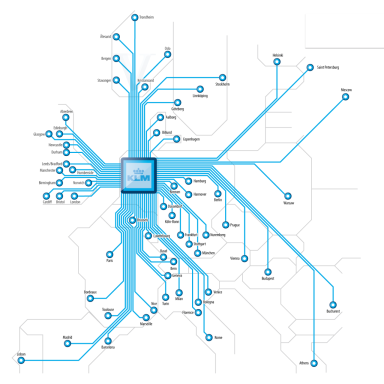 ---
Airline Alliance
KLM is a part of SkyTeam alliance. SkyTeam was founded in June 2000 is now the second largest alliance in the world, second only to Star Alliance, in terms of passengers and number of members.
SkyTeam currently consists of 20 carriers from five continents operating a wider service for all of their passengers worldwide. KLM has codeshare agreements with most SkyTeam members including; Aer Lingus, Bangkok Airways, Georgian Airways, Gol (previously VRG), Jet Airways, Malaysia Airlines, Olympic Air, Pegasus Airlines, Sichuan Airlines, Singapore Airlines, Winair and many others.
---
Fleet
KLM currently operates using a variety of aircraft. The fleet is constantly adapting and changing but currently consists of the following aircraft: Airbus A330-200/300, Airbus A350-900, Boeing 737-700/800/900, Boeing 747-400/400M, Boeing 777-200ER/300ER and Boeing 787-9/10. The total number of aircraft for KLM stands at 116 with a further 26 on order to be delivered in the near future.
---
HUB Airport
Amsterdam Airport Schiphol
Amsterdam Airport Schiphol is the main international airport of the Netherlands. Amsterdam Airport is the hub airport for many airlines and ground transport including Vipper, Corendon Dutch Airlines, Transavia and TUI Airlines Netherlands. The airport has 6 runways and can handle nearly 60 million passengers every year.
Other airlines that fly to/from the airport include Arkia, Belavia, China Eastern, China Southern, Delta, El Al, Georgian Airways and more.
---
Alternative Airlines to KLM
Please click on the following airlines that fly similar routes: