Airlines will always try to sit children with their parents (subject to check-in)
Some airlines will allow travel for unaccompanied minors. Please email us to check.
The fare is based on the child's age on the date of travel.
More detailed information can be found here Traveling with children
Most airlines will let infants travel with their parent(s) for free. However some airlines will charge up to 10% of the adult ticket price. Click on 'Price Breakdown' to find out more.
If you are pregnant, but due before the flight departure date, please contact us once your baby is born and has a name. We can then add him/her to your ticket.
Infants will not be given a seat. The airlines expect parents to travel with them on their lap.
Airlines regard infants as being under 24 months old.
The fare is based on the child's age on the date of travel.
More detailed information can be found here Traveling with children
Boeing 747
Cancellation Protection
Protects
Trusted Choice
65,000 happy customers
Rated 4.5 Stars. Based on 3,581 service ratings over the past year
Dedicated customer service team on hand to help
Secure payments
Cancellation Protection
Protects
Trusted Choice
65,000 happy customers
Rated 4.5 Stars. Based on 3,581 service ratings over the past year
Dedicated customer service team on hand to help
Secure payments


Boeing 747
Discover more about the Boeing 747, including technical specifications, features and which airlines use the 747 'Jumbo Jet'.
About the
Boeing 747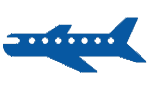 The Boeing 747 is a large, wide-body commercial jet airliner aircraft, with four wing-mounted engines. It is used as both a passenger carrier and cargo carrier. The 747 first flew in 1970 with Pan Am and was the first wide-body airplane to be manufactured by Boeing - it was the first plane to be dubbed a 'Jumbo Jet'. As of June 2019, 1,554 have been built. Europe is the biggest region for 747's currently in service. British Airways are a primary operator of the 47, along with Lufthansa, Korean Air, and Atlas Air (cargo).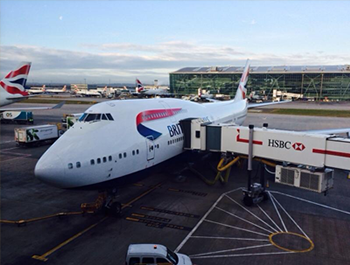 The distinctive forward part of the aircraft, with its hump upper deck, make the aircraft easily recognisable. The 747 has a double-deck configuration for the first part of its length. The upper deck of this 'hump' was designed to be able to easily convert into a cargo carrier and serves as a first-class cabin or to provide extra seating.
One of the most common variants in service is the 747-400, which can comfortably carry up to 416 passengers in a three-class configuration, 524 passengers in a two-class layout, or up to 660 passengers in a high–density one-class layout.
The 747-8
The 747-8 is the latest and third generation of the 747. The passenger model (747-8 Intercontinental, or '747-8i') was first delivered in 2012; as of July 2019, there are 47 orders for a passenger version of the aircraft. The 747-8 is the largest commercial aircraft built in the United States and features enhanced design features, including a curved stairway, a more spacious passenger entrance, and improved fixtures. Lufthansa is the largest operator of the 747-8i.
Technical Spec of the

747
Spec
747SP
747-100
747-200B
747-300
747-400ER
747-8
Range
5,830 nmi
10,800 km
4,620 nmi
8,560 km
6,560 nmi
12,150 km
6,330 nmi
11,720 km
7,670 nmi
14,200 km
7,730 nmi
14,320 km
Length
56.3 m
70.66 m
70.66 m
70.66 m
70.66 m
70.66 m
Cabin Width
239.5 in
239.5 in
239.5 in
239.5 in
239.5 in
239.5 in
Wing Span
59.6 m
59.6 m
59.6 m
59.6 m
64.4 m
68.4 m
Typical Seat Count (3-class)
276
366
366
400
416
467
Cargo
110 m3
175 m3
175 m3
175 m3
160 m3
179.7 m3
Passenger Features of the
Boeing 747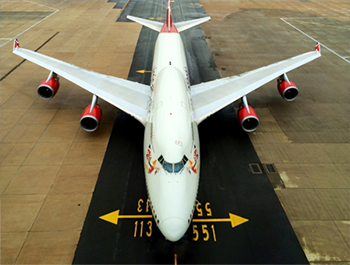 Interior Features Designed for Comfort
Extra headroom over the seats elevates the space and enhances passenger comfort. The sculpted celling with LED lighting creates an open, wam, and relaxing space. A variety of colours and intensities are used to simulate natural light, gradually changing through a spectrum of lighting from sunrise to sunset. The lavatories are also designed to enhance the functionality and comfort of the space.
Spacious, Convenient Storage
New larger overhead bins pivot for easy access and provide every passenger with plenty of room to store their baggage. Storage bins store into the ceiling so are out of the way. New latches also make opening and closing the bins easier.
Offering More in Economy Class
Back-of-seat entertainment systems mean all Economy passengers can enjoy the best on-demand content right from their seat.
Luxurious Business Class
Enjoy a 'private jet' experience, the more spacious premium seating area is an ideal space to relax. Open, bright, and with plenty of space, look forward to an exclusive flying experience on the upper-deck of the plane.
Superior First Class
The 747-8 features an exclusive and private first class cabin. Free from any passing traffic, the private cabin has Dreamliner-inspired cabin enhancments. Many cabins feature a private bar.
Which airlines use the Boeing

747

?
As well as a number of Cargo Carriers, the following Passenger Carriers currently operate the 747:
| | | |
| --- | --- | --- |
| Air Georgia | Air China | Air Atlanta Icelandic |
| Air India | Asiana Airlines | Bahrain Royal Flight |
| British Airways | Caspian Airlines | Cathay Pacific |
| China Airlines | China Southern Airlines | Cosair International |
| Dubai Royal Air Wing | El Al Israel Airlines | EVA Air |
| Iran Air | Iraqi Airways | Kalitta Air |
| KLM | Korean Air | Lufthansa |
| Mahan Air | Max Air | National Airlines |
| Qantas | Rossiya Airlines | Saudi Arabian Airlines |
| Suparna Airlines | Thai Airways International | Virgin Atlantic |
| Wamos Air | | |
How can I book flights on the Boeing 747?
When you search for flights through Alternative Airlines it is quick and easy to see which plane will be used on each flight. Just click on the details icon on the flight that you want to search to see if it will be operated with a Boeing 747. You can visit our page 'what aircraft will I fly on?' for more information on how to do check which aircraft you will be flying on.
Dreamliner
FAQs
How many Boeing 747 are there?
1,544 Boeing 747 have been delivered. It was the world's leading widebody aircraft, until being overtaken by the Boeing 777, which reached 1,547 deliveries in 2019.
Which is bigger the Boeing 777 or Boeing 747?
The 777 is a 2 engined commercial wide-body airliner also made by Boeing. The 747 is larger and offers a premium space for passengers. Onboard experience is comparable on both the 777 and 747, but being more fuel efficient makes the 777 perfect for high demand routes. The 777x-9 has been designed to replace the Boeing 747.
How safe is the Boeing 747?
The Boeing 747 is one of the safest aircraft that has ever been produced and among Boeing's safest planes. It has widely been reported to be one of the safest aircraft in the world.