Search & Buy Korean Air Flights
Airlines will always try to sit children with their parents (subject to check-in)
Some airlines will allow travel for unaccompanied minors. Please email us to check.
The fare is based on the child's age on the date of travel.
More detailed information can be found here Traveling with children
Most airlines will let infants travel with their parent(s) for free. However some airlines will charge up to 10% of the adult ticket price. Click on 'Price Breakdown' to find out more.
If you are pregnant, but due before the flight departure date, please contact us once your baby is born and has a name. We can then add him/her to your ticket.
Infants will not be given a seat. The airlines expect parents to travel with them on their lap.
Airlines regard infants as being under 24 months old.
The fare is based on the child's age on the date of travel.
More detailed information can be found here Traveling with children
Buy
Korean Air

Flights
Korean Air Tickets and Reservations with Alternative Airlines
Book Your Korean Air Flight Tickets and Find Some Amazing Deals
---
About Korean Air
Korean Air is a South Korean airline and one of the world's great carriers. It's the largest airline company in South Korea and has a vast domestic and global network of regularly scheduled services. Within South Korea, destinations served include Busan, Cheongju, Daegu, Gwangju, Gunsan Jeju, Jinju, Pohang, Seoul (Gimpo and Incheon), Ulsan, Wonju, Yangyang and Yeosu.
Korean Air operates to 135 destinations worldwide and the airline's headquarters is located in Seoul, South Korea. Korean Air is a founding member of SkyTeam and the parent company of Jin Air and Czech Airlines.
---
Korean Air Frequent Flyer Program
Korean Air operates SKYPASS which is the frequent-flyer program of Korean Air. SKYPASS also refers to the blue card which Korean Air frequent-flyers are given. The motto of SKYPASS is "Beyond your Imagination". The program's elite levels are comparable to those of other airlines' frequent-flyer programs, requiring members to fly 30,000 miles per two-year cycle.
Qualification for the highest level is based on lifetime flight miles, requiring a customer to fly 1 million miles for Million Miler, which is the highest elite status; or 500,000 miles for Morning Calm Premium, which comes second. Both membership levels are eligible for SkyTeam Elite Plus privileges. Membership in these levels is granted for life.
In March 2016, Korean Air signed an agreement with Jet Airways as an FFP partner, enabling SKYPASS members to accumulate miles and enjoy award travel on Jet Airways flights. When travelling on Jet Airways, SKYPASS members will earn miles. In August 2015, Korean Air signed an agreement with Gol Airlines as an FFP partner, enabling SKYPASS members to accumulate miles and enjoy award travel on Jet Airways flights. When travelling on Gol Airlines, SKYPASS members will earn miles.
---
Codeshares and Alliance
Alliance
SkyTeam Alliance is a leading global airline network, with 20 member airlines. SkyTeam alliance was founded in 2000 and now consists of member airlines such as Aerolineas Argentinas, AeroMexico, Air Europa, China Southern, Alitalia, China Airlines, Delta, Garuda Indonesia, Kenya Airways, KLM and others. SkyTeam Alliance network has nearly 16,323 daily flights, with 1,052 destinations in 177 countries.
Codeshare Agreement
Korean Air has codeshare agreements with Air Tahiti Nui, Alaska Airlines, American Airlines, Aurora, Emirates Airlines, Etihad Airways, Gol Airlines, Hawaiian Airlines, Japan Airlines, Jet Airways, Jin Air, LATAM, Malaysia Airlines, MIAT Mongolian, Myanmar, Uzbekistan and WestJet.
---
Korean Air Class Tiers
Korean Air offers three types class types: economy, business, and first.
---
Korean Air Economy Class
Economy Class on Korean Air has been recently upgraded to not only include a comfortable wide seating and individual TV screen, but also the new AVOD system!
Economy Class Facilities
Enjoy from a comfortable ergonomically designed seat with a your own personal TV screen.
Meals are served on board of a selections of Japanese, traditional Korean, Chinese and selected Western dishes.
Amenity kit with slippers and toothbrush set is provided and you can also request for a wake-up service.
Mood lighting is available for either eating, sleeping or reading to help adjust your eyes.
Disabled toilets are available to create the best accessibility for all passengers on board.
Economy Class Seats
Economy Class seating on Korean Air is sized at 17.2 - 18.1 inches wide. The seats recline at 118 degrees with a sliding cushion for added back support.
Note different seat sizes on selected aircraft:
B747-8i, B787-9: 17.2 inches wide
B777, A330, A380-800 : 18.1 inches wide
---
Korean Air Premium Economy
While Korean Air doesn't have a dedicated Premium Economy cabin class.
---
Business Class
Korean Air's Prestige Class offers an exclusive in-flight service so that you enjoy the journey as much as you enjoy your trip.
Business Class Facilities
Korean Air Business Class passengers can make use of the Exclusive Prestige check-in counter to avoid waiting in line to check-in for their flight. Once in the lounge, passengers can use the showers and saunas at the Grand Hyatt Incheon hotel at no extra charge. But, the luxury doesn't stop at the airport! On board your Korean Air flight, First and Prestige (Business) class passengers can enjoy drinks at the "Celestial Bar." With exquisite design and lighting, the "Celestial Bar" allows passengers to get away from their seat and wind down with a delicious cocktail.
What are Business Class Seats Like?
In your Korean Air prestige suite, there's enough room to stretch out with over 75in of space between each row. Each seat converts into a 180-degree fully-flat bed, making sure you get the best night sleep possible on your Korean Air Business Class flight. Passengers will have access to an in-flight amenity kit with three luxury cosmetic items alongside eye masks, toothbrushes and toothpaste. Find sockets to keep your devices fully charged so you never run out of battery on your Business Class trip again.
---
First Class
First Class is Korean Air's most luxurious cabin class with the best standard of service.
What Does First Class Include?
On the ground, all First Class passengers are given the option to choose a preferred seat 24 hours in advance. In addition to this, passengers have access to the First Class check-in lounge, complimentary baggage wrapping service, premium arrival shower service and priority boarding and baggage. Each First Class passenger will be met at the airport by a member of staff who will guide them through the airport and to the gate.
Onboard, all First Class passengers are given an in-flight amenity kit, a high-quality duvet, comfortable clothing and an in-seat power supply system. Each seat in First Class is fitted with mood lighting and each passenger can use the airlines' wake-up service and order from the in-flight menu for an extraordinary dining experience.
On the A380, passengers are given access to the Celestial Bar, which is a communal bar and lounge area for First Class and Prestige Class passengers.
First Class Facilities
Korean Air offers a number of different First Class experiences, depending on the type of aircraft that you fly on.
Kosmo Suites
The Kosmo Suite is 26.5 inches wide and folds 180 degrees flat into a bed. The Kosmo Suite's back support and footrest can be controlled by the touch control unit which is installed into the suite.
Each suite has a 23-inch LCD monitor which can be used to access Korean Air's inflight entertainment system and every passenger is given headphones made by Bose which ensure the best quality and block out external sounds.
The Kosmo Suite also has an individual office space, with a worktable and private reading lamp.
Kosmo Suites 2.0
The Kosmo Suites 2.0 is 80 inches long, 24 inches wide and includes 83-inches of space between each site. Each suite comes fully equipped with an LCD TV screen, a personal workspace and sliding doors for total privacy.
Kosmo Sleeper
The Kosmo sleeper is 78 inches long, 21.1 inches wide and includes 83 inches of space between each seat. Each seat comes with a 17-inch LCD monitor, which can be used to access the airlines' in-flight entertainment system.
The Kosmo sleeper has a private work desk and individual reading lamp so that you have your own personal in-flight workspace.
Sleeper
The Sleeper seats transform into 180 degree full flat beds. Each seat is fitted with a 23-inch LCD monitor with access to the airlines' in-flight entertainment system.
Does First Class Have a First Class Lounge?
Korean Air's First Class lounge can be found at Seoul Incheon Airport and is exclusive to First Class passengers.
---
Korean Air Food
Korean Air Meal Options
Passengers in Korean Air First class can enjoy top quality dishes on board their flights inspired by authentic Korean cuisine. The menu consists of a starter, main course, side dishes and dessert.
Korean Air Prestige Class passengers are offered a wide variety of Korean dishes, such as crab in soy sauce, Dongchimi noodles, Kalbi-jjim and bibimbap.
Passengers in Economy class are offered either traditional Korean-inspired dishes, as well as western, Chinese and Japanese dishes, dependent on the destination of your flight. In addition, long flights include a snack service featuring items such as ramen, pizza and rice cakes.
Special Dietary Requirements
Korean Air serves a wide variety of dishes suitable for special dietary requirements. These items must be ordered at least 24 hours prior to flight departure time, by contacting the Korean Air service centre, or online in 'My Trips'. Korean Air are one of few airlines who provide a special meal for passengers with allergies. Read more about flying with a nut allergy here. The meals available are as follows:
| | | | | | | |
| --- | --- | --- | --- | --- | --- | --- |
| | | | Infants and Children | | Baby Meals | |
| | | | | | Child meal | |
| | | | Vegetarians | | Lacto-Ovo meal | |
| | | | | | Vegan meal | |
| | | | | | Hindu meal | |
| | | | | | Jain meal | |
| | | | | | Oriental meal | |
| | | | | | Raw vegetarian meal | |
| | | | Special Dietary Needs | | Low-fat meal | |
| | | | | | Diabetic meal | |
| | | | | | Low-calorie meal | |
| | | | | | Bland meal | |
| | | | | | Gluten Intolerant meal | |
| | | | | | Low-salt meal | |
| | | | | | Low-lactose meal | |
| | | | Religious Meals | | Moslem meal | |
| | | | | | Hindu meal | |
| | | | | | Kosher meal | |
| | | | Other Special Meals | | Seafood meal | |
| | | | | | Fruit platter meal | |
| | | | | | Allergy meal | |
Drinks & Alcohol
Korean Air passengers in First Class and Prestige Class are provided a full drinks service including premium wines and top quality champagne.
Economy class passengers can enjoy a wine service featuring specially selected wines from France, Chile and Australia.
---
Korean Air In-flight Entertainment
Korean Air offers an exciting range of movies, short features, CD albums and music channels to keep you entertained on board your flight.
TV shows
There's a TV show for every age and every taste with Korean Air, find cartoons, dramas and documentaries to stop you from getting bored on board.
Movies
From action-packed super hero movies to classic period dramas, you can find a film to suit every taste on board your Korea Air flight.
---
Hub Airport
Incheon International Airport
Incheon International Airport is the largest airport in South Korea and is Korean Air's main hub. It is the primary airport serving the Seoul Capital Area and one of the largest and busiest airports in the world. Incheon International Airport is also the hub airport for Korean Air, Asiana Airlines, Jeju Air and Polar Air Cargo.
The airport has three runaways and has a passenger capacity of 50 million per year. The leading carriers which use Incheon International Airport include Asiana Airlines, Korean Air, China Southern Airlines and Cathay Pacific.
---
Route Map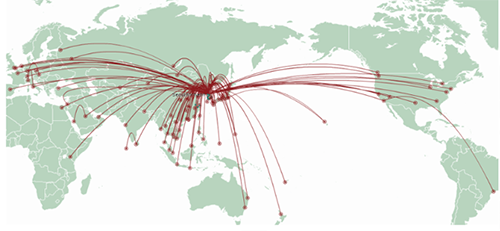 ---
Check Your Korean Air Reservations
If you've made your Korean Air flight reservation with Alternative Airlines and you have some questions, just contact us! We can help you with online check-in, additional baggage, special dietary assistance or any other special assistance you may need.
---
Korean Air Seat Selection
Alternative Airlines is proud to now offer seat selection on Korean Air flights. Passengers are able to pre-book Korean Air seats at the time of booking. Browse available seats and improve your in-flight experience by reserving your seat ahead of time.
---
Book Korean Air Flights in English
Book Korean Air flights with us to ensure for a safe and stress-free booking experience. With quality of service assured from Trustpilot and Feefo, you can relax knowing that we will take care of your every need. We book flights in English, to ensure that you are at ease with the levels of communication with the airline company.
---
Alternative Airlines