Search and Buy Royal Brunei Airlines Flights
Let's fly!

Select your payment method to view total prices including any payment fees:
Buy
Royal Brunei Airlines

Flights

Book Flights Direct with Royal Brunei Airlines and Alternative Airlines
Make a Royal Brunei Airlines reservation and find some amazing deals with discounted Royal Brunei Airlines tickets at Alternative Airlines
---
Royal Brunei Airlines is the national flag carrier airline of the Brunei Darussalam, headquartered in Bandar Seri Begawan.
Royal Brunei Airlines has a hub airport at Brunei International Airport, close to Bandar Seri Begawan.
Royal Brunei Airlines flies to many destinations including Bali, Bandar Seri Begawan, Bangkok, Dubai, Ho Chi Minh City, Hong Kong, Jakarta, Jeddah, Kota Kinabulu, London, Manila, Melbourne, Shanghai, Sinagpore and Surabaya. Royal Brunei Airlines has codeshare agreements with Cathay Pacific, Garuda Indonesia, Malaysia Airlines, Thai Airways and Myanmar Airways International.
Royal Brunei Airlines commenced flying in 1975 and now the airline's fleet consists of Boeing 787 Dreamliners, Airbus A320s and Airbus A319s. The Boeing 787 Dreamliner has 18 seats in Business Class and 236 in Economy Class.
Royal Brunei Airlines has interline agreements with many airlines including China Airlines, Air France, Bangkok Airways, British Airways, Ethiopian Airlines, Emirates, Hong Kong Airlines, Japan Airlines, Jet Airways, KLM, Malaysia Airlines and many others.
---
Frequent Flyer Program
Royal Brunei Airlines operates a frequent flyer program called Royal Skies whereby miles can earn actual miles on every eligible Royal Brunei Airline's flights.
There are three types of membership cards:
Blue (base membership)
Silver (Silver membership)
Gold (Gold membership).
Miles accrued by Royal Skies members can be redeemed for free flights or seat upgrades. A free upgrade award starts from 5,000 Royal Skies miles, while redemption for a free flight starts from 15,000 miles.
The Royal Brunei Airlines 787 Dreamliner Business Class cabin features contour seats that fully recline to a flat bed with 11% larger surface than the in-flight beds of most aircrafts.
---
News
5th February 2018
Royal Brunei Airlines hold ex-aircrew reunion
Royal Brunei Airlines hold a gathering at the All Seasons Restaurant, Parkview Hotel for former cabin crew members. The event saw the national carrier's former cabin crew members from its early days in 1972. Ex-crew for Royal Brunei Airlines included people from Malaysia, Singapore and the Philippines, as well as Indonesia. Present cabin crew members also attended the festivities. To commemorate the evening, retired cabin crew instructors were presented with memorabilia by the cabin crew as a symbol for all their har work, support and leadership.
"This reunion is hoped to further strengthen the ties between all the cabin crew near and far," he said. The reunion was organised by former RB cabin crew members Tithydiana Leonora binti Nikman, Noraini binti Muhammad, Stanley Sindai and Harrisman Affendy bin Haji Ali, the four communicating with and gathering their former colleagues and other crew members through social media.
A special lucky draw was held during the reunion to further enliven the event. Prizes include goodies from event sponsors Parkview Hotel, StarLodge, The Coffee Bean Brunei, Charcoal BBQ & Grill Restaurant, Haagen Dazs, as well as attendees of the event.
7th December 2017
Royal Brunei Airlines partners with Heathrow rewards
Royal Brunei Airlines has announced the launch of a new partnership that enables Royal Skies members to spend their Heathrow Rewards points on frequent flyer miles.
The Heathrow Rewards' loyalty programme allows customers to collect points each time they make a purchase at the airport on products and services such as parking, currency exchange, shopping, eating and drinking.
The new partnership means Royal Brunei Airlines' Royal Skies Elite silver and gold members will be able to instantly upgrade to Heathrow Rewards premium tier status, benefiting from double points for every pound spent at the airport.
They will also have the option to convert their Heathrow Rewards points into Royal Skies miles.
This strategic partnership is the latest in a number of benefits Royal Brunei Airlines has added to its Royal Skies programme which will be running for the next three years, ending in October 2020.
Members can redeem their miles through Royal Brunei Airlines' free flight award, flight upgrade award, baggage allowance and Sky Lounge access at Brunei International Airport.
22th September 2017
Royal Brunei Airlines to resume flights to Beijing in December
Royal Brunei Airlines (RB) announced today that it plans to resume direct flights to Beijing in December 2017.
The expansion of RB's service into China will begin with a twice weekly service to Beijing and move to thrice weekly service at the earliest opportunity.
RB's services will depart Brunei for Beijing every Monday, Wednesday and Friday at 7:55pm and arrive at Beijing at 1:00 the following day. The return flights leave Beijing at 2:00am and arrive in Brunei at 7:25am each Tuesday, Thursday and Saturday.
Mr. Karam Chand, Chief Executive Offer of RB said:
"RB last flew to Beijing two decades ago and we are delighted to be connecting the Capital Cities once again. As national carrier of Brunei Darussalam, the reintroduction of Beijing flights supports network development and builds on the strong bilateral trade relationship between the two countries."
The resumption of the flights are subject to government approvals and acquiring the landing slots in Beijing airport. The work has commenced on achieving these important milestones.
11th September 2017
Royal Brunei Becomes Philippine Airlines' 14th Codeshare Partner
Philippine Airlines and Royal Brunei Airlines have started codesharing on flights between Manila and Bandar Seri Begawan as well as between Cebu and Bandar Seri Begawan (via Manila).
The flights restore the Philippine Airlines' presence in Brunei and provide passengers from Brunei access to PAL's wide domestic and international network of flights.
Passengers on these PR/RB codeshare flights will be able to continue their journey on connecting flights to RB's Bandar Seri Begawan services, offering a seamless and convenient product on the route.

Royal Brunei Airlines is PAL's 14th codeshare partner and the fourth in South East Asia.PAL President and COO Jaime J. Bautista (pictured), said, "The codeshare partnership reconnects PAL with the Sultanate of Brunei which is home to close to 20,000 overseas Filipino workers. This renewed partnership with RB also expands our network supporting our vision of becoming a five star airline."
PAL's existing codeshare partners include: Air Macau, ANA, Cathay Pacific, China Airlines, Etihad, Garuda Indonesia, Gulf Air, Hawaiian Airlines, Malaysia Airlines, Turkish Airlines, Vietnam Airlines, WestJet and XiamenAir.
Mr. Martin Aeberli, RB's EGM Revenue Management, Planning & Strategy, said, "RB warmly welcomes back Philippine Airlines as our codeshare partner. Through this partnership, RB's passengers can easily access Cebu, the Philippines' Queen City of the South, filled with culture and history, white sandy beaches and beautiful underwater sports. We look forward to welcoming Philippine Airlines codeshare passengers on board our daily flights between Manila to Bandar Seri Begawan and beyond."
August 2017
Royal Brunei Airlines and Philippine Airlines announced code share partners.
The code-share arrangements signed recently between the flag carriers of the Philippines and Brunei Darussalam cover the routes - Manila - Bandar Seri Begawan; and Cebu - Bandar Seri Begawan (via Manila). These flights restor the Philippine flag carrier's presence in Brunei and provide passengers from Brunei access to PAL's wide domestic and international network of flights. The flights also create connectivity between Manila and Brunei as well as Cebu and Brunei.
August 2017
Royal Brunei Airlines announced it had boosted its commitment to environmental protection by partnering with a talented French start-up which provides a 360° solution to reduce fuel costs and CO2 emissions of airlines.
Under this agreement, Royal Brunei Airlines will use OpenAirlines' flagship software SkyBreathe® Fuel Efficiency. The award wining software solution continuously monitors fuel consumption of each flight to identify the most relevant fuel saving opportunities using sophisticated, innovative algorithms and taking into account actual flight conditions.
The SkyBreathe® solution, which leverages years of advanced research in trajectory optimization and Big Data analysis, will offer comprehensive analytics through 500+ easy to use predefined reports allowing for accurate monitoring of each fuel-saving initiative and will then provide clear results for key stakeholders, project team, and pilots via unique dashboards.
July 2017
Royal Brunei Airlines announced that the introduction of A320neo aircraft will be a game changing exercise for the airline
The new aircraft are expected to deliver an improved customer experience and reduce the carrier's cost structure through lower fuel and maintenance costs. The airline may exercise options for additional aircraft in 2017 or early 2018. It was further announced in July 2017 that Royal Brunei Airlines is set to benefit as Brunei tourists visiting Malaysia has significantly increased to a total of 1.4 million visits to the mult-ethnic country last year. The drop in the Malaysian currency rate has also contributed to the surge in Bruneian tourists to Malaysia, with West Malaysia, Sabah and Sarawak receiving a record RM3.7 billion worth of Bruneian tourist dollars last year (the bulk of this spending was done in Miri).
Another reason for the high number of Brunei tourists to Malaysia is the Sultanate's proximity to Sabah and Sarawak; the two neighbouring Malaysian states are to Brunei what West Malaysia is to Singapore, and at the same time travel to West Malaysia is convenient, with flights to the capital Kuala Lumpur taking just slightly over two hours.
February 2016
Royal Brunei Airlines signed a code share agreement with Turkish Airlines allowing passengers to connect from Bandar Seri Begawan to Istanbul via Dubai. In December 2016, Royal Brunei Airlines RB Upgrades.
Royal Brunei Airlines has launched RB Upgrades, allowing economy passengers to bid for upgrades to business class."Eligible" customers booking tickets online at flyroyalbrunei.com are emailed inviting them to make an offer for an upgrade to business class. Successful bidders will be emailed between 96 and 24 hours before their flight, with payment being taken from their nominated credit or debit card.
Royal Brunei Airlines is set to benefit as a memorandum of cooperation was signed between national carrier Royal Brunei Airlines (RB) and Sabah Tourism Board (STB). It is the first of its kind tourism initiative between the Sultanate and the Malaysian state. The memorandum, which aims to develop joint promotional activities for the inflow of tourists from Melbourne into Borneo. As part of the cooperation, the two parties agreed to cost-share the promotional activities that will centre around stimulating the increase of Australian tourists into Brunei Darussalam and Sabah. Selected Australian travel agents will be appointed to sell special packages within a time frame, which includes a dedicated Return and Services Leagues (RSL) package to attend the Sandakan Day Memorial Service in Sabah this year.
For higher destination awareness on both Brunei and Sabah, the document also agreed to work with Australian online writers and media to produce online content as well as a promotional e-book. In May 2017, Royal Brunei Airlines announced plans to start regular flights between Brunei Darussalam and Lombok this year, after a market study showed that the resort island in West Nusa Tenggara is a family-friendly destination. Royal Brunei Airlines currently has regular flights to Jakarta, Surabaya (East Java) and Denpasar (Bali). If the market study reveals a positive trend, Lombok will be the airline's fourth destination in Indonesia. Brunei Darussalam, a country on the north coast of Borneo Island, has a population of 423,000. Islam is the official religion.
Royal Brunei Airlines is set to benefit as Japan proposes technical cooperation with Brunei. To contribute to the diversification of Brunei's economy, Japan is planning technical cooperation with the Sultanate on a cost sharing basis. The Japanese Government has already proposed a draft agreement on technical cooperation to be signed by the Brunei Government. Once it is signed, Bruneian officials could participate in training courses in Japan and Japanese experts can travel to Brunei to deliver seminars and provide technical advice, said Noriko Iki, the outgoing Ambassador of Japan to Brunei Darussalam.
On attracting tourists from Brunei to Japan and vice versa, the outgoing Japanese Ambassador agreed that resumption of direct flights between both countries will be beneficial in attracting not only tourists but also investors, while also hoping that Royal Brunei Airlines will fly directly to Japan again in the near future. Besides increasing the frequency of visits by Japanese travel agents to Brunei, she suggested that more Japanese travel programmes needed to be made on Brunei.
In January 2010, Royal Brunei Airlines introduced Royal Brunei Holidays, a revamp of its Golden Touch Holidays. It offers passengers value-for-money packages for their holidays locally and abroad. In July 2014, Royal Brunei Airlines announced plans to resume flights to Ho Chi Minh City with the frequency of four times a week starting in October 2014.
---
Route Map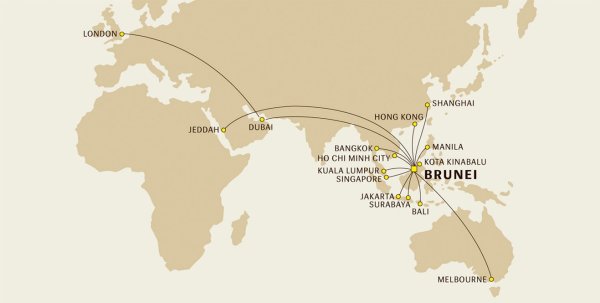 Popular Routes
London

Dubai
Manilla

Brunei
Kota Kinabalu

Brunei
Melbourne

Brunei
Brunei

Bangkok
Ho Chi Minh City

Brunei

---
The Fleet
---
Brunei International Airport
HUB Airport
Brunei International Airport is the primary airport in the nation of Brunei and is the home airport for Royal Brunei Airlines. The airport serves destinations across Asia and Oceania. Other airlines which fly to and from AirAsia, Cebu Pacific, Malaysia Airlines, Singapore Airlines and Royal Brunei Airlines.

---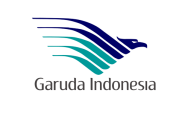 ---
Book Flights with Royal Brunei Airlines
Make a Royal Brunei Airlines reservation and find some amazing deals with discounted Royal Brunei Airlines tickets at Alternative Airlines. Royal Brunei Airlines flies to many destinations worldwide, offering a cost effective and safe service to all its passengers. Let Alternative Airlines help find you cheap Royal Brunei Airlines tickets and make international and domestic flight reservations on Royal Brunei Airlines today.
Browse the most popular Royal Brunei Airlines flight routes to cities worldwide. Alternative Airlines can help you make reservations on Royal Brunei Airlines for international flights to lots of destinations. Use the following list of routes to help you plan your next flight. Book Royal Brunei Airlines flights on Alternative Airlines to save big! Alternative Airlines is an online travel agency, specialising in booking lesser known airlines and remote destinations.
Alternative Airlines is an Online Travel Agency bonded by the International Air Transport Association (IATA). We specialise in finding the best available fares on the widest range of airlines and making them available to you online, with prices in the currency of your choice.
Alternative Airlines handles all your travel arrangements and payments, complete with ticketed confirmation. We do not direct you to other websites or service providers.
We help you through the process. This is what makes us Alternative Airlines.
Browse for flights, find some amazing deals, make a reservation and pay in the currency of your choice today with Alternative Airlines.
Let Alternative Airlines help find you the best prices and make international and domestic flight reservations with us today.
Join the Alternative Airlines Members Club and get £100.00 back on your 5th booking with Alternative Airlines. You will have insight to many benefits and exclusive deals on over 650 airlines. Click on the Members section on the Alternative Airlines website for more information and join today.
We are open every day from 8am until 8pm (UK local time).
Royal Brunei Airlines Royal Brunei Airlines is the well-funded National airline of the oil-rich Sultanate of Brunei on the island of Borneo. Royal Brunei Airlines Flights Royal Brunei Airlines is an international airline based Bandar Seri Begawan, which it uses as a hub carrying interlining traffic from London and Frankfurt through to South East Asia and Australia. Destinations served include Hong Kong, Shanghai, Jakarta, Surabaya, Denpasar (Bali), Kota Kinabalu, Kuala Lumpur, Manila, Singapore, Bangkok, Ho Chi Minh City, Jeddah, Dubai, Sharjah, Chennai, London Heathrow and Frankfurt, Brisbane , Darwin, Perth, Sydney, Auckland. Royal Brunei have a mixed fleet of comfortable Boeing 767-300, Airbus A320 and Airbus 319 aircraft. Royal Brunei Airlines Flights to Australia We don't mind admitting that Australia and New Zealand are amongst our favourite countries to visit and that Royal Brunei has got to be one of the most relaxing (often cheapest!) way to get there from the UK. RBA does not serve alcohol but we do have it on good authority that you can take your own along for the flight, so stock up at the duty free and enjoy the ride! Begin your journey with online bookings and immediate confirmation at Alternative Airlines.
READ MORE ABOUT ROYAL BRUNEI AIRLINES
How to pay
You can pay for your flights with Royal Brunei Airlines in the currency and payment method of your choice when booking through Alternative Airlines.
We accept PayPal making flight purchases with Royal Brunei Airlines easy and more secure for customers. PayPal is one of the leading forms of online payment, with more than 169 million accounts worldwide.