Lucky Air Reservations with Alternative Airlines
Make a Lucky Air Booking and Find Some Amazing Deals
---
About
Lucky Air is an airline based in the Xiángpéng Hángkōng Dàshà in Kunming, Yunnan, People's Republic of China. The airline operates scheduled flights to destinations within China, as well as to destinations in countries that are in other parts of East Asia, including Japan, Thailand, Cambodia and South Korea.
The airline launched in 2004, under the name and brand Shillin Airlines and rebranded to Lucky Air in 2005. Originally, the airline flew just two services, both from the old Kunming airport. One service flew to Dali and the other flew to Xishuangbanna.
The airline was originally based at Kunming Wuijaba International Airport until it closed. The airline transferred over to the new Kunming Changshui International Airport when it replaced Kunming Wuijaba in 2011.
---
Fleet
Lucky Air's fleet consists of around 60 short-haul to medium-haul Boeing and Airbus aircraft. The airline flies a mix of A319, A320, A330 and Boeing 737 narrow body jets.
---
Destinations
Domestic
CITY
AIRPORT
Anqing
Anqing Tianzhushan Airport (AQG)
Baoshan
Baoshan Yunrui Airport (BSD)
Baotou
Baotou Airport (BAV)
Beijing
Beijing Capital International Airport (PEK)
Cangyuan
Cangyuan Washan Airport (CWJ)
Chengdu
Chengdu Shuangliu International Airport (CTU)
Chongqing
Chongqing Jiangbei International Airport (CKG)
Dali
Dali Airport (DLU)
Dalian
Dalian Zhoushuizi International Airport (DLC)
Datong
Datong Yungang Airport (DAT)
Diqing
Diqing Shangri-La Airport (DIG)
Fuzhou
Fuzhou Changle International Airport (FOC)
Ganzhou
Ganzhou Huangjin Airport (KOW)
Guangzhou
Guangzhou Baiyun International Airport (CAN)
Guilin
Guilin Liangjiang International Airport (KWL)
Guiyang
Guiyang Longdongbao International Airport (KWE)
Haikou
Haikou Meilan International Airport (HAK)
Hangzhou
Hangzhou Xiaoshan International Airport (HGH)
Harbin
Harbin Taiping International Airport (HRB)
Hefei
Hefei Xinqiao International Airport (HFE)
Hohhot
Hohhot Baita International Airport (HET)
Huai'an
Huai'an Lianshui Airport (HIA)
Jieyang
Jieyang Chaoshan International Airport (SWA)
Jinan
Jinan Yaoqiang International Airport (TNA)
Jinzhou
Jinzhou Bay Airport (JNZ)
Kunming
Kunming Changshui International Airport (KMG)
Lancang
Lancang Jingmai Airport (JMJ)
Lanzhou
Lanzhou Zhongchuan International Airport (LHW)
Lijiang
Lijiang Sanyi International Airport (LJG)
Longyan
Longyan Guanzhishan Airport (LCX)
Luzhou
Luzhou Lantian Airport (LZO)
Mangshi
Dehong Mangshi Airport (LUM)
Mianyang
Mianyang Nanjiao Airport (MIG
Nanchang
Nanchang Changbei International Airport (KHN)
Nanjing
Nanjing Lukou International Airport (NKG)
Nanning
Nanning Wuxu International Airport (NNG)
Ningbo
Ningbo Lishe International Airport (NGB)
Ninglang
Ninglang Luguhu Airport (NLH)
Pu'er
Pu'er Simao Airport (SYM)
Qingdao
Qingdao Liuting International Airport (TAO)
Sanya
Sanya Phoenix International Airport (SYX)
Shanghai
Shanghai Hongqiao International Airport (SHA)
Shanghai Pudong International Airport (PVG)
Shenzhen
Shenzhen Bao'an International Airport (SZX)
Shijiazhuang
Shijiazhuang Zhengding International Airport (SJW)
Taiyuan
Taiyuan Wusu International Airport (TYN)
Tengchong
Tengchong Tuofeng Airport (TCZ)
Tianjin
Tianjin Binhai International Airport (TSN)
Ürümqi
Ürümqi Diwopu International Airport (URC)
Wenzhou
Wenzhou Longwan International Airport (WNZ)
Wuhan
Wuhan Tianhe International Airport (WUH)
Xiamen
Xiamen Gaoqi International Airport (XMN)
Xi'an
Xi'an Xianyang International Airport (XIY)
Xishuangbanna
Xishuangbanna Gasa International Airport (JHG)
Xuzhou
Xuzhou Guanyin International Airport (XUZ)
Yichang
Yichang Sanxia Airport (YIH)
Yichun
Yichun Mingyueshan Airport (YIC)
Zhengzhou
Zhengzhou Xinzheng International Airport (CGO)
Zhuhai
Zhuhai Jinwan Airport (ZUH)
International
COUNTRY
CITY
AIRPORT
Brunei
Bandar Seri Begawan
Brunei International Airport (BWN)
Cambodia
Sihanoukville
Sihanouk International Airport (KOS)
Indonesia
Denpasar
Ngurah Rai International Airport (DPS)
Japan
Osaka
Kansai International Airport (KIX)
Malaysia
Kota Kinabalu
Kota Kinabalu International Airport (BKI)
Kuala Lumpur
Kuala Lumpur International Airport (KUL)
Penang
Penang International Airport (PEN)
Philippines
Cebu
Mactan–Cebu International Airport (CEB)
Russia
Moscow
Sheremetyevo International Airport (SVO)
South Korea
Jeju
Jeju International Airport (CJU)
Taiwan
Taiwan
Taoyuan International Airport (TPE)
Thailand
Bangkok
Suvarnabhumi Airport (BKK)
Chiang Mai
Chiang Mai International Airport (CNX)
Koh Samui
Samui Airport (USM)
Krabi
Krabi International Airport (KBV)
Phuket
Phuket International Airport (HKT)
Vietnam
Nha Trang
Cam Ranh International Airport (CXR)
Phu Quoc
Phu Quoc International Airport (PQC)
---
Route Map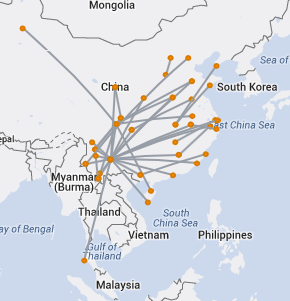 ---
Baggage
Carry-On Baggage
Passengers in Economy Class are given one piece of free carry-on baggage that must not exceed 5 kg.
Passengers in Business Class are given two pieces of free carry-on baggage that must not exceed the total weight of 10 kg.
The maximum dimensions for Lucky Air carry-on baggage is 55cm x 35cm x 25cm (21.6" x 13.7" x 9.8"), regardless of the cabin class travelled in.
Checked Baggage
The free checked baggage allowance depends on the type of ticket bought by the passenger and the route that they're flying. Take a look at the table below to see the free baggage allowances.
TICKET FARE
ROUTE
NO. OF FREE BAGGAGE
WEIGHT ALLOWANCE
Economy Class
Domestic
1
20 kg (regular Economy)
1
10 kg (discount Economy)
International (within Asia) — excluding Chengdu (CTU) to Sihanoukville (KOS)
1
20 kg
International (within Asia) — including Chengdu (CTU) to Sihanoukville (KOS)
1
15 kg
Intercontinental (to Moscow/St.Petersburg departing from Kunming)
1
15 kg
Intercontinental (to Kunming departing from Moscow/St.Petersburg)
1
23 kg
Business Class
Domestic
1
30 kg
International (all flights within Asia)
1
30 kg
Intercontinental (to Moscow/St.Petersburg departing from Kunming)
1
15 kg
Intercontinental (to Kunming departing from Moscow/St.Petersburg)
1
32 kg
Baby/Infant (all classes)
All flights
1
10 kg
No one piece of baggage can exceed the overall dimensions of 158 cm (adult/children) or 115 cm (baby/infant). Additional baggage is available to purchase if the free allowance isn't sufficient.
---
Check-in Information
Online Check-in
Online check-in is only available on domestic flights within China.
Passengers can check-in for their flight through the Lucky Air online check-in page and entering the relevant travel documents. Online check-in is available from 24 hours up until 60 minutes before scheduled flight departure time.
Airport Check-in
Passengers can check-in at the airport by visiting one of the check-in agents at the airport check-in desk. Check-in times differ depending on the airport that the passenger is flying from. Check-in times are as follows:
AIRPORT
CHECK-IN DEADLINE
(BEFORE SCHEDULED DEPARTURE TIME)
Anqing
40 minutes
Bangkok
40 minutes
Baoshan
30 minutes
Beijing
45 minutes
Carey
30 minutes
Cebu
40 minutes
Changchun
40 minutes
Chengdu
45 minutes
Chongqing
45 minutes
Dali
30 minutes
Dalian
40 minutes
Datong
30 minutes
Diqing
30 minutes
Fuzhou
30 minutes
Ganzhou
30 minutes
Guangzhou
45 minutes
Guiyang
45 minutes
Haikou
45 minutes
Hailar
30 minutes
Hangzhou
45 minutes
Harbin
45 minutes
Hefei
30 minutes
Hohhot
40 minutes
Hongqiao
45 minutes
Huai'an
30 minutes
Irkutsk
40 minutes
Jieyang
30 minutes
Jinan
40 minutes
Jinzhou
30 minutes
Kangding
30 minutes
Kashgar
30 minutes
Krabi
40 minutes
Kuala Lumpur
60 minutes
Kunming
45 minutes
Lanzhou
40 minutes
Lhasa
40 minutes
Liancheng
30 minutes
Lijiang
30 minutes
Mangshi
30 minutes
Mianyang
30 minutes
Moscow
40 minutes
Nanchang
30 minutes
Nanjing
40 minutes
Nanning
40 minutes
Ningbo
40 minutes
Osaka
30 minutes
Penang
50 minutes
Phuket
40 minutes
Pu'er
30 minutes
Pudong
45 minutes
Qingdao
40 minutes
Quanzhou
30 minutes
Sabah
60 minutes
Sanya
45 minutes
Seri Baga Bay
40 minutes
Shenzhen
45 minutes
Shijiazhuang
30 minutes
SuMei Island
40 minutes
Taiyuan
40 minutes
Tengchong
30 minutes
Tianjin
40 minutes
Ürümqi
40 minutes
Wenzhou
40 minutes
Wuhan
40 minutes
Wuhu
30 minutes
Wuyuan
30 minutes
Xi'an
40 minutes
Xiamen
30 minutes
Xingyi
30 minutes
Xishuangbanna
30 minutes
Xuzhou
30 minutes
Yangcheng
30 minutes
Yantai
30 minutes
Yichang
40 minutes
Yichun
30 minutes
Yinchuan
40 minutes
Zhanjiang
30 minutes
Zhaotong
30 minutes
Zhengzhou
45 minutes
Zhuhai
40 minutes
---
Economy Class
Economy Class is one of two cabin classes available on Lucky Air flights. Passengers can enjoy comfortable seating, with ample legroom which helps to create an enjoyable and comfortable flight experience.
---
Business Class
The Business Class cabin is the most luxurious cabin on Lucky Air flights. Business Class offers passengers bigger and more comfortable seats in a separate area of the cabin. In addition, passengers can enjoy complimentary food and drink from the Business Class in-flight menu, priority boarding, an extended baggage allowance and more.
---
In-Flight Entertainment
In-flight entertainment is available on select flights, with a range of television shows and movies to watch.
In Economy Class, in-flight entertainment will be shown on a shared TV that extends down from the top of the cabin. Each passenger will be given a personal pair of earphones that they can plug into their seat for audio.
In Business Class, passengers can enjoy in-flight entertainment through a personal monitor that is built into the seat in front of them.
---
Food
In Economy Class, passengers are given complimentary meals on select flights but not all flights. On flights where meals aren't complimentary, passengers can choose to pre-order a meal prior to the flight. If a passenger doesn't pre-order a meal, there's no guarantee that they'll be able to order a meal once in-flight. However, any passenger without a pre-ordered meal can still purchase light snacks and refreshments from the airline's in-flight menu once in-flight.
In Business Class, passengers have the choice of complimentary food and drink from the Business Class in-flight menu.
---
WIFI
There's no WIFI network onboard Lucky Air flights.
---
Frequent Flyer
Fortune Wings Club
Lucky Air is one of the 10 airlines that are part of the Fortune Wings Club frequent flyer program. The Fortune Wings Club allows passengers to earn points on flights operated by the HNA group's affiliate airlines and redeem the points earned to buy flights on those same airlines.
Airlines that are members of the Fortune Wings Club include Hainan Airlines, Grand China Air, Tianjin Airlines, Hong Kong Airlines, Beijing Capital Airlines, Fuzhou Airlines, Suparna Airlines, Guangxi Bebu Gulf Airlines and Urumqi Air.
Passengers can also earn points by shopping at Fortune Wings Club affiliate members, which include a range of companies selling hotels, car rentals and also as for those that use the Fortune Wings Club co-branded credit card.
---
Airline Alliance
U-FLY Alliance
Lucky Air is one of the founding members of the U-FLY Alliance, which is the world's first airline alliance made up entirely of low-cost airlines. Originally, the alliance was made up of four different airlines within the HNA Group — Lucky Air, Urumqi Air, West Air and HK Express (who are no longer part of the HNA Group.) Eastar Jet was the first non-HNA Group airline to join the airline in 2016. Today, the alliance consists of the five aforementioned airlines.
Lucky Air works closely with all of the other members of the U-Fly Alliance to make sure that they collectively cover serve as many destinations as possible in China, Hong Kong, Southeast Asia and the surrounding areas.
---
Hub Airport
Kunming Changshui International Airport is the major international airport serving Kunming and the hub airport for Lucky Air. Kunming Wuijaba International Airport opened in 2011, replacing the former major airport in Kunming, Kunming Wujiaba International Airport.
Kunming Changshui International has one main terminal building, two runways and facilitates flights flying across Asia.
Airlines that use Kunming Changshui International as a main or secondary hub include China Eastern, China Southern, Hongtu Airlines, Kunming Airlines, Ruili Airlines and Sichuan Airlines. Other airlines that fly from this hub include Hunan Airlines and Himalaya Airlines.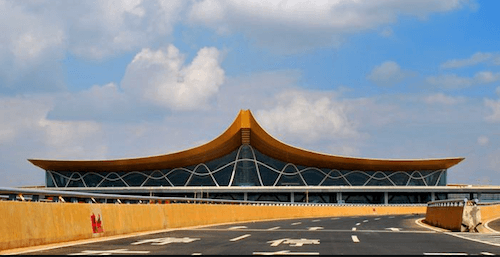 Credit: N509FZ on Wikimedia Commons
---
Book Lucky Air Flights in English
Make your Lucky Air booking in English with Alternative Airlines today! Find flights around China in English and rely on our simple and secure booking system to make your reservation. Our customers can also rely on our expert customer service team to help them with any queries they may have with their Lucky Air reservation.
---
Alternative Airlines to Lucky Air