Trusted Choice
Secure Booking
Airlines will always try to sit children with their parents (subject to check-in)
Some airlines will allow travel for unaccompanied minors. Please email us to check.
The fare is based on the child's age on the date of travel.
More detailed information can be found here Traveling with children
Most airlines will let infants travel with their parent(s) for free. However some airlines will charge up to 10% of the adult ticket price. Click on 'Price Breakdown' to find out more.
If you are pregnant, but due before the flight departure date, please contact us once your baby is born and has a name. We can then add him/her to your ticket.
Infants will not be given a seat. The airlines expect parents to travel with them on their lap.
Airlines regard infants as being under 24 months old.
The fare is based on the child's age on the date of travel.
More detailed information can be found here Traveling with children
Search and book flights with
Hong Kong Airlines
Buy
Hong Kong Airlines

Flights
Hong Kong Airlines Reservations with Alternative Airlines
Make a Hong Kong Airlines Booking and Find Some Amazing Deals
---
About Hong Kong Airlines
Hong Kong Airlines is a Hong Kong-based airline, with its headquarters based in Tung Chung, Hong Kong, and has its hub airport at Hong Kong International Airport. The airline joined IATA in 2010 and 2011 was awarded four-star rating by Skytrax, and flies to many destinations including Bankgok, Beijing, Changchun, Changsha, Chendu, Chiang Mai, Chongqing, Denpasar, Hangzhou, Haikou, Kagoshima, Kaohsiung, Kunming, Nanchang, Nanjing, Nanning, Okinawa, Phuket, Shanghai, Taiyuan, Taichung and many others. Hong Kong Airlines has codeshare agreements with Air India, Air Seychelles, Bangkok Airways, China Eastern Airlines, Etihad Airways, EVA Air, Garuda Indonesia, Hainan Airlines, Shanghai Airlines and many others.
---
Fleet
The airlines' fleet consists of A330s and A320s.
---
Check-In
Online Check-in
Online check-in is available from 48 hours before your flight. Online check-in closes one and a half hours prior to the flight's departure. For flights to and from the US, online check-in is only available 24 hours before departure. Be aware that passengers requiring special assistance, unaccompanied minors and small children cannot use online check-in.
Airport Check-in
Customers are advised to get to the check-in desk at least two hours before the flight.
---
Baggage Allowance
Carry-on Baggage
For Business Class customers, each passenger is allowed two pieces of cabin baggage and Economy Class passengers are permitted one piece of carry-on baggage. Carry-on baggage must not exceed maximum dimensions of 22in x 14in x 9in (56cm x 36cm x 23cm) and must not weigh over 7kg (15lbs).
Checked Baggage
Passengers are entitled to 1 piece of baggage of up to 20 kg in Economy Class on all routes except to Australia and 30kg in Business Class. Platinum or Gold Fortune Wings members are allowed an extra 30kg or extra 20kg for Silver members. Passengers flying to Australia in Economy Class are allowed 30kg of checked baggage and 40 kg in Business Class. Customers are allowed to check one bicycle free of charge as long as it weighs no more than 23kg and you contact the airline 24 hours prior to departure. For more information on flying with a bicycle, please visit the Alternative Airlines "Flying with a Bike" page.
---
Economy Class
Business Class is the airline's premium cabin class with the best standard of service.
Economy Class Facilities
On selected flights, passengers can enjoy in-flight entertainment from the latest movies, TV shows and more. In addition, each passenger can order a hot meal, with Cantonese and other meal types available.
Economy Class Seats
On long-haul flights, passengers are set in a 2 x 4 x 2 or 3 x 3 x 3 formation, with each seat giving between 30–34 inches of pitch and 18 inches of width. On short-haul and medium-haul flights, seats are set out in a 3 x 3 formation and give 31–34 inches of pitch and 18 inches of width.
---
Premium Economy
The airline doesn't offer Premium Economy. For more comfort, passengers can choose the affordable Business Class cabin class.
---
Business Class
Business Class is the airline's premium cabin class with the best standard of service.
Business Class Facilities
On the ground, Business Class passengers can enjoy priority check-in and boarding and access to the VIP lounge,. In addition to this, Business Class passengers are given priority baggage delivery, which ensures that all baggage from Business Class passengers is prioritised.
Onboard, passengers are given 180-degree flatbed seats, an exclusive amenity kit and the option to order gourmet food and drink from the airline's inflight menu.
What Are Business Class Seats Like?
Business Class seats are set out in a 1-2-1 formation and each has 44 inches of pitch and 23 inches of width. The seats transform into 180-degree full-flat beds and have personal TV monitor fitted.
---
First Class
The airline doesn't offer a First Class cabin. The highest-tier of cabin class that the airline offers is Business Class.
---
Frequent Flyer Programme
Passengers are entitled to use the Fortune Wings Club for their frequent flyer program points. The Fortune Wings Club is a global frequent flyer programme designed for Hong Kong Airlines and its sister airlines, including Grand China Air, Grand China Express, Hainan Airlines, Hong Kong Express Airways and Lucky Air. Membership benefits include air ticket redemption and upgrade, VIP members have additional privileges of dedicated First or Business Class check-in counters, lounge access, bonus mileage and extra baggage allowance.
---
Pet Policy
For flights departing from Hong Kong, the airline will accept pets as checked baggage but they are not permitted to fly in the cabin (excluding service dogs). Passengers flying with pets must provide all documentation required by the local government. For flights arriving to Hong Kong, pets and animals must be carried by cargo and are not allowed to be carried as checked luggage. For more information on flying with pets and service animals, please visit our page on Pets, Service and Emotional Support Animals.
---
Book Flights in English
Find flights to Hong Kong in English with Alternative Airlines. We offer our customers a safe and secure booking process entirely in English so that you can find flights stress-free. With Alternative Airlines you can book multiple flights in one place, pay with the currency of your choice and even pay with Paypal! Find your flight in English with Alternative Airlines by searching in the search bar above.
---
Seat Selection
You can now pre-book Hong Kong Airlines seats with Alternative Airlines. Make sure you always have your favourite place to sit on the plane when booking your flight. View available seats and choose your seat ahead of time.
---
Pay for tickets with PayPal
Buy any ticket with PayPal through Alternative Airlines. An easy and secure way to pay for flights is with PayPal and you can also grab flight promo codes and discounts when you pay with PayPal!
---
Alternative Airlines
Please click on the logos below to find out more about airlines that fly similar routes.
---
Popular Routes
Hong Kong

Taipei
Hanoi

Hong Kong
Hong Kong

Shanghai
Bali

Hong Kong
Hong Kong

Beijing
Hong Kong

Nanjing
---
Route Map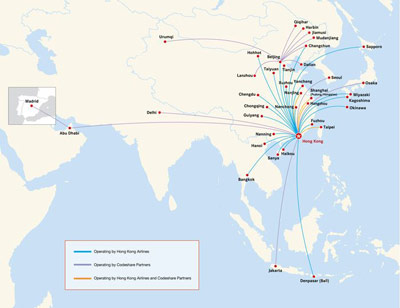 ---
Hub Airport
Hong Kong International Airport
Hong Kong Airlines is based at Hong Kong International Airport is located on the island of Chek Lap Kok and is the main airport for Hong Kong. Apart from Cathay Pacific (formerly Dragon Air), it also serves as the main hub for other airlines such as Hong Kong Express Airways. Other airlines which use Hong Kong International Airport include Air Astana, Air Seychelles, Bangkok Airways, Beijing Capital Airlines, British Airways, Air New Zealand, China Eastern Airlines, JetLite, Garuda Indonesia, PAL Express, and soon South Pacific Airlines. The airport has two runways and has a 65 million passengers capacity per annum. The airport is one of the hubs of Oneworld alliance.
Hong Kong International Airport's restaurants and shops are open 24 hours a day. Terminal 1 has around 50 different shops with everything from electrical stores to fashion. Hong Kong International Airport was is widely-known worldwide as one of the best airports for shopping.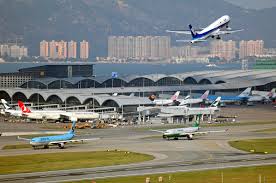 ---
Destinations
Domestic Destinations
| | | | |
| --- | --- | --- | --- |
| Hangzhou | Shanghai | Tianjin | Beijing |
| Changchun | Chengdu | Chongqing | Fuzhou |
| Guiyang | Haikou | Nanchang | Nanjing |
| Nanning | Sanya | Hong Kong | Yancheng |
| Zhengzhou | | | |
International Destinations
| | | | |
| --- | --- | --- | --- |
| Bangladesh(cargo) | Canada | Indonesia | Japan |
| Malaysia | Maldives | New Zealand | Northern Mariana Islands |
| Philippines | Republic of China | Russia | Singapore |
| South Korea | Thailand | Turkey | United States |
| Vietnam | | | |
This airline will stop flying to Auckland, New Zealand in May 2019. This follows the cancellation of all flights to Australia by the airline in 2018. This is to provide more flights to more profitable destinations in Asia.
---
News
6th June 2018
Hong Kong Airlines and Israel's EL AL Sign Codeshare Agreement
Wang Liya, vice chairman and president of Hong Kong Airlines (HKA) and Michael Strassburger, vice president of commercial and industry affairs at EL AL signed the codeshare agreement. HKA and Israel's carrier EL AL have entered into a codeshare agreement, aiming to expand their international itineraries and offer their passengers more travel options. As part of the agreement – which is subject to government approval – Hong Kong Airlines will place its "HX" code on EL AL's flights between Hong Kong and Tel Aviv. Furthermore, EL AL Israel Airlines will add its "LY" code on HKA flights between Hong Kong and Auckland in New Zealand, Tokyo (Narita) and Osaka ;in Japan, as well as Seoul in South Korea.
"This collaboration reaffirms our commitment to going global… Given the culturally rich yet modern appeal of Tel Aviv, there is huge travel potential and we are excited to bring travelers from all around the world to this beautiful city…" Hong Kong Airlines Vice Chairman and President Wang Liya said in an announcement. HKA currently serves the New Zealand city five-times weekly and offers multiple daily frequencies to the other popular Asian cities. As an added benefit of the agreement, members of Hong Kong Airlines' frequent flyer program, Fortune Wings Club can earn loyalty points when they travel on EL AL codeshare flights.
EL AL currently operates six weekly flights between Hong Kong and Tel Aviv with its brand-new Boeing 787-9 Dreamliner. Under the codeshare agreement EL AL will strengthen its presence in Asia Pacific. "By offering codeshare flights with HKA via the Hong Kong hub, we are able to expand the options for our EL AL customers to various cities throughout the region," said Michael Strassburger, vice president of commercial and industry affairs at EL AL. EL AL customers travelling in Business Class on HKA will also enjoy exclusive access to the airline's flagship lounge, Club Autus at Hong Kong International Airport.