Search & Buy Beijing Capital Airlines Flights
Airlines will always try to sit children with their parents (subject to check-in)
Some airlines will allow travel for unaccompanied minors. Please email us to check.
The fare is based on the child's age on the date of travel.
More detailed information can be found here Traveling with children
Most airlines will let infants travel with their parent(s) for free. However some airlines will charge up to 10% of the adult ticket price. Click on 'Price Breakdown' to find out more.
If you are pregnant, but due before the flight departure date, please contact us once your baby is born and has a name. We can then add him/her to your ticket.
Infants will not be given a seat. The airlines expect parents to travel with them on their lap.
Airlines regard infants as being under 24 months old.
The fare is based on the child's age on the date of travel.
More detailed information can be found here Traveling with children
Buy
Beijing Capital Airlines

Flights
Beijing Capital Airlines Reservations with Alternative Airlines
Make a Beijing Capital Airlines Booking and Find Some Amazing Deals
---
About Beijing Capital Airlines
Beijing Capital Airlines was founded in 1995 as Deer Jet Airlines. It is a low-cost subsidiary of Hainan airlines that is based at Beijing Capital International Airport. Under the Deer Air branding, the airline began offering international services In 1998. In October 2007, it received its first Airbus A319 and began returning the formerly operated Boeing 737s. Deer Jet began providing charter services in December 2008 using a fleet of A319s and corporate jets. A year later in 2009, the airline was authorized by the Civil Aviation Administration of China to operate scheduled air services. In April 2010, Beijing Capital Airlines CO., LTD. launched its first service, based in Beijing Capital International Airport. Deer Jet Airlines was divided into two companies on May 4, 2010. While the charter operation has kept the Deer Jet branding, scheduled operations using Airbus aircraft were renamed Capital Airlines. Capital Airlines operates mainly in China (including Hong Kong, Macao, Taiwan), focusing on international air passenger service and cargo transport operations.
---
Beijing Capital Airlines Fleet

The Beijing Capital Airlines fleet currently contains 17 Airbus A321 and A321-200,11 Airbus A330, 1 Airbus A350 and 5 Boeing 737-300.
---
Beijing Capital Airlines Baggage Allowance
Carry-on Baggage
The baggage allowance on international flights for passengers in First Class is two pieces of luggage weighing no more than 5kg each and with maximum dimensions no greater than 20cm x 40cm x 55cm. Economy and Business class passengers are allowed one piece.On domestic flights the maximum weight increases to 7kg.
Checked Baggage
The free checked baggage allowance for Beijing Capital Airlines is 40kg for First Class Customers, 30kg for Business Class passengers and 20kg for Economy Class. There is no checked baggage allowance for infants.
---
Beijing Capital Airlines Check-In
Online Check-In
Beijing Capital Airlines don't currently offer online check-in for any of their services.
Airport Check-In
Passengers must check-in at the airport for their Beijing Capital Airlines flight. Airport check-in can be completed by presenting the relevant travel documents at the Beijing Capital Airlines check-in counter at the airport of departure.
---
Economy Class
Economy Class is one of two cabin classes offered by the airline and is the more stripped back, lower cost option.
Economy Class Facilities
The Economy Class service is carried out by the airline's warm and friendly cabin crew.
Beijing Capital Airlines serves a complimentary hot meal on all international flights. If passengers would like a hot meal on domestic flights they will have to pre-order them.
On select flights, passengers can enjoy a range of in-flight entertainment on the airline's in-flight entertainment system. This includes a range of movies, TV shows, music and more!
Economy Class Seats
Seats are set out in either a 2 x 4 x 2 or 3 x 3 formation depending on the route flown.
---
Business Class
Business Class is the airlines most premium service of cabin class with the highest standard of service and most comfort. The Business Class cabin is available on select flights.
Business Class Facilities
Business Class passengers are served by the airline's attentive cabin crew, who are trained to give assist passengers and deliver an excellent in-flight experience.
Each Business Class passengers is given an amenity kit, including hot towels, pyjamas and slippers and are served a welcome drink — and sometimes welcome snacks — as soon as they're seated.
Passengers are served a professionally prepared in-flight meal from the airline's excellent Business Class menu. Passengers can order as many complimentary refreshments are they like during the flight, including alcoholic and non-alcoholic drinks.
Each seat has a TV monitor fitted, from which passengers can enjoy the airline's in-flight entertainment system on.
What are Business Class Seats Like?
Seats are set out in a 2 x 2 configuration. Each seat has 74 inches of pitch. Seats come fitted with a TV monitor, a universal plug for charging electronic devices and a remote which controls the recline of the seat.
---
Book Beijing Capital Airlines Flights in English
Find flights around China in English with Alternative Airlines. We let you complete your Beijing Capital Airlines booking completely in English so that you have the easiest booking experience possible. Count on us to help you book your trip around China! We offer payment in over 100 currencies plus the opportunity to buy your flights with Paypal.
---
Beijing Capital Airlines Route Map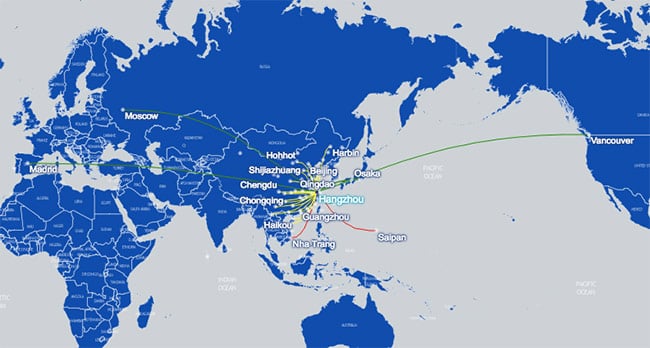 ---
Beijing Capital Airlines Hub Airport
Beijing Capital Airlines is based at Beijing Capital International Airport which is the main airport that serves Beijing. The Chinese airport has been the world's second busiest airport in terms of passengers since 2010, welcoming around 80 million passengers per year. It is the base for a number of airlines including Air China, Air Macau, China Eastern Airlines, China Southern Airlines and Loong Air.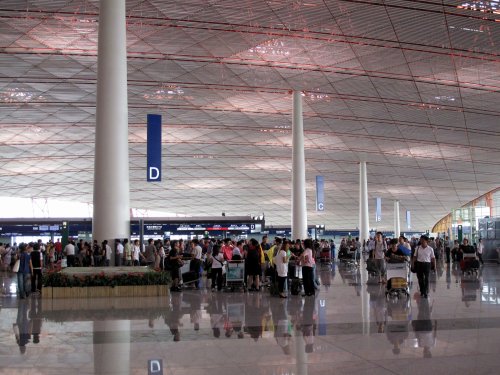 Photo credit:颐园新居
---
Beijing Capital Airlines News
26th April 2018
Beijing Airlines takes on new business venture
A worker labors at the construction site of the main terminal for the new airport in Daxing district, Beijing. The new airport will feature a brand new airline, Xiongan Airlines.
Seven years after its establishment, a subsidiary company under Air China has once again come under the spotlight.

A note posted on the website of the Civil Aviation Administration of China (CAAC) on Tuesday showed that Beijing Airlines, which previously focused on the business jet, now plans to expand to civil transportation.

The move shows not only that Air China is reminding the industry of its right of way in Beijing, a market that is becoming ever fiercer with the arrival of more competitors, but also Air China's big ambitions in the new airport being built in the capital's southern Daxing district.

According to the note, Beijing Airlines has a registered capital of 1 billion yuan ($158.1 million), with 510 million yuan of that coming from Air China.

As part of its new business venture, the carrier plans to adopt B737-800 aircraft, and Air China will be in charge of its slots, flights and staff.

Fierce competition

For many years, Air China has been the biggest carrier in Beijing in terms of market share, but recently, its major rivals - Hainan Airlines, China Southern Airlines and China Eastern Airlines - have been tapping further into the capital's market, posing harsh competition for the Beijing-based airline giant.

For example, in 2005, China Southern set up its Beijing branch, and so far, the carrier has inputted about 70 fleets, including a fleet of 5 jumbo jet A380s. On top of that, the Guangdong-based airline has opened more than 50 domestic and international routes departing from Beijing.

A survey conducted in October 2017 by the big data institute under VariFlight, a Chinese aviation data provider, showed that the transport capacity of Air China in Beijing Capital International Airport (BCIA) accounted for 38 percent of the total at that time, while China Southern and China Eastern accounted for 12 and 11 percent, respectively.

With the help of BCIA, Air China has become the largest Chinese carrier in the markets to and from Europe and to and from the US.

However, as slots in BCIA are always in hot demand, leaving more and more carriers scrambling to enter the Beijing market, the new airport under construction in Daxing has provided some hope for those players desperate to expand to the capital.

Fresh opportunities

The new airport has an investment of 79.98 billion yuan and is scheduled to be completed in 2019. Its location is 46 kilometers south of Tiananmen Square in downtown Beijing and a direct distance of 70 kilometers from BCIA, with the annual passenger flow expected to reach 100 million by 2040.

According to earlier plans made by the CAAC, China Eastern and China Southern will be moved to the new airport, a relocation that could take up to four years, while Star Alliance members such as Air China will stay at BCIA.

Both China Eastern and China Southern have set their construction targets so that they are able to shoulder 40 percent each of the passenger flow at the new airport.

In 2017, China Southern unveiled that it plans to put 250 aircraft in the new airport by 2025 as part of its aim to build twin hubs in Guangzhou, capital of South China's Guangdong Province, as well as in Beijing.

Meanwhile, China Eastern said it will input 150 to 250 aircraft in the new airport, and build twin hubs in Beijing and Shanghai.

Also, budget carriers such as Spring Airlines have signed relocation agreements and thus plan to move to the new airport along with those giants.

It is clear that the new airport must serve not only the capital as a whole, but also the Xiongan New Area, a rising star about 100 kilometers south of the capital.

Although Air China will stay at BCIA, the carrier does not want to miss any chances at the new airport.

As such, its subsidiary Beijing Airlines is expected to grab those opportunities, as the new airport and BCIA morph into the twin hubs of the aviation industry in Beijing.

Nevertheless, we should take note of the fact that, according to the CAAC's website post, Beijing Airlines has actually applied for a base at BCIA as part of its new venture. Its fate at the new airport therefore will remain a mystery until the airport's opening in 2019.
27th February 2018
Beijing-Based Capital Airlines Wants To Fly To Helsinki
HNA Group's Capital Airlines is again trying to open a service between Beijing and Helsinki, two years after first applying to do so and three years after considering the idea. The carrier wants to operate Airbus A330s or A350s three times a week between the Chinese and Finnish capitals, according to the Civil Aviation Administration of China. Beijing-based Capital Airlines proposes to begin flying on the route in May.
23rd January 2018
Beijing Capital Airlines flies to Brazil on a code-share with TAP-Air Portugal
Beijing Capital Airlines has started selling airline tickets with connections in Lisbon, Portugal, to seven cities in Brazil – Brasília, Belo Horizonte, Fortaleza, Rio de Janeiro, Sao Paulo, Salvador and Recife – under a "Code-share" agreement, Portuguese airline TAP-Air Portugal said on Monday.
These cities "thus become closer and more convenient for Beijing Capital Airlines customers," TAP said in the statement, adding it expected "a significant increase in passengers starting their journeys in China in the TAP network and starting or ending their journeys in Brazil in the network of Beijing Capital."
TAP-Air Portugal also said that it was "expanding the code-share agreement" that it has had since July 2017 with Beijing Capital Airlines, which includes adding the Chinese company's JD code on flights selected and operated by TAP between Portugal and Brazil.
The option to expand the agreement to flights to Brazil is the result of cooperation between the two airlines and had been put forward by TAP's Vice President of Network and Revenue Management, Elton D'Souza, who noted that the shortest route from China to Sao Paulo is via Lisbon.
Beijing Capital Airlines, an airline controlled by the HNA group, started flights in July 2017 between Hangzhou and Lisbon, with stops in Beijing.
The HNA group, based on the island of Hainan, has an indirect stake in Portuguese air carrier TAP-Portugal, through Brazilian airline Azul, which controls 23.7% of the share capital.
21st November 2017
Beijing's Capital Airlines begins Qingdao-London service
HNA Group subsidiary Capital Airlines launched Qingdao-London services Nov. 17, as part of its international expansion plan. The new twice-weekly service uses an Airbus A330.
In recent years, Capital Airlines has accelerated the pace of its international expansion as demand grows for outbound travel.
Beijing-based Capital Airlines was established in 2010 as a joint venture between HNA Group and the Beijing municipal government. The carrier operates 72 aircraft, comprising seven A330s, 20 A319s, 34 A320s and 11 A321s.