Beijing Capital Airlines Reservations with Alternative Airlines
Make a Beijing Capital Airlines Booking and Find Some Amazing Deals
---
About
Beijing Capital Airlines, also known as Capital Airlines, is a Chinese low-cost airline. The airline is based at Beijing Daxing International Airport (PKX) and offers flights to destinations within China, as well as to destinations in Europe and parts of Australia and South America. Overall, the airline flies to more than 60 destinations.
The airline launched in 1995 as a scheduled and charter airline, initially offering domestic flights within China under the name Deer Jet Airlines. In 1998, the airline started flying its first international flights. In 2010, the airline decided to divide itself into two separate airlines — one offering charter flights and the other offering scheduled flights. The charter airline kept the Deer Jet name and branding, while the scheduled airline was given a new name and branding, Beijing Capital Airlines.
Beijing Capital Airlines is a subsidiary of Hainan Airlines.
---
Fleet
| AIRCRAFT | IN SERVICE | ORDERS |
| --- | --- | --- |
| A319-100 | 15 | / |
| A320-200 | 33 | / |
| A320-200neo | 5 | 2 |
| A321-200 | 19 | / |
| A321-200LR | / | 2 |
| A330-200 | 7 | / |
| A330-300 | 4 | / |
| A350-900 | / | 1 |
---
Destinations
Domestic Destinations
| CITY | AIRPORT |
| --- | --- |
| Beijing | Beijing Daxing International Airport (PKX) |
| Changchun | Changchun& Longjia International Airport (CGQ) |
| Changsha | Changsha Huanghua International Airport (CSX) |
| Chengdu | Chengdu Shuangliu International Airport (CTU) |
| Chongqing | Chongqing Jiangbei International Airport (CKG) |
| Enshi | Enshi Xujiaping Airport (ENH) |
| Erenhot | Erenhot Saiwusu International Airport (ERL) |
| Fuzhou | Fuzhou Changle International Airport (FOC) |
| Guangzhou | Guangzhou Airport (CAN) |
| Guilin | Guilin Airport (KWL) |
| Guiyang | Guiyang Longdongbao International Airport (KWE) |
| Haikou | Haikou Melian International Airport (HAK) |
| Hangzhou | Hangzhou Xiaoshan International Airport (HGH) |
| Harbin | Harbin Taiping International Airport (HRB) |
| Hefei | Hefei Xinqiao International Airport (HFE) |
| Hohhot | Hohhot Baita International Airport (HET) |
| Huangshan | Huangshan Tunxi International Airport (TXN) |
| Jeju | Jeju International Airport (CJU) |
| Jinan | Jinan Yaoqiang International Airport (TNA) |
| Jixi | Jixi Xingkaihu Airport (JXA) |
| Kunming | Kunming Changshui International Airport (KMG) |
| Lanzhou | Lanzhou Zhongchuan International Airport (LHW) |
| Lijiang | Lijiang Sanyi International Airport (LJG) |
| Linyi | Linyi Shubuling Airport (LYI) |
| Meixian | Meixian Airport (MXZ) |
| Nanchang | Nanchang Changbei International Airport (KHN) |
| Nanjing | Nanjing Lukou International Airport (NKG) |
| Nanning | Nanning Wuxu International Airport (NNG) |
| Ningbo | Ningbo Lishe International Airport (NGB) |
| Qingdao | Qingdao Liuting International Airport (TAO) |
| Saipan | Saipan International Airport (SPN) |
| Sanya | Sanya Phoenix International Airport (SYX) |
| Shanghai | Shanghai Pudong International Airport (PVG) |
| Shantou | Jieyang Chaoshan International Airport (SWA) |
| Shenyang | Shenyang Taoxian International Airport (SHE) |
| Shijiazhuang | Shijiazhuang Zhengding International Airport (SJW) |
| Shizuoka | Shizuoka Airport (FSZ) |
| Taiyuan | Taiyuan Wusu International Airport (TYN) |
| Tianjin | Tianjin Binhai International Airport (TSN) |
| Ürumqi | Ürümqi Diwopu International Airport (URC) |
| Wenzhou | Wenzhou Longwan International Airport (WNZ) |
| Wuhan | Wuhan Tianhe International Airport (WUH) |
| Xian | Xi'an Xianyang International Airport (XIY) |
| Xiamen | Xiamen Gaoqi International Airport (XMN) |
| Xining | Xining Caojiabao International Airport (XNN) |
| Yichang | Yichang Sanxia Airport (YIH) |
| Yichun | Yichun Mingyueashan Airport (YIC) |
| Yinchuan | Yinchuan Hedong International Airport (INC) |
| Yushu | Yushu Batang Airport (YUS) |
| Zhengzhou | Zhengzhou Xinzheng International Airport (CGO) |
International Destinations
COUNTRY
CITY
AIRPORT
Australia
Melbourne
Melbourne Airport (MEL)
Sydney
Sydney Kingsford Smith Airport (SYD)
Brazil
Belo Horizonte
Belo Horizonte International Airport (CNF)
Brasília
Brasília International Airport (BSB)
Canada
Vancouver
Vancouver International Airport (YVR)
Japan
Okinawa
Naha Airport (OKA)
Osaka
Kansai International Airport (KIX)
Maldives
Malé
Velana International Airport (MLE)
Portugal
Lisbon
Lisbon Airport (LIS)
Russia
Moscow
Moscow Sheremetyevo International Airport (SVO)
Spain
Madrid
Madrid Barajas International Airport (MAD) Lisbon Airport (LIS)
---
Route Map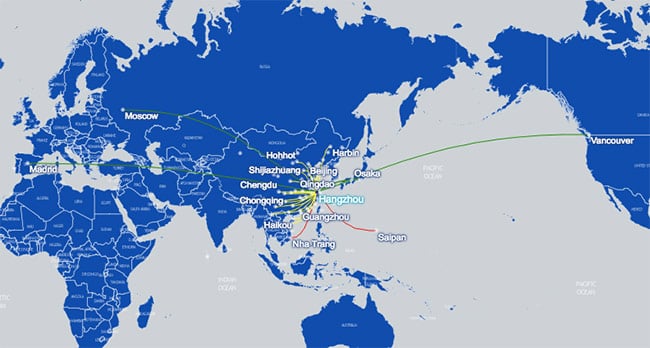 ---
Baggage Allowance
Carry-on Baggage
Passengers in Economy Class are entitled to one free item of carry-on baggage with a maximum weight of 5 kg.
Passengers in Business Class are entitled to two items of free carry-on baggage with a maximum weight of 10 kg (5 kg per piece).
No one piece of carry-on baggage can exceed the maximum dimensions of 20cm x 40cm x 55cm (7.8" x 15.7" x 21.6").
Checked Baggage
The free checked baggage allowance for Beijing Capital Airlines will depend on the route that you're flying and the travel class that you're travelling in.
ROUTE
CABIN CLASS
NO. OF BAGGAGE
WEIGHT ALLOWANCE
(PER BAG)
SIZE ALLOWANCE
(OVERALL SUM)
(H + L + W)
CHINA–NORTH AMERICA
ECONOMY
2
23 kg (50 lbs)
158 cm (62")
BUSINESS
2
32 kg (70 lbs)
158 cm (62")
CHINA–RUSSIA
ECONOMY
2
23 kg (50 lbs)
158 cm (62")
BUSINESS
2
32 kg (70 lbs)
158 cm (62")
CHINA–EUROPE
(EXC RUSSIA)
ECONOMY
1
23 kg (50 lbs)
158 cm (62")
BUSINESS
2
32 kg (70 lbs)
158 cm (62")
CHINA–JAPAN
ECONOMY
1
20 kg (44 lbs)
158 cm (62")
BUSINESS
1
32 kg (70 lbs)
158 cm (62")
CHINA–ASIA
(EXC JAPAN)

HGH–SPN
ECONOMY
1
23 kg (50 lbs)
158 cm (62")
BUSINESS
2
32 kg (70 lbs)
158 cm (62")
CHINA–OCEANIA
ECONOMY
2
23 kg (50 lbs)
158 cm (62")
BUSINESS
2
32 kg (70 lbs)
158 cm (62")
---
Check-In
Online Check-In
Beijing Capital Airlines don't currently offer online check-in for any of their flights.
Airport Check-In
Passengers must check-in at the airport for their Beijing Capital Airlines flight. Airport check-in can be completed by presenting the relevant travel documents at the Beijing Capital Airlines check-in counter at the airport of departure. Passengers should check-in at least one hour before scheduled flight departure time on the majority of flights. However, check-in times differ depending on where the flight is departing from.
If a passenger is unsure on the check-in deadline for their flight, they can contact us or the airline directly to find out the deadline.
---
Economy Class
Economy Class is one of two cabin classes offered by the airline and is the more stripped-back, lower-cost option. The Economy Class service is carried out by the airline's warm and friendly cabin crew.
Economy Class Facilities
Beijing Capital Airlines serves a complimentary hot meal on all international flights. If passengers would like a hot meal on domestic flights they will have to pre-order them.
On select flights, passengers can enjoy a range of in-flight entertainment on the airline's in-flight entertainment system. This includes a range of movies, TV shows, music and more
Economy Class Seats
Seats are set out in either a 2 x 4 x 2 or 3 x 3 formation depending on the route flown.
---
Business Class
Business Class is the airlines most premium service of cabin class with the highest standard of service and most comfort. The Business Class cabin is available on select flights.;
Business Class Facilities
Business Class passengers are served by the airline's attentive cabin crew, who are trained to give assist passengers and deliver an excellent in-flight experience.
Each Business Class passengers is given an amenity kit, including hot towels, pyjamas and slippers and are served a welcome drink — and sometimes welcome snacks — as soon as they're seated.
Passengers are served a professionally prepared in-flight meal from the airline's excellent Business Class menu. Passengers can order as many complimentary refreshments are they like during the flight, including alcoholic and non-alcoholic drinks.
Each seat has a TV monitor fitted, from which passengers can enjoy the airline's in-flight entertainment system on.
What Are Business Class Seats Like?
Seats are set out in a 2 x 2 configuration. Each seat has 74 inches of pitch. Seats come fitted with a TV monitor, a universal plug for charging electronic devices and a remote which controls the recline of the seat.
---
In-Flight Entertainment
On select flights, passengers can enjoy a range of movies, TV shows, music and more on the airlines' in-flight entertainment system. This is available on certain Economy Class flights and on all Business Class flights.
---
Food
Light snacks and beverages are offered on all flights, with a choice of salted and sweet options, as well as hot, cold, alcoholic and soft drinks.
Hot meals are inspired by Chinese cuisine and are served free of charge on all international flights, in all cabin classes. On domestic flights, passengers in Economy Class can pre-order hot meals for a fee.
---
WIFI
WIFI isn't available on Beijing Capital Airlines flights.
---
Frequent Flyer
Velocity Flyer
Velocity Flyer is Beijing Capital Airlines' frequent flyer program that rewards customers for flying regularly with the airline. Passengers can earn Velocity Points on Capital Airlines and use them to redeem or upgrade future flights.
Passengers on the Velocity Flyer frequent flyer program start with Standard Status and can upgrade to Silver Status, Gold Status and Platinum Status with the more point that they earn. The higher the status card a member holds, the more benefits they receive. These include benefits such as an increased baggage allowance, priority check-in, seat selection, lounge access and much more.
---
Airline Alliance
Beijing Capital Airlines isn't a member of any airline alliance at this time. However, it does have codeshare agreements with a number of airlines, including TAP Air Portugal and Azul.
---
Hub Airport
Beijing Daxing International Airport
Beijing Daxing International Airport is the secondary airport in Beijing and is the hub airport for Beijing Capital Airlines. The airport located on the border of Beijing and Langfang and facilitates flights from airlines flying across Asia and to parts of Europe. The airport opened in 2019 and has one terminal building with four runways. The airport is designed to handle over 100million passengers.
Beijing Capital Airlines has used Beijing Daxing International as its hub since the airport opened in 2019. Previously, the airline used Beijing Capital Airport as its hub but when Beijing Daxing opened, all of its flights were transferred over to the new airport.
Other than Capital Airlines, China United Airlines is the only other airline to use Beijing Daxing International Airport as its hub. Other airlines that fly to/from the airport include British Airways, Finnair, LOT Polish Airlines, China Eastern, China Southern, Juneyao Airlines, Ural Airlines and more.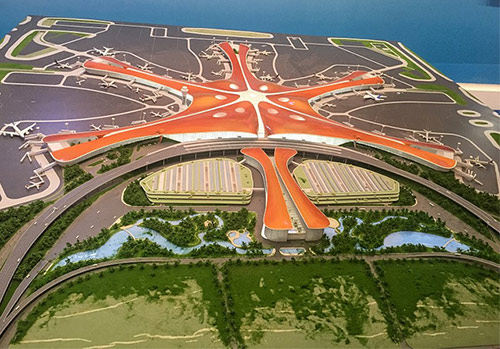 Photo credit: N509FZ on Wikimedia Commons
---
Alternative Airlines to Capital Airlines
---
Book Beijing Capital Airlines Flights in English
Find flights around China in English with Alternative Airlines. We let you complete your Beijing Capital Airlines booking completely in English so that you have the easiest booking experience possible. Count on us to help you book your trip around China! We offer payment in over 100 currencies plus the opportunity to buy your flights with Paypal.