Hebei Airlines Reservations with Alternative Airlines
Make a Hebei Airlines Booking and Find Some Amazing Deals
---
About Hebei Airlines
Hebei Airlines (Chinese: 河北航空有限公司) is a Chinese airline which is headquartered in Shijiazhuang, Hebei Province in China. Hebei Airlines was originally named Northeast Airlines (based in China) however was renamed in 2010 and began operating 29th June 2010. From March 2017, Hebei airlines serve 27 destinations in China including a 3 weekly service between Bangkok to Suvarnabhumi.
XiamenAir is the parent organization. Other destinations include Chengdu Shuangliu, Guangzhou Baiyun, Nanjing, Shanghai, and Shanghai Pudong International Airport. Hebei Airlines has opened more than 100 routes to domestic regions in China.
---
Hebei Airlines Fleet
The Hebei Airlines' fleet consists of Boeing 737-700s, Boeing 737-800s and ERJ-190.
---
Hebei Airlines Baggage
Carry-on Baggage
Passengers in First Class or Business Class are permitted two pieces of carry-on luggage weighing no more than 5kg each. Economy Class passengers are permitted one piece of hand luggage with a maximum weight of 5kg. Bags must not exceed 20cm x 40cm x 55cm.
Checked Baggage
The free checked baggage allowance for Hebei Airlines passengers is 40kg for First Class passengers and Business Class passengers and 20kg for Economy Class passengers.
---
Hebei Airlines Check-in
Airport Check-In
Hebei Airlines passengers can check-in at counters No. 25-32 at Shijiazhuang International Airport.
---
Hebei Airlines Business Class
Hebei Airlines
---
Book Hebei Airlines Flights in English
Alternative Airlines wants our customers to have an easy and straightforward booking experience, that's why we give you the chance to buy Hebei Airlines flights in English! Our customer service team is also happy to answer any of your queries about your booking. Avoid confusion and book your Hebei Airlines flight in English today!
---
Hebei Airlines Hub Airport
Shijiazhuang Zhengding International Airport
Hebei Airlines is based at Shijiazhuang Zhengding International Airport, which is the primary airport serving Shijiazhuang, the capital of the Hebei province in China. There is a high-speed railway pass within 3km south of the airport's terminal. There is also a frequent bus service to nearby airports, allowing passengers to transfer easily during their transit stays. Other airlines that fly to the airport include Spring Airlines, Hebei Airlines, Beijing Capital Airlines and Hainan Airlines.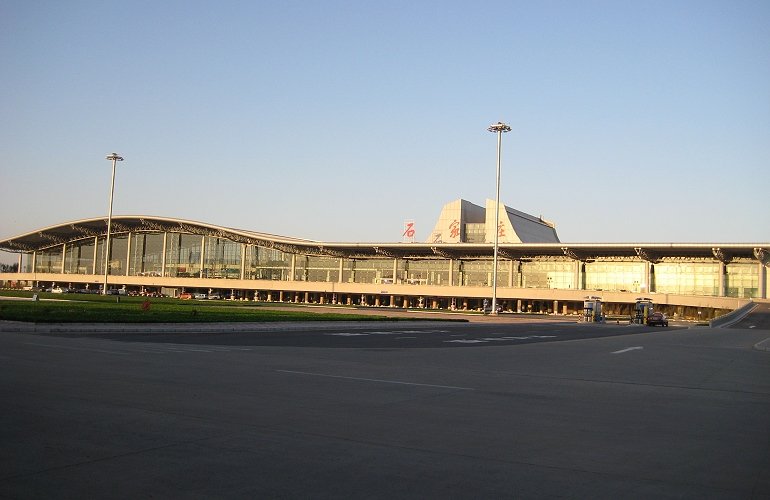 Photo credit: Khalidshou
---
Hebei Airlines News
17th January 2018
Five Chinese airlines operate with 90 Brazilian Embraer aircraft
Five Chinese airlines – China Southern, Guizhou/Colorful, Hainan, Hebei and Henan (formerly Kunpeng) – operate with 90 jet aircraft produced by Brazilian aeronautical company Embraer, with Hainan Airlines having the largest fleet – 50 – the Brazilian company said on announcing figures related to deliveries in 2017.
Embraer also said that out of all the firm orders made by these airlines, a single aircraft has yet to be delivered to Hebei Airlines to complete its order of seven units.
The company delivered a total of 210 jet aircraft in 2017, of which 101 were commercial and 109 were executive jets (72 light and 37 large), with deliveries within the estimated range for the year of 97 to 102 commercial jets, of 70 to 80 light executive jets and 35 to 45 large executive jets.
Embraer's firm order backlog at the end of 2017 totalled US$18.3 billion
Embraer Aviação Comercial (Commercial Aviation) delivered its 1400th E-Jet delivered, and the commemorative aircraft was delivered to American Airlines, which in the fourth quarter of 2017 also signed a firm order for another ten E175 jets.
Since it was founded in 1969, Embraer has delivered more than 8,000 aircraft and is a leader in the manufacture of commercial jet aircraft with up to 150 seats.
September 2017
Hebei Airlines at the launch of winter 2017/18 season is offering service to Singapore, as the airline schedules Shijiazhuang – Hangzhou – Singapore service. From 29OCT17, Boeing 737-800 aircraft will operate this route on daily basis.

NS3527 SJW0745 – 0945HGH1115 – 1615SIN 738 D
NS3528 SIN1700 – 2150HGH2320 – 0125+1SJW 738 D

Additionally, Xiamen Airlines will end Hangzhou – Singapore service on 28OCT17.
September 2017
Hebei Airlines plans Taipei launch in late September 2017
Hebei Airlines later this month is adding service to Taiwan, with the scheduling of 3 weekly Shijiazhuang – Taipei Taoyuan route. Boeing 737-800 aircraft will operate this route 3 times a week, from 23SEP17.

NS3511 SJW1520 – 1845TPE 738 246
NS3512 TPE1950 – 2325SJW 738 246
March 2017
Hebei Airlines in the first-half of summer season plans international service debut, as the airline filed Shijiazhuang – Bangkok schedule. The schedule filing sees the airline serving this route 3 times a week, from 27MAR17 to 01MAY17.

Boeing 737-800 aircraft operates this route.

NS3517 SJW1540 – 1915BKK 738 136
NS3518 BKK2015 – 0145+1SJW 738 136
---