Search and Buy Hainan Airlines Flights
Let's fly!

Select your payment method to view total prices including any payment fees:
Buy
Hainan Airlines

Flights

Search and Buy Hainan Airlines Flights with Alternative Airlines
Flights to and from Haikou
Make a Hainan Airlines reservation and find some amazing deals with discounted Hainan Airlines tickets at Alternative Airlines.
---
Hainan Airlines is a Chinese airline headquartered in Haikou, China and has a hub at Beijing Capital International Airport as well as Haikou Meilan International Airport.
Hainan Airlines operates to many destinations includes Abu Dhabi, Aksu Airport, Almaty, Ankang, Anshan, Baise, Bangkok, Baotou, Beijing, Berlin, Chengdu, Chicago, Chifeng, Chita, Changzhi, Guangzhou, Guiyang, Guilin, Haikou, Jiamusi, Jinan, Jinzhou, Nanjing, Paris, Phuket, Paris and many others. In 2013, Hainan Airlines retained the "Skytrax 5-Star Airline Company" title for a third year in a row and in February 2016, was listed as one of World's Top 5 safest airlines by JACDEC.
Hainan Airlines has codeshare agreements with many airlines including Air Berlin, American Airlines, Brussels Airlines, EVA Air, Garuda Indonesia, Hong Kong Airlines, Korean Air, S7 Airlines.
Hainan Airlines is one of the seven Asian airlines rated as 5-star by Skytrax, along with All Nippon Airways, Asiana Airlines, Cathay Pacific, Garuda Indonesia, Qatar Airways and Singapore Airlines. Hainan Airlines' fleet consists of Boeing 787 Dreamliner, Airbus A330-200, Airbus A330-300, Boeing 787-800 and Boeing 737-700.
Starting in June 2016, Hainan Airlines will operate a nonstop flights service from Manchester to Beijing. From Beijing, passengers can easily transfer to other cities in China via Hainan Airlines' network. In addition, Hainan Airlines offer 2 checked baggage allowance for this route.
---
Frequent Flyer Program
Hainan Airlines operates a frequent flyer program called the Fortune Wings Club to reward regular passengers.
Fortune Wings Club allows passengers to earn points by flying with any of the seven airline companies under the Hainan Airlines flagship: Hainan Airlines, Grand China Air, Tianjin Airlines, Hong Kong Airlines, Lucky Air, Capital Airlines and Fuzhou Airlines. Fortune Wings Club is a worldwide incentive program targeting at frequent flyers, to help with accelerating your dream of a free flight.
Hainan Airlines currently operates a mixed fleet of 185 aircraft, with almost three-quarters being B737-800s.
It serves 110 destinations in 21 countries and operates from bases at:
Chengdu, Beijing Capital, Guangzhou, Haikou, Hangzhou, Sanya, Shenzhen and Xi'an Xianyang.
---
Baggage
Hainan Airlines applies a different baggage policy depending on the route and fare class selected.
On flights between Europe and China, passengers in Business Class are entitled to 2 pieces of baggage of up to 32 kg, passengers in economy class are entitled to 1 piece of baggage of up to 23 kg.
Hainan Airlines lounges at Beijing Capital International Airport are divided into two First-Class lounges and 2 VIP lounges. The 5-star catering is enjoyed by guests within the lounges.
---
News
10th April 2018
Hainan Airlines moves into the hotel industry
Hainan Airlines is looking at purchasing a major hotel. The company, whose shares have been suspended from trading on the Shanghai bourse since January 10 citing major asset restructuring plans, said that it expects to see trading resume no later than June 9, after requesting an extension from an earlier trade resumption deadline on April 10. This hotel will be one of a number of assets the airline is set to purchase from its parent, HNA group. According to Hainan Airlines, overseas assets would account for 48 to 65 per cent of all outlays involved in this overhaul, adding that it would need to consult and discuss with multiple overseas regulators. Owing to delays in receiving the regulatory approvals, the company has applied to extend the suspension of trading on it s shares to no later than June 9.
28th March 2018
Hainan Airlines has commenced five new links in time for summer, beginning three services to Europe and its first two services to Mexico.
Four of the airline's new airport pairs are direct services, but the Beijing (PEK) to Mexico City(MEX) link will operate via Tijuana (TIJ).
At 12,538 kilometres, the indirect Mexico City sector is the longest of the five new routes. The shortest of the new sectors is the 9,049-kilometre link from Changsha (CSX) to London Heathrow(LHR).
The average route length of the four direct connections is 9,770 kilometres. Frequencies on the five airport pairs vary from two to three per week.
3rd March 2018
Hainan Airlines launches two direct flights to Europe from Shenzen
China's Hainan Airlines will commence operations between Shenzen and Brussels this month, as well as a service between Shenzen and Madris. This expansion comes after the success of their services between Brussels and the Chinese capital, as well as Shang Hai. The launch of the two services, which further complement Hainan Airlines' European route network, will allow both China and Europe to benefit from the Chinese government's One Belt, One Road initiative and provide more convenience for passengers traveling between China and Belgium, Spain and other European countries.
8th January 2018
Hainan Airlines wins five trophies at the World Travel Awards
China's Hainan Airlines won five trophies at the 24th World Travel Awards Grand Final, which took place at the Vietnamese island resort of Phu Quoc yesterday. The Chinese airline won World's Leading Airline - Business Class, World's Leading Airline Inflight Entertainment, World's Leading Cabin Crew and World's Leading Excellence Inflight Service. Their lounge at Beijing Capital International Airport was also chosen as the World's Leading Airport Lounge - Business Class.
Headquartered in Haikou on Hainan Island, Hainan Airlines is China's fourth-largest carrier. Earlier this year, it was also listed among the world's top ten airlines in 2017 by a leading aviation research firm at an award ceremony held during the Paris Air Show. Russian airline Aeroflot was voted World's Leading Airline Brand and Deer Jet was recognised as the World's Leading Private Jet Charter at the travel industry's most prestigious awards programme, founded in 1993.
Winners are chosen via an online vote that involves hundreds of thousands of travel professionals and millions of travellers, each of whom assess product quality and the level of service of leading tour firms, hotels and airlines from around the world. Portugal was named World's Leading Destination and World's Leading Tourist Board, while its capital, Lisbon, was awarded World's Leading City Break Destination. The Madeira Islands won World's Leading Island Destination and the Maldives was voted the World's Leading Honeymoon Destination.
12th December 2017
Hainan Airlines eyes more flights to US
Carrier is striving to get flying rights to launch direct service between Shanghai and major cities in the United States
Hainan Airlines, China's largest private air carrier, said it is interested in launching more China-US direct flights, as more Chinese travelers are visiting the US, further stimulating the vitality of the market.
The carrier also plans to extend its cooperation with US airlines. Next year, it will start code sharing programs with Alaska Airlines and Jet-Blue Airways to strengthen its network coverage in the United States, especially on the east and west coasts
20th November 2017
Hainan Airlines to launch new Sydney route - Xinhua
China's Hainan Airlines will start direct flights from its base in Haikou, on Hainan island, to Sydney, Australia, from Jan. 30, the official Xinhua news agency reported on Sunday.
The airline will fly an Airbus A330 on the new route twice a week, Xinhua said, adding the service was designed to meet increasing demand from tourists and business people.
It will be the first international route operated by Hainan Airlines from its home on the southern island province and the company's seventh direct route to Australia, according to Xinhua.
Hainan Airlines already flies to Sydney from the cities of Xian and Changsha, and to other Australian destinations, including Cairns and Melbourne, from other Chinese cities
24th October 2017
Hainan Airlines more than doubles capacity over past 10 years; international services expand but domestic traffic dominates
Hainan Airlines continues to open new routes and expand its domestic and international capacity, including with this link to Belgrade which launched on 15 September. Domestic seats account for the majority of the airline's network, with more than 90% of capacity operating within China in 2017. International links are growing in importance, however, the proportion of capacity flown on international routes has increased since 2008.
China has seen strong capacity growth on domestic and international air services over the past 10 years. OAG schedules data show that the number of two-way seats available increased by 151% from 2007 to 2017. This included a 160% increase in domestic seats and a 122% rise in international capacity. In 2017, domestic seats account for 78% of all capacity in the Chinese market, up from 76% in 2008.
The major Chinese airlines have ridden the growth wave in their home country. In 2017, Hainan Airlines ranks as the fourth largest carrier in the Chinese market based on published two-way capacity. Only China Southern Airlines, China Eastern Airlines and Air China offer more combined seats. Hainan Airlines is the fourth largest provider of domestic capacity and the ninth largest international operator in China.
23rd October 2017
Hainan Airlines Launches First Non-Stop Service between New York and Chengdu and Chongqing in Western China
Hainan Airlines, a unit of HNA Group and mainland China's only Skytrax Five-Star airline, this week begins two new routes between New York's John F. KennedyInternational Airport (JFK) and the Chinese cities of Chengdu and Chongqing. In conjunction with the route launches, Hainan Airline's parent-company, HNA Group, is supporting a series of New York Cityevents including Lincoln Center's Fall Gala, the China Institute's Blue Cloud Gala and the Asia Society's Game Changer Awards.
Services to Chongqing commence on October 21 and to Chengdu on October 27 from JFK's Terminal 4. Each route will operate twice weekly on Hainan Airline's fleet of Boeing 787 Dreamliner aircraft. With a capacity for over 60,000 passengers per year, it is the only non-stop service offered between New York City and China's rapidly growing Sichuan province. Chongqing to New York will be Hainan Airlines' longest flight route—nearly 7573 miles.
Sun Jianfeng, Hainan Airlines President said, "We're excited to be offering the only non-stop flights between the U.S. East Coast and the major cities of Chengdu and Chongqing. These new services represent the 13th and 14th non-stop trans-Pacific routes, following our West Coast launch earlier in the year. The opening of the new route is expected to significantly enhance exchanges and collaborations concerning culture, the economy, and politics between the two countries and to further improve both Chengdu and Chongqing's status as key global economic centers."
HNA Group's focus on the New York routes is a sign of confidence in the relationship between the U.S. and China as a primary travel and tourism partner. According to statistics from the National Travel and Tourism Office, 2016 saw almost 3,000,000 Chinese tourists enter the USA (an increase of 466% since 2009), with more than 800,000 visitors to New York alone. The total Travel and Tourism Exports for the year was more than $32 billion.
Commenting on HNA's tourism strategy, Adam Tan, CEO of HNA Group said: "We are continuing our expansion in the tourism and travel sectors globally, as we strive to build closer connections for world travelers. Through a range of strategic travel investments—from gategroup aircraft hospitality suppliers, to MRO specialists SR Technics, to the recent acquisition of a 25% share in Hilton Hotels, HNA Group remains committed to building the tourism sector across the globe. The opportunity for us to connect New York with the fastest growing Chinese regional centers of Chengdu and Chongqing is expected to lead to additional trade opportunities throughout China and the US."
In conjunction with the new route launches, HNA Group is sponsoring a week of local activities in support of its commitment to New York City, including hosting a major corporate event and concert at the Alice Tully Hall of Lincoln Center for partners and the travel sector. The concert will showcase the extraordinary talents of U.S. and Chinese artists, including the New Jersey Symphony Orchestra and renowned violinist Lu Siqing.
HNA will also be sponsoring a range of high-profile annual gala events over the course of the coming weeks as it showcases its commitment to New York City. HNA will be the title sponsor of the annual Lincoln Center Fall Gala (October 23), the Asia Game Changer Diplomacy Champion Partner at the Asia Society Asia Game Changer Awards (November 1), and the presenting sponsor of the China Institute Blue Cloud Gala (November 2).
Each event is the partner organization's biggest of the year and highlights HNA's growing presence in the U.S. At the Asia Game Changer Awards, in particular, HNA will recognize the important role of Chengdu's Giant Pandas, which have been an integral symbol of bilateral diplomacy between China and the U.S. over the past 45 years.
Access to Chinese Regional Centers
Connecting the US to China's growing regional centers is a core element of HNA Group's strategy, supporting increased capacity and expanding cultural exchanges between the two nations.
Chengdu, the capital of Sichuan province, is widely recognized for its Giant Panda Breeding Center. But this traditional home of Sichuanese cooking city is fast-becoming the latest stop on the global food trail, as Chengdu is Asia's first UNESCO City of Gastronomy. Chengdu also strikes the perfect balance of traditional Chinese customs and modern cultural elements, from the many traditional tea houses to the 150 museums it boasts.
Chongqing is a major commercial center of 30 million people, renowned for its distinctive spicy cuisine, and its busy port along the Yangtze River. Chongqing is the home of the UNESCO World Heritage site of The Dazu Rock Carvings and Chinese religious sculptures and carvings that date back to the 7th Century. As the provisional capital of China from 1937 – 1945, Chongqing also has a rich wartime history.
20th October 2017
Hainan Air to fly to New York from southwest China, as business goes on under spotlight
HNA Group, one of the four Chinese enterprises under regulatory scrutiny since June for its outsize overseas purchases, said its airline will commence flying to New York next week from two of the biggest cities in southwestern China, in a sign that its business operations are uninterrupted under the government's spotlight.
Hainan Airlines, the fourth-largest Chinese carrier by fleet and a HNA unit, will begin flying non-stop to the US east coast from Chengdu and Chongqing from October 27, using Boeing's 787-800 aircraft.
The Chengdu-New York service will depart every Thursday and Saturday in summer and autumn, switching to every Tuesday and Saturday in winter and spring, HNA said on its website. A separate service from Chongqing will serve New York every Wednesday and Friday in summer and autumn, switching to depart on Mondays and Fridays in winter and spring, HNA said.
The two new routes, following the September 20 commencement of Hainan Airlines' Shenzhen-Brisbane route using the Airbus 330-200 jetliner, shows the company's sprawling operations appear to be unaffected, even as its acquisitions had been put on a short leash.
In June, the China Banking Regulatory Commission ordered the country's banks to watch their exposure to loans owed by HNA and several other Chinese enterprises, amid concern over their aggressive, debt-fuelled shopping spree.
22nd September 2017
Hainan Airlines adds Boeing 787 Russia service in W17
Hainan Airlines in winter 2017/18 season plans to introduce Boeing 787 aircraft for its Russia service, including Moscow and St. Petersburg. Planned aircraft changes as follow.

Beijing – Moscow Sheremetyevo eff 31OCT17 787-8 replaces A330, 2 weekly
HU7985 PEK1615 – 2010SVO 787 26
HU7986 SVO2155 – 1020+1PEK 787 26

Beijing – St. Petersburg eff 01NOV17 787-9 replaces A330, 1 weekly
HU7965 PEK1615 – 2015LED 789 3
HU7966 LED2155 – 1015+1PEK 789 3
19th September 2017
Hainan Airlines has commenced two new long-haul routes this week which included the introduction of another European airport to its network
Before that on 12 September the carrier began its second link to Tel Aviv (TLV), starting a three times weekly service to the Israeli city from Shanghai Pudong (PVG).
The 7,976-kilometre route, which no other airline currently operates, will be flown on the airline's 787-9s. This route adds to Hainan Airlines' existing route to Tel Aviv from Beijing. On 15 September the Chinese carrier welcomed Belgrade (BEG) to its route map, starting a twice-weekly (Mondays and Fridays) link from Beijing (PEK) that operates via its existing Prague operation.
The 7,420-kilometre connection to the Serbian capital faces no direct competition and will be flown on the airline's fleet of A330-300s according to OAG schedules.
15th September 2017
Hainan Airlines first in China to order Boeing Split Scimitar Winglets
Aviation Partners Boeing (APB) today announced that Hainan Airlines has committed to install Split Scimitar Winglets on 36 of its fleet of Boeing Next-Generation 737-800 aircraft. Hainan was the first airline in China to operate with APB's Blended Winglet technology, and now will be the first airline in China to operate with APB's latest product, Split Scimitar Winglets.
"Sixteen years ago APB welcomed Hainan Airlines as the first airline in China to install Blended Winglets on its aircraft," said Patrick LaMoria, Aviation Partners Boeing executive vice president and chief commercial officer. "Since then, both Hainan and Blended Winglets have become an extraordinary presence worldwide in the airline industry. APB is very proud to continue this relationship with the introduction of Split Scimitar Winglets in China."
Split Scimitar Winglets confirm Hainan's commitment to providing exceptional value to its customers, through the implementation of efficient technology. Every flight with this technology reduces Hainan's energy needs and the resulting pollutant emissions.
Hainan's aircraft will be modified during routine maintenance visits at Hainan Airlines' maintenance facility, HNA Technology, in Haikou. Installation tasks can be performed concurrently with most maintenance activities, allowing for a very efficient shop visit. Once installed, the Split Scimitar Winglets can reduce block fuel consumption by up to an additional 2.2%, resulting in fuel savings of about 140,000 liters per year per aircraft, and carbon dioxide emissions reduced by more than 350 tonnes. Once all 36 aircraft are modified, Hainan Airlines will save almost 5 million liters of fuel and 12,700 tonnes of emissions per year.
"Hainan Airlines recognizes the importance of investing in their fleet," said Craig McCallum, APB's senior director of sales and marketing. "They are committed to reducing fuel consumption, emissions, and costs by operating the most efficient fleet of narrowbody aircraft in all of Asia."
Since launching the Boeing Next-Generation 737 Split Scimitar Winglet program APB has taken orders and options for 1,745 systems, and nearly 1,000 aircraft are now operating with the technology. APB estimates that its products have reduced aircraft fuel consumption worldwide by over 7.7 billion gallons to-date.
12th September 2017
China's Hainan Airlines launches Tel-Aviv Shanghai flights
n airliner of Chinese airline Hainan Airlines today landed at Ben Gurion Airport. The landing ended the inaugural flight of the company's new Tel Aviv-Shanghai route, with three weekly flights on Boeing Dreamliners.
Because the route is to a new destination, Hainan Airlines will receive a €750,000 grant from the Ministry of Tourism, to be used for marketing efforts aimed at increasing the number of Chinese tourists to Israel, among other things. Hainan launched its first route from Tel Aviv to Beijing in April 2016. The airline announced that it was considering expanding its service on this route, and this month added a fifth weekly flight on the route.
12th September 2017
China's Hainan Airlines cuts international capacity to US, Europe
Hainan Airlines will cut international capacity to the US and Europe in the fall and winter seasons because of low load factors. The Haikou-based carrier said it would reduce frequencies on the following routes: Beijing-Chicago from 4X-weekly to 3X-weekly; Beijing-San Jose from 5X-weekly to 3X-weekly; Beijing-Seattle from daily to 5X-weekly; Shanghai (Pudong)-Seattle from 4X-weekly to 3X-weekly; and Beijing-Manchester from 4X-weekly to 3X-weekly.
5th September 2017
Hainan Airlines W17 long-haul frequency changes
Hainan Airlines in recent schedule update filed service reductions on selected long-haul service during winter 2017/18 season, from 29OCT17 to 24MAR18. Planned adjustment as follow.

Beijing – Chicago O'Hare Reduce from 4 to 3 weekly, except 15DEC17 – 23DEC17 (4 weekly in W16)
Beijing – Manchester Reduce from 4 to 3 weekly (4 weekly in W16)
Beijing – San Jose CA Reduce from 5 to 3 weekly, except 15DEC17 – 23DEC17 (4 weekly in W16)
Beijing – Seattle Reduce from 7 to 5 weekly, except 15DEC17 – 23DEC17 (7 weekly in W16)
Shanghai Pu Dong – Seattle Reduce from 4 to 3 weekly, except 18DEC17 (4 weekly in W16)
1st September 2017
Hainan Airlines adds Shenzhen-Cairns from December 2017
Hainan Airlines in Northern winter 2017/18 season continues to expand Australia operation, as the airline schedules Shenzhen – Cairns service from 19DEC17. Airbus A330-300 aircraft will operate this route twice a week.

HU745 SZX2305 – 0830+1CNS 333 26
HU746 CNS1030 – 1545SZX 333 37
16th August 2017
Hainan Airlines close to finalising scheduling on Beijing-Dublin flights
China's Hainan Airlines is close to agreeing a direct scheduled flight from Dublin to Beijing for the upcoming winter season, according to a number of sources.
Discussions have been under way for some time between the airline and Dublin Airport Authority (DAA) and the airline is close to finalising a schedule for the flights, the Sunday Independent has learned. The flight will operate on alternate days to Dublin and Edinburgh in Scotland and this has added complexity to the scheduling and slot negotiations, it is understood. Hainan Airlines is China's fourth-largest carrier and is owned by the huge HNA conglomerate, which also owns Dublin-based aircraft leasing firm Avolon.
Local Fine Gael councillor Tom O'Leary, who has campaigned for the direct flights, said that detailed negotiations were "progressing very positively".
"My understanding is that flights may possibly commence in October," he said. "Fingal has a wonderful opportunity to capitalise on the potential that this new flight destination offers. Local companies need to start planning now to avail of this opportunity."
A DAA spokesman said it "does not comment on whether or not it is in discussions with specific airlines in relation to potential new services".
Dublin is already undergoing a boom in eastbound traffic with the recent arrival of Qatar Airways adding to a strong presence of Middle Eastern carriers, including Etihad and Emirates.
But, to date, no airline has launched a direct route from the Far East to Ireland. But interest in Ireland to Asia routes has been growing. Last week, Japan Airlines flew the first-ever direct flight from Japan to Dublin, a one-off charter with 240 Japanese travel industry professionals on board.
But the Chinese market is seen as key for both tourism and business reasons. Tourism Ireland chief executive Niall Gibbons described a direct link with China as "vital".
"We have worked very closely with DAA on this and we put a proposal on the table in relation to joint marketing with Hainan and that is in place. We are very excited about the prospect of this flight," said Gibbons.
Tourism Ireland has already seen a significant increase in Chinese visitors this year, he said.
12th July 2017
Hainan Airline launches high-fashion designer uniforms for cabin crew
Hainan Airlines hooked up with designer Laurence Xu to create a new, high-fashion look that takes its cabin crew to the next level.
The collection was launched at Paris Couture Week on 4 July, and takes inspiration from a traditional Chinese dress called a Cheongsam. Pieces also feature Chinese-influenced prints, such as the Roc – a mythical bird.
The uniforms blend influences from East and West. The looks are given a modern twist with Western additions, such as tailored coats and capes in muted grey and beret-style hats.
Xu wanted to combine "classical, time-honoured Oriental aesthetics and the silhouette of a modern Western suit" for the Hainan collection.
"The cooperation between Hainan Airlines and Lawrence Xu is industry leading," said Xu Fei, brand director of Hainan Airlines. "We are not only creating a new uniform but also showing the internationalized image of our airline.
"Especially on international routes, we would like to let passengers know that China is modern and trendy."
5th July 2017
Hainan Airlines launches Shenzhen - Brisbane Non-Stop Service on 20th September
Hainan Airlines unveiled its new cabin uniforms at Paris Couture Week Tuesday, revealing the East-meets-West aesthetic. The traditional Chinese cheongsam dress is the template for a design with clouds, sea, sky and mountains to evoke the take-off of a Hainan aircraft and the roc, a mythical bird that denotes strength. It's the first redesign in seven years and maintains some of the iconic elements used in previous iterations: Asian, art-inspired images and a muted, grey color scheme.
4th July 2017
Hainan Airlines launches Shenzhen - Brisbane Non-Stop Service on 20th September
Hainan Airlines plans to launch a non-stop service between Shenzhen, China and Brisbane, Australia on September 20, 2017. Following the successful launch of the Shenzhen-Auckland service, this will be Hainan Airlines' second intercontinental flight from Shenzhen and the airline's fifth direct flight to Australia and New Zealand. Hainan Airlines has been named a SKYTRAX five-star airline for seven consecutive years and was listed among the Top 10 SKYTRAX carriers. Since 1993, the airline has rolled out more than 1,000 domestic and international routes from and to nearly 100 cities across Asia, Europe, North Americaand Oceania.
The airline also has one of the world's best safety records in that it has not had a major accident in its 24 years of operation and was ranked third in airline safety in 2016 by JACDEC, a German airline safety data evaluation firm, the best achieved by a mainland Chinese carrier.
22nd June 2017
Hainan Airlines links up New York and Chongqing
From 20th October 2017, Hainan Airlines will introduce flights between Chongqing and New York, becoming the first non-stop service between western China and New York.
The new service will depart Chongqing Jiangbei International Airport on Wednesdays and Fridays at 22.00, and arrive in John F Kennedy International Airport at 00.50 the following day. Return flights depart John F Kennedy International Airport on Thursdays and Saturdays at 02.50, and arrive in Chongqing Jiangbei International Airport at 06.35 am the following day.
22nd May 2017
Hainan Airlines has announced transaction of 19 Boeing aircraft for $4.2 billion to help meet skyrocketing travel demand by Chinese consumers. The airline will buy 13 Boeing 787-9 passenger jets and 6 737-8s, citing the contiued "rapid growth" in China's travel market as incomes rise. Chinese companies have encouraged businesses to invest overseas.
9th May 2017
Hainan Airlines has requested for rights to fly to 4 continents at the end of this year.
The HNA Group have asked the Civil Aviation Administration of China (CAAC) for permission to fly Boeing 787s 4 x weekly between Zurich and Shanghai starting in November.
Destinations are as follows:
Zurich; Tehran; Iran; Sydney and Tijuana.
May 2017
Hainan Airlines announced it has continued its expansion across China with the establishment of Shanxi Airlines (Taiyuan), a joint-venture between the HNA Group unit and the Shanxi Provincial Government in northern China. The new carrier replaces another similarly named airline - Shan Xi Airlines (1988) (CXI, Taiyuan) - which was majority-owned by Hainan Airlines until its absorption into its parent in 2009.
In addition to using joint ventures, Hainan Airlines is also in the process of establishing multiple branch companies across China to help expand and consolidate its domestic presence. In a recent Shanghai Stock Exchange filing, the carrier made mention of progress being made in terms of the setting up of units in Chengdu, Chongqing, Sanya, and Hangzhou.
Hainan Airlines announced it plans to purchase nineteen aircraft
In a Shanghai Stock Exchange filing, Hainan said that it planned to partly fund the CNY28.9 billion (USD4.19 billion) fleet expansion through the issue of CNY15 billion (USD2.18 billion) in convertible bonds. Hainan Airlines says that the addition of nineteen aircraft is expected to increase revenue by CNY5.14 billion (USD746 million) annually.
Hainan Airlines announced it is to run daily flights between Manchester and Beijing for the peak summer period
The Chinese carrier will raise frequency between the two cities to a daily service from July until the end of September. The airline previously announced plans to increase capacity to five flights a week from June. The flights will be operated using Boeing 787-800 and 787-900 Dreamliners.
April 2017
Hainan Airlines announced it had applied for fligths to launch four new international routes in the fourth quarter of the year
The carrier is planning twice-weekly services between Haikou and Sydney using Airbus A330s, thrice weekly services on the Shanghai Pudong-Chengdu-Tehran route using A330s or Boeing 787s, as well as four-times weekly services between Shanghai Pudong and Zurich using 787s. It plans to launch the three routes in November. Thereafter, it will follow with thrice-weekly services on the Chengdu-Shanghai Pudong-Tijuana route in December. This will be operated using 787s.
Hainan Airlines announced it had plans to sell two B737-800s to its Yangtze River Airlines unit for $133m
The aircraft involved in the sale are said to be B-1992 (msn 41376) and B-1577 (msn 40745), both of which are already in service for Yangtze River Airlines.
Yangtze River Airlines currently operates five B737-800s, its only dedicated passenger jets, on flights connecting Shanghai Pudong with Guilin, Guiyang, Harbin, Sanya, Zhuhai, Lianyungang, Hohhot, Taiyuan, and Zhengzhou.
Hainan Airlines announced it had adjusted its planned operation for Beijing-Manchester service for summer 2017 season
From 01MAY17, the 4 weekly flights will be operated by Boeing 787-8, replacing A330-300. Planned 5th weekly frequency, previously reported, remains unchanged for the month of June 2017. This will further expand to daily operation, from 02JUL17 to 30SEP17. In April 2017, Hainan Airlines announced it was further expanding South East Asia service from Sanya, witht the scheduling of Sanya - Utapao route. Since 11APR17, this route is served 3 times a week, on board Boeing 737-800 aircraft.
HU7903 PEK0145 – 0540MAN 787 D
HU7904 MAN1215 – 0525+1PEK 787 D
In April 2017, Hainan Airlines announced it was increasing its Bejijing - Brussels service, which is currently served 5 times a week.
From 22nd May 2017, the airline will increase overall operation to daily, with Airbus A330-300 aircraft.
HU491 PEK0120 – 0555BRU 333 x135
HU491 PEK0120 – 0610BRU 333 135
HU492 BRU1340 – 0530+1PEK 333 D
March 2017
Hainan Airlines announced it had launched the Prime Wings International Lounge at Terminal 2 Beijing Airport. Hainan Airlines is shortly to open it's first international VIP lounge, the Prime Wings Lounge, located at Terminal 2 of Beijing Capital International Airport. Regarded as Hainan Airlines current flagship project, the Prime Wings Lounge will be available to Hainan Airlines business class customers and top tier frequent flyer guests travelling on international flights. As well as launching the new, International Prime Wings Lounge at Terminal 2 Beijing Capital Airport, Hainan Airlines will soon launch a brand new International lounge at Xi'an Airport and Hangzhou Airport. The airline has recently opened a new domestic lounge at Guangzhou Baiyun Airport. The existing domestic lounges at Terminal 1 Beijing Capital Airport will be expanded and upgraded later in 2017, as a part of Hainan Airlines considerable investment to launch new domestic and international lounges around their rapidly growing network.
---
Route Map
Hainan Airlines Route Map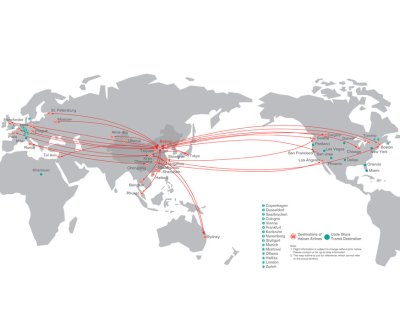 How to pay
You can pay for your flights with Hainan Airlines in the currency and payment method of your choice when booking through Alternative Airlines.
We accept PayPal making flight purchases with Hainan Airlines easy and more secure for customers. PayPal is one of the leading forms of online payment, with more than 169 million accounts worldwide.