Search & Book Hainan Airlines Flights
Book
Hainan Airlines

Flights

Book Direct with Hainan Airlines and Alternative Airlines
Hainan Airlines is a Chinese airline headquartered in Haikou, China and has a hub at Beijing Capital International Airport as well as Haikou Meilan International Airport. Hainan Airlines operates to many destinations includes Abu Dhabi, Aksu Airport, Almaty, Ankang, Anshan, Baise, Bangkok, Baotou, Beijing, Berlin, Chengdu, Chicago, Chifeng, Chita, Changzhi, Guangzhou, Guiyang, Guilin, Haikou, Jiamusi, Jinan, Jinzhou, Nanjing, Paris, Phuket, Paris and many others. In 2013, Hainan Airlines retained the "Skytrax 5-Star Airline Company" title for a third year in a row and in February 2016, was listed as one of World's Top 5 safest airlines by JACDEC.
Hainan Airlines operates a frequent flyer program called the Fortune Wings Club to reward regular passengers. Fortune Wings Club allows passengers to earn points by flying with any of the seven airline companies under the Hainan Airlines flagship: Hainan Airlines, Grand China Air, Tianjin Airlines, Hong Kong Airlines, Lucky Air, Capital Airlines and Fuzhou Airlines. Fortune Wings Club is a worldwide incentive program targeting at frequent flyers, to help with accelerating your dream of a free flight.
Hainan Airlines has codeshare agreements with many airlines including Air Berlin, American Airlines, Brussels Airlines, EVA Air, Garuda Indonesia, Hong Kong Airlines, Korean Air, S7 Airlines. Hainan Airlines is one of the seven Asian airlines rated as 5-star by Skytrax, along with All Nippon Airways, Asiana Airlines, Cathay Pacific, Garuda Indonesia, Qatar Airways and Singapore Airlines. Hainan Airlines' fleet consists of Boeing 787 Dreamliner, Airbus A330-200, Airbus A330-300, Boeing 787-800 and Boeing 737-700.
Starting in June 2016, Hainan Airlines will operate a nonstop flights service from Manchester to Beijing. From Beijing, passengers can easily transfer to other cities in China via Hainan Airlines' network. In addition, Hainan Airlines offer 2 checked baggage allowance for this route.
Hainan Airlines applies a different baggage policy depending on the route and fare class selected. On flights between Europe and China, passengers in Business Class are entitled to 2 pieces of baggage of up to 32 kg, passengers in economy class are entitled to 1 piece of baggage of up to 23 kg. Hainan Airlines lounges at Beijing Capital International Airport are divided into two First-Class lounges and 2 VIP lounges. The 5-star catering is enjoyed by guests within the lounges. In May 2017, Hainan Airlines announced it plans to purchase nineteen aircraft, reports Reuters. In a Shanghai Stock Exchange filing, Hainan said that it planned to partly fund the CNY28.9 billion (USD4.19 billion) fleet expansion through the issue of CNY15 billion (USD2.18 billion) in convertible bonds. Hainan Airlines says that the addition of nineteen aircraft is expected to increase revenue by CNY5.14 billion (USD746 million) annually. Hainan Airlines currently operates a mixed fleet of 185 aircraft, with almost three-quarters being B737-800s. It serves 110 destinations in twenty-one countries, and operates from bases at Chengdu, Beijing Capital, Guangzhou, Haikou, Hangzhou, Sanya, Shenzhen and Xi'an Xianyang.
In May 2017, Hainan Airlines announced it has continued its expansion across China with the establishment of Shanxi Airlines (Taiyuan), a joint-venture between the HNA Group unit and the Shanxi Provincial Government in northern China. The new carrier replaces another similarly named airline - Shan Xi Airlines (1988) (CXI, Taiyuan) - which was majority-owned by Hainan Airlines until its absorption into its parent in 2009. In addition to using joint ventures, Hainan Airlines is also in the process of establishing multiple branch companies across China to help expand and consolidate its domestic presence. In a recent Shanghai Stock Exchange filing, the carrier made mention of progress being made in terms of the setting up of units in Chengdu, Chongqing, Sanya, and Hangzhou.
---
News:
22nd June 2017
Hainan Airlines links up New York and Chongqing
From 20th October 2017, Hainan Airlines will introduce flights between Chongqing and New York, becoming the first non-stop service between western China and New York.
The new service will depart Chongqing Jiangbei International Airport on Wednesdays and Fridays at 22.00, and arrive in John F Kennedy International Airport at 00.50 the following day. Return flights depart John F Kennedy International Airport on Thursdays and Saturdays at 02.50, and arrive in Chongqing Jiangbei International Airport at 06.35 am the following day.
22nd May 2017
Hainan Airlines has announced transaction of 19 Boeing aircraft for $4.2 billion to help meet skyrocketing travel demand by Chinese consumers. The airline will buy 13 Boeing 787-9 passenger jets and 6 737-8s, citing the contiued "rapid growth" in China's travel market as incomes rise. Chinese companies have encouraged businesses to invest overseas.
9th May 2017
Hainan Airlines has requested for rights to fly to 4 continents at the end of this year.
The HNA Group have asked the Civil Aviation Administration of China (CAAC) for permission to fly Boeing 787s 4 x weekly between Zurich and Shanghai starting in November.
Destinations are as follows:
Zurich; Tehran; Iran; Sydney and Tijuana.
In March 2017, Hainan Airlines announced it had launched the Prime Wings International Lounge at Terminal 2 Beijing Airport. Hainan Airlines is shortly to open it's first international VIP lounge, the Prime Wings Lounge, located at Terminal 2 of Beijing Capital International Airport. Regarded as Hainan Airlines current flagship project, the Prime Wings Lounge will be available to Hainan Airlines business class customers and top tier frequent flyer guests travelling on international flights. As well as launching the new, International Prime Wings Lounge at Terminal 2 Beijing Capital Airport, Hainan Airlines will soon launch a brand new International lounge at Xi'an Airport and Hangzhou Airport. The airline has recently opened a new domestic lounge at Guangzhou Baiyun Airport. The existing domestic lounges at Terminal 1 Beijing Capital Airport will be expanded and upgraded later in 2017, as a part of Hainan Airlines considerable investment to launch new domestic and international lounges around their rapidly growing network.
In April 2017, Hainan Airlines announced it had plans to sell two B737-800s to its Yangtze River Airlines unit for $133m. The aircraft involved in the sale are said to be B-1992 (msn 41376) and B-1577 (msn 40745), both of which are already in service for Yangtze River Airlines.
Yangtze River Airlines currently operates five B737-800s, its only dedicated passenger jets, on flights connecting Shanghai Pudong with Guilin, Guiyang, Harbin, Sanya, Zhuhai, Lianyungang, Hohhot, Taiyuan, and Zhengzhou.
In April 2017, Hainan Airlines announced it had adjusted its planned operation for Beijing-Manchester service for summer 2017 season. From 01MAY17, the 4 weekly flights will be operated by Boeing 787-8, replacing A330-300. Planned 5th weekly frequency, previously reported, remains unchanged for the month of June 2017. This will further expand to daily operation, from 02JUL17 to 30SEP17. In April 2017, Hainan Airlines announced it was further expanding South East Asia service from Sanya, witht the scheduling of Sanya - Utapao route. Since 11APR17, this route is served 3 times a week, on board Boeing 737-800 aircraft.
HU7903 PEK0145 – 0540MAN 787 D
HU7904 MAN1215 – 0525+1PEK 787 D
In April 2017, Hainan Airlines announced it was increasing its Bejijing - Brussels service, which is currently served 5 times a week.
From 22nd May 2017, the airline will increase overall operation to daily, with Airbus A330-300 aircraft.
HU491 PEK0120 – 0555BRU 333 x135
HU491 PEK0120 – 0610BRU 333 135
HU492 BRU1340 – 0530+1PEK 333 D
In May 2017, Hainan Airlines announced it is to run daily flights between Manchester and Beijing for the peak summer period. The Chinese carrier will raise frequency between the two cities to a daily service from July until the end of September. The airline previously announced plans to increase capacity to five flights a week from June. The flights will be operated using Boeing 787-800 and 787-900 Dreamliners. In April 2017, Hainan Airlines announced it had applied for fligths to launch four new international routes in the fourth quarter of the year. The carrier is planning twice-weekly services between Haikou and Sydney using Airbus A330s, thrice weekly services on the Shanghai Pudong-Chengdu-Tehran route using A330s or Boeing 787s, as well as four-times weekly services between Shanghai Pudong and Zurich using 787s. It plans to launch the three routes in November. Thereafter, it will follow with thrice-weekly services on the Chengdu-Shanghai Pudong-Tijuana route in December. This will be operated using 787s.
---
Route Map
Hainan Airlines Route Map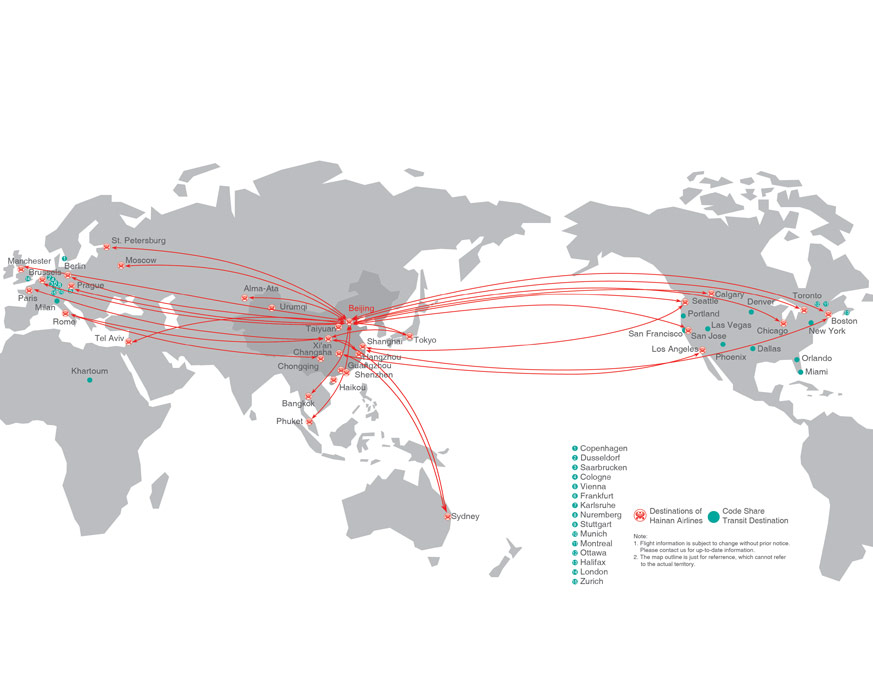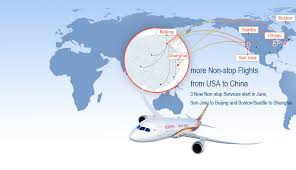 Popular Routes
Dalian

London
London

Beijing
Guangzhou

Haikou
Fuzhou

Haikou
Budapest

Beijing
Madrid

Beijing

---
The Fleet
Airbus A330-200
Airbus A330-300
Boeing 787-7
Boeing 737-800
Boeing 787-8
Hainan Airlines Boeing 787–8
---
Haikou Meilan International Airport
HUB Airport
Haikou Meilan International Airport is a Chinese airport serving Haikou, the capital of Hainan Province, China. Haikou Melian International Airport is the hub airport for Hainan Airlines and Tianjin Airlines. Haikou Melian International Airport has one runaway and can handle nearly 15 million passengers every year. Other airlines which fly to and from Haikou Meilan International Airport include Air China, Beijing Capital Airlines, Chengdu Airlines, China Airlines, China Eastern Airlines, China Express Airlines, Donghai Airlines, Dragonair and many others.

---
---
Book Flights with Hainan Airlines
Make a Hainan Airlines reservation and find some amazing deals with discounted Hainan Airlines tickets at Alternative Airlines. Hainan Airlines flies to many destinations, offering a cost effective and safe service to all its passengers. Let Alternative Airlines help find you cheap Hainan Airlines tickets and make reservations on Hainan Airlines today.
Browse the most popular Hainan Airlines flight routes to destinations within the Chinese regions. Alternative Airlines can help you make reservations on Hainan Airlines. Use the following list of routes to help you plan your next flight. Hainan Airlines flights on Alternative Airlines to save big! Alternative Airlines is an online travel agency, specialising in booking lesser known airlines and remote destinations.
Alternative Airlines is an Online Travel Agency bonded by the International Air Transport Association (IATA). We specialise in finding the best available fares on the widest range of airlines and making them available to you online, with prices in the currency of your choice.
Alternative Airlines handles all your travel arrangements and payments, complete with ticketed confirmation. We do not direct you to other websites or service providers.
We help you through the process. This is what makes us Alternative Airlines.
Browse for flights, find some amazing deals, make a reservation and pay in the currency of your choice today with Alternative Airlines.
Let Alternative Airlines help find you the best prices and make international and domestic flight reservations with us today.
Join the Alternative Airlines Members Club and get £100.00 back on your 5th booking with Alternative Airlines. You will have insight to many benefits and exclusive deals on over 650 airlines. Click on the Members section on the Alternative Airlines website for more information and join today.
We are open every day from 8am until 8pm (UK local time).
The Best Airline from Mainland China?

It's an unfamiliar name, but this amazing Chinese airline has won three prestigious airline awards for the Best Airline from China in the last four years and is the largest privately owned airline in China. As well as being large, it has over 110 aircraft in its growing fleet, it also has investments in other growing airlines including Beijing Capital Airlines (70%), Lucky Air (67.95%), Tianjin Airlines (20%), Yangtze River Express (51%), Hong Kong Airlines (45%) and Hong Kong Express Airways (45%). As well as bases in seven major Chinese cities namely:Beijing, Xi'an, Taiyuan, Urumqi, Guangzhou, Lanzhou,Dalian and Shenzhen, Hainan airlines operate services to six major European capitals plus Toronto (Canada) and Seattle (US). It really is a global airline, with a strong local network of flights in the expanding domestic Chinese air travel market.
Hainan Airlines Flights - what to expect?
This is NOT a low cost carrier. You get the choice of two class service on all intercontinental flights as well as the option of Chinese or western meals on the flights to North America. The airline prides itself on the friendliness of the cabin crew and even on the domestic sectors within China you should find an English speaker available. In a world where the growth in Chinese Air Travel is going to drive lots of extra future choice for Air Travellers, Hainan Airlines will undoubtably be in the forefront of developments. Their frequent flyer club called, Fortune Wings, extends to their sister airlines including, Hong Kong Airlines and Hong Kong Express.
Hainan Airlines - where do they fly?
As well as over 67 airports within China, Hainan have services to Luanda, Cairo and Khartoum in Africa; five destinations in south East Asia; six destinations in Russia plus Kazakhstan. North American services fly to Seattle and Toronto whilst Australia is served with srvices to Sydney.European flights terminate in Brussels, Berlin, Budapest, Istanbul and Zurich.
Why Choose Hainan Airlines?
Well, we think its developing into one of the best airlines in the world !
It's profitable, safe, modern, passenger friendly, technologically advanced and it has low fares. We recommend you try it.
With more than 25 years of experience, Alternative Airlines has become a specialist in arranging flights to the more unusual destinations around the world, plus we have strong relationships with airlines, such as Hainan Airlines, which may not be the first airline you think about when booking your flight to, from or within China.
If you are considering a trip to China, we can help plan your journey. Your reservations will be confirmed immediately and we have experienced staff to help should you require assistance. To book a flight on Hainan Airlines merely use our new improved search tool to provide you with the best choice of flights for you journey. Please don't hesitate to call us if you need any information or clarification of any details plus sign up for our regular news letter to keep you intouch with all the latest developments in air travel

Hainan Airlines Introduce First Non-Stop Manchester -Beijing Route
Hainan Airlines announced their latest addition to their route network with first ever Non-Stop flights from Manchester to Beijing.
Hainan Airlines ups frequency from Berlin to Beijing
From July 01st, Hainan Airlines, the largest privately owned airline in China, has announced an increase in the number of weekly flights between its base in Beijing and the German capital, Berlin by adding a further frequency to its current four times a week service.
Air Zimbabwe to become part of Hainan Airlines ?
The struggling, but iconic, national carrier Air Zimbabwe is reported to be in talks with giant Chinese mega-carrier, Hainan Airlines.
Hainan Airlines launch new Beijing to Cairo service
Hainan Airlines of China, has launched new direct services between Beijing and Cairo, the capital of Egypt from November 2010.
Hainan Airlines plans international expansion
Hainan Airlines of China has announced a plan to increase its international network of services.
READ MORE