Take a look at all of the other religious meal types.
Take a look at all of the other special meal types.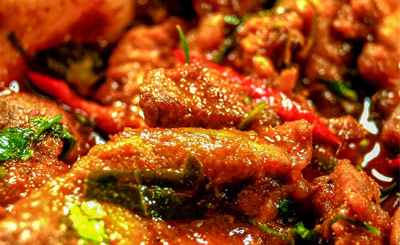 What is a Hindu Airline Meal?
A Hindu airline meal is a non-vegetarian meal type that is suitable for Hindu people. This meal type is available for Hindus who are not entirely vegetarian. The meal will often include some type of meat or fish, as well as dairy, but will never contain beef or pork. The meal is usually cooked with spices and in an Indian-style. The non-vegetarian Hindu meal should not be confused with the vegetarian Hindu meal, which is also known as an 'Asian vegetarian meal'. The Hindu meal falls under the 'religious meal' category with most airlines, whereas the Asian vegetarian meal will usually full under the vegetarian/vegan category. So, bare that in mind when pre-ordering your meal.
---
What is the Hindu Airline Meal Code?
To avoid confusion when ordering meal types, make sure you use the correct IATA airline meal code. The code for a non-vegetarian Hindu meal is HNML.
---
How do I order a Hindu Airline meal?
You can sometimes order a Hindu airline meal at the time of booking. If you select a Hindu airline meal as your preference at the time of booking, we'll put in a request with the airline. However, this is subject to availability. If you'd like to add a meal post-booking, either contact us or put in a real request directly on the airline's website.
On flights flying within or from India, some airlines will offer a Hindu meal as standard. However, it's always worth checking with the airline first.
---
Are Hindu Airline Meals Better?
Hindu airline meals are tasty. However, whether they're better than other meal types will completely depend on the airline. Generally, Hindu meals from airlines that are based in countries that have large Hindu communities are better than other meal types.
Additionally, because Hindu meals are Indian-style, they're usually made with a great variety of spices, ensuring that they're full of flavour.
---
What is an example of a Hindu Airline Meal?
A Hindu airline meal consists of either chicken, lamb, fish, eggs and other dairy products, or a combination of any of these products. This will usually be served with a curry sauce and rice, a bread roll, salad, water and dessert.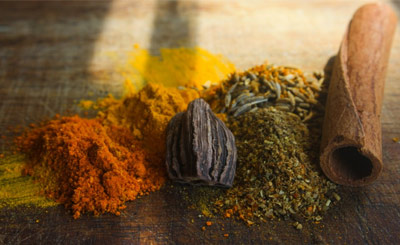 ---
Hindu Non-Vegetarian Meal
It's important to note that a Hindu airline meal (HNML) is a non-vegetarian meal. This is the best option for those that identify as Hindu and eat meat and meat products.
If you identify as Hindu and are vegetarian, the best option for you is to order an Asian vegetarian meal (AVML). Sometimes, this is referred to as an Indian Vegetarian Meal or a Hindu Vegetarian Meal, but you can always easily identify it by its airline meal code — AVML.
---
Which airlines offer
Hindu airline meals?
Take a look at our table which shows the airlines that offer Hindu meals and how long before your flight they're available to order.
AIRLINE NAME
HINDU MEAL
(NON-VEGETARIAN)
MIN HOUR BEFORE FLIGHT
FOR PREORDER
Adria Airways
x
48
Aegean Airlines
x
24
Aer Lingus
-
-
Aeroflot
x
36
Aerolineas Argentinas
x
72
Aeromexico
-
-
Air Astana
x
24
Air Baltic
x
24
Air Canada
x
24
Air China
x
48*
Air France
x
48
Air India
x
72
Air New Zealand
x
24
Air Serbia
x
48
Air Tahiti Nui
-
-
Air Transat
x
72
Aircalin
-
-
Alitalia
x
24
All Nippon Airways
x
24
American Airlines
x
24
Asiana Airlines
x
24
Austrian Airlines
x
48
Avianca
x
24
Azul Airlines
-
-
Bangkok Airways
x
24
British Airways
x
48
Brussels Airlines
x
48
Caribbean Airlines
-
-
Cathay Dragon
x
24
Cathay Pacific
x
24
China Airlines
x
24
China Eastern
x
24
China Southern
x
48
Condor Airlines
-
-
Copa Airlines
-
-
Croatia Airlines
x
24
Delta Airlines
x
24
Egyptair
x
-
EL AL
-
-
Emirates
x
24
Etihad
x
72
Eva Air
x
72
Finnair
x
24
Garuda Indonesia
x
24*
Gulf Air
x
24
Hainan Airlines
x
48
Hawaiian Airlines
-
-
Hong Kong Airlines
x
24
Iberia
x
24
Icelandair
-
-
Indigo
x
-
Jet Airways
x
24
Jetstar
-
-
KLM
x
48
Korean Air
x
(vegetarian)
24
La Compagnie
x
51
Lufthansa
x
24
Malaysia Airlines
x
24
Middle East Airlines (MEA)
-
-
Oman Air
x
24
Pakistan International Airlines
x
24
Philippine Airlines
x
48
Qantas
x
36
Qatar Airways
x
24
Royal Jordanian
x
24
SAS Scandinavian Airlines
x
24
Shenzhen Airlines
x
24
Silk Air
x
32
Singapore Airlines
x
24
South African Airways
x
24
Spicejet
x
-
Sri Lankan Airlines
x
24
Swiss International Airlines
x
24
TAP Portugal
x
24
Tarom Airlines
x
-
Thai Airways
-
-
TUI fly Belgium
x
72
Turkish Airlines
x
24
United Airlines
x
24
Vietnam Airlines
x
24
Virgin Atlantic
x
48
Virgin Australia
x
48
Vistara
x
24
WOW Air
x
48
Xiamen Airlines
-
-
XL Airways
-
-