Taiwan based Eva Air has the very best deals to Bangkok, Taipei, Kaohsiung and many more SE Asian destinations.
Eva Air Flights
Primarily a long haul airline, Eva Air, has invested in long haul aircraft, both Airbus and Boeing, and on-board entertainment technology aimed at keeping passengers happy for hour after hour. If you're one of those unlucky people who don't fall asleep on take off and wake up only to be fed this is the airline for you.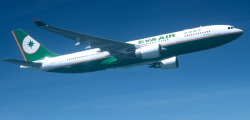 From the three European cities of London (Heathrow), Amsterdam and Vienna, Eva Air has direct flights to Bangkok, Thailand and it's hub at Taipei. The only domestic airport served is Kaohsiung with Beijing, Guangzhou, Macau, Hong Kong and Shanghai in Mainland China. Japan is a major destination with services to Fukuoka, Osaka, Sapporo, Tokyo, Sendai, and Nagoya. Brisbane and Auckland are served in Australia and New Zealand respectively plus Phnom Penh (Cambodia), Denpasar, Surabaya and Jakarta (Indonesia), Kuala Lumpur (Malaysia), Manila (Philippines), Singapore, Bangkok (Thailand) and Ho Chi Minh City (Vietnam).
Eva Air Cheap Flights to Bangkok
Eva Air is the airline arm of the vast Evergreen Group which is a world leader in container shipping and explains why it has a green logo and a predominatly green livery. We say "wow", this is a professional operation with serious backing and a fundamental attention to detail which distinguishes it from its competitors. We were invited to its launch in London many decades ago and have just about forgiven it for also inviting Margaret Thatcher.
We like its onboard entertainment which is good in all cabins and we love the fact that it has the courage to stand alone and isn't (yet) in an alliance. Really Cheap flights to Bangkok, Taipei, Kaohsiung and more with Eva Air Check the full range of destinations, airports and availability by completing the look and book section on this page.
Eva Air Fleet
Eva Air operate a varied fleet of aricraft, from the workhorse B747 and up to the new modern B777. They also operate services on MD90 and MD11 and even include Airbus in their fleet the A320 and A330. Eva Air offer a Premium Laurel Class on it's A330 and B777 aircraft, a great way to enjoy the Fabulous service offered by the Eva Air cabin crew The Eva Air A330-200 and B777-300ER aircraft incorporates a new seat design which provides more space. When the seats recline, the bottom cushion moves forward to give the person in the seat behind more legroom