Airlines will always try to sit children with their parents (subject to check-in)
Some airlines will allow travel for unaccompanied minors. Please email us to check.
The fare is based on the child's age on the date of travel.
More detailed information can be found here Traveling with children
Most airlines will let infants travel with their parent(s) for free. However some airlines will charge up to 10% of the adult ticket price. Click on 'Price Breakdown' to find out more.
If you are pregnant, but due before the flight departure date, please contact us once your baby is born and has a name. We can then add him/her to your ticket.
Infants will not be given a seat. The airlines expect parents to travel with them on their lap.
Airlines regard infants as being under 24 months old.
The fare is based on the child's age on the date of travel.
More detailed information can be found here Traveling with children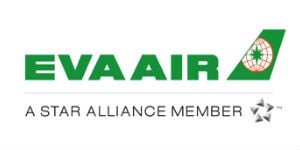 Search & Book Flights

With EVA Air
Cancellation Protection
Protects
Trusted Choice
65,000 happy customers
Rated 4.5 Stars. Based on 3,581 service ratings over the past year
Dedicated customer service team on hand to help
Secure payments
Cancellation Protection
Protects
Trusted Choice
65,000 happy customers
Rated 4.5 Stars. Based on 3,581 service ratings over the past year
Dedicated customer service team on hand to help
Secure payments
Buy
EVA Air

Flights
Search and Buy EVA Air Flights with Alternative Airlines
Make an EVA Air Booking and Find Some Amazing Deals
---
About
EVA Air is a Taiwanese airline based in Taiwan's Taoyuan International Airport. The airline operates flights to many destinations worldwide, covering over 40 destinations around Asia, Australia, Europe and North America, making it a fully international airline. This airline is currently the second-largest airline in Taiwan, after
EVA Air was first established in 1989 where it was originally deemed to be called Evergreen Airways, but this was later scrapped due to a similar name as another airline. The word 'EVA' comes from letters of 'Evergreen' and 'Airways' The airline first took off in 1991, with initial flights departing Taipei and going to destinations such as Bangkok, Seoul, Jakarta, Singapore and Kuala Lumpur.
The carrier is currently the second-largest airline in Taiwan and is part of the Star Alliance group, which allows passengers to enjoy a very vast network of over 1,400 destinations in over 190 countries all over the world. It has a regional subsidiary called UNI Air and codeshare agreements with many airlines, including Air China, All Nippon Airways, Asiana Airlines, Bangkok Airways, Hong Kong Airlines, Shandong Airlines, Shenzhen Airlines and Singapore Airlines.
Over the course of the airline's history, it has won several awards, such as one of the top 10 international airlines in Travel+Leisure's World's Best Awards, and Skytrax 5-star rating.
---
Destinations
EVA Air operates flights to destinations around the world, with many originating out of its hub airport in Taipei. The following tables summarises the destinations that passenger flights go to, so does not include the destinations of the Eva Air Cargo flights.
Domestic Destinations
| CITY | AIRPORT |
| --- | --- |
| Kaohsiung | Kaohsiung International Airport (KHH) |
| Taichung | Taichung International Airport (RMQ) |
| Taipei | Taipei Songshan Airport (TSA) |
| Taipei | Taiwan Taoyuan International Airport (TPE) |
International Destinations
---
Route Map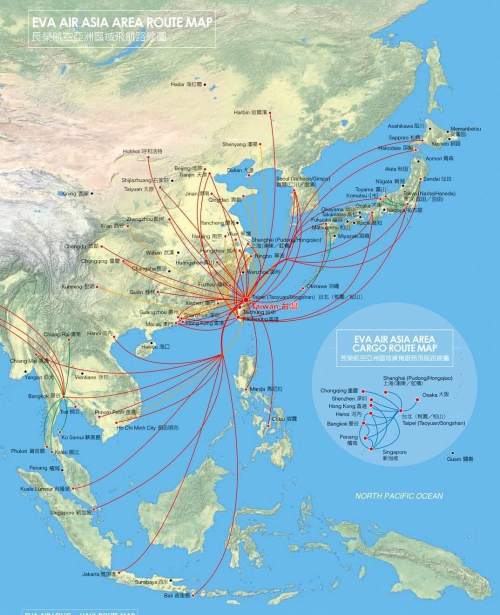 ---
Baggage
Carry-on Baggage
The baggage allowance for EVA Air passengers travelling on Royal Laurel, Premium Laurel or Business Class tickets is two pieces of hand luggage, with each piece of baggage not exceeding 7 kg in weight. Passengers travelling with a Premium Economy or Economy Class ticket are allowed one piece of hand luggage, weighing 7 kg.
Dimensions for each piece of hand baggage taken should fit within the dimensions 23 x 36 x 56 cm. In addition to this, passengers of all classes are permitted one personal item each. This could be an item such as a handbag, laptop bag or umbrella. The personal item must fit within the dimensions of 40 x 30 x 10 cm.
Checked Baggage
The baggage allowance for EVA Air depends on the class of ticket and the destination flying to/from. Your ticket will detail the free baggage allowance you are entitled to, and the following is to be used as a general guide only.
For passengers travelling to or from the US, Canada and certain countries in South and Central America, passengers are allowed two pieces of baggage each as follows:
Business / Premium Laurel / Royal Laurel - 2 x 32 kg.
Premium Economy - 2 x 28kg.
Economy - 2 x 23kg.
Economy (with Discount Fare) - 1 x 23kg.
For passengers to other destinations, the following applies:
Business / Premium Laurel / Royal Laurel - 40 kg of weight is allowed.
Premium Economy - 35 kg of weight is allowed.
Economy - 30 kg of weight is allowed.
Economy(Discount Fare) - 20 kg of weight is allowed.
---
Check-In
Online Check-in
You can check-in for your flight online to obtain a mobile boarding pass. Online check-in opens 48 hours before departure, and closes 1.5 hours before departure.
Mobile Check-in
You can also download the airline mobile app to manage your flight booking, check your flight status and check-in online. You can then download your eTicket onto your mobile device to save printing it. This service has the same open and closing time as online check-in, between 48 hours and 2.5 hours before your flight departure.
Airport Check-in
You can choose to check-in at the airport either with the staff at the EVA Air check-in desk, or by using the self-service check-in kiosk.
Opening times for check-in desks vary depending on the airport departing from. It's recommended that passengers check-in at least one hour before scheduled departure time for international flights. However, for larger, busier airports, passengers should arrive three hours before to check-in.
---
Class Information
There are 5 classes onboard EVA Air, from the cheapest yet comfortable Economy Class, up through to the most luxurious and top-class flying experience of the Royal Laurel Class.
Economy Class
Get the best value for money when flying on Eva Air's Economy Class. Economy on Eva Air has actually been rated one of our best airlines for economy class, notably for its food.
Economy Class Facilities
Economy class in Eva Air features fresh and healthy food, with both western and Asian options.
Cabin attendants are always friendly and helpful, meaning you get a premium service regardless of the class you are travelling in.
Entertainment is provided on 777-300ER and A330-200/300 aircraft. These touch screens are of high-resolution with music, movie and gaming options plus video/audio demand.
Economy Class Seats
Feel extra comfortable with the shape-memory cushioning on the seats in Economy Class on the 777-300ER and A330-200/300 aircraft. Adjustable headrests and seat recline are available for full added support and rest.
Premium Economy Class
Premium economy passengers can enjoy the comfort from the seat of business class, with extra considerations to help you enjoy your flight that little bit extra, whilst not being extravagant to help keep costs low and affordable. This class is suitable for both business and leisure travellers.
Facilities
In premium economy, passengers can enjoy the state-of-the-art entertainment system through their personal 11-inch personal entertainment devices.
Passengers will receive an amenity kit, complete with items for an overnight stay such as lip balm, socks, sleep mask and earplugs. In addition, each passenger will receive a pillow and blanket.
There is tasty and healthy food served in Premium Economy, which is served with wine, beer or non-alcoholic drinks.
Seats
Seats are more spacious in premium economy, with plush seats which have 38 x 19.5 inches of seating space, allowing plenty of legroom.
Business Class
Business class allows passenger to continue their business in comfort whilst amongst the clouds.
Facilities
Business class passengers can enjoy the in-flight entertainment system on their personal touch screen in-seat device.
Passenger's business class experience begins at the airport, with access to the VIP airport lounges, fast-track check-in counters and extra baggage privileges. There is also priority baggage unloaded for premium customers, so that they do not have to wait at the airport to retrieve their bags.
Seats
Seats in Business are cosy yet spacious, with comfortable modern seats allowing for total relaxation. They also contain an in-seat power socket, so that you can keep your personal devices charged at all times.
Premium Laurel Class
Facilities
Passengers can enjoy noise-cancelling headphones so that they can either watch films or TV through the 15.4-inch entertainment system without distractions, or relax and get off to sleep without noise keeping you up.
Passengers will receive an overnight kit, to help alleviate the dryness or flying. There is also a feather pillow and quilt for your use, to help emphasise comfort.
Use your flight time as an office, with features such as reading lamps, retractable dividers and connectivity for internet or phone calls.
Food in Premium Laurel class is of a 5-star quality, with passengers having a wide choice of food and drinks, all served on china.
Like business class passengers, premium laurel passengers will have access to VIP lounges at the airport, fast-track check-in counters, and additional baggage privileges with priority baggage unloading.
Seats
Seats in Premium Laurel are luxury, and are organised in a 2-2-2 arrangement, giving you a wide and private space. The reclining seats have more than 60 inches of seat pitch, and recline to an almost flat position. The seats are built with adjustable headrests, footrests, lumbar support and additional ergonomic features to ensure you can get as comfortable as possible. There are also power outlets in your seat.
Royal Laurel Class
Passengers can fully engage with their flight, experiencing only the best comfort, food and service whilst in the air.
Facilities
Passengers can enjoy 5-star quality food, with healthy and diverse options and premium and fresh ingredients, creating dishes such as Hors D'oeuvre, Chef's Special, Sweets and Bread. These are paired with the best quality wines and other alcoholic beverages, to perfectly compliment the flavours.
Seats
Cabins in the Royal Laurel class are exclusive and private, with a fixed panel to create your own space. Passengers can relax and sleep in the converting seat-to-flatbed, to ensure they get a comfortable and restful nights sleep.
---
In-Flight Entertainment
Each seat has its own personal device, regardless of the class flying. Through this, passengers can experience a world of entertainment on the Star Gallery, Eva Air's state of the art in-flight entertainment system. From the latest Hollywood movies, classic TV shows and comedies, and games at the touch of your fingers with the easy-to-use interface. TV shows and movies are updated monthly to ensure even frequent flyers are kept entertained on board. In addition, passengers can enjoy the enVoyage Inflight Magazine.
---
Food and Drink
Meal Options
Economy, Premium Economy and Business class passengers can enjoy fresh, tasty and healthy enjoy meals onboard flights. Passengers in Premium Laurel Class and Royal Laurel Class passengers can enjoy a five-star main course, which can be pre-ordered, in addition to appetisers, desserts and a salad bar.
Special Dietary Requirements
Passengers can pre-order special meals to suit any dietary requirements. This can be done from their website via the "Meal Order' tab, at least 24 hours before flying (Unless ordering Kosher meals which must be ordered 72 hours before travelling). If their online selection does not suit your dietary needs, contact EVA Air reservations to see if they can make alternative arrangements. The meals available are:
| | | | | | | |
| --- | --- | --- | --- | --- | --- | --- |
| | | | Child Meal | | Baby Meal | |
| | | | | | Children's Meal | |
| | | | | | Post-weaning Meal | |
| | | | Dietary Meal | | Bland Meal | |
| | | | | | Diabetic Meal | |
| | | | | | Gluten Intolerant Meal | |
| | | | | | Low-Calorie Meal | |
| | | | | | Low fat/low cholesterol Meal | |
| | | | | | Low salt Meal | |
| | | | | | Low lactose Meal | |
| | | | | | Full Liquid Meal | |
| | | | | | Semi-Fluid Meal | |
| | | | Vegetarian Meals | | Vegetarian Oriental Meal | |
| | | | | | Vegetarian Lacto-Ovo Meal | |
| | | | | | Vegetarian Jain Meal | |
| | | | | | Vegetarian Hindu Meal | |
| | | | | | Raw Vegetarian Meal | |
| | | | | | Vegetarian Vegan Meal | |
| | | | Religious Meal | | Hindu Meal | |
| | | | | | Kosher Meal | |
| | | | | | Moslem Meal | |
| | | | Other Meal | | Fruit Platter Meal | |
| | | | | | Seafood Meal | |
Drinks & Alcohol
Passengers can purchase alcoholic and non-alcoholic at any time but some classes may get drinks included in their fare.
Premium Economy passengers are served complimentary drinks with their meal, including wine, beer but also non-alcoholic drinks.
Royal Laurel Class passengers can expect a choice of famous wines and other alcoholic beverages, including their award-winning champagne.
---
WIFI
Onboard the 787, 777-300ER and A330-300 aircraft, passengers can access the EVA Air inflight WiFi. There are different data plans available to purchase, unless the passenger has prepaid for the service.
The cost for the Lite plan, of 30MB is USD 4.95.
The cost for the Standard plan, of 100MB is USD 14.95.
The cost for the Business plan, of 300MB is USD 29.95.
---
Frequent Flyer
EVA Air operates a frequent flyer program called Infinity MileageLands Program to reward regular travellers. Infinity MileageLands members can accumulate flight mileage points not only for distances flown with EVA Air/ UNI Air but also flying on Star Alliance with 28 airline carriers.
There are four tiers of this membership programme: Green, Silver, Gold and Diamond. For lucky frequent flyers, you may be able to collect enough points for the airline's Royal Laurel class.
You can collect frequent flyer points easily when you book an EVA Air flight with Alternative Airlines. Find out how to book frequent flyer flights with alternative airlines and make the most of your chosen airline alliance.
---
Special Services
Travelling with Pets
EVA Air will transport qualifying pets and animals on board their flights. For more information about how to transport pets and animals, see our page here, or check EVA Air's specific page on animals.
Special Assistance
Any passenger requiring any form of special service should contact the airline directly to see individual advice and guidelines. This should be done well in advance to allow time for any arrangements that need to be made.
---
Book EVA Air Flights in English
Alternative Airlines allows you to book your Eva Air flight tickets using a trustworthy website and in English, whilst choosing from a range of payment methods.
---
Book Seats
Make the most of your EVA Air flight by reserving your seat with Alternative Airlines! Find out how to book seats here.
---
Promo Code and Deals
Looking for an EVA Air promo code? Save big when paying with PayPal and Alternative Airlines and using a flight promo code!
---
Fleet
There are currently 76 aircraft in the EVA Air fleet, not including those in the EVA Air Cargo Fleet. There is a variety of Boeing and Airbus models, with more Boeing Dreamliners on order for the future.
---
Airline Alliance
EVA Air has been a member of the Star Alliance since 2013. Through Star Alliance, EVA Air is in partnership with 40 different airlines (subsidiaries included). This means that passengers of EVA Air benefit from codeshare and interline agreements between other airlines, as well as being able to earn and spend frequent flyer points for each airline involved in the Star Alliance.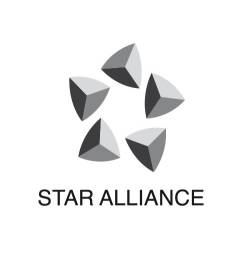 ---
Hub Airport
Taoyuan International Airport
Taiwan's largest airport started its operations in 1979 under the name of Chiang Kai-shek International Airport but had its name changed in 2006 to Taoyuan International Airport. The airport is currently one of the busiest airports in the world with 35 million passengers using the airport every year. Taoyuan International Airport also acts as a hub for China Airlines, EVA Air, Tigerair Taiwan, TransAsia Airways and V Air. The airport has two runaways.
---
Alternative Airlines to EVA Air
Please click on the logos below to find out more about airlines that fly similar routes to EVA Air: