Search & Buy EVA Air Flights
Select your payment method to view total prices including any payment fees:
Airlines will always try to sit children with their parents (subject to check-in)
Some airlines will allow travel for unaccompanied minors. Please email us to check.
The fare is based on the child's age on the date of travel.
More detailed information can be found here Traveling with children
Most airlines will let infants travel with their parent(s) for free. However some airlines will charge up to 10% of the adult ticket price. Click on 'Price Breakdown' to find out more.
If you are pregnant, but due before the flight departure date, please contact us once your baby is born and has a name. We can then add him/her to your ticket.
Infants will not be given a seat. The airlines expect parents to travel with them on their lap.
Airlines regard infants as being under 24 months old.
The fare is based on the child's age on the date of travel.
More detailed information can be found here Traveling with children

Buy
EVA Air

Flights
Search and Buy EVA Air Flights Online with Alternative Airlines
Make an EVA Air reservation and find some amazing deals with discounted EVA Air tickets at Alternative Airlines
---
About EVA Air
EVA Airlines Corporation, more commonly known as EVA Air, is a Taiwanese airline based in Taiwan. The airline operates flights to many destinations worldwide, covering over 40 destinations around Asia, Australia, Europe and North America. These include Atlanta, Bangkok, Beijing, Asahikawa, Boston, Guangzhou, Haikou, Hangzhou, Nanjing, Ningbo, Okinawa, Osaka, Seoul and Shanghai.
EVA Air also fly to many Chinese destinations such as Xining, Chengdu, Chongqing, Kunming, Xian, Hohhot, Taiyuan, Shijiazhuang, Beijing, Tianjin, Jinan, Shenyang, Harbin, Qingdao, Nanjing, Yancheng, Dalian, Ningbo, Wenzhou, Taichung, Kaoshiung, Macau, Kunming, Changsha, Huangshan, Hangzhou and many others.
EVA Air is currently the second largest airline in Taiwan and is part of the Star Alliance group, which allows passengers to enjoy a very vast network of over 1,400 destinations in over 190 countries all over the world. It has a regional subsidiary called UNI Air and codeshare agreements with many airlines, including Air China, All Nippon Airways, Asiana Airlines, Bangkok Airways, Hong Kong Airlines, Shandong Airlines, Shenzhen Airlines and Singapore Airlines.
---
EVA Air Baggage
Carry-on Baggage
The baggage allowance for EVA Air passengers travelling with Royal Laurel, Premium Laurel or Business Class tickets istwo pieces of hand luggage. Each piece of baggage must not exceed 7 kg in weight.Passengers travelling with a Premium Economy or Economy Class ticker are allowed one piece of hand luggage, weighing 7 kg.
Dimensions for each piece of hand baggage taken on EVA Air flights for should fit within the dimensions 23 x 36 x 56 cm. In addition to this, passengers of all classes are permitted one personal item each. This could be an item such as a handbag, laptop bag or umbrella. This must fit within the dimensions of 40 x 30 x 10 cm.
Checked Baggage
The baggage allowance for EVA Air depends on the class of ticket and the airport. Your ticket will detail the free baggage allowance you are entitled to.For passengers travelling to or from the US, Canada and certain countries in South and Central America, passengers are allowed two pieces of baggage each as follows:
Business / Premium Laurel / Royal Laurel - each piece must not exceed 32 kg.
Premium Economy - each piece must not exceed 28 kg.
Economy - each piece must not exceed 23 kg.
For passengers to other destinations, the following applies:
Business / Premium Laurel / Royal Laurel - 40 kg of weight is allowed.
Premium Economy - 35 kg of weight is allowed.
Economy - 30 kg of weight is allowed.
---
EVA Air Check-In Information
Online Check-In
Once you make your EVA Air reservation with Alternative Airlines you will be able to check-in online for your EVA Air flight. Go to Eva Air Check in page to find out more information about what you can expect. You can also download the EVA Air mobile app to manage your flight booking, check your flight status and check-in online. Online check in opens 48 hours before departure, and closes 1.5 hours before departure.
Airport Check-In
Opening times for check-in desks vary depending on the airport departing from, which can be checked by contacting the EVA Airport Office. Therefore, EVA Air reccommend that passengers check in at least one hour before scheduled departure time for international flights. However, for larger, busier airports, EVA Air recommend passengers arrive three hours before to check in.
---
EVA Air Business Class
Eva Air's Business Class service is considered one of the best in the business and has been awarded a Royal Laurel.
EVA Air Business Class Facilities
Relax before your Eva Air flight with access to the Star Alliance lounge. Where you can dine in peace or get on with any work before your trip. Once on board, you will be provided with a hard shelled Rimowa amenity kit and have a choice of meals from experience chefs.
EVA Air Business Class Seats
All Eva Air Business Class seats have direct aisle access with a carefully designed cabin to provide you with as much space as possible during your flight. All seats are also easily transformed into lay flat beds and passengers are provided with blankets, pillows and pijamas. On certain aircraft, the airline provides passengers with a turn-down service.
---
EVA Air Economy Class
Get your value for money when flying with Eva Air Economy Class
EVA Air Economy Class Facilities
Try out the shape-memory cushioning in the Economy Class seats with a variety of healthy meals included.
Breakfast includes Chinese rice porridge on long-haul flights
Entertainment is provided on 777-300ER and A330-200/300 aircraft. These touch screens are of high-resolution with music, movie and gaming options plus video/audio demand.
EVA Air Economy Class Seats
Feel extra comfortable with the shape-memory cushioning on the seats in Economy Class on the 777-300ER and A330-200/300 aircraft. Adjustable headrests and seat recline is available for full added support and rest.
---
Book EVA Air Flights in English
Alternative Airline is the service which will allow you to book your Eva Air flight using a trustworthy website to ensure the best service which includes the ability to book in English, whilst choosing from a range of payment methods.
---
Book EVA Air Seats
Make the most of your EVA Air flight by reserving your seat! Find out how to book seats here.
---
EVA Air In-flight Entertainment
Never get bored on board with Star Gallery, Eva Air's state of the art in-flight entertainment system. The easy-to-use interface makes browsing for your preferred TV shows and movies as easy as possible!
Eva Air TV
From your favourite cooking shows to cartoons for the little ones, Eva Air provides TV shows and documentaries for every taste and in multiple languages.
Eva Air Movies
Eva Air updates their movie selection every month so even frequent flyers can find something new on board their Eva Air flight. Find everything from hilarious new comedies to Taiwanese classics.
---
Eva Air Food
Eva Air Meal Options
Economy, Premium Economy and Business class passengers fresh, tasty and healthy enjoy meals on board EVA Air flights. Passengers in Premium Laurel Class and Royal Laurel class passengers can enjoy a five-star main course, which can be pre-ordered, in addition to appetisers, desserts and a salad bar.
Eva Air Special Dietary Requirements
Passengers flying with EVA Air can pre-order special meals to suit any dietary requirements. This can be done from their website via the "Meal Order' tab, at least 24 hours before flying (Unless ordering Kosher meals which must be ordered 72 hours before travelling). If their online selection does not suit your dietary needs, contact EVA Air reservations to see if they can make alternative arrangements. The meals available are:
| | | | | | | |
| --- | --- | --- | --- | --- | --- | --- |
| | | | Child Meal | | Baby Meal | |
| | | | | | Children's Meal | |
| | | | | | Post-weaning Meal | |
| | | | Dietary Meal | | Bland Meal | |
| | | | | | Diabetic Meal | |
| | | | | | Gluten Intolerant Meal | |
| | | | | | Low Calorie Meal | |
| | | | | | Low fat/low cholesterol Meal | |
| | | | | | Low salt Meal | |
| | | | | | Low lactose Meal | |
| | | | | | Full Liquid Meal | |
| | | | | | Semi-Fluid Meal | |
| | | | Vegetarian Meals | | Vegetarian Oriental Meal | |
| | | | | | Vegetarian Lacto-Ovo Meal | |
| | | | | | Vegetarian Jain Meal | |
| | | | | | Vegetarian Hindu Meal | |
| | | | | | Raw Vegetarian Meal | |
| | | | | | Vegetarian Vegan Meal | |
| | | | Religious Meal | | Hindu Meal | |
| | | | | | Kosher Meal | |
| | | | | | Moslem Meal | |
| | | | Other Meal | | Fruit Platter Meal | |
| | | | | | Seafood Meal | |
EVA Air Drinks & Alcohol
Passengers can purchase alcoholic and non-alcoholic at any time but some classes may get drinks included in their fare.
Premium Economy passengers are served complimentary drinks with their meal, including wine, beer but also non-alcoholic drinks.
Royal Laurel Class passengers can expect a choice of famous wines and other alcoholic beverages, including their award-winning champagne.
---
EVA Air promo code and deals
Looking for an EVA Air promo code? Save big when paying with PayPal and Alternative Airlines and using a EVA Air flight promo code!
---
EVA Air frequent flyer program
EVA Air operates a frequent flyer program called Infinity MileageLands Program to reward regular travellers with EVA Air. Infinity MileageLands members can accumulate flight mileage points not only for distances flown with EVA Air/ UNI Air but also flying on Star Alliance with 28 airline carriers.
For lucky frequent flyers, you may be able to collect enough points for EVA Air's Royal Laurel class. In this travel tier, seats are configured in a reverse herringbone layout that maximises space. Each seat converts into an approximately 2-meter long, fully lie-flat bed for a restful night sleep. Royal Laurel Class is outfitted with the latest inflight entertainment system, including HD touch screens, noise-cancelling headphones and USB and iPod ports. In April 2017, EVA Air announced it was to expand Taipei Taoyuan - Tokyo Narita capacity with BR196/195 service receiving A330-300 operation. The A330 will replace A321 from 05JUL17 to 31JUL17. The Star Alliance member operates this route twice daily.
You can collect frequent flyer points easily when you book an EVA Air flight with Alternative Airlines. Find out how to book frequent flyer flights with alternative airlines and make the most of your chosen airline alliance.
Star Alliance is the leading global airline network, which has 27 member airlines. Star Alliance was founded in 1997 with the five founding airlines: Scandinavian Airlines, Thai Airways International, Air Canada, Lufthansa and United Airlines. The alliance has grown considerably now to airlines which fly to 1,321 airports and 193 countries, carrying 637 million passengers every year!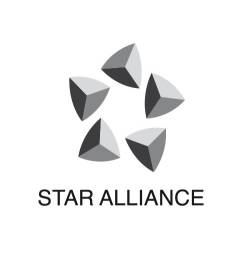 ---
Alternative Airlines to EVA Air
Please click on the logos below to find out more about airlines that fly similar routes to EVA Air:
---

EVA Air Popular Destinations
Manila

Taipei
Kuala Lumpur

Taiwan
Taipei

Seattle
Chicago

Taipei
Taipei

Tokyo
Jakarta

Chengdu
---
EVA Air Route Map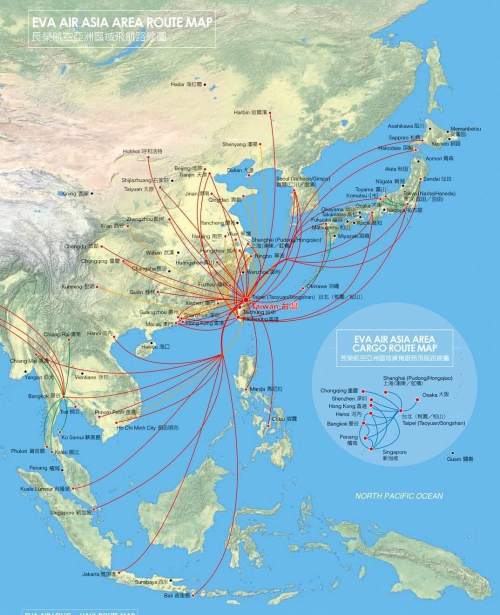 ---
EVA Air Hub Airport
Taoyuan International Airport
Taiwan's largest airport started its operations in 1979 under the name of Chiang Kai-shek International Airport but had its name changed in 2006 to Taoyuan International Airport. The airport is currently one of the busiest airports in the world with 35 million passengers using the airport every year. Taoyuan International Airport also acts as a hub for China Airlines, EVA Air, Tigerair Taiwan, TransAsia Airways and V Air. The airport has two runaways.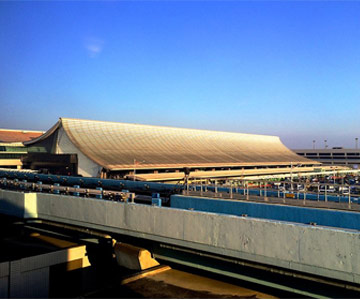 Photo Accreditiation: KCS
---
EVA Air Fleet
EVA Air's fleet currently consists of the following aircraft
Airbus A321-200
Airbus A330-200
Airbus A330-300
Boeing 747-400
Boeing 777-300ER
MD 90-30
---
Buy Discounted EVA Air Tickets at Alternative Airlines
---
EVA Air News
18th June 2018
Eva Air flights deemed safe to fly despite the natural disaster in Osaka
This morning and Earthquake struck Osaka, Japan. Initially, Taiwan airline, Eva Air were worried that the earthquake might prevent the airline from flying services between Taiwan and Japan, however, the airline has deemed it safe to fly, and it'll operate services as normal. The earthquake hit Osaka on June 18th 2018 at 7.58am local time. It had a magnitude of 5.9 which later rose to over 6.1 when experts revised the effect of the natural disaster.
Eva Air is one of the leading airlines in Taiwan and its services between Taiwan and Japan are key for the airline, bringing a big percentage of its revenue. Japan is a very popular destination for the people of Taiwan, so Eva air will be happy that it can still offer its customers flights to Japan despite the potential disruption.
5th June 2018
EVA Air name West Ham football team as their newest partner
West Ham, the UK football team, has signed the Taiwanese international airline Eva Air, famous for its "Hello Kitty" planes, as the club's first official airline partner. West Ham is hoping to jump on board Eva Air's multiple branding opportunities when their sponsorship deal kicks off later this month. Eva Air has been an active supporter of sports across the globe, but this isits first link into the world of premier league football. It will be interesting to see how this partnership develops and what it will mean for the Eva Air route network.
9th April 2018
EVA Air named on Tripadvisor's Top 10 airlines
Eva Air have reached an impressive number 5 on Tripadvisor's newly released list of Top 10 airlines. As reported by one Tripadvisor user"One of the things that separates EVA out from other airlines is in the little things. I was blown away by the novelty of the 'Character' flight we took. Everything from the pillows to the meals - it was Hello Kitty cuteness overload. Kids' meals are excellent. These small personal touches made our entire flight experience so much nicer!". EVA Air's reputation continues to grow this way, as the list was compiled by taking into account the quantity and quality of airline reviews and ratings submitted over the last twelve months to TripAdvisor.
25th March 2018
EVA Air collaborates on new Hello Kitty Branded Bullet Train
In 2005, Taiwan-based air carrier Eva Air teamed up with Sanrio to create the world's first Hello Kitty aircraft. Now, in 2018, Japan Railways Group plans on launching a Hello Kitty branded Shinkansen, or bullet train.The new train will be a rebrand of the 500 Series Shinkansen, which runs at speeds of up to 200mph across the Japanese rail network. The outside of the train will be painted with a unique Hello Kitty livery while the inside will be outfitted with custom appointments in tune with the service– in the same fashion as the aircraft. In the case of Eva's custom livery, each airplane is appointed with custom boarding passes, headrest covers, bathroom amenities and even vomit bags. It's not clear from JR's website what the extent of its customizations will be, but the site already hints that train attendants will wear custom Hello Kitty branded uniforms.
There are plans to overhaul the first car on the Hello Kitty train into a fully branded experience that focuses on select regions of Japan, though details on the appointments are still unpublished. According to the release, the service will start with a focus on the Tottori and Shimane prefectures. A video that the company published also sheds light on the design direction and brand overlap.JR's work with Sanrio comes at a time in which the Hello Kitty brand is surging and in which many Asian travelers will go far out of their way for exposure to the custom experience. Eva's Hello Kitty flights are often booked specifically for the experience and there's even a custom booking engine and search tool for the branded flights.
11th March 2018
EVA Air new flights to Vienna
The Taiwanese airline, Eva Air, has launched seven weekly flights between Taipei and Vienna, including three direct, non-stop services.The airline and Vienna Tourism welcomed the passengers of the first nonstop flight.At noon then the passengers of the first direct flight from Vienna to Taipei were allowed to enjoy the sweet greeting of the long-term cooperation partners.
The previous four weekly flights from Vienna via Bangkok to Taipei remain unchanged.Thus, the private Taiwanese airline now scores with a daily connection from Vienna: Tuesday, Wednesday, Friday and Sunday via Bangkok and new Monday, Thursday and Saturday non-stop to Taipei.She flies to Bangkok from Vienna in competition with Austrian Airlines. This, along with China Airline's Taipei - Vienna flights means that you can now fly between the Taiwanese and the Austrian capital up to 12 times a week .
11th January 2018
EVA Air named amongst the world's top 10 safest airlines
The World Economic Forum has announced that EVA Air has been awarded the title of 8th safest airline in the world. With its glowing reputation in Asia, as well asthefact the airline hasn't suffered any major incidents since 1988, it's no surprise that it passed the International Civil Aviation Organisation's eight-point safety parameter with flying colours.
1st December 2017
EVA Air launches a new generation of staff uniforms
EVA initiated the process of creating new uniforms in 2015. As a trend-setting luxury fashion house, Shiatzy Chen is known in many circles as the Chanel of Taiwan.
At EVA, uniforms signify much more than appropriate work attire. "Designed for style, comfort and function, these uniforms will further enhance the professional image in the international marketplace." said EVA Air Chairman Steve Lin.
In order to meet service team's needs, EVA arranged for the design team to visit airports to observe staff at check-in counters and in VIP lounges. It put designers on flights so that they could understand the demands of exceptional cabin service. And it invited the design team in for conversations with senior management and service staff to give them an understanding of EVA's concept of service excellence.
9th October 2017
EVA, UNI Air to add three new routes to China
EVA Air and its domestic and regional subsidiary, UNI Air, announced Friday the addition of three new routes connecting Taipei Songshan Airport and the Chinese cities of Tianjin, Chongqing and Hangzhou from Oct. 29.
The carriers are currently running a network that covers the Taoyuan-Hangzhou, Kaohsiung-Hangzhou, Taoyuan-Tianjin, Kaohsiung-Tianjin and Taoyuan-Chongqing routes.Operated by EVA Air, the route to northern China's Tianjin will operate every Monday, while the route to southwestern China's Chongqing will operate every Thursday and Saturday.
UNI Air flights between Taipei and the coastal city of Hangzhou will operate every Tuesday and Sunday. All three routes will use Airbus A321-200 aircraft, which provides 184 seats, the airlines said. From Oct. 29, the two carriers will jointly operate 38 routes to 26 Chinese cities, providing 114 round-trip flights per week.
24th September 2017
EVA Air plans nonstop Taipei - Vienna service in S18
EVA Air in summer 2018 season plans to expand service to Austria, as the airline filed preliminary schedule forTaipei Taoyuan – Vienna non-stop flight in theOAG Schedules Analyser for the week of 24SEP17. The nonstop service, operating 3 times a week, is scheduled to be operated by Boeing 777-300ER from 25MAR18. Reservation for this non-stop service is not available at present time.
13th September 2017
EVA Air makes changes to its San Francisco frequency changes from January 2018
EVA Air in winter 2017/18 season plans further frequency expansion onTaipei Taoyuan – San Francisco route, based on schedule listing. Previously reported, the Star Alliance member will increase operation from 14 to 17 weekly from 29OCT17. Additional 1 weekly flight will be added from 01JAN18, increasing to 18 weekly.
31st July 2017
EVA Air strike affects 10,000 passengers
EVA Air Corp (長榮航空) yesterday canceled 50 flights after about 500 of the company's flight attendants went on strike, leaving operations at Taiwan Taoyuan International Airport in disarray. They have exercised their right to ask for leave of absence due to a natural disaster and have followed the proper procedures, the nation's second-largest airline said.EVA Air has asked some of its off-duty employees to return to work and assist at the check-in counters, Hsiao said, adding that it has also distributed meal tickets and water to the affected passengers.
17th July 2017
EVA Air signed an agreement with Tourism Authority of Thailand
In July EVA Air announced it had signed an agreement with Tourism Authority of Thailand (TAT) to promote long-haul tourism between Asia and North America.Eva Air alone operates 92 flights a week between the US and Taiwan, which offers easy connectivity to Thailand.For the domestic market, the TAT aims to promote tourism among residents earning 45,000 baht a month, female tourists and ageing travellers in the coming year, while promoting cross-regional tourism among young travellers.For international markets, the authority hopes to stimulate tourism among first-time travellers from mature markets such as Europe, China and Australia.
July 2017
Starlux taking off
EVA Air's former chairman has announced that he has moved closer to getting his new airline Starlux off the ground after saying last week that the carrier could start recruiting in September and disclosing the airline's new logo.
StarLux will be the new hope of Taiwan's aviation industry, Chang told members of a closed fan group, adding that it will be a first-tier international carrier. The airline might introduce Airbus A321s, as well as choose Airbus A350s or Boeing 787s as well as longer-haul A350-1000s or Boeing 777Xs.StarLux, which will be headquartered in downtown Taipei, will also have its own maintenance department.
July 2017
Eva Air ranked sixth in Skytrax's World Best Airlines Award
EVA Airways, one of Taiwan's largest airlines, has been named the 6th at the SKYTRAX 2017 World Airline Awards, the Oscars of the aviation industry.
July 2017
EVA Airways is also named the World's Cleanest Aircraft Cabins 2017
Despite the blockade imposed by its Gulf neighbours, the Doha based carrier Qatar Airways was announced the World's Best Airline at the SKYTRAX 2017 World Airline Awards, which enjoyed further success by winning major awards for the World's Best Business Class, the World's Best First Class Lounge and as the Best Airline in the Middle East.
The World Airline Awards are most coveted quality accolades for the airline industry, often referred to as "the Oscars of the aviation industry", and are a global benchmark of airline excellence.
1st June 2017
EVA Air makes flying fun from Chicago with its Hello Kitty Shining Star Jet.
EVA Air is making flying fun for travelers from Chicago and throughout the Midwest with its Hello Kitty Shining Star Jet, starting May 31, 2017. EVA Air is using the cheerfully painted plane to add three weekly flights to the four it already operates with Boeing 777-300ERs in standard livery, increasing Chicago service to daily through the busy summer travel season.It uses the specially painted plane for 3 of 7 weekly nonstop flights to Asia. EVA and Sanrio created the Hello Kitty Shining Star Jet with a cast of colorful characters painted the length of the plane, starting at the nose with Little Twin Stars Kiki and Lala flying through clouds with their teddy bear while, behind the wing, Hello Kitty and My Melody comfortably sail along on stars.
EVA flight BR55 departs O'Hare International Airport at 12:30 am and arrives at Taoyuan International Airport near Taipei, Taiwan at 4:30 am the following day. Inbound from Asia, flight BR56 leaves Taipei at 7:50 pm and gets to Chicago at 9:10 pm the same evening. EVA flies its Hello Kitty Shining Star Jet from Chicago on this time schedule on Monday, Thursday and Saturday and to Chicago on Wednesday, Friday and Sunday.EVA offers three cabin choices, Royal Laurel Class business, Elite premium economy and Economy. Royal Laurel Class passengers get lie-flat seats and Rimowa amenity kits. Those in Elite Class have extra room, amenity kits, cozy blankets and pillows and the privacy of their own separate cabin. And in all three cabins, travelers enjoy EVA's warm, friendly service, good Eastern and Western foods, in-seat entertainment systems Wi-Fi and Global Roaming. EVA currently flies six specially painted aircraft on routes within Asia and long-haul to Paris and, now, Chicago. Its other Hello Kitty planes are the Hand-in-Hand, Joyful Dream and Celebration Flight Jets. Its Sanrio-family aircraft are the gudetama Comfort Flight and Bad Badtz-Maru Travel Fun planes. EVA is unveiling Friendship Bows in June, the last in its current series of new and refreshed specially painted liveries.
June 2017
EVA Air starting this month plans to increase Taipei Taoyuan – Fukuoka service
EVA Air starting this month plans to increase Taipei Taoyuan – Fukuoka service, currently served 7 weekly with Airbus A330-300 aircraft. From 10JUN17 to 30AUG17, overall service increase to 9 weekly, with additional service operating during afternoon/evening hours on Wednesdays and Saturdays.
June 2017
EVA Air introduces a new Hello Kitty-themed plane.
EVA Airways, one of the biggest international carriers in Taiwan, on Wednesday introduced an airplane decorated with popular animated character Hello Kitty by Japan's Sanrio Co. on its Taoyuan-Okinawa and Taoyuan-Osaka routes.The plane will provide one return flight between Taoyuan and Okinawa and one return flight between Taoyuan and Osaka every day. The plane features Hello Kitty and her friends Fifi and Jodie on the exterior livery. The Airbus A321-200 plane has 184 seats, including eight business class seats.the carrier also introduced three other new theme planes, including one featuring the Bad Badtz-Maru cartoon. EVA Air currently has seven theme planes, all featuring Sanrio characters. The planes are used on flights to Chicago, Paris, Singapore, Shanghai, Tokyo, Fukuoka, Osaka, Okinawa, Seoul and Cebu, it said, adding that they have proven popular with customers.
n June 2017, EVA Air unveiled its upgraded interactive robot known as "Pepper" at Taiwan Taoyuan International Airport, which is used toscan travelers' boarding passes and allow them to get information about their flight and the weather at their destination in various languages.The updated robots will be in service at the international check-in counters at Taipei Songshan Airport and in the Taoyuan airport's VIP lounges in the near future, according to the airline.It will offer services in English and Japanese in addition to Chinese.
In June 2017,EVA Air hit the top spot in two categories of Skytrax's annual World Airline Awards. The airline named for having Best Airline Cabin Cleanliness and Best Business Class Comfort Amenities. Skytrax revealed its annual World Airline Awards 2017 at the Paris Airshow.The awards are determined via a global passenger satisfaction survey. Among the 320 airlines featured in the final results, travelers are most satisfied with EVA Air's services.Aside from being named the cleanest and as having the best business class comfort amenities, EVA Air also managed to rank second for World's Best Airport Services and third for World's Best Cabin Staff. The airline has been ranked by Skytrax since 2008 and has continuously improved its services and products.
11th April 2017
EVA Air named Best Airline in Taiwan by TripAdvisor
EVA Air has been named one of the Top 10 Major Airline in Asia Pacific and the Best Airline in Taiwan by TripAdvisor, the world's largest travel site. Taiwan's Eva Air ranked 7th on the Asia-Pacific top 10 list.
TripAdvisor announced the winners of its first annual Travelers' Choice Awards on Monday, highlighting the world's top carriers based on the quantity and quality of reviews and ratings for airlines worldwide gathered over a 12-month period. In the category of Best Airline in the World, Dubai-based Emirates ranked top with an overwhelming "Excellent" rating, followed by Singapore Airlines, Brazilian low-cost carrier Azul, New York-based low-cost carrier JetBlue, and Air New Zealand.
April 2017
EVA Air announced it has cancelled its Surabaya service from September 2017
EVA Air in yesterday's schedule update (25APR17) removed the Taipei Taoyuan – Surabaya schedule, for flights on/after 02SEP17. The airline currently operates this route twice a week with Airbus A321 aircraft. Last flight for this route is scheduled on 30AUG17. In April 2017, EVA Air announced it was ending its twice-weekly direct flights between Taipei and Guam starting in June. EVA Air's pullout of its Guam service, which began in 2011, leaves Guam with China Airlines flying directly to and from Taipei. Early last month, EVA Air had advised the Guam airport of its decision to downsize its aircraft for the Guam route, from an A330 aircraft with 252 seats, to an A321 aircraft, with 184 seats. Guam will still have direct air link with Taiwan, with China Airlines flying twice weekly. China Airlines alternates a B-737 aircraft, with 150 seats, and A330, with 277 seats.
April 2017
EVA Air launches Sanrio-themed aircraft
EVA Air launched a new Sanrio-themed aircraft, launched recently by Taiwanese airline EVA Air and Japanese company Sanrio, will have routes from Taipei's Songshan International Airport to Tokyo's Haneda International Airport and Shanghai's Hongqiao International Airport. Launched Monday, the new aircraft, dubbed Joyful Dream Jet, is an Airbus A330-300 aircraft configured for 30 business class and 279 economy class passengers. Passengers boarding the plane will get to marvel at Sanrio-inspired interior, such as Hello Kitty, little twin stars Kiki and Lala, and Pompompurin, as well as enjoy Sanrio-themed in-flight meal and amenities.
8th March 2017
EVA Air announces increased frequency of Tapei-Toronto and Taipei-Vancouver flights
Eva Air announced in Toronto that the airline will increase its frequency of its flights on the Tapei-Toronto and Taipei-Vancouver routes to daily non-stop services. This is to meet the increasing demand and will commence from 16th June 2017 and to Vancouver form 15th June 2017.
6th March 2017
Eva Air announced that the airline won Two Gold Medals for Inflight Wines in Tasting Competition Takes top honors for Best Business Class Cellar and Sparkling Wine
Wine experts judging Business Traveller Magazine's prestigious annual Cellars in the Sky 2016 competition awarded EVA Air two Gold Medals, one for Best Business Class Cellar and the other for Best Business Class Sparkling. The top honors are tributes to EVA's core commitment to quality service and to the experience its Royal Laurel Class business passengers enjoy onboard flights. This is the second year in a row for EVA to take the highest honors in the Business Class Cellar category.
4th March 2017
EVA Air is introducing more characters and creating a new edition of its popular Sanrio-family aircraft.
Best known for Hello Kitty jets, EVA launched a "Travel Fun" Jet today
28th November 2016
Eva Air announces Code-Share agreement from Taipei to Bangkok or Singapore, connect to Mumbai, India.
This will be initiated on the 1st December 2016.
In August 2016, EVA Air announced that Uni Air took delivery of its first ATR 72-600 to feature the livery of its parent EVA Air. EVA Air is merging with Uni Air with the process expected to be completed during the course of 2017. Uni Air operates a fleet of fourteen ATR72-600s and one A321-200 on short-haul regional operations serving thirty destinations across Taiwan, mainland China, South Korea, and Vietnam. In August 2016, Star Alliance members EVA Air and Avianca began code-sharing on 17 August, 2016, making travel between Asia and Central America more convenient and extending services for both airlines' passengers. Under the code-share, Avianca passengers can take EVA-operated flights to Taipei from Los Angeles, New York and San Francisco. Inbound from Asia, EVA passengers can connect through Los Angeles, New York and San Francisco to fly Avianca to San Salvador.
In March 2017, EVA Air announced it was adding two additional flights per week to its Toronto-Taipei route and introducing new daily service out of Vancouver starting June 2016. At a Toronto breakfast seminar this week the airline said its new Toronto flights will operate Thursdays and Saturdays while the new Vancouver flights will be on Wednesdays and Fridays. Between Toronto and Vancouver, EVA Air will service a total of 14 flights for Canadian travellers. Once in Taipei, travellers can connect with 132 flights throughout Southeast Asia and 155 to Northeast Asia. EVA and affiliate UNI Air operate an additional 111 weekly flights to 25 destinations to Mainland China, Guam, Korea and throughout Japan.