Search & Buy EVA Air Flights
Airlines will always try to sit children with their parents (subject to check-in)
Some airlines will allow travel for unaccompanied minors. Please email us to check.
The fare is based on the child's age on the date of travel.
More detailed information can be found here Traveling with children
Most airlines will let infants travel with their parent(s) for free. However some airlines will charge up to 10% of the adult ticket price. Click on 'Price Breakdown' to find out more.
If you are pregnant, but due before the flight departure date, please contact us once your baby is born and has a name. We can then add him/her to your ticket.
Infants will not be given a seat. The airlines expect parents to travel with them on their lap.
Airlines regard infants as being under 24 months old.
The fare is based on the child's age on the date of travel.
More detailed information can be found here Traveling with children
Buy
EVA Air

Flights
Search and Buy EVA Air Flights Online with Alternative Airlines
Make an EVA Air reservation and find some amazing deals
---
About
EVA Air is a Taiwanese airline based in Taiwan. The airline operates flights to many destinations worldwide, covering over 40 destinations around Asia, Australia, Europe and North America. These include Atlanta, Bangkok, Beijing, Asahikawa, Boston, Guangzhou, Haikou, Hangzhou, Nanjing, Ningbo, Okinawa, Osaka, Seoul and Shanghai.
The airline also fly to many Chinese destinations such as Xining, Chengdu, Chongqing, Kunming, Xian, Hohhot, Taiyuan, Shijiazhuang, Beijing, Tianjin, Jinan, Shenyang, Harbin, Qingdao, Nanjing, Yancheng, Dalian, Ningbo, Wenzhou, Taichung, Kaoshiung, Macau, Kunming, Changsha, Huangshan, Hangzhou and many others.
The carrier is currently the second largest airline in Taiwan and is part of the Star Alliance group, which allows passengers to enjoy a very vast network of over 1,400 destinations in over 190 countries all over the world. It has a regional subsidiary called UNI Air and codeshare agreements with many airlines, including Air China, All Nippon Airways, Asiana Airlines, Bangkok Airways, Hong Kong Airlines, Shandong Airlines, Shenzhen Airlines and Singapore Airlines.
---
Baggage
Carry-on Baggage
The baggage allowance for EVA Air passengers travelling with Royal Laurel, Premium Laurel or Business Class tickets istwo pieces of hand luggage. Each piece of baggage must not exceed 7 kg in weight. Passengers travelling with a Premium Economy or Economy Class ticker are allowed one piece of hand luggage, weighing 7 kg.
Dimensions for each piece of hand baggage taken should fit within the dimensions 23 x 36 x 56 cm. In addition to this, passengers of all classes are permitted one personal item each. This could be an item such as a handbag, laptop bag or umbrella. This must fit within the dimensions of 40 x 30 x 10 cm.
Checked Baggage
The baggage allowance for EVA Air depends on the class of ticket and the airport. Your ticket will detail the free baggage allowance you are entitled to. For passengers travelling to or from the US, Canada and certain countries in South and Central America, passengers are allowed two pieces of baggage each as follows:
Business / Premium Laurel / Royal Laurel - each piece must not exceed 32 kg.
Premium Economy - each piece must not exceed 28 kg.
Economy - each piece must not exceed 23 kg.
For passengers to other destinations, the following applies:
Business / Premium Laurel / Royal Laurel - 40 kg of weight is allowed.
Premium Economy - 35 kg of weight is allowed.
Economy - 30 kg of weight is allowed.
---
Check-In Information
Online Check-In
Once you make your reservation with Alternative Airlines you will be able to check-in online for your EVA Air flight. Go to the airline check-in page to find out more information about what you can expect. You can also download the airline mobile app to manage your flight booking, check your flight status and check-in online. Online check in opens 48 hours before departure, and closes 1.5 hours before departure.
Airport Check-In
Opening times for check-in desks vary depending on the airport departing from. Its recommended that passengers check in at least one hour before scheduled departure time for international flights. However, for larger, busier airports, passengers should arrive three hours before to check in.
---
Business Class
The airlines Business Class service is considered one of the best in the business and has been awarded a Royal Laurel.
Business Class Facilities
Relax before your flight with access to the Star Alliance lounge. Where you can dine in peace or get on with any work before your trip. Once on board, you will be provided with a hard shelled Rimowa amenity kit and have a choice of meals from experience chefs.
Business Class Seats
All Business Class seats have direct aisle access with a carefully designed cabin to provide you with as much space as possible during your flight. All seats are also easily transformed into lay flat beds and passengers are provided with blankets, pillows and pijamas. On certain aircraft, the airline provides passengers with a turn-down service.
---
Economy Class
Get your value for money when flying Economy Class.
Economy Class Facilities
Try out the shape-memory cushioning in the Economy Class seats with a variety of healthy meals included.
Breakfast includes Chinese rice porridge on long-haul flights
Entertainment is provided on 777-300ER and A330-200/300 aircraft. These touch screens are of high-resolution with music, movie and gaming options plus video/audio demand.
Economy Class Seats
Feel extra comfortable with the shape-memory cushioning on the seats in Economy Class on the 777-300ER and A330-200/300 aircraft. Adjustable headrests and seat recline is available for full added support and rest.
---
Destinations
Brisbane,
Australia
Vienna,
Austria
Phnom Penh,
Cambodia
Toronto,
Canada
Vancouver,
Canada
Beijing,
China
Chengdu,
China
Chongqing,
China
Dalian,
China
Fuzhou,
China
Guangzhou,
China
Hailar,
China
Hangzhou,
China
Harbin,
China
Hohhot,
China
Huangshan,
China
Jinan,
China
Nanjing,
China
Ningbo,
China
Qingdao,
China
Shanghai,
China
Shenyang,
China
Shenzhen,
China
Shijiazhuang,
China
Taiyuan,
China
Tianjin,
China
Wuhan,
China
Xi'an,
China
Yancheng,
China
Zhengzhou,
China
Paris,
France
Hong Kong,
Hong Kong
Denpasar,
Indonesia
Jakarta,
Indonesia
Milan,
Italy
Aomori,
Japan
Asahikawa,
Japan
Fukuoka,
Japan
Hakodate,
Japan
Komatsu,
Japan
Matsuyama,
Japan
Nagoya,
Japan
Okinawa,
Japan
Osaka,
Japan
Sapporo,
Japan
Sendai,
Japan
Tokyo,
Japan
Seoul,
Korea
Macau,
Macao
Kuala Lumpur,
Malaysia
Amsterdam,
Netherlands
Cebu,
Phillippines
Manila,
Phillippines
Singapore,
Singapore
Kaohsiung,
Taiwan
Taipei,
Taiwan
Bangkok,
Thailand
Chiang Mai,
Thailand
London,
United Kingdom
Chicago,
United States
Houston,
United States
Los Angeles,
United States
New York City,
United States
San Francisco,
United States
Seattle,
United States
Da Nang,
Vietnam
Hanoi,
Vietnam
Ho Chi Minh City,
Vietnam
Destination News
In July 2019, EVA Air announced that they would be expanding operations to Europe, with its first route being to Milan. The route is expected to be commencing in February 2020, and will fly from Taipei Taoyuan to Milan Malpensa (MPX).
---
Book Flights in English
Alternative Airline is the service which will allow you to book your Eva Air flight using a trustworthy website to ensure the best service which includes the ability to book in English, whilst choosing from a range of payment methods.
---
Book Seats
Make the most of your EVA Air flight by reserving your seat! Find out how to book seats here.
---
In-flight Entertainment
Never get bored on board with Star Gallery, Eva Air's state of the art in-flight entertainment system. The easy-to-use interface makes browsing for your preferred TV shows and movies as easy as possible!
TV
From your favourite cooking shows to cartoons for the little ones, the airline provides TV shows and documentaries for every taste and in multiple languages.
Movies
The airline updates their movie selection every month so even frequent flyers can find something new on board their flight. Find everything from hilarious new comedies to Taiwanese classics.
---
Food
Meal Options
Economy, Premium Economy and Business class passengers fresh, tasty and healthy enjoy meals on board flights. Passengers in Premium Laurel Class and Royal Laurel class passengers can enjoy a five-star main course, which can be pre-ordered, in addition to appetisers, desserts and a salad bar.
Special Dietary Requirements
Passengers can pre-order special meals to suit any dietary requirements. This can be done from their website via the "Meal Order' tab, at least 24 hours before flying (Unless ordering Kosher meals which must be ordered 72 hours before travelling). If their online selection does not suit your dietary needs, contact EVA Air reservations to see if they can make alternative arrangements. The meals available are:
| | | | | | | |
| --- | --- | --- | --- | --- | --- | --- |
| | | | Child Meal | | Baby Meal | |
| | | | | | Children's Meal | |
| | | | | | Post-weaning Meal | |
| | | | Dietary Meal | | Bland Meal | |
| | | | | | Diabetic Meal | |
| | | | | | Gluten Intolerant Meal | |
| | | | | | Low Calorie Meal | |
| | | | | | Low fat/low cholesterol Meal | |
| | | | | | Low salt Meal | |
| | | | | | Low lactose Meal | |
| | | | | | Full Liquid Meal | |
| | | | | | Semi-Fluid Meal | |
| | | | Vegetarian Meals | | Vegetarian Oriental Meal | |
| | | | | | Vegetarian Lacto-Ovo Meal | |
| | | | | | Vegetarian Jain Meal | |
| | | | | | Vegetarian Hindu Meal | |
| | | | | | Raw Vegetarian Meal | |
| | | | | | Vegetarian Vegan Meal | |
| | | | Religious Meal | | Hindu Meal | |
| | | | | | Kosher Meal | |
| | | | | | Moslem Meal | |
| | | | Other Meal | | Fruit Platter Meal | |
| | | | | | Seafood Meal | |
Drinks & Alcohol
Passengers can purchase alcoholic and non-alcoholic at any time but some classes may get drinks included in their fare.
Premium Economy passengers are served complimentary drinks with their meal, including wine, beer but also non-alcoholic drinks.
Royal Laurel Class passengers can expect a choice of famous wines and other alcoholic beverages, including their award-winning champagne.
---
Promo Code and Deals
Looking for an EVA Air promo code? Save big when paying with PayPal and Alternative Airlines and using a flight promo code!
---
Frequent Flyer Program
EVA Air operates a frequent flyer program called Infinity MileageLands Program to reward regular travellers. Infinity MileageLands members can accumulate flight mileage points not only for distances flown with EVA Air/ UNI Air but also flying on Star Alliance with 28 airline carriers.
For lucky frequent flyers, you may be able to collect enough points for the airline's Royal Laurel class. In this travel tier, seats are configured in a reverse herringbone layout that maximises space. Each seat converts into an approximately 2-meter long, fully lie-flat bed for a restful night sleep. Royal Laurel Class is outfitted with the latest inflight entertainment system, including HD touch screens, noise-cancelling headphones and USB and iPod ports.
You can collect frequent flyer points easily when you book an EVA Air flight with Alternative Airlines. Find out how to book frequent flyer flights with alternative airlines and make the most of your chosen airline alliance.
Star Alliance is the leading global airline network, which has 27 member airlines. Star Alliance was founded in 1997 with the five founding airlines: Scandinavian Airlines, Thai Airways International, Air Canada, Lufthansa and United Airlines. The alliance has grown considerably now to airlines which fly to 1,321 airports and 193 countries, carrying 637 million passengers every year!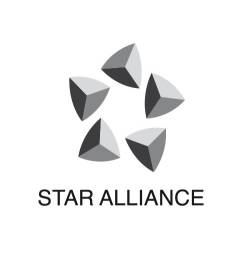 ---
Alternative Airlines
---

Popular Destinations
Manila

Taipei
Kuala Lumpur

Taiwan
Taipei

Seattle
Chicago

Taipei
Taipei

Tokyo
Jakarta

Chengdu
---
Route Map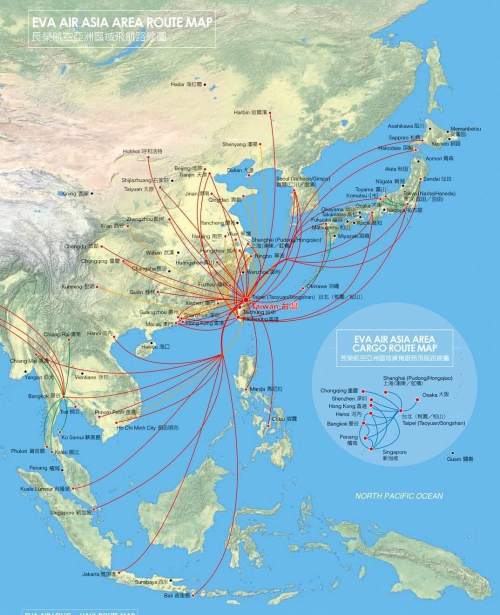 ---
Hub Airport
Taoyuan International Airport
Taiwan's largest airport started its operations in 1979 under the name of Chiang Kai-shek International Airport but had its name changed in 2006 to Taoyuan International Airport. The airport is currently one of the busiest airports in the world with 35 million passengers using the airport every year. Taoyuan International Airport also acts as a hub for China Airlines, EVA Air, Tigerair Taiwan, TransAsia Airways and V Air. The airport has two runaways.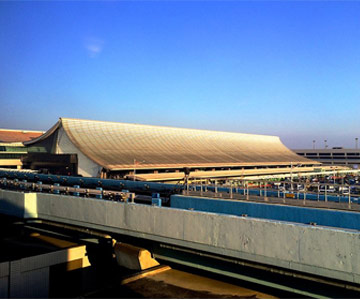 Photo Accreditiation: KCS
---
Fleet
EVA Air's fleet currently consists of the following aircraft
Airbus A321-200
Airbus A330-200
Airbus A330-300
Boeing 747-400
Boeing 777-300ER
MD 90-30
---
News
18th June 2018
Eva Air flights deemed safe to fly despite the natural disaster in Osaka
This morning and Earthquake struck Osaka, Japan. Initially, Taiwan airline, Eva Air were worried that the earthquake might prevent the airline from flying services between Taiwan and Japan, however, the airline has deemed it safe to fly, and it'll operate services as normal. The earthquake hit Osaka on June 18th 2018 at 7.58am local time. It had a magnitude of 5.9 which later rose to over 6.1 when experts revised the effect of the natural disaster.
Eva Air is one of the leading airlines in Taiwan and its services between Taiwan and Japan are key for the airline, bringing a big percentage of its revenue. Japan is a very popular destination for the people of Taiwan, so the Japanese carrier will be happy that it can still offer its customers flights to Japan despite the potential disruption.