Search & Book Mandarin Airlines Flights
Let's fly!

Book
Mandarin Airlines

Flights

Book Direct with Mandarin Airlines and Alternative Airlines

Mandarin Airlines is a Taiwanese carrier based in Taipei, Republic of China. The Taiwanese carrier was founded in 1991 and has a parent company, China Airlines. The Taiwanese carrier operates regional international and domestic flights, while it's parent company China Airlines focusses on the international and continental operations.
Mandarin Airlines main hub is located at Taipei Songshan Airport with their other main hub found at Taichung Airport. Mandarin Airlines currently operates to over 30 destinations including Hualien, Kaohsiung, Kinmen, Makung, Taichung, Taipei, Taitung, Changsha, Fuzhou, Hangzhou, Nanjing, Ningbo, Shantou, Shenyang, Xiamen, Zhengzhou, Hong Kong, Osaka, Tokyo, Kota Kinabalu, Seoul, Hanoi.
Mandarin Airlines fleet currently includes the following aircraft; Embraer E-190 and Boeing 737-800's, totalling nine aircraft. It is known that Mandarin Airlines also have additional aircraft on order. Mandarin Airlines announced the lease of 3 Embraer E-190s and 5 Embraer E-195 aircraft from GE Commercial Aviation Services.
Mandarin Airlines is majority owned by it's parent company China Airlines. China Airlines is currently part of the SkyTeam alliance making Mandarin Airlines a SkyTeam affiliate. SkyTeam was the last of three major airlines alliances to be formed, however over recent years has grown to become the second largest airline alliance. Mandarin Airlines also has codeshare agreements with China Eastern Airlines, China Southern Airlines, Shanghai Airlines and Xiamen Airlines. Mandarin Airlines also offer a frequent flyer program called Dynasty flyer. Dynasty flyer offers frequent flyers lounge access along with many offer perks.
Book flights with Mandarin Airlines today with Alternative Airlines.
Route Map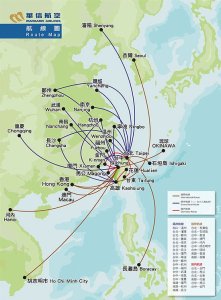 Popular Routes
Taipei 

  Kaohsiung
Taipei  

  Hualien
Changsha 

  Taipei
Nanjing  

  Taipei
Hong Kong  

  Xiamen
Taipei  

  Kinmen

---

The Fleet
---
Taipei Songshan Airport 
HUB Airport
Taipei Songshan Airport is an airport serving Taipei, China and is the hub airport for Mandarin Airlines. It is the also the focus city for China Airlines and EVA Air. The airport has one runaway and can handle nearly 10 million passengers every year. Airlines which fly to and from Taipei Songshan Airport include Air China, All Nippon Airways, China Airlines, China Eastern Airlines, EVA Air, Japan Airlines, Mandarin Airlines, Shanghai Airlines, Sichuan Airlines and many others. 

---
---
Book Flights with Mandarin Airlines
Make a Mandarin Airlines reservation and find some amazing deals with discounted Mandarin Airlines tickets at Alternative Airlines. Mandarin Airlines flies to many destinations worldwide, offering a cost effective and safe service to all its passengers. Let Alternative Airlines help find you cheap Mandarin Airlines tickets and make international and domestic flight reservations on Mandarin Airlines today.
Browse the most popular Mandarin Airlines flight routes to cities worldwide. Alternative Airlines can help you make reservations on Mandarin Airlines for international flights to lots of destinations. Use the following list of routes to help you plan your next flight. Book Mandarin Airlines flights on Alternative Airlines to save big! Alternative Airlines is an online travel agency, specialising in booking lesser known airlines and remote destinations. 

Mandarin Airlines (AE) is a regional scheduled airline based in Taipei, Taiwan and operating in South East China and Pacific Asia.
---
Mandarin Airlines flights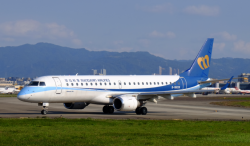 Founded in 1991 as a joint venture between Taiwan's China Airlines and Koos Development Corporation to operate international routes, Mandarin Airlines was restructured as a domestic and regional airline in 1999, and is now 94% owned by China Airlines. Flight operations are based at Taipei International airport and include domestic services to Taichung, Hualien, Makung, Kinmen, Kaohsiung, Taoyuan and Taitung; regional flights to China, serving  Shenyang, Zhengzhou, Yancheng, Nanjing, Changsha, Ningbo, Wenzhou, Fuzhou, Xiamen, Hangzhou and Hong Kong, and international flights to Japan, Macau, Malaysia, Philippines, South Korea and Vietnam 
The airline operates a fleet of modern  Embraer E190 twinjets, which are proving ideally suited to the network.
Mandarin Airlines SE Asia Flights
Mandarin Airlines are a progressive airline and benefit from the backing of  the huge aviation giant that is China Airlines. Flying on some of SE Asia's prime business and leisure routes this modern airline will appeal to both the corporate customer and intrepid traveller alike.
Mandarin Airlines trivia : The golden eagle Hai Tung Ching, which according to an old Chinese legend has a small but agile body, is the company's logo.
In 2015, the route network of Mandarin AIrlines has grown to include:
International destinations:

 

Taipei – Boracay, Philippines
Taichung – Hong Kong
Taichung – Hanoi, Vietnam
Taichung – Ho Chi Minh, Vietnam 
Taichung – Okinawa, Japan
Taichung – Seoul, Korea
Kaohsiung – Okinawa, Japan
Kaohsiung – Ho Chi Minh, Vietnam 
Kaohsiung – kumamoto, Japan 

 

Cross-Straight Routes:

 

Taipei Songshan Airport – Wenzhou 
Taipei Songshan Airport – Huzhou
Taipei – Shenyang
Taipei – Zhengzhou
Taipei – Yancheng
Taipei – Nanjing
Taipei – Ningbo
Taipei – Changsha
Taipei – Xiamen 
Taipei – Lijiang
Taipei – Wenzhou
Taipei – Changchun
Taichung – Ningbo
Taichung – Zhengzhou
Taichung – Hangzhou
Taichung – Changsha
Taichung – Meizhou
Kaohsiung – Xiamen
Kaohsiung – Hangzhou
Kaohsiung – Changsha 

 

Domestic Routes:

 

Taipei Songshan Airport – Kinmen Airport
Taipei Songshan Airport – Magong Airport
Taipei Songshan Airport – Taitung Airport
Kaohsiung Airport – Hualien Airport 
Taichung Airport – Kinmen Airport
Taichung Airport – Magong Airport
Book with Alternative Airlines and Enjoy !
READ MORE ABOUT MANDARIN AIRLINES
How to pay
You can pay for your flights with Mandarin Airlines in the currency and payment method of your choice when booking through Alternative Airlines.
We accept PayPal making flight purchases with Mandarin Airlines easy and more secure for customers. PayPal is one of the leading forms of online payment, with more than 169 million accounts worldwide.