Search and Buy Mandarin Airlines Flights with Alternative Airlines
Make a Mandarin Airlines Booking and Find Some Amazing Deals
---
About Mandarin Airlines
Mandarin Airlines is a Taiwanese airline based in Taipei, Republic of China.
Mandarin Airlines currently operates to over 30 destinations including Hualien, Kaohsiung, Kinmen, Makung, Taichung, Taipei, Taitung, Changsha, Fuzhou, Hangzhou, Nanjing, Ningbo, Shantou, Shenyang, Xiamen, Zhengzhou, Hong Kong, Osaka, Tokyo, Kota Kinabalu, Seoul, Hanoi.
The Taiwanese carrier was founded in 1991 and has a parent company, China Airlines. The airline operates regional international and domestic flights, while it's parent company China Airlines focusses on the international and continental operations. Mandarin Airlines main hub is located at Taipei Songshan Airport with their other main hub found at Taichung Airport.
Mandarin Airlines fleet currently includes the following aircraft; Embraer E-190 and Boeing 737-800's, totalling nine aircraft. It is known that Mandarin Airlines also have additional aircraft on order. Mandarin Airlines announced the lease of 3 Embraer E-190s and 5 Embraer E-195 aircraft from GE Commercial Aviation Services.
Mandarin Airlines is majority owned by it's parent company China Airlines which is currently part of the SkyTeam alliance making Mandarin Airlines a SkyTeam affiliate. SkyTeam was the last of three major airlines alliances to be formed, however over recent years has grown to become the second largest airline alliance.
---
Mandarin Airlines Baggage
Checked Baggage
Domestic Routes: 1 x 10kg bag
International Routes: 30kg for economy, 35kg for premium economy and 40kg for business class. Each individual bag must be below 32kg in weight.
---
Mandarin Airlines Check-In Information
Online Check-In
Passengers travelling domestically can check in online between 24 hours and 1 hour before take-off. This can be done on the Mandarin Airlines website.
Passengers on international flights can check-in online between 24 hours and 1.5 hours before take-off
Please note that when checking in online, passengers cannot obtain a boarding pass. Instead, passengers must collect this at the airport at least 20 minutes before take off for domestic flights, or 1 hour before for international flights.
Airport Check-In
Passengers travelling on domestic routes must check in at the airport at least 1 hour before scheduled departure time.
Passengers travelling on international routes can check in at the airport from 2-2.5 hours before take-off.
---
Class Fares
The airline only offers Economy Class.
Economy Class Facilities
Snacks and beverages available in-flight. Back-of-seat trays, air-con and overhead storage available.
Economy Class Seating
Enjoy comfortable seating, with lightly reclinable padded grey seats.
---
Fleet
As of January 2022, Mandarin Airlines' fleet consists entirely of ATR 72-600 aircraft. It has 9 in service that can each seat up to 70 passengers. It's the ideal aircraft for regional airlines like Mandarin Airlines.
Mandarin Airlines has had a mixture of aircraft models in its fleet, ranging from the Airbus A340 to the Boeing 737s and 747s, the Embraer 190AR and a few Fokker 50s and 100s. It most recently retired its Embraer 190AR in 2021.
---

Mandarin Airlines Hub Airport
Taipei Songshan Airport
Taipei Songshan Airport is an airport serving Taipei, China and is the hub airport for Mandarin Airlines. It is also the focus city for China Airlines and EVA Air.
The airport has one runway and can handle nearly 10 million passengers every year. Airlines which fly to and from Taipei Songshan Airport include Air China, All Nippon Airways, China Airlines, China Eastern Airlines, EVA Air, Japan Airlines, Mandarin Airlines, Shanghai Airlines, Sichuan Airlines and many others.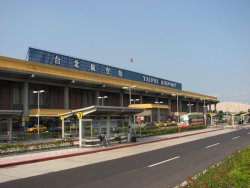 ---
Route Map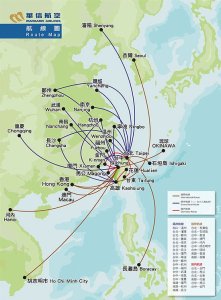 ---
Popular Routes
Taipei ✈ Kaohsiung
Taipei ✈ Hualien
Changsha ✈ Taipei
Nanjing ✈ Taipei
Hong Kong ✈ Xiamen
Taipei ✈ Kinmen
---
Mandarin Airlines Codeshares
Mandarin Airlines has codeshare agreements with China Eastern Airlines, China Southern Airlines, Shanghai Airlines and Xiamen Airlines.
---
Mandarin Airlines Frequent Flyer Program
Mandarin Airlines offers a frequent flyer program called Dynasty Flyer (part of China Airlines).
Dynasty Flyer offers frequent flyers lounge access along with many other perks. With Dynasty Flyer, you can earn miles when flying with Mandarin Airlines as well as with car rentals and hotel stays offered by China Airlines. You'll also get award tickets, upgrade awards and boutique redemption.
---
Alternative Airlines to Mandarin Airlines
Please click on the logos below to find out more about airlines that fly similar routes to Mandarin Airlines: