Search & Book Air China Flights
Book
Air China

Flights

Book Direct with Air China and Alternative Airlines
Air China is the flag carrier of the People's Republic of China with its headquarters in the Shunyi District, Beijing. Air China was established and commenced operations in July 1988, this was a result of the Chinese government's decision to split China's operating divisions into six separate airlines; Air China, China Eastern, China Southern, China Northern, China Southwest and China Northwest.
As China's only national flag carrier, Air China is committed to corporate social responsibility and plays an important role in facilitating the implementation of key national strategies, such as the OBOR initiative and the "Going Global Strategy", which encourages Chinese enterprises to invest overseas.
Air China's primary hub airport is Beijing Capital International Airport, although they have two other main hubs in Chengdu and Shanghai. Air China operates 322 routes, including 82 international, 15 regional and 225 domestic routes. These destinations include Beijing, Shenzhen, Baiyun, Shanghai, Jinan, Xiaoshan, Liuting, Xiamen, Tinahe, San Francisco, Los Angeles, New York City, London, Copenhagen, Paris, Rome, Madrid and many others.
Air China has codeshare agreements with many airlines including Air Canada, Air Macau, Air New Zealand, Austrian Airlines, Cathay Pacific, South African Airways, Shenzehn Airlines, Singapore Airlines, Tibet Airlines, United Airlines amongst many others.
Air China joined the Sky Alliance - the world's largest global airline alliance. The Sky Alliance has two tiers of their reward's program, Silver and Gold, with incentives including upgrades and priority boarding. The Sky Alliance now has 27 members operating with a combined fleet of over 4,000 aircraft serving more than 1,000 airports in over 190 countries. Between all of the airlines, the alliance serves over 18,000 daily departures flights combined.
News:
14th June 2017
Orders for China's C919 jumbo jet reach 600
Orders for China's first homegrown large passenger jet, the C919, reached 600 aircraft on Tuesday as a new customer signed to book 30 of the jets.
China Everbright Financial Leasing Co Ltd on Tuesday placed the order with the Commercial Aircraft Corporation of China (COMAC), the Shanghai-based manufacturer of the C919.
Zhang Jinliang, president of China Everbright Bank, which has a 90-percent stake in Everbright Financial Leasing, said the bank will continue cooperation with COMAC in research and development as well as marketing.
A total of 24 foreign and domestic customers, including China's national carrier Air China, have placed orders for the aircraft so far.
C919 completed its maiden test flight in May, making China the 4th jumbo jet producer after the United States, Western Europe and Russia.
With a standard range of 4,075 kilometers, the China-made jet is comparable to updated Airbus 320 and Boeing's new generation 737 planes, signaling the country's entry into the global aviation market.
30th May 2017
Air China plans to serve Melbourne-Shenzhen with Airbus A330-200s
Air China is adding a 3rd route from Melbourne with three flights a week to Shenzhen starting on June 20 with Airbus A330-200s.
The new Shenzhen service will operate on Tuesdays, Fridays and Sundays and adds to Air China's existing three weekly flights from Melbourne to Beijing and four weekly flights from Melbourne to Shanghai.Melbourne Airport chief of aviation Simon Gandy said he expected nonstop Melbourne-Shenzhen services to be well received by both business and leisure travellers in Australia and China.
Air China general manager Yuanyuan Huang said: "As the national flag carrier of China and the first Chinese airline providing air service between Australia and China, we are committed to the economic development and cultural exchange between our two countries."
26th May 2017
Air China awaits B737 Max delivery

Boeing Co said Air China will become the first Chinese airline to take the delivery later this year of its single-aisle B737 MAX plane, a new fuel-efficient and updated version of the B737.
The US manufacturer plans to deliver some of its B737 MAX aircraft directly to Chinese customers from its completion and delivery center in Zhoushan, Zhejiang province, where construction got underway in early May.
With a maximum annual delivery capacity of 100 planes at its center in Zhoushan, Boeing plans to deliver the B737 MAX aircraft from the center, as it aims to meet the strong demand for single-aisle aircraft in China.
The Zhoushan center, Boeing's first overseas completion and delivery center, will consist of a completion center under a joint venture between Boeing and Commercial Aircraft Corporation of China Ltd and a delivery center owned by Boeing, capable of tasks including cabin installation, painting, flight testing and aircraft maintenance.
In the past five years, Boeing has consecutively delivered more than 140 aircraft to China. This year, the number is expected to reach 200, according to the company.
Meanwhile, the Airbus A320 final assembly line in Tianjin will start assembling the A320neo in July and delivering in September. Airbus Group SE's first overseas completion and delivery center for the A330 is also expected to deliver its first aircraft in September and produce two aircraft per month by 2019.
Lin Zhijie, an aviation industry analyst and columnist at Carnoc.com, one of China's largest civil aviation website portals, said, "With one-fifth of narrow-body aircraft in the world delivered to China, it is a huge market that Boeing hopes to seize."
He said the Airbus assembly line in Tianjin became operational in 2008, and it has helped to lift its market share in China to around 50 percent.
"Boeing is making more efforts in China by establishing its first overseas completion and delivery center in Zhoushan, in order to seize the big market potential in China for narrow-body aircraft," Lin added.
22nd May 2017
Beijing and Frankfurt airports team up with Air China for convenient travel
Frankfurt and Beijing airports launched an easy gateway for Air China passengers to travel between the 2 cities. The gateway allows passengers flying Beijing-Frankfurt routes to enjoy services in beijing Capital International Airport and Frankfurt Airport. This includes separate check0in counters, luggage pick up line and a separate waiting area. The gateway also hopes to increase boarding time.The flights run twice daily. Beijing International Airport is the busiest airport in China, with 9.44 million passengers flying in and out in 2016.
15th May 2017
Air China is going ahead to get its Melbourne-Shenzhen flights off the ground with plans to begin non-stop service as of June 2017
Despite previously delaying and then subsequently cancelling its entry on this route, an Air China spokesperson affirms that "will be the commencement date of this new service".
Air China's original plans of offering four flights each week have been scaled back to three flights instead, however – departing both cities on Sundays, Tuesdays and Fridays – with these flights now on sale via travel agents and the airline's website.
CA768 will be wheels-up from Melbourne at 9pm on those days to reach Shenzhen at 4:25am the following morning, well before the Chinese business day begins.
On return CA767 takes wing at 12:55am for a midday touchdown in the Victorian capital on the same calendar day.
08th May 2017
Air China launches flights between Barcelona and Shanghai
Air China have now began operating an Airbus 300-200 flight between Barcelona, Spain and Shanghai, China. Air China will operate 3 x Weekly direct flights (Tuesday, Friday and Sunday) between the two cities.
The opening of the route means Barcelona becomes the 5th European city to have direct flights to Shanghai and Beijing. Air China's inauguration of the Barcelona-Beijing route took place in May 2014.
Business people will be able to arrive in China early on Monday morning and return to Spain on Friday evening, as well the convenience of making connecting flights.
Air China said that in 2016, around 100,400 passengers flew between Barcelona and Shanghai, despite there being no direct connections.
28th April 2017
Air China announces the launch of 2 new routes
Air China has announced the launch of 2 new routes between Beijing and Astana and Beijing and Zurich. Due to be launched in June 2017, these new routes will provide direct connections between China, Kazakhstan, and Switzerland.
The Beijing-Astana route will be launched on 1st June. Astana, located in Kazakhstan, is one of the world's youngest capitals. It enjoys a reputation as one of the happiest and most modern cities in Central Asia. The launch of Air China's Beijing-Astana route coincides with the 2017 World Expo, which is being held in Astana in June.
7th June will be when the Beijing-Zurich route is launched. Home to the global and European headquarters of over 100 banks, Zurich is surrounded by the famous Lake Zurich and the Alps, making it a popular destination for tourists from all over the world. The city's chic, laid-back character and the beautiful surroundings make it one of the world's most livable cities. In recent years, China and Switzerland have held numerous high-level exchanges, and bilateral trade relations have gone from strength to strength.
Flight information:
Beijing-Astana: 3 x weekly (Tuesday, Thursday and Sunday), Airbus A320. The outbound flight departs Beijing at 17:20 and arrives at 21:00; the inbound flight departs Astana at 22:30 and arrives at 05:30 (all times are local).
Beijing-Zurich: 4 x weekly (Tuesday, Wednesday, Thursday and Sunday). The outbound flight departs Beijing at 02:35 and arrives at 07:25; the inbound flight departs Zurich at 12:55 and arrives at 05:05 (all times are local). The flights will be operated by an Airbus A330-200 featuring business class seats that can be fully reclined up to 180 degrees. Premium economy seats offer 120% more leg room than regular economy class, and economy class seats are ergonomically designed to reduce fatigue. All seats feature a personal entertainment system.
24th April 2017
Air China resumes services from Beijing to Pyongyang
Air China has announced it will resume flight services from Beijing to Pyongyang from 5th May 2017. This service will fly on Mondays and Fridays until October 2017.
China's national airline stated some flights would be temporarily cut "based on the situation of ticket sales", but it denied a report by state broadcaster CCTV that its flights to Pyongyang would be suspended indefinitely.
China is North Korea's sole major ally but disapproves of the North's weapons programmes and has supported U.N. sanctions against it.
Searches on Air China's website on Tuesday showed the carrier will have one flight a week, on Fridays, for the first two weeks of May, and after that, 2 x weekly, on Monday and Friday.
28th March 2017
Air China commences summer/autumn flight schedule, effective form 26th March 2017.
The new schedulde includes 102 international routes, 279 domestic routes and 14 regional routes. Additionally, new routes include:
Shanghai - Barcelona
Beijing - Astana
Beijing - Zurich
27th March 2017
Air China has been voted the most valuable travel brand for China.
27th Febuary 2017
Air China announced further adjustments to its Beijing – London Heathrow routes, commencing form 8th July 2017.
Previously, the airline's CA855/856 service was scheduled with 3-class 777-300ER, replacing A330-200. However the latest schedule sees this flight will be operated by Airbus A330-300.
16th February 2017
From May 2017 Air China will launch new service routes to Spain, as the Star Alliance member opened reservation for Shanghai Pu Dong – Barcelona route. This service will commence operation on 5th May 2017 with a high-density A330-200 aircraft, 3 times a week.
13th February 2017
Air China announces plans for June 2017 to resume route services from Beijing to Zurich as the airline opened reservation last week.
With low-density 2-Class A330-200, the airline will commence this service serve route 4 times a week. In March 2017, Air China announced it was to launch Cebu-Beijing flights. In addition, Air China's new service for its Beijing-Astana route will operate with 3 weekly flights on Tuesdays, Thursdays, and Sundays, beginning June 1 of this year using an Airbus A320. The airline also made changes to its seasonal summer flights for North America. Air China will be utilizing a larger aircraft on its Beijing-Los Angeles route starting March 26, and smaller aircraft on its Beijing-Montreal route (starting September 3) and Beijing-Montreal-Havana route (starting September 1). The airline's Shenzhen-Los Angeles route will offer 3 weekly flights starting 6th July.
Baggage: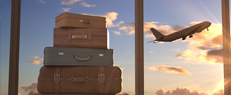 Carry-on Baggage
Carry-on baggage must be able to fit under the seat in front of you or in the overhead bin.
A. International flights
Each First Class and Business Class passenger can take up to 8kg of carry-on baggage. Each Economy Class passenger can take up to 5 kg of carry-on baggage.
Each First Class and Business Class passenger can take up to 2 pieces of carry-on baggage. Each Economy Class passenger can take up to 1 piece of carry-on baggage.
B. Domestic flights
Each First Class passenger can take up to 2 pieces of carry-on baggage, and each piece of carry-on baggage shall not exceed 5kg in weight. Each Business Class and Economy Class passenger can take up to 1 piece of carry-on baggage and the baggage shall not exceed 5kg in weight.
C. Volume
The linear dimensions of each piece of carry-on baggage shall not exceed 55cm (21"long) x 40cm (15"wide) x 20cm (7"high).
Any baggage that exceeds the limits on weight, number of pieces and volume must be checked.
The following items shall not be carried as or in checked baggage or taken into the cabin as carry-on baggage: Dangerous goods, firearms (excluding hunting and sporting rifles), military or police equipment (including the main components), knives, live animals, fresh perishable goods with distinct odors (e.g. seafood, durian, etc.)
Route Map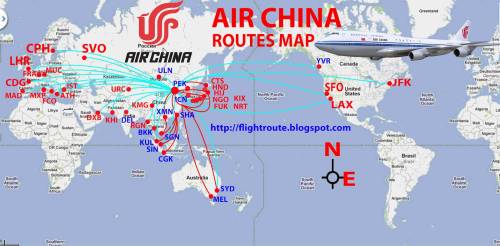 Popular Routes
London

Beijing
Beijing

Chengdu
Tokyo

London
Chengdu

Bangkok
Jakarta

Wuhan
Beijing

Urumqi

---
The Fleet
Airbus A320-200
Airbus A319-100
Airbus A321-200
Airbus A330-200
Boeing 737-700
Boeing 747-400
---
Beijing Capital International Airport
HUB Airport
Beijing Capital International Airport is located in Chaoyang District, Beijing and is the hub airport for Air China. Hainan Airlines and China Southern Airlines also use the airport as their hub airport as well. The airport has three runaways and can handle nearly 90 million passengers every year. Other airlines which fly to and from Beijing Capital International Airport include Air Canada, Singapore Airlines, Spring Airlines, SriLankan Airlines, Thai Airways, Transaero Airliens, United Airlines, Ukraine International Airlines, Ural Airlines and many others.


Star Alliance is one of the leading global airline network, which has 27 member airlines. Star Alliance was founded in 1997 with the five founding airlines: Scandinavian Airlines, Thai Airways International, Air Canada, Lufthansa and United Airlines. The alliance has grown considerably now to airlines which fly to 1,321 airports and 193 countries, carrying 637 million passengers every year!
---
---
Book Flights with Air China
Make an Air China reservation and find some amazing deals with discounted Air China tickets at Alternative Airlines. Air China flies to many destinations worldwide, offering a cost effective and safe service to all its passengers. Let Alternative Airlines help find you cheap Air China tickets and make international and domestic flight reservations on Air China today.
Browse the most popular Air China flight routes to cities worldwide. Alternative Airlines can help you make reservations on Air China for international flights to lots of destinations. Use the following list of routes to help you plan your next flight. Book Air China flights on Alternative Airlines to save big! Alternative Airlines is an online travel agency, specialising in booking lesser known airlines and remote destinations.
Air China is the second largest airline from the People's Republic of China and the National Flag Carrier.
---
Air China flights
Air China is a giant of an airline and has a cross shareholding in the mighty Cathay Pacific. Domestically it has its main base in Beijing and covers over 150 destinations including Lhasa in the Tibet Autonomous Region, Kashgar, Hong Kong and Macau. Internationally the airline serves over 50 cities including in Europe: Copenhagen, Paris, Frankfurt, Munich, Milan, Rome, Chita (Russia), Moscow, Madrid, Stockholm and London Heathrow. In North America: Vancouver, Anchorage, Chicago, Los Angeles, Dallas/Fort Worth, New York (JFK) and San Francisco. Also Sao Paulo in Brazil plus Sydney and Melbourne in Australia. Other interesting destinations include: Ulan Bator (Mongolia), Seoul (South Korea) Jakarta, Myanmar, Ho Chi Minh, Kathmandu, Delhi and Karachi.
Air China operate a massive fleet of over 150 Airbus and Boeing aircraft.
Air China offer 3 classes in their cabin. First Class provides you with your own individial pod area whilst the Air China Business Class seats have a 170 degree recline angle. The menus served on Air China are quite varied and offer both western and eastern cuisine. Air China's economy cabin has generous leg room enhanced of course by the splendid service and care given by the Air China cabin crew.
Air China by Choice
Air China has the longest record of International flights for any of the growing airlines emerging from the People's Republic of China. Air China is a useful choice for getting to those places in the PRC where other international airlines fail to reach.
Air China announce new service from London Gatwick to Beijing
Mega national carrier, Air China has just announced a new four times weekly non-stop service from London Gatwick to Beijing starting from May 1st 2012 using an A330-200 aircraft.
Air China joins rush to London Gatwick
At an airline conference which I attended earlier this week, the US Manager of mighty airline, Air China let slip that they were seriously considering adding new flights to London but not to their present base at Heathrow but instead there were to use London Gatwick Airport, Add this news to the recent arrival here at Gatwick of Air Asia X (to Kuala Lumpur) next month's launch of Vietnam Airlines direct flight to Hanoi and HO Chi Minh City; Korean Airlines to Seoul from March 2012, Lufthansa's double daily to Frankfurt connecting with its worldwide network and new Business class only flights from Hong Kong Airlines and you can see that the newly refurbished, redeveloped and re-engineered terminal at Gatwick airport are set for a very, very busy 2012 !
Air China takes lead in Global Airline matters
It's a sign of the changing nature of the global airline business when the important 68th Annual Conference of International Air Transportation Association (IATA) and the World Civil Aviation Summit is to be hosted by Air China and held in Beijing, China in 2012.
Alternative Airlines is an Online Travel Agency bonded by the International Air Transport Association (IATA). We specialise in finding the best available fares on the widest range of airlines and making them available to you online, with prices in the currency of your choice.
Alternative Airlines handles all your travel arrangements and payments, complete with ticketed confirmation. We do not direct you to other websites or service providers.
We help you through the process. This is what makes us Alternative Airlines.
Browse for flights, find some amazing deals, make a reservation and pay in the currency of your choice today with Alternative Airlines.
Let Alternative Airlines help find you the best prices and make international and domestic flight reservations with us today.
Join Alternative Airlines Members Club and get £100.00 back on your 5th booking with Alternative Airlines. You will have insight to many benefits and exclusive deals on over 450 airlines. Click on the Members section on the Alternative Airlines website for more information and join today.
We are open every day from 8am until 8pm (UK local time).
In April 2017, Air China, and its subsidiaries recorded an increase in combined passenger traffic compared to the same period last year. It also revealed a slight decrease as compared to the same period last month. Passenger capacity and passenger traffic recorded a year-on-year increase of 3.7% and 4.5% respectively. For domestic routes, both passenger capacity and passenger traffic increased by 2.6%, compared to the same period last year. For international routes, passenger capacity and passenger traffic rose by 6.7% and 9.4%, respectively, compared to the same period last year. Passenger capacity on regional routes decreased by 5.3%, and passenger traffic saw a decline of 5.6%, compared to the same period last year. The overall passenger load factor was 80.9%, representing an increase of 0.6 percentage point as compared to the same period last year. The passenger load factor for domestic routes remained flat while passenger load factor for international routes grew by 1.9 percentage points as compared to the same period last year. In terms of cargo operations, in April 2017, the cargo and mail traffic displayed growth on a year-on-year basis and on a month-on-month basis, respectively, while the freight tonnage carried saw an increase on a year-on-year basis and a slight decline on a month-on-month basis. Cargo capacity was up 1% year-on-year. Cargo and mail traffic increased by 6.3% and the volume of cargo and mail carried rose by 5.7% compared to the same period last year. The cargo load factor was 56.9% in April 2017, which represented year-on-year growth of 2.9 percentage points. In April 2017, the group introduced one A320 aircraft, one A330 aircraft and one B737 aircraft. At the end of April, it operated a fleet of 631 aircraft, including 257 self-owned aircraft, 172 aircraft under finance lease and 202 aircraft under operating lease. Story provided by StockMarketWire.com
READ MORE