Air China Reservations with Alternative Airlines
Make an Air China Booking and Find Some Amazing Deals
---
About
Air China is the national flag carrier of the People's Republic of China, with its headquarters in the Shunyi District, Beijing. The Chinese airline's primary hub airport is Beijing Capital International Airport, a major domestic and international hub in China. Air China operates 322 routes, including 82 international, 15 regional and 225 domestic routes.
Air China began operations in July 1988, as a result of the Chinese government's decision to split China's operating divisions into six separate airlines; Air China, China Eastern, China Southern, China Northern, China Southwest and China Northwest. As China's only national airline, it is committed to social responsibility and plays an important role in facilitating the implementation of key national strategies, such as the "Going Global Strategy", which encourages Chinese enterprises to invest overseas.
The airline has codeshare agreements with many airlines including Air Canada, Air Macau, Air New Zealand, Austrian Airlines, Cathay Pacific, South African Airways, Shenzehn Airlines, Singapore Airlines, Tibet Airlines, United Airlines amongst many others. Air China joined the Sky Alliance - the world's largest global airline alliance.
---
Book Air China Flights in English
With Alternative Airlines you can book your Air China flights in English! Avoid misunderstandings and count on us to provide you with a safe and secure booking service in English. You can also contact our excellent customer service team with any of your queries.
---
Baggage
Please note that the following baggage information is a guide, and is subject to change (by the airline) based on the applicable fare tariff and route. Free baggage allowance will be confirmed during the booking process, when it is also possible to add more bags to your booking if required.
Carry-on Baggage
The hand baggage allowance for First class and Business class Air China passengers is two pieces, weighing no more than 8kg each. The baggage allowance for Economy Class passengers is one piece, weighing no more than 5kg.
Carry-on baggage must not exceed dimensions of 55cm x 40cm x 20cm. Any luggage that does not fit in the overhead cabin or seat in front of you will have to be checked into the hold.
Checked Baggage
Domestic flights: The baggage allowance is 40 kg (88 lb) for First Class, 30 kg (66 lb) for Business Class and 20 kg (44 lb) for Economy Class. The length, width and height of each piece of baggage shall not exceed 100 cm (40 in), 60 cm (24 in) and 40 cm (16 in).
International flights: First/Business Class passengers may check in two pieces of baggage for free, each weighing up to 32 kg (70 lb). Premium Economy Class passengers are entitled to check two pieces of ordinary baggage for free, each piece of baggage weighing up to 23 kg (50 lb). Economy Class passengers traveling on the following routes may check in two items of baggage for free, each weighing up to 23 kg (50 lb).
---
Check-In Information
Online Check-In
Online check-in is available on the Air China website.
Airport Check-In
Customers must arrive at the airport before the check-in desk closes. Check-in closing time will vary according to the flight's departure. In general, for domestic flights passengers must arrive 45 minutes prior to departure and 60 minutes prior for international flights.
---
Seat Selection
Alternative Airlines customers can now pre-book Air China seats when they purchase their flight. Whether you love to have a window seat or you prefer the aisle, you'll find your favourite place to sit on the plane with Alternative Airlines.
---
First Class
Air China's First Class service provides you with the comfort and privacy you need to enjoy your flight. Sit back and relax in intimate and cosy suites.
First Class Facilities
Entertain yourself with a range of in-flight entertainment options. As well as additional space and privacy on board, First Class passengers will be offered complimentary drinks and provided with slippers, L'Occitane amenity kit and high-quality pyjamas. You'll also have an exquisite choice of in-flight meals with a range of dishes inspired by the Chinese cuisine and heritage.
Does Air China have a First Class lounge?
Air China's First Class lounge in Beijing can be accessed with the airline's Priority Pass. Pass the time before your flight in Air China's entertainment space, with comfortable seating and a wide screen TV. Enjoy a wide selection of complimentary food drinks and snacks and even choose Chinese delicacies from the airline's buffet selection.
---
Business Class
Travel in style with Air China Business Class. Enjoy a relaxing flight and excellent customer service from check-in to landing.
Air China Business Class Facilities
Air China passengers can enjoy the peace and quiet of the Business Class lounge, where they will have access to a buffet and an exceptional selection of Chinese beers and wines to choose from.
What are Air China Business Class Seats Like?
Air China passengers are provided with a fully-flat bed to make sure they get the best sleep possible and arrive revitalised for the next leg of their journey. Passengers can adjust the seat to upright and relaxed positions for maximum comfort while sitting or reclining. With thick duvets and medium-size pillows as well as signature Air China red slippers, you will enjoy a relaxing night sleep onboard your Air China flight.
---
Premium Economy Class
Air China is yet to offer Premium Economy. If you wish to upgrade, please see the airline's Business Class fare.
---
Economy Class
Economy Class will serve you with a smile, comfort and treat you like a First Class passenger.
Economy Class Facilities
Pillows and blankets are provided in Economy Class, giving you comfort and a peaceful journey. Power outlets are available to help charge devices. Headphones and in-flight entertainment is available for your journey, with a range of music, films and games. Translation services from Mandarin to English is available. Drinks services come through and can take your selection or a cart of a range of beverages to choose from. White and red wine, beer and soft drinks can be chosen. Meals are included in Economy Class, with a mixture of cakes and snacks. Hot meals are served depending on the length of your journey and the time.
What are Economy Class Seats Like?
Air China's Economy Class seating consists of 261 seats and arranged in 3-3-3 configuration. Each seat is 32 inches wide and reclines.
---
In-flight Entertainment
Passengers are provided with in-flight magazines, newspapers, TV channels and movies on board their widebody jets.
Air China Movies
Air China offers eight classic movies by world-renowned directors such as John Woo, Jia Zhangke and Xie Fe. Aircraft are equipped with state-of-the-art AVOD systems featuring bilingual classic movies as well as a large collection of games.
---
Food
Meal Options
Economy passengers can enjoy healthy gourmet meals made with carefully selected ingredients on board their flight. Depending on the duration and time of your flight, passengers will be provided with breakfast, lunches, dinner and snacks. For shorter flights, passengers may receive sandwiches, hamburgers or snacks such as Chinese cake.
Passengers in business and first class can enjoy western or Chinese style food at any mealtime, with lunch and dinner offering at least 3 main meal options which is served with a starter, bread, salad, cheese, fruit and a dessert. Snacks will also be available between meals, with healthy options such as seasonal fruits and yogurt.
Air China have also recently invested in a new 'Forbidden Pavilion First Class' and 'Capital Pavilion Business Class', wherein passengers can enjoy tailor-made menus consisting of 18 dishes which can be pre-ordered and reserved. The available dishes include seafood, beef, pork, chicken, duck, vegetables or noodle soup, but may vary on the route travelling.
Special Dietary Requirements
Passengers can request special meals for their flights at the time of booking, up until 24 hours before flying (except Kosher meals which must be requested 48 hours before departure). The types of meals available are as follows:
Drinks & Alcohol
Passengers can enjoy a selection of teas, coffee and soft drinks onboard Air China flights. In addition, there is a 'Cellar in the Sky' service where passengers can try a range of different wines, champagnes, cognac, spirits and beer.
---
Route Map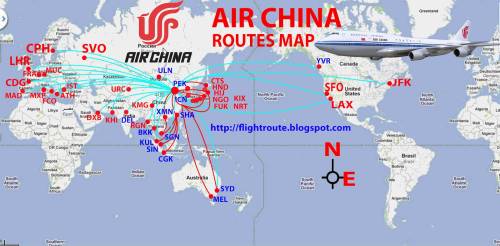 ---
Frequent Flyer Program
PhoenixMiles
PhoenixMiles is the frequent flyer program of Air China, along with its subsidiary, Shenzhen Airlines, and Shandong Airlines, Tibet Airlines and Dalian Airlines. PhoenixMiles was the first frequent flyer program launched in mainland China, and was designed to reward frequent flyers traveling internationally and domestically with both Air China and its partner airlines.
Collecting PhoenixMiles points
When you make an Air China booking through Alternative Airlines, simply select 'PhoenixMiles' from the drop-down list of frequent flyer options during the flight booking process. You can then add you personal membership number, and collect your points when you fly!
---
Airline Alliance
Star Alliance
In 2006, Air China signed an agreement to join the Star Alliance, and became a member of the alliance in December 2007, alongside its subsidiary Shanghai Airlines.
---
Special Services
Special service requests can include mobility assistance, requesting an extra seat or requesting permission to fly with special service animals or medical equipment. Whatever your need, Alternative Airlines is here to help. Requests for special services can be made at the time of booking, by completing the special request form - we then pass this information on to the airline. You can also contact our customer service team after making your booking, or to find out more.
---
Hub Airport
Beijing Capital International Airport
Air China is based at Beijing Capital International Airport which is the main international airport in Beijing. The Chinese airport is located 32km (20mi) from the city centre. In 2016 it welcomed over 95 million passengers, making it one of the busiest airports in the world. Other airlines flying similar routes include China Express Airlines.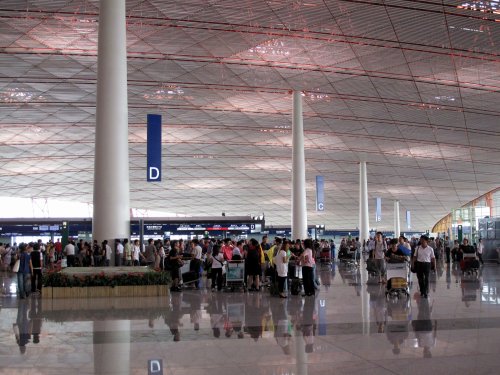 Photo credit: 颐园新居
---
Fleet
The airline operates an extensive fleet (397 aircraft in total!) comprising of both Airbus and Boeing aircraft. This includes 105 x Boeing 737-800 (+50 on order), 18 x Boeing 737-700, 33 x Airbus A319-100, x44 Airbus A320-200 (+11 ordered).
---
Destinations
Some of the airline's most popular destinations include Bangkok (Thailiand), Barcelona (Spain), Berlin (Germany), Cairo (Egypt), Changzhou (China), Chaoyang (China), Dandong (China), Haikou (China), Hanoi (Vietnam), Honolulu (Hawaii), Houston (USA), London (UK). Mianyang (China), Munich (Germany), New York (USA), Rome (Italy), Shanghai (China), Shenzhen (China), Tokyo (Japan), Qinghai (China, Yangzhou (China) and Zhengzhou (China).
Domestic Destinations
The airline flies to the following destinations within China:
| CITY | AIRPORT | IATA |
| --- | --- | --- |
| Aksu | Aksu Airport | AKU |
| Baotou | Baotou Erliban Airport | BAV |
| Bayannur | Bayannur Tianjitai Airport | RLK |
| Beihai | Beihai Fucheng Airport | BHY |
| Beijing | Beijing Capital International Airport | PEK |
| Beijing | Beijing Daxing International Airport | PKX |
| Changchun | Changchun Longjia International Airport | CGQ |
| Changde | Changde Taohuayuan Airport | CGD |
| Changsha | Changsha Huanghua International Airport | CSX |
| Changzhou | Changzhou Benniu Airport | CZX |
| Chengdu | Chengdu Shuangliu International Airport | CTU |
| Changzhi | Changzhi Wangcun Airport | CIH |
| Chaoyang | Chaoyang Airport | CHG |
| Chifeng | Chifeng Yulong Airport | CIF |
| Chongqing | Chongqing Jiangbei International Airport | CKG |
| Dalian | Dalian Zhoushuizi International Airport | DLC |
| Dandong | Dandong Langtou Airport | DDG |
| Daocheng | Daocheng Yading Airport | DCY |
| Daqing | Daqing Sartu Airport | DQA |
| Datong | Datong Yungang Airport | DAT |
| Dazhou | Dazhou Heshi Airport | DAX |
| Dunhuang | Dunhuang Airport | DNH |
| Fuyang | Fuyang Xiguan Airport | FUG |
| Fuyuan | Fuyuan Dongji Airport | FYJ |
| Fuzhou | Fuzhou Changle International Airport | FOC |
| Ganzhou | Ganzhou Huangjin Airport | KOW |
| Guangyuan | Guangyuan Panlong Airport | GYS |
| Guangzhou | Guangzhou Baiyun International Airport | CAN |
| Guilin | Guilin Liangjiang International Airport | KWL |
| Guiyang | Guiyang Longdongbao International Airport | KWE |
| Haikou | Haikou Meilan International Airport | HAK |
| Hami City | Hami Airport | HMI |
| Hangzhou | Hangzhou Xiaoshan International Airport | HGH |
| Harbin | Harbin Taiping International Airport | HRB |
| Hefei | Hefei Xinqiao International Airport | HFE |
| Hohhot | Hohhot Baita International Airport | HET |
| Hotan | Hotan Airport | HTN |
| Huangshan | Huangshan Tunxi International Airport | TXN |
| Huizhou | Huizhou Pingtan Airport | HUZ |
| Hulunbuir | Hulunbuir Hailar Airport | HLD |
| Jiamusi | Jiamusi Dongjiao Airport | JMU |
| Ji'an | Jinggangshan Airport | JGS |
| Jinan | Jinan Yaoqiang International Airport | TNA |
| Jingdezhen | Jingdezhen Luojia Airport | JDZ |
| Jinghong | Xishuangbanna Gasa Airport | JHG |
| Jiuzhaigou | Jiuzhai Huanglong Airport | JZH |
| Karamay | Karamay Airport | KRY |
| Kashgar | Kashgar Airport | KHG |
| Korla | Korla Airport | KRL |
| Kunming | Kunming Wujiaba International Airport | KMG |
| Lanzhou | Lanzhou Zhongchuan International Airport | LHW |
| Lhasa | Lhasa Gonggar Airport | LXA |
| Lianyungang | Lianyungang Baitabu Airport | LYG |
| Lijiang | Lijiang Sanyi International Airport | LJG |
| Liupanshui | Liupanshui Yuezhao Airport | LPF |
| Liuzhou | Liuzhou Bailian Airport | LZH |
| Luzhou | Luzhou Yunlong Airport | LZO |
| Manzhouli | Manzhouli Xijiao Airport | NZH |
| Mianyang | Mianyang Nanjiao Airport | MIG |
| Mudanjiang | Mudanjiang Hailang International Airport | MDG |
| Nanchang | Nanchang Changbei International Airport | KHN |
| Nanjing | Nanjing Lukou International Airport | NKG |
| Nanning | Nanning Wuxu International Airport | NNG |
| Nantong | Nantong Xingdong Airport | NTG |
| Ningbo | Ningbo Lishe International Airport | NGB |
| Nyingchi | Nyingchi Mainling Airport | LZY |
| Ordos | Ordos Ejin Horo Airport | DSN |
| Panzhihua | Panzhihua Bao'anying Airport | PZI |
| Qamdo | Qamdo Bamda Airport | BPX |
| Qingdao | Qingdao Liuting International Airport | TAO |
| Qiqihar | Qiqihar Sanjiazi Airport | NDG |
| Sanya | Sanya Phoenix International Airport | SYX |
| Shanghai | Shanghai Hongqiao International Airport | SHA |
| Shanghai | Shanghai Pudong International Airport | PVG |
| Shantou | Jieyang Chaoshan International Airport | SWA |
| Shenyang | Shenyang Taoxian International Airport | SHE |
| Shenzhen | Shenzhen Bao'an International Airport | SZX |
| Shigatse | Shigatse Peace Airport | RKZ |
| Shiquanhe | Ngari Gunsa Airport | NGQ |
| Shiyan | Shiyan Wudangshan Airport | WDS |
| Taiyuan | Taiyuan Wusu International Airport | TYN |
| Taizhou | Taizhou Luqiao Airport | HYN |
| Tianjin | Tianjin Binhai International Airport | TSN |
| Tonghua | Tonghua Sanyuanpu Airport | TNH |
| Tongliao | Tongliao Airport | TGO |
| Turpan | Turpan Jiaohe Airport | TLQ |
| Ulanhot | Ulanhot Airport | HLH |
| Ürümqi | Ürümqi Diwopu International Airport | URC |
| Wanzhou | Wanzhou Wuqiao Airport | WXN |
| Weihai | Weihai Dashuibo Airport | WEH |
| Wenzhou | Wenzhou Longwan International Airport | WNZ |
| Wuhai | Wuhai Airport | WUA |
| Wuhan | Wuhan Tianhe International Airport | WUH |
| Wuxi | Sunan Shuofang International Airport | WUX |
| Xiamen | Xiamen Gaoqi International Airport | XMN |
| Xi'an | Xi'an Xianyang International Airport | XIY |
| Xiangyang | Xiangyang Liuji Airport | XFN |
| Xichang | Xichang Qingshan Airport | XIC |
| Xilinhot | Xilinhot Airport | XIL |
| Xining | Xining Caojiabao International Airport | XNN |
| Xuzhou | Xuzhou Guanyin International Airport | XUZ |
| Yancheng | Yancheng Nanyang International Airport | YNZ |
| Yangzhou | Yangzhou Taizhou International Airport | YTY |
| Yanji | Yanji Chaoyangchuan International Airport | YNJ |
| Yantai | Yantai Penglai International Airport | YNT |
| Yibin | Yibin Caiba Airport | YBP |
| Yichang | Yichang Sanxia Airport | YIH |
| Yinchuan | Yinchuan Hedong International Airport | INC |
| Yiwu | Yiwu Airport | YIW |
| Yulin | Yulin Yuyang Airport | UYN |
| Yuncheng | Yuncheng Guangong Airport | YCU |
| Zhangjiajie | Zhangjiajie Hehua International Airport | DYG |
| Zhanjiang | Zhanjiang Airport | ZHA |
| Zhengzhou | Zhengzhou Xinzheng International Airport | CGO |
| Zhuhai | Zhuhai Jinwan Airport | ZUH |
| Zunyi | Zunyi Xinzhou Airport | ZYI |
International Destinations
| COUNTRY | CITY | AIRPORT | IATA |
| --- | --- | --- | --- |
| Greece | Athens | Athens International Airport | ATH |
| New Zealand | Auckland | Auckland International Airport | AKL |
| Thailand | Bangkok | Suvarnabhumi International Airport | BKK |
| Spain | Barcelona | Barcelona El–Prat International Airport | BCN |
| Hungary | Budapest | Budapest Ferenc Liszt International Airport | BUD |
| South Korea | Busan | Gimhae International Airport | PUS |
| Thailand | Chiang Mai | Chiang Mai International Airport | CNX |
| Russia | Chita | Kadala Airport | HTA |
| Sri Lanka | Colombo | Bandaranaike International Airport | CMB |
| Denmark | Copenhagen | Copenhagen Airport | CPH |
| India | Delhi | Indira Gandhi International Airport | DEL |
| United Arab Emirates | Dubai | Dubai International Airport | DXB |
| Germany | Düsseldorf | Düsseldorf Airport | DUS |
| Germany | Frankfurt | Frankfurt Airport | FRA |
| Japan | Fukuoka | Fukuoka Airport | FUK |
| Switzerland | Geneva | Geneva International Airport | GVA |
| Japan | Hakodate | Hakodate Airport | HKD |
| Vietnam | Hanoi | Noi Bai International Airport | HAN |
| Cuba | Havana | José Martí International Airport | HAV |
| Japan | Hiroshima | Hiroshima Airport | HIJ |
| Vietnam | Ho Chi Minh City | Tan Son Nhat International Airport | SGN |
| Hong Kong | Hong Kong | Hong Kong International Airport | HKG |
| Hong Kong | Hong Kong | Kai Tak International Airport | HKG |
| United States | Houston | George Bush Intercontinental Airport | IAH |
| Pakistan | Islamabad | Islamabad International Airport | ISB |
| Indonesia | Jakarta | Soekarno–Hatta International Airport | CGK |
| South Korea | Jeju | Jeju International Airport | CJU |
| South Africa | Johannesburg | O. R. Tambo International Airport | JNB |
| Pakistan | Karachi | Jinnah International Airport | KHI |
| Nepal | Kathmandu | Tribhuvan International Airport | KTM |
| Malaysia | Kuala Lumpur | Kuala Lumpur International Airport | KUL |
| United Kingdom | London | London Gatwick International Airport | LGW |
| United Kingdom | London | London Heathrow International Airport | LHR |
| United States | Los Angeles | Los Angeles International Airport | LAX |
| Macau | Macau | Macau International Airport | MFM |
| Spain | Madrid | Madris–Barajas International Airport | MAD |
| Philippines | Manila | Ninoy Aquino International Airport | MNL |
| Australia | Melbourne | Melbourne Airport | MEL |
| Italy | Milan | Milan–Malpensa Airport | MXP |
| Belarus | Minsk | Minsk National Airport | MSQ |
| Canada | Montreal | Montréal–Pierre Elliott Trudeau International Airport | YUL |
| Russia | Moscow | Sheremetyevo International Airport | SVO |
| India | Mumbai | Chhatrapati Shivaji International Airport | BOM |
| Germany | Munich | Munich International Airport | MUC |
| Japan | Naha | Naha Airport | OKA |
| United States | New York City | John F. Kennedy International Airport | JFK |
| United States | Newark | Newark Liberty International Airport | EWR |
| Vietnam | Nha Trang | Cam Ranh International Airport | CXR |
| France | Nice | Nice Côte d'Azur Airport | NCE |
| Kazakhstan | Nur-Sultan | Nursultan Nazarbayev International Airport | TSE |
| Japan | Osaka | Kansai International Airport | KIX |
| Panama | Panama City | Tocumen International Airport | PTY |
| France | Paris | Paris–Charles de Gaulle International Airport | CDG |
| Cambodia | Phnom Penh | Phnom Penh International Airport | PNH |
| Thailand | Phuket | Phuket International Airport | HKT |
| North Korea | Pyongyang | Pyongyang Sunan International Airport | FNJ |
| Italy | Rome | Leonardo da Vinci–Fiumicino International Airport | FCO |
| United States | San Francisco | San Francisco International Airport | SFO |
| Brazil | São Paulo | São Paulo–Guarulhos International Airport | GRU |
| Japan | Sapporo | New Chitose Airport | CTS |
| Japan | Sendai | Sendai Airport | SDJ |
| South Korea | Seoul | Gimpo International Airport | GMP |
| South Korea | Seoul | Incheon International Airport | ICN |
| Japan | Shizuoka | Shizuoka Airport | FSZ |
| Singapore | Singapore | Singapore Changi International Airport | SIN |
| Sweden | Stockholm | Stockholm Arlanda Airport | ARN |
| Australia | Sydney | Sydney Kingsford–Smith International Airport | SYD |
| Taiwan | Taipei | Taipei Songshan Airport | TSA |
| Taiwan | Taipei | Taipei Taoyuan International Airport | TPE |
| Japan | Tokyo | Haneda International Airport | HND |
| Japan | Tokyo | Narita International Airport | NRT |
| Mongolia | Ulaanbaatar | Chinggis Khaan International Airport | ULN |
| Canada | Vancouver | Vancouver International Airport | YVR |
| Austria | Vienna | Vienna International Airport | VIE |
| Poland | Warsaw | Warsaw Frédéric Chopin International Airport | WAW |
| United States | Washington, D.C. | Washington Dulles International Airport | IAD |
| Myanmar | Yangon | Yangon International Airport | RGN |
---
Alternative Airlines
The following airlines operate similar routes to Air China: