Search, Buy and Book Air New Zealand Flights with Alternative Airlines
---
About Air New Zealand
Air New Zealand is the national airline of New Zealand based in Auckland and its hub airport is located at Auckland Airport and Wellington International Airport. Air New Zealand also have a subsidiary airline called Air New Zealand Link who serve over 20 destinations on a fleet of 58 aircraft. Air New Zealand has codeshare agreements with many airlines including Aerolineas Argentinas, Air Canada, Air China, Air India, Asiana Airlines, Aircalin, Air Rarontonga, All Nippon Airways, Singapore Airlines, Etihad Airways, South African Airways and many others.
Did you know? You can buy ANY last minute flight with Air New Zealand through Alternative Airlines. Simply use the search form at the top of the page to begin your search for Air New Zealand last minute flights. Additionally, if you're looking for one-way flights to New Zealand and are not sure where to begin, we can help!
---
Destinations
Air New Zealand operates many flights across the world, Pacific Rim and the United Kingdom. Destinations include Adelaide, Alofi, Apia, Auckland, Brisbane, Buenos Aires, Denpasar, Christchurch, Gold Coast, Dunedin, Hong Kong, Honolulu, London, Los Angeles, Melbourne, Nadi, Perth, Port Vila, Queenstown, Rarotonga, Sendai, Shanghai and many others. To find out more information on Air New Zealand's Tasman routes please visit our Australian flight's page.
---
Air New Zealand Fleet
Air New Zealand currently operates an international long-haul fleet consisting of Boeing 777 family, Boeing 787-9 Dreamliner, and Boeing 767-300ER aircraft. Airbus A320 aircraft operate on routes to Australia and the Pacific Islands, and on domestic routes.
Airbus A320-200
Boeing 777-200ER
Boeing 787-9
---
Air New Zealand Seat Selection
You can now pre-book your Air New Zealand seat with Alternative Airlines. Choose your favourite place to sit on the plane by browsing the available seat options at the time of booking.
---
Air New Zealand Baggage
Alternative Airlines customers are now able to book extra baggage at the time of purchasing their Air New Zealand flight.
Carry-on Baggage
The total of carry-on baggage on Air New Zealand is up to 46.5 inches (118cm).
In Economy Class, the allowance is 1 carry-on bag and a small item such as a thin laptop or handbag. The weight is a maximum of 7kg.
Premium Economy and Business Premier are allowed 2 carry-on bags including one small item. These bags can be up to 14kg in total, with one of the bags weighing a maximum of 10kg.
Checked-in Baggage
Each passenger can check-in a bag that weighs up to 23kg (50Ib). You can also purchase a pre-paid extra bag. Find out more about this with Alternative Airlines. You can also pay excess charges at the airport for checked-in bags weighing up to 32kg.
Sizes of checked-in baggage can be up to 158cm.
---
Online Check-in
If you are looking to check-in online with Air New Zealand, you can check-in on through the Air New Zealand website or contact Alternative Airlines who will be happy to help through the online check-in section.
---
Economy Class
Economy Class on Air New Zealand comes with a range of services from food to entertainment. There is also Economy Skycouch available.
Economy Class Facilities
In Economy you can enjoy inflight entertainment with TV, music, games and movies. A checked bag of up to 23kg is accepted as well as a carry on bag 7kg. A warm inflight meal is provided and you can also order a Kids Meal when you make you reservation. Also extra free-of-charge drinks can be ordered.
What are Air New Zealand Economy Class Seats Like?
Seats in Air New Zealand's Economy Class are 17.2 inches wide, at a pitch of 31 - 32 inches with a 5 inch recline. Please note that sizing is dependant on the aircraft. There is also Economy Skycouch to enjoy too. What is Economy Skycouch you ask? It is a row of seats that can be transformed into a couch after takeoff. Therefore you and either a family member or friend can stretch out. And the added benefit is that you don't share it with a stranger, it is all to yourself or you and your travel partners. Bedding and pillows are also included. This airline was ranked as one of the best airlines for their economy class seating, notably for the large seat pitch.
---
Premium Economy Class
Passengers in premium economy arrive at their destination more relaxed, with more personal space allowing for a comfier flight. Passengers also have premium extras, such as seat selection, additional carry-on and checked luggage.
Premium Economy Class Facilities
In premium economy, passengers will enjoy a complimentary meal and drinks when on long-haul flights. The meals on the premium economy menu are made with fresh ingredients, all designed to be modern with a Kiwi twist. Passengers can also enjoy the airlines inflight entertainment which includes movies, TV box sets, video games and a kids section. Additional extras include premium check-in and an amenity kit.
Premium Economy Class Seats
Premium Economy passengers can enjoy a roomier cabin experience, with luxurious leather chairs complete with a reclining back and elevating leg rest.
---
Business Class
Air New Zealand's Business Class is available on all Boeing 777-200, 777-300 and 787-9 Dreamliner long-haul services.
Air New Zealand Business Class Facilities
Lounge access is available for Air New Zealand passengers for up to four hours before flight departure. Passengers can relax and refuel with something to eat and drink before their Air New Zealand flight. Once onboard their Air New Zealand flight, Business Class passengers can enjoy delicious meals by a world renowned Kiwi chef. And, of course, there's an excellent range of New Zealand's finest wines to enjoy once you're on board. Business Class passengers are also provided with an amenity kit including deluxe toiletries and complimentary bottled water.
What are Air New Zealand Business Class Seats Like?
The Air New Zealand Business Class seats convert from a luxurious leather armchair into a lie-flat bed so that you can sleep comfortably on your Air New Zealand flight. Air New Zealand Business Class passengers can sleep easy on a luxurious memory foam mattress with complimentary duvets and pillows.
---
First Class
Air New Zealand does not currently have a first class. However passengers looking to experience life in the clouds in luxury, try the Business Premier cabin. Read the information above for more information about the business class facilities and experience with this airline.
---
Food
Air New Zealand Meal Options
All Air New Zealand meals are designed by consultant chefs and wine experts to reflect the fresh and innovative cuisine of New Zealand. All classes can view a sample menu on the Air New Zealand website to get an idea for the food they will be enjoying on their upcoming flight.
Business Premier passengers will enjoy a 4 course meal consisting of an appetiser, freshly baked bread, main dish and desert. In addition there will be mid-flight snacks offered, or passengers can help themselves to a range of snacks available throughout the flight. Breakfast will consist of a hot dish, or items from the bakery, pantry or fresh fruit.
Premium Economy passengers can enjoy a 3 course dinner with a choice of main dish. Breakfast will be a selection of fruit, cereals or items from the bakery, or a choice of hot meal.
Economy passengers can enjoy a 2 course dinner often consisting of a starter and main dish. Breakfast will be a hot or continental breakfast including fruit salad, cereals and yoghurt.
Passengers travelling in economy class on flights to or from Australia and Pacific flights can purchase food items during the flight, via the inflight entertainment screen. The items available to purchase are light meals such as sandwiches, pies, confectionary, crisps and nuts.
On domestic New Zealand flights, passengers will receive a free snack.
Air New Zealand Special Dietary Requirements
Passengers can order a special meal to suit their dietary requirement up to 24 hours before your scheduled departure time. Some meals are only available on certain flights, so be sure to check on the Air New Zealand website to see if it is available on your route. The special meals available are:
Lacto ovo meal (VLML)
Oriental meal (VOML)
Jain meal (VJML)
Diabetic meal (DBML)
Baby meal (BBML)
Child meal (CHML)
Fruit platter meal (FPML)
Hindu vegetarian meal (AVML)
Hindu meal (HNML)
Muslim meal (MOML)
Air New Zealand Drinks & Alcohol
Meals on international flights are run with a drinks service, with recommendations of wine to compliment the flavours in your meal. There will also be a complimentary tea, coffee and water service to everyone on Australia and Pacific flights. Further drinks such as soft drinks or alcoholic drinks can be purchased from the inflight purchase menu.
---
Pay for Air New Zealand Flights on Finance
Buy your Air New Zealand flights using PayPal and Alternative Airlines. PayPal accepts New Zealand Dollars (NZD) so book your Air New Zealand flights and pay the fast and secure way with PayPal via Alternative Airlines. We are proud to offer a range of other Buy Now, Pay Later options, allowing you to easily spread the cost of your flights into manageable instalments. To find out which options may be available for you, visit our Air New Zealand Tickets — Fly Now Pay Later page for more details.
---
Air New Zealand Airlines Popular Routes
London

Auckland
London

Christchurch
Wellington

Adelaide
Sydney

Christchurch
Auckland

Buenos Aires
Wellington

Buenos Aires
---
Air New Zealand Airlines Route Map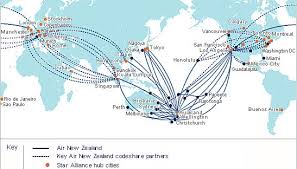 ---
Air New Zealand Airlines Hub Airport
Auckland Airport
Auckland Airport is the largest airport in New Zealand and is the hub airport for Air New Zealand as well as Jetstar Airways and Virgin Australia.
The airport has two runways and can handle nearly 17 million passengers every year. Airlines which fly to and from Auckland Airport include Air Chathams, Air China, Air Tahiti Nui, Air Vanuatu, Aircalin, American Airlines, Cathay Pacific, Korean Air, Malaysia Airlines, LAN Airlines, Qantas, Philippine Airlines, Sunair Aviation, Samoa Airways and Malaysia Airlines.
---
Alternative Airlines to Air New Zealand
Please click on the logos below to find out more about airlines that operate similar flights to Air New Zealand Airlines:
---