Air Tahiti Nui Reservations with Alternative Airlines
Make an Air Tahiti Nui Booking and Find Some Amazing Deals
---
About Air Tahiti Nui
Air Tahiti Nui is the national airline of French Polynesia which operates flights from its hub airport at Faa'a International Airport. The airline serves Auckland, Los Angeles, Papeete, Paris, Tokyo, Noumea, Seoul and many more. Air Tahiti is the domestic airline of French Polynesia.
The airline has codeshare partners including American Airlines, Japan Airlines, Air New Zealand, Qantas, Air Calin and Korean Air and was founded in 1996. Air Tahiti Nui's fleet consists of the Boeing 787-9 which has replaced the Airbus A340-300s. The new aircraft provides service to Tahiti from Paris, Los Angeles, Auckland and Tokyo. With partnership and codeshare agreements, the airline has extended its route network to include 39 major cities, including Sydney and New York.
Air Tahiti Nui connects the South Pacific and four continents. It positions itself as the main carrier serving French Polynesia with four daily flights to the destination. A lounge pass, priority pass and celebratory champagne and chocolates can be pre-booked to make your journey even more enjoyable.
---
Air Tahiti Nui Destinations
| COUNTRY | CITY | AIRPORT | IATA |
| --- | --- | --- | --- |
| France | Paris | Charles de Gaulle Airport | CDG |
| French Polynesia | Papeete | Faa'a International Airport | PPT |
| Japan | Tokyo | Narita International Airport | NRT |
| New Zealand | Auckland | Auckland International Airport | AKL |
| United States | Los Angeles | Los Angeles International Airport | LAX |
---
Route Map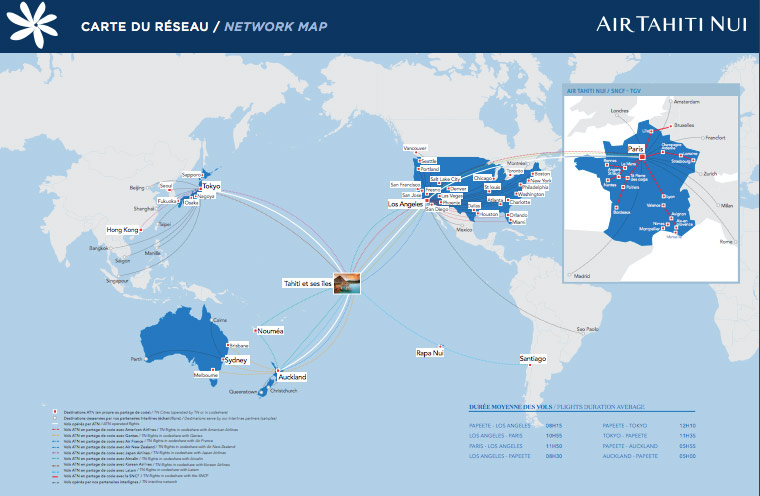 ---
Baggage
Carry-on Baggage
Air Tahiti Nui passengers are permitted different cabin bag allowances, depending on the fare and ticket purchased:
Passengers in Moana Economy or Moana Premium are permitted 1 x 10kg piece.
Passengers in Poerava Business are permitted 1 x 12kg piece.
Infants in any class are permitted 1 x 3kg piece.
All items of baggage are restricted to 115cm when combining length + width + height.
Checked Baggage
As with carry-on baggage, the checked baggage allowance is in line with the ticket fare you have purchased:
Passengers in Moana Economy are permitted 1 x 23kg piece.
Passengers in Moana Premium are permitted 2 x 23kg piece.
Passengers in Poerava Business are permitted 2 x 32kg piece.
Infants in any class are permitted 1 x 10kg piece, in addition to 1 folding stroller.
Any item of checked luggage must not exceed 158cm in dimensions (length + width + height).
---
Economy Class
Enjoy a warm meal, discover the assortment of your favourite TV shows, recent movie releases, music and gaming in Air Tahiti Nui's comfortable reclinable seats. In addition to this, each seat has been built with a USB power port. For kids whose screen time is up, an amenity kit with games is available.
What are the Economy seats like?
The seat layout in Air Tahiti Nui's Economy is 3-3-3, with a total of 232 seats. The pitch of the seats is 31 inches (79cm), with a recline of 15cm. A 30cm HD touch screen is provided with a USB port.
---
Premium Economy
You'll be immersed into the Polynesian culture during your Premium Economy experience with Air Tahiti Nui. The 32 seat cabin is decorated with the vibrant colours of the island to get you ready for your trip.
Premium Economy Facilities
Passengers will be provided with comfort amenity kits including a large fleece blanket, comfortable cushion as well as accessories. you'll also be able to pass the time with the airline's most advanced entertainment systems. Select from a wide range of films, series, music and video games.
What are Premium Economy seats like?
The Moana Premium Z536 seats offer a more comfortable travel experience and a configuration that provides you with more legroom. The seat layout is 2-3-2 with 32 seats in total. With a generous 96.5cm between each row and a seat recline of 20cm, you'll have plenty of room to enjoy your flight.
---
Business Class
Business Class Facilities
Stepping into the airline's Business Class cabin is like stepping onto the island of Tahiti. From tropical colours and comfortable seating to the luxurious amenity kit, you'll instantly feel relaxed onboard your flight. You'll sleep easy with a cosy blanket and pillow and be treated to complimentary drinks on board.
What are Tahiti Nui Business Class seats like?
The airline's Poerava Business Class offers 32 "Evolys" seats that recline to 160 degrees and offer optimal comfort. Laid out with a 152cm pitch between rows for better intimacy, particular for travelling couples, the seat's hardback shell allows the passenger to recline without crowding the space of the passenger seated behind. Air Tahiti Nui offers Business Class travellers access to full service lounges.
The configuration of the seats is laid out 2 -2 - 2 and there are 30 seats in total in Business Class. The seats convert into flat beds at a 198cm angle with a 40cm HD touch screen, along with remote control included. Two USB ports and the electrical socket is also provided to charge your devices in-flight.
You'll have luxuriously wide, angled seats onboard your Tahiti Nui flight. With generous legroom as well as room for you to store your shoes, you'll feel utterly relaxed onboard your Tahiti Nui flight.
---
Alcohol Onboard
Passengers are permitted to bring up to two litres of alcohol in their checked baggage for their Air Tahiti Nui flight. The airline also serves alcoholic beverages onboard.
---
In-Flight Entertainment
In-flight entertainment is available onboard with a wide HD screen. It has a wide range of films, music and video games available in front of you at any time. French, English and Japanese translations are on offer to most films onboard making sure you have an entertained journey.
---
Wi-Fi
The airline's Boeing 787 aircraft offer in-flight Wi-Fi to keep you connected. Wi-Fi will allow you to browse on the internet, check your emails, stream audio content, download photos and send text messages.
There are four Wi-Fi packages available, Package Maeva, Package Iaora, Package Fenua and Package Nui. As of May 2020, these are the charges for these Wi-Fi packages:
| WIFI PACKAGE | ALLOWANCE | COST |
| --- | --- | --- |
| Package Maeva | 10 MB | $9 USD |
| Package Iaora | 20 MB | $15 USD |
| Package Fenua | 50 MB | $29 USD |
| Package Nui | 200 MB | $49 USD |
---
Check-In Information
Online Check-In
Air Tahiti Nui offers passengers the ability to check-in online for their flights. This service is available from between 36-5 hours before your flight is scheduled to depart.
This service is available for all flights, except those departing from Narita. You can access this service via the airline's official website.
Airport Check-In
Passengers can alternatively choose to check-in for their flight at the airport. To do so, visit the check-in counter and speak to Air Tahiti Nui staff members.
---
Frequent Flyer Program
The airline operates a Club Tiare Frequent Flyer Program to reward regular travellers with the airline.
Every Air Tahiti Nui flight earns miles except when travelling on a promotional airfare and there are three tiers of membership:
Club Tiare Tahia
Club Tiare Silver
Club Tiare Tahia
---
Airline Alliance
The airline is not a member of any airline alliance, but it codeshares with multiple airlines including Aircalin, Air New Zealand, Air France, American Airlines, Japan Airlines, Qantas and more.
---
Pay with PayPal
Air Tahiti Nui flights can be booked using PayPal through the travel website Alternative Airlines. The cost of the ticket can also be spread with PayPal Credit in GBP.
---
Fleet
Air Tahiti Nui has introduced new Boeing 787-9 Dreamliners to it's fleet in 2019. The new fleet offers three classes: Business, Premium Economy and Economy. These have replaced the Airbus A340-400.
---
Hub Airport
Faa'a International Airport
Faa'a International Airport is the main airport on island of Tahiti, French Polynesia and is the hub airport for both Air Tahiti and Air Tahiti Nui. The only other airline that is based at the airport is FLY CORALway.
Airlines which fly to and from this airport include Air France, Air New Zealand, Air Tahiti, Motu Link Airline, Aircalin, Hawaiian Airline and LAN Airlines. It has one runaway and can handle nearly 1.5 million passengers every year.
---
Alternative Airlines
---
FAQs
Can I pay for Air Tahiti Nui flights on finance?
Yes! Paying for Air Tahiti Nui flights in instalments couldn't be easier with Alternative Airlines. We have 40+ payment methods on offer including 'buy now, pay later' options such as Afterpay and Klarna. Check out our Fly Now, Pay Later Air Tahiti Nui page to find out more about which payment plans are available.