Search & Buy Air Tahiti Nui Flights
Let's fly!

Select your payment method to view total prices including any payment fees:
Airlines will always try to sit children with their parents (subject to check-in)
Some airlines will allow travel for unaccompanied minors. Please email us to check.
The fare is based on the child's age on the date of travel.
More detailed information can be found here Traveling with children
Most airlines will let infants travel with their parent(s) for free. However some airlines will charge up to 10% of the adult ticket price. Click on 'Price Breakdown' to find out more.
If you are pregnant, but due before the flight departure date, please contact us once your baby is born and has a name. We can then add him/her to your ticket.
Infants will not be given a seat. The airlines expect parents to travel with them on their lap.
Airlines regard infants as being under 24 months old.
The fare is based on the child's age on the date of travel.
More detailed information can be found here Traveling with children

Buy
Air Tahiti Nui

Flights

Search, Buy and Book Air Tahiti Nui Flights Online with Alternative Airlines
Air Tahiti Nui Reservations
---
About Air Tahiti Nui
Air Tahiti Nui is the national airline of French Polynesia which operates flights from its hub airport at Faa'a International Airport.
Air Tahiti Nui serves Auckland, Los Angeles, Papeete, Paris, Tokyo, Noumea, Seoul and many more.
Air Tahiti
is the domestic airline of French Polynesia.
Air Tahiti Nui's fleet of Airbus A340-300s provides service to Tahiti from Paris, Los Angeles, Auckland and Tokyo. With partnership and codeshare agreements, the airline has extended their route network to include 39 major cities, including Sydney and New York.
Air Tahiti Nui connects the South Pacific and four continents. It positions itself as the main carrier serving French Polynesia with four daily flights to the destination.
Air Tahiti Nui's Poerava Business Class offers 32 "Evolys" seats that recline to 160 degrees and offer optimal comfort. Laid out with a 152cm pitch between rows for better intimacy, particular for travelling couples, the seat's hard back shell allows the passenger to recline without crowding the space of the passenger seated behind.
Air Tahiti Nui offers Business Class travellers access to full service lounges.
---
Air Tahiti Nui Baggage
Air Tahiti Nui allows passengers 1 piece of carry-on baggage with a maximum weight of 10kg and maximum dimensions of 115 cm.
For checked baggage allowance, Air Tahiti Nui allowed passengers 1 piece of baggage with 23 kgs maximum weight for both Moana Economy Class and Poerava Business Class.
---
Air Tahiti Nui Frequent Flyer Program
Every Air Tahiti Nui flight earns miles except when travelling on a promotional airfare and there are three tiers of membership:
---
Air Tahiti Nui News
29th June 2018
Air Tahiti Nui flies to Polynesia with Dreamliner with a new livery
It's all changing for Air Tahiti Nui! Their new decision has created a completely different look with a stunning interior. Not only that but Air Tahiti are fully embracing their heritage with their registration letters. When all four of the Dreamliner fleet arrive, their registration letters will tell a story. 'The warrior (TOA) going forward (MUA) in the great (NUI) canoe (VAA).'The livery and cabin design of the airline's new fleet of B787-9s was unveiled in Tahiti in front of special guests including French Polynesia President Edouard Fritch and Boeing Commercial Airplanes Senior Vice President Dinesh Keskar.
31st May 2018
Qantas Frequent Flyers can now redeem points for flights to Tahiti
You can now redeem your Qantas Points for Classic Flight Rewards to Papeete with Air Tahiti Nui.
For the first time, Qantas Frequent Flyers can use their Qantas Points to fly to Papeete, Tahiti. Home to crystal blue waters, luscious green landscapes and rich culture, you can use your points to redeem Classic Flight Rewards with Air Tahiti Nui.
You can use your points to book Air Tahiti Nui flights on the following routes:
Auckland to Papeete
Papeete to Los Angeles
Auckland to Los Angeles
You can redeem points for the flights from Australia as well as the connecting direct routes to and from Papeete.
30th April 2018
Air Tahiti Nui Unveils New Look
The airline's new look includes a revamped logo and new brand identity focused on the ubiquitous Tiare flower, which has been long synonymous with Air Tahiti Nui and the islands of Tahiti themselves. Now more sophisticated and modern looking, the flower in the airline's logo was crafted by famed Tahitian artist Alex Lee.
"The updated Tiare flower embodies the pure, natural beauty and spirit of The Islands of Tahiti," the airline said in a statement. "The forward-facing flower conveys a subtle but powerful message about Air Tahiti Nui's preparedness for the future and captures the very essence of taking flight and moving onwards, forwards and upwards."
The sensorial, free spirit of the Tiare flower logo is grounded by the refined strength within its new logotype. Thick and thin strokes provide a confident and established feel, and the letterforms are purposefully curved and rounded to mimic the shapes and joins of the Tiare petals. All of the elements tie harmoniously together, much like the Islands of Tahiti themselves, the airline said.
Future Brand, an agency that specializes in brand creation and transformation, was tapped to create the new logo and branding. The agency's past work includes designing the new American Airlines brand as well as the new brand of The Islands of Tahiti for the Tourism board of French Polynesia.
In addition to updating the airline's visual identity and its most visible icon, Air Tahiti Nui is refreshing its positioning, values, and personality to be centered on the experiential Polynesian nature of "Mana."
To kick off the new look and positioning as well as to show appreciation to those involved in the airline's success, expansion and development over the past two decades, Air Tahiti Nui hosted a reception this week. The event, attended by clients and partners, was held in the Air Tahiti Nui Business Lounge of Tahiti-Faa'a airport.
The party included Michel Monvoisin, chief executive officer of Air Tahiti Nui, dropping the veil on the new business lounge welcome sign to reveal the new logo.
The newly revealed branding and positioning are a key part of a broader transformation that Air Tahiti Nui is undergoing in order to remain the premier international airline of French Polynesia.
Upcoming highlights this year will include the presentation of new crew uniforms, a new connected in-flight entertainment system and the delivery of new Dreamliner B787-9 aircraft in October.
March 2018
Air Tahiti NUI are now offering Premium Economy seats on their flights
Air Tahiti Nui's first toe-dip into the expanding premium economy segment is now on sale ahead of the replacement of its Airbus 340-300 fleet with fuel-efficient Boeing 787-9 Dreamliners. The fleet renewal, which includes enhancements to the economy and business cabins, is scheduled to begin with the arrival of the first three-class Dreamliner in November. The other three are expected to be in service by September 2019. With this new upheaval, he premium economy cabin offers 32 Zodiac Aerospace seats with a 38-inch seat pitch.
February 2018
Founder of Air Vanuatu attempts to set up new airline to compete with Air Tahiti
Four months ago, Bill Ravel, a New Caledonia-based businessman lodged an application to set up a new airline, called Islands, to compete against Air Tahiti. The new company has told Tahiti-infos that it has received no official reply and now wants the court to formalise the apparent rejection. It also said that there was no legal obstacle to be issued a license. Mr Ravel, who founded Air Calin and Air Vanuatu, wants to use Embraer aircraft to fly to the territory's five archipelagos, undercutting Air Tahiti's fares by 15 to 20 percent. He also said the plan was also to fly to the Cook Islands twice a week and to Samoa three times a week. Last year, transport minister Luc Faatau said he feared the new airline would only fly to the most lucrative destinations, such as Bora Bora. He said additional taxes may then have to be levied to sustain unprofitable flights operated by Air Tahiti to many of the 40 smaller islands.
August 2017
Air Tahiti Nui to replace A340s in 2018
French Polynesian carrier Air Tahiti Nui is preparing for a major upgrade of its long-haul international fleet in 2018, when it will begin the replacement of its Airbus A340s with Boeing 787-9s.
The carrier has four 787s on order—two leased and two purchased. These will replace four A340-300s it operates on flights to Auckland and Tokyo, and on a route to Paris via Los Angeles.
The 787-9s are scheduled to arrive between October 2018 and September 2019. The leased aircraft will enter the fleet first, followed by the two purchased aircraft in 2019. Cabin configuration is still being finalized, and training is expected to begin next year.
Air Tahiti Nui reported a profit of €19 million ($23 million) for 2016, down 54% from the previous year. Revenue was down by 1% to €298 million, and operating costs were essentially flat. Traffic and capacity were both up by 1%, while load factor remained stable at 76%.
May 2017
Air Tahiti Nui announced in the first quarter of 2018 once again plans service increase on Papeete – Tokyo Narita route, with the addition of 3rd weekly flight. In Northern winter 2017/18 season, the 3rd weekly will be served from 20FEB18 to 28MAR18, departing Papeete on Tuesdays, Tokyo and Wednesdays.
TN078 PPT0700 – 1405+1NRT 343 257
TN077 NRT1740 – 0940PPT 343 136
January 2017
Air Tahiti Nui announced an extension to codeshare agreement with American Airlines
American travelers will be able to fly direct from Los Angeles to Paris-CDG, while Tahitian travelers will have better and easier access to new cities being added to the Air Tahiti Nui route network. With these new developments, American Airlines has extended its code on Air Tahiti Nui's Los Angeles to Paris-CDG flights. Air Tahiti Nui has also extended its code to 5 new cities in North America on American Airlines with Charlotte, Portland, Philadelphia, Seattle, and Toronto.
October 2016
Air Tahiti Nui revealed its new fleet of long-haul aircraft will be connected with broadband in-flight Wi-Fi
The French Polynesian national carrier is planning to take delivery of four Boeing 787-9 Dreamliners in the coming years, replacing its existing fleet of Airbus A340s. In addition, it has now been confirmed that these new jets will be equipped with Panasonic's latest eX3 in-flight entertainment system and the ExConnect Wi-Fi system. This satellite-based network is aimed at offering internet speeds similar to those available on the ground.
Route Map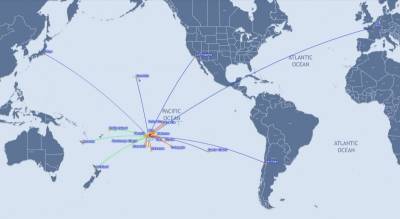 Popular Routes
Faa'a Airport

Auckland
Faa'a Airport

Los Angeles
Faa'a Airport

Papeete
Auckland

Faa'a Airport
Faa'a Airport

Tokyo

---
The Fleet
---
Faa'a International Airport
HUB Airport
Faa'a International Airport is the main airport on island of Tahiti, French Polynesia and is the hub airport for both Air Tahiti and Air Tahiti Nui.
Airlines which fly to and from this airport include Air France, Air New Zealand, Air Tahiti, Air Tahiti Nui, Aircalin, Hawaiian Airline and LAN Airlines. It has one runaway and can handle nearly 1.5 million passengers every year.

---