Find and Buy Motu Link Airline Flights with Alternative Airlines
Find an Amazing Deal and Book Now!
---
About Motu Link Airline
Motu Link Airline is a carrier in French Polynesia. The airline, which is yet to launch yet, will offer domestic flights between the French Polynesia islands. The airline will offer low-cost flights and will fly to more than 5 different destinations across the islands.
Motu Air Link will offer flights on a scheduled and on-demand basis to destinations within the islands. It will be the 2nd of 2 airlines that offer domestic flights within the French Polynesia, the other being Air Tahiti.
The airline will be based at Faa'a International Airport. With Air Tahiti also based at Faa'a International Airport and Motu Link Airline flying to destinations that Air Tahiti already flies, Motu Link Airline is being set-up as a direct competitor and a low-cost alternative.
---
Destinations
Motu Link Airline will launch with 6 different routes and 7 destinations within its route network. These include Faa'a, Huahine, Raiatea, Bora Bora, Rangiroa, Tikehau and Fakarava.
| DESTINATION | AIRPORT |
| --- | --- |
| Bora Bora | Bora Bora Airport |
| Fakarava | Fakarava Airport |
| Huahine | Huahine Fare Airport |
| Raiatea | Raiatea Airport |
| Rangiroa | Rangiroa Airport |
| Papeete | Faa'a International Airport |
| Tikehau | Tikehau Airport |
---
Baggage Allowance
Motu Link Airline hasn't officially announced anything regarding baggage. However, based on the planes that it uses and the fact that it's a low-cost airline, we can make the following educated assumptions on what its baggage allowance is likely to be.
Carry-On Baggage
The airline will likely offer a free carry-on baggage allowance with a maximum weight of 5 kg.
This baggage will likely have to fit within the dimensions of 55 x 35 x 25 cm (21.7 x 13.8 x 9.9 in).
Checked Baggage
As a low-cost airline, Motu Link is unlikely to offer a free checked baggage allowance. However, baggage will be available to purchase as an add-on for your flight.
---
Economy Class
Looking at the planes that Motu Link will use, along with the fact that it's a low-cost airline, it's almost certain that the airline will fly with a single Economy Class cabin. The airline will have a cabin crew on board. Any extras on the flight are likely to have to be purchased on top of the price of your ticket.
Seats
Seats will be set out in a 2 x 2 configuration.
---
Check-In Information
Online
There's no confirmation on whether Motu Link will offer online check-in or not.
Airport
Regardless of whether you can check-in online or not, Motu Link will offer all of its passengers airport check-in. To check-in at the airport, visit one of the check-in desks with your travel documents. The airline check-in agent will assist your through the check-in process.
---
Fleet
Motu Link Airline will launch with a fleet ATR 72-600s. These planes will be used on all of its initial routes. It may add more planes to its fleet as it adds more routes. However, it's unclear whether the airline will continue to use ATR aircraft or another type.
---
Hub Airport
Faa'a International Airport
Faa'a International Airport is the main airport in French Polynesia and the hub for Motu Link Airline. The airline will be based there from its launch and will connect the airport with other islands in the French Polynesia. The airport has a single runway and single terminal building, which is open for all international and domestic flights.
It will join other French airlines, Air Tahiti and Air Tahiti Nui, as the 3rd airline to be based out of Faa'a International. Other airlines that use the airport include, Air France, Air New Zealand, Air Calin, Hawaiian Airlines, French Bee and Hawaiian Airlines.
---
Alternative Airlines
Air Tahiti is the only other airline to offer domestic flights in French Polynesia. For that reason, it's the only good alternative to Motu Link Airline.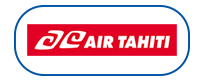 ---
FAQs
When will Motu Link Airline launch flights?
There's no date on when Motu Link will launch. All that's been announced so far is that the airline has got approval to fly. Please check back to this page for updates. Once the airline has launched, you'll be able to buy flights with the airline at Alternative Airlines.